DIY home decor crafts are fun but making something that will actually have decor value may be a bigger challenge than you've anticipated. Indeed, many DIY projects look easier in theory than they are to make in practice. That's not to say you shouldn't try and experiment to get better and create wonderful things.
What we're going to do today is pick some DIY projects that are easy enough to craft so that they don't look poorly made and cheap. Here are 40 of them.
Stencil Drop Cloth Curtains
You can quite easily make your own stencil drop cloth curtains in any pattern you like and the end result will look like expensive designer curtains.
Storage Ottoman
Making your own storage ottoman is easier than may seem at first. Follow the tutorial if you're up for it. Imagine how it would look like positioned against a sofa and a coffee table in your living room. (Read also about our picks for the best sleeper sofas.)
Hexagon Shelf
The shelf looks unique and it's a brilliant detail for the wall decor. And it's easy to make out of actual popsicles. (Read also about our picks for the best bookshelves for small spaces.)
Pallet Coffee Table
The idea is so popular that it's almost mandatory to make one for yourself.
Suspended Wall Flower Pods
You can make these from jars and the use for these pods isn't limited by just flowers, they can be perfect for small kitchen utensils or bathroom accessories.
Dream Catcher
A must have for a little touch of bohemian decor.
Designer Light Switches
Light switches are one of the biggest home decor eyesores, and this is a great idea to use them to your advantage.
Cut and Paste Art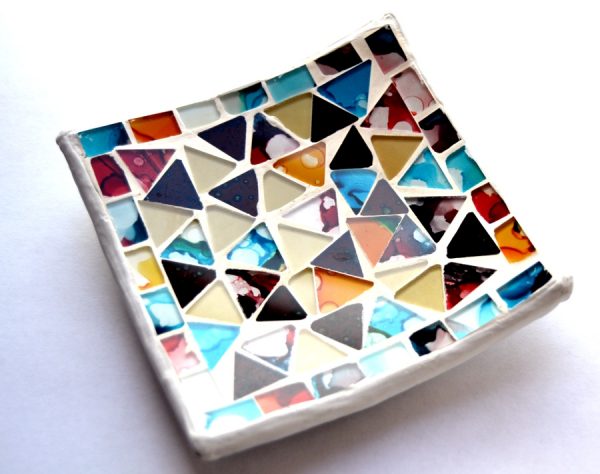 And it looks like a piece of abstract art made by an artist.
The article continues below...
Scrabble Coaster
An ingeniously simple idea to glue Scrabble letters together for a cool coaster.
Reusing Bottles in the Bathroom
If you find the design of a bottle appealing, it's so easy to reuse it for a soap dispenser rather than throwing it away.
Candle Lamp Shades
Just an awesomely cute idea for candle holders (use the templates).
Wall Art Fragments
Ideas like this are perfect to quickly and easily hide small wall cracks, ugly wiring or cables.
Pebble Coaster
Another great idea for the kitchen. This coaster is practical as much as it's decorative as it's the perfect pad for hot utensils.
Mirror Shard Frame
Quite an easy project for a wonderful art deco result, and you can use stained glass or ceramic too.
Ice Dyed Fabrics
This is a beautiful result of ice dyeing. Here's a tutorial.
Gold Dipped Ceramics
A great way to customize ceramics for an expensive look.
X-shaped Magazine Holder
This little organization wonder will solve the dilemma of magazines and newspapers lying all around. And it's simple enough to look good.
Repurposed Candle Jars
Why throw away your old candle jars when you can repurpose them into these adorable vanity containers for cotton balls or swabs? These jars will help organize your bathroom while keeping supplies conveniently at hand.
Dollar Store Trash Can Makeover
Jazz up an inexpensive dollar store trash can and give it a unique, upscale style that costs almost nothing. A little rope and a cheap trash can will give your bathroom an entirely new look.
Coffee Crate Lid Sign
You'll have a great time making this stenciled sign from old fence planks. Reclaimed hardware will also add to the rustic charm of this beautiful piece. Add some "S" hooks and you'll have the perfect place to hang some coffee mugs.
Pantry Organization Labels
These jars are so cute and functional. Store rice, beans, pancake mix, or other often used staples in mason jars. An attractive label not only gives the jars style but by adding the recipe right on the label, it offers a convenient way to never worry about finding the directions you need.
Twine Wrapped Cabinet Hardware
Transform some old cabinet handles into amazing hardware with a rustic look that's perfect for many decors. These cabinet handles can be completed in a matter of minutes, and they'll add a beautiful look to your kitchen, bathroom, or even garage cabinets. Perfect for easy DIY home decor.
Pottery Barn Inspired Round Jute Placemats
This is a fun project that even the kids can help with. These round jute placemats will protect your table while adding a bit of classic charm. Some jute and a hot glue gun are all you need!
Easy Rustic Rope Serving Tray
When you want a nautical or rustic serving tray, this easy rope serving tray is the perfect solution. With just a few simple steps, you can create a serving tray or basket that's beautiful for serving bread rolls, arranging flowers, or holding napkins and cutlery.
DIY Pallet Coffee Table
Turn some old pallets into a great coffee table for a family room or living room. You can add storage shelves underneath, and attach wheels, if you like. A fun project that the whole family can help with.
Small Rustic Stool with Hairpin Style Legs
The simple swoop of hairpin legs give this rustic stool a beautiful touch. The base can be stained light or dark, and the DIY hairpin legs provide this rustic stool or stand with enough support to handle plants or small objects.
DIY Wall Vase
Turn a simple shadowbox frame into a gorgeous and unique wall vase. A few flowers are all it takes to create a beautiful and artistic wall hanging. This project would be wonderful in a bathroom, hall, bedroom, or just about any room in your home.
Macaron Pillows
These soft and fluffy macaron pillows are perfect for a daybed, child's room, or even as a plush pillow for the sofa. They're absolutely adorable and look just like those delicious macarons that are so popular.
DIY Ombre Basket
Turn a wicker or straw basket into a lovely show piece by adding a stunning Ombre effect. Choose colors to match your decor and go to town creating a colorful basket for odds and ends that will add a decorative touch to any room.
Canopy Reading Nook
If you have an old Papasan chair or you find one at a yard sale, repurpose it for this wonderful canopy or reading nook. You can hang it above a bed or in a special corner where your child can have their own personal reading nook.
DIY Modern Paper Ornament
A fun decoration that's perfect for parties or Christmas. These paper ornaments can be made in various colors, and the starburst shape gives them a beautiful 3-dimensional look that adds a unique touch of character to your decorations.
Tissue Paper Covered Pots
Make your potted plants stand out with these brightly colored tissue paper covered pots. Don't worry, a coating of mod podge makes these gorgeous pots completely waterproof. You can use them indoors or out for a wonderful burst of color.
Half Table Console
This half table console is a brilliant idea for tight spaces, such as a hall or entryway. It's perfect for keys, mail, and decorative items. Repurpose a yard sale find to make an elegant addition to your foyer.
Big, Bright & Beautiful Floor Cushion
When you want a comfy floor cushion for watching television, reading, or visiting with friends, this bright and beautiful cushion is the perfect solution. Mix and match your favorite fabric strips to create a fun and unique look.
Outdoor Cube Lanterns
These colorful cube lanterns are a great way to brighten up a porch or patio. The painted wooden cube frames look cute during the day, and at night, the candles provide a warming light for a nice and relaxing ambiance.
DIY Dog Art
Make your own DIY dog art with this wonderful craft idea. A silhouette painted on metallic placemats make a great wall hanging arrangement for any dog lover! Give as a gift or decorate a wall in your own home for an attractive conversation starter.
DIY Paper Basket with Leather Handles
This gorgeous paper basket makes a wonderful display on a coffee table or end table. The leather handles add a touch of sophistication, and the contrasting hardware makes a bold statement. A great place for magazines and remote controls.
LED Lamp Out of a Wine Bottle
Turn an empty wine bottle into a wonderful LED lamp. Big or small it doesn't matter; and any shape will do. A colored wine bottle will definitely add a beautiful touch to this ornamental LED lamp.
Rope Wrapped Mason Jar Lights
Create a rustic look with these decorative light covers. The clean look of the mason jar lets the light shine through, while diffusing the harsh glare of the bare bulb. The rope wrapped upper portion adds the perfect touch of style for a porch or other casual space.
Mini Industrial Shelves
These industrial shelves are the perfect size for holding small decorative items and arranging them in a wall setting adds to their interest. Of course, the pipe and flanges ensure an industrial feel that's perfect for modern decors or an eclectic design.