Do you have that empty wall space and you don't know what to do with it – how to occupy it properly? The default go-to option is always to hang pictures, but there's a lot more to a well-decorated wall than that. If you're looking for DIY wall art ideas, you've come to the right place.
Introducing a complete guide with 120 ideas and tutorials for wall art and decor project for your home. Use this vast selection of inspiring ideas to decorate your walls in a truly unique way with a lot of decor value.
DIY Wall Art Ideas
If you'd instead make your crafts than buy them, here are 35 DIY wall art ideas for you to choose from. Most of these come with tutorials so you'll have no difficulties to replicate them at home.
Tassel Garland
Tassel garlands made of simple wrapping paper is not an ordinary decor idea, and it won't always work but experiment with it to add some boho element to your decor.
Paper Flower Medallion
Turn an old book into these beautiful paper flower medallions to embellish your walls. It can work as a temporary decor option for a special occasion or even as a permanent decor feature.
Herringbone Canvas Art
What's so great about DIY canvas art is that you'll always get unique art specific to your style and it's not a difficult thing to do even if you're not an artist (if you follow a tutorial like this one).
Stenciled DIY Wall Art
Another great way to create beautiful DIY wall art is using stencils. This tutorial shows you how to use this beautiful pattern "Charlotte."
Paint Stick Starburst Mirror
If you'd like to make a statement accent, how about this DIY sunburst mirror frame. All you need is a bunch of paint sticks, paint and a bit of craftiness.
Layered Burlap Monogram
To make your home decor a little bit more personal, make this monogram after your name or the name of your loved ones.
Spray Paint Art
Creating canvas art is so simple when you have a can of spray paint and use some creativity.
Fired Ink Art
Here's another technique to create wonderful art that will always come out unique and beautiful.
Floral Letter
If you want to add some more glamour with your DIY wall art, create this fabulous floral monogram. It will look extra classy if you can get an excellent vintage picture frame to go with it.
Abstract Art with a Golden Touch
This tutorial shows you how to create abstract art with some depth. It's perfect if you need to add some color to match your color scheme of the room.
Chalkboard
When it comes to decorating a wall, it's not always just about the looks; it can be functional too. Adding a chalkboard can provide you with space that is dynamic and ever changing with little drawings or random notes.
Silverware Artwork
The list wouldn't be complete without whimsical ideas for wall decor. And this silverware artwork indeed is whimsical. Create and hang it on the wall to surprise.
Fabric Bulletin Boards
As functional as it is beautiful, this projects allows you to create round fabric boards to pin your notes on. Or leave it as art – it's a great way to display those beautiful fabric patterns.
Fruit Print Art
Fruit patterns make great natural art and it's so simple to make that even the very beginners can do it.
Fabric Canvas Art
There are so many wonderful fabric prints and patterns that it would be a shame not to use them on display as wall art. So here's the easiest way to do it.
Yarn Letter Art
If you're up for letter art and signs, this is one of the easiest ways to create it from cardboard and yarn.
Painted Wood Sign
Wood signs give that rustic farmhouse style element and if that's the look you're going for, you can easily create any variation of it following this tutorial.
Birch Tree Painting
This birch tree painting is much easier to make than it looks, and it seems really good.
CD Art
This project takes some skill, but it's a beautiful idea to make use of old CDs and create whimsical statement DIY wall art.
Boom Art Sculpture
This art sculpture project makes a powerful statement and if that's what you're looking for then here's how to make it.
DIY Dreamcatcher
This beautiful DIY dreamcatcher works to create an accent wall in the bedroom and as a headboard at the same time — a lovely and quite an unconventional idea.
Clip Board Art
Here's a brilliant idea for easily changeable print art – using a clipboard as a frame.
Pebble DIY Wall Art
Can you see this wall decor idea with rocks and a tree branch in your bathroom?
Enlarged Family Photography
A fantastic idea for an oversized print art using a split photo that is meaningful to you. It certainly makes a strong statement.
Washi Tape DIY Wall Art
Washi tape is a very easy way to create beautiful wall art yourself without having to commit to painting or decals.
Vintage Posters
This is just a great play of colors of the room color scheme and the gallery of framed prints that complement it so well.
Gold Spray Paint Canvas Art
Here's an idea for when you want to create something modern yourself. You don't have to be an artist to create this.
Oversize Decals
These decals create an instant bohemian vibe.
Old Pieces of Vinyl for DIY Wall Art
If you have some old vinyl records, look for wall art no further – here's how you can create beautiful decorations with the help of some decals.
Geometric Wall Paint
Try playing with paint and geometric shapes. This idea for an accent wall adds a lot of depth to the room.
Tube Balls DIY Wall Art
Quite a playful idea to decorate a wall with translucent tubes filled with miniature balls.
Floral Arrangement DIY Wall Art
This can be a temporary statement wall decor idea for a dinner party, or you can keep it permanently if done using faux plant leaves.
Washi Tape Letter Art
Another great idea to use washi tape for a quick wall accent.
Pattern DIY Wall Art
This pattern certainly adds depth to the room, and guess what, you can achieve a similar effect with washi tape too.
Split Frame DIY Wall Art
Split frame art makes a statement like nothing else.
Back to Top
---
Rustic DIY Wall Art Ideas
If you're looking for something more rustic or farmhouse style for your DIY wall art, these are 20 ideas for you. While there are no tutorials for these exact ideas, you can either use some of the related tutorials from the list above or try to replicate them yourself. Some of these are easy too!
Geometric Wooden DIY Wall Art
Bits of wood form geometric patterns while suspended inside a black frame. The contrast of colors, grains, lengths, shapes, and angles add interest.
Large Wood Collage
The style is similar to the artwork above but made on a larger scale for greater impact. The wooden elements fill up more of the square frame on the wall.
Handmade Pegboard
This pegboard is made of reclaimed wood. Artisans created holes and inserted pegs to let users hang anything they want from keys to food. Text can be written on top to identify the contents.
Wooden Heart Coat Hanger
This one is a heart-shaped coat rack that can be hung on any wall. Copy the design or paint it whichever way you like.
Barn Board Wall Frame
Here is a rustic wall décor made from reclaimed barn board and hex wire mesh. Just be sure to clean the wood to make it more attractive. You can leave the paint on or give it a fresh coat.
Rustic Wall Gallery
You can make any room come alive by placing interesting décor across the walls. This one features framed scenes of various birds, along with deer heads and horns from hunting.
Mug and Wine Glass Holder
This square board has hooks for hanging coffee cups and notches for slender wine glasses. Signs add charm and mark the ideal use of these tableware. The weathered oak stain enhances the rustic look.
Hexagonal Shelves
Think outside the box and reimagine what a shelf could be. In this project, wood planks were cut at an angle to create hexagons. They are great for holding décors such as vases, crystals, and plants.
Rustic Kitchen Sign
This wooden board got a gray weathered stain to serve as a neutral background. The creator chose to write the words the best describes their kitchen and draw a simple illustration.
A Rustic Corner
This little corner holds a lot of trinkets including a felt gnome, a reindeer figurine, a yarn ball, a wall sconce with jar, a hanging board, and even some found objects like pine cones.
French-style Laundry Room
A sign proclaims this room's motto to "wash, hang, fold, repeat". Vertical wood planks with uneven widths and a weathered look form a unique backsplash on top of the counter.
Farmhouse Window Wall Hang
The top of the couch is always a challenging place to decorate. If you are not keen on using a canvas, then try other treatments such as this example where the owner used an old farmhouse window.
Vintage Wall Sign
Instead of a framed painting, you may also opt to hang a large sign such as the vintage find on this example. The faded gray goes well with the white background, as well as the rest of the room.
DIY Dream Catcher
Anyone can create DIY wall art from scratch. This one uses simple materials like sticks of wood, strings to hold them together, thin colored ropes, and a few feathers. The result is a dream catcher looks great against any wall.
Simple Floating Shelf
This rustic shelf floats on the wall thanks to clever installation. Its primary purpose is to hold decorative items such as this Mason jar that was turned into a vase and this small stylized sculpture of an atom.
Wooden Plaques and Miniature Shelves
Shelves can be made even smaller if your purpose is just to have them hold a single object like a potted plant. Make things even more interesting by adding these wooden plaques with burnt leaf patterns.
Mexico-inspired Wall Décor
The rustic wall decor in this picture was inspired by a trip to Mexico including the wood-framed mirrors and paintings. Behold their pure beauty and farmhouse feel.
Rustic Entryway Treatments
On top of the bench is modest wood plank a row of hooks for hanging coats, hats, and decor. A monochrome sign with handwritten text calls on the guests to gather in this space.
Nature-inspired Wall Décor
This hanging fixture brings the colors of nature indoors. Dried twigs are framed in small batches, alternating in horizontal and vertical stretches. The frames were painted green and bolted together by metal fasteners.
Oversize Wooden Clothespin
The humble clothespin takes center stage as a wall decoration with its impressive size and beautiful wood grains. These are also functional as each can hold a picture for display.
Back to Top
---
Chic Wall Art Decor Ideas
We all love the chic style and associate it with smart elegance and sophistication. Being chic is not about being pompous, it's about being moderate but fashionable. That's why we want to see more of this style in our home decor. Here are ten ways how you can create gorgeous, fashionable wall art decor.
Chic Shelving
Chic shelving is all about blending the shelves into the background (usually painting the shelves the same color as the walls) and focusing on the display decor pieces to create the style. Consider small suspended shelves to be used for display on the walls.
Bar Cart Vignette
Making a bar cart as part of the wall decor vignette is a chic style choice. Decorate the cart with pretty bottles and glasses, add some flowers and art to create the vignette. You can go as far as using an acrylic cart and focusing entirely on the accessories.
Mirror Layering
Using a mirror as a backdrop for a vignette is a very chic way to style the wall space above a display cabinet. Use an accent mirror frame and stack flowers, bottles, art, and other accessories in front of it for an in-depth look.
Accent Mirrors
An accent mirror in a chic frame can be enough to get chic wall styling, especially if it comes along with a complementing cabinet.
Pops of Color
Add contrasting pops of color with DIY wall art to bring it all together. Retro posters work great with their pastel colors to create a fashionably sophisticated accent.
Chic Antlers
Antlers bring rustic warmth to wall decor. Stylized antlers (gilded in this example) can make a gorgeous chic focal point.
Chic Entryway
As soon as guests enter your home, the first thing they see should set the mood and give a glimpse of what's to come in your home. Make the first impression count. This chic "Hello" sign does a great job.
Decorate with Your Fashion
Your bags and shoes didn't just look good on the shelves in stores, you can decorate your home by putting them on display too.
Chic DIY Wall Art
If you care to commit to decorating your walls a bit more, try creating chic wall art. These pebble birds on a real tree branch make a great chic accent, but you can use vinyl decals too.
Decorate with Plates
You can decorate your walls with plates, and you don't even need fancy vintage plates – you can use some spray paint to add pops of color for a chic style.
Back to Top
---
Accent Wall Decor Ideas
By introducing the elements of texture as well as color into the equation, interior design becomes much more three-dimensional. This allows the creator of an accent wall the luxury of greater expression and exhibits much more of a unique personality in the same sized space as it was before. Here are ten examples of imaginative ways of using walls as design elements in their own right.
Reclaimed Wood Pallet Wall
One of the glories of the DIY accent wall is that you are empowered to bring out the hidden beauty inherent in otherwise mundane items that are taken for granted in their original setting. By looking at them in a different light, hidden truths are revealed about both them and you.
Stone Accent Wall
There was a time when almost everyone lived in a house that had stone walls on the inside. Perhaps it is some vestige of ancestral memory that makes this comfy nook so appealing. Or it could just be beautiful in its own right.
Vintage Mailbox Accent Wall
One of the great things about accent walls is that you can recycle so many items and give them a new life far beyond what they were originally envisaged for. Additionally, this is one that offers modular flexibility which allows it to be tailored to the various seasons of your life.
Stamp Wall
Ink is for writing, right? Well, not always. Sometimes it can provide a super fast way to turn a plain Vanilla wall into something more akin to Jamocha Almond Fudge.
Mountain Mirage
Using any sort of superlatives to describe a calm, serene and effective accent wall such as this one is to miss the point entirely. It brings literal miles of depth into the room, yet is nothing more than a flat surface covered with paint.
Geometric Back Lit Wood Accent Wall
New materials often lead to a fresh explosion of ideas that weren't truly practical before they came into widespread usage. Such is the case with this magnificent collage of random shapes ingeniously backlit by safe LED lighting that makes you think the wall is about to explode out at you like some angry volcano. Truly brilliant.
Gallery Wall
Not every accent wall project has to take months of strenuous effort to create. Sometimes you don't need anything more than a little contrast and some revolutionary ideas about a world where everything is a 90-degree shape or forget it.
3D Sculptural Wall Art
Supreme use of texture can bring a fantastic amount of pop even to deliberately monochromatic palettes. The bright white plaster sculpture on the wall stands out in vivid, austere beauty from its gray surroundings. A marvelous example where adding color would detract from its incredible impact.
Pink and Red Honeycomb Wall
What can you say about a wall-length honeycomb done in decreasing intensities of color except "wow"? How about matching this with a massive puppy dog's head made partially out of corkboard so it offers functionality as well as tremendous design appeal? Every little girl on the planet is pointing at it and saying that she wants one too.
Wood Covered Walls
Great ideas are not just the property of the English-speaking world, as is shown by this glorious essay into the benefits of using old lumber, particularly old exterior lumber, to bring light and life to a wide range of interior spaces.
Back to Top
---
Gallery Wall Ideas
A wall of family photos and pictures is what makes your home personal, cozy; it's what makes your home yours. But you can't just hang some pictures randomly on the wall otherwise you're risking to break your home decor that you've been creating so thoroughly. Here are seven great examples of how to organize a picture wall and make it look natural.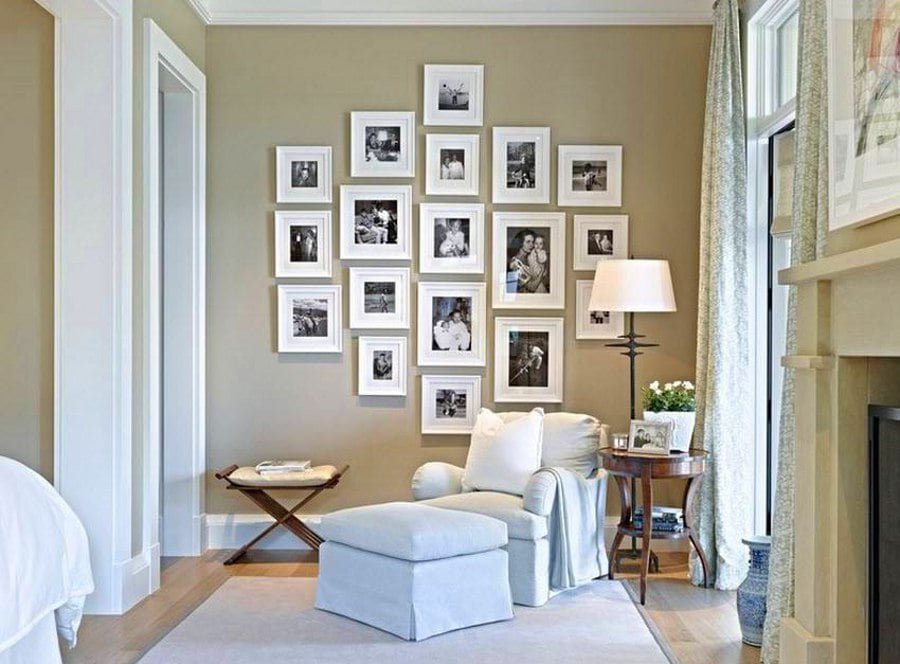 This picture wall is classic – neatly organized pictures with identical frames ensure the perfect order and harmony in the overall interior design.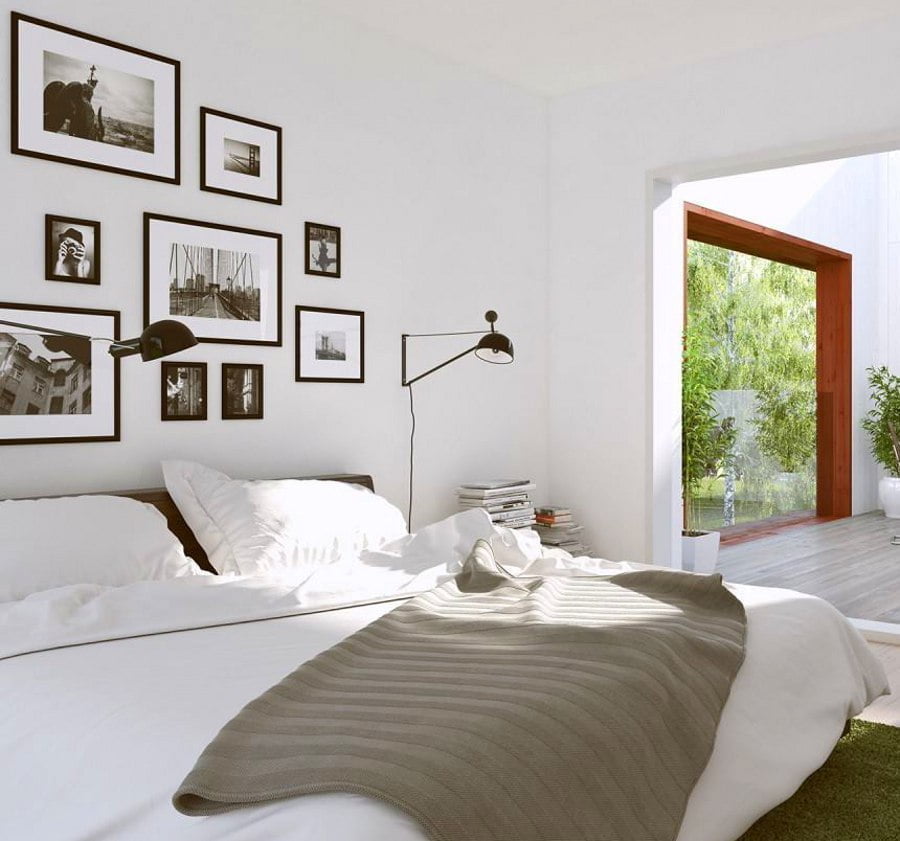 Your bedroom wall leaves the perfect space for a picture wall if it's just plain empty. Such a big space allows for some play of position and shapes of the picture frames.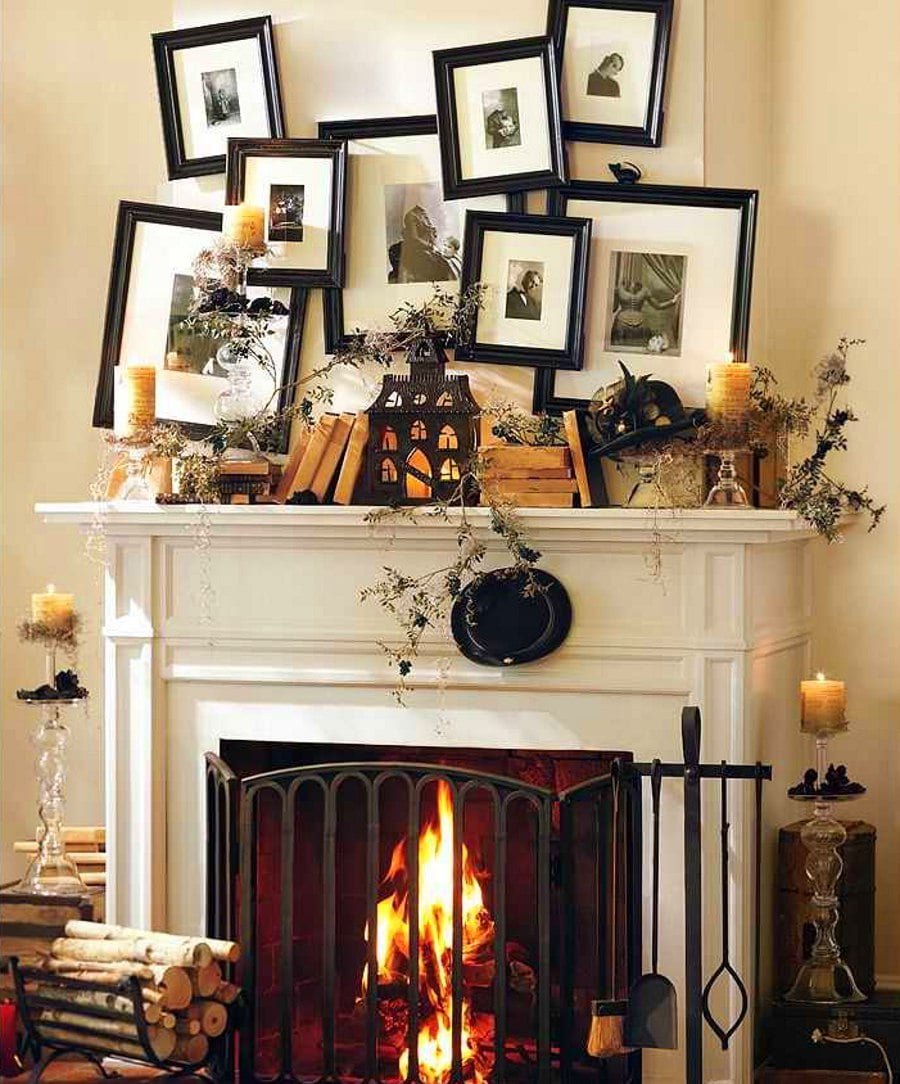 This picture wall is a DIY Halloween decoration and shows a great example of how you can use it to get your home ready for holidays too.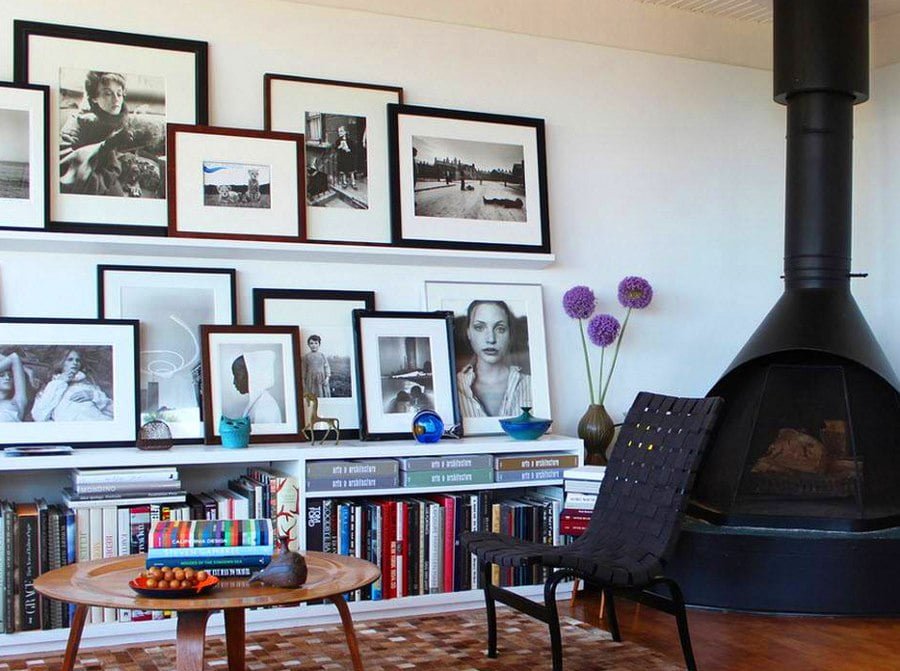 Neat order in limited space makes it all come together.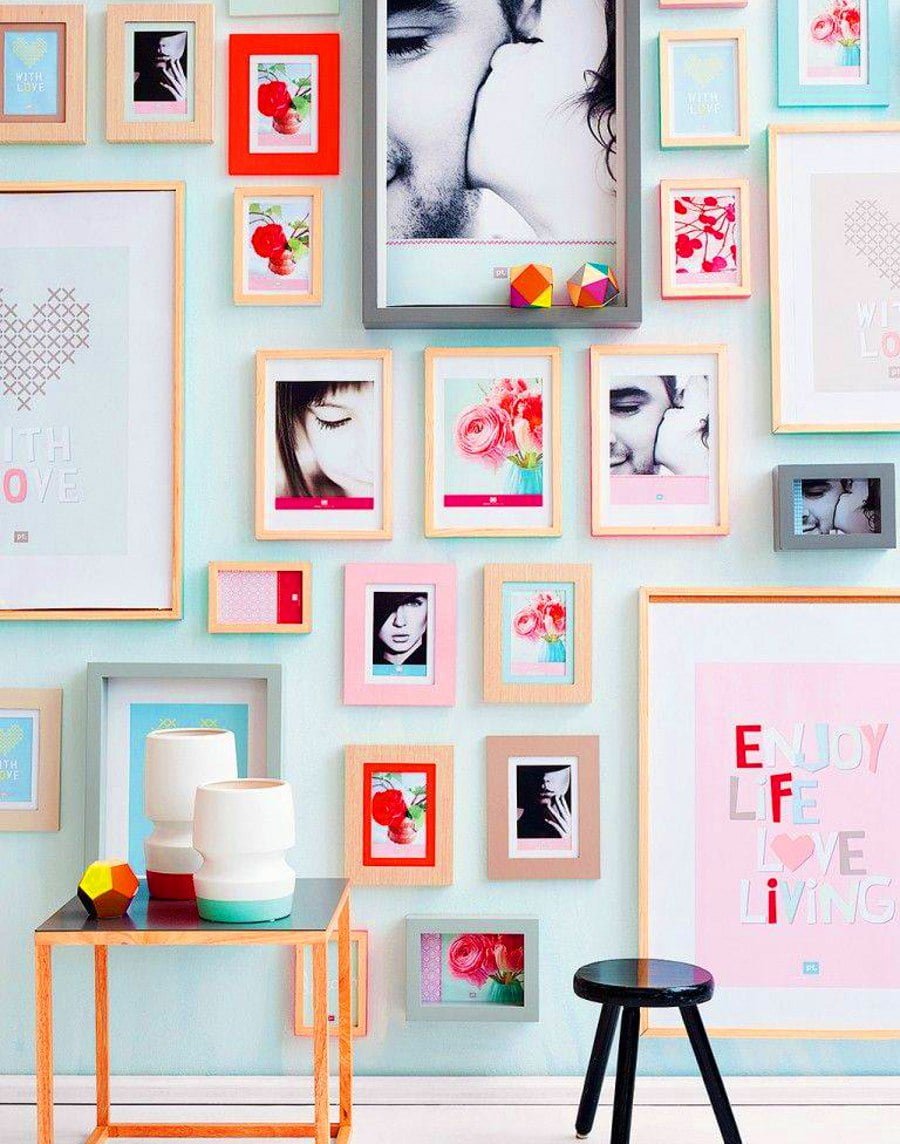 You can intermix your photos with art pictures to create a full picture wall out of few personal photos.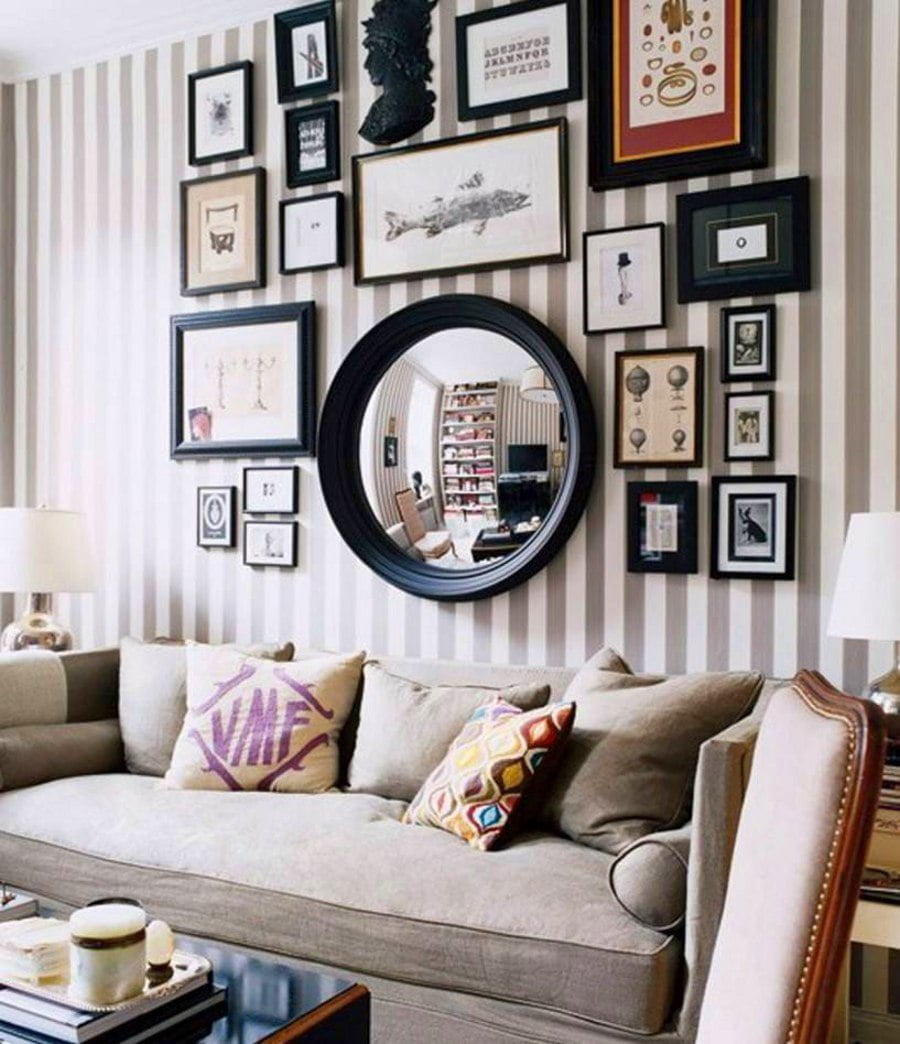 The use of a mirror works as the center around which the rest of the pictures gravitate.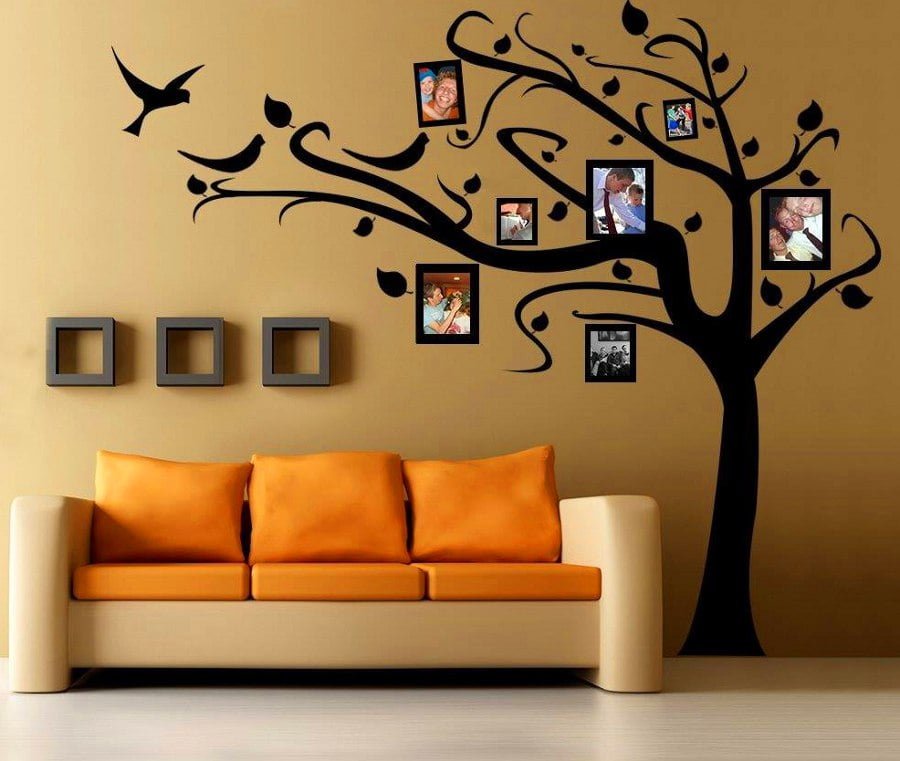 And finally, you can break all borders and use wonderful DIY wall art to serve as the frame for your picture wall.
Back to Top
---
Wall Decor Ideas
There are many other aspects to wall decor, from colors to accessories and pictures, from corners to doorways and windows. It's an extensive topic but today, let's look at successfully done accent wall decoration for great ideas. Here we have 30 of them.
A lovely art deco accent of a wooden lips wall decoration. The red is a strong accent in a soft and neutral color scheme.
There are many ways of arranging pictures and wall decoration for display walls. This is one idea, but don't be afraid to venture deeper.
Map forms are attractive in their familiar detail and universal "at home" feel. Look for art deco elements in the shape of maps for this accent.
Big pictures that cover the entire wall make a very visual, almost mural-like, accent.
I like this honeycomb design because it introduces a wider palette to the room's color scheme.
Ombre colors are attractive in their natural progression. Playing with ombre variations can get a vast number of effects. This particular design makes quite a bohemian accent.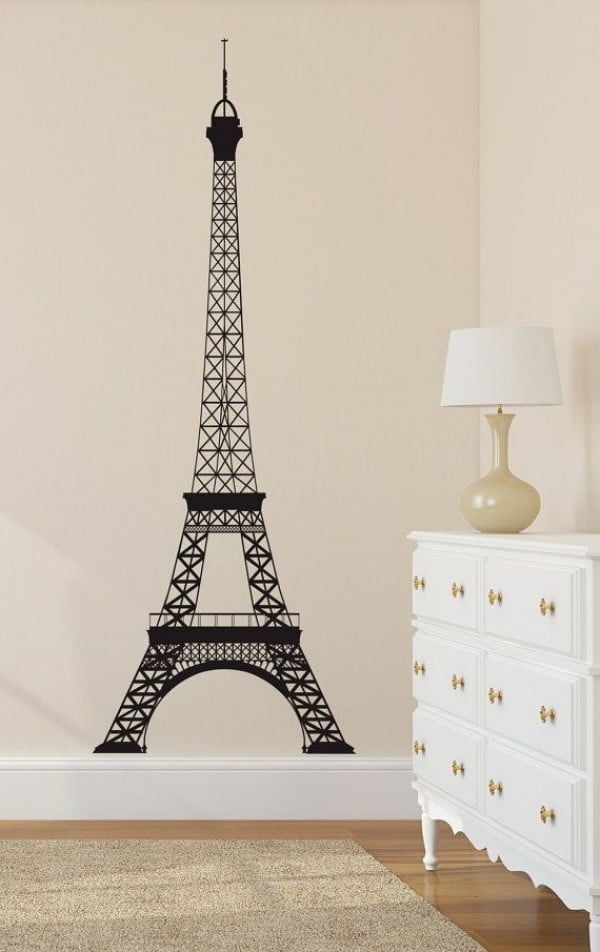 Using wall decals is a cheap and easy way to add an accent to your walls. It can set a theme and style for your decor, such as this Eiffel tower decal instantly creates an expectation for Parisian or French country decor.
One of the more creative ideas to decorate with polaroids. I also appreciate the washed out paint wall.
Murals provide a lot of visual effects.
When we think about shelves, we usually think of storage. Sometimes we choose to accessorize them. But rarely do we see a full out picture display. I have to admit – this works beautifully.
Chalk paint allows you to have an ever-changing design accent wall. It has practical uses, such as shopping lists and notes too.
Small wall decals can fill in that small space where little else can go, such as doorways.
Here's another crafty way to decorate with small pictures.
You have to appreciate the break these detailed wall decals give to the room decor.
Another creative way to use ombre colors and create a wonderful mural.
When you have smaller pictures and lots of wall space, clustering is not the only option. You can use DIY wall art too.
This final design is a beautiful use of the full-color palette for a striking accent.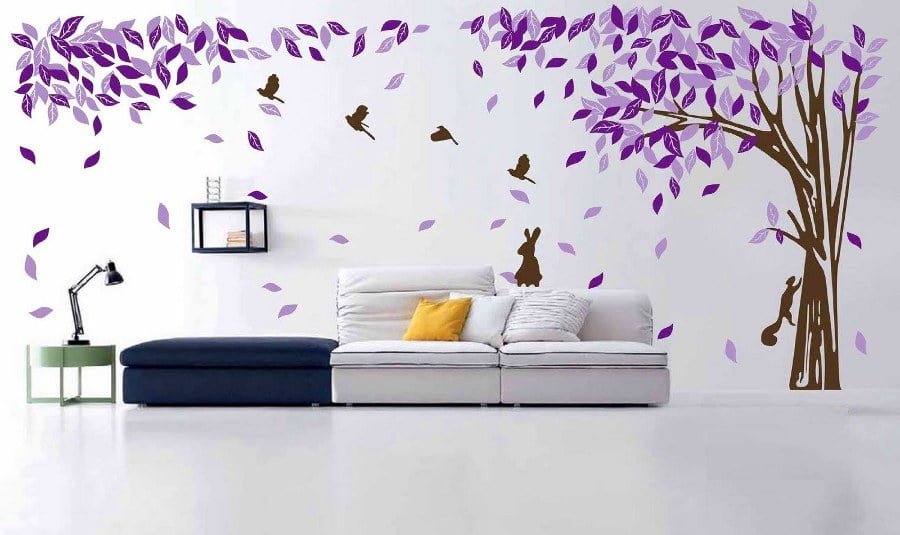 Nature gets it right every time, so if you copy it, you'll never go wrong. Falling leaves in the autumn wind can decorate the entire wall and not only during the fall season.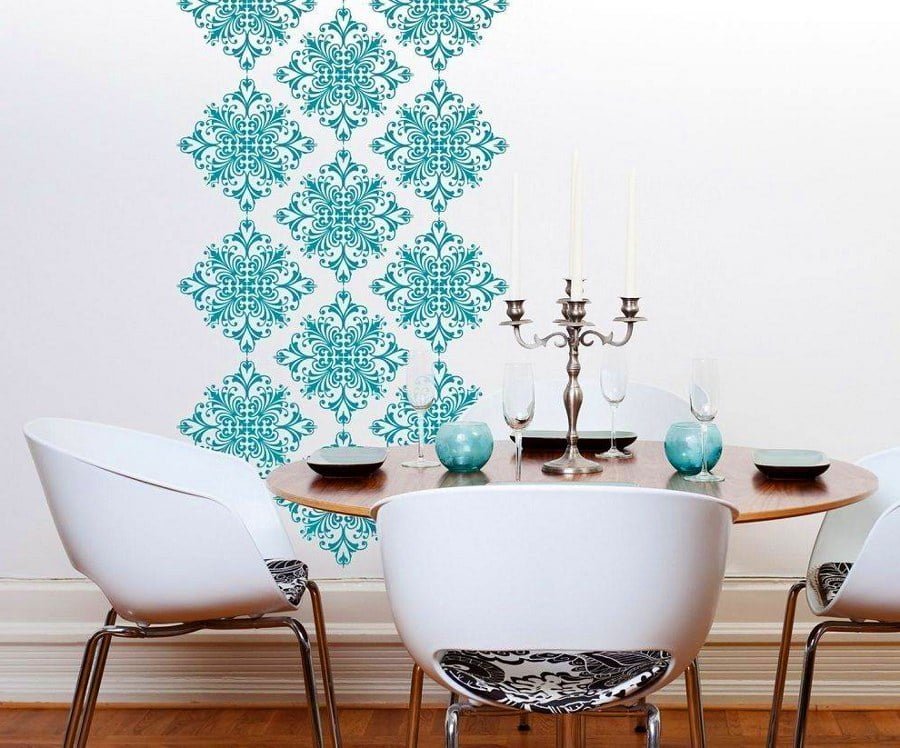 Intricate patterns can match very well with your home decor colors.
Music fan? Pay homage to your favorite band in a delicate manner.
Your bedroom headboard can extend to the DIY wall art of the entire wall.
Some dandelions are used to decorate the wall of this bedroom, and it works so well.
Instead of the wall itself, you can use canvas or multiple canvases to create beautiful DIY wall art, and it's easily replaceable.
Using vibrant colors for wall art is dangerous because it has to match the rest of your decor very well to work. In this example, it does quite well.
Your wall art can tell a story as well…
Wall art can be used to balance out vibrant wall colors too.
You'll keep staring at this wall art day in day out because of its detail.
Quite neutral and straightforward works well to add detail to otherwise plain walls.
Back to Top
---
Wall Decor with Oversize Clocks
The purpose of a wall clock is not only to tell the time; sometimes it's the object of home decor and art. And here are 15 rooms where the designer went all in with the use of wall clocks in the interior design.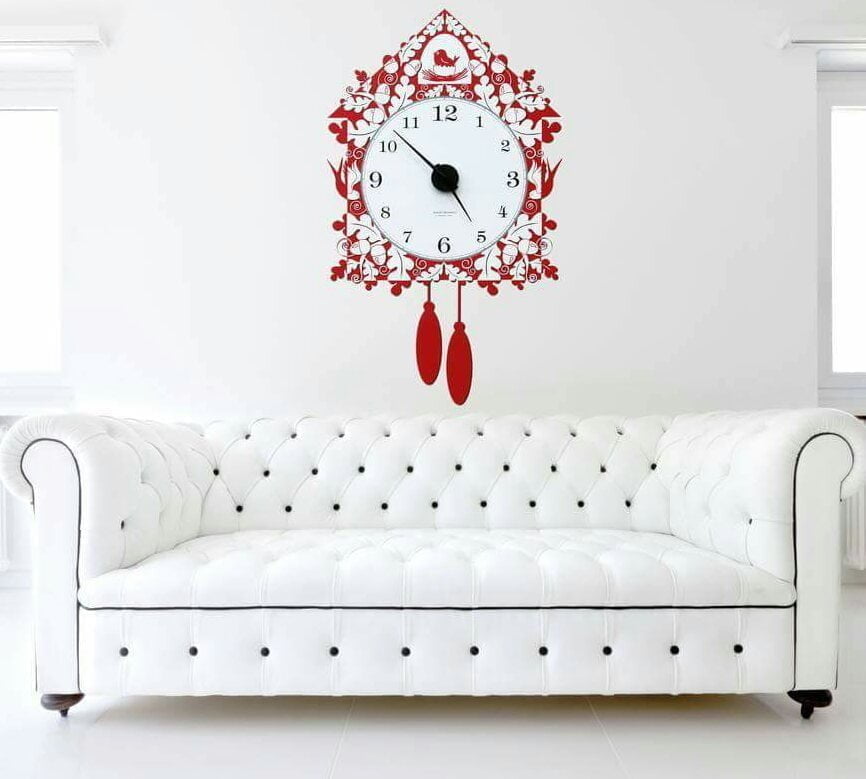 A cuckoo clock must not always be real to create a vintage effect.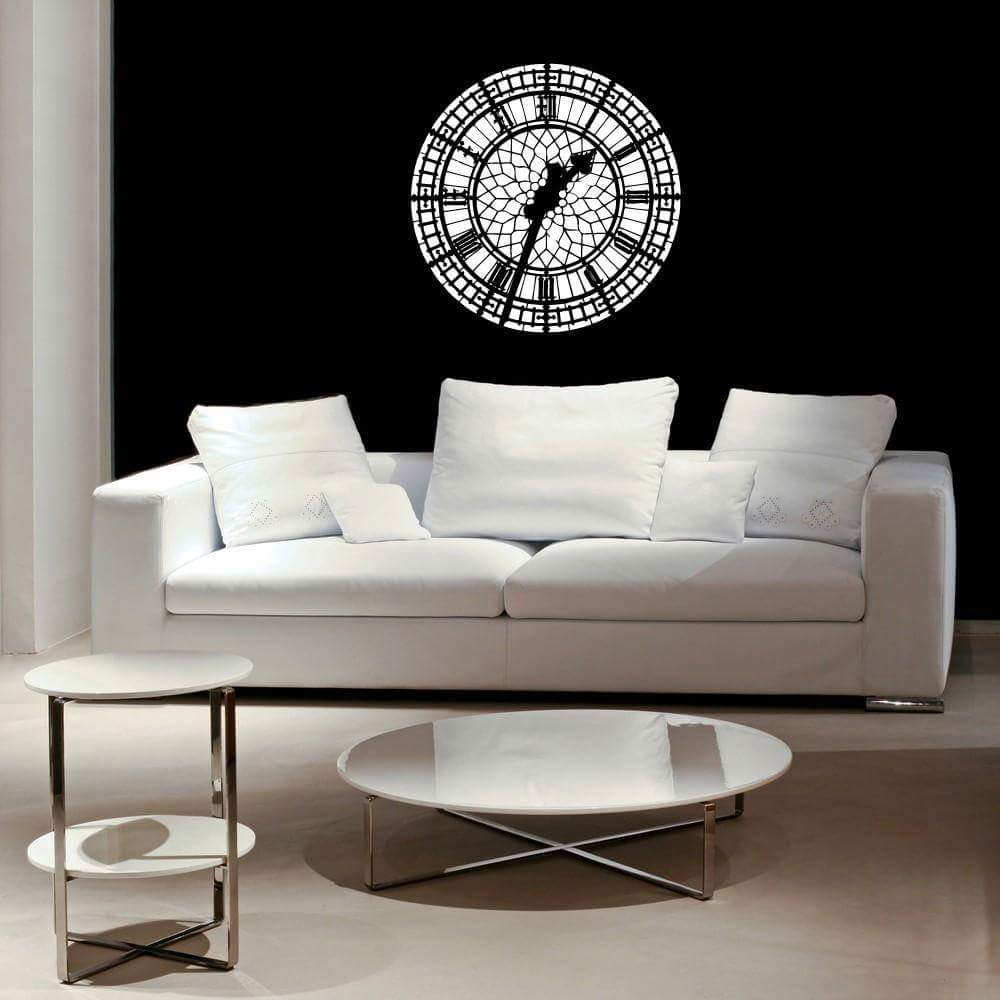 A great option to decorate a black wall is to create a vintage clock design.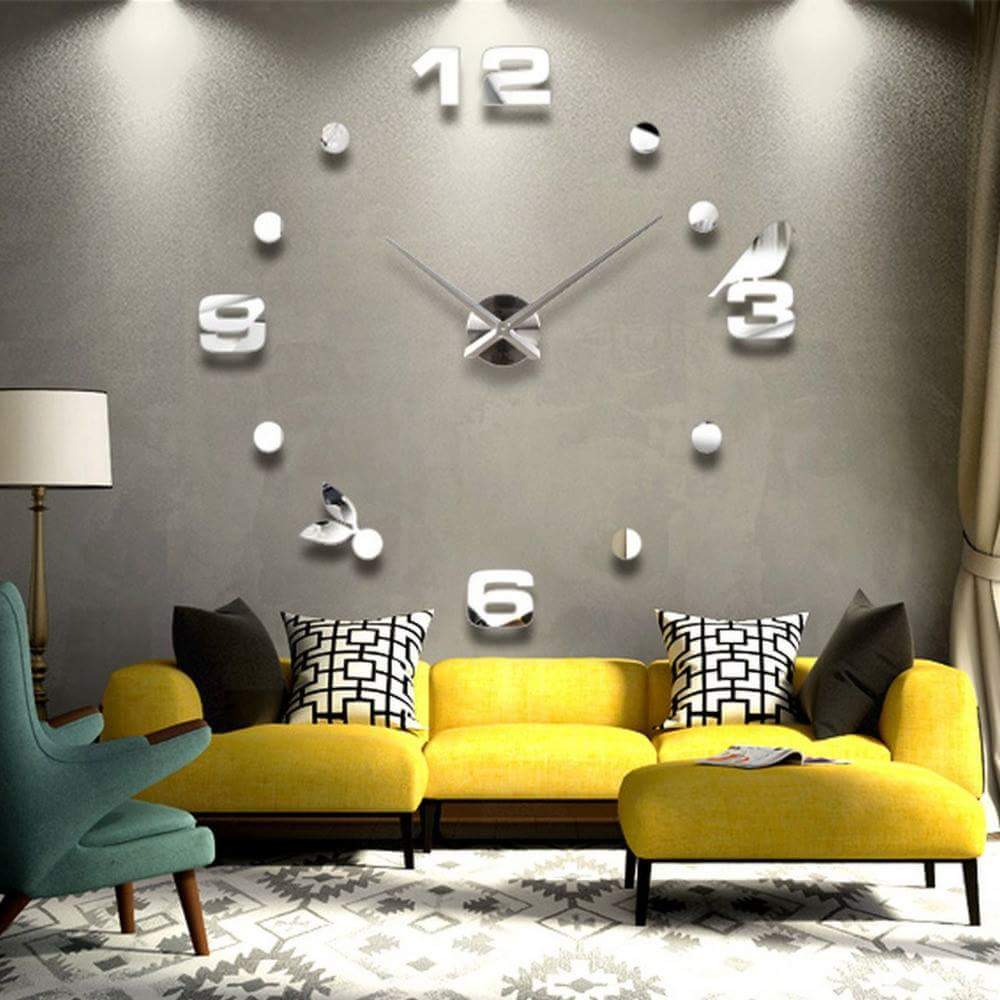 Metallic gloss works great to create a modern look.
While this alarm clock doesn't work, it does wonders to room decor.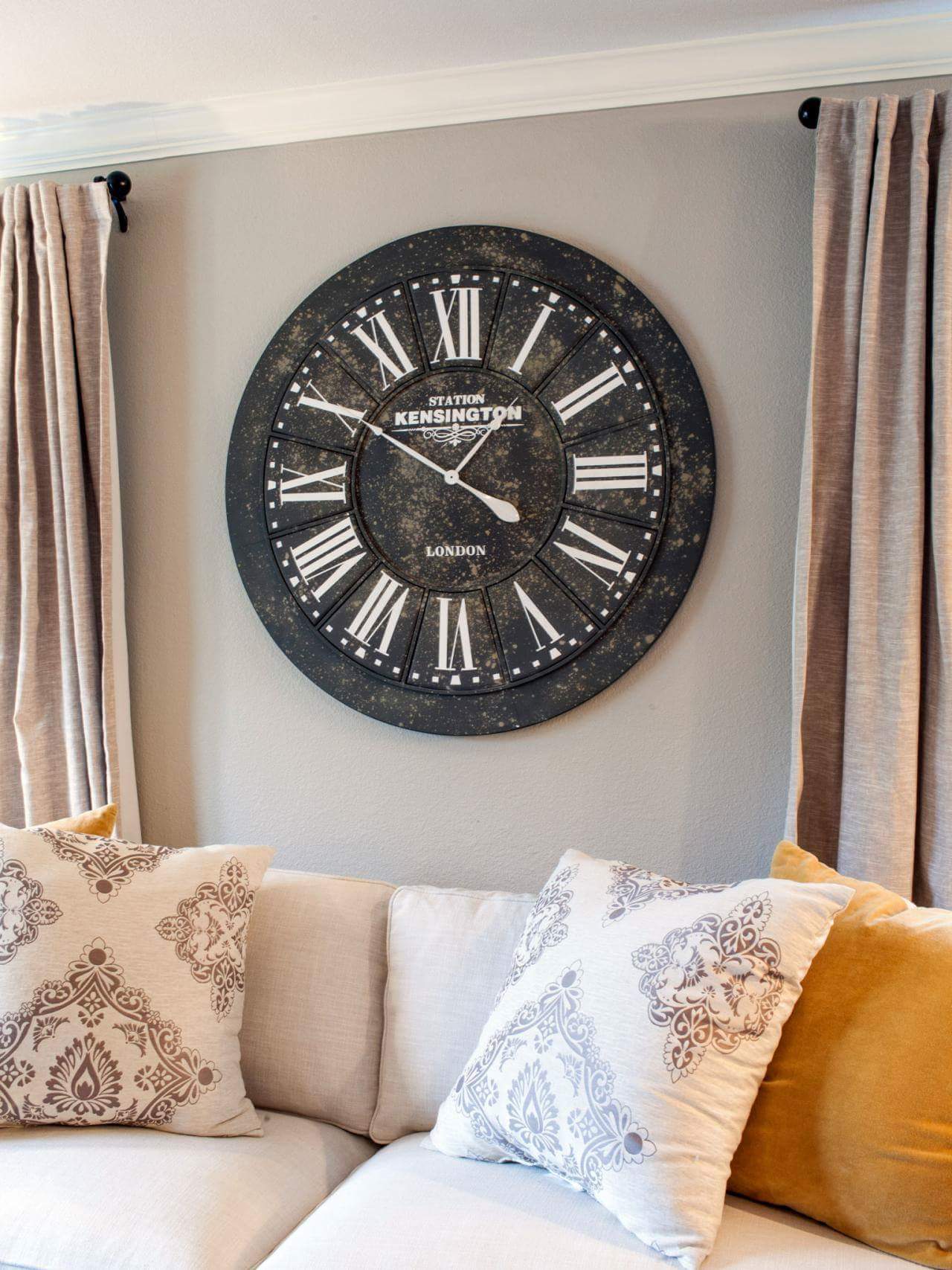 Vintage station clocks are go-to when trying to create a hip design.
World famous Big Ben tower clock works too.
Another excellent example of a vintage station clock design.
This wall clock is a pure classic.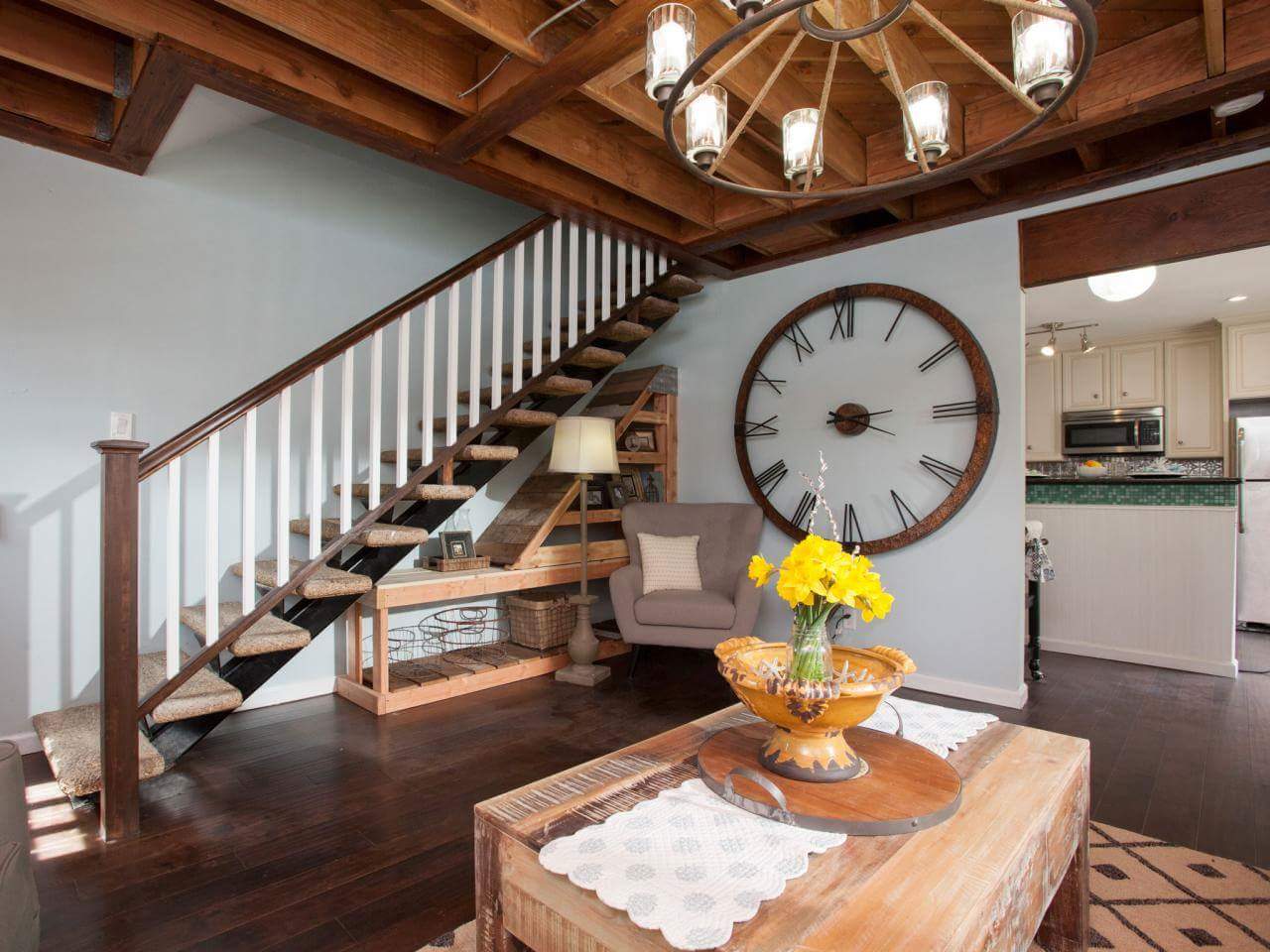 The wooden frame of this clock integrates well with the rest of the interior design.
Woodwork works well in kids room design.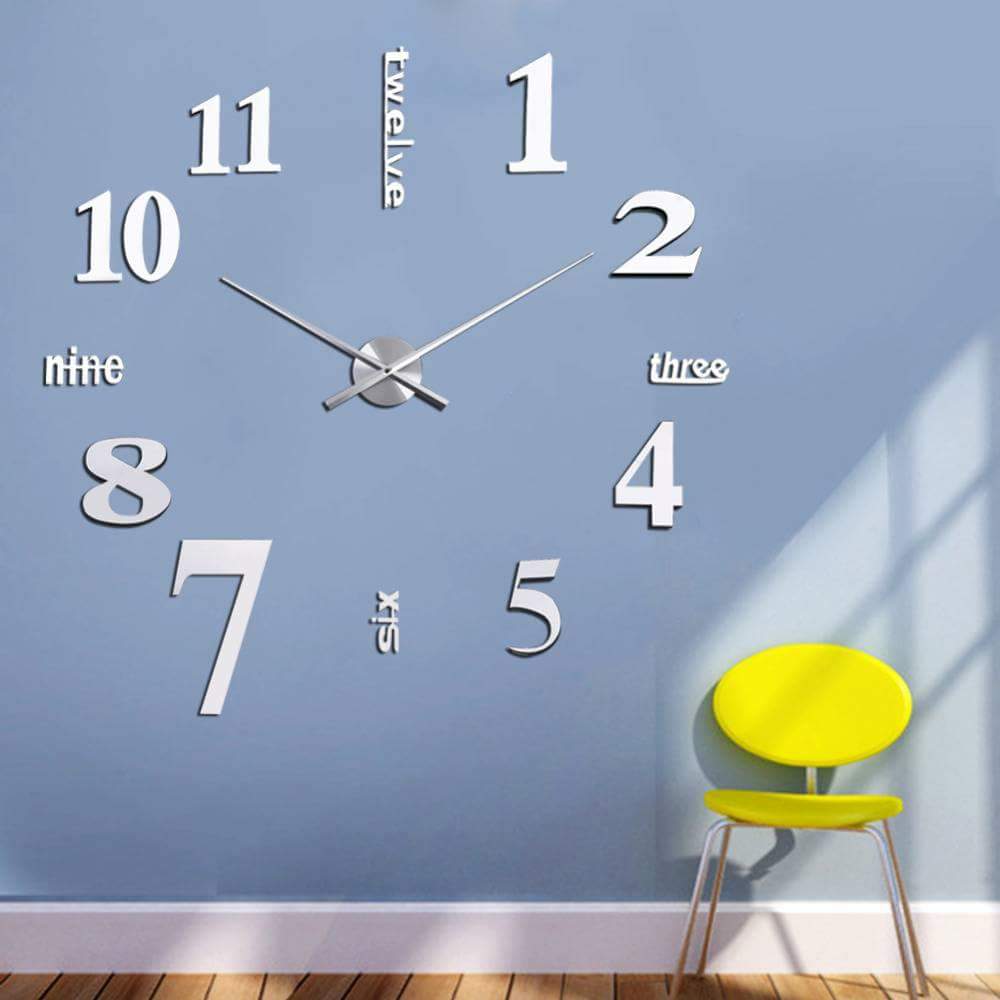 Minimalist design turns the entire wall into a clock.
Another great minimalist design.
And another modern design that makes use of white space very well.
Wall clock meets wall art.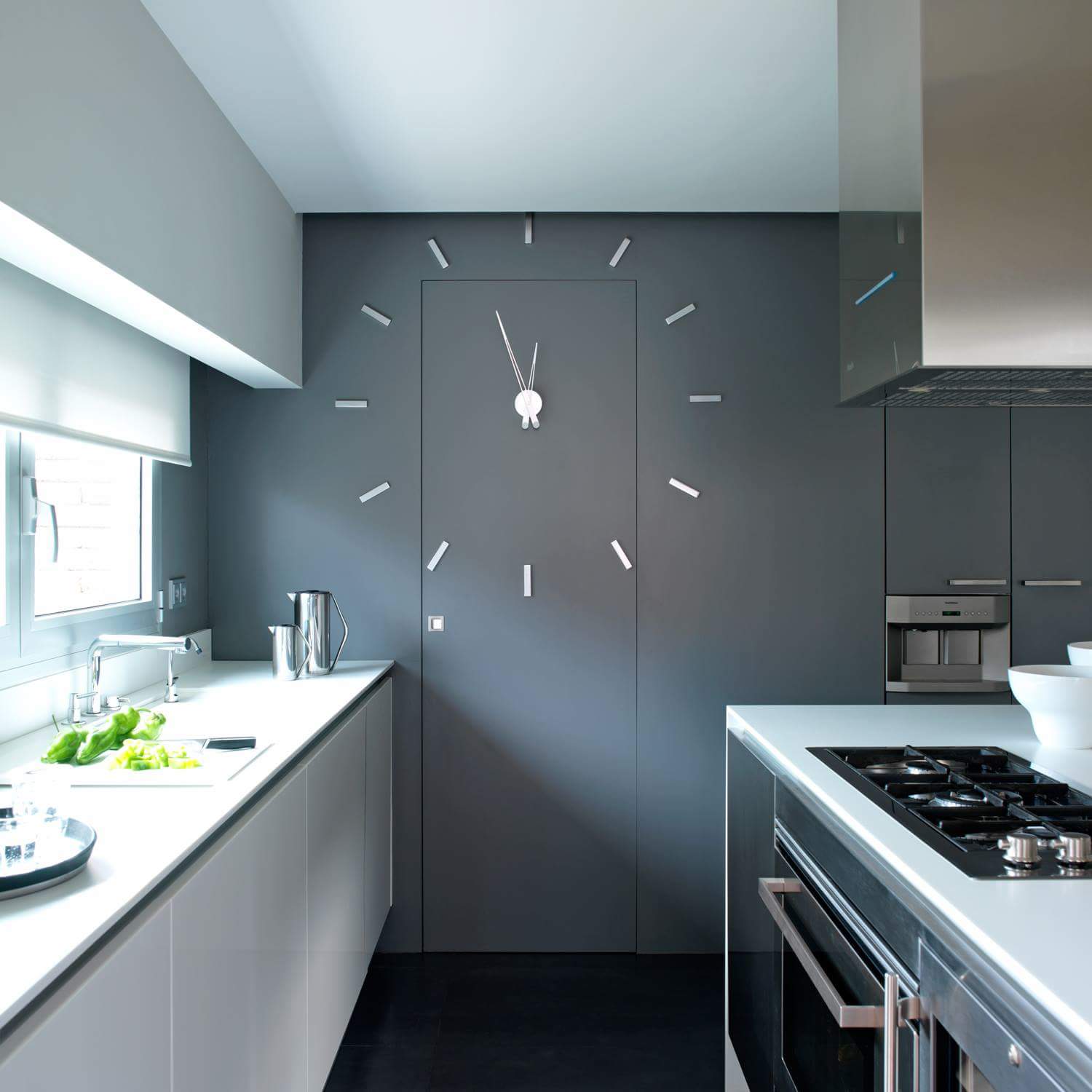 A truly unique way to solve the small space problem.
Back to Top
---
Kitchen Wall Decor Ideas
Kitchen walls aren't usually the focal point for wall art projects. But we argue that they should never be left empty nonetheless. So here are a few wall decor ideas for the kitchen as well.
Paint Color
A cheery coat of color is arguably the best kitchen wall décor. The wall color can inspire the rest of the design and add modern flair.
Artwork
A kitchen is not usually the first space that leaps to mind when most people think of an area to display art. However, artwork that is showcased on kitchen walls can add personality and tremendous visual interest to space. You can choose artwork that has the themes of dining, cooking or baking. Illustrations taken from vintage cookbooks could create great decorations for the kitchen wall. This way displaying artwork on your kitchen walls is an excellent method of injecting personality into space and adding visual interest.
Shelving
Shelving can bring beauty and function to the kitchen and shelves are especially remarkable in smaller spaces. Depending on your preference, the shelves can be low profile or flamboyant. They can be used to display accessories or as storage for kitchen supplies. It is both efficient and attractive to have low profile shelves that are decorated with kitchen supplies or accent pieces. They can even be used to add pops of color to space when they are painted in bold hues.
Over-sized Lettering
These design gems are currently a significant trend for kitchen walls. Using large-format, oversize letters in eye-catching colors and fonts can add substantial interest to the kitchen walls. They are typically made out of thin, sturdy metal. This is because this type of material gives the letters a substantial feel and creates a considerable visual impact while making them light enough to hang from the walls. Some homeowners choose letters that have meaning to members of their household; letters that represent names or initials.
Contemporary Wall Art Stickers
There is also the option of adding whimsy via funny or inspirational words to your kitchen walls with contemporary wall art stickers. These vinyl stickers can be easily affixed to walls and other smooth surfaces.
Backsplashes
You can transform an otherwise subdued kitchen into a work of art by adding show-stopping backsplashes. The backsplash you use can add drama and put your personality on display.
Pot Display
You can add a pegboard and use it as an economical and fun way to display your beautiful pots and pans.
Back to Top