Last updated on October 17, 2018
When it comes to DIY projects, a DIY picture frame is one of the easiest and beginner friendly crafts. Here are 20 very easy project ideas for your perfect handcrafted picture frame.
You can make a few frames in no time and you can use them to decorate your home or even give them as gifts. And while a rustic frame is the most natural choice of the design style, there are so many more options to choose as well. We're making it easy for you with the choice of several tutorials that will guide you through the making of your very own DIY picture frame. Just pick a style you want and let's get crafty!
What's Inside?
Striking Scrap Wood DIY Picture Frame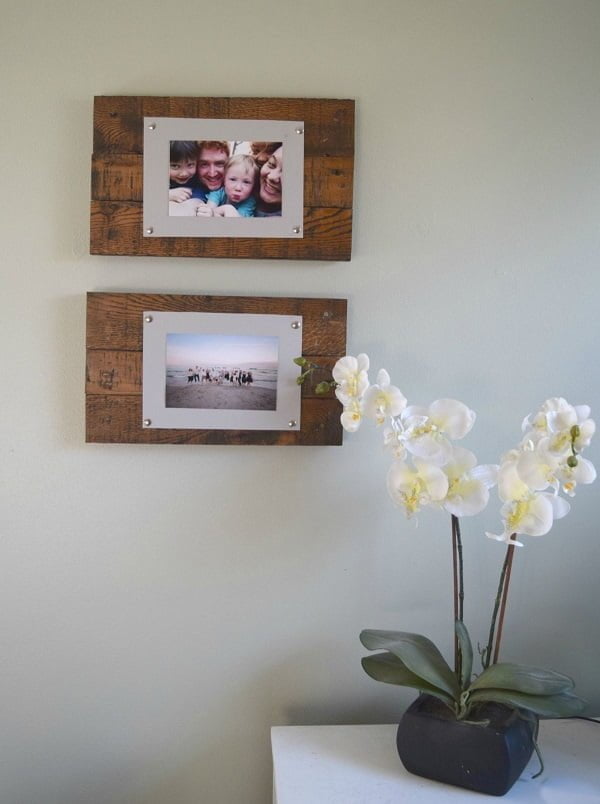 A divine approach on modern-day picture frames, which still maintain the retro spirit alive. If you have a bit of time on your hands, and a chance to complete a project at a lower budget, this DIY picture frame will knock you off your feet. Use palette boards as the base of your frame and play around with shades and palettes, which should make the ambient pop. A rustic vibe is always recommended and gives the space a much-needed vibrancy. An easy project to manage, this picture frame is both impactful and effective at the same time!
Modern Round DIY Picture Frames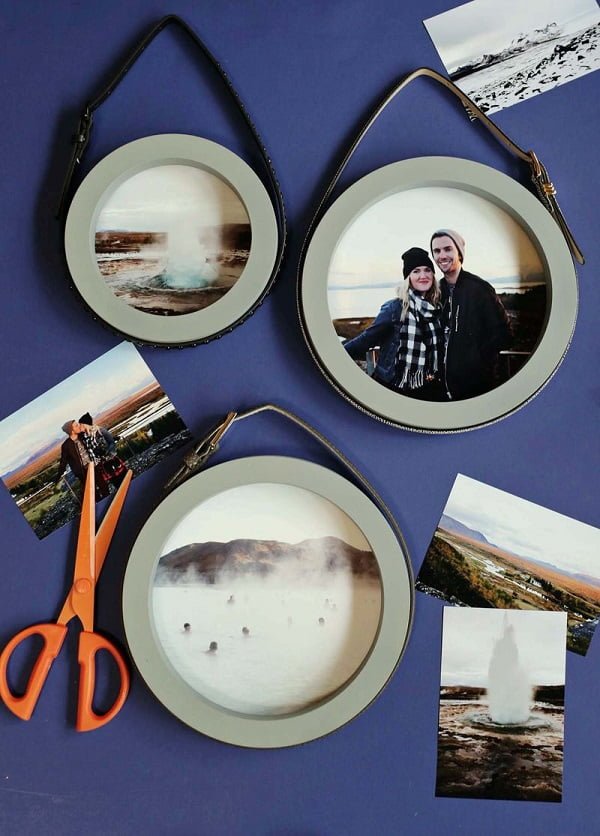 Millenials, this one goes out to you or anyone up for this projects, really! This alluring picture frame design is focusing on creating a wall photo collage, using simple materials which push the concept in an outburst of quality. What you'll need to complete these frames is a round base in different dimensions, a few belts to bring a little country into the design itself, and an impactful single wall at your home.
With less effort than expected, you'll master a project that is playful, affordable and practical to use. If you haven't considered turning the tables on this design, we now encourage you to!
Floating DIY Picture Frame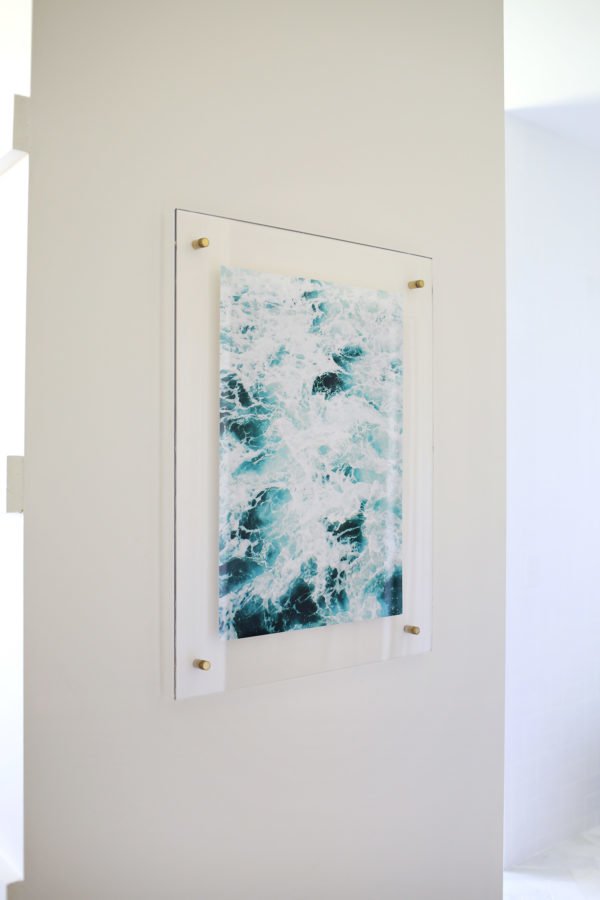 Let things float! A wonderful DIY project is coming your way, in the shape of a picture frame. If you want to start small with adding novices to your home, this floating acrylic picture frame is your green light.
A simple, yet classy design, this acrylic picture frame is found to deliver more light and vibrancy to your setting, and can be a great piece for any room of the house. To complete it you'll need a large acrylic piece, printed photos, gold spray and a few more elements. With an easy tutorial to follow, this DIY project is certainly a favorite!
Transparent DIY Picture Frame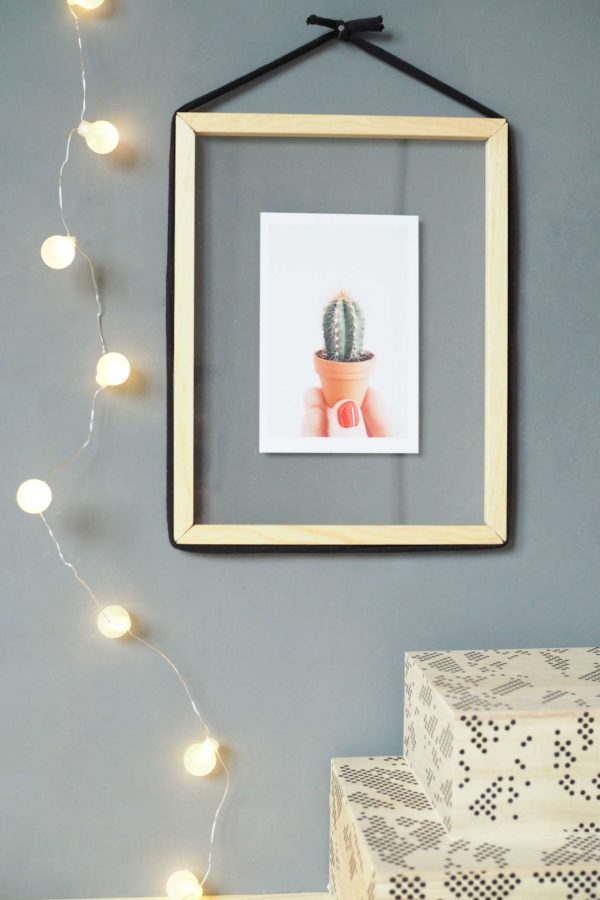 A great project is in sight, and it is bound to make you smile! This great DIY picture frame is ideal for a reading corner in your house, but can brighten up almost any other room as well. What grabs the attention is the simplicity in design, yet effectiveness in terms of décor.
The project is fairly easy to do, but will deliver and definite impact on everyone with an eye keen for detail. Mastering this concept requires a few materials, such as bars for your frame and a Plexiglas window piece. In terms of creativity and budget, this design is second to none.
Fascinating Crackle Finish DIY Picture Frame
Interior designing is all about the color, which is most often found in the small pieces. This magnificent DIY picture frame takes a modern approach of color, but still keeps the vintage vibe going. The effect is more than favorable for any room of the house, and what is more impressive is the easiness in accomplishing it. Start off with a few important bits, such as a standard wood frame, and a sweet pastel shade.
You will also need glue to deliver the desired 'crack' effect, but the paint basically does the job for you! Follow the tutorial for more and give this sensational project a go!
Tribal Design DIY Picture Frame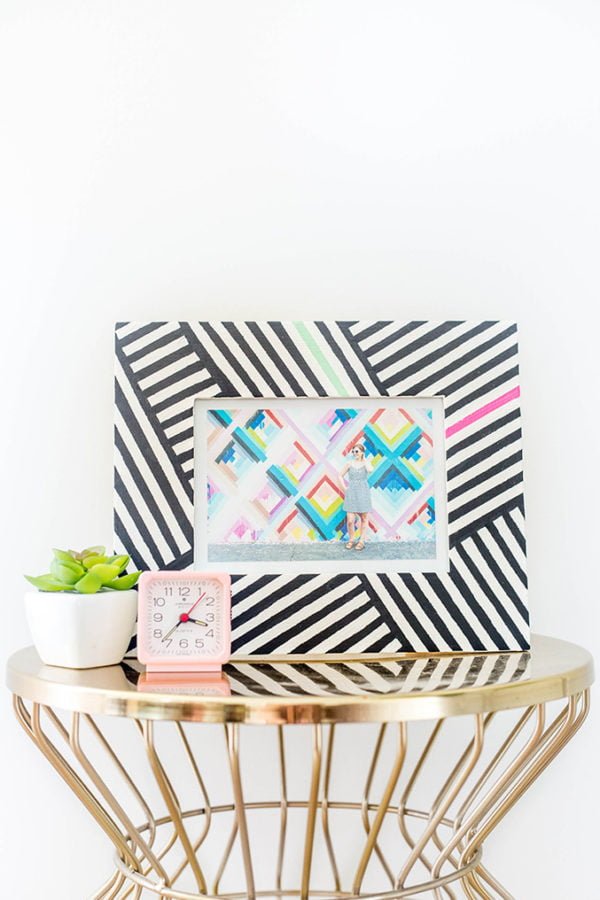 Allow ethno motifs to enter your home, and give this DIY picture frame idea the chance to wow you. If you have the will or skill for painting, this is a great way to stay inspired and still deliver a practical and vivid picture frame to occupy your nightstand or hallway shelf.
The zigzag print on the frame is painted manually, so use a strong base and some glue tape to create your desired print. We say, the more colorful, the better! With a minimal budget at stake, you will end up completing a stylish picture frame within a day!
Creative Paint-Dipped DIY Picture Frame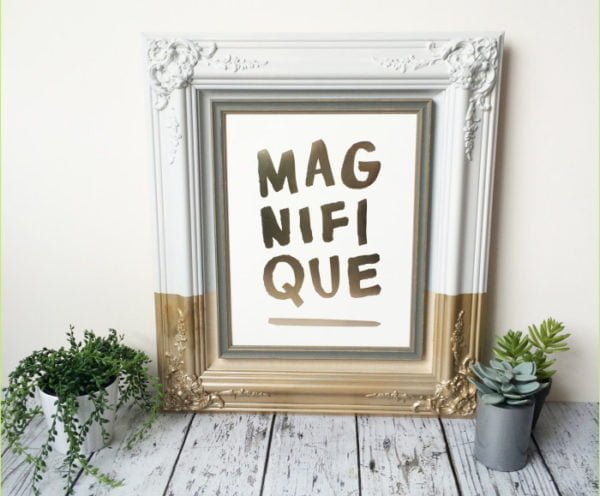 Oh, glorious gold! If you want the elegant, yet dynamic interior design pieces, this incredible DIY picture frame will be there for you. It is interesting to see what a play of clear white and golden shades can do for your frame, and your space at the same time!
If you have a retro-looking picture frame at home, feel free to use two-shade paint to visually divide the piece in two segments. This is bound to introduce a zest to your ambient, and with a minimal budget involved, your take on this frame is a 'must'!
Sophisticated DIY Nursery Book Frame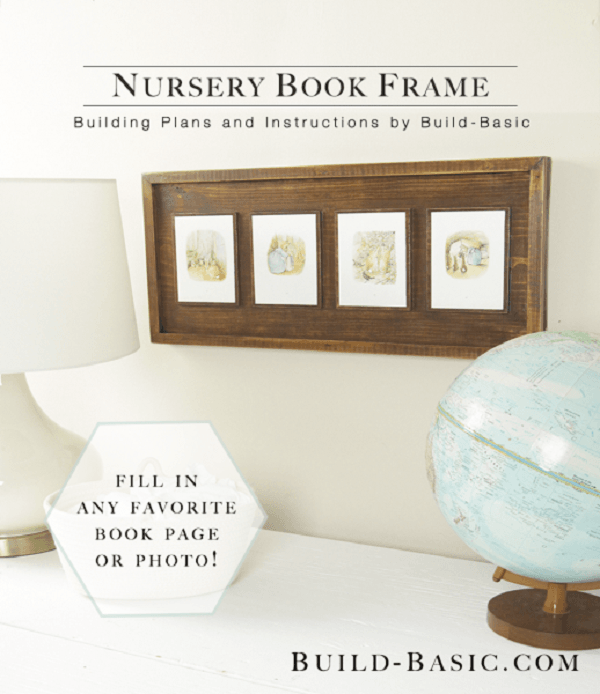 This endearing bursary DIY picture frame idea is one of the sweetest, and easiest projects to master. A delightful piece really, this fabulous and multi-framed design will captivate you with its chicness and practicality.
Completing this DIY project requires several crucial elements, such as several board pieces, some cutting skills and basic framing techniques. Nothing a bit of glue can't solve! A truly magnetizing frame, make sure you go for your perfect wood shade to depict the glamour and softness of the idea itself. With a budget of under $11, this DIY picture frame is hard to ignore!
Colorful Pencil DIY Picture Frame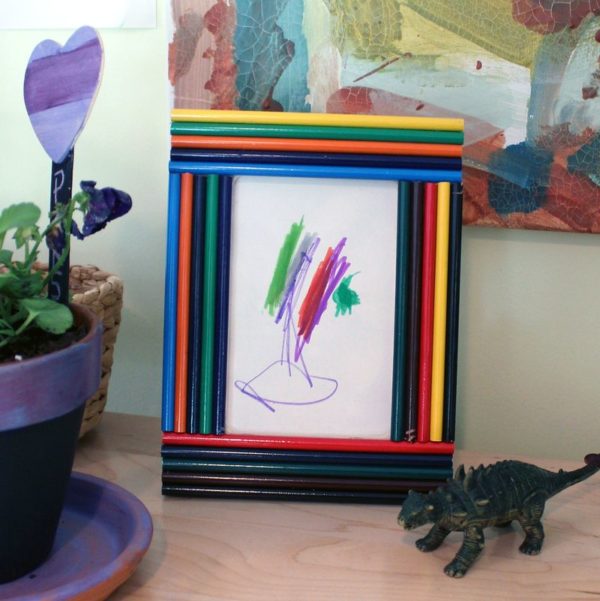 Childish dreams revived, indeed! Take a look at this sensational and playful picture frame, made entirely of multi-colored pencils which we all have at home, right? With minimal to no spending budget involved, this picture frame will cheer up your kids' rooms or your library. For starters, you will need a few packs of colored pencils, and the more layered the more impressive your frame will look.
Adjusting your pencils by cutting them may be required if you have a smaller frame, but other than that, it is all about gluing the pieces together in a harmonious final piece.
Loving DIY Poster Picture Frame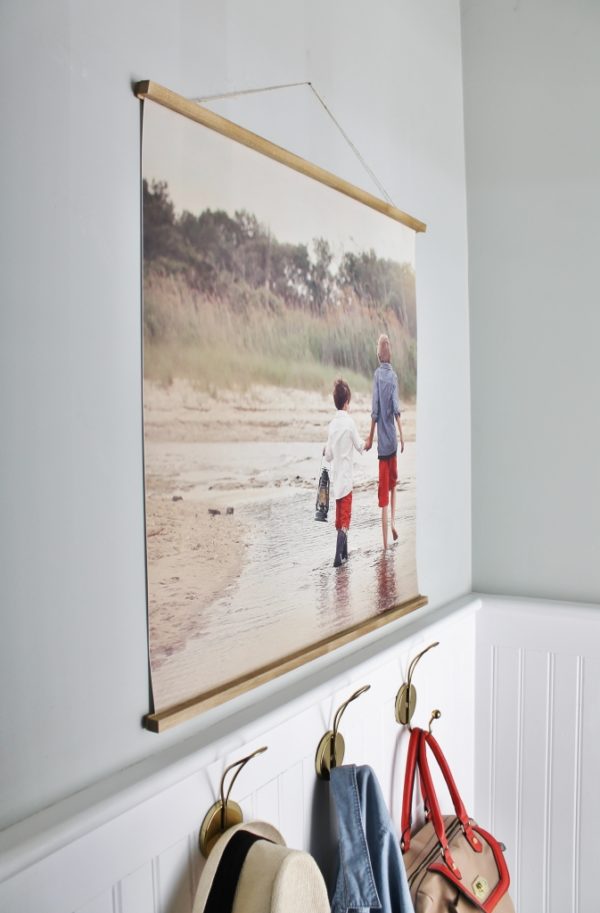 What a fabulous DIY project! If you are into frames and like to give your pictures a little décor and kick, here is a project you can do with ease. What you actually need here is not as much about the elements, as it is about the aesthetics of it, so make sure your photo stands out and bursts with colors.
The idea of the design is to use a printed photo on a high-quality paper, which is later to be half-framed, giving the impression of a wall poster. A simplistic layout, truth be told, but an effective one for that matter as well!
Inspiring Popsicle Stick DIY Picture Frame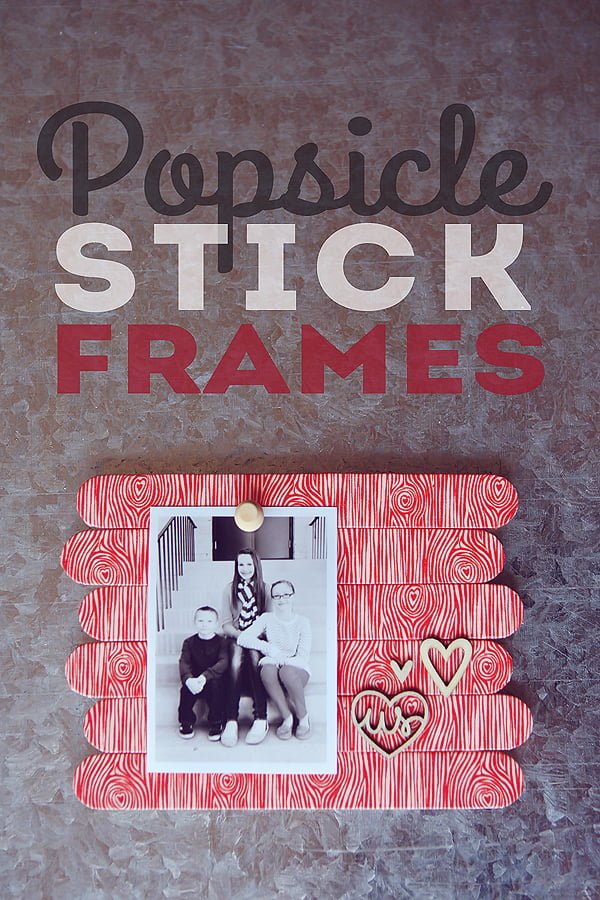 Let there always be summer in your house! If you like repurposing and redefining materials and fabrics, this explosive and bright DIY picture frame project is a perfect match! Composed of used Popsicle sticks and printed tapes, this is a concept you can finish up in under a few hours.  Affordable, environment-friendly and applicable, this idea will open up the space you live in, especially in terms of textures and vibrancy.
A magnet will come in handy to hold your photos better, so choose appealing shapes to add extra chicness to the frame itself. Easy and breezy, this DIY frame is a true décor win!
Lovely Candle DIY Picture Frames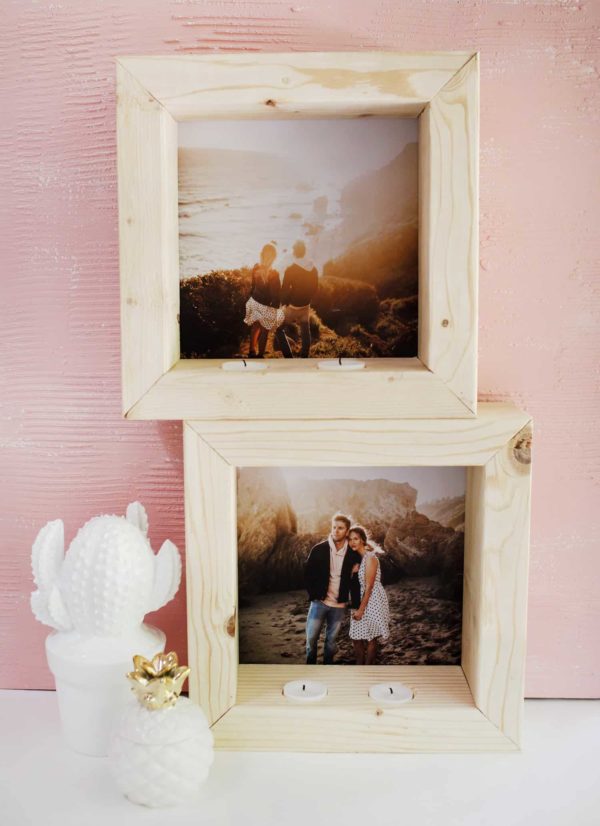 Can you incorporate candles with your favorite picture frame design? Of course you can! Have a look at this precious and smart photo frame idea, which resembles a thoughtful photo collage laid out on your wall. When it comes to simplicity, we often forget about the true beauty of unstained wood, and what it does for the space itself.
You will need a fine amount of smaller wood pieces to create a box-like shape. Plus, you will need to drill candle holders in the bottom piece of wood, for maximum safety. Other than that, the project is easy to accomplish and certainly makes an impression!
Divine DIY Shell Picture Frame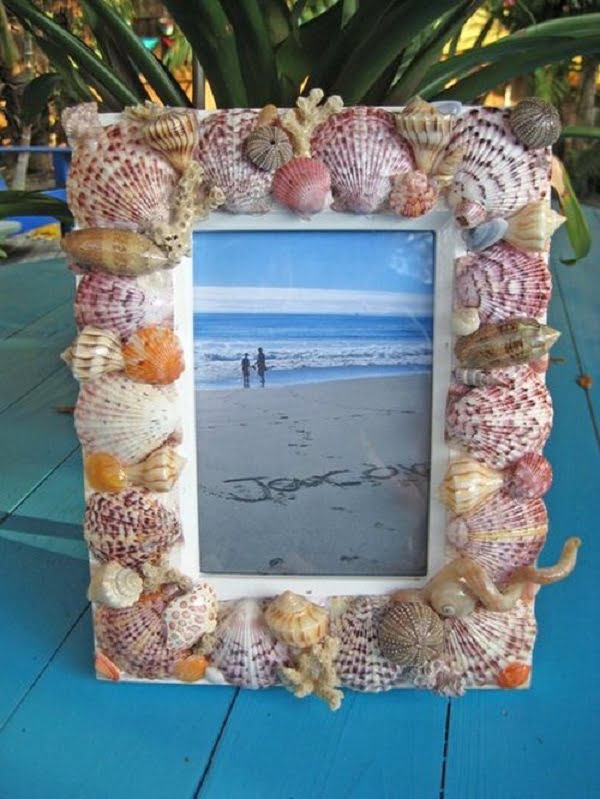 Do you have a box of shelves and nothing to do with them? Let us present to you this exceptional DIY picture frame design – get it while it's hot! With a few simple details included, such as a basic photo frame and a handful of seashells (halves work better), you will be able to deliver a strong and dynamic piece, which is both ornamental and perfect to hold your favorite snaps.
The project is almost cost-free and it takes is a few easy steps to complete it, all explained in the tutorial itself. Play with shells of all shape and sizes and allow your frame to stand out!
Rocky DIY Picture Frame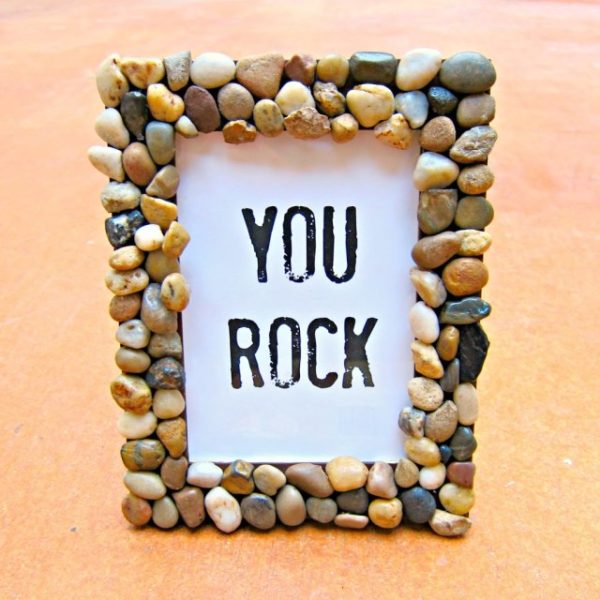 The sea will never be too far away with this incredible DIY picture frame. An intelligent and easy-to-do design, this photo frame is all about beach stones, and lots of them! Get your hands on colorful, different and unique beach stones and get ready to create a great office set, composed of a rocky picture frame and a pen holding cup.
Focusing on the picture frame, for now, you will certainly need glue to make sure the stones don't fall off, as well as an eye for detail and balancing it all out. A polished and affordable piece, this picture frame is a must-do!
Elegant Wood Magnet DIY Picture Frame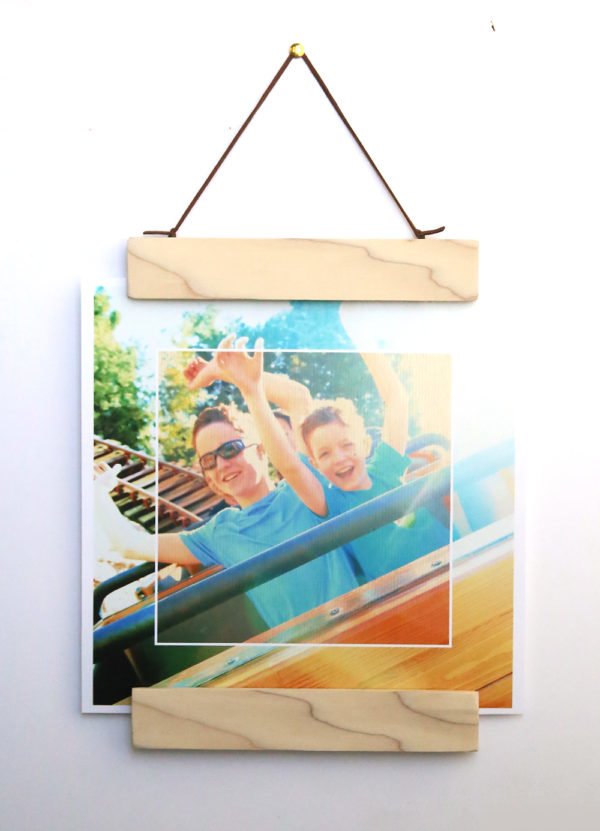 Well, take a look at this – an exciting DIY picture frame design that speaks of class and sass at the same time! If you'd like to see this glorious photo frame hanging on your walls, let's get to making it happen. The elements included for this piece are a set of wood pieces, some glue, and a magnetic tape.
A few aspects are important as well, including solid sanding techniques and a fashionable cord to exhibit your frame on any wall in your house. With a good budget in mind, this DIY project is as fancy as decorative designs get!
Trio DIY Picture Frame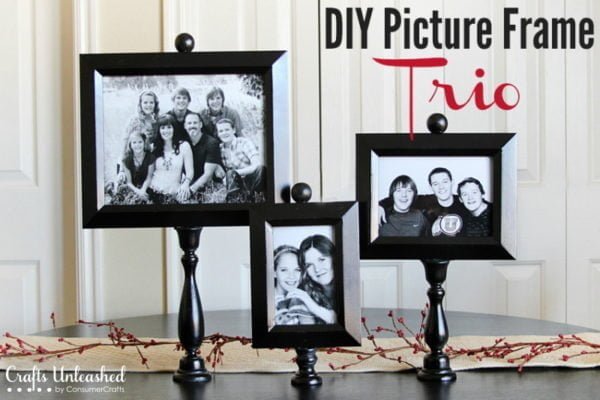 A round of applause, please! This magnificent DIY picture frame project incorporates a soft retro vibe while introducing modernistic black shades at the same time. Opening the space just properly, this trio picture frame design is a fixed one and will serve as a decorative corner in your living or bedroom.
Get your hands on three photo frames and paint them black if necessary. Also, you will need three candlesticks to give the frames a steady base. Read the full tutorial to learn all bits you'll need for this idea, and then it's all down to making it happen!
Vintage Burlap DIY Picture Frame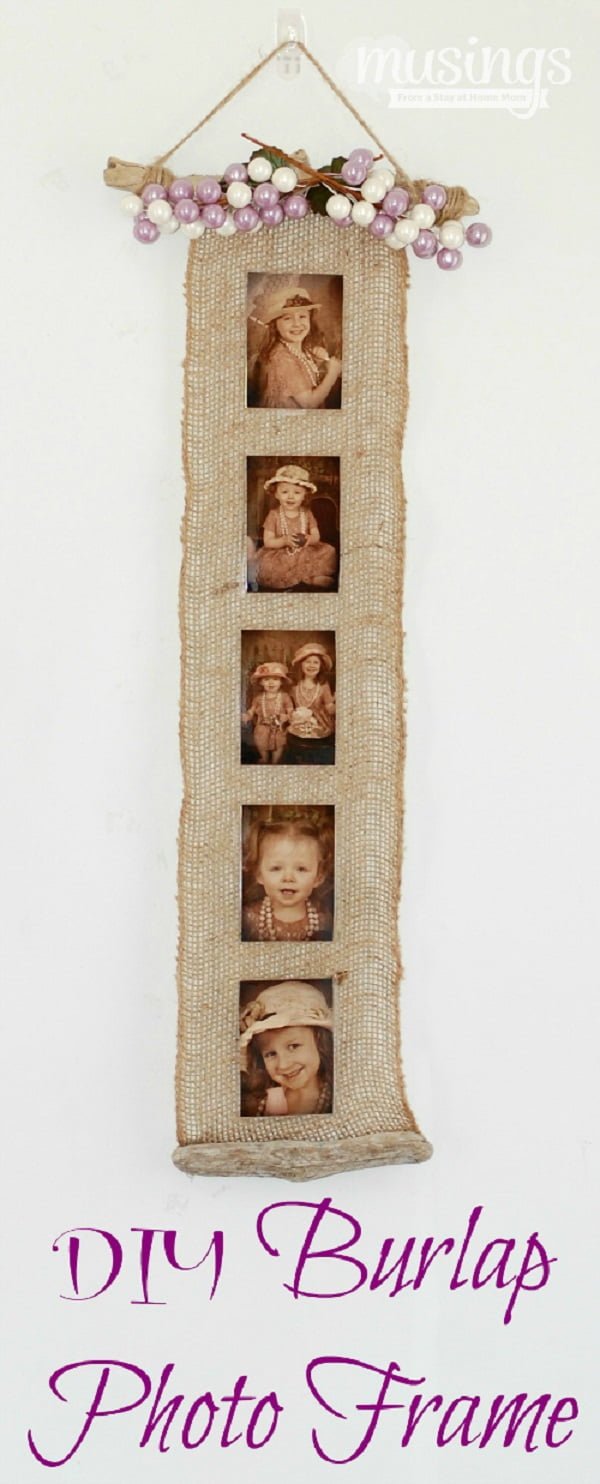 When it comes to creative designing, it doesn't take a fisherman to learn all the ropes! This sensational and navy-inspired picture frame will bedazzle you with its effectiveness and charm. Easy to accomplish and fairly simple to construct, this frame uses a burlap ribbon as its base. Feel free to experiment with your photos and create a joyful collage of two or more of your favorite snaps.
As for the rest of the supplies, you will need twine, a few sticks, and some precision in executing the project altogether. Ultimately, this is a great beginner's project and will not disappoint you!
Pretty DIY Twig Picture Frame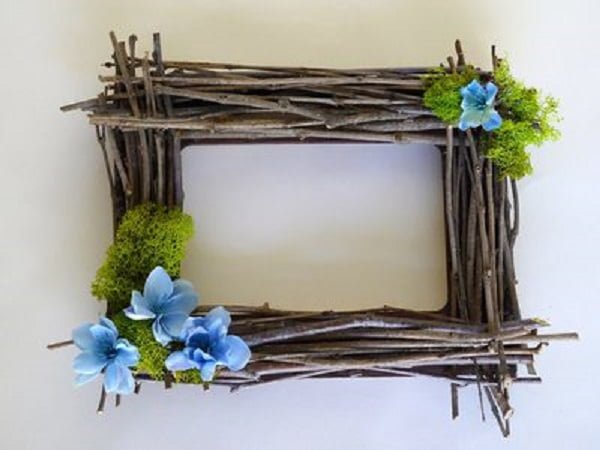 Speaking of flirty and rustic, this sensational fairytale-like DIY picture frame is a true catch for any willing and creative mind. Composed in the simplest of ways, and using twig as a standout element, this precious picture frame speaks of comfort, positive vibes, and elegance.
A few floral elements will give the layered twig frame a romantic feel, so don't hesitate to play with colors and textures. You will also need a basic photo frame to hold all rustic twig pieces on it, but again, the project is relatively easy to do, especially if you are mindful of your budget as well!
Fabulous DIY Guitar Body Picture Frame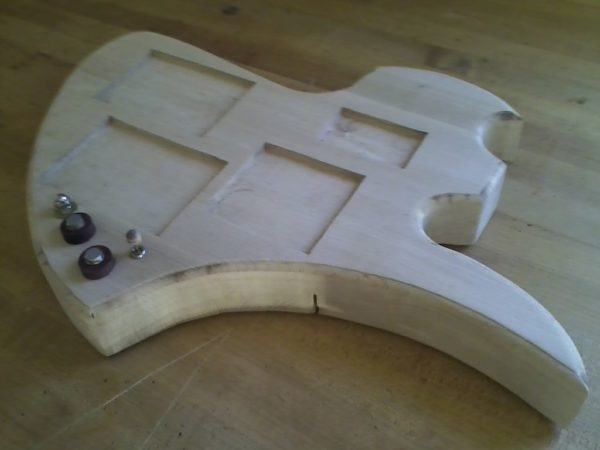 Another fantastic DIY project is making its way to your home, and it's a majestic one! If you are into revolutionizing the shape of a photo frame, how about getting inspired by your guitar?
What you'll need to complete it includes a wood piece from which you'll need cut out your guitar shape, and a few additional elements to put the frame together. This is a refined piece and asks for precision and esthetics, but with a good will, you can accomplish it, for sure!
Follow the detailed tutorial to learn all details for this guitar-themed picture frame and let your creativity show!
DIY Pallet Plaques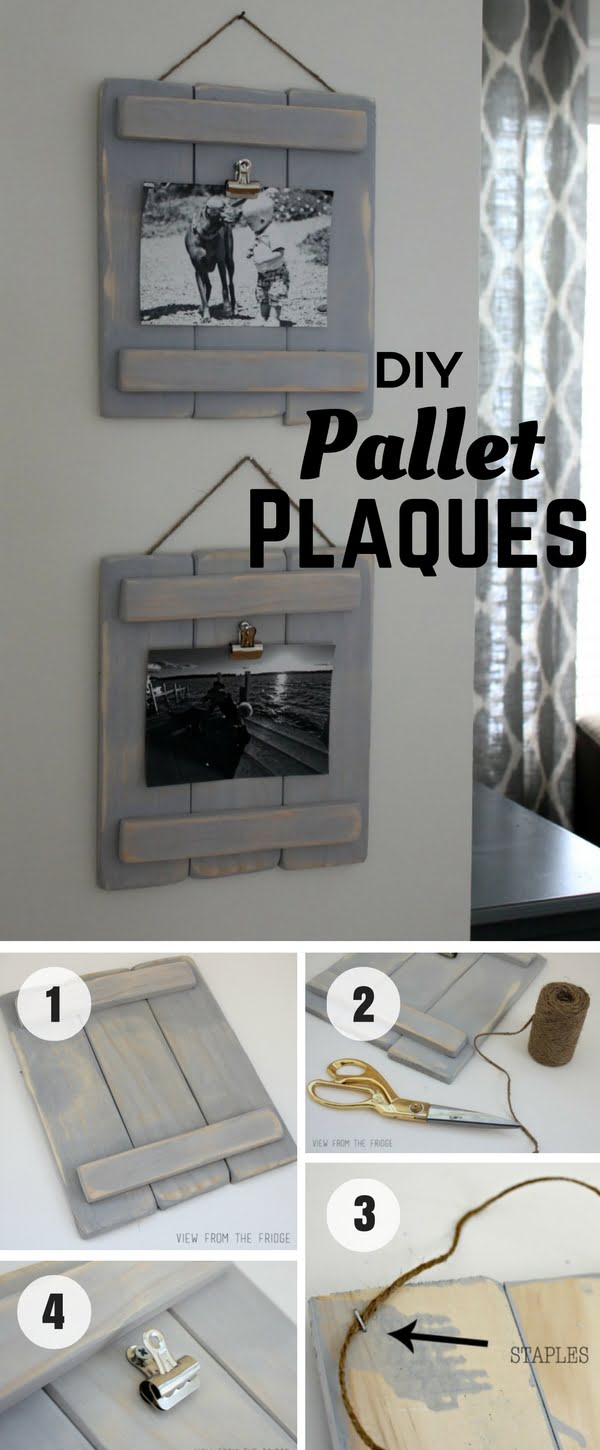 A DIY plaque picture frame may be one of the easiest yet very attractive ways to display your pictures. This rustic design with a clip allows for a quick picture replacement so you can even rotate them daily if you wish. Such a simple addition to your gallery walls can create a big decor impact if you're after rustic style.
Liked this article? Here's what you can read next: