Last updated on November 26, 2020
DIY canvas art is the perfect craft project to take on at home if you feel like you need to express your artistic side. It's also a great way to add some unique art to your wall decor. Here are 39 easy tutorials that will help you create stunning canvas art yourself.
Who needs to splurge on wall art anyway? All you need is to get some inexpensive craft supplies and get your hands dirty. It also helps if you're even a bit artistic. If not, you can follow a tutorial you like to the point. Making one of these canvas art pieces is not only a great way to decorate your home in a unique way, but also make a thoughtful handmade gift to someone. After that, don't forget to make a DIY canvas frame too.
Breezy and Easy DIY Canvas Art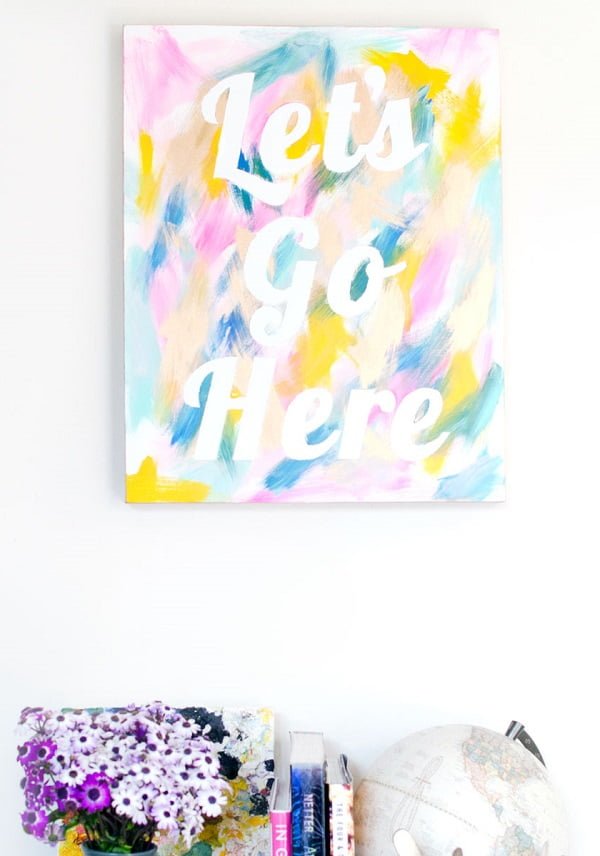 It doesn't take an expert to create a multi-dimensional canvas piece, which is also artistic and beyond cheerful. This particular DIY wall art consists of happy pastel colors and a motivational quote right in the center of the design itself. Use simple brush strokes to create a somewhat chaotic pattern and play around with dimensions and layers. Print your favorite quote in a fancy font and, and allow the canvas to transform from a blank space into a modernistic wall. This DIY wall art canvas idea is cheap, and can be done within a few hours, so why not try it?
Thrifty DIY Canvas Art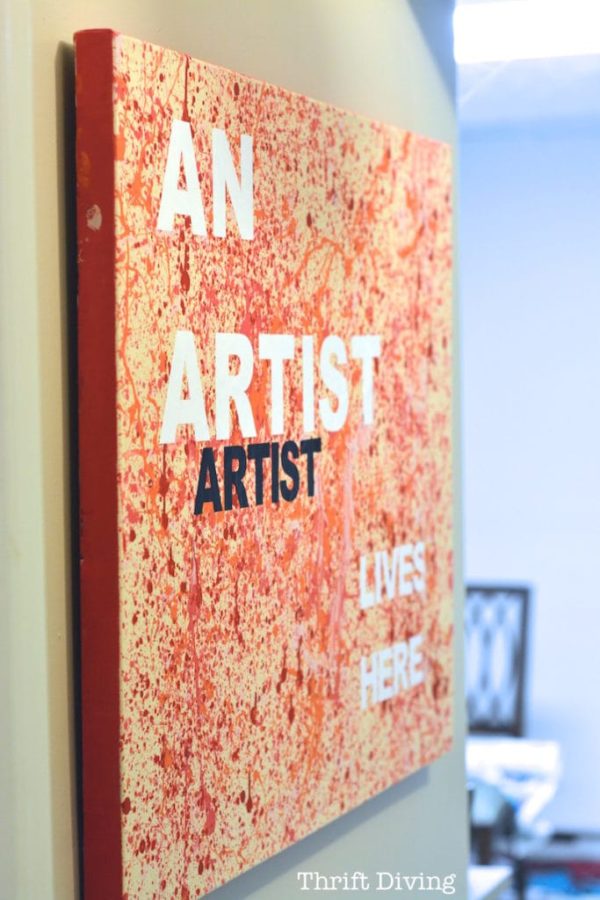 Creating a new canvas art piece from an existing one is fairly easy and all it takes is a bit of creativity and willingness to do it! This fabulous DIY canvas art idea uses an old poster canvas, which is painted over and transformed from scratch.
To create this design you will need a splatter of multiple colors, and a simple brush technique to achieve the desired effect. Pops of red and orange are amazing on any surface and will make your wall stand out immediately. Affordable and super easy to achieve, this DIY canvas art is certainly a favorite!
Contemporary Pixel DIY Canvas Art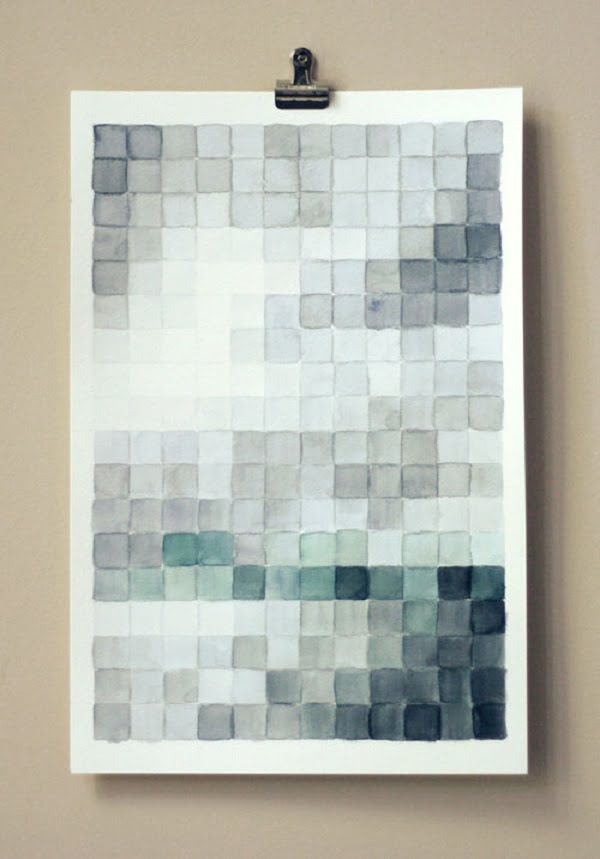 An elaborate and effective DIY canvas art design is coming your way, and it is a one to pay attention to! This fabulous idea takes a modern approach on canvas painting and uses actual pixel-looking pattern which gives the canvas both style and texture.
Neutral tones can work their magic, delivering a dynamic and balanced final outlook. To complete this look, create a pattern of small squares, similar to pixels. Play with light and dark shades to create texture and be ready to spend a few hours completing the piece.
Other than precision, this DIY project is simple to do and will make your space brighter!
Geometric DIY Canvas Art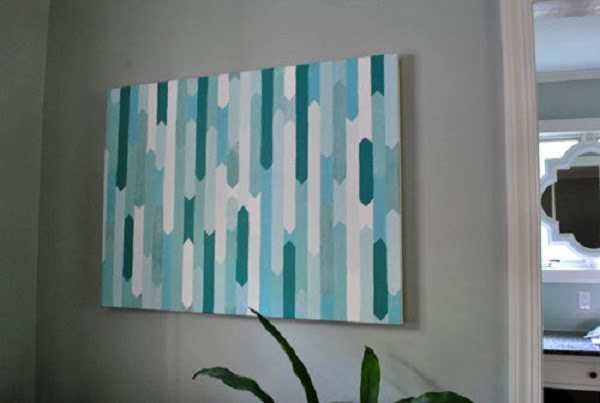 The simplest of patterns can oftentimes be the most inspiring ones, and this DIY canvas art piece is a great example of it. The canvas used for this project is painted in blue and lighter white tones, combined in such way to represent a symmetrical layout. On an empty canvas, draw vertical and oval lines with a spikey finish. Next, it is all about painting, so make sure you balance your shades by combining lighter and deeper tones nicely.
With a minimal budget in mind, this canvas art idea is an amazing project for both experienced and amateur craftsmen!
Classy DIY Quote Canvas Art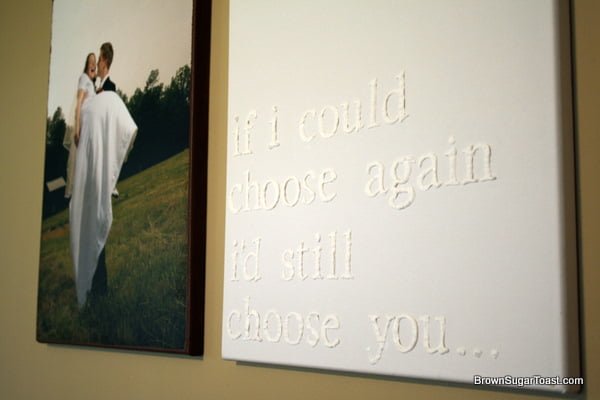 If you want to get highly creative, delivering a simplicity, yet desirable canvas art, this DIY idea is just the one to try! What you will need to do is find an empty canvas and get your hands on a few supplies, one of which is puffy paint. Choose a font to your preference and then get working on writing down your canvas quote.
Wax paper will come in handy in creating the 3D puffy paint lettering, after which it is time to attach it to the canvas. Feel free to play with colors, but know that neutral shades work incredibly well, too!
Stylish DIY Cut Out Canvas Art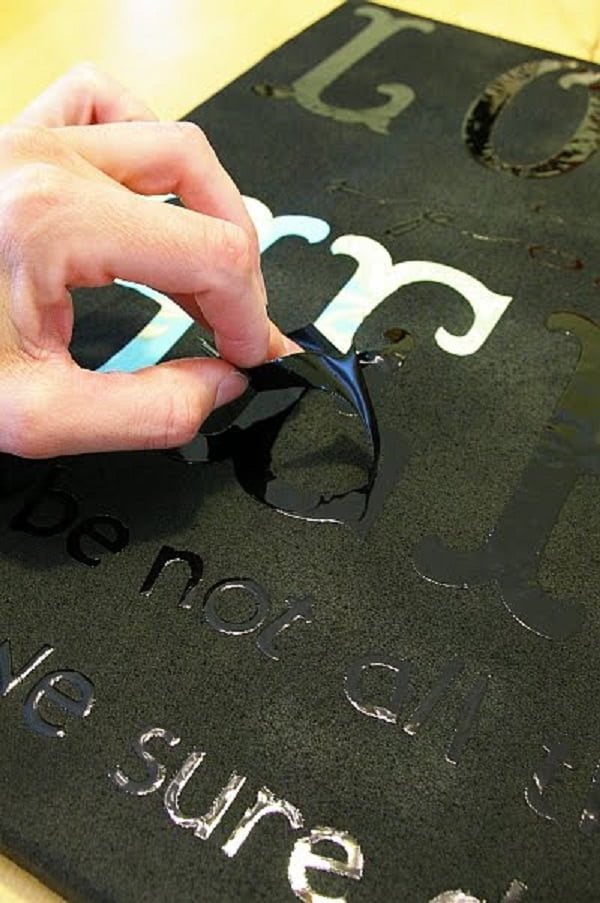 Padded canvas can be just as pretty as painted one, so instead of spending time with the brush, why not choose a brilliant fabric to help you create an amazing quote canvas? This sensational DIY canvas art requires a piece of patterned fabric, along with a few other elements, such as contact paper, spray paint and a printer.
After stapling and attaching the fabric onto the canvas, the next thing to do is assemble your quote and spray paint over it. Once you remove the quote lettering, you will be left with a wonderful and catchy canvas art that certainly grabs everyone's attention!
DIY Christmas Canvas Art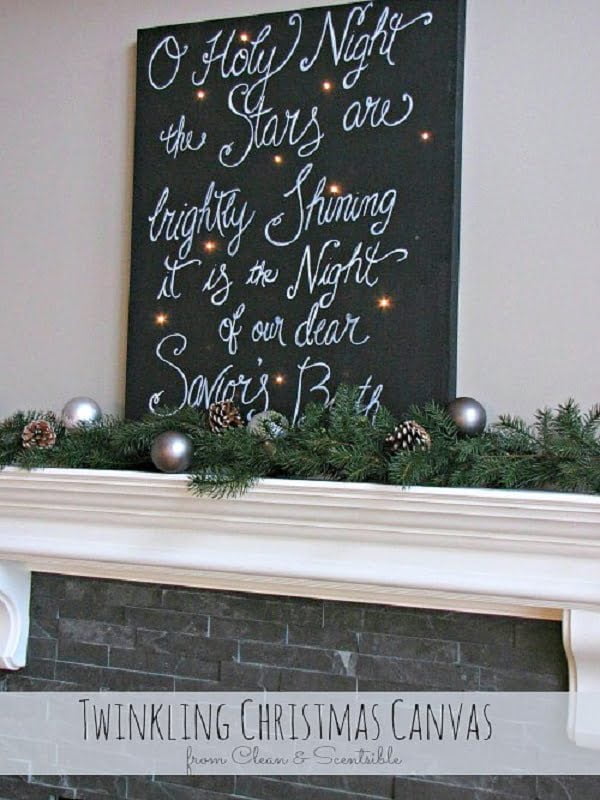 Get ready just in time for the holidays, and create this incredible DIY canvas art piece! The project itself doesn't require plenty of effort, but will still deliver the desired impact during Christmastime. A few key elements are necessary to complete this project, such as black acrylic paint and twinkling lights.
After painting your canvas black, you will need to lay out your Christmas quote, and incorporate the lights discreetly but effectively.
The project isn't a big time or budget spender and can be the perfect one-day task to manage and still leave a great impression on house guests.
Ocean DIY Painted Canvas Art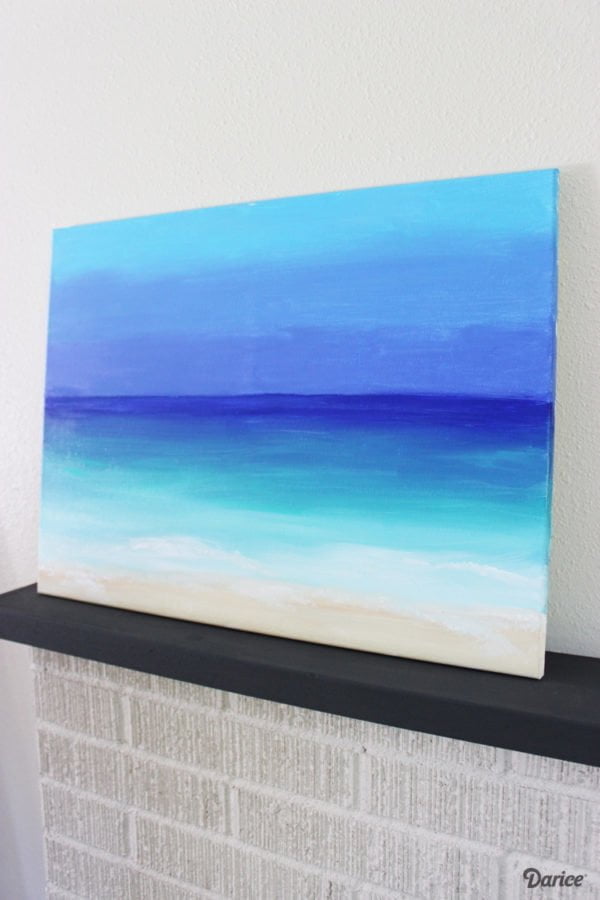 Why not bring the beach closer to you, with a vibrant canvas art piece, such as this one? It all starts with a simple, blank canvas and soft blue and white tones to create a desired ocean vibe. Create layers of 'water' by using brighter and darker blue tones, combined with specks of white.
A bit of experience in painting and shading might be necessary, but even as an amateur, this project shouldn't be that difficult to handle. With a minimal budget in mind, and not more than a day's work, this oceanic DIY canvas art will give your space the vivacity it lacks.
Vertigo DIY Canvas Art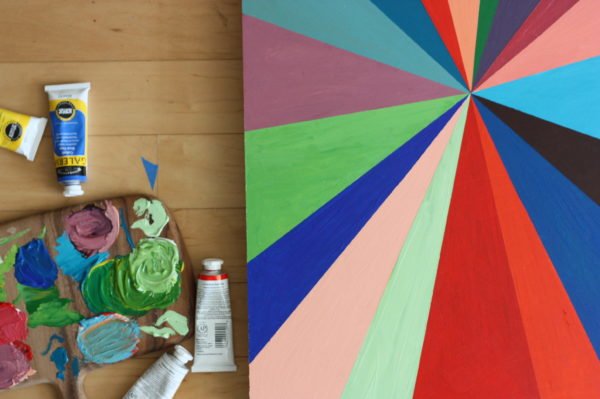 Adding color to your interior is easier than ever before, so have a look at this DIY canvas art that takes the form of a pinwheel! Create a spinning rainbow of colors, while using easy techniques that require no particular effort or experience in painting.
Key supplies needed for this project include paint in every color of the specter and a ruler to make it all balanced and an empty canvas to it on. A relatively cheap project ahead, this canvas art will create a dynamical impact in any room for the house, by simply following the tutorial's basic instructions.
Dynamic Textured DIY Canvas Art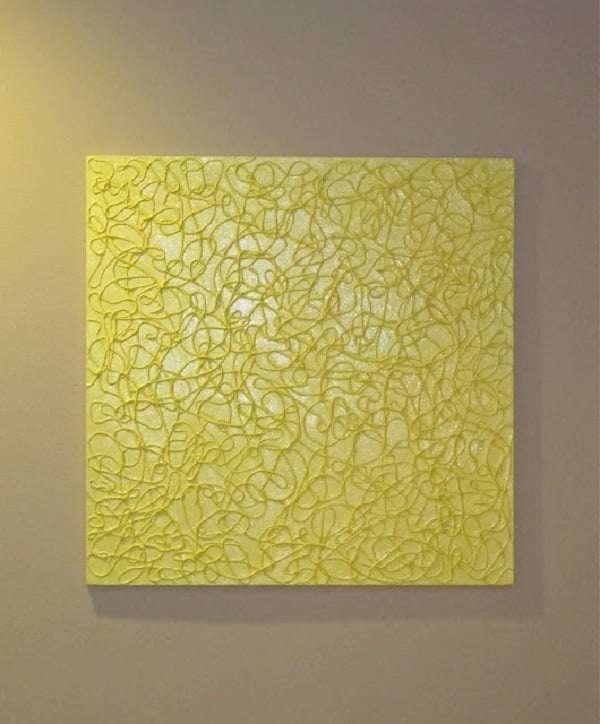 What do you say for a canvas art project that even kids can do? If you're up for it, have a look at this marvelous DIY canvas art project! Fairly simple and protective of your budget, all you need for this canvas art piece is a roll of string, kids-friendly glue, and paint.
Golden tones work amazingly with any space, with the white canvas background boosting the space even further. Play with textures and allow the idea to expand beyond what you've imagined. The final product should be a pretty outstanding canvas art design to look at!
Golden Chevron DIY Canvas Art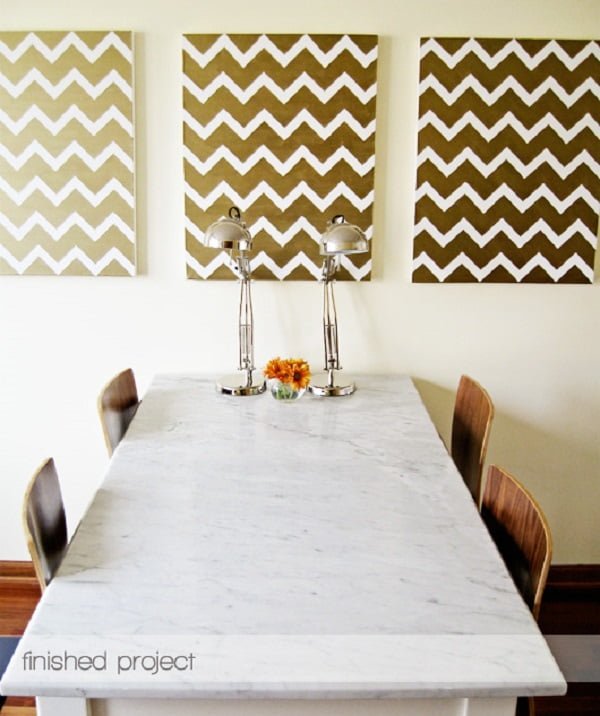 A hint of gold is perfect for any room of the house, and when incorporated into a set of canvas paintings, it's even more sophisticated! To achieve this design you will need various supplies, including two blank canvases, gold acrylic paint, a brush and some tape.
What you are looking to do is a vertical zigzag pattern with white stripes and a gold background. The tutorial for this DIY project is very simple and easy to follow, wasting only a few hours to complete the task, and spending no more than 50 dollars.
Herringbone DIY Canvas Art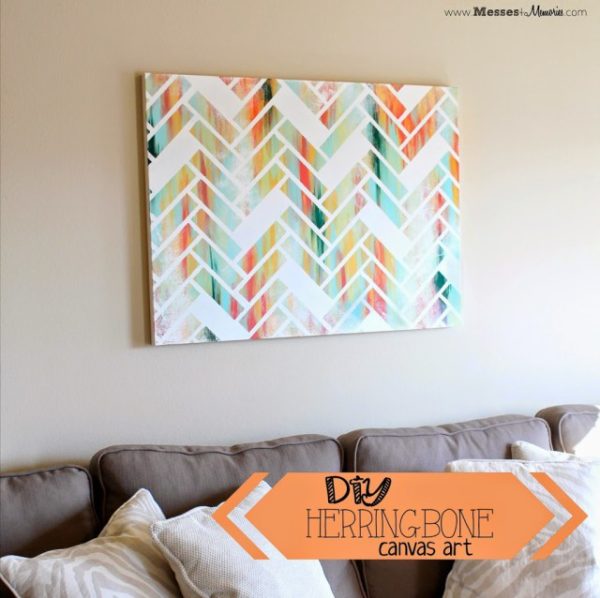 Welcome summer into your home by creating this inspiring DIY canvas art design! The project is very easy to do and doesn't require plenty of technical experience. To start working on the idea, you'll need a piece of blank canvas, acrylic paint, painting brush and a sponge.
Play around with pastel tones to captivate the beach-y effect and create a herringbone template that works best for your space.
Painting is required for this project, but nothing overly complicated even for beginner DIY craftsmen. Follow the tutorial and deliver a fabulous texture to the piece that works amazingly with every space.
Vinyl DIY Canvas Art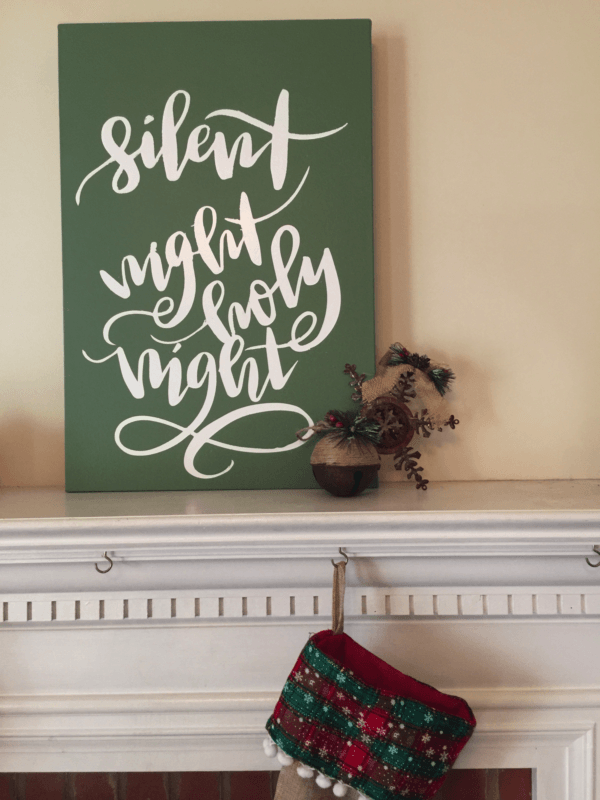 Get crafty and master yet another excellent DIY canvas art project! If you like simplicity with a twist, this vinyl idea will be a great task to manage. Don't spend time on a new canvas, but repurpose your old one and paint it from scratch. Use vinyl to create a quote that will go well with your house vibe, and stick it on the painted surface.
With a low budget in mind, you will truly make a sensational artistic piece using reusable materials only.
Whether you go for a theme canvas art or not, contrasting colors can help you deliver a statement wall piece worthy of your effort!
Multidimensional DIY Canvas Art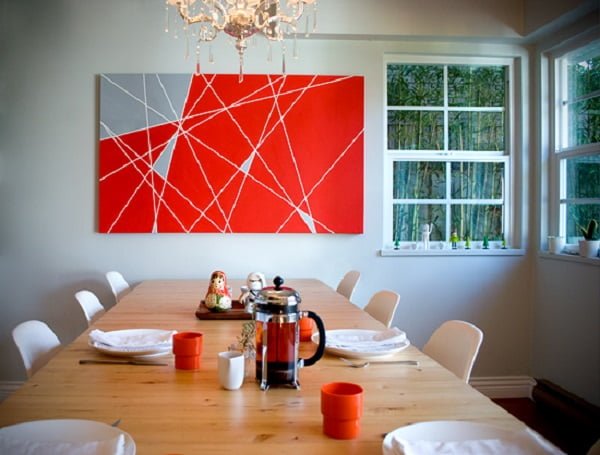 What a better way to introduce the 'wow' factor to your home, than by creating a divine canvas art that exudes modernism? This extravagant canvas art idea that focuses on specter-like red tones, mixed with just hints of white and grey. Completing this project requires various elements, such as a blank canvas, red and grey paint as well as a narrow tape to create your pattern.
Design your pattern in advance and translate it on the canvas afterward. A bit of precision and an eye for detail are necessary to execute the idea right, but the final outcome is definitely an attention-grabber.
Hexagon DIY Canvas Art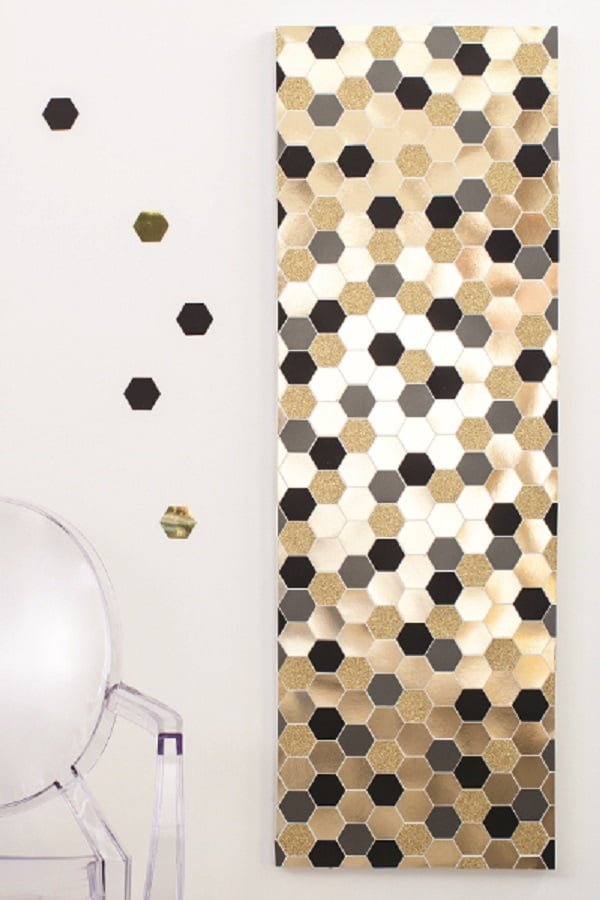 Who says canvas is for painting only? This exquisite DIY canvas art design is as effective as it is sophisticated, delivering more light and reflecting it perfectly. What is more interesting is its hexagram mosaic pieces, which are attached to the canvas surface.
You will also need both gold glitter and foil card, a hexagon-shaped cutting tool, and a little imagination. Create a mosaic like pattern that will make all hexagons to stand out and deliver a mirror-like effect.
Also, feel free to step out of the box and expose a few hexagon pieces on a plain white wall. It looks amazing!
Playful Herringbone DIY Canvas Art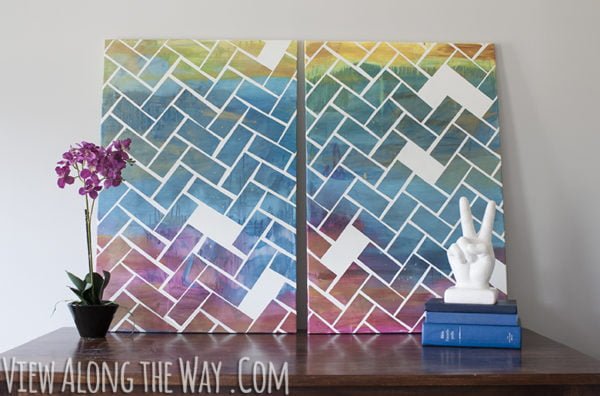 Herringbone design can step out of its precise shaping, and become a brick-by-brick sort of pattern! This majestic DIY canvas art proves just that, and you'd be happy to know the project is very cheap and easy to make! What you'll need is vibrant pastel colors, a tape to make your herringbone outline and some tape to create the desired effect.
Again, step out of the traditional and move your herringbone design a bit. The outcome will be a greatly delivered canvas piece that oozes hippie, summer vibes very effectively! Follow the tutorial's easy instructions and definitely give this project a go!
Polka Dot Tree DIY Canvas Art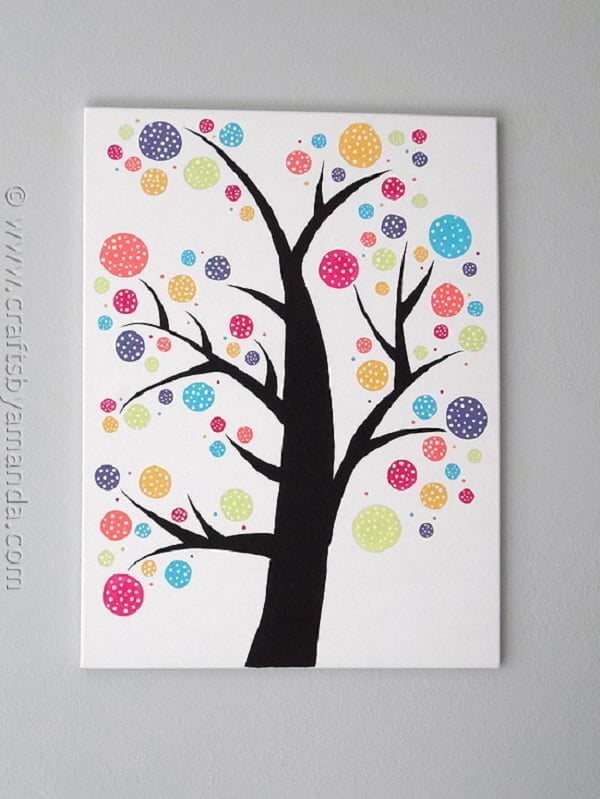 Canvas gives you the room to experiment and create a painting of your own, so this DIY idea is the perfect one to start with. A white canvas background opens up the space, so make sure you do keep it simple. Paint a tree and use a sponge handle to make your circles. Think of a color and do not be afraid to mix and match various shades.
Finally, create the very popular polka dot pattern and keep in mind that precision and balancing are needed to design it.
An overall great idea, this canvas art is both cheap and charming!
Rustic Paper DIY Canvas Art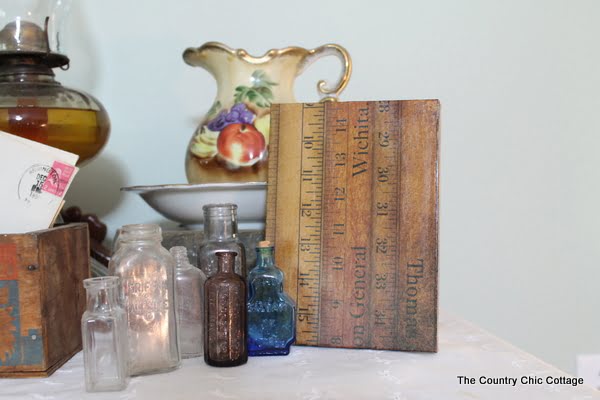 Here is a great idea of how to turn a canvas into an original wall piece, and it all has to do with vintage vibes. This sensational DIY idea is great for any handyman looking to deliver something captivating. The elements required for this project are scrapbook paper, some glue and a smaller blank canvas.
The tutorial guarantees a completed project in under an hour, and with a minimal budget, this task is certainly a one to commit to.
Besides, the project is fairly simple for all ages and levels of expertise, so why not include your kids on it as well?
Driftwood Monogram DIY Canvas Art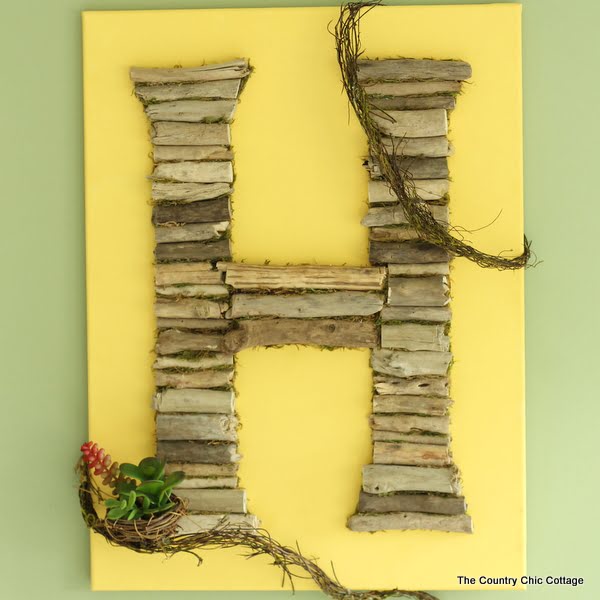 A canvas can be turned into anything, and this driftwood monogram is a great example for it. In fact, canvas and wood play together amazingly, introducing class and sass to any wall in your home. Driftwood pieces should be cut in half so you attach them better. Plus, you will need some glue, a black canvas and some basic drawing skills.
First, draw your monogram out with a pencil and begin assembling the driftwood pieces to fill the space. This romantic canvas idea is a great start up project for any interested craftsman, including children!
Plastic Animal DIY Canvas Art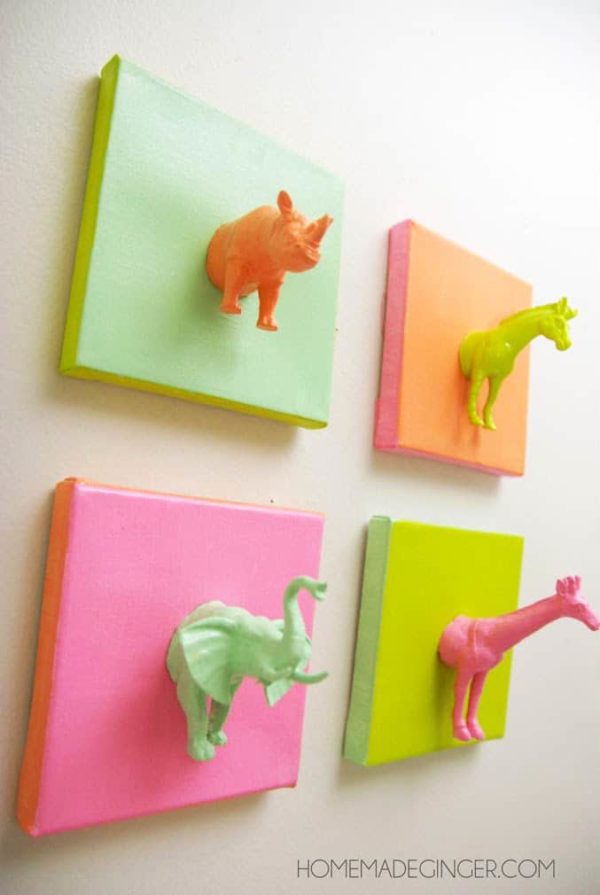 Here is a great example of how a simple canvas can make such a huge impact! This DIY canvas art project focuses on creating a collage-like design, and is actually a piece of several smaller canvases. What is best are the precious toys which give the canvas a 3D feel without costing your pocket too much.
The supplies for this project include several small toys you can't give up on, glue, and as many canvases as there are toys. Some paint is also needed, to match each canvas' background with the toy. Follow the tutorial to learn how to achieve this adorable DIY project!
Adorable Stencil DIY Canvas Art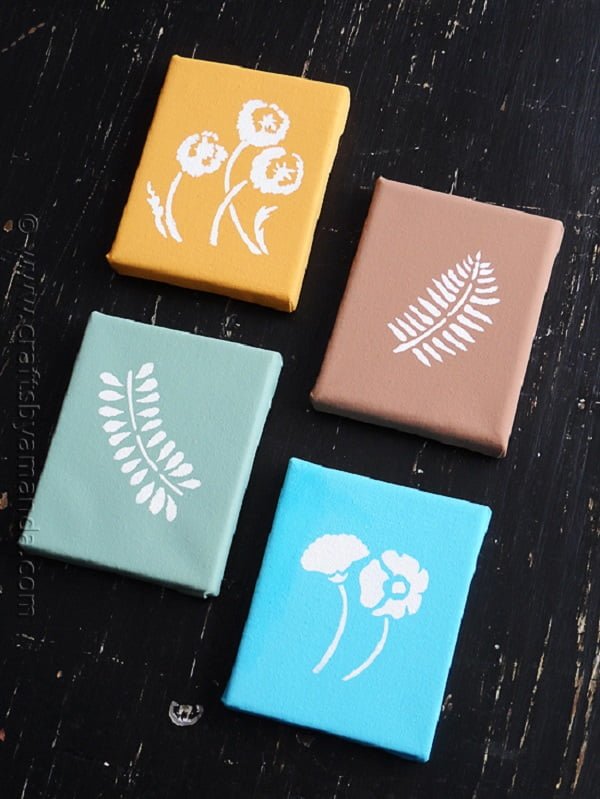 DIY projects are meant to be simple and easy to do, and this canvas collection will win you over in both departments! The project itself focuses on using various smaller canvas pieces, on which you can paint stencil shapes of your choosing.
You can find cheap stencil sheets in any gardening store, and use them to make prints on the best paper for art prints. Pre-paint your canvas in bright colors for an additional pop of color, and use a sponge to mark the shapes correctly. This canvas art idea is a project you can complete in under an hour, so let's get to it!
Idyllic Coastal DIY Canvas Art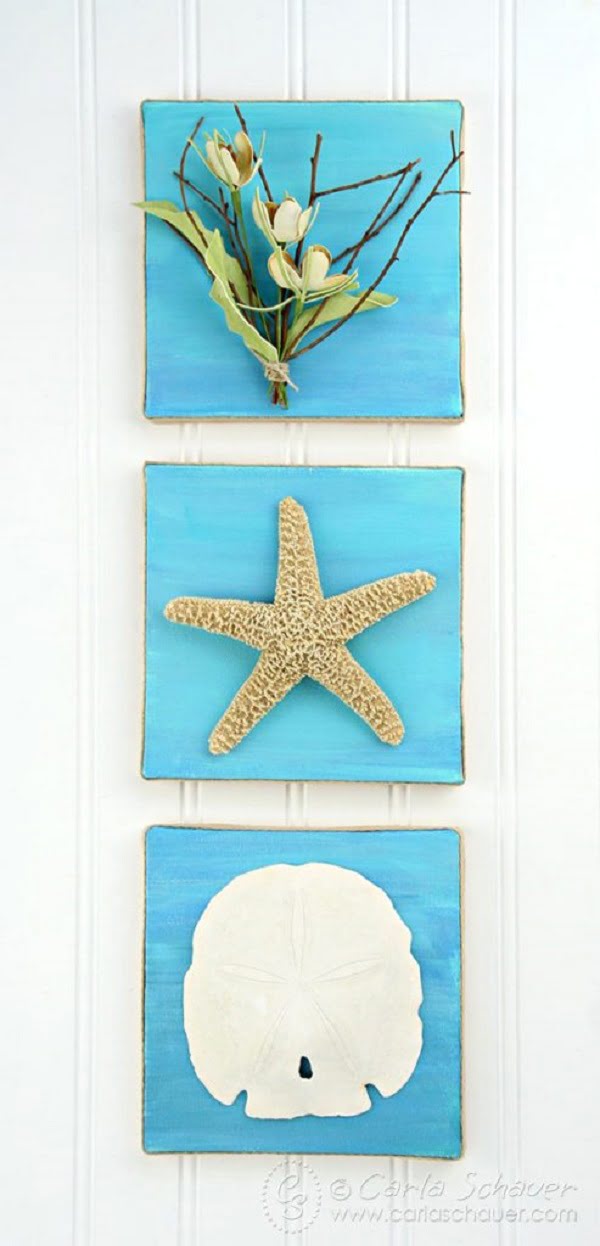 If you want to bring the seaside closer to home, here is a great DIY canvas art project to get you started. The idea behind this project is to use a three-piece canvases, painted in all shades of the sea and incorporating certain coastal elements, such as empty shells, a starfish and more.
Use a navy-inspired ribbon to cover the canvas' frame, and make sure you use glue to attach all shapes accordingly and precisely.
The project is not a big dollar spender and can deliver enough fun into any room of the house.
Great DIY Photo Canvas Art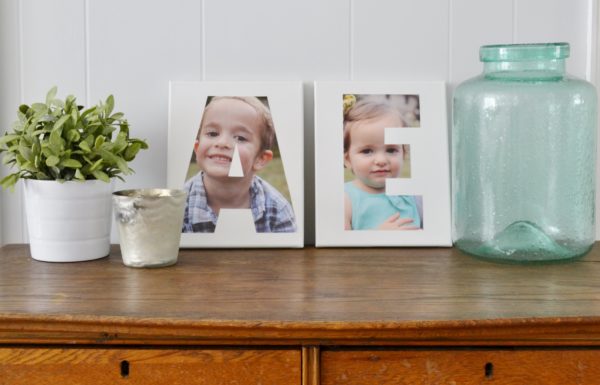 Exhibit your favorite family photos in a creative way, and take on this lovely DIY canvas art piece. The project focuses on basic techniques, such as cutting and shaping, and does not require any painting.
What you'll need is photo-frame-sized canvas pieces, some of your most beloved photos and cardstock. The first thing to do is sketch letters of your preference, cut them out to fit the frame and use Mod Podge to attach them. With an easy tutorial to follow, this project will deliver a light and breezy vibe to your living room or kitchen wall art.
Graphic Birch Tree DIY Canvas Art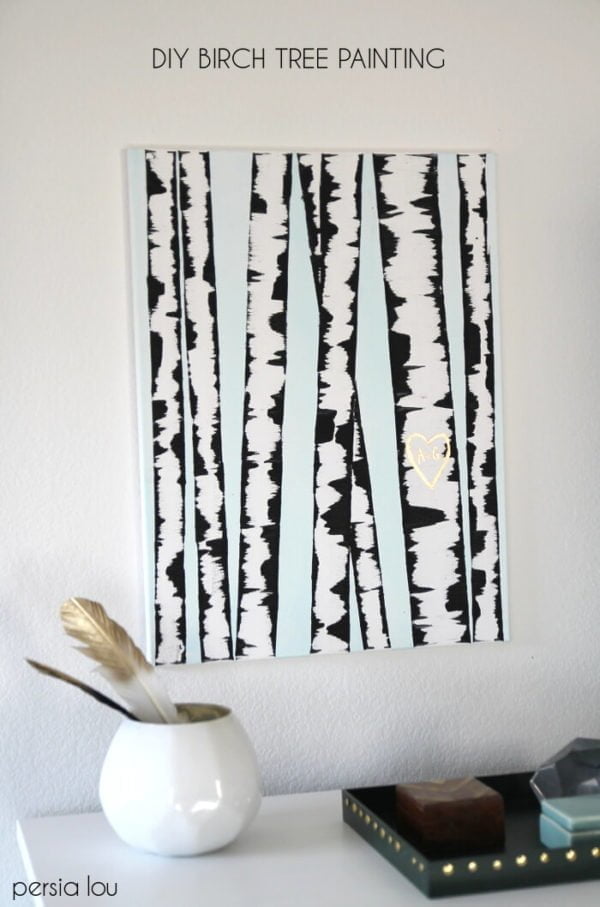 Reconnect with nature once again, and create this astonishing DIY canvas birch tree project that is very simple to do and costs almost nothing. A single canvas piece can deliver a bigger impact than most paintings can, and this birch tree idea certainly makes that happen.
Painting skills are mandatory for this task, and you'll also need a brush, masking tape, a copper leaf and a few more. Use masking tape to create your birch tree pattern and use a thick cardboard piece to paint the shading accordingly.
With easy techniques to use, you will still provide a staggering canvas wall piece that grabs everyone's attention!
Bold DIY Fabric Canvas Art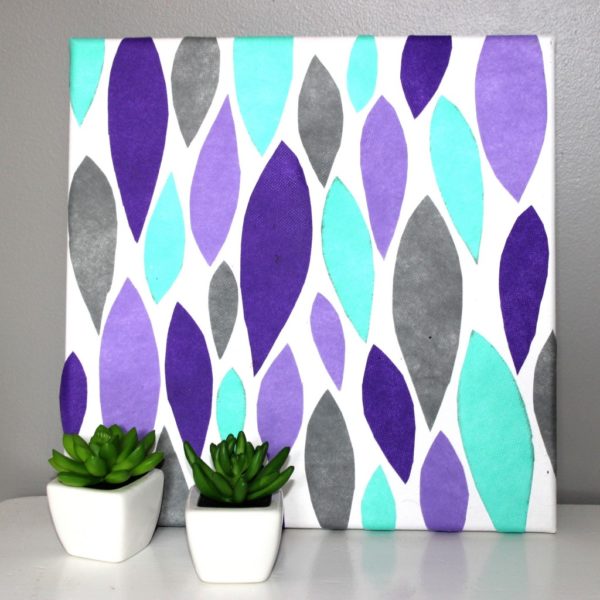 Canvas and other fabric play well with one another, which is why this DIY art project is among our top picks.  Leaf-like shapes have always been trending and can deliver a rhythm and vibrancy to any open wall in your home.
To begin the project, you'll need multicolored fabrics, scissors, tacky spray and sure enough, a piece of blank canvas. If you want your colors to stand out more, leave the canvas' background plain white and play with textures and dimensions.
The tacky spray should hold all pieces in place, but skip spraying it on white surfaces, to avoid a glue-like effect.
Sophisticated Mosaic DIY Canvas Art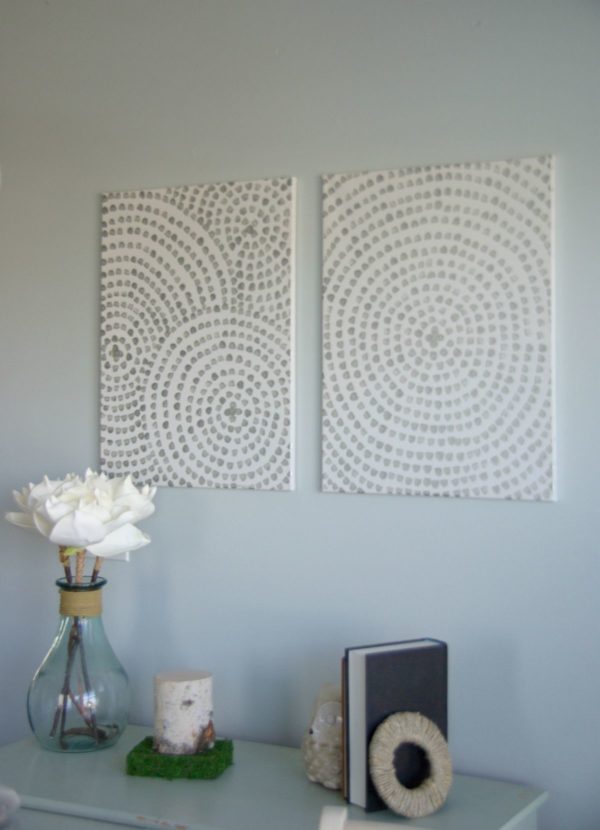 Creating a mosaic shape is not all about elements, but it can be done with paint as well! This DIY project will show you how you can spend far less on a practical and bright idea, and design a pattern that is captivating and flirty at the same time.
You can feel free to choose the color and outline of your mosaic, but know once you start it is all about precision and detail. The technique involved in this project is a long, but a relaxing one, so if you are looking to Zen out for an hour or two, go for it!
Upbeat DIY Painted Quote Canvas Art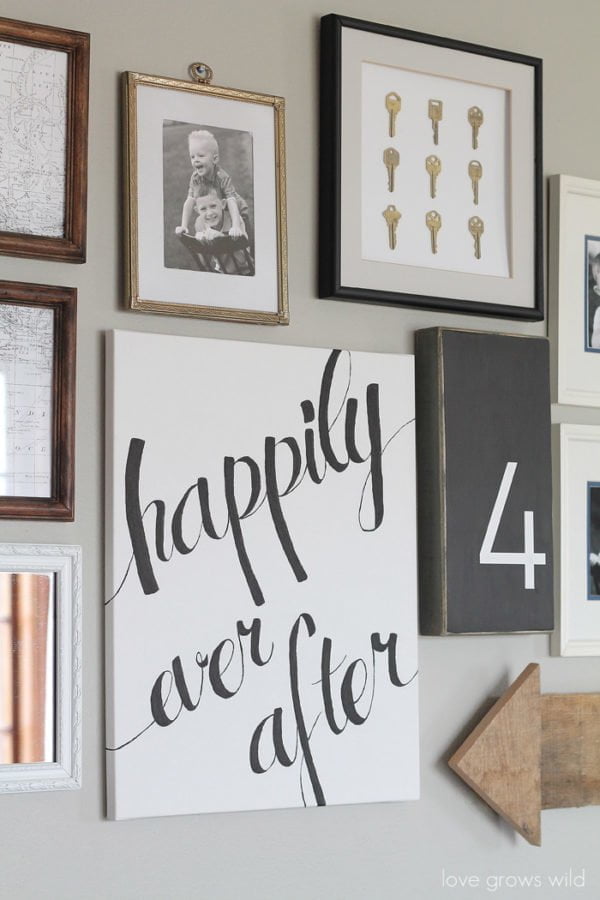 Looking for a quick and extra cool project to brighten up your walls? Why not have a look at this inspiring canvas quote design, which bursts with simplicity and pizazz at the same time? The project focuses on a few elements and two techniques only. The elements include a blank canvas, a paintbrush and some paint of your choosing.
The techniques involve pre-sketching your quote in a font you fancy and then outlining its silhouette to fill it in later. Slanted letters introduce a change in dynamics and make the piece shine without too much effort. Affordable, practical and effective!
Posh Imprint DIY Canvas Art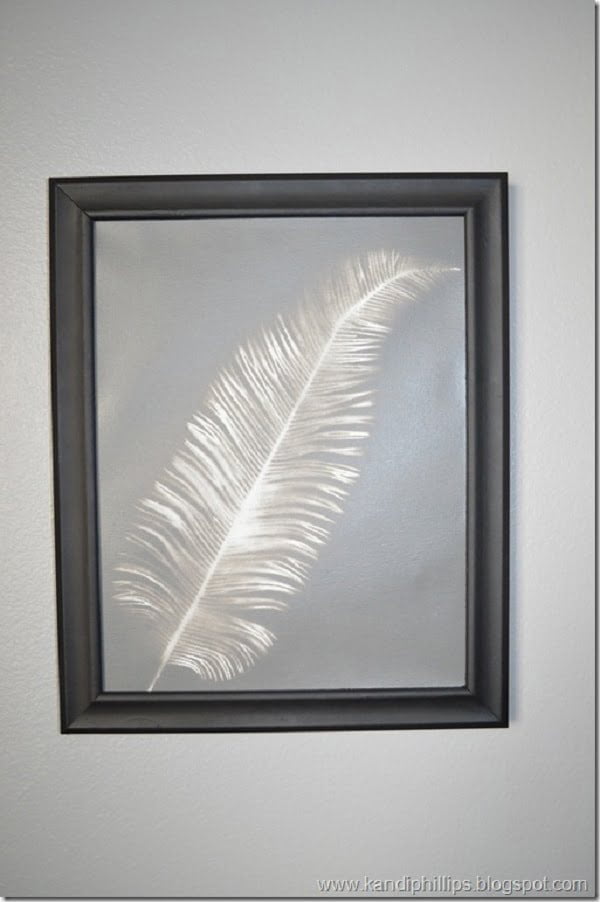 A canvas makes a contemporary and much more affordable painting if you play your cards right! Here is a great DIY project for curious craftsmen who like to deliver a surprise factor to their pieces. This canvas has been spray painted and frame, both of which are simple techniques to manage.
If you get a blank, white canvas, we recommend it you paint it darker and allow your centerpiece to stand out. Choose a large feather, leaf or anything impactful which makes a good silhouette and translate the shape onto the canvas itself, creating a glamorous and striking canvas masterpiece!
Gleeful DIY Fabric Print Canvas Art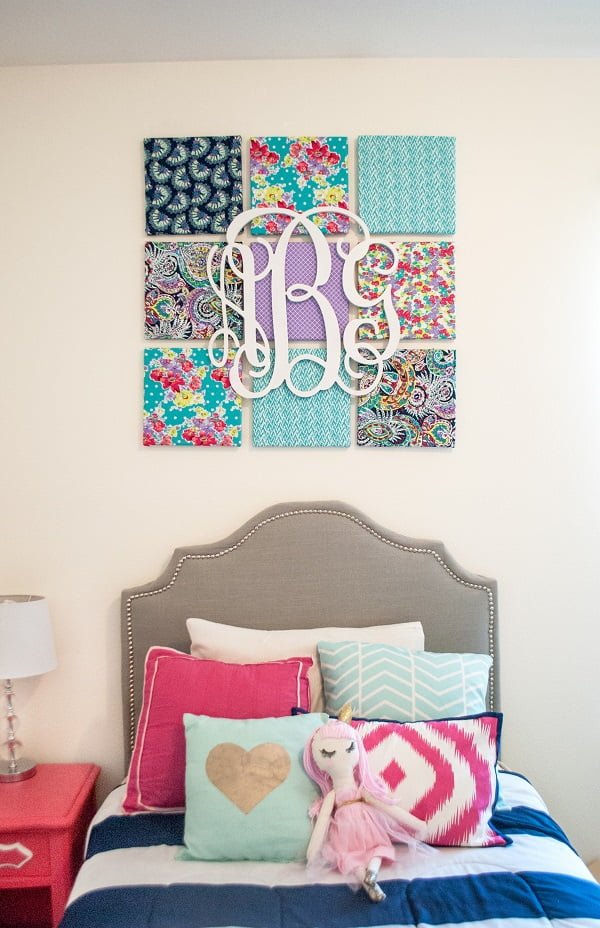 Get positive vibes going in your household, and give this DIY canvas art project a try! If you like patterns and cheerful fabrics, this canvas collage is an affordable and creative way to achieve just that.
What you'll need is a set of smaller canvases, different fabrics to pad the canvas with, a stapler and some scissors.
For an extra cheer, you can create a monogram that connects all canvases into one central piece, perfect for a large, empty wall. Play with contrasts and don't hesitate to experiment – the project certainly asks for it!
Catchy DIY Hot Glue Canvas Art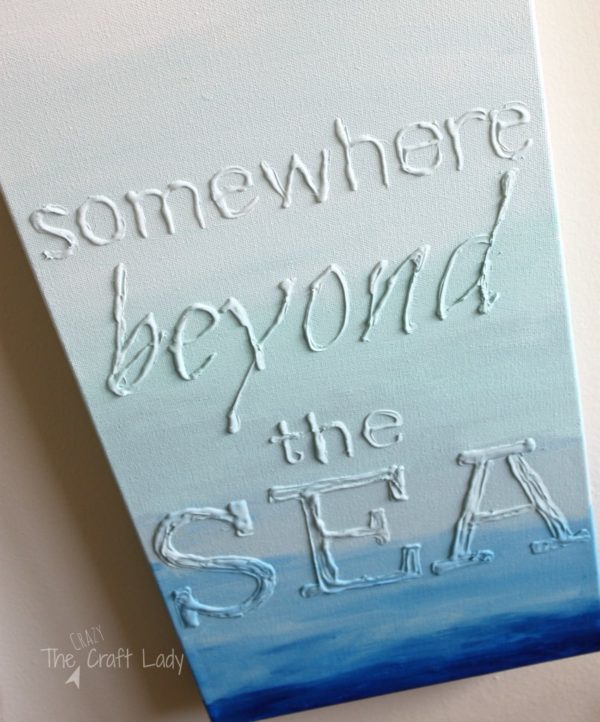 Canvas art can be pretty fun, especially when you get to experiment. Here is a great project to keep you busy and allow you to make something fantastic. All you need for this project is a black canvas, paint and hot glue to create a quote of your preference. Reusing an old canvas is a great idea if you want to save a few bucks – you'd only have to repaint it before you start.
Include blue tones to create a coastal vibe in the canvas itself, and outline your chosen quote by using hot glue. Once done, you'll be looking at one fantastically canvas art piece!
Native Feathers DIY Canvas Art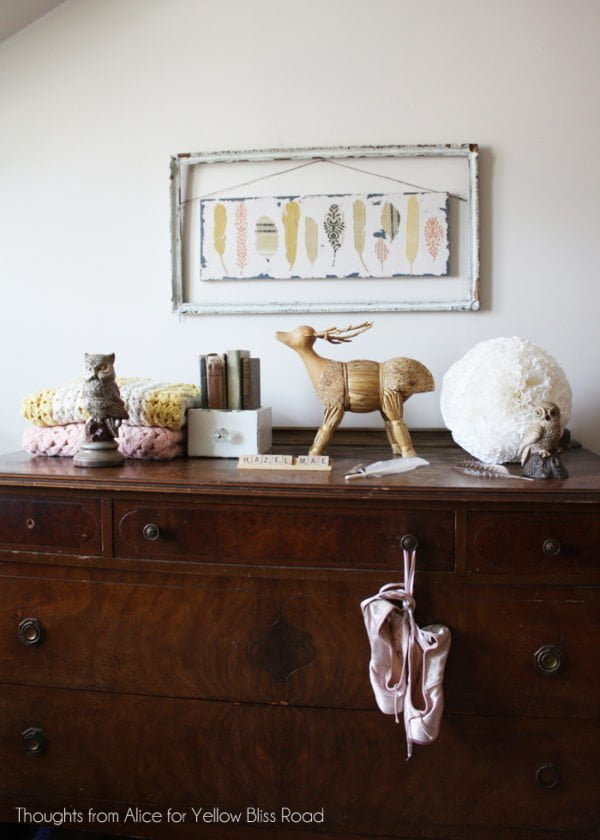 Tribal and ethno elements are amazing for any lighter space in the house, and if you're up for it, we have just the project for you! A great canvas piece can be turned into anything, even a minor gallery of dynamic feathers with a hint of color.
For the project, you'll need a gold spray, acrylic paint, scrapbook paper, and a few other bits. First, you'll need to create a rustic feel of the canvas, painting it lightly and creating textures as you go. Pre-print and pre-cut your feather designs, and assemble them on the canvas for a perfect decorative and exhibition piece!
Charming Pixels DIY Canvas Art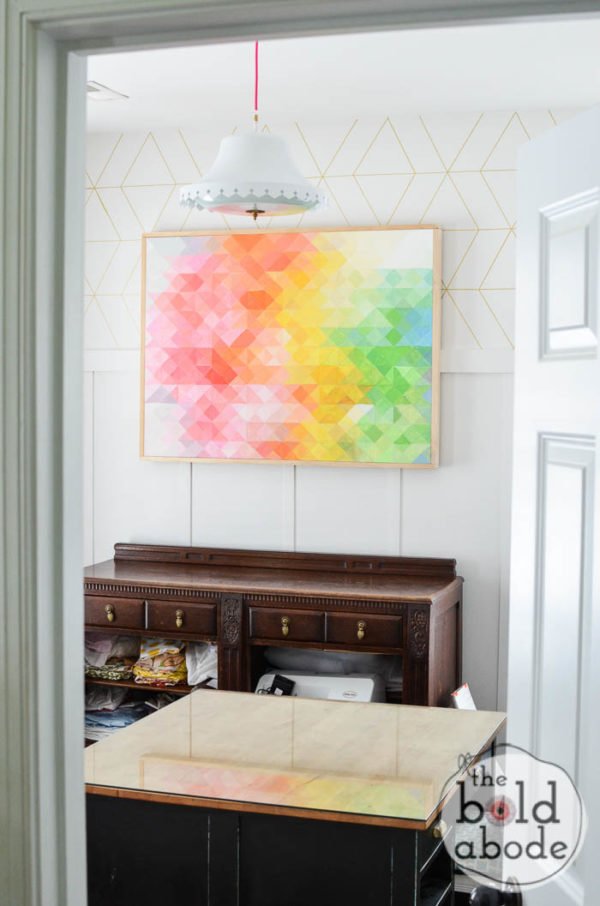 Crafting is all about using new materials and still making a tight budget work for any given project! This gorgeous DIY canvas art is a colorful idea that uses pixel design to fill the space itself.
The elements necessary for the task include a blank canvas, a pre-designed and pre-printed pixel shape, and some paint
Be careful with your design in terms of size and quality. All pixels are painted manually, but while this technique can take up more time than usually, the final effect is definitely a one to watch for!
Zesty Eiffel Tower DIY Canvas Art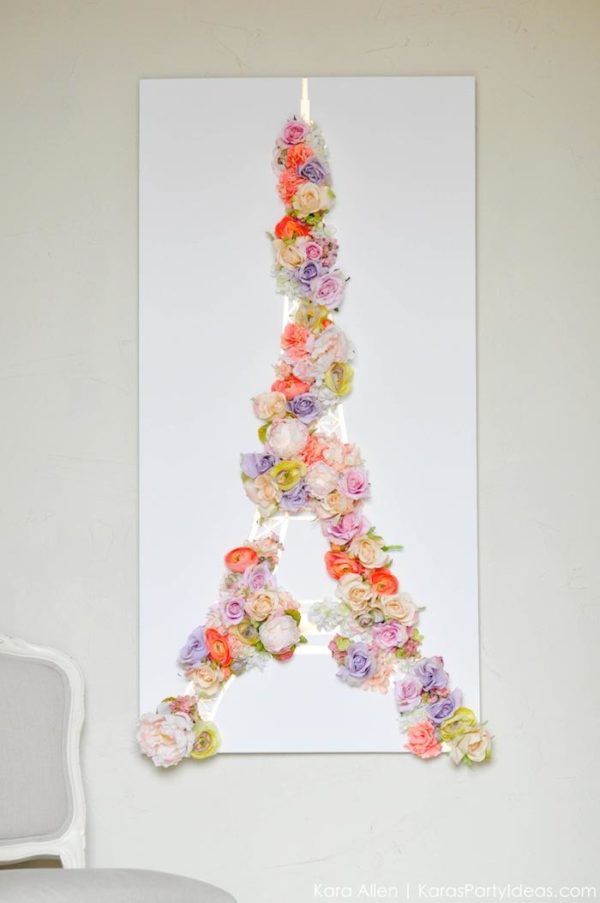 Bring travel closer to you, and create this incredible DIY canvas art project that screams with color and elegance. The Eiffel Tower is a central piece on the canvas, and bursts with color and shimmery elements, too! Initially, you will need a vinyl Eiffel Tower, artificial flower buds, and some glue.
Make sure your vinyl design is large enough to fit the frame but small enough to allow the white background to peek through. Once attached, you start assembling the floral décor across its silhouette, thus delivering not only a splash of color but dimensions and textures as well!
Fish Scale DIY Wall Art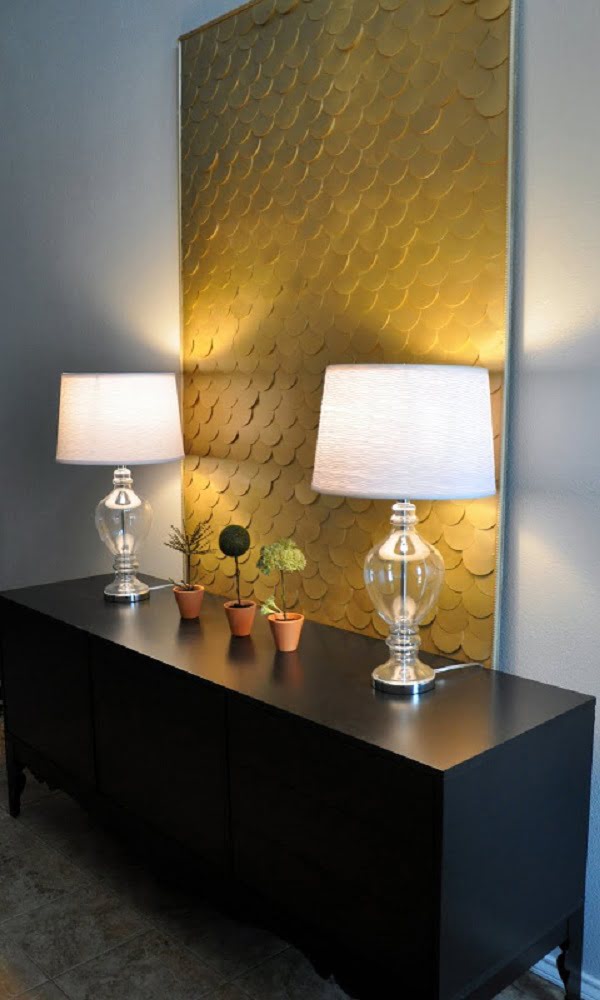 Work on your assembling and balancing skills, and take on this vivid and light-reflecting wall art project. The project itself is quite easy to complete and requires minimal supplies, including lots and lots of poster board circles of the same size, a wide board, and a stapler.
There is a very easy tutorial to follow, but what you are looking to do is assemble the circles on top of each other to resemble a fish scale. Staple them nicely, and then cut out excess paper from the frame.
Simple, sweet and not too severe on the budget, this project marks one of our favorites.
Gold-Blue DIY Canvas Art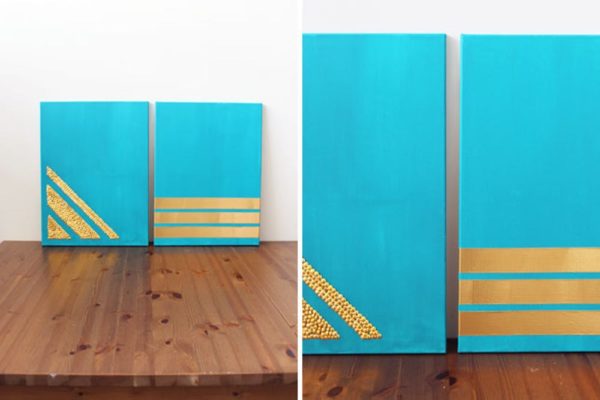 So, you like color. Great news, we have just the project to make your DIY dreams come true. Have a look at this set of canvas wall pieces, which scream color, innovation and exclusivity! Odd but effective, the play of teal blue and shimmering gold is quite nice, allowing plenty of contrast and rhythm on your walls.
You'll need a roll of gold duct tape, a handful of brass thumbtacks, two canvases and teal paint.
Use tape to create your designs, and as you see, there are plenty of combinations to choose from!
Ombre DIY Quote Canvas Art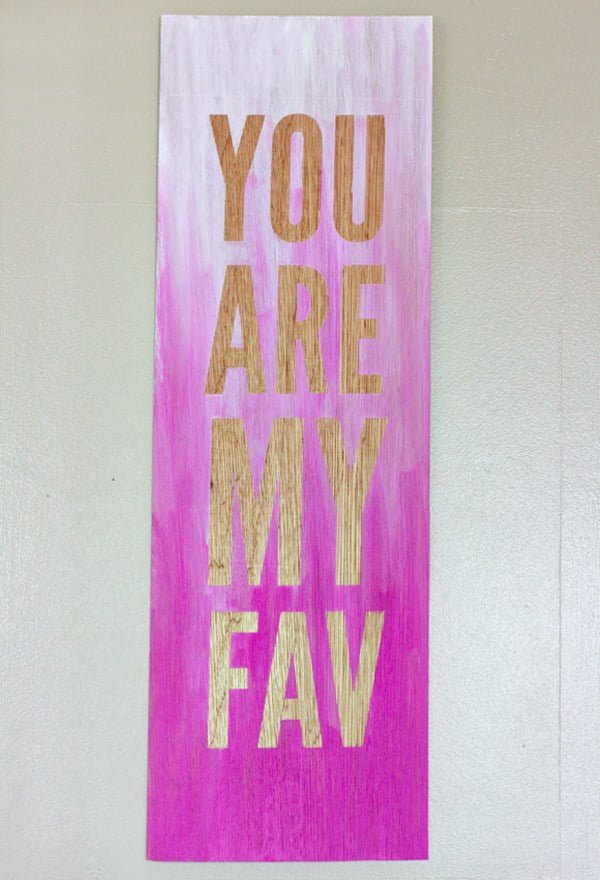 If you have a scrap piece of wood to use or repurpose, here is a project which might interest you.  Bright colors take many forms and shapes, but once ombre come to play, you know it's the real deal. The soft blue and pink paint really accentuate the central quote, which takes its natural wood color.
You can certainly experiment with colors, and create a more suiting ambient in your home. Either way, this project is manageable, affordable and truly captivating.
So if you have one or two hours to spare, you can give this project a go and marvel at the results!
Twister DIY Canvas Art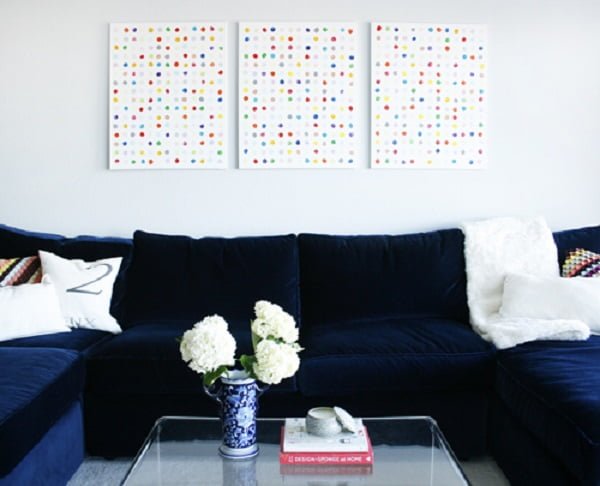 Let's make things fun! We present DIY canvas art project that has the simplistic of designs but still makes a statement. Twister is one of the most popular games on Earth, so why not translate it on the canvas by using a variety of color. Of course, you will need nice, round shapes, so work on your painting skills if necessary.
Play with more colors and go for smaller sizes, so you can fit more happy dots.
If you have paint to spare, the project will not be too pricey to manage. With no more than an hour involved in the making of this DIY idea, we say – hey, why not?!
Junk Mail DIY Canvas Art
Here is a fancy DIY canvas art project to keep you busy for a few hours! Not too consuming, and fairly cheap to do, this junk mail canvas art is crossword-shaped, but oh-so-impressive, too!
The supplies for the project include cardstock, mod podge, canvas, and a paper punch. Cut squares from the paper available and begin assembling it on the canvas. The techniques and methods are super easy to follow. As you can see, the canvas paper pieces have a distorted placement and do not match each other, so make sure to copy that style and create dynamics where necessary!
Abstract DIY Canvas Art
This tutorial shows you how to create abstract art with some gold glitter (gold foil plates). It's an easy craft with lots of room for improvisation. And it's perfect if all you need is to add some color to match the color scheme of your room.
Recap
Liked this article? Here's what you can read next: