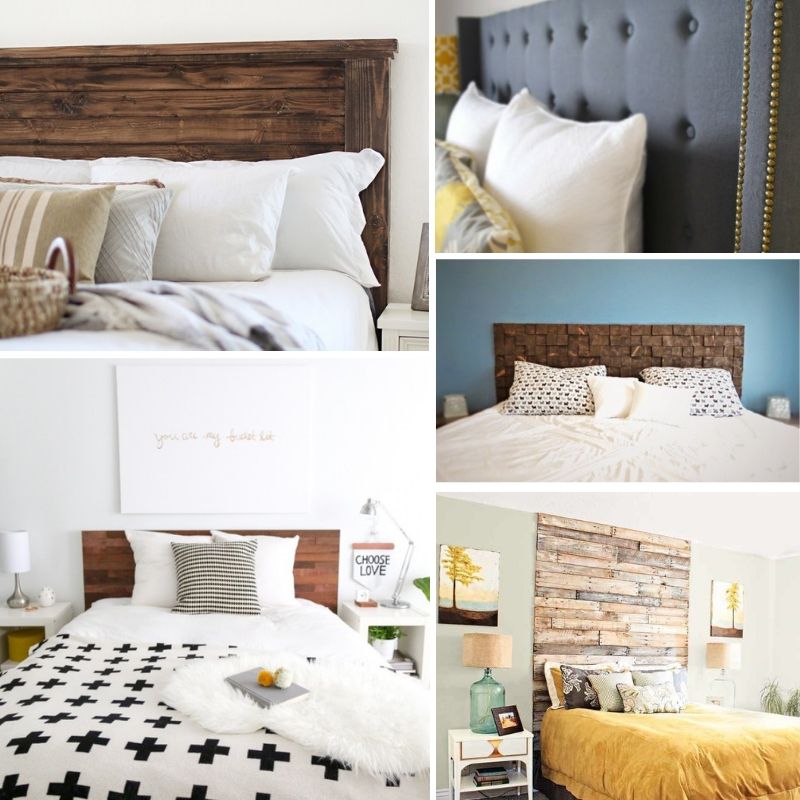 Last Updated on
These DIY headboard ideas with plans are so easy and cheap that you can make them over a weekend. Check out the ideas for all types of headboards.
There are few home projects with such a significant impact on decor as a DIY headboard. It transforms the bedroom, and it can make or break your entire interior design. That's why, if you've decided to save some money and create your headboard, you have to take it seriously. And we've come up with this article as your ultimate guide to building the best headboard you can make yourself.
From rustic farmhouse headboards to modern tufted ones, from simple projects for your bed to headboards with shelves, lighting, and storage. We have a tutorial and plans with instructions for each and every type of headboard that you can use to make your own. Read through it to find the materials, tools, and considerations needed to take on such a project, then choose the right tutorial to make it really easy for you. Let's get crafting!
King Size Headboards
These are the biggest size headboards and they require special measurement. If you want to make a headboard for this particular size, these plans are the perfect fit for you. (20 ideas)
Queen Size Headboards
These are the most popular size headboards. A queen size headboard will fit most bed frames, including twin XL sizes. It's easier to adjust the measurements for your custom needs using these plans too. (22 ideas)
Twin Size Headboards
These headboards for the smallest size beds which can fit one person. They are usually designed for small spaces and includes storage and shelves to make a functional piece of furniture. (12 ideas)
Wood Headboard Ideas
Wooden headboards are one of the classic home woodworking projects and it's an easy one at that. But don't take our word for it. Check out a wide variety of wood headboards you can try and build at home. (34 ideas)
DIY Upholstered and Tufted Headboard Ideas
Don't like wood? Opting for a fabric upholstered (and even tufted) headboard is a classic choice. Such a headboard definitely adds lots of classy appeal to bedroom decor. And if you want to build it as a DIY project, here are our DIY upholstered and tufted headboard ideas. (12 ideas)
DIY Pallet Headboard Ideas
Pallet wood is among the most popular materials to make a headboard. It's very cheap and easy to use. So making your headboard is a breeze from this wood. Check out these project ideas to DIY.
Pallet Wood Headboard
Creating a luxurious master bedroom is not a demanding, nor a complicated task. If you think of utility, instead of price, you might even be surprised by what you come up with. Take a look at this rustic headboard that is beyond grandiose and impactful. Creating this unique headboard, you will need several elements, such as pallet boards, a frame, and other standard bits to hang and fortify the headboard.
Overall this is a comfortable and practical project, which will cost you almost nothing unless you prefer fancier paint! This statement headboard certainly gives the bedroom the 'Boom!' it lacks!
King Size Pallet Wood Headboard Plans
So you want to build a big king size headboard form pallet wood? Great choice! It's actually one of the easiest ways to do it. And all you need is enough of pallet would which is easy to get. Check out this tutorial with plans and complete instructions.
Wall Mounted Pallet Headboard
Don't want to get involved in a big project to make a headboard? All you need is some pallet wood to make this wall mounted headboard. It's small but just the right size for a queen size or twin size bed. Check out the tutorial to see how to do it.
Queen Size Pallet Headboard
If all you need is a simple but unique headboard in lots of rustic charm, you can make a headboard form a pallet. You don't even have to disassemble it, just customize the way you need. Check out the tutorial to see what we mean.
Pallet Wood Headboard for a Queen Size Bed
Do you have a queen size bed that need a headboard? Make this custom rustic headboard from pallet wood. You'll get this charming look with a lot of character. The tutorial will show you how to do it with plans.
Build a Headboard from Pallets in 8 Steps
You won't believe how easy it is to make this headboard with these plans. It takes pallet wood and a day's work to do it. The result is an attractive headboard that looks like it's store-bought. Give this tutorial a try.
Unique Pallet Art
This design is definitely one of a kind. And all you need to do it is pallet wood. Follow the article to get the full plans.
Pallet Wood Herringbone
Easy enough to make pallet bed headboard that can be made in just one afternoon. See the tutorial to see the complete details and instructions.
Weathered Pallet Wood
It's rustic, with straight lines (no fancy tools needed!) but that would make a statement in a bedroom. Oh, and of course, it's budget a project. Follow the link to get the full guidance.
Pallet Wood
Everybody loves a fun weekend DIY project, and what better than free, accessible pallet boards? Learn to make your own DIY pallet headboard. Check out the link for the full guidance.
---
DIY Rustic Headboard Ideas
Rustic headboards are a special kind of a headboard. It has a warm handcrafted style that adds so much charm to bedroom decor. Everyone is after rustic, so why not make one yourself too. Check out these tutorials.
Rustic Wood Look
No need to spend a lot to make your bed look gorgeous! This Rustic Wooden Headboard is easy, fun and inexpensive to make. You will love it. See the article to get the complete guidance.
Rustic Wood King Size
Tutorial on how to create a rustic wood king-sized bed headboard. An easy DIY headboard for $90. The inspiration headboard is over $2000. Follow the tutorial to learn how it's done.
Rustic Wood Barn Door
Change an old barn door into a vintage headboard to your bedroom. See the tutorial for the complete details.
Rustic Plank Wood Headboard Wall
This project and headboard idea is indeed impressive because it makes an entire accent wall. The colorful wood planks create a charming wood mosaic that is the pinnacle of this bedroom decor. And you can do the same in your home. Check out this tutorial for the details.
Rustic Reclaimed Wood Look Headboard
If you're into the reclaimed wood look and rustic decor, this is one of the most charming DIY headboards you can make. Indeed, it's full of character and transforms the bedroom completely. Interested? Check out the tutorial for the plans and instructions.
Rustic Sign Headboard
Keep things simple, and you shall achieve excellence! This is true in every aspect and the same goes for DIY projects. This seemingly plain rustic headboard is in the shape of a sign and is composed of nothing but a few plywood boards. The project is great if you have a day to spare on accomplishing it.  
Install the hangers tightly and stain the wood if that works for your space.
Finally, use a painting brush or any other method of coloring, choose a nice font and create a written headboard sign! As simple as it may seem, this cheap project is utterly effective and pragmatic.  
Rustic Barn Door Headboard
So, you are a lover of everything rustic. Now, if you happen to have an old barn door just waiting to be transformed, here goes your next DIY project. Creating a vintage headboard can be done by revolutionizing a traditional barn door or building one yourself.
Depending on the barn door you have, you might need to polish it up and paint it to match your interior, but other than that, you'll only need a couple of wall mount hangers and some nailing skills. If you have a few more bucks to spend, spend it on installing rustic night lamps on each side of the barn door headboard!
Custom Rustic Headboard
Although nostalgic and romantic, rustic design can also adopt a more serious and classy note, as seen through this beautiful headboard. The headboard itself doesn't require plenty of wood distressing, and it takes a few pine planks to combine to get the initial rectangular concept.

A few simple steps into strengthening and arranging the planks, you will be only left with wood staining, which can be fun, especially if you are looking for a contrasting ambient as in these photos.
All in all, this headboard is ultra-cheap, practical and quite simple to execute, so why not give it a go?
Rustic Farmhouse King Size Headboard
Another stately-looking king sized headboard. The one in the tutorial is done with a farmhouse theme in mind. However, the cool thing about this headboard is that depending primarily on the choice of the wood; you can take many different routes with this idea: farmhouse, rustic, modern eclectic, boho, transitional and so on.
---
Headboards with Lights
Do you like reading before sleep? You probably already have a nightstand lamp but a headboard with lights can be a much more functional. It's especially useful in small bedrooms where a nightstand might not even be an option. Lights can also have decorative value. Check out these tutorials for headboards with lights.
Rustic DIY Wood Headboard with Lights
Go back in the good ole' times, when master beds oozed comfort and relaxation! This fantastic headboard with incorporated lighting is not just striking, but aesthetic as well! Use vintage hardwood planks, a set of retro night lamps, possibly iron ones.
Some installation of the lights will be likely, but no complicated wiring necessary. Therefore, the process is relatively simple to do for any eager handyman looking to improve his bedroom drastically!
After you undress and paint the hardwood properly, you will ultimately deliver a masterpiece! Welcome to your dream bed!
Distressed Pallet Wood Headboard with Lights
The distressed look is very charming and it makes the ultimate bedroom decor focal point. You can make it from pallet wood using these plans. This idea also includes lighting fixtures making it a functional project. And surprisingly, it's easy enough to complete over a weekend.
Twin Size Pallet Headboard
This is a great idea for a twin size bed headboard with addition of light fixture. It's a great project for a small kids bedroom and bed. The rustic look is charming and works well with farmhouse signs and decor. Check out the tutorial for instructions.
Marquee Sign Light Up Headboard
This one is perfect to give a unique and playful feel to your headboard. Ideal for the kids' room or to put in the guest room. Check out this marquee sign-inspired headboard tutorial to find a step-by-step guide to this project.
---
DIY Storage Headboard with Shelves Ideas
Why not add some extra storage to your new headboard. It's a great way to increase storage space or to create an extra display shelf for bedroom decor. Check out these ideas for headboards with shelves.
Rustic Shelf Headboard
Give your plain white wall a purpose and create a beautiful DIY shelf headboard as a statement piece! Made of plywood, and involving some stapling, cutting and batting, this headboard can be constructed in a matter of hours.
As this is a two-piece headboard, you will need to use a piece of fabric and a few buttons of your preference. Painting is an option if you like your headboard to match the rest of your bedroom, but nothing too complicated for the average handyman. Given that you already have an old shelf to use, you'll only need to bat, connect, and wall-mount the base frame. Looks great, doesn't it?
Headboard with Hidden Storage
If you want to add some extra storage with your new headboard, check out this idea. It's a simple add-on to a regular headboard that gives hidden shelves for books and small accessories. If you like this idea, give this tutorial a try.
IKEA DIY Bookcase Headboard
The idea of using a bookcase as a headboard is big and very common. It's the ideal solution in a small bedroom where storage space is of prime value. By adding a bookcase at the head of the bead you get all that shelf space that you can use to store things and create displays. It's the best solution for the organization and decor. Check out this tutorial for an IKEA bookcase used as a headboard.
DIY Storage Headboard
A simple headboard like this can have built-in storage too. It looks visually interesting and charming, doesn't it? It's like a bookcase but much smaller. Just enough for a headboard. Want to build it at home? Check out the complete plans and instructions by following the above link.
---
Wall Mounted Headboard Ideas
You can use a lot more kinds of materials for your headboard. Here are some of the great examples of metallic, repurposed, and other headboards.
Faux Brass Metallic Gold Headboard
Quite a hassle-free headboard idea. All you'll need is a surface that can be prepared from Wood, MDF and so on (or you can buy a readymade one) and a metallic gold foil. The only difficult part is to smooth out the air bubbles under the foil as you stick it to the headboard. Check this great tutorial to find out how you can pull off a neat job of it.
Woven Headboard
A great tutorial which shows you don't always need wood to create an attractive headboard. Follow this tutorial to get the basic idea, and all you need to do then is to get some table mats that fit with the décor of the rest of the room and turn them into a legitimate headboard in virtually no time!
Tiled Headboard
We love the large and stately appearance of this tiled headboard with that unmistakably Middle Eastern style achieved through the choice of the tiles. And for all its stateliness, it is really easy and quick to make. Check the photos and the instructions in the tutorial to find more.
Floor Cushion Headboard
We love these floor cushion headboards for their modern and relaxed look. The finished product looks like a nice alternative to traditional headboards, and the project can be completed real quick and with supplies that would cost you little.
Oversized Woven Headboard
If you have some old vertical blinds lying around at your garage, you can put them to great use to do up a great-looking headboard for a master bed. Building the wood frame would take you some time, and math… and patience! But once you have got the frame ready, the rest is a cinch. Check out the tutorial to find how.
Faux Tiled Headboard
If you want a lightning fast DIY headboard on a razor-thin budget, you will love this idea. You will need some foam faux titles, some scotch mounting tape, and absolutely zero DIY skills to prepare this one. And for all that, it looks classy enough. Check the tutorial and give it a try if you want.
DIY Book Headboard
Nighttime reading, anyone? Well, this one is certainly above board, but if you are one of those persons with a cheeky taste for things 'above board,' you are going to like it. This is also repurposing to the extreme. The photo here must've given you a good idea of what we are talking about, so if you are still interested, please feel free to check the tutorial to find how you can get this one made for and by yourself.
Canopy Headboard
Looking for something different? You need to go no further than this great spin-off on the very idea of a headboard. What is more, it is super easy to prepare. All you need are two metal rods and some length of fabric and there is your canopy headboard ready in little to no time. Check out the step-by-step guide on the tutorial to find how to DIY this.
DIY Rope Headboard
We love this rope headboard idea for the simple and elegant look of the finished product. Once more, you use an old door as the base and wind the ropes around it to make the headboard. As for the color and texture of the ropes, you can choose anything that you think will suit your existing décor – just make sure the ropes are sturdy enough. Follow the tutorial guide to make this DIY project.
DIY Floral Headboard
Made with West Elm paper flowers, this one again is unique and can act as a high focal point for your room. Follow the tutorial to prepare this floral headboard made with a white Moroccan headboard as the base with paper flowers taped to in a beautiful and eye-catching pattern.
Macrame Headboard
This is a very different and unique headboard design than others. It's rather a wall hanging than a real headboard, but it adds as much decor value nonetheless. And it's as simple as making macrame. So if woodworking is not your thing, try this project idea. There's a great tutorial for you to follow.
---
Materials to Consider for a DIY Headboard
You can use literally any material you like to create your headboard. If you're looking for a headboard that is comfortable because you enjoy sitting up in bed, then you should go for a fabric headboard. Fabrics such as suede, plush, satin and so on are all comfortable materials or fabrics to sit up against.
However, if you're looking for a headboard that looks great and you have no intention of sitting up in bed and reading or using your laptop or cell phone, then you should instead go for a wooden headboard. Wooden headboards look fantastic however they, not the most comfortable when it comes to sitting up in bed. Other types of headboards that are great for aesthetic appeal but not comfortable would be glass, metal, and headboards that have storage or shelves in them. These types of headboards are more for the appearance rather than practicality and functionality.
Tools Needed to Build a Headboard
If you are planning on creating a headboard, you are going to need a large, sturdy table to work on. You will also need an electric drill, electric screwdriver, table saw, hand saw, sander, sandpaper, nail gun, foam, paint, buttons and any other accessories that you feel will make your headboard better.
Skills Needed to Build a Headboard
You don't need to be a professional to make your headboard. However, you will need some basic skills. It's a very good idea to know your way around a woodshop, and you need to know how to make use of saws, drills, and screwdrivers. You also need to have a good handle when it comes to measurements and alignment.
Overall speaking, you also need to have an eye for what looks good and what doesn't. After all, the goal is to create attractive headboards, not ones you want to hide in your basement or woodshop. So when it comes to making headboards, you also need to be able to follow instructions. This skill is especially handy if you are using an instructional video for guidance.
Do an ample amount of research into the available materials, styles, designs, and trends in DIY headboards. Use our extensive list of tutorials above. However, if the idea of merely copying what others do is not appealing to you, all you need to do is add your own unique or custom twists to your headboard.
Ultimately, the more unique it is the better it is for you. Once you have a handle on making a headboard, you should keep attempting it. Try coming up with unique designs and concepts. Each masterpiece can be used in each bedroom of the house. You can also start giving samples away to family and friends, and who knows, this could turn out to be a great side income for you. If you have the passion and determination to create headboards, don't let anything stop you.
And when you finally build your headboard, feel free to pin this post on Pinterest and share your pictures with your fellow DIYers. Good luck!