These DIY shoe rack ideas will cover all your shoe storage needs while improving your home decor at the same time. Read on!
► Our top choice: Shoe Cubby
Shoes can get anywhere around the house if you're not keeping them organized. And needless to say, that's not a good decor decision at all. To avoid making decor eyesores and chaos with shoes, you have to keep them organized as much as possible. But that can be tricky if there are a lot of them at home, owned by all family members.
You can get a cabinet, a shoe storage unit, or another shoe rack alternative, but that may not be as simple if you have a limited room area. This is where clever DIY storage solutions come in. They are functional, often have multiple purposes, and don't take much space at all. You need at least one of these solutions at home, and you can build it yourself.
How to Build a Shoe Rack?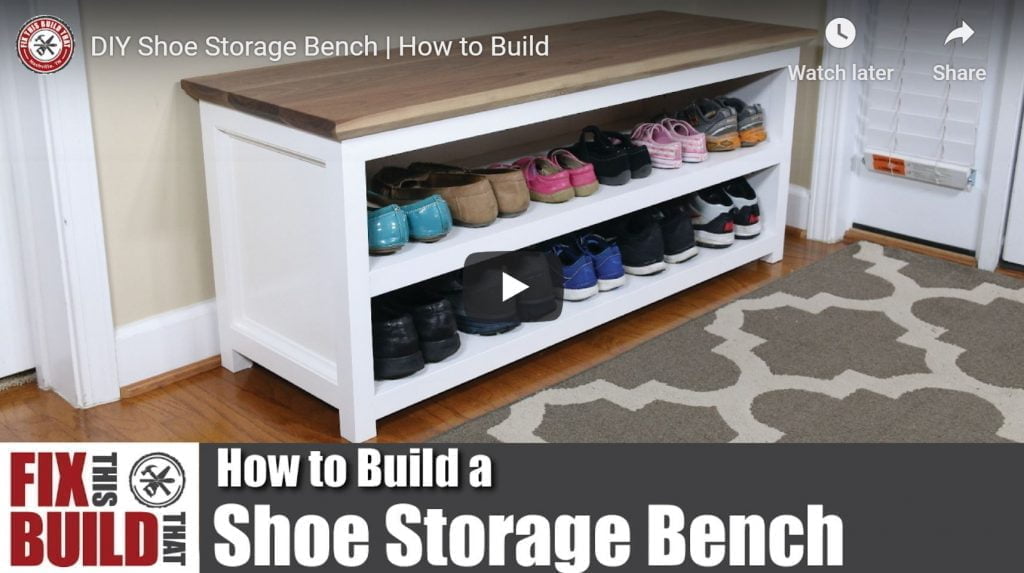 Here's how:
Decide where you will keep the storage rack – entryway, garage, other rooms.
Choose the method of organization – shelves, racks, trays, or hangers (more ideas below).
Choose the material (this may be wood, pallets, wire,  or repurposing other units).
Measure and cut the material.
Put it together with glue and screws.
Paint it to match your decor.
These are simple guidelines which you can follow and choose any shoe storage rack plans to complete the project.
DIY Wooden Racks
Making a DIY shoe rack form wood is the most basic project. It's easy to build but its also one of the most versatile types of storage racks. Here are the best DIY ideas.
Industrial DIY Shoe Rack
This is a neat little shoe rack that you can make from wood and pipes to get a rustic industrial look. It will fit in the entryway or mudroom and make a beautiful decorative accent. Such a small homemade unit is a great DIY project, especially in small spaces.
Lazy Suzan DIY Shoe Rack
If you are keen on tidy and clean storefronts, especially in the shoe department, that we are bringing a related project closer to you. This lovely DIY shoe rack project is perfect for every technical and willing handyman who has a few days to spare on creating it.
The shoe rack takes an unusual and oval shape and uses wood plank partitions to create levels and divisions between each pair of shoes. This may be a technical task to handle, but by following the tutorial accordingly, you will have no problem doing it. Ultimately, this shoe rack is the epitome of quality and practicality!
Ladder DIY Shoe Rack
A ladder can be used for with many purposes, and a shoe rack is just one of them! Focusing on this very design alone, here comes a DIY project that is beyond worthy of your time!
All you need to carry out this project successfully is building a ladder, which is later to be polished-up and redecorated to resemble a modernistic, yet rustic piece.
Choose wood pieces to stand as the shoe rack's frame, and keep your dimensions just enough to fit your shoes vertically and horizontally. You can play with shelf levels in accordance with your space, finally achieving a shoe rack dream!
Column DIY Shoe Rack
If someone told you this fashionable shoe rack is actually cheap and very easy to do, would you be interested? Assuming the answers is yes, let's talk about supplies. This rectangular shoe rack is made of a handful of long sticks, all of which will be used for the frame of the rack.
Start with a ladder-like design and form a box in which your shoes will acquire a whole new look. Finally, what better shoe rack shade to open your hallways than plain ole' white? Perfect to occupy a smaller corner in your house, this shoe rack is both impactful and clean.
DIY Shoe Rack Tiered Shelves
If you need more space for shoes but don't want the unit to occupy a lot of room, this is a great solution to build for yourself. You can easily place it in a closet or in an empty corner wherever some space is available.
Wooden DIY Rack Shoe Rack
If you need something simple that does the job, this wooden shoe rack is the most simple unit that you can build yourself. Its simple design only takes a few wood planks to make and it looks attractive enough to be placed in the entryway or a closet.
Rolling Bins
For a great extra storage solution that adds to your decor build these attractive bins on wheels. They can be placed under a bench in the mudroom. And when necessary, they easily rollout. Check out the tutorial for instructions and plans.
Wooden Crates
We always prefer interesting rustic design so this brilliant shoe rack is one of our favorites. It's as easy to build as it is attractive and it gives you ample of space. This crate rack will easily become an accent piece in your decor.
Repurposed Old Bookshelf Shoe Rack
And old bookshelf can be used as a shoe rack for a quick solution. Make it interesting by applying wallpaper to the backboard and paint it in a new color.
Console Shoe Rack
This DIY shoe organizer looks better than most units you can pick up in stores and you can build it yourself. It adds style to your closet and can be used as a cabinet with a tabletop as a vanity.
Rustic Crates
Stacking several wooden crates to store your shoes makes a very appealing rustic shelf. You can fix simple crates together and even add divider shelves for more storage.
IKEA Billy Bookcase Shoe Rack
Ikea's Billy bookcase is really very versatile. You can easily use it as a shoe cabinet and put them on display.
Tilt-Out Shoe Rack
A tilt-out cabinet is very functional and convenient. Shoes are hidden away and can be easily accessed when needed.
Shoe Cubby
We choose this cubby as the best shoe storage idea on the list. It can be customized to any size and it does the job of organizing shoes really well. The tutorial has comprehensive plans and there's everything you need to follow and build this unit.
This DIY cubby can store a lot of stuff and it looks visually appealing at the same time. It's a great way to add some decor interest to your entryway.
Shoe Ladder
This shoe ladder is simply brilliant. There's a lot of decor interest created with it and it creates a wonderful display.
Wine Crates
Wine crates are great for keeping not only wine bottles. They make the ideal rack! And you don't really have to do much to use them.
---
DIY Shoe Storage Benches
A shoe rack bench is one of the most functional pieces of furniture. It provides seating as well as storage. It's usually used in the entryway or mudroom but there's no limit where you can put it. Check out the best ideas.
Shoe Storage Bench
This DIY bench is simple but doesn't lack decor interest at all. We especially like this design in pastel green and beautiful top surface in wood finish. It may not provide a lot of space but it's perfect for your entryway to keep those shoes tidy.
Farmhouse Bench
We like all things farmhouse and this bench is a lovely DIY project to make in this style. The wooden crates providing closed storage is an easy and stylish design decision.
Baskets
If you want to hide all shoes away from the view, use baskets and tuck them away in otherwise unused space, such as under the bench. Labeled baskets for each family member makes a very functional and fun solution.
Hidden Storage Shoe Rack
If you like to hide your shoes away, this bench will do just that. While it's attractive and convenient itself, it puts unused shoes away safely.
Seating Shoe Rack
Here's another excellent bench with plenty of room for your shoes and boots alike.
Wire Basket Shoe Rack
Wire baskets make a great shoe rack to store them in the garage. It keeps the mud away.
Shoe Bin
Sometimes you should accentuate it for dramatic effect and you can even do it with a bin. Bright yellow works really well with vintage pastels.
Round Bench Shoe Rack
The round bench with a shoe rack is a great unit to keep you organized in a larger space.
---
DIY Wall Mounted Shoe Racks
Whenever you have free wall space you can add a shoe rack for some extra storage. It's easy to do and these projects aren't usually very involving. Check out some ideas below.
PVC Pipe Shoe Rack
Let good designing come to your home, and have a look at this extraordinary shoe rack, made entirely out of PVC pipes! In terms of easiness, this DIY idea is a true showstopper, but it is also affordable and offers a great storage space as well. To make it, you will need PVC pipes, cut in half or further. The trickiest part may be the assembling of the pipes alone, but nothing too major or difficult for anyone to try it. This shoe rack will perfectly complement your hallways, giving people a reason to admire it!
Garage Shoe Rack
In case you have a big a garage, but still, no shoe cabinet, let us introduce you with a fabulous DIY idea that will have you working on it instantly! This is a great take on the classic shoe closet, with a bit more practicality and functionality.
What you will need is a wood board to serve as both the rack's frame and shelving. The shelves are slanted on purpose, moving your shoes out of the way and still offering a great deal of space.
The project may take more time to polish and complete, but it is quite the sight, isn't it?
Peg Shoe Rack
This peg rack is one of the easiest and quickest to build racks you can DIY. Being wall mounted, it doesn't take up room at all. It's a perfect addition to your entryway or mudroom.
Crown Molding Shoe Rack
This DIY shoe rack is as much a hack as a project. Crown molding makes a quick and easy solution to store those high heels in a classy way. Not to mention that lines of molding look whimsical and interesting as far as decor goes.
Skateboard Shoe Rack
Here's an idea of a great repurposing/upcycling project if you can get your hands on a few old skateboards. They make a great rack in a room of a teenager.
Wire Basket Shoe Rack
Hanging wire baskets is a pretty clever idea to organize and it's quite interesting as far as decor goes. It's perfect for keeping those shoes of your toddlers together in one place.
Built-in Shoe Rack
We love elegant built-in solutions that add architectural interest to a room. Such is this clever built-in shoe rack.
Industrial Pipe Shoe Rack
Build pipe shelving to put on a display in industrial decor style. It's certainly a fun and attractive way to do it.
Floating Shelf
This modern and minimalist shelf is brilliant. Install it in your entryway for quick and easy organization of your most used shoes.
Shoe Rack for Small Spaces
Here's another clever way to use a small space effectively. Diagonally installed suspended shelves can store a lot of shoes in limited room.
Corner Shelves
Corners are usually dead space so why not use them to store stuff. Install corner shelves as a clever solution.
Magazine Holder Shoe Rack
Here's another simple but brilliant idea for a wall shoe rack. Magazine holders substitute to keep things really well. And you can use this idea to install a shoe rack on any wall in your house.
Suspended Planter Shoe Rack
Suspended iron planters have another great use. All you have to do is install them on a wall and you get a charming rustic shoe rack. What a neat idea!
---
DIY Shoe Racks for Closet
If you have a closet big enough you can easily fit a shoe rack in. It doesn't have to be walk-in either – you can add a shoe rack to a small space too. Here are the best ideas.
Closet Rack
Giving your chaotic closet a new name is more than necessary, so why not start with this innovative DIY shoe rack idea? What you will need is a solid half or corner wall, a set of brackets (gold shades work amazingly for darker areas), and bright wood boards to attach additionally.
Working with bigger surfaces requires some knowledge in the field, and the same goes for your cutting and aligning skills. However, the tutorial is simple and clear, giving you the chance to truly compose a practical and modernistic shoe rack right.
Hexagon Shaped Shoe Rack
If you need something more from a shoe rack, an interesting design will be a great addition to your home decor. The hexagon shoe rack may be a bit more involved to build as a DIY project but it's all worth it.
Hanging Shoes in the Closet
There's no better idea for a small closet than to hang on rods and coat hangers. Install more rods for more room.
Shoe Shelves
Open shelves are great to store stuff and even put them on display. The color-coded organization makes a visually appealing and very convenient setup.
Magazine Organizers for Slippers
Sippers can be stored in magazine holders. It's a pretty clever solution.
Over the Door Shoe Rack
An over-the-door shoe rack is a great solution for the walk-in closets.
Towel Rod Shoe Rack
Install towel rods in a walk-in closet for as much shoe storage space as you like.
Hanging Shoe Holders
As a simple and cheap solution, these hanging shoe racks are great. Get them if all you need is to put your shoes away in an organized manner.
Hanger Shoe Rack
And another simple but effective way to store a lot of them in a small closet by hanging them on rods.
Reused Tin Can Shoe Rack
This is how old tin cans can become a fully functional and very handy shoe rack in the closet. It's very easy to implement an idea that you must use if you have old paint buckets lying around.
Hanging on a String
Hanging your shoes on a string can literally mean the solution of your shoe problem in the closet. Check out this idea and try it out at home.
---
DIY Pallet Shoe Racks
Once again pallets prove to be one of the most versatile materials for DIY projects. You can build very easy shoe racks from them and don't spend much time or money on it. Here are the best ideas for a DIY pallet shoe rack.
Stacked Pallets
Here's another shoe rack that you can build very easily. All it takes is cutting up a pallet and you can build as many rack levels as you need. It may not be the prettiest rack for your home decor, but you can experiment with wood stain and paint to make it visually attractive.
Pallet Shelves
Using pallet wood, you can create suspended shelves that take very little room and are great for entryways.
Outdoor Pallet Shoe Rack
Using a simple pallet as a shoe rack is a great outdoor solution.
Shoe Rack with Planters
Here's another pallet idea for a rustic shoe rack and a great home decor accent.
---
DIY Entryway Shoe Storage
Not all organizers fit in the mudroom or entryway. This area in a home usually is minimal, but it has to be organized to make the best first impression. A small but elegant shoe rack is what you need to keep all the shoes in order. And you can do it yourself on a meager budget too.
Industrial Pipe and Wood
This is a beautiful DIY industrial shoe rack with pipe and wood as a straightforward craft and an organization solution. Check out the link to learn how to do it.
Rustic Bins
Make these great DIY rustic bins for an easy project in a funky way. Check out the tutorial for details on how it's done.
Wooden Boot Tray
What an excellent quick and easy DIY wooden boot tray & shoe organizer as a simple idea. Follow the tutorial to get the complete details and instructions.
Industrial Rack
Create the West Elm inspired DIY industrial shoe rack as an easy craft for under $30. See the link to get the complete plans and instructions.
Copper Rack
What a fantastic DIY copper shoe rack as a natural home project from the simple hardware store supplies. See the tutorial to see how it's done.
Pebble Tray Shoe Rack
Create the DIY shoe storage for the entryway from an old boot tray. See the article to learn how it's done.
Shoe Rack on Wheels
Build this great DIY shoe rack for the entryway or mudroom as a simple craft project. Follow the link to get the full details and instructions.
Entryway Bench Shoe Rack
This is a beautiful entryway DIY shoe rack and an easy idea that costs less than $15. Check out the link to find out how it's done.
Entryway Shelves
This is a great idea that is easy to pull off. A simple shelf works magic in the entryway to store things and create a display.
Wall Mounted Shoe Rack
This idea for a shoe strip is simple and elegant. It won't overcrowd a small entryway and help you organize at the same time.
Other Ideas
Here are all other ideas that didn't fit any of the above categories. These are some great ideas nonetheless.
Shoe Boxes
Using shoe boxes may not seem like much of an idea but you can do it in a very stylish way. In this example, all white shoe boxes are used creating a uniform look with labels to keep it organized.
Glass Door Cabinets
Cabinets with glass doors make for great displays and why not use them to display your shoes. It's certainly an interesting solution.
Cardboard Shoe Rack
Effective hallway designs are lurking on every corner, and this DIY shoe rack is affordable and easy to do.
Fairly simple, this shoe rack is made entirely out of cardboard which is twisted and adjusted to fit in a shoe. Know that while this design was intended for a single-shoe placement only, you can always expand it and make it fit for a pair.
What you will need is obviously a piece of wide and long cardboard, measuring tape, and a great way to decorate the cardboard's exterior. Super fancy and cost-free, this DIY shoe rack design is the one to try!
Hidden Staircase Storage
Hidden space in the staircase is the perfect place to hide your unused shoes. It's pretty accessible too.
Under the Bed Shoe Cubby
These under the bed drawers make storing things really effective and very organized.
Cinder Block Shoe Rack
Using cinder blocks is a creative solution. The industrial decor style is interesting and appealing.
Dollar Store Baskets
If you're looking for cheap but interesting ways to organize your shoes, using Dollar Store baskets is a clever way to do it. It's not as visually appealing as far as decor goes but it can easily be used in a garage or a walk in closet.
Recap
Liked this article? Here's what you can read next: