Last updated on May 12, 2020
Have a few wood crates and want to make something from them? Here are 15 brilliant and easy DIY wood crate ideas that will inspire you.
DIY projects with wood crates make the most beautiful rustic decor. Even if you use a couple of crates in a beautiful wood finish for storage, you will not want to hide them away in the closet. On the contrary, they look stylish, warm, and often make a great decor accent. You can create beautiful decor vignettes out of a crate for both, inside and outside on your porch.
So what can you do with a wood crate? The options are numerous. It's a basic storage unit so that you can use it as such. You can build an entire DIY bookshelf too. And if you turn it upside down, it starts working as seating, a small table or a DIY coffee table. But if you think that's all you can do with crates, you're in for a pleasant surprise. Here are our favorite wood crate ideas and their uses in home decor.
How to Make a Wood Crate
Here are the basic steps to make a wood crate:
Cut a 1×12" board into two pieces of 10-1/4" and one piece of 18";
Cut a 1×3" board into six pieces of 19-1/2";
Hammer the wood pieces together with nails;
Apply wood stain;
Add optional handles.
Check out these plans with a tutorial for more detail:

First things first, you can buy your crates anywhere where containers are sold, but you can make them yourself too. If you need a particular crate to use as a storage unit at home in rustic style, here's how you can build one from wood.
The following wood crate ideas with tutorials will show you what more you can do with your crates.
Ironing Station

A simple wooden crate can make an excellent ironing station that looks visually attractive. It doesn't take much to build it, and you can quickly install it at home. Just follow the tutorial to make it.
Wood Crate Bookcase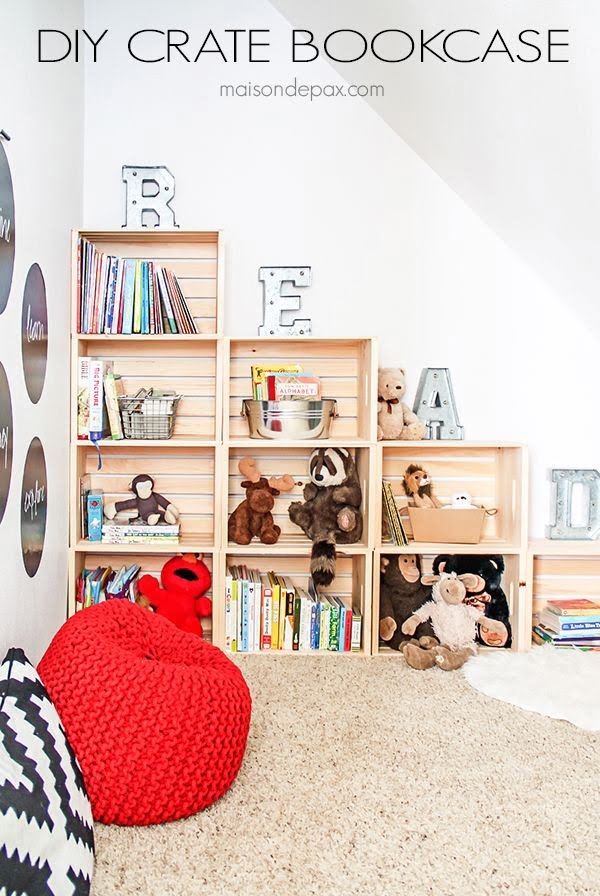 Building a bookcase from crates is like making it from modules. You can have it as big as you want and you can choose the shape you need. It provides a lot of room for storage and gives you an attractive rustic decor accent piece at home. Follow the tutorial to build it.
Side Table

A small side table can be placed next to a sofa as an extra surface for a table lamp, little things or even to create home decor vignettes. Making a simple side table from crates allows you to add another rustic accent piece to your home decor in a practical way.
Rolling Cart

This rolling wood crate cart is a lovely piece of simple but functional design. By adding wheels to wooden crates, you get a small piece of furniture that you can move around the house and create beautiful displays. Or use it for some extra storage – it's up to you. See the tutorial for simple instructions on building it.
Towel Rack Shelves

Wooden crates make great shelves that you can hang on the walls in your bathroom for the perfect towel rack. Not only it's useful; the unit gives your decor a rustic accent with a lot of character. Follow the tutorial to build it at home.
Rustic Bookshelf

Doesn't this DIY bookshelf remind you of IKEA Billy bookshelves? They've become the go-to solution for a simple storage unit, but you can get them even cheaper. More so, building a bookshelf from wood crates gives you an instant rustic accent in your home decor.
Wood Crate Bookcase

Here's another bookcase that you can quickly build from wood crates. It gives you a lot of flexibility as far as the measurements go, so you'll be able to fit it in any corner of the house. You get a lot of decor bonus points as well. The tutorial will show you how to do it the easy way.
Crate and Pipe Industrial Style Table

If you take a wooden crate and some pipe you can build something uniquely adorable – an industrial style table. It's too small to be much of a storage unit, but it packs so much decor interest. Plus you get some extra points for repurposing. Check out the tutorial to see how it's done.
Wine Crate Cabinet

Yes, you can build a closed cabinet from wine crates. It's pretty simple, but there's so much rustic charm in this small unit. Such a cabinet is the perfect accent for the bathroom, and it will make it stand out. The crystal knob is just the icing on the cake.
Wine Rack

This wood crate DIY wine rack is a fun weekend project. It's pretty straightforward, and you can have it at home as a unique accent, as well as use it for its purpose. Check out the tutorial to learn how to do it.
Planter Stand

Turn a wood crate into a planter stand for flowers. It's a great solution to grow houseplants while giving your home decor a small facelift. The tutorial will show you how to make one.
Wood Crate Desk

You can build a complete desk with drawers from wood crates if you're up for the challenge. It's a relatively cheap option for a good desk and an even better home decor accent. Follow the tutorial for the instructions.
Crate Lockers

You can build these adorable rustic lockers at home from simple wood crates. Small lockers are great for storing little things; they work like small cabinets. Not to mention they make great rustic accents without taking up much space.
Bedside Table

Turn regular wood crates into an adorable small rustic bedside table. The project is simple, but you'll love the result. Just follow the tutorial to see how it's done.
Recap
Liked this article? Here's what you can read next: