How to build a desk quickly, easily, and cheaply? We will show you 60 (well-organized) easy ways to do it. Read on!
If I think about it, I've never lived in a home that didn't have a desk or some kind of desk alternative. And it was always used for many purposes.
Indeed, everyone always used our desks whenever they needed to do homework, craft something, or play with something. It was always the most multi-functional piece of furniture at home.
How to Build a Desk?
Here's a quick rundown of making a homemade desk:
Choose the material. The best material for a DIY desk is beech or birch. These woods are light and durable enough to make furniture. You can also try oak, maple, and pine. And most often than not, you will use anything you have available if you're trying to stay within the budget.
Measure the wood boards. 2x6s are very easy to work with for this project. Cut them with a circular saw.
Drill the pocket hole at an angle for each screw.
Attach the boards with glue and wood screws to make a tabletop.
Use wood filler to cover the drill holes.
Stain and paint the tabletop.
Measure and cut boards for the legs and the desk frame. 2x4s or 2x2s are ideal for this. Note that you will need a miter saw to cut the boards at an angle.
Stain and paint the legs. Consider using a wood conditioner first to prevent streaks when you stain and paint it later.
Attach the desk legs to the tabletop using screws and glue. You may use metal brackets for support.
These steps are enough to get you going, and you can follow any plans to build a desk from the list below.
If you're familiar with woodworking, building a simple desk will not pose you any challenges. However, more intricate desks (ex., curved edges, drawers, etc.) will take more time to complete.
And because there are so many types and designs of desks, you may choose any of the following ideas with plans.
DIY Corner Desk
This is our choice for the best DIY desk idea overall. It's relatively easy to build (by following great plans and guide), it's very functional and exceptionally attractive.
The basic steps are these:
Choose the material. The best wood for a desk is beech or birch. They are light woods and durable too – ideal for furniture. However, you might consider oak (more durable) or pine board (light and inexpensive).
Measure your corner space.
Cut the wood boards. A corner desk is made of two tabletops attached at a perpendicular angle.
Use wood glue and screws (drill a pocket hole for each) to attach the table surface together.
Stain and paint the finished tabletop.
Measure and cut the legs. The height of a desk you should aim for is 28 to 30 inches. That's the ideal sitting height. It does, however, depend on how tall the person using it is.
Stain and paint the legs.
Attach the legs to the surface using glue and screws.
These basic guidelines are enough to follow any simple plans for a corner desk.
How much does it cost to build this desk? $100 or less if you stay within the budget (sometimes even less than $50).
Computer Desk
If you're not crazy about much of anything we can buy in today's furniture market, at least in your price range, build this metal and wood DIY computer desk idea on a budget. It even includes a keyboard tray.
Standing Desk
Build this fantastic DIY standing desk from wood and pipe as an easy DIY desk project. See this website to learn how it's done. You also have an option to use a standing desk converter.
DIY Pipe Desk
This is a unique DIY project that entails using stained support pipes and wood panels finished with polyurethane. The table consists of four 2 x 8 are joined using wood glue and a pocket hole for every screw (where needed). You can use 2.5″ screws to join the pieces. You can use a spray gun to stain your table.
DIY Office Desk
With this X-leg Office table plan, you can build with straightforward construction to create a sturdy, inexpensive workspace. For about $30, it's hard to beat.
Adjustable Standing Desk
Build this rustic standing desk with an adjustable metal frame. The level of this project is intermediate to advanced. The total cost runs around $400.
DIY Built-In Desk
This is one of those projects that was born out of necessity. But we're so glad because it's an excellent and very useful project that we're sure many of you will make. A desk like this will find a home in any room, be it the living room or the bedroom.
DIY Floating Desk
We love floating shelves. Why? They seem to float and take up almost no room (ideal in a small space). What if we told you that you could easily transform an IKEA countertop into a neat computer workstation table that looks like a floating shelf?
DIY Wood Desk
DIY plans that will make your home office pop. Need a table to spice up your home office? Build this farmhouse-style x-base desk and paint it white with a wood stain top.
DIY Sit Stand Desk
This table allows two people to work in separate areas, giving you plenty of desk space. Even though the height is designed for standing as you work, you can get a couple of stool-height chairs to sit down whenever you feel tired. You are going to love how your wrap-around finally turns out.
DIY Wall-Mounted Desk
This table is attached to the wall via colorful sprayed brackets. The open shelving above gives the whole setup a built-in feel, and the desktop is perfectly stained and connected to the wall via L brackets.
DIY IKEA Desk
This table was made unique by blow-torching a wood piece to add that look of depth and layering, then staining/sealing it. Adding some IKEA legs and a custom-glass top completes the look, making it look like a far more expensive piece of furniture than it costs to create.
DIY Industrial Desk
This table features multiple shelves, a deep desktop, and metal details for an industrial look. See this website to learn how it's done.
DIY Industrial Pipe Desk
This desk is one of a kind as the crossover support and legs are made from plumbers, cast-iron pipes, and fittings. A simple wood top attached to a grommet style base, and you have a chic industrial piece ready to inspire.
DIY Home Office Desk
Inspired by Pottery Barn, this piece is easy to build as it comes with a simple design. Other than looking amazing, this is a very functional desk. Even when you have to alter some of the measurements to meet your particular needs, the plan and instructions are easy to follow and very detailed.
DIY Kids Desk
Learn to make a family computer station on a budget. Recycled drawer pedestals and doors make these desks unique and easy on the wallet.
DIY Farmhouse Desk
The L-Shaped farmhouse wood desk is stunning. It not only looks rustic and chic, but it also gives your office a complete look. The furniture speaks of excellent craftsmanship and is a real stunner. With a good stain, you have a piece with a lovely finish.
DIY Pallet Desk
When sitting on your sofa doesn't work for you anymore, you need DIY inspiration. The pallet project may be the solution.
First, decide how large you want your desktop to be, as disassembling pallets can be tough. You can even use one of the pallets to make an extra shelf. Once done, try sanding it for that smooth finish.
DIY L-Shaped Desk
If you love making your home one step at a time, you will love this DIY corner desk. Again, if you want something spacious that will snugly fit into a corner, this is the desk to opt for. With three sturdy legs, this desk will hold items of sizeable weight.
DIY Craft Desk
What an awesomely comfortable and sturdy DIY craft desk for a straightforward craft project. It's an easy to intermediate project.
DIY File Cabinet Desk
When all the kids have gone to school, you need some space where you can spend time improving your craft skills. What about using file cabinets for the base of your DIY desk? First, you will need to get rid of most of the cabinet hardware, and then follow the instructions in this link to create a unique DIY project.
DIY Long Desk
With a vast giant workspace that measures 7 feet long and nearly 2 feet deep, you will have plenty of work surface area. You can opt to design shelves below to hold a printer or storage baskets.
You will love the feel and industrial look of the hardware. This is ideal for your basement or garage work area.
DIY Plywood Desk
If you're ready to spend some time covered in sawdust and paint, this is a great way to make your furniture — so much cheaper! You need to measure the available space and plan how big you want your desk. It can be made to seat up to 6 people.
DIY Desk with Drawers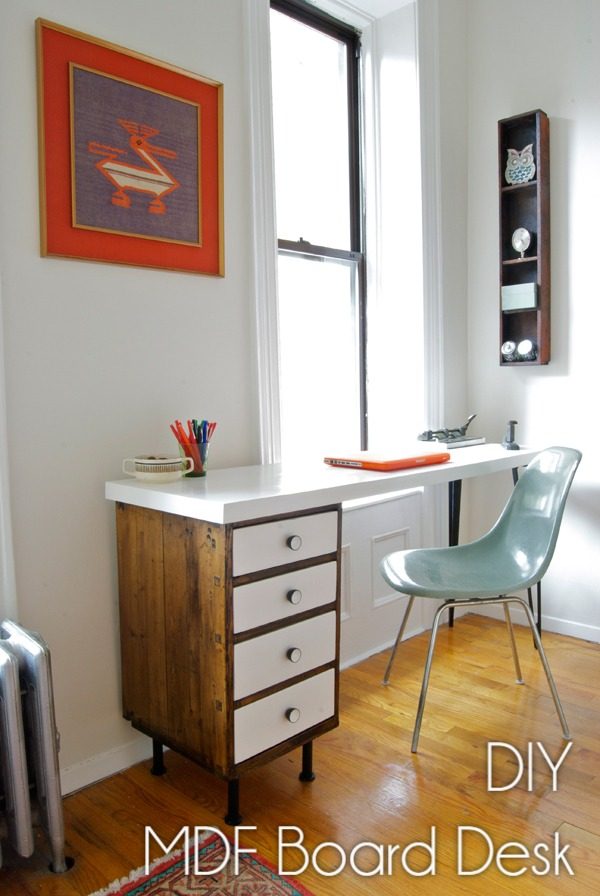 Credit: manhattan-nest.com
For this unique DIY desk, a nightstand becomes one side support for the desktop, with the drawers adding storage. Two pieces of MDF glued and clamped together make the perfect top. A little white paint and sealant on the tabletop, some IKEA legs to add for the other side support, and voila, a custom-made masterpiece.
DIY Rustic Desk
A pallet with that plank-board look attached to a side table unit is practical and aesthetically pleasing. The slatted insides provide the perfect dividers for items inside the desk. The painted knobby legs of cool white contrast perfectly with the rustic wood pallet top, nails, and all. This desk is the ultimate in repurposing rustic charm.
Butcher Desk
The piping material is used for the legs, with casters added to the bottom for the ultimate convenient mobility. The DIY butcher block desktop paired with the industrial legs makes this desk both warm and modern.
DIY Bookshelf Desk
Two white cube bookcases make the perfect support for this desk as it adds massive storage and decor styling potential for displaying items. An attached sheet of painted plywood makes up the desktop and can be painted any color to suit any decor.
DIY Reclaimed Wood
You need some reclaimed wood planks and hairpin legs (that you can pick up in a hardware store) to create this beautiful desk that looks rustic as much as it does mid-century. This combination of styles adds tons of home decor interest.
DIY Sawhorse Desk
This desk packs a big 'wow' factor for its functionality, as well as its chic industrial vibe. Saw horses make the ideal desk side supports, with wood planks added as lower shelving. Some complementary metal attached to a wood desktop marries the top and legs.
DIY Treadmill Desk
Make this treadmill desk for under $20 a straightforward project. It's not for everyone, but a fitness nut will love the idea. The project is beginner lever.
DIY Desk Under $20
What a fantastic way to build a custom spacious, and stylish desk. The project is easy to intermediate, and you will need to get enough 2×4 wood for materials.
DIY 2×4 Desk
Use plywood and 2×4 wood to build a simple desk like this. The style is similar to the campaign desk design. The project is easy to intermediate. It will cost you under $50 for the materials.
DIY Plank Desk
Build this amazing and inexpensive DIY shiplap desk for a straightforward project idea. It's a great way to fit shiplap into your home decor too. The project is intermediate level, and it will cost you around $30 for the materials.
DIY Desk with Storage
This IKEA hack using Kallax shelves is perfect if you need a large computer desk or craft table but don't want to spend hundreds of dollars. The project is simple enough for a beginner level, and it will cost you around $125.
DIY Mid-century Desk
A corner desk can be a great way to maximize the space in your office, keep your office tidy with a desk organizer, and give yourself a larger worktop area. A DIY mid-century modern desk can bring loads of style and function to any office.
DIY U-Shaped Desk
Buying a desk isn't always expensive, depending on where you shop and what you're looking for, but if you want a desk that's tailored to the way you work, is large enough for all of your gear, and suits your tastes, you might consider building one. The total cost for this desk will run you around $100.
DIY PVC Desk
What a fantastic DIY standing desk for $20 for a simple project. You'll turn a regular desk into a standing desk entirely from PVC pipe.
DIY Concrete Desk
This minimalist, cool desk comes with a DIY concrete desktop plus a simplified wooden frame that supports the legs. Being a pretty simple desk, you can opt to add shelves for some more storage space. The wood brings a bit of warmth to your area and keeps things looking natural. Bob Vila has plans for this desk.
DIY Wood and Pipe Desk
When everything at the shops is either in the wrong piece or the wrong price, the best option is to build something on your own. Once you have assembled all the Custom Industrial Wooden Desk pieces, a single coat of poly is sufficient to give your project that perfect finish. This will give your space grace and class.
DIY Door Desk
Ever thought of putting that good door lying in your attic to good use? Why not transform it from a door to desk? Apart from the door, all you will need is a frame to hold it, and you are on your way to having your first from Door to Desk project.
DIY White Desk
This is a tutorial, more of a guideline on how to create a DIY Parsons Desk. This desk, when designed without the drawers, might be a more straightforward project, so if you want a simpler version, you may want to consider it. If you design your own, the diagrams and photos in this tutorial will help a little.
DIY Hairpin Desk
Often in life, simplicity is best, and this desk is no exception. Some black hairpin legs added that sleek, minimalist look, while a cut piece of pine from the hardware store forms the desktop. Stained and sealed to perfection, this small desk makes the ideal surface for crafting, and it can be placed in a small space.
DIY Makeup Vanity Desk
The idea was conceived from a Home Depot Gift Challenge, and the creator is super happy with the outcome. You will be amazed at what you can do using that unused file cabinet in your office or home.
DIY Computer Gaming Desk
This is an awesomely built gaming desk in a nice industrial pipe style. Every gamer's dream.
DIY Lap Desk
Such a lap desk is easy to make, and it costs virtually nothing. The project is very simple and it will cost you under $20 for the materials.
DIY Studio Desk
Here's how to build a studio desk for under $350. The project is intermediate to advanced level.
DIY Murphy Desk
The murphy design is ideal for small spaces. This lovely contraption takes up minimal space and serves a decorative purpose when not used.
DIY Laptop Desk
Build a laptop desk using wood scraps for just under $2. It involves finding a throwaway small end table and cutting its legs to make a lap desk.
DIY Student Desk
This lovely rustic style floating desk is perfect for inspiring any student. It will save space and embellish any empty wall for a practical but fun idea.
DIY Motorized Standing Desk
It might as well be a sitting desk as it is equipped with a motorized height adjustment device. The project is intermediate level, and it will cost you about $200.
DIY Art Desk
This art desk has an adjustable angle for comfort, and it folds down when not used to occupy as little space as possible. This project makes a wall-mounted table, so you may need a stud finder to attach it to the wall. Read this website to get the complete details.
DIY Closet Desk
Why not hide your workspace in a closet? It can be nicely hidden away from the view. And it's easily accessible when needed.
Recap
Liked this article? Here's what you can read next: