Last updated on September 26, 2023
Want to build a quick and simple desk? That's the DIY filing cabinet desk. It's one of the easiest pieces of furniture you can make. Read on to find out how.
We're serious when we say that this is the easiest piece of furniture you can make (short of turning over a box for a stool.)
You can ways that it doesn't involve woodworking at all (disclaimer: it does involve woodworking if you want to make a better desk.)
But for the purpose of making a filing cabinet desk, it's just bout putting a wooden board on top of two cabinets or more.
Is it cheaper to build your own desk? You bet it is. Desks with cabinets and drawers cost a lot. And they aren't even made of quality materials (usually it's some sort of cheap fiberboard).
By making your own desk from wood you are already a step ahead as far as the quality, and miles ahead as far as the cost.
Here are the types (configurations) of a DIY filing cabinet desk you can make:
One cabinet and legs on the other site of the tabletop
Two filing cabinets on each side of the tabletop
Three or more filing cabinets with a large tabletop (for multiple workplaces at the desk)
As far as the alternatives to a filing cabinet you can use for this desk, these might be:
A dresser
Wood crates
Containers
A bookcase
Storage trunks
It's fun to try new things and reuse items available to you. Not only you save money by doing this, you can create unique pieces of furniture.
Now let's go over some specific ideas and instructions of making a filing cabinet desk.
How to Build a Single File Cabinet Desk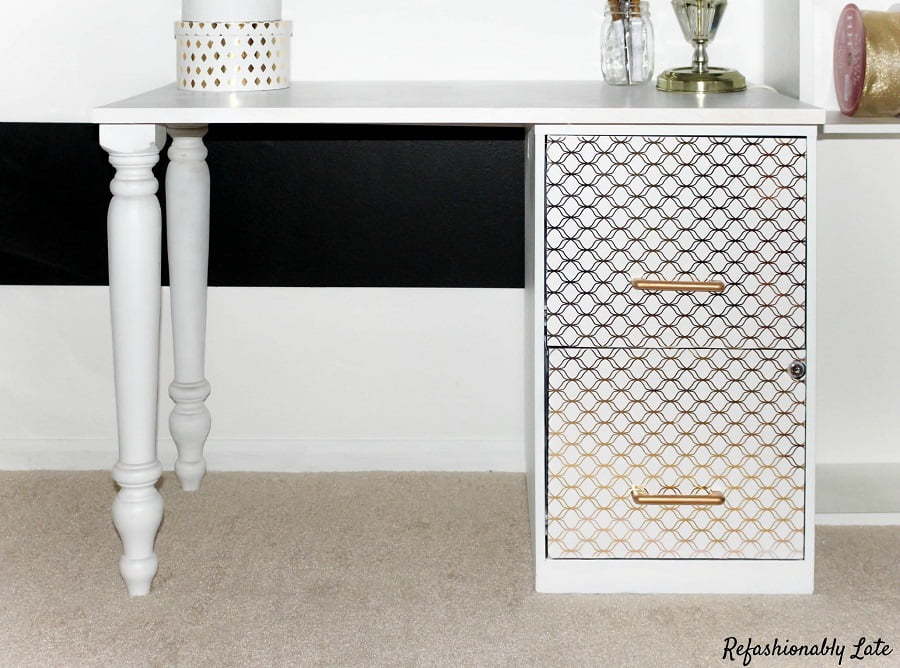 Pick a single file cabinet and add beautiful balustrade legs for a lovely desk. This is an easy project.
Create an affordable and beautiful craft or workspace easily. Learn how to build a DIY file cabinet desk using just a couple of file cabinets and some plank boards. Follow Over the Big Moon blog to see the entire details and instructions.
As we said, you can repurpose old cabinets or make a beautiful desk from scratch. Follow the video tutorial to see the complete details and instructions.
How to Build a Two Filing Cabinet Desk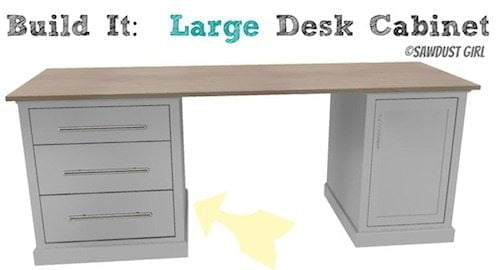 Sawdust Girl suggests building a large cabinet for the desk too. This is a more complicated and involved project than a simple filing cabinet but nonetheless doable. Check out her website to learn how to do it.
This project is very simple. Two old filing cabinets were used to make this desk. They needed a little sanding and painting to get this look. The tabletop is simply a section of a countertop put on top. Check out the project on Hometalk to see how to do it.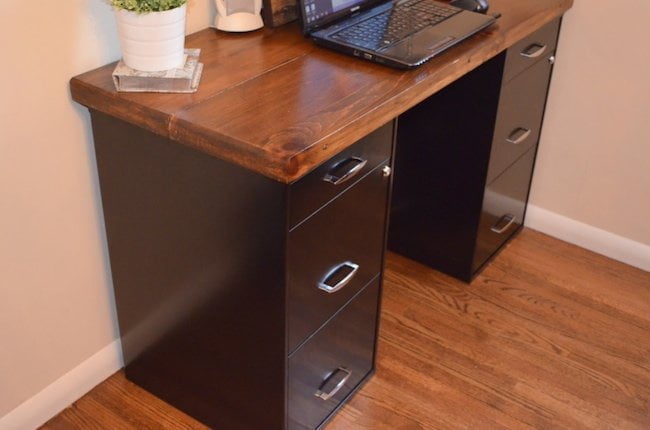 Another easy way to upcycle your old metal filing cabinets. The wooden tabletop is real eye candy. It's a classic project. Read the article on An Inviting Home to get the entire plans and instructions.
DIY Computer Desk without Building Anything
Want to create a desk that seats 3 or more? This tutorial will break down how you can create a DIY computer desk that doesn't involve using a drill. Read the link on The Organized Mama to see how to do it.
Repurposed Filing Cabinet Desk
A quick file cabinet desk DIY using thrifted metal file cabinets and a simple DIY file cabinet desktop from common wood. An easy and inexpensive project! Read the tutorial on Knock It Off Kim to see the entire plans and instructions.
This is a large desk to make from cabinets and a creative way to do it. Follow the Instructable to get the full details and instructions.
You can do it even with stuff you find on the side of the road. Follow the video tutorial to see the full guide.
Do you have an old filing cabinet just lying around? Put it to good use with this brilliant desk idea. This simple and easy desk is the solution to your home office needs. Check out the video for the full guide.
Recap
Liked this article? Here's what you can read next: