Last updated on October 2, 2023
Want to build your own DIY computer desk for your home office or workspace? These terrific DIY desk ideas will make it look easy. Read on!
Let's be straight, computer desks are outrageously expensive. A good desk can run you a few hundred to over a thousand dollars. And it doesn't mean it will be the best fit for your workspace. Unless it's custom-built, there's a great chance something will be off.
That's why we highly recommend building your own computer desk if you're interested in DIY projects at all.
As you will soon see, building a desk can be as easy as putting three parts together. Or it can be a very involved home project that results in a unique piece of furniture. It's up to you to decide how complicated you want it to be.
We've got you covered in any case with the following DIY desk ideas. Let's start building one of these!
How to Build a Computer Desk
This gaming desk is made from solid wood and uses a couple of hairpin legs (which you can replace with 2x4s or pipes if you want). The plans include a platform to raise the monitor too which not only provides more desk space but makes for better ergonomics.
The DIY desk includes a cabinet with drawers for extra storage as well. You can make it all if you have above beginner DIY and woodworking skills.
One of the most creative desk ideas for this small computer desk is to replicate the Pottery Barn Printer's desks. It is a small size unit and doesn't take much space against the wall. The design is stylish with balustrade legs and elegant drawers.
You would think it would be difficult to make a piece of furniture that looks so much like Pottery Barn. But it is doable and you can follow the tutorial to make it.
This X-frame DIY desk is made entirely out of wood. What kind of lumber to use? It's your choice as most lumber will do. What will you need? A few 2×2, 1×6, 1×4, 1×3, 1×2, and a sheet of 1/2 inch plywood.
It's a lovely woodworking project and one of our favorite desk ideas for a small but elegant computer desk. You may paint it to get either a modern or rustic look for your space (as shown in the picture.)
We have a farmhouse style in every room. So how about a farmhouse desk for your work space? A project like this is, of course, a bit more involved and requires above-average woodworking skills. You need great paint and wood stain to finish it too. The X-frame design makes it attractive but more complicated to build too.
It's one of the most involved desk ideas, and luckily there's a tutorial and plans for this. So you can follow every step and expect similar results if you put your mind to it.
There are many reasons why you may want a long computer desk like this. You may have a wide window where your work space is – you need the desk to span its entire width. You may want to set up two work places for two computers as well. Whatever your case, this idea is for you.
The main problem when building a long desk is, of course, the choice of material for a desktop this size. This design suggests using pallets. You can get a lot of this material cheap and you can use as much of it as it takes.
The thing about small desks like this is that they may not always accommodate a bigger size workstation. It's fine having a tiny work space if you're only using a laptop but what if you have more than that. You will need to make a large desk if you have two monitors, a computer case, and speakers.
This idea is about building a large size desktop. You will need to use an affordable table top (something form IKEA would do) and pipes for legs. This way the construction is simple but durable. And it makes for a relatively easy project.
Wood is appealing in home decor and design. So if you're going to build a piece of furniture why not make full use of it. For solid wood, we recommend butcher's block. It's a thick wooden tabletop that will give weight to your work space, so to speak.
And while you can use 2x4s to build the legs and the frame too, this tutorial suggests a simpler way. Add hairpin legs and be done with it. Smart.
Plywood is cheap but it doesn't mean it's ugly. Several projects use this material for the desktop on our list. There's no reason why you would not want to use it. And you can even build the entire table out of it.
This includes the frame and the legs made entirely from plywood. The computer desk you get looks modern and stylish.
We're talking about a real workstation here. Multiple screens and all. So it needs a lot of space at multiple tiers. The best solution for the frame of such a desk – industrial pipes. They make it easy to build a frame that will support all of the hardware.
For this idea, you can use any type of wood and stain to get the look you need. But the pipes do set a theme for the rustic or industrial style.
A narrow desk is one that runs along the wall and takes up less space. It doesn't provide much desktop space in terms of width but you can, for example, build a long enough desk to fit two computers.
This project features wall-mount desks (a narrow design enables it) so it's very easy to implement. You need just a table top and some brackets to mount it on the wall.
Minimalist desk ideas are a board concept. It basically means a piece of furniture with a minimal feature set. It probably won't have any storage options, just a single desktop for your computer. And while it's not so much functional, it's very stylish.
This is one of the wall-mounted desks from The Merry Thought. It features a solid wood desktop with a live edge and wooden brackets. The look is minimalist, earthy, and very inviting.
Finally, and addon to your computer desk if you're using the tower case (not a laptop). This stand on wheels will be a great addition to ay desk, whether it has enough room for a tower or not.
The design is simple and straightforward to put it together. As it's made of lumber, it will be the best fit for wooden desks.
DIY Corner Computer Desk
Many times your work space will be in a corner, be it a living room, or a bedroom. So how do you use that space effectively? Well, Shanty-2-Chic offers to build a corner desk with wall-mount shelves on top. This isn't just one of the functional desks it's an organization marvel too.
A desk like this is made of lumber and you will need advanced woodworking skills as there are some nuances involved. But it makes a gorgeous corner desk.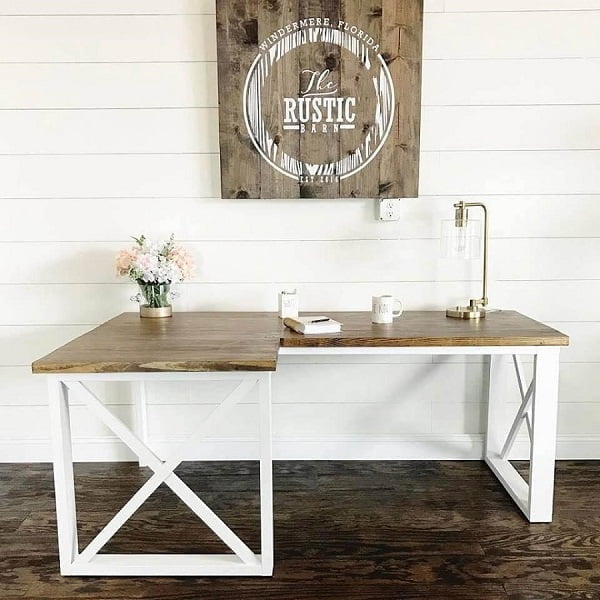 The L-shaped computer desk like this is ideal for corners but not limited to them. You can have it in your home office for visual impact. And the rustic style of this unit indeed has a lot of it. The white X-frame and rustic stain wood desktop make a desk worth talking about.
You will need 2×4, 1×2, 2×6, and 2×3 lumber to build this piece of furniture yourself. The level of skill needed here is intermediate to advanced. But there's a great tutorial with plans so you can give it a try at any level.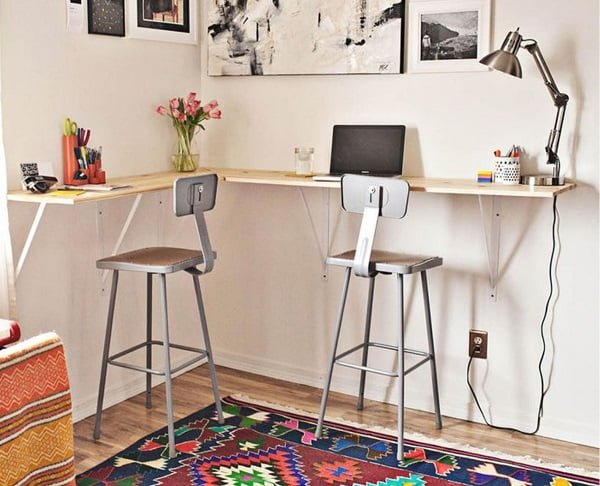 Frankly, this computer desk has us turned. On the one hand, it's very stylish and the minimalist style is indeed attractive. On the other hand, a standing desk for two persons requires them to be of the same height, doesn't it? So we would take this idea and turn it into a sitting desk instead.
The L-shape is ideal for corners, so as the wall-mounted frame of the desk. And all you need is some brackets and plywood to build this contraption.
The floating corner desk design is very appealing. First of all, it looks good. Secondly, it saves space. So you're looking to create a workspace in a corner of a room, seriously consider a floating desk design.
Building it is actually often easier than a regular piece of furniture. Why? Because you're saving on creating a frame and legs. All you have to do is mount the desktop on the wall with brackets. Simple.
DIY Computer Desk with Storage
The need for shelves built in your computer desk is obvious. After all, you need to keep your documents, files, books, and accessories somewhere. So when you're building one as a home project, adding some shelves to the plans is a good idea.
The easiest way to use one of these desk ideas? An IKEA hack for simple shelving units. So all you have to do is add a desktop of your choice on top. The best part about this is that it costs under $60. All you have to do is to drill the basic stock parts together.
The built-in look comes from simple box construction. The key point here is that it's so versatile. You can make it fit in any room, whatever your work space is.
So you can use a couple of cube shelves, a filing cabinet and a wooden desktop to make the desk. You don't need any woodworking plans to do it.
We get that most of you will want a small desk for small spaces. After all, it's very common to have a small work space or area in your home. For this purpose, we have a small desk idea but it comes with drawers too. That way you can make use of the space efficiently.
This design features three drawers that you can make from scratch. They will give you the required storage space for your documents and accessories. You can build the thing entirely from lumber.
This is one of the most creative desk ideas for your space. Not only does it enable you to hack IKEA Akurum cabinets into a functional DIY filing cabinet desk, but you also get a unity with a lot of storage and a stylish look.
So you take two cabinets and put a wooden desktop over them. It instantly becomes a desk. Add beautiful copper pulls to the filing cabinets and use a rustic wood stain for a lot of visual interest. The picture shows you how it looks with an added vintage chair. Gorgeous!
Standing Computer Desk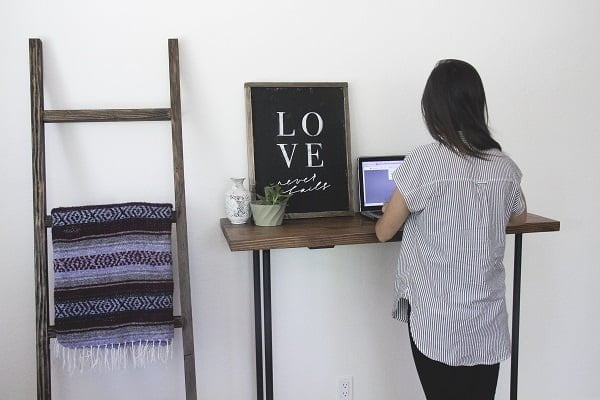 Sitting at a desk all day is not good for you. That's why standing desks have become somewhat of a major trend (there are even standing desk converters that allow you to keep your old table). What does it give you? The higher desktop surface allows you to stand in front of the computer rather than sit. And you can make such a desk as a DIY project too.
This standing desk features pipe legs and a wooden desktop. The pipes for legs allow you to increase the height as much as you need depending on how tall you are. It's a simple design and one of the easier desk ideas for a piece of furniture that you can take on even if you're a beginner. The tutorial explains it very well.
Need plans for a functional computer desk made of lumber? This piece of furniture is a functional adjustable height desk for an ergonomic and productive workspace.
Adjusting the height is a feature that you just need. You may find it difficult to implement, but you do need it. Well, these plans with a tutorial will guide you through actually making it.
Recap
Liked this article? Here's what you can read next: