Last updated on August 19, 2020
Looking to declutter your bedroom and do it for good? You need these 15 easy DIY bedroom storage ideas that you can do even on a tight budget.
When it comes to storing stuff in the bedroom two things come to mind – closet space, dressers (including dresser alternatives), and under the bed storage. But what if that is not enough? If you lack storage space in your room you need to get creative. Especially if you want to do it without having to replace furniture.
The following are some creative DIY under the bed storage ideas that you can easily apply in your bedroom too. Most important of all, they will add decor value too. It's a win-win!
Corner Storage Beds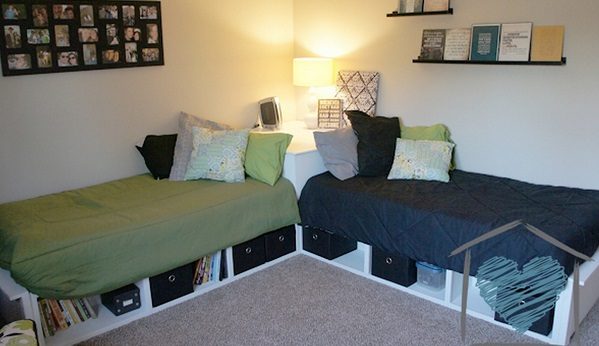 These beds will help you to maximize storage space, creating good-looking furniture pieces with multiple functions.  The footboard is designed to creatively hide the storage space in the middle.  The headboard also serves as storage space, which makes these beds super stylish and practical.
Under the Bed Storage Drawers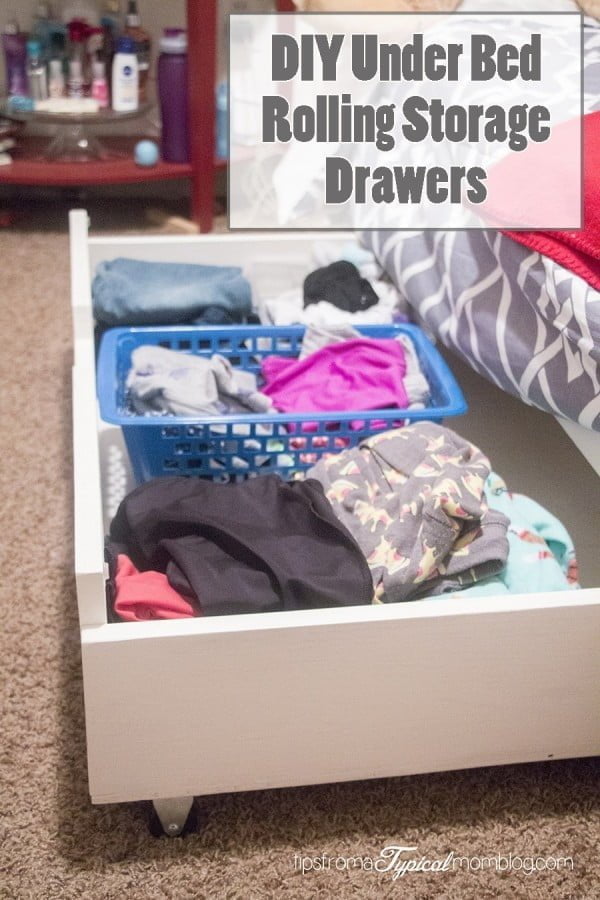 Under-the-bed-drawers provide a great way to increase storage space without using up additional floor space.  They are especially handy when lack of space is an issue.  In fact, they can be used to replace dressers and other big storage units when space is tight.
DIY Platform Storage Bed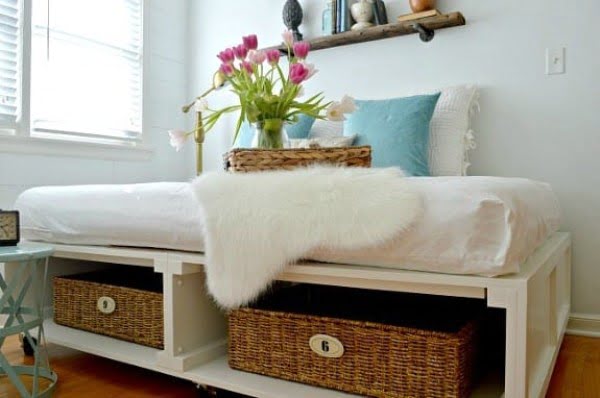 This platform bed provides additional storage space.  It is also remarkable for a small room in which a typical full-size bed wouldn't necessarily work.  One of its great features is that the bed can be customized to fit the size of any space. It also adds more style and function than a futon.
Under Bed Drawer Storage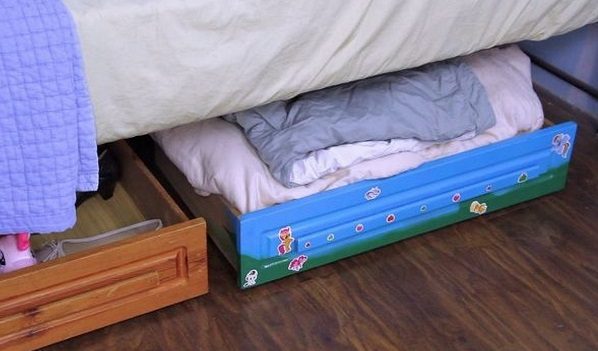 Storage space is valuable in every home and when it is both useful and adorable that just makes it even better. These DIY bed storage drawers provide a great place to store lots of shoes and prevent them from dust exposure.  These drawers can also be a solution for many other storage needs.
Low-cost Under-the-bed Storage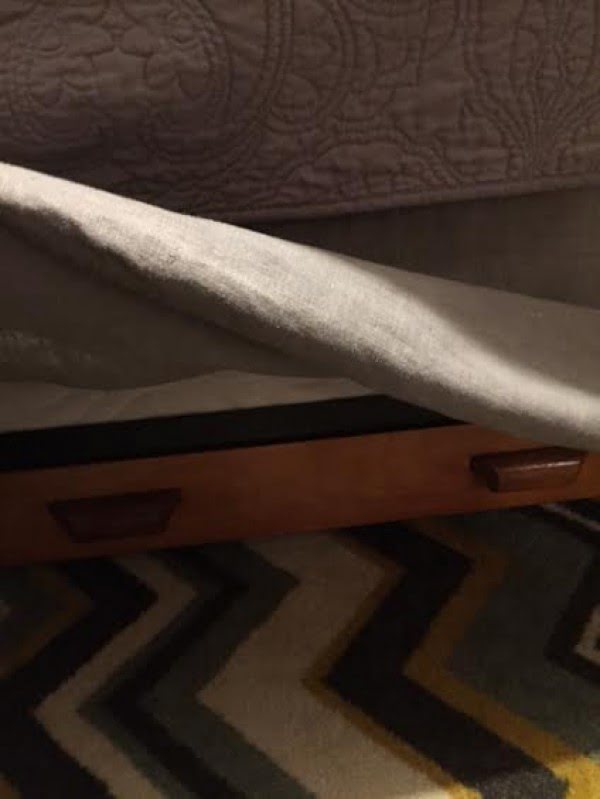 This large under-the-bed storage drawer is equipped with 4 small wheels to ensure you can easily slide it in and out to gain access to the contents.  For a small cost, this storage drawer can provide huge storage space for shoes or any other items that require storing.
Queen-sized Storage Bed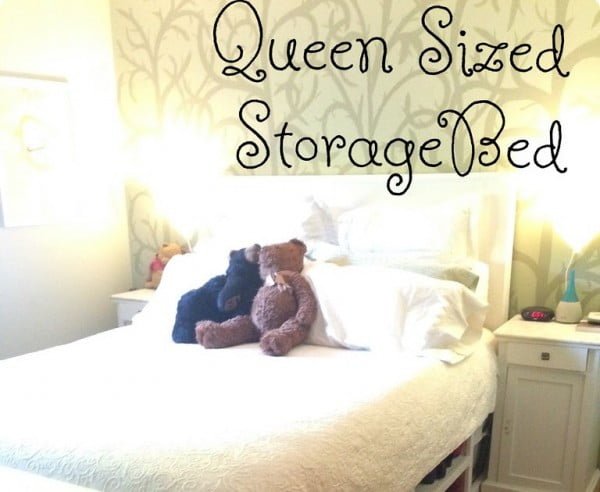 This queen-sized storage bed allows you to adapt your plans to create the space you truly want or need.  Each side has a remarkable amount of storage space and the design maximizes the room so items of different sizes can be stored.  Shoes, baskets and other items are ideal for this DIY bed storage.
Japanese-Style Storage Bed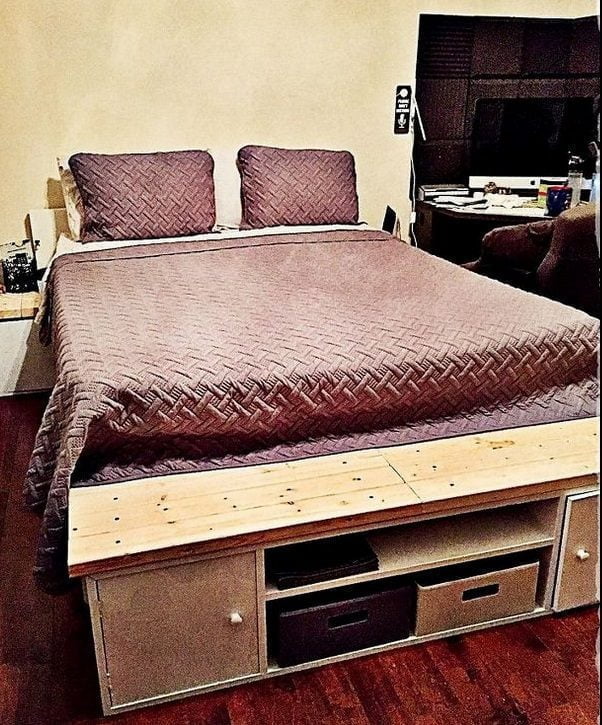 This Japanese-style storage bed is built on a platform and creatively uses much of the available space as storage.  From the attached side tables to the footboard with its shelves and cupboards, this piece is sure to solve a number of your storage issues.
Storage and Re-purposing Drawers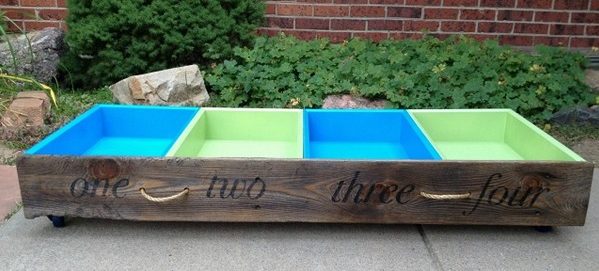 This storage solution combines 4 drawers that have been re-purposed into a 'single' under-the-bed storage unit.  After gluing and nailing the drawers together, they were placed on plywood to boost the strength and durability of the unit.  The final project makes for nifty storage space with multiple partitions for easy, convenient storage.
DIY Platform Storage Bed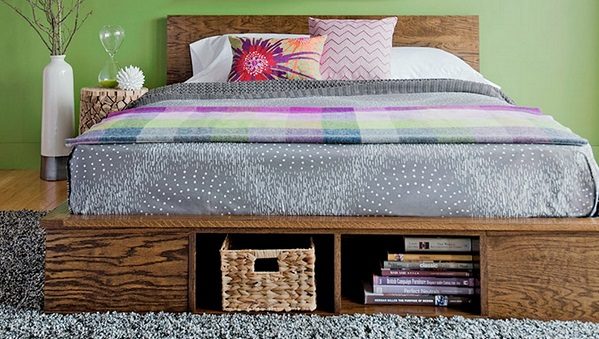 This customizable unit can be made to fit any size mattress and it provides plenty of additional space to satisfy your storage needs.  The sides of the bed can be used as storage for shoes, books, baskets, blankets and many other household or personal items.
DIY Twin Bed Storage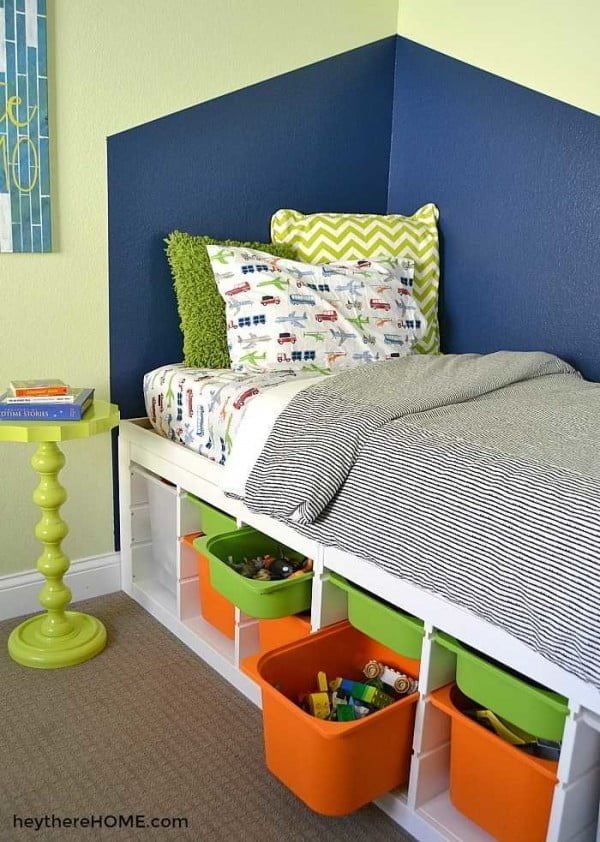 With all the 'tools' and resources required to raise kids, the need for storage is constant and consistently evolving.  For example, toys just seem to explode and infiltrate different places around the home and toy boxes always seem to be overflowing. This storage solution will help with organizing all your children's 'stuff.'
Platform Bed with Storage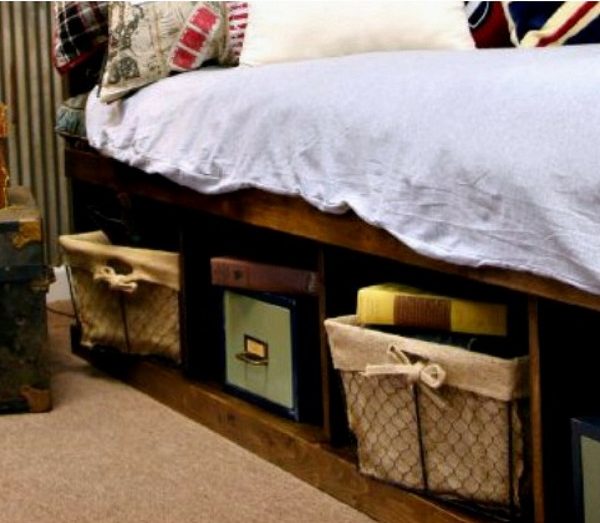 This solution has lots of storage space and with its clean lines, style and function will be injected into space.  Once you have the basic knowledge, its versatile design and build-to-shape formula can be duplicated to fit any size mattress.
Platform Bed Storage Solution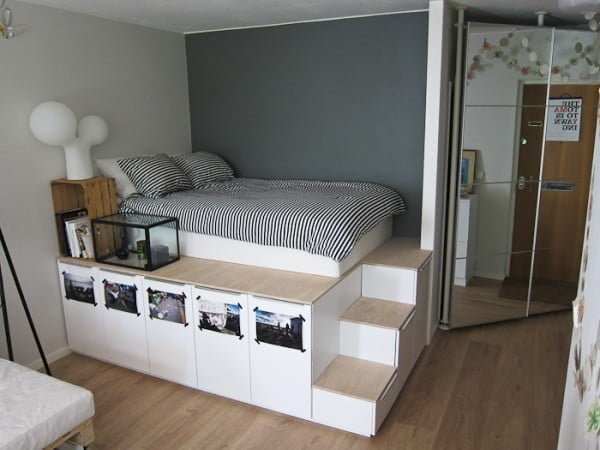 This unit is designed to help with maximizing storage and organization.  It is suitable for rooms of different sizes but is especially remarkable in a room with a limited amount of space.  With the base built with kitchen cabinets, with doors to conceal their contents, this unit will provide an abundance of storage space.
Platform Bed with Storage Drawers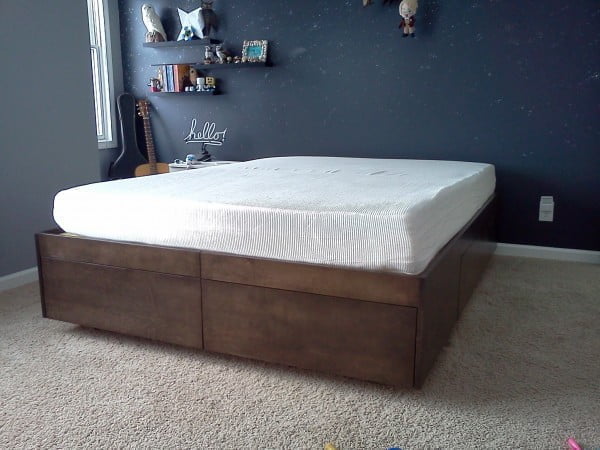 These storage drawers are made with flush paneled sides and have eliminated the use of drawer pull hardware for a sleeker look.  Adding the drawers under the bed has created an incredible amount of storage space.  With two drawers on each side and two at the foot, this unit is sure to meet many of your storage needs.
DIY Rustic Bed Storage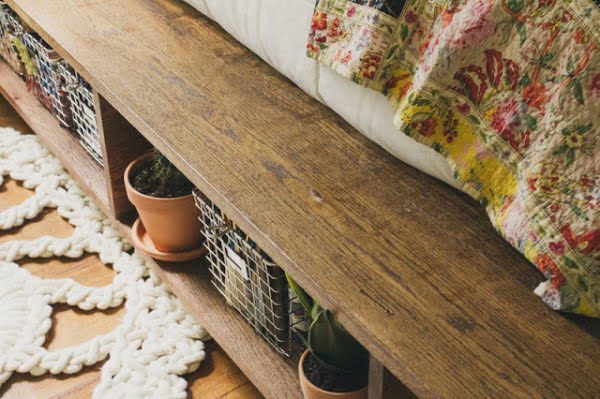 The storage space provided in this under-the-bed storage unit can be used for plants, shoes, books, and baskets of various other odds and ends.  If you have limited closet space or storage is otherwise scarce, this unit will help you to organize your bedroom and keep it neat and less cluttered.
DIY Re-purposed Bed Frame for Maximum Storage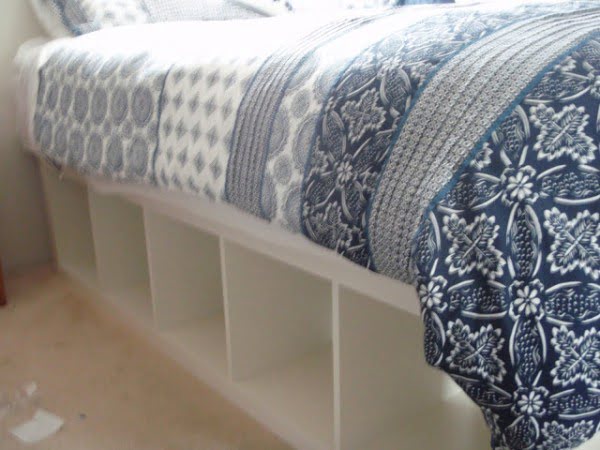 This project allows you to build a portable DIY bed frame. You can improvise to get the job done by building two bookshelves and place a slatted base in the middle. Follow the tutorial for complete instructions.
Recap
Liked this article? Here's what you can read next: