Looking for alternatives to the dresser for your bedroom? You can now throw away the space-hogging piece of furniture for something more functional. Check out the alternatives that make for better storage and decor!
► Our top choice: The Hanging Dresser
The dresser is the standard piece of furniture to organize your clothes in the bedroom (it can work as a nightstand alternative). It usually provides enough drawers to put things in order and gives you easy access to them. The only caveat is that it either takes up too much space or it looks boring in your bedroom decor.
Indeed, if your bedroom is small and you barely have room to move about what with the bed, the dresser, and quite possibly a closet. You can get rid of it if you choose one of the dresser alternatives on our list. It can be a problem in larger bedrooms too – an inefficient use of space is not only impractical but visually displeasing too.
Coming up with the alternatives was both, easy and tricky for us. There were obvious candidates like a chest, pretty bins, or a closet organizer. But we've gone beyond that and found some really creative options too.
Check these out. We've included a few shopping links with some of the ideas for your convenience. This means that we will be compensated for any purchases through those links too. It doesn't cost you anything extra.
Closet Clothes Organizer
It's basically a rack that you hang or set up in the closet (depending on its size). So if you have a closet in your bedroom, it might as well double as a dresser too. The only problem with most closets is that unlike the dresser, they don't provide enough shelving compartments for easy organization and access. So you end up using bins, or an organizer.
Looking at the product options for this idea, Amazon has this inexpensive shelving rack made of fabric that you can hang on a rod in the closet. You can have more than one of them if needed (and if there's enough space).
Under the Bed Dresser or Bins
There's no rational reason why you should leave all that space under the bed unused. Yes, it's more difficult to keep it clean but if you do it right it's not going to be the problem. The first option is getting the bed with a built-in dresser like the one above. It's quite an expensive solution, though.
For a cheaper option, consider storage bins. If you're handy, you can even add caster wheels to them for easy access. We have covered DIY under the bed storage ideas before. If you're looking for good bins to buy for this idea, there are these zippable linen bins and you can stack several of them under your bed.
Unique Dressers
Remember how we said that one of the main problems with dressers is that they can be boring. This idea is to address that. Yes, it's a dresser (not much of an alternative so to speak) but it's a unique design that makes a statement.
So choose a unique piece of furniture for your dresser if you want make your bedroom decor stand out. This can be a unique design, a vintage piece, or even a stack of vintage suitcases.
Chest of Drawers
You can see a chest of drawers as a vertical dresser. It's a slim unit that takes up a lot less space. You can also see it as a nightstand with extra drawers. It certainly provides a lot of useful compartments for clothes organization. And it won't take up much space either as it can be placed in a corner and even by the door.
DIY Clothes Storage
If you know your way about DIY projects you won't have any problem making your own dresser alternative solution. This can be anything that uses free space. We especially like this shelving solution in an empty corner. Corners are always left unused anyways. It's unique and it's attractive.
Stackable Cubes
These stackable cubes make a functional alternative and you can stack as many of them as you need in any shape you want. So it's both, space-saving and visually appealing. As far as storing clothes in them, you can leave them on display, or use extra bins to hide them away.
Hanging Dresser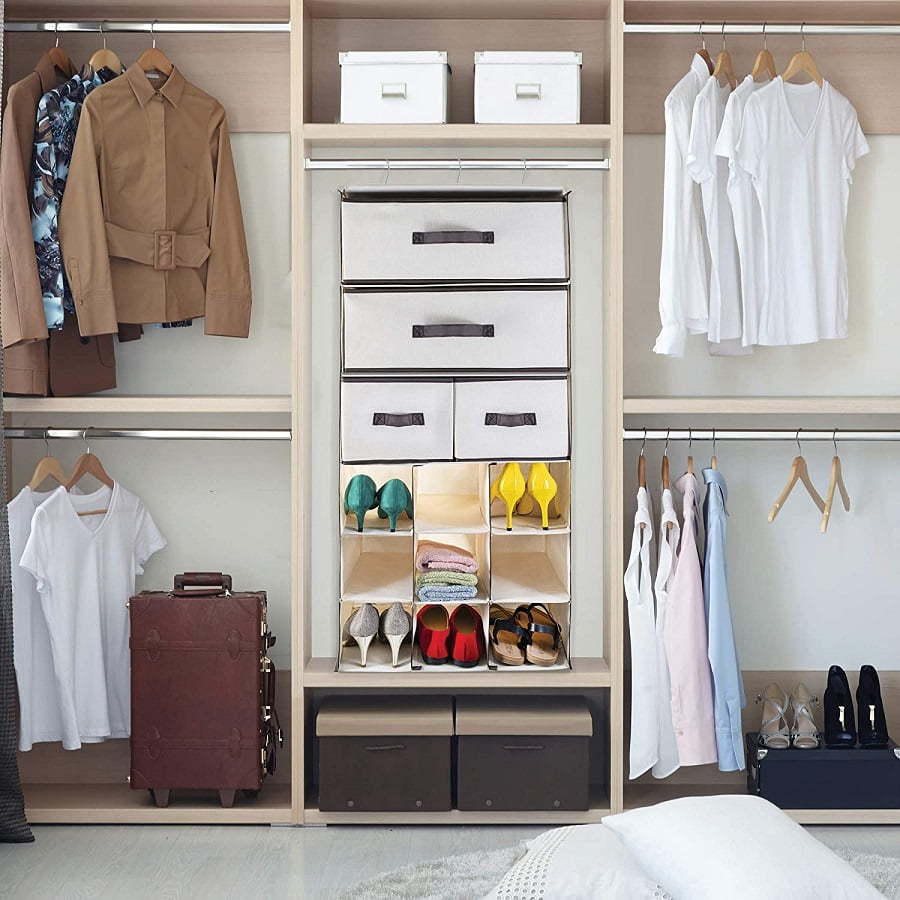 We choose this idea as the best dresser alternative if you have enough closet space available.
A hanging dresser is like a temporary solution that you can use indefinitely. It's typically made of fabric so it's foldable. You can hang it on any rod (not limited to the closet). And if you're handy you can hang it on the door too. A unit like this actually provides several drawers and small slots for ample organization.
Armoire
An armoire is a standing unit that is bigger than a typical dresser (it's taller). It provides drawers for storage as well as space to hang close. In that regard it's a more functional alternative albeit you won't use it as a nightstand. It's a great option if you have unused vertical space available in your bedroom.
Wall Hooks
Yes, simple wall hooks and coat hangers can do the job of a dresser. Granted the won't hold a lot of clothes or accessories, but it's a great option for tiny spaces. Don't stop at simple wall hooks too – it's your chance to get creative. Get unique and beautiful hooks to make a decor statement.
Such as these decorative brass knob hooks with resin fill.
Or these vintage inspired wall mounted coat hangers.
Metal Locker
A metal locker in the bedroom might be an unexpected solution but it's might be the detail you need. The industrial touch is well suited in interiors that aim for this style, but it can be added into the mix as a different material and texture for visual interested. Especially when you can choose from some beautiful locker designs (that are nothing like your old high school lockers).
Shelves Above Bed
A functional space-saving solution and an alternative to the dresser is a built-in shelving system above the bed. That space is almost always empty (unless you have a big headboard or wall art decorating it). So adding some shelves can give you enough space to keep your essentials.
If your bedroom is tiny, look for wall-to-wall and floor-to-ceiling shelves that maximize available space.
Bedroom Bookshelf with Clothes
Having a large bookshelf in a bedroom can give you some room for creativity. Why not remove the shelves from a section of the bookcase and add a rod there to hang clothes? It's a quick solution that can help you get rid of the dresser and it makes an alternative bookshelf idea too.
Blanket Ladder
The humble blanket ladder is back. This time it's not even for Scandinavian hygge. You can use the ladder in place of a dresser and it will take much less space. It's a stylish solution too, not only for blankets but for clothes alike.
Lingerie Chest
A lingerie chest is much like a chest of drawers – it's a tall unit that's much narrower than a typical dresser. You may not have space to hang clothes in it but the number of drawers make up for it.
Here's a tip too. If you feel adventurous, your lingerie chest might be tall enough to add hooks on the sides to hang clothes. This can be a huge space saver in tiny rooms.
Trunk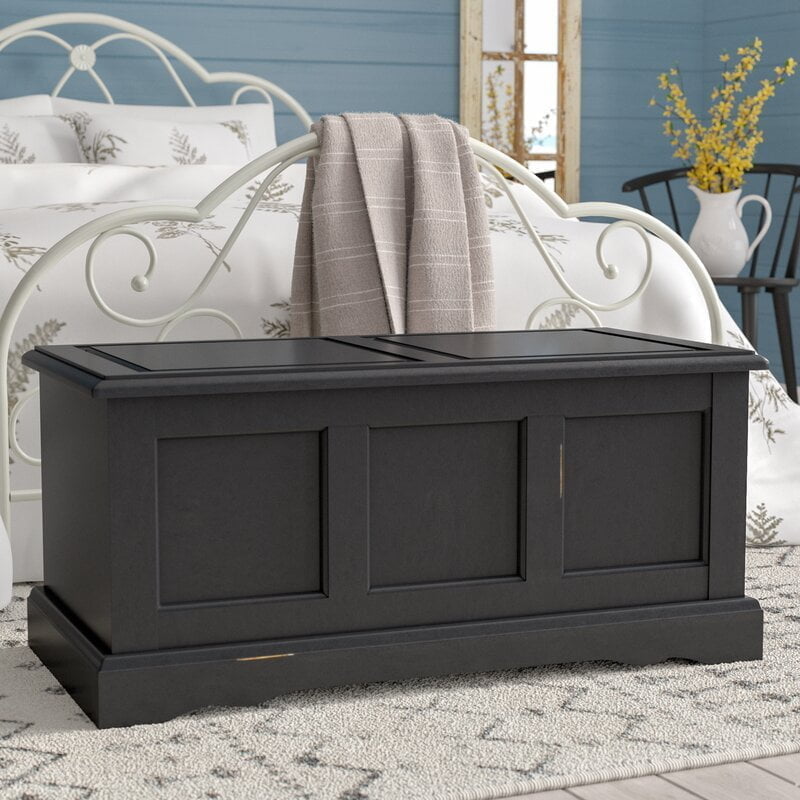 The classic trunk makes the appearance on our list and it's no wonder. You can stash your clothes and other items in it and put it at the end of the bed where it will serve as a bench too. It's an often forgotten but very functional piece of furniture.
How to Store Clothes Without a Closet or Dresser
We've already included several options that don't involve a dresser or closet at all. You can use any of them to store your clothes. In addition to that, here are more ideas:
Use an over the door rack.
Wall-mounted organizers.
Install rods anywhere you can to hang clothes. This is not limited to the closet – we've already mentioned the bookcase, but it can also be the space behind the bed, freestanding racks (pictured above), etc.
A shelf near the ceiling (that can include hooks for clothes).
A room divider.
Recap
Liked this article? Here's what you can read next: