Last updated on September 12, 2022
These hat rack ideas will show you how you can style your space with simple organization items. Read on!
A hat rack seems like such a simple item to have in your home. Usually, it is placed in an entryway (but not limited to it), and it consists of multiple hooks to hang your belongings or those of your guests. And for such a simple organization item it can have a significant styling effect.
It's one of those accents that if done right can have a huge effect on the look of your space. And if it's the entryway of all places – the first thing that someone sees when they enter your home – it should never be an afterthought.
We want to establish that in this article. We will show you how you can store your hats in any room of your home, and make it count decor-wise. Some of these include DIY hat rack ideas for those of you with a knack for crafts.
How Do You Hang a Hat in Your Room?
Think about a hat as another decor item. You can store it away in a closet or on a shelf, but you can make wall decor of it too. A simple hat hanger will turn your wearables into display items. Here's how to do it in simple steps:
Pick wall space where you can add a hanger.
Use simple, minimalist materials, such as a wood bar and rope.
Attach the hanger to the wall using screws or nails.
Hang the hat – you may use clothespins to secure it.
It's a simple idea in a nutshell, but one that we can expand into many variations. They are listed next.
How to Hang Hats on Wall without Nails
If you don't want to make permanent changes to your walls with screws and nails (you're renting, or just don't want to do it), this idea will help you hang your hats on wall without nails. The idea is really simple – just use stick-on hanger hooks.
DIY Hat Rack
If you can make one, you should do it. It makes a great home project too. And you are guaranteed to have a unique decor feature as well. Follow the link to learn how it's done.
Hat Rack with Mirror
You usually hang a mirror in the entryway, so you can combine it with a little hook (or a few) too. This makes a functional and decorative piece that is just lovely.
Hat Tree
Whether it's a design in the shape of a tree, or an actual tree branch (yes, those things exist), it's a highly functional way to store your hats and coats (it works as a coat rack alternative), and more. The main benefit is that it's not fixed to a place and mobile.
Wood Hat Rack
A wall mounted wood rack is classic whether it's modern style, vintage, or Scandinavian like this idea. It always adds a nice touch to the space and fills up wall space nicely. Here's how to make a hat rack out of wood.
Industrial Pipe Rack
If you need a little industrial touch at home, a pipe rack for hats (or coats for that matter) will make a nice accent. Industrial racks can be just pipe, or even have valve hooks. Its whimsical too!
Cowboy Hat Rack
This idea is for the southerners among us that actually wear cowboy hats. Otherswise such a design is purely decorative. Although the handy of us would easily find use for such a storage solution at home.
Accordion Hat Rack
The best part of the accordion design is that it can be expanded by providing a nice touch to the wall decor. And of course, it's a great storage solution for hats, towels, and more.
Unique Coat Rack
If you want to make a statement with the way you store your hats, go ahead and get a unique rack. These can be virtually anything, from colorful pallets, to spray painted toys, and so on.
Tree Branch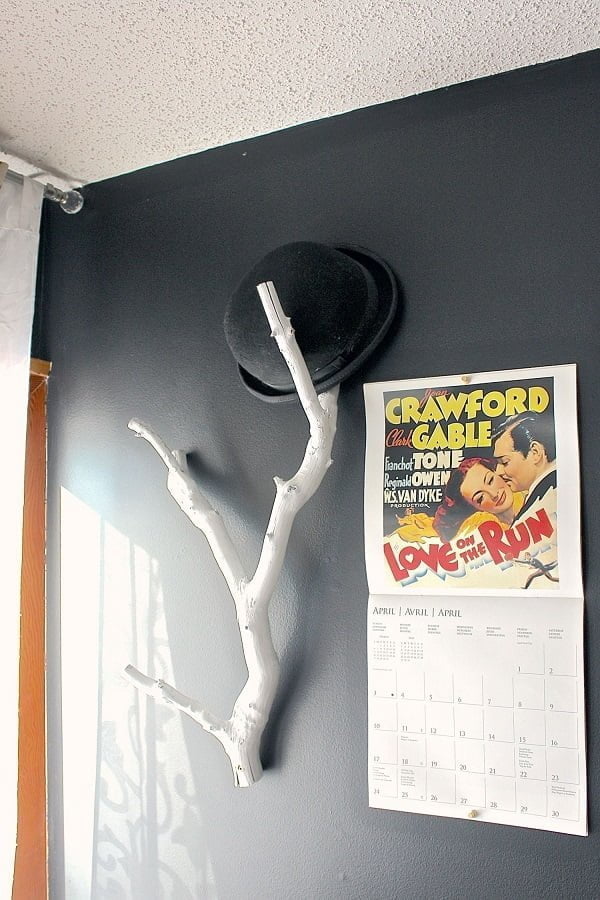 Hang your hat on a branch. It's a great alternative to antlers if the latter aren't your thing but you want that nice accent of naturally irregular lines.
DIY Hanging Hat Organizer
From hat racks that you can DIY, this is one of the most simple yet powerful projects. Ideal for those of you who has a nice collection of hats. See the tutorial to learn how it's done.
Modern Hat Rack
Modern design features sleek lines and metallic finish of the hooks. It's a nice addition to any entryway. Check out the link to get the complete plans for it.
Rustic Hat Rack
Of all things rustic that you can have in your home, this is one of the easiest ideas that provides a beautiful accent. It's unique and a definite conversation starter from the get-go.
Coat and Hat Rack
Cat and hat racks often share the same space. So there's no need to keep the separate. It's a functional and handy solution.
DIY Hat Rack From an Old Shutter
Repurposing always gets props. So here's another thing you can do with a lovely old shutter. Read the article to get the entire details.
Antique Hat Rack
Old antique things give room decor a lot of character. Better yet if there's a story attached to it. Whether it's heirloom or you just picked it up in a thrift store (or on Etsy), the charm it brings home is inevitable.
Wire Hat Rack
Some mesh wire makes a beautiful hat display. You can store them anywhere, even outside of the entryway, and they will make an attractive feature.
IKEA Hat Rack Hack
Here's how to hack IKEA again. And it's a unique way to store hats too. All kinds of them.
Creative Hat Rack
Sometimes you can get the designer look in a creative way without spending big bucks. You just have to turn your imagination on. Or use one of our ideas.
Antler Hat Rack
You knew it was coming. Antler racks are classic. Because there's something about the shape of this design. It can easily be faux and all humane too.
Hat Display Stand
Those lovely hats should never be put away. They should be on display. And what better way to do that than use an attractive stand.
Horseshoe Hat Rack
A horseshoe is an idea shape to hold a hat. So a rack made of them is not only visually attractive but functional too.
Cute Hat Rack
This has to be the cutest way to keep hats at home. Not only it's a beautiful decor accent, it can be used in parties too.
Hat Rack with Shelf
Guess what can make your collection of baseball caps better? A shelf to hold your trophies too. Or if you don't have those, display something else! It's a multi-functional solution nonetheless.
Baseball Cap Holder
Need a way to hang your caps in a handsome way? This is a great idea to make a decor item from it.
Hat Hooks
These minimalist hooks are all you need to hang a hat. They have lovely leather straps for scarves too.
Standing Hat Rack
The best feature for this idea is that you can place it anywhere in the house. It's a nice minimalist design too.
Pegboard Rack
A pegboard makes a natural rack for small items. The design is always attractive and practical.
Wall-Mounted Hat Rack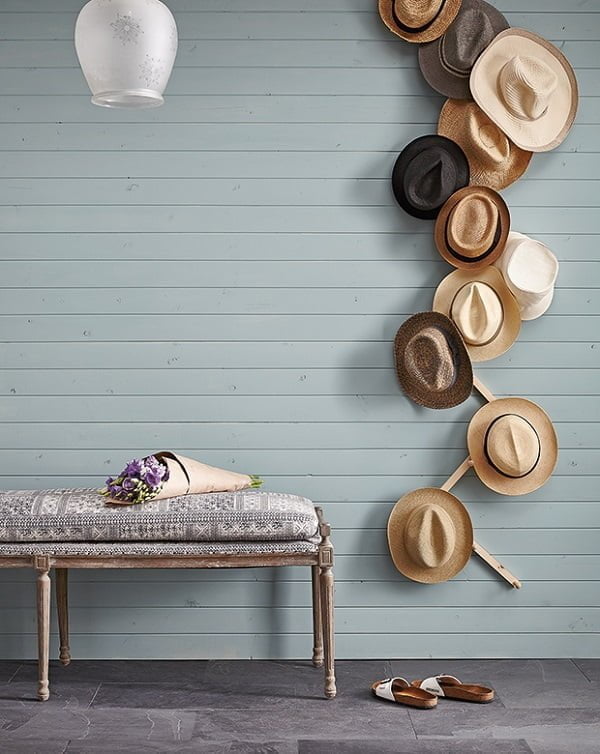 Wall mounted design is one of the most popular among these ideas. They come in many different styles too. So you can always choose the one that you like the most.
Hat Wall Display
We can't emphasize this point enough. You can and should make a decorative display of all your accessories. It's what makes your decor personal and full of character.
Kids Hat Rack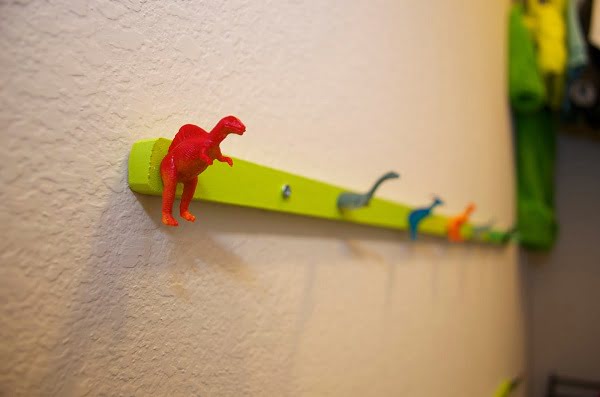 Your kids will love this rack with cute little dinosaurs. And it's easy to make yourself by painting toy figures.
Vintage Metal Hat Rack
Add some vintage flavor to your decor with a hat holder. It's a great way to add interest to your room or the entryway.
Fedora Rack
Something special for your small collection of fedoras. This is a lovely idea to add a little rustic touch to your decor.
What's your favorite way to organize your hats?
Liked this article? Here's what you can read next: