Last updated on November 29, 2023
We all have that sometimes. The bedroom gets all cluttered up during a busy day, and you're just too tired to tidy up in the evening. These smart bedroom organization ideas will help you. Read on!
In most homes, the bedroom is comprised of a bed, a dresser (or dresser alternatives), and a closet. The average size of this room doesn't allow much room for elaborate interiors. But it doesn't mean it can't get cluttered up. On the contrary, small space often is least organized.
Let's change that. We have 20 smart tips and ideas that will get your bedroom organized in no time. No matter what size or layout it is. And it doesn't matter if it even has a closet. These ideas will work in all situations. Let's begin!
How to Clean Your Bedroom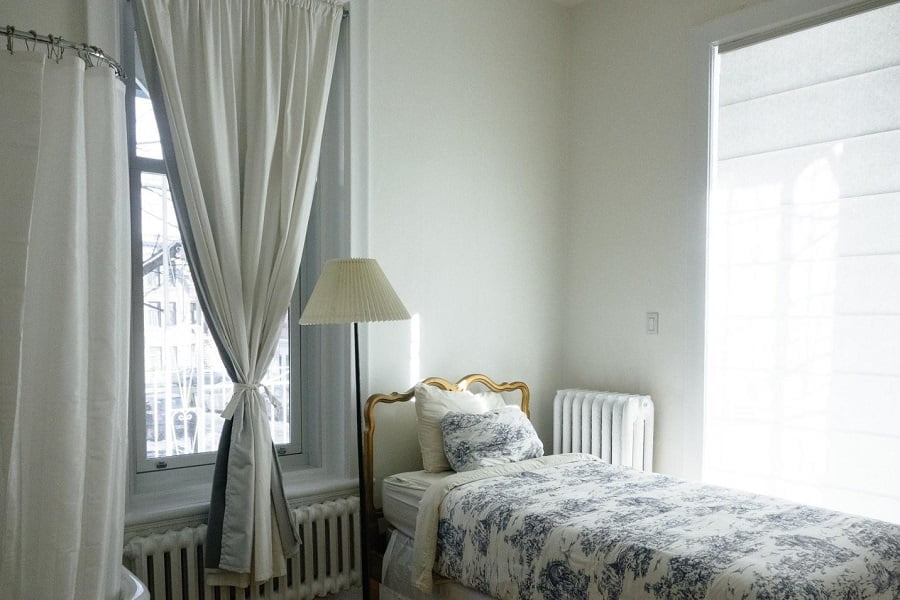 The first thing you should do is grab your vacuum cleaner, a microfibre cloth, cleaning spray or disinfectant wipes, and a garbage bag. Once you have your cleaning equipment, it's time to focus on the bedroom floor first. Put all trash in the garbage bag and pick up any dirty laundry and throw it in the basket.
Within seconds your bedroom will begin to look neater! Then, vacuum your bedroom floor and tidy up your dresser tops cleaning with the microfiber cloth as you go. Finally, make your bed, change your bedding, and there you have it, a fresh, clean bedroom!
How to Clean Your Room Fast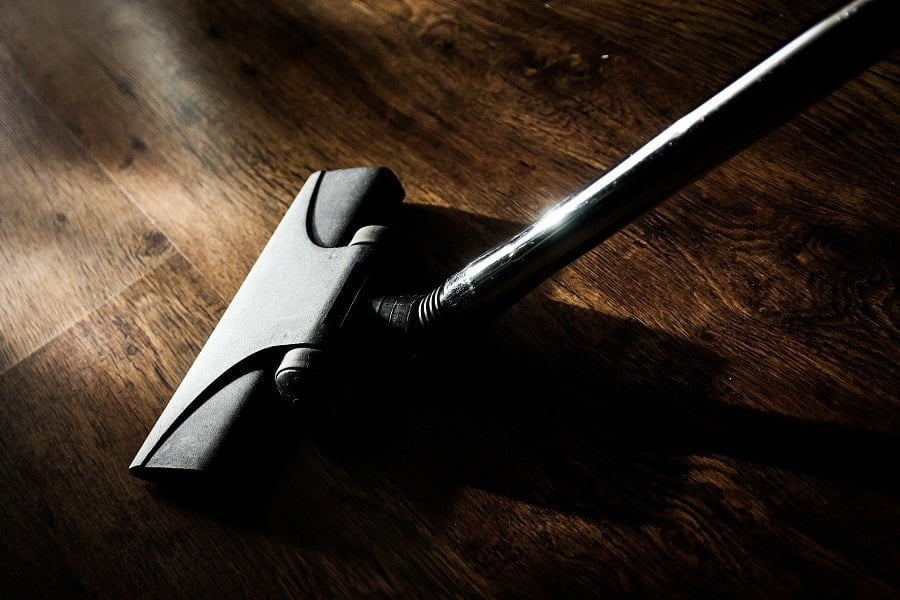 With a bit of hard work and zero distractions, you can clean your place in less than ten minutes, and even speed up time cleaning other rooms!
For example:
Spray your bath, shower, and kitchen surfaces with disinfectant spray and leave them to soak in and get to work while you go through your room, gathering up everything that needs to go straight in the trash.
Then vacuum your room and wipe down all surfaces tidying as you go.
That's it, one room cleaned, and if you sprayed your kitchen and bathroom, you could wipe down surfaces with ease as the cleaning chemicals have done the work for you!
How to Organize Your Room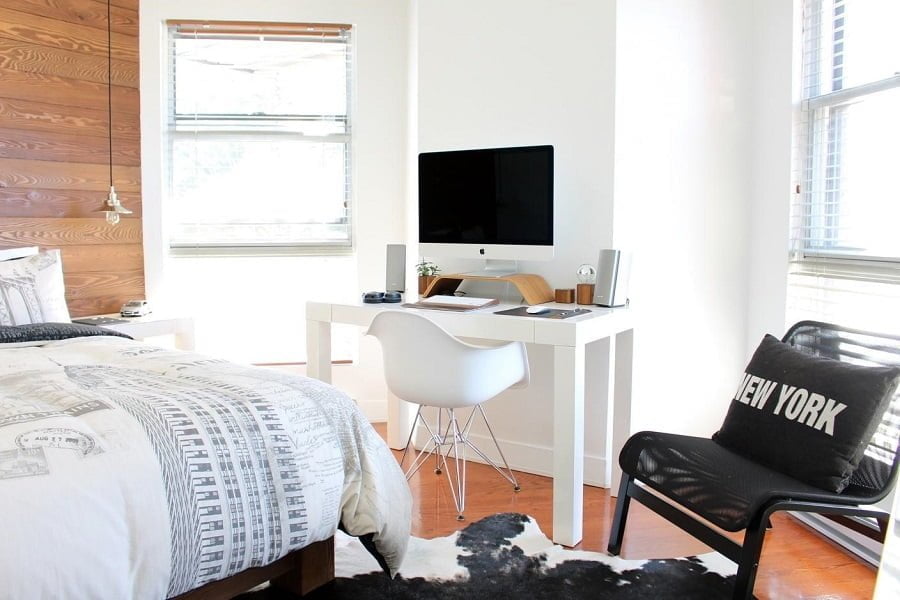 Organizing your room can reduce feelings of stress, and an organized bedroom can even make you sleep a little better. But where do you start?
First, take a look around, what is in your room that shouldn't be there? Are there furniture items you don't use, or items that should be stored in another part of the house? If so, move them out!
For a lot of items, or a large home, it can be a good idea to arrange rubbish pick up.
If you have lots of smaller items or clothing, just gathering dust and cluttering up your room, sell them on eBay, donate to charity, or hold a garage sale. You may make enough money to buy some new furnishings for your home!
How to Organize a Small Bedroom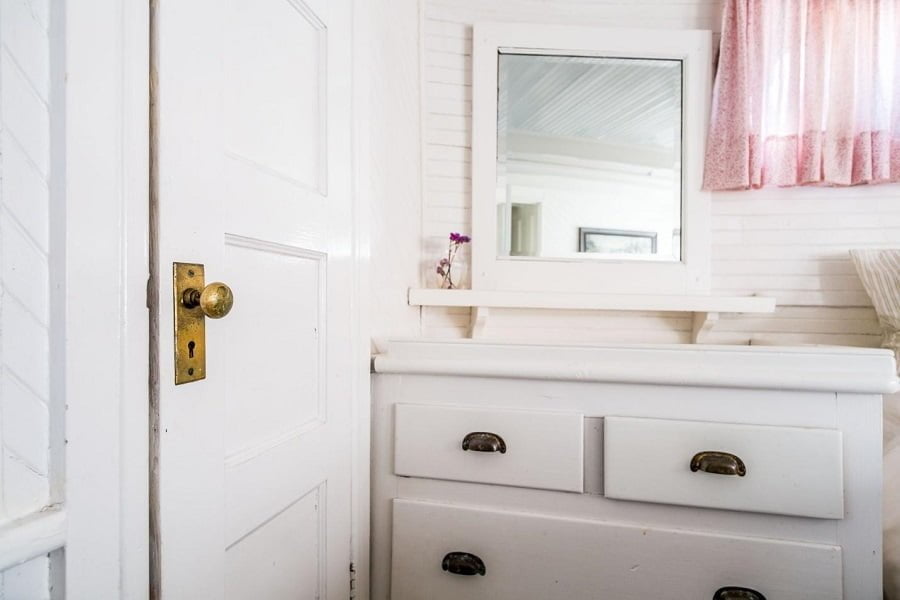 There are plenty of space-saving and organization solutions available on the market to maximize the space you have in even the tiniest of bedrooms.
The most significant area for storage in a small bedroom is under the bed. Use this space wisely but installing tubs or draws for shoes or sports equipment, which can take up a lot of space.
When it comes to your wardrobe and clothing, it may be time to do a purge, and Marie Kondo your wardrobe! If you haven't worn an item for over a year, either donate, throw away or store bulk items such as formal suits, dresses, and coats in another room in the house.
When it comes to surfaces, kill the clutter and keep it simple with one box for jewelry, another for small items such as keys or your mobile phone, and a scented candle to give your bedroom a feeling of calm and space.
How to Organize Your Closet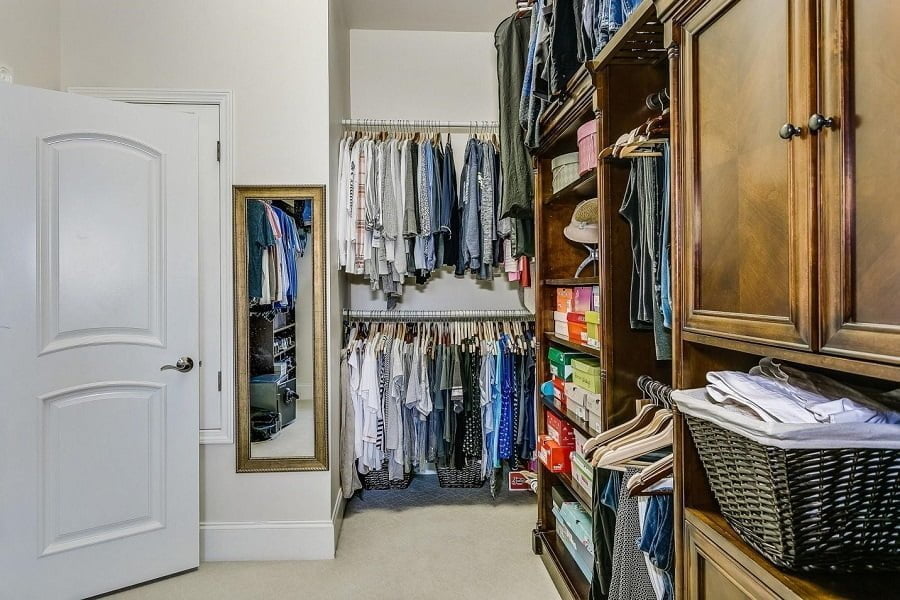 When it comes to arranging your closet, the very first thing you need to do is pull all the items out and throw them away or donate what you don't wear.
If a dress fitted you ten years ago, be realistic, and know that it is unlikely you will get into it again. The space in your closet is valuable and should only house items you will wear regularly.
If you have a spare room, consider keeping only seasonal items in your closet and winter jumpers and coats stored away until you need them.
Take a look at the clothes hangers you are using? The right clothes hangers ensure your clothes sit smoothly, and you can add multiple items to maximize space.
How to Declutter Your Room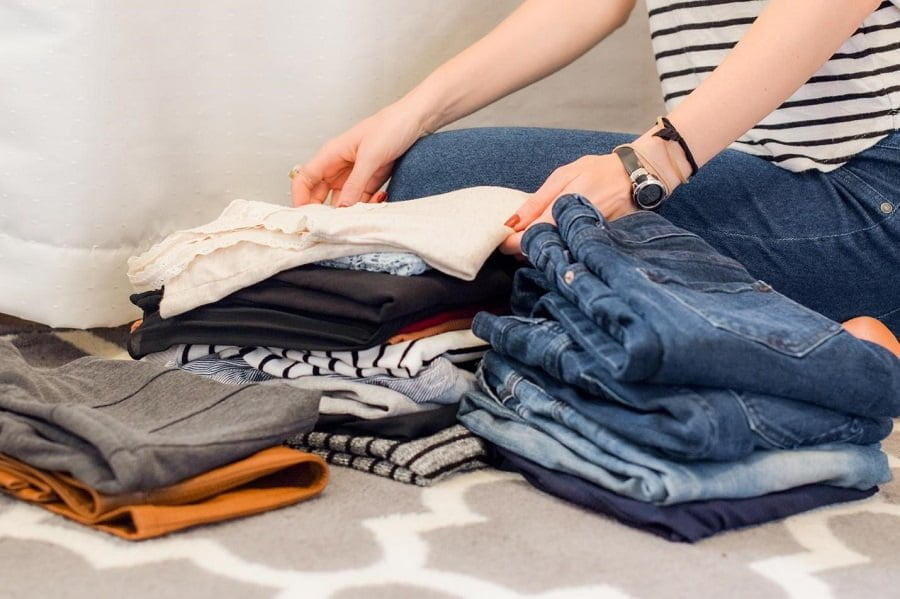 Use our three-step plan to declutter any room quickly!
All you need to start are three large boxes or floor areas.
Then, pull out every item from the room you wish to declutter and sort into the three boxes or areas into 'keep', 'donate' or 'throw' away.
Instantly the clutter is reduced, and you'll find that only essential items will return into your room, and the location of items will be considered a little more carefully.
Next, look at your electrical items. Are lamp or laptop cords strewn across the floor? Untangle them and use small bulldog clips to pin them back and keep them neat, or invest in a powerboard extension to hide unsightly cords.
Your room will not only look decluttered, but you'll find you enjoy spending time in the room, and it'll look more spacious too. It's also a great exercise to carry out before you move house, as only essential items will be picked up by the removalist, saving you time and money!
Master Bedroom Organization Ideas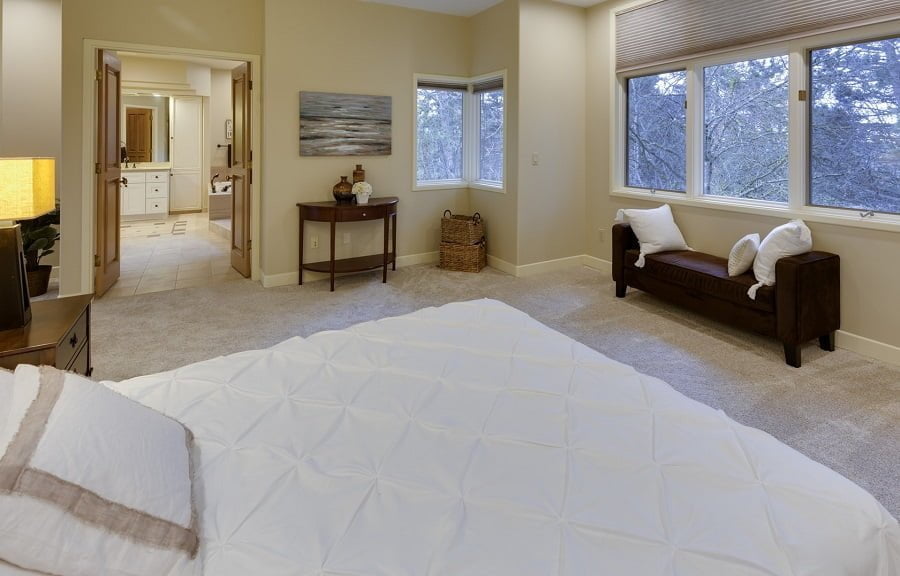 If you get to sleep in the master bedroom of the house, you are in a lucky position! Some master bedrooms have an en-suite bathroom, and these bathrooms are often small.
Reduce clutter and organize your en-suite with a range of matching boxes and containers to keep your toiletries and makeup items neat, tidy, and stored hygienically. Also, ensure those bathroom items stay in the bathroom and don't creep into your bedroom as this causes mess and extra clutter.
Invest in some good quality, solid tallboys, dressers, and wardrobes to store your clothes neatly and donate or throw away any threadbare or unworn items.
Another great space saver for a master bedroom is an end-of-bed storage bench, master bedrooms are often large enough to fit extra furniture items, and an end of bed storage solution can work as both storage and a place to sit, read, rest, or get dressed.
Bedroom Storage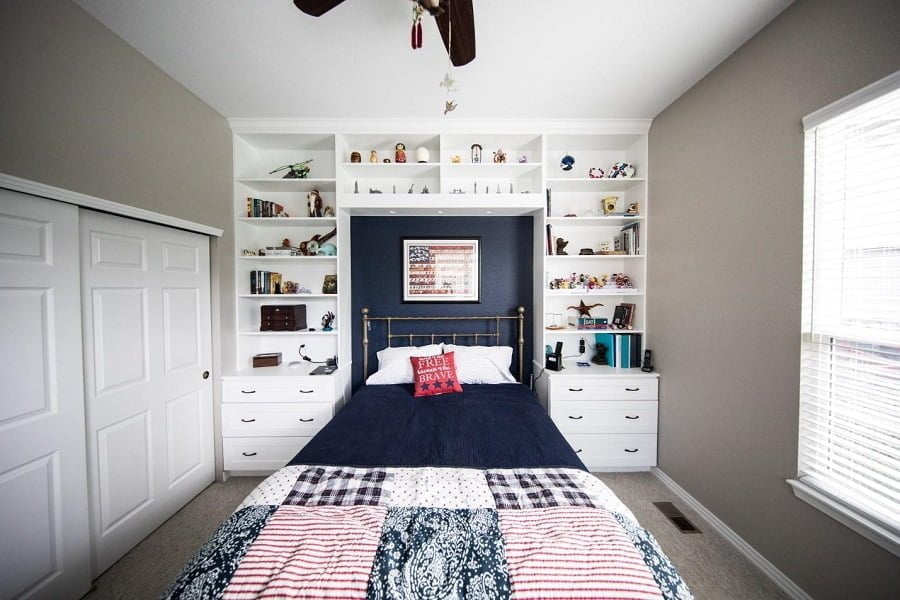 There are some excellent bedroom storage solutions that can instantly give the feeling of more space and make your bedroom a welcoming and calm place to rest and sleep.
Maximize your wall space!
Install some modern shelving for books, toiletries, and other items.
Take a look at your bedroom, are you using the corners, or are they just an empty, dusty, cobweb filled space? Purchase some corner shelving units to create instant storage space without taking over the flooring of your bedroom.
Look at the clothes hangers you are using. Are they a mismatch of styles and shapes gathered over the years? Are your clothes bunched up and creased? Purchase new racks and instantly improve your wardrobe, enabling you to select items easily and even close an overstuffed wardrobe door!
When it comes to drawers, get into the habit of folding t-shirts and other items using the KonMari method to save storage space and create a neat and tired bedroom.
Aesthetic Bedroom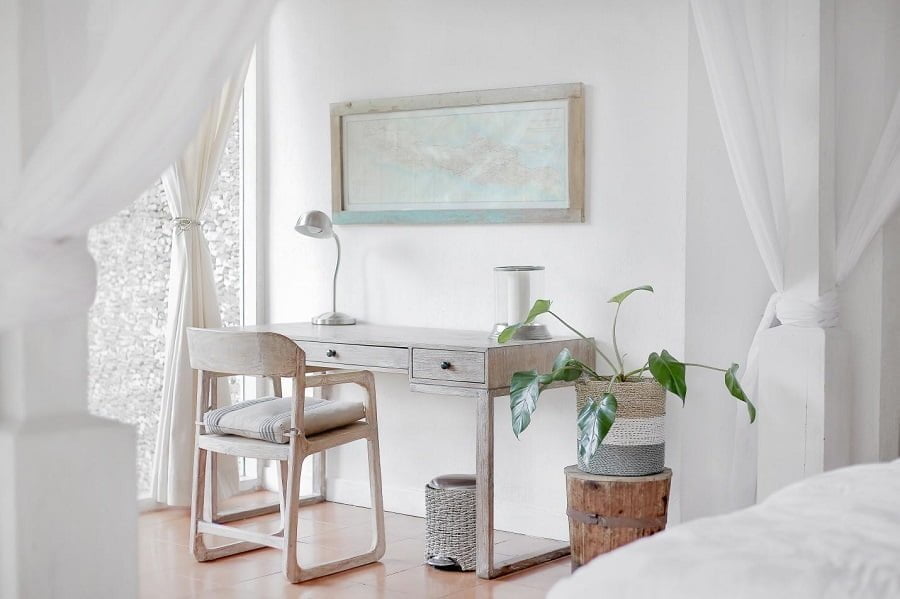 What is your bedroom aesthetic, and why is it important? It's been proven that a clean, calm, uncluttered bedroom can relieve stress after a busy day, deliver an overall sense of wellbeing, and help you sleep better.
You don't need an interior designer to create a cohesive bedroom aesthetic, just a few changes and soft furnishings purchases can make a huge difference.
Do you want a country or city theme, shabby chic, or color scheme? Once you choose a look that suits your personality, you can easily create a stunning bedroom.
For a bedroom, it's recommended to stick to one or two colors in a neutral palette such as soft greys, blues, cream, pastels, and white.
These colors bring on feelings of calm and make it easy when it comes to purchasing matching soft furnishings.
Remove any brash or loud colored ornaments, lamps, and artwork and replace them with candles, muted color lampshades, and artwork to gaze at as you fall asleep. A few swaps to items in your bedroom can instantly bring a calm aesthetic to your bedroom!
Storage Bed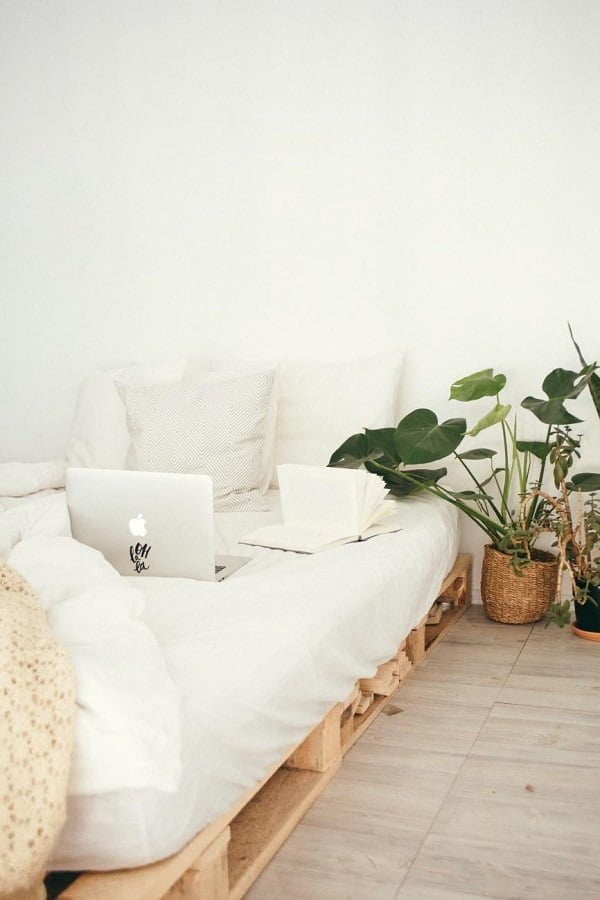 Why are storage beds a good idea? Beds with built-in storage are perfect for small bedrooms where space is limited and also kids bedrooms.
Items and toys can be stored in the easy to pull out drawers and tidy up time for the kids is instantly quick and fun. Just open the drawer, pop the toys in, and just like that, the kid's room is clean and tidy!
For small bedrooms and shared houses, storage beds can be real space savers but storing winter blankets, shoes, sports equipment, and sentimental items you may wish to keep safe.
Organization Hacks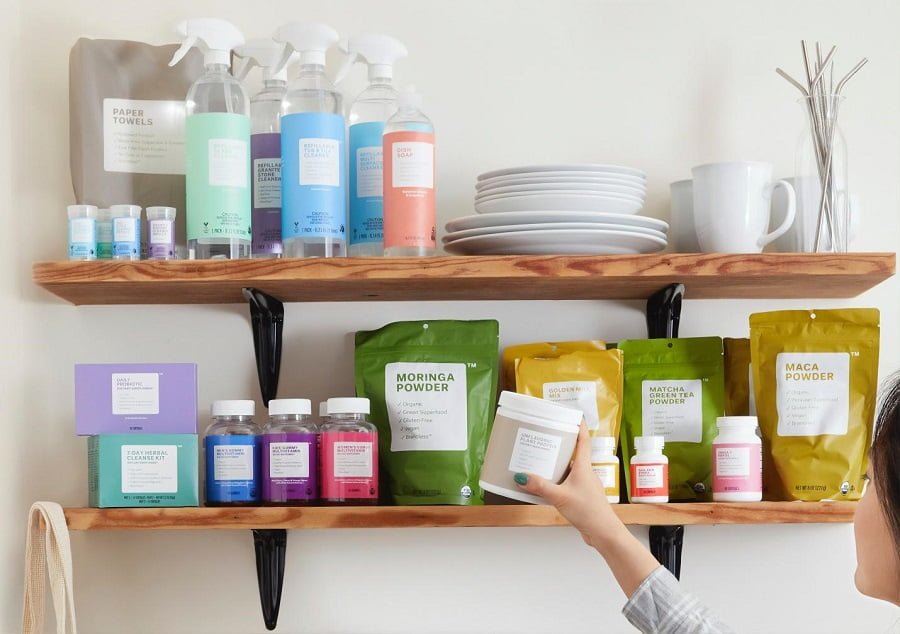 We spend our lives looking for the best organization hacks, and what we've found over the years is that the best ones are simple and cheap!
Marie Kondo has made organization and decluttering a mainstream and popular way of living, and results have proven to deliver and a better way of living with reduced stress.
Our biggest organization hack has to be the pantry declutter and organization, which makes life much easier for busy families, particularly with young children. Not only does a pantry reorganization make it easy to see and grab what you need, but it can also save you money and reduce food wastage. A big win when it comes to organization hacks!
Under-bed Storage Ideas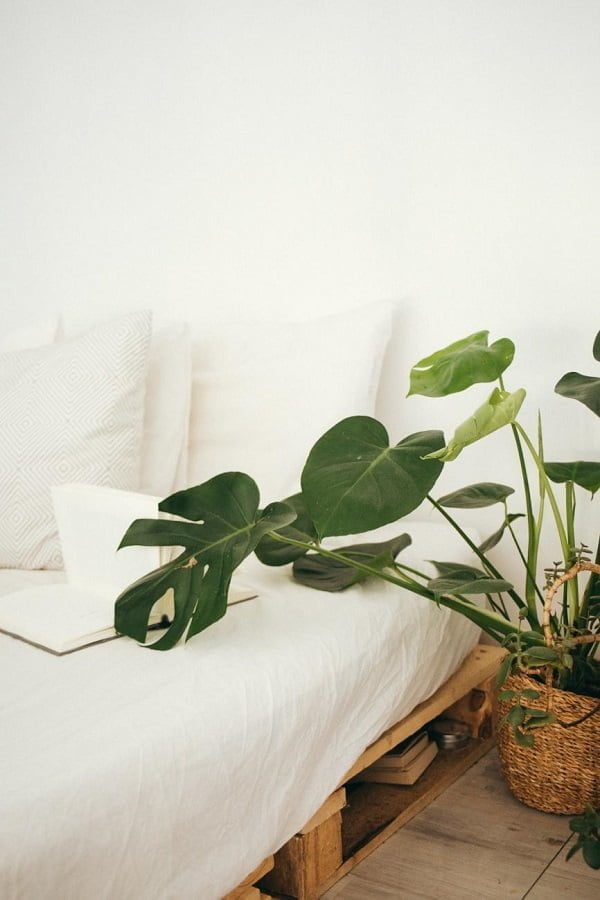 There are lots of ways to maximize the space under your bed for storage without having to purchase a bed frame with built-in under-bed storage.
You can buy simple plastic tubs from a Dollar Store or Walmart to label and slide under your bed, or you could try something a little more creative.
Rather than use plastic, you can sustainably create storage by upcycling other furniture items. A wooden drawer from an old chest of drawers can look stylish slid underneath a single bed, and an old bookshelf, put on it's back and slid under the bed makes excellent storage for under a Queen or King Size bed.
Dresser Organizer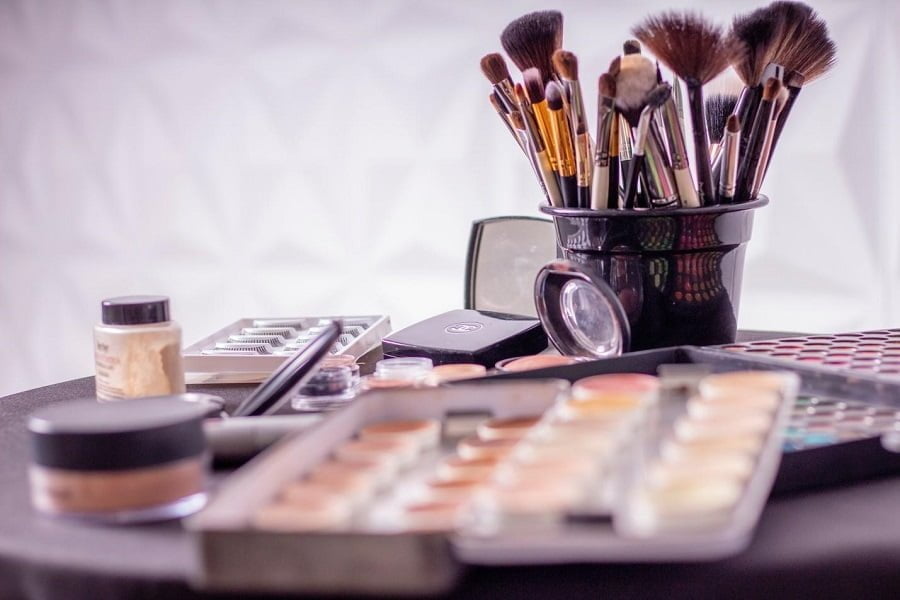 Dressers tend to become a surface full of clutter. Makeup, fragrances, jewelry, keys, concert tickets, photos, buttons, and all kinds of household items. It doesn't take long for the clutter to pile up and things to get messy, and this is where dresser organizers can bring excellent storage solutions.
You can purchase relatively cheap online makeup storage cases designed for nail polishes, makeup, and other items. However, you can also create original dresser storage items from everyday household items.
Glass coffee and conserve jars become great dresser organizers for makeup and hairbrushes, and cute colored gift boxes can be repurposed to keep earrings, rings, and keys in a safe place.
Bedroom Shelves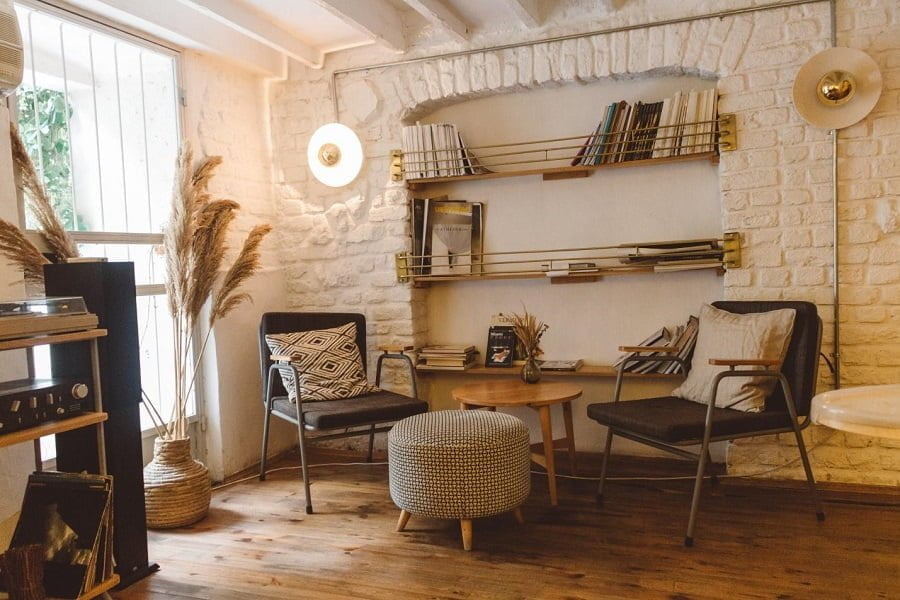 There are many modern solutions for bedroom shelving, which are space-saving and a departure from standard, clunky shelving.
Built-in shelving can add gravitas and design to a large bedroom and can be built in under a window seat to create a cozy book nook when you want to unwind after a busy day.
Floating shelves can be added above the bed to display precious photos and ornaments while corner bedroom shelves can create instant storage and make use of dead space.
While you may need a professional carpenter to create inbuilt bedroom shelf solutions, floating shelves can be installed easily with just a few DIY essential tools and a keen eye for a straight line.
Bedroom Arrangement Ideas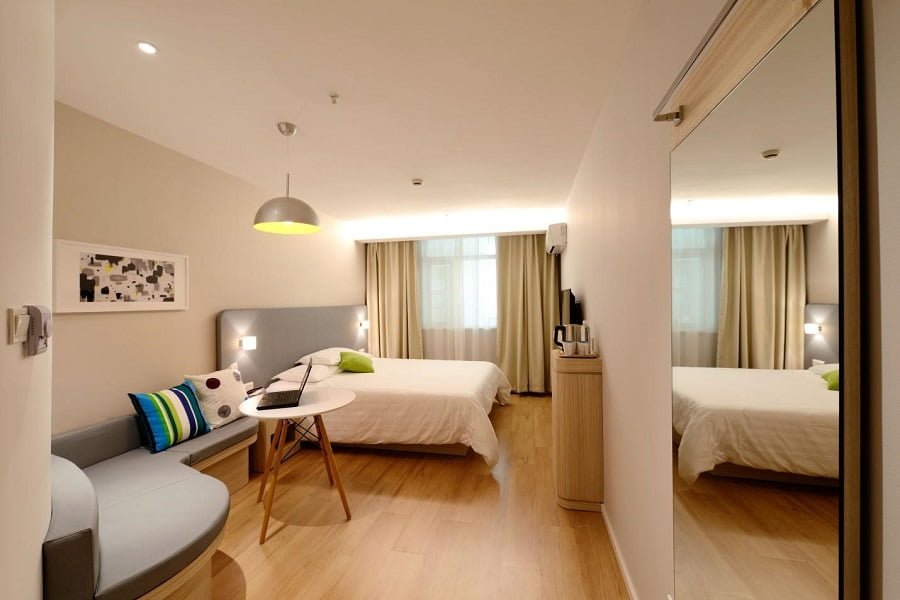 The flow and feng shui of a bedroom can create a peaceful sanctuary where you can rest, sleep, read, and work. There are many bedroom arrangement ideas to be found on sites such as Pinterest which can give you thousands of ideas for bedroom arrangement but here are our top three ideas:
Turn your sunroom into a home office. There are some innovative, cheap and stylish small desk and home study furniture items available online, which can turn a small room which usually houses the laundry and an unused exercise bike into a productive work and study space.
Install a large mirror to the main wall. A good mirror is not only essential when getting ready, but also serves the purpose of creating the feeling of more space, ideal in a smaller bedroom
Place your bed up against the longest wall in your bedroom to enable you to install matching bedside tables on each side. This not only creates extra storage but creates a pleasing bedroom aesthetic
Clothing Storage Ideas for Small Bedrooms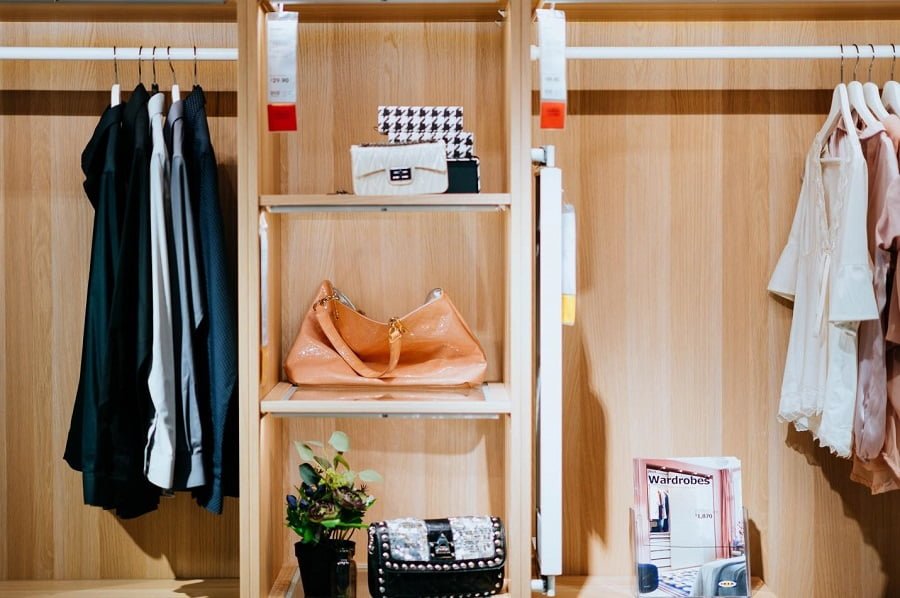 The key to storing clothing in small bedrooms is minimalism. Only have in the wardrobe essential items of clothing that you will wear regularly and store away large, bulky items for when you need them. Be ruthless when going through your closet and donate any clothes you no longer wear to charity.
There is also cheap and practical storage for clothing that vacuum packs seasonal items. The packaging is sealed, keeping clothes free from degradation and mildew. You can then store under the bed and access when you want to swap over clothes when the change of season comes.
Bedroom Desk Ideas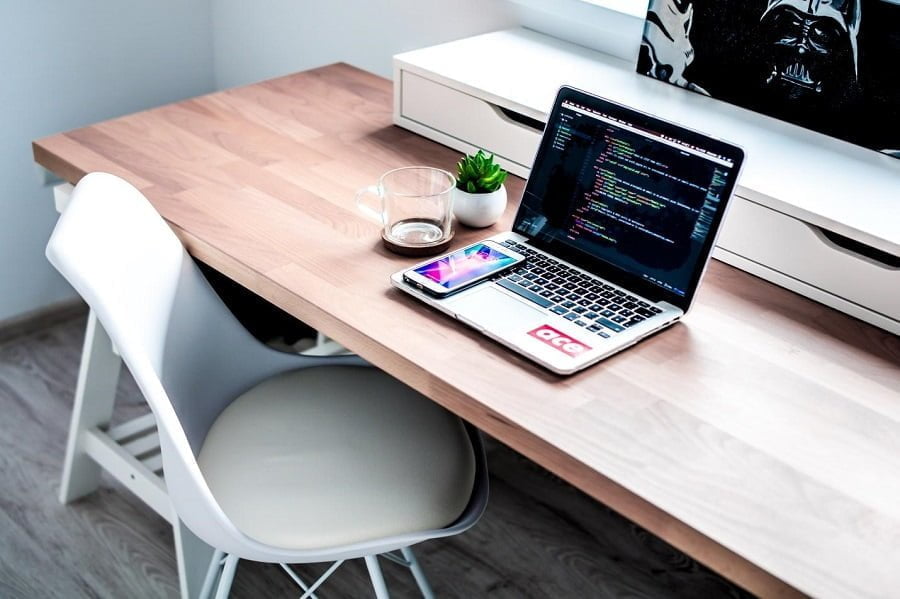 There are lots of bedroom desk ideas available for small to large bedrooms. If you have a large closet or built-in wardrobe, you can create a desk space hidden behind the doors, keeping your bedroom neat and tidy when not in use.
There are also small, home office style desks when can be used in the spare bedroom or your sunroom.
Small bedroom with limited space? Then install a wall-mounted floating desk which can flip down and become an instant desk for you to work with your laptop, or fit a slightly longer dresser, sharing the surface space as a work area.
Dresser Top Organizers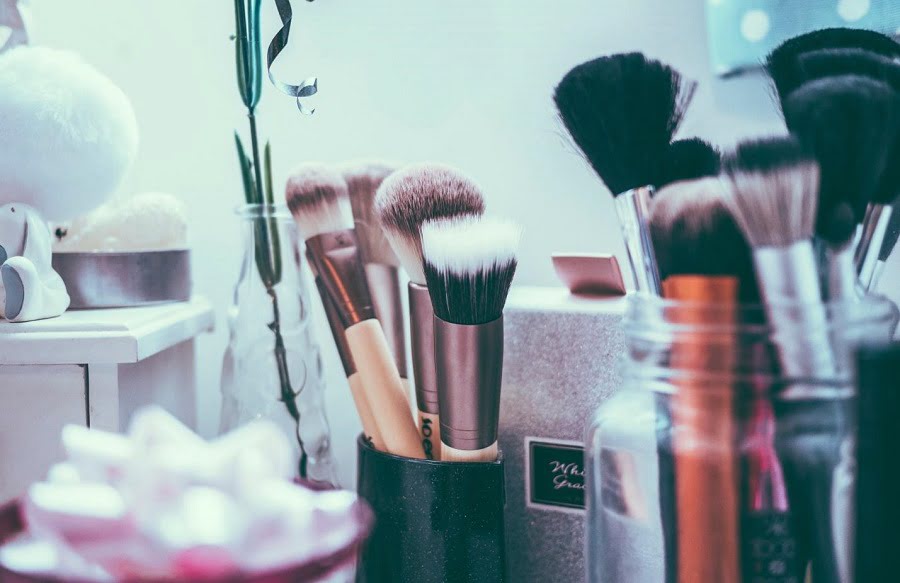 There are thousands of options when it comes to dresser top organizers from custom-designed dresser storage to homemade hacks.
A popular choice for the makeup and Instagram generation is a multi-purpose clear plastic storage tray that can store most makeup and toiletries items.
The key is to store similar items together. You will be amazed at just how much makeup you have accumulated and will save yourself money as you use up all your products before their use-by date passes.
If your dresser has a top drawer, create different compartments and dividers for your hairdryer, brushes, or grooming accessories. Using your drawer with compartments keeps everything tidy and removes the clutter from the top of your dresser.
Decorate Storage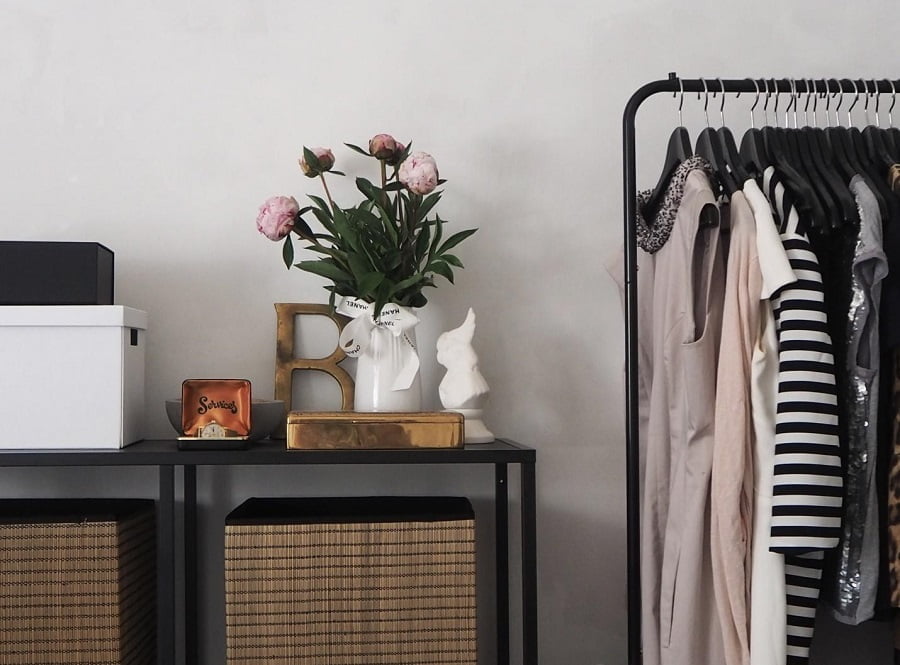 Decorating your storage is a great idea. It not only makes your room and its storage neat and tidy, but it's also a great creative storage project leaving your room looking like an interior designer designed it.
Glass jars can be painted to match the bedroom decor.
Larger storage boxes can be wrapped in wallpaper, which matches your walls.
Shoeboxes can be covered in contact paper and stacked neatly.
Cheap white metal crates and trays can be spray painted in contemporary metallics such as rose gold.
Let your creativity flow with storage decoration!
How to Store Clothes without a Dresser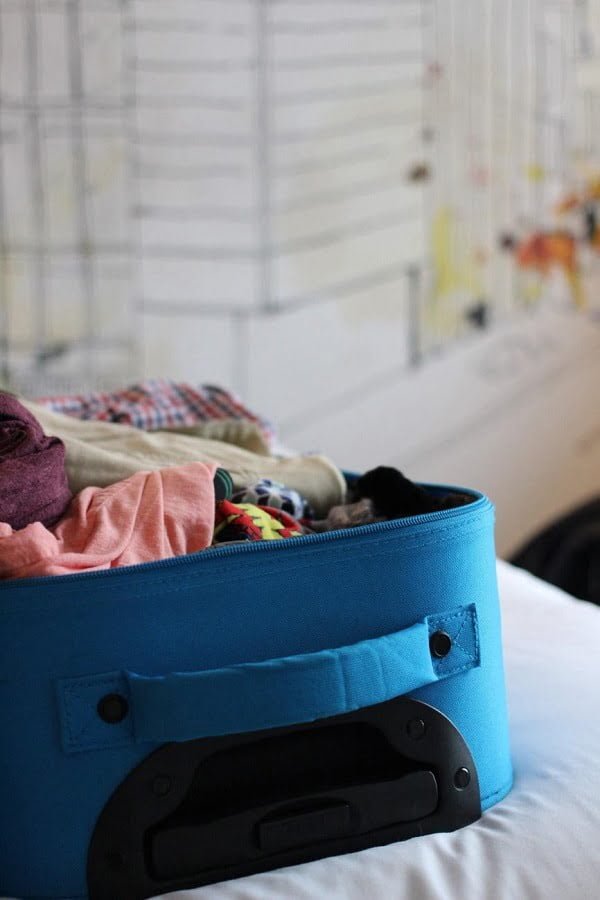 Many inner-city and urban apartments are tiny and rarely have a built-in dresser or closet, and if you are about to move home, or just moved in, you may not have the right furniture just yet.
If you find that you are very short on space and don't have a dresser, there are several options for you to store clothes without having them strewn across your bedroom and hanging off of doors and furniture items.
Under-bed storage is the best idea as it's often the most extensive area for storage. All you need are some drawers, trays, or crates which are low enough to slide under your bed, and you instantly have a great clothes storage space.
Do you have a large empty suitcase on top of your wardrobe waiting for your next holiday? How about storing clothes which are out of season in it? It's an instant space saver and leaves room in your bedroom for your regular rotation of clothing.
There you have it! Twenty life-changing home organization and storage hacks. We hope you will find them useful!
Recap
Liked this article? Here's what you can read next: