Last updated on October 2, 2023
Want to build a DIY standing desk at home? It's about time to take workspace ergonomics seriously and create a standing work area, at least in your home office.
By now, you must know the disadvantages and health risks that a sedentary workstyle poses. Unfortunately, if your job involves sitting at a desk in the office all day, there's not much you can do.
If (or when) you work from home, on the other hand, you can completely revamp your work habits. You have two choices – use a standing desk converter or DIY. We're talking about a DIY desk that enables you to work while standing at the computer.
Not only that, but some designs on our list also offer you sit-stand options that allow you to choose whether you want to be sitting or standing at your desk.
Others will give you a quick and easy-to-make desk topper that will instantly turn old desks into standing ones.
In any case, you have to see all of these ideas to get inspired and build your very own DIY standing desk.
How to Make a Standing Desk from Scratch
Making one of these DIY standing desks with galvanized pipe, flanges, and a beautiful piece of wood is easy (it doesn't take much time) and looks like an expensive interior design piece. This design uses a thicker pipe and eliminates the skinny legs on most pipe-leg desks.
The desktop may be from anywhere. So this can alter the price a lot since the pipe parts are constant. Overall, it's a bit pricey for a DIY project but significantly less than buying from a store.
Mobile standing desks for the laptop with power outlets can be built with inexpensive wood and low-tech roller platforms.
This unit consists of box legs from even cuts of wood that are glued and nailed together. Power tools and a place to cut and assemble are essential for this project.
It has an oblong desktop and monitor holder. It's an advanced DIY project, as it requires a lot of precision cuts and proper equipment.
Make this pine board standup desk if you have a table saw and space to assemble it. As with all DIY standing desks, get the height right. After that, this desk is like an open rectangular box. It has a nice rustic look and moves around on the attached caster wheels.
DIY Adjustable Standing Desk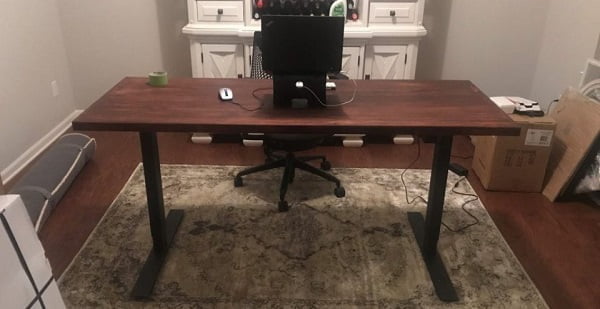 This design customizes an old desk. A little more complicated than the Standesk 2200, but still an inexpensive option.
You need pipe clamps, the wood for the desktop, and all the materials to glue, sand, and stain to your preferred shade.
You need a table saw for this as well. Once you have the desktop cut, leveled and sanded, finish it with your preferred stain and screw it in.
Convertible standing desks double as ordinary sitting desks. With the help of springs and a creative hinge assembly, they pop up to become standing desks. While the overall look is a little clunky, the pop-up desk assembly is rather elegant.
This great design is best for use with a desk a person doesn't mind dismantling since the top will be lifting off when it converts. Maybe a little more advanced DIY project, but a fun and practical solution for you home office.
Electric-powered standing desks adjust to the desired position. Built with linear actuators, the choice of wood you like, and a sufficient power supply. A great substitute for commercial electric desks for only 200-300 dollars.
Completely made of solid wood, this adjustable standing desk with an actuator is as functional as it is visually appealing. Of course, as you may tell, it is an advanced project requiring skill and patience to complete. Check out the video to see how it's done.
Build an electric lift-up mechanism for DIY standing desks. The height is adjusted by an actuator, and it takes a rather simple frame to build this. The video details the process well, so it's an easier project than you may think at first.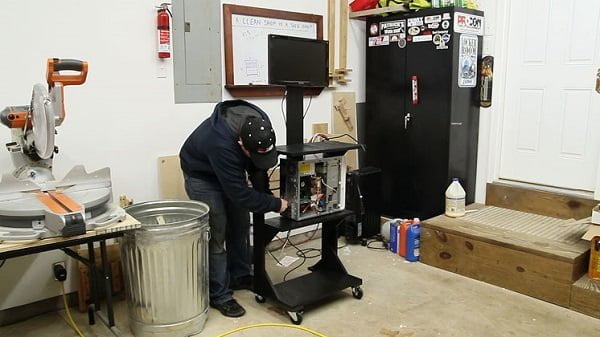 A rolling workstation provides mobility around the house. So you can move it wherever you want to be working. Even outdoors. This project is for a compact desk that will fit a PC tower unit and a monitor, as well as the keyboard and mouse. And it is on wheels.
This is a project for people with a woodworking shop space and solid experience cutting and using shop tools. The mobile standing computer desk only costs a couple of hundred dollars. It uses plywood scraps, a VESA bracket for the computer, and caster wheels for mobility. This project will take some time to complete.
All you may actually need is to make increased-height table legs and replace them on your desk to create the standing workspace you want. Watch this video for a real eye-opener.
Wall-Mounted Standing Desk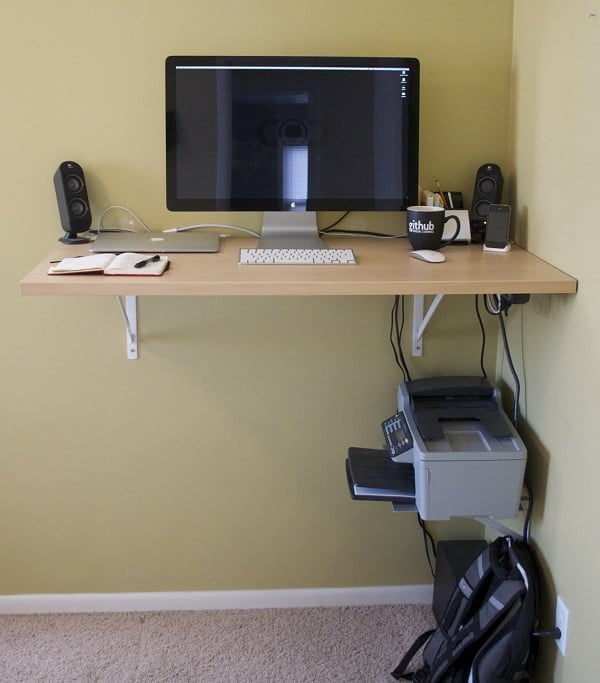 This DIY computer desk has plenty of legroom. It requires three parts: a desktop surface (something screws can go into,) 19″ heavy-duty shelf brackets, and of course, screws.
Use two different types of screws for this. 2 1/2″ for the wall and smaller screws to fit the thickness of your desk surface. An absolute beginner DIY'er can accomplish the rest.
Measure the height you want the desk at. Drill holes into the studs accordingly. Attach brackets. Set the desktop and level it. Screw brackets to the underside of the desktop. The biggest tip here is to be sure of the desk height before drilling.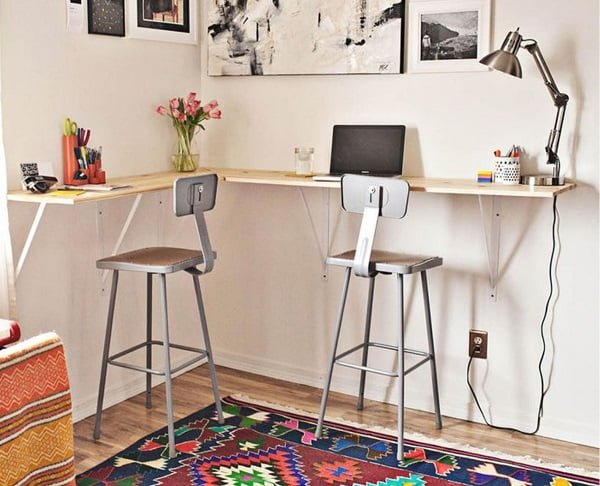 For home office space with more than one user, mount large shelf brackets (heavy duty) to the wall at the height you like. Cut pine boards or the preferred wood to fit the space. Attach the two. The trick is to get the height right.
The bulk of the work comes from cutting, sanding, and sealing the desktop. This design is open to rounding the edges, painting or staining to taste, using exotic brackets, and so on.
DIY Standing Desk Converter
A semi-industrial design using Kee Klamp hardware and galvanized piping on the desk frame, and custom-made poplar plywood tabletops. This is a desk on top of a desk and it looks elegant and modern when finished. An easy way to convert standing desks.
The tabletops can be finished to match the builder's decor, and piping can be painted to suit. The Kee Klamp fittings are for rail support normally. In this case, they're used to mount a VESA bracket to the computer. More support fittings mount the desktop to the pipe frame. This elegant solution is uncomplicated and easy to assemble in no time.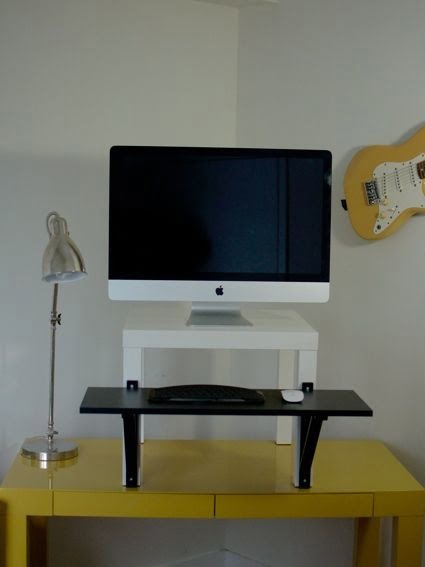 The Standesk 2200 standing desk is a great design for the DIY crowd. Put three inexpensive IKEA products together, adjust the height, screw to each other, and set your monitor on top (after checking the height.) If you want a quick, cheap standing desk option, this is it. Oh, and don't forget the 1 1/2″ wood screws.
Using a cheap shelf and a wooden dowel, anyone can create a monitor riser for your existing desk. Cut the wooden dowel legs to equal lengths. Use headless bolts and drive them into the pre-drilled holes on the dowel legs.
Next, drill holes into your shelf and screw the legs in. This whole assembly sits on top of the existing desk. As long as everything is cut even and level, it's a very effective solution for your office.
Corner standing desks are usually big enough to provide multiple levels of height in one office space. So you may choose whether you want to be sitting or standing – whatever you like at any given moment. You don't even need to implement any height adjustment features.
Start with an Ikea Adils Legs, an Ikea Capita Bracket, and Ikea Kallax Shelving Unit. Organize some basic woodworking tools, and create a design to fit the space. When cutting carefully, this design creates strong, minimalist standing desks at a fraction of the price.
The original Varidesk provides a riser for the monitor and keyboard – the essentials needed to turn any desk into a standing workspace. It has a sleek modern design too.
And while you won't replicate the style exactly, you can do it by building a copycat that functions in the same way. It will not take much time to complete this project.
With some clever and creative cuts of plywood, you can make this brilliant tabletop standing desk topper. It looks good, it functions well, and you can take it with you anywhere. A brilliant DIY project that takes little time to complete.
Turn a Regular Desk Into a Standing Desk
You can make DIY standing desks from the extended pipe legs that also have drawer storage by converting existing desks.
Remove the base, add a steel pipe with Kee Klamp fittings, and set it to the height you like. Using flanges, this clever design mounts to the bottom of the desk with screws. The drawer storage may be added with sliding hardware if it doesn't already have it.
Create one of these standing desks with two 4×4 untreated posts, black pipe elbows and flanges, screws, and bolts. Start by knocking off the legs on an existing desk and replacing them with the four posts.
These can be stained first if preferred. Once attached, the desk should be at the right height to stand and work. Attaching a shelf adds a handy storage element.
Recap
Liked this article? Here's what you can read next: