Last Updated on
Do you want to build a DIY bookshelf this weekend? Here are 22 ideas with plans and tutorials to guide you through.
A bookshelf is one of the most important pieces of furniture you can have in your home. First of all, it solves your storage needs. Secondly, it has a tremendous impact on your DIY home decor in the way of display features. There might be no better way to put your books or collectibles on the show!
So, as you already know, today we're building a DIY bookshelf. And to do that we need to choose the right plans and instructions. This has been our quest, and the result is this beautiful list of 22 tutorials. We invite you to check it out and use them to build your bookshelf.
What's Inside?
Modernistic DIY Pipe Bookshelf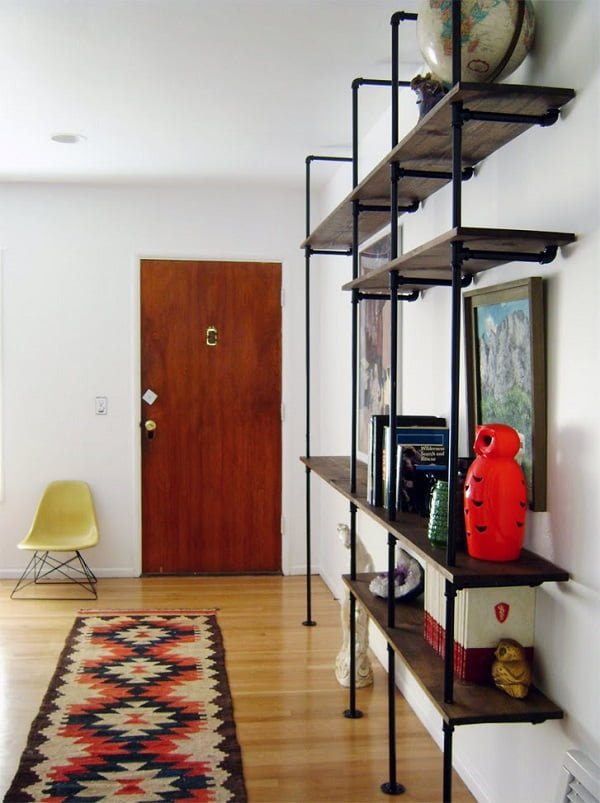 This mesmerizing and easy-to-do bookshelf is extended from top to bottom of the wall but still allows plenty of background décor to come into play. If you have a bunch of old water pipes to spare, repurposing them as the bookshelf would be brilliant and you can do so, by only adding a few other elements, including wood shelves, screws and spray paint, among others. Play around with pipe sizes to create a wall frame and choose right positioning for your shelves, so the wall still oozes dynamics. The tutorial itself is easy to follow, giving you a spectacular bookshelf structure in return!
Alluring DIY Rustic Bookshelf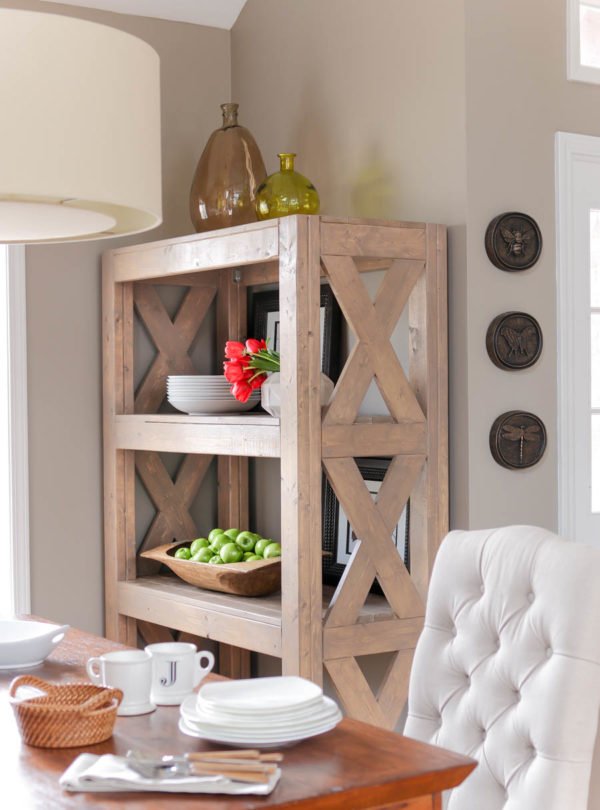 Make a signature rustic bookshelf, and find your empty corner spaces a good use and purpose. This fantastic DIY bookshelf project is a great choice for anyone with carpeting skills, as well as anyone curious enough to give it a try. The elements necessary for this piece include a wooden shelf frame, joint together with connectors and screws. The bookshelf sides have unique X-shaped décor, which is composed additionally. The shelves come in the end, secured well into the frame, and looking glorious and chic. The staining process will give your DIY bookshelf some charm and delight, and ultimately, a beautiful standout piece.
DIY Ladder Bookshelf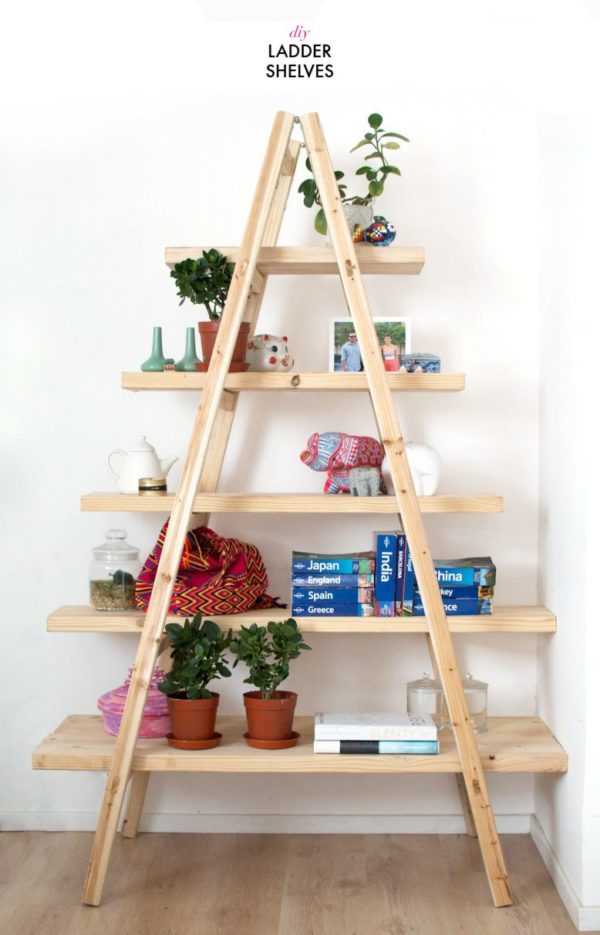 A spectacular approach on modern-day bookshelves, with a unique ladder-inspired structure that covers all bases and purposes, but still delivers the desired retro effect. Nothing too fancy for the rookiest of the handyman, so let's learn what it takes to accomplish this piece.
You will need a ladder, just one you never use around the house, or an affordable pre-purchased one.  You will also need shelves that can be found in all the shades you need. Again, not a pricey deal for such a fascinating project. The bookshelf stands marvelously in any room of the house and is undoubtedly zesty to look at.
DIY Wallpapered Bookshelf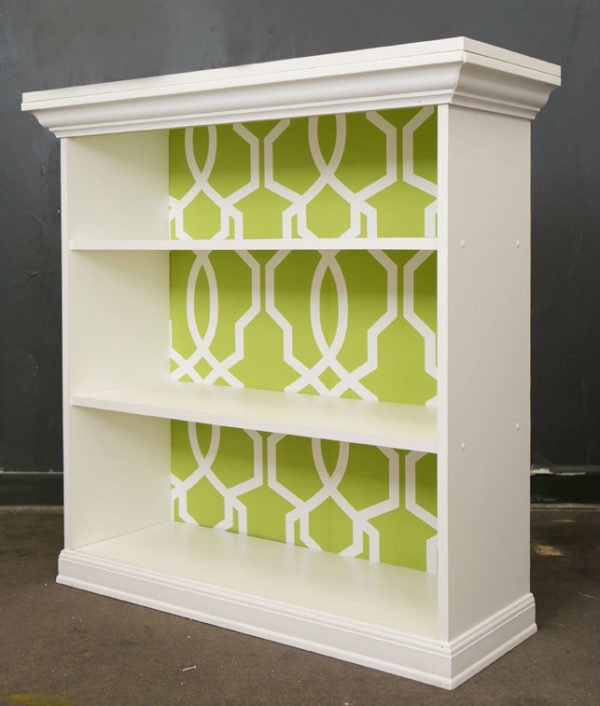 A child's bedroom bliss, this DIY bookshelf design is more than exuberant in color and concept. Practical and useful, it can brighten up space in any room of the house, really, and what comes as more favorable is the fact that it's easy to do and doesn't hit the wallet too hard.
The bits needed for the piece include wallpaper of your choice (the brighter, the better), headboards and a handful of other supplies you can find in any department store. Completing the project might require some skills regarding precision and an eye for detail, but it is a showstopper!
DIY Dollhouse Bookshelf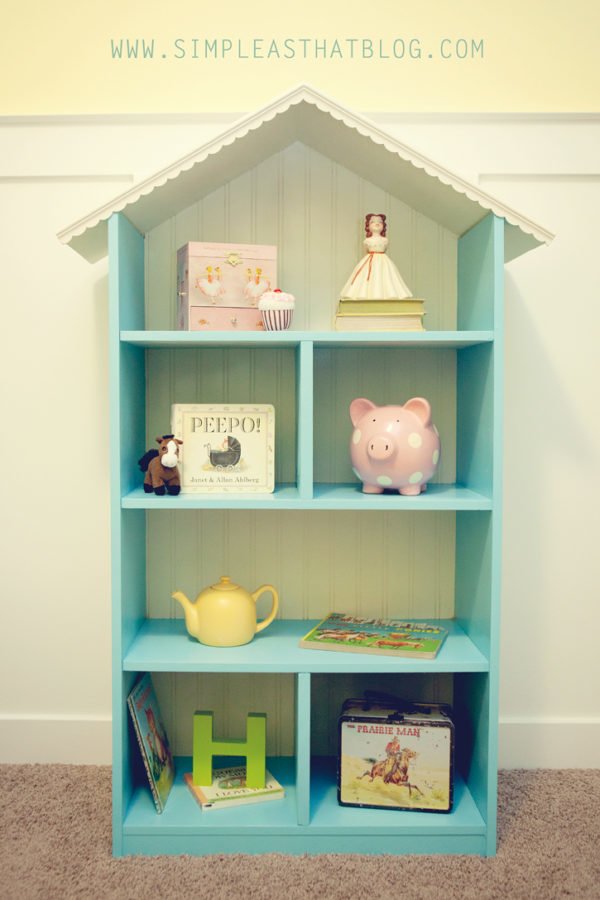 Any romantic craftsmen out there? Ladies too, feel free to join in on making this extravagant, yet creative dollhouse bookshelf which will make anyone smile. Coming straight out of a Disney movie, this bookshelf is composed of an old bookshelf divided into sections with extra wood partitions. A few other elements are needed as well including a custom-made 'roof' and a bunch of pastel shades to give the piece some mellowness.
Overall, it is a relatively easy project to take on and doesn't demand too much of your time. Plus, you'll get to spare a few bucks with the shelf itself, so why not?
Elegant DIY Office Bookcase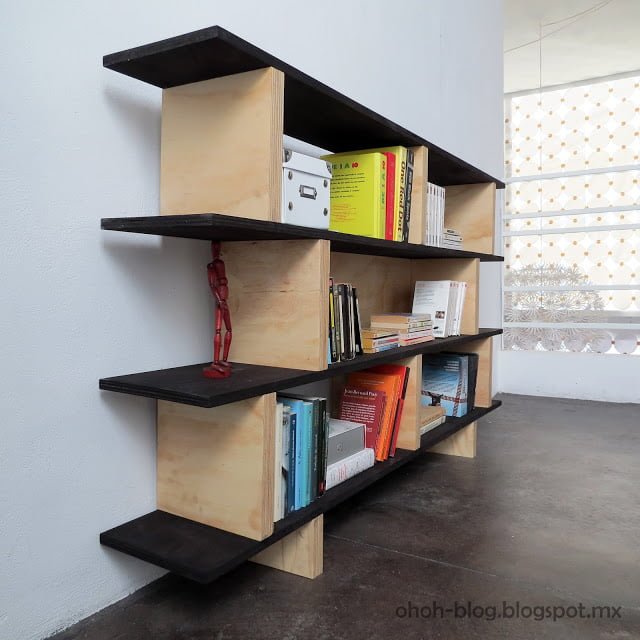 If you want to improve as a carpenter and a handyman, start small, and this DIY bookcase piece is a real way to test your skills! The design itself takes a much-sophisticated shape, which is easy to achieve with a simple wood paint. But, you'll also need a few other elements, such as shelf boards, glue and of course, a love for what you do.
Play around with shelf sizes and depths and keep the palette contrast alive through the entire piece. With aligning and assembling all bits right, you'd get a reasonably cheap bookcase which exudes confidence and style!
Dynamic DIY Ironbound Bookcase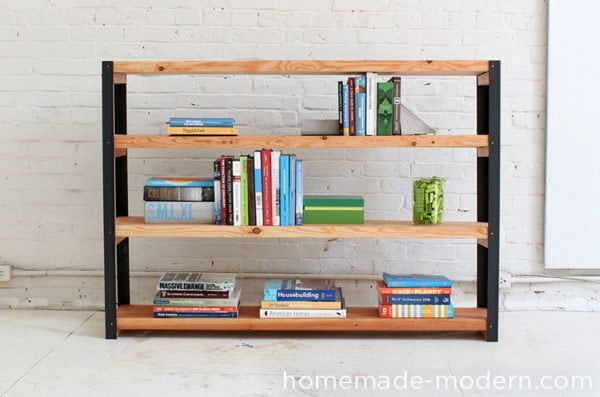 What better way to show some sass and class at the same time, if not with this fancy and desirable bookcase? This DIY piece is a true eye-grabber, and it is not as difficult to execute, as one might think. The elements required for this design are a set of irons and wooden shelf-shaped boards.
Buying them is not very hard on the budget, and would still cost less than any finished piece. Sawing and drilling are involved so keep these skills in mind. However, the project is relatively simple to carry out, and honestly, who doesn't need a glamorous bookcase at home?
Clean DIY Wood Bookshelf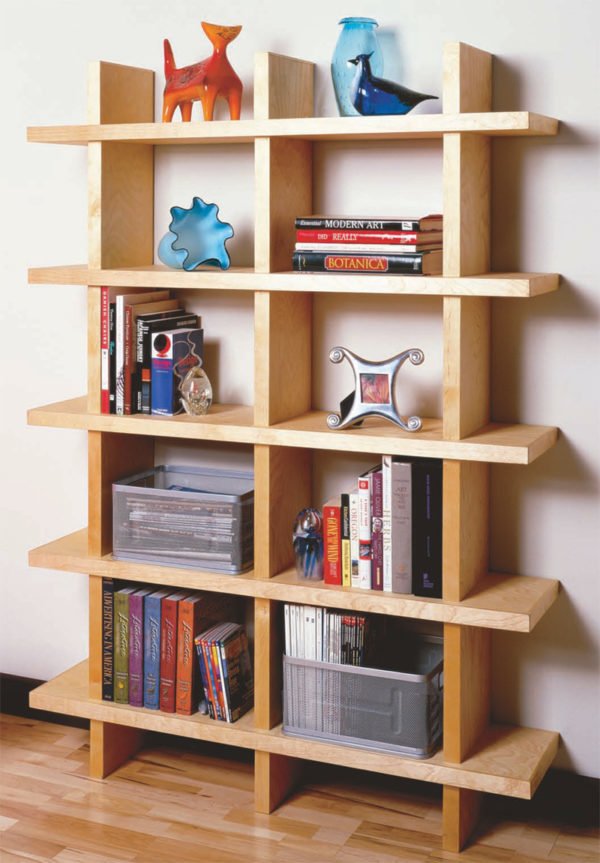 If you are into classy, yet striking DIY projects, this cheerful and lovely bookshelf will grab your attention for sure! Designed to impress, this precise and robust piece is as simple-looking as possible but still carries a flirt with it.
To make it, you will need laminated plywood, precise measuring and sewing skills, and a few other techniques to master, as well. Although a more ambitious project, a pro in the field would find it enjoyable and inspiring.
Assemble equally-sized box shelves to create a balance and appealing bookshelf, which is both ornamental and purposeful at the same time!
DIY Boat Bookshelf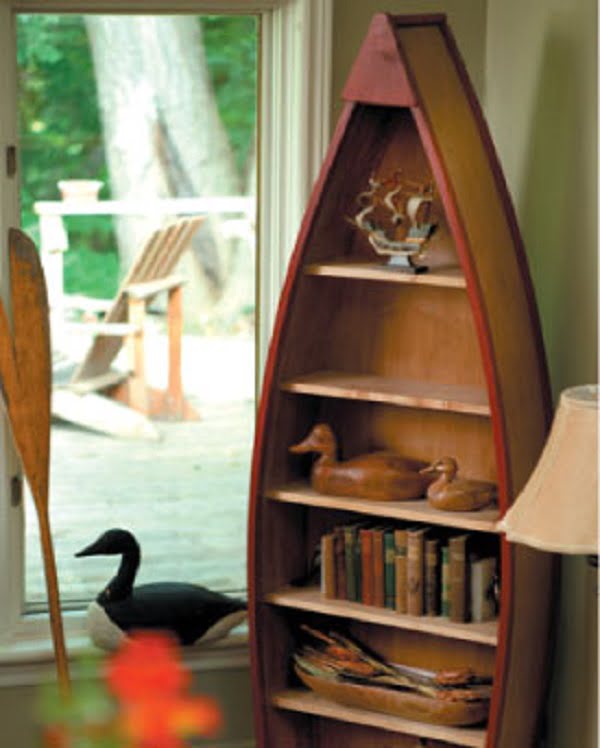 Anything can be reused and repurposed; you have to find the right project! To help you in the search, we are presenting a unique and creative DIY bookshelf design in the shape of a real-life boat! This boat bookshelf idea is created with plywood, maple, and pine, as well as a set of skills that an experienced handyman would have no problem with.
Encouraging all craftsmen to take part as well, this bookshelf looks amazing once put up on display in your office or dining room. Wood takes new dimensions and looks marvelously in the shape of a boat bookcase!
Vintage DIY Palette Bookshelf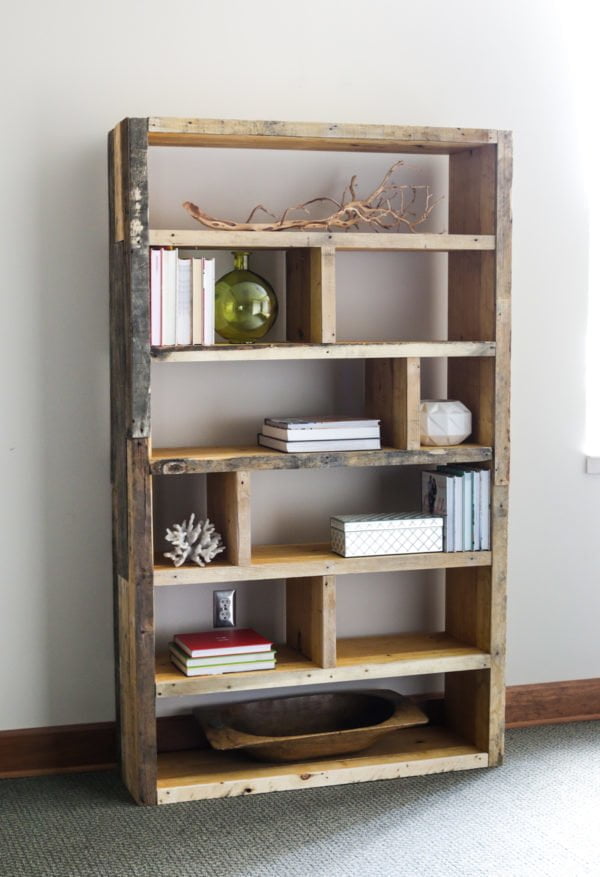 Taking the ambient back a few decades, this extraordinary bookshelf design speaks of charm, rustic vibes and a slice of fresh apple pie, to be honest! What you'll need is a handful of two-dimension palettes, which are supposed to become bookshelf drawers. Plus, boards and crates play a significant role in the creation of this masterpiece and the same goes for screws, containers, and nails.
Not the most challenging task to complete, this DIY bookshelf project will leave your guests in awe once completed. For extra effect, keep the shelves uneven, and the paint as rustic as it gets.
Contemporary DIY IKEA Bookshelf Makeover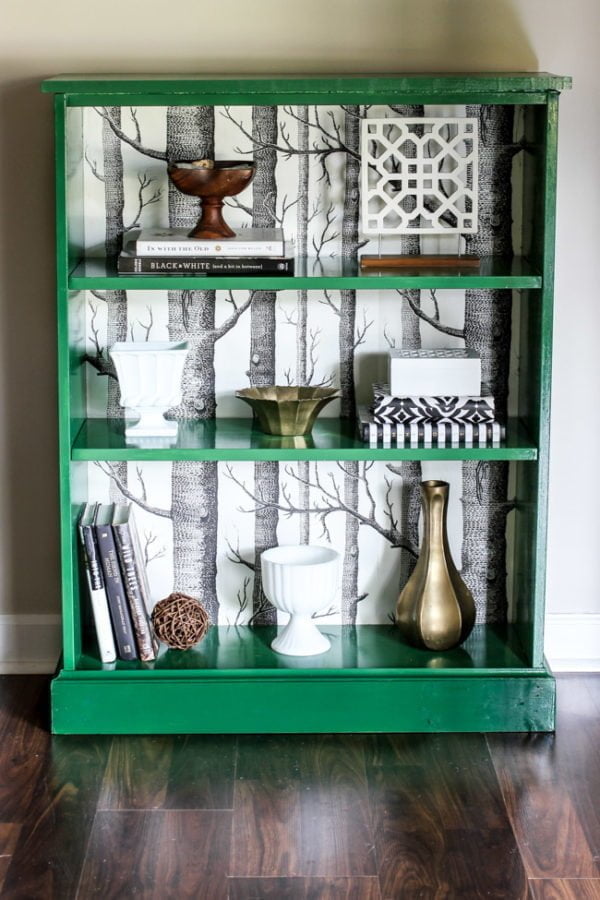 Why waste time on creating a bookshelf from scratch, when you can cut yourself hours of work and remodel this incredible and plain-looking IKEA bookshelf? A project that will explode with colors and prints, this DIY bookshelf is made of a pre-purchased IKEA piece, bookshelf top and bottom to add an extra 'boom' to the design, some paint and of course a playful wallpaper background.
Easy to compose and polish, this bookshelf won't cost you plenty, and it will still be a statement piece at your house. Make sure you choose lively prints and paint to create an instant fairytale-like vibe!
DIY Old Bookshelf Makeover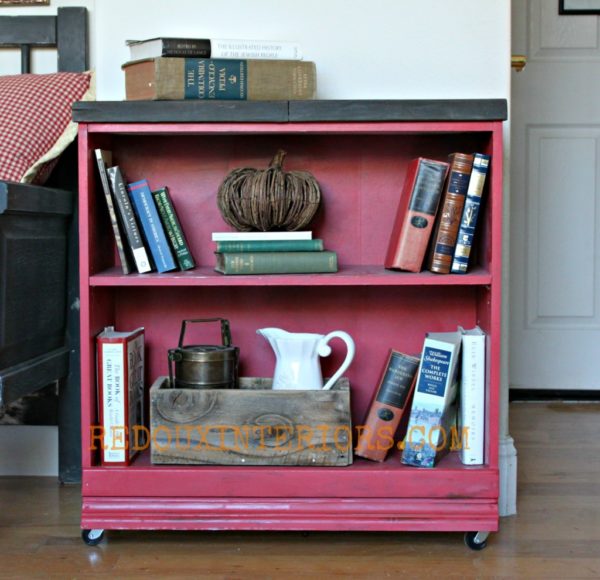 Are you into cheap, yet delightful DIY projects to give your home some charisma? Then, find yourself an old two-level bookcase and let's get started! It is miraculous to think what elements like scrap wood, glue and some good paint can do, and when it's cheaper than expected, it sounds even more appealing.
This bookshelf is already assembled so what you'll want to do is create the elegant top alone and then get to painting and bringing the elements together. Use two paints for the bookshelf's top and insides and allow opposites to attract magnificently!
Toscana Bookshelf

Some things you can buy but other things are so easy to make that you can save by building them. And here's a tutorial with plans that you can follow to create a beautiful rustic Toscana bookshelf for your home.
Bookshelf from Crates

Can it get any easier than this? Probably not. You can build a beautiful rustic bookshelf from large wooden crates, and all you have to do is fix them together and paint them. You even get a tutorial to follow to make it even easier.
Simple DIY Bookshelf

Do you like those IKEA Billy bookshelves? They're so simple, and they're perfect for a simple job of storage or display. Well, you can create such a simple bookshelf yourself, and it's quite easy if you follow the tutorial.
Industrial Pipe Bookshelf

Piping gives a bookshelf frame this rustic industrial look that makes your home decor much more interesting. Working pipes into the design of this bookshelf take some effort, but you have a tutorial to follow which makes it so much easier.
Rustic Bookshelf

Do you like rustic home decor accents? You can build such a rustic bookshelf at home only for $60. It's pretty straightforward, and there's a tutorial for you to make it easy.
Rolling Bookshelf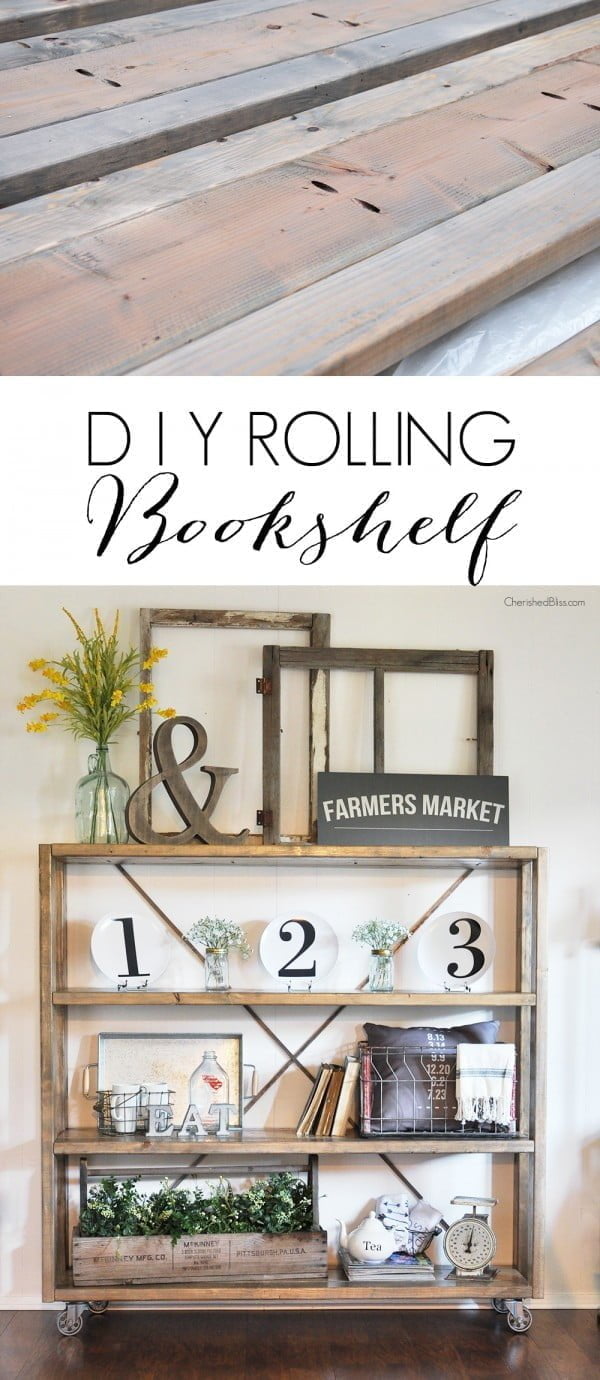 This Restoration Hardware rolling bookshelf knock-off is a real treat for the eyes. If you like elements of farmhouse style in your home decor, you need this bookshelf. The tutorial will make it easy for you to build it yourself.
Pallet Bookshelf

Anything made from pallet wood looks warm rustic and exciting. If you like the look, you can easily make such a bookshelf yourself for your home. Check out the tutorial for more information on how to do it.
Crate Bookshelf for the Kids Room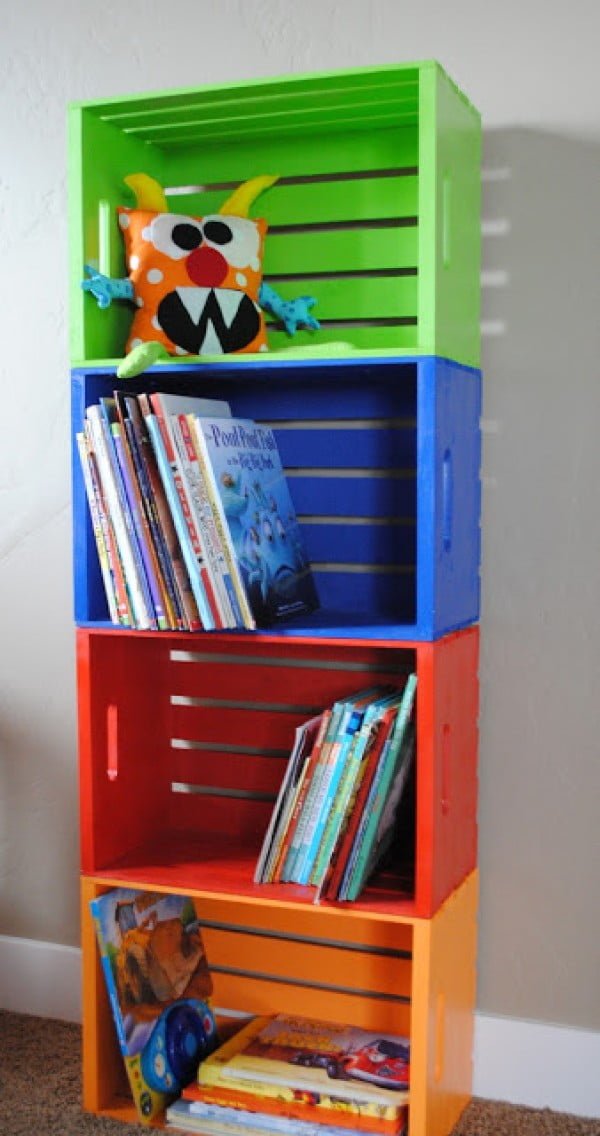 If you need a joyful piece of furniture for your kids' room, you can build an easy and colorful DIY kids bookshelf from crates. Paint each crate in different vibrant color, and it will turn out a perfect accent for the room. Here's a tutorial on how to do it.
Rustic Shelves

Build a frame from piping with rustic shelves for an attractive piece of furniture for your home. The style is striking, and you can build it quite quickly. Just follow the tutorial.
Wall Bookshelves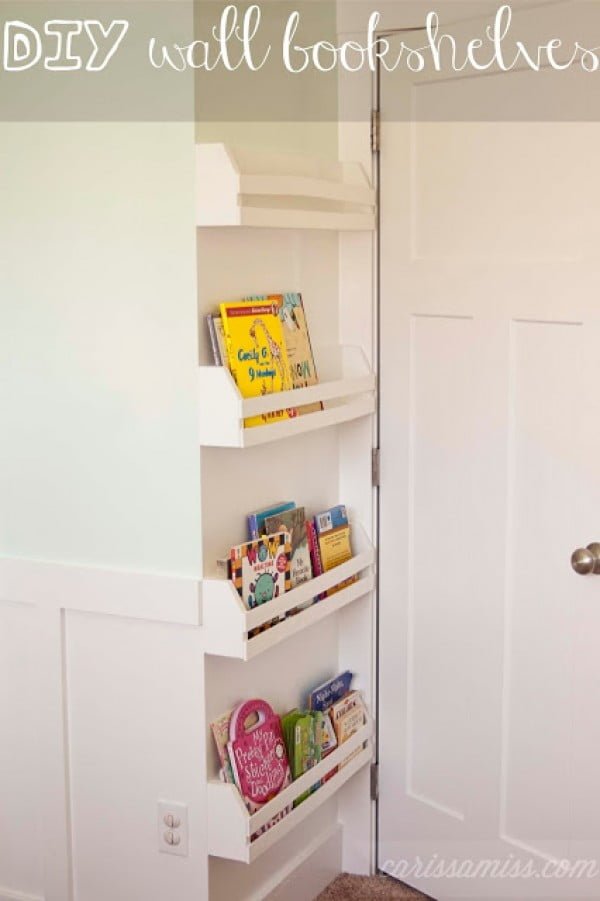 The built-in design is the cornerstone of modern interior decor style. Not only that, built in shelves save a lot of space by providing room for storage. And while it may not be as simple to make such shelves, this tutorial shows you the easy way.
Pallet Bookcase

Pallet wood is perfect for a simple bookcase, and you can build one at home. Such a bookcase is very functional with lots of storage space, and it has a lot of decor appeal with its rustic look. Check out this tutorial to see how you can build it.
DIY Rustic X Tall Bookshelf

The Rustic X design is one of the most popular woodworking plans, and we can't argue with its popularity – it does look appealing. Good news is that you can quickly build it yourself by using the plans from Ana White. Check out the plans and tutorial on how to create this fantastic rustic X tall bookshelf at home.
Ideas for Easy Bookcase Makeover That You Can't Afford to Do
A simple bookcase can turn into a luxe accent piece of your home decor if you use just a little creativity. It's amazing what simple paint job, and wallpaper can do to it, and there's no reason to. The same can be applied to old furniture, wherever you get it from. A simple makeover can result in cheap or old furniture looking new and expensive.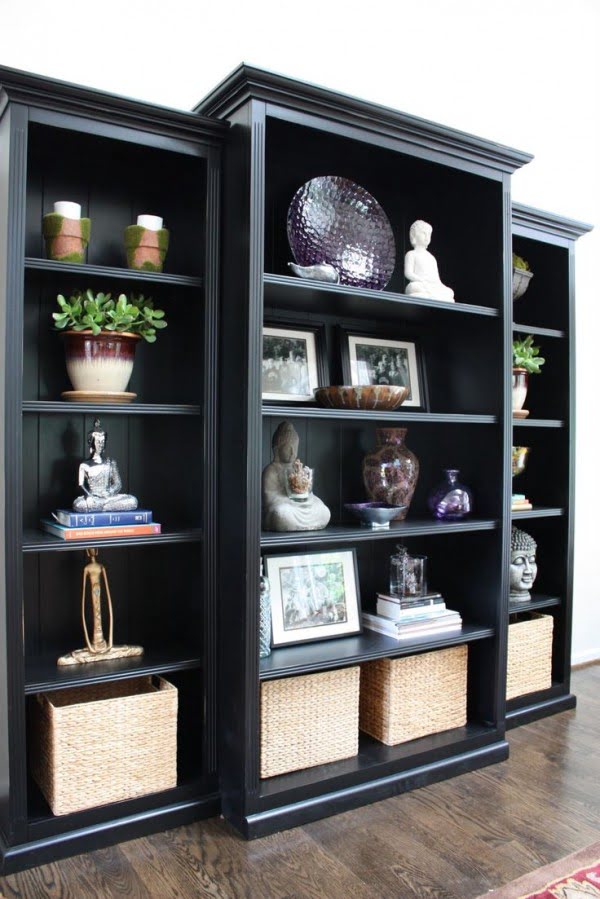 Would you believe these were just three unremarkable bookcases? They were painted black with moldings added to them to make a beautiful luxe bookcase.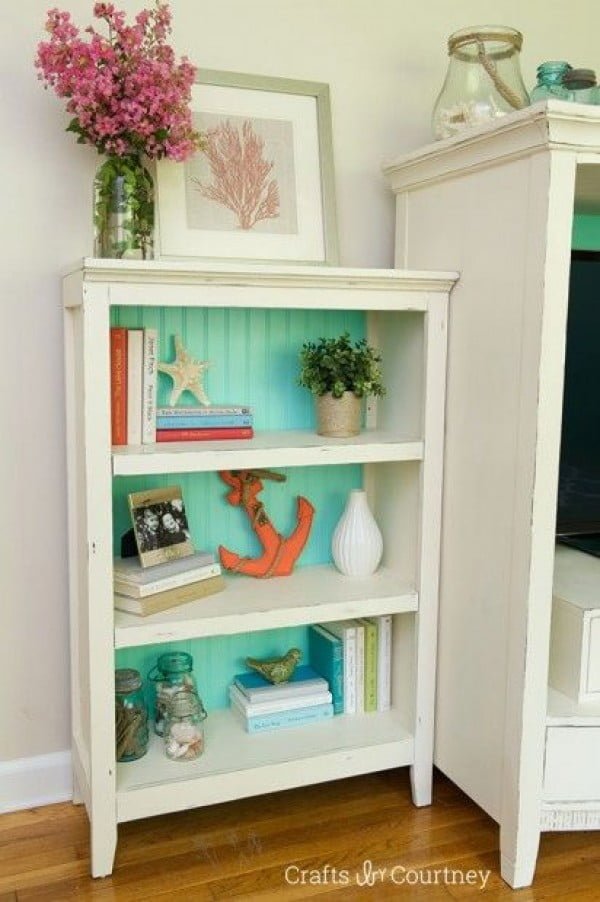 If you paint the backboard in vibrant color and do nothing else, it will make all the difference.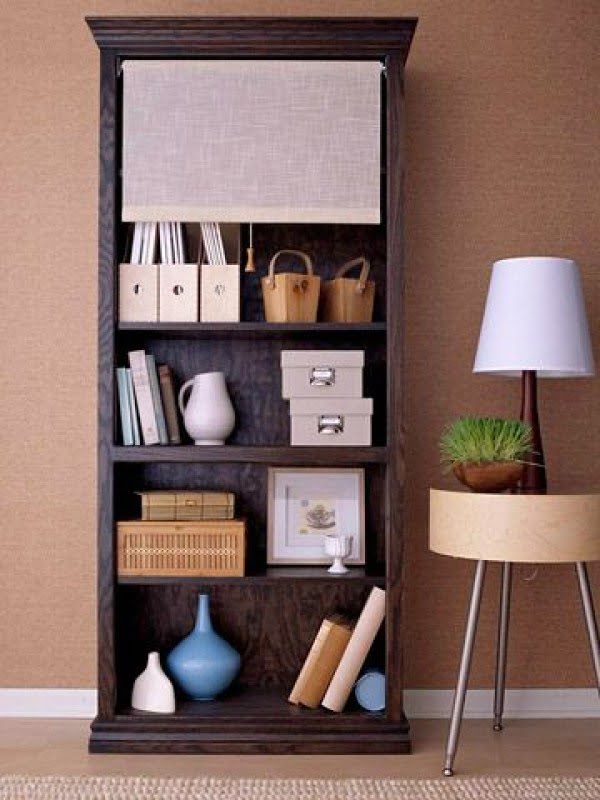 Hiding parts of the bookcase with roller shades is a great idea for an original touch.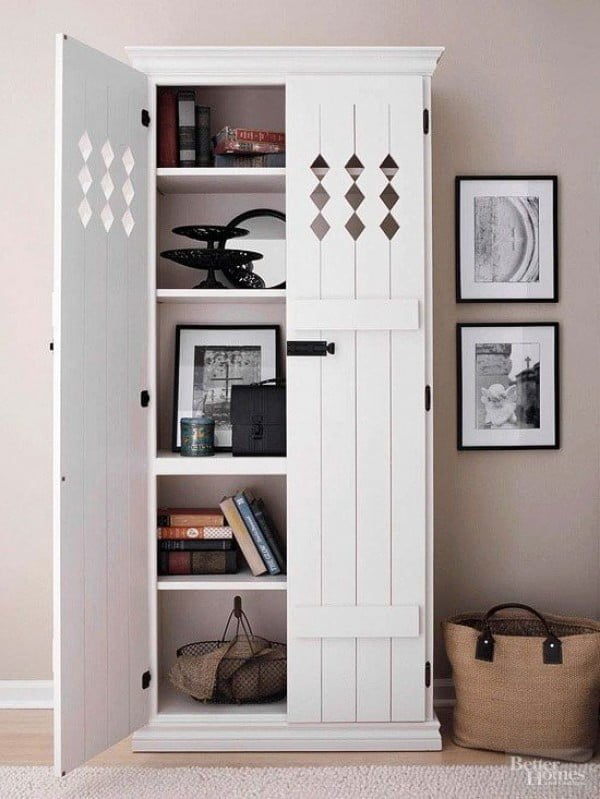 Installing doors turns a simple bookcase into a beautiful cupboard.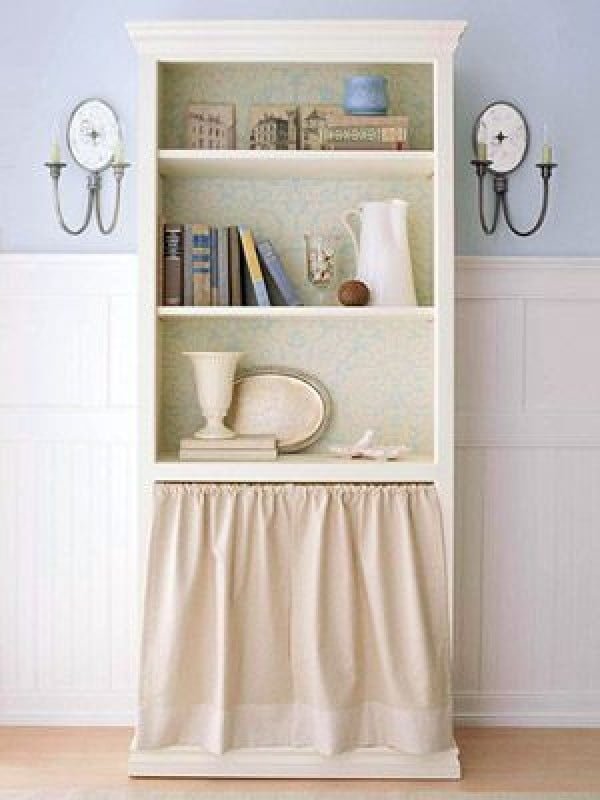 Another way to hide bookcase storage with a small curtain made of fabric and a tension rod.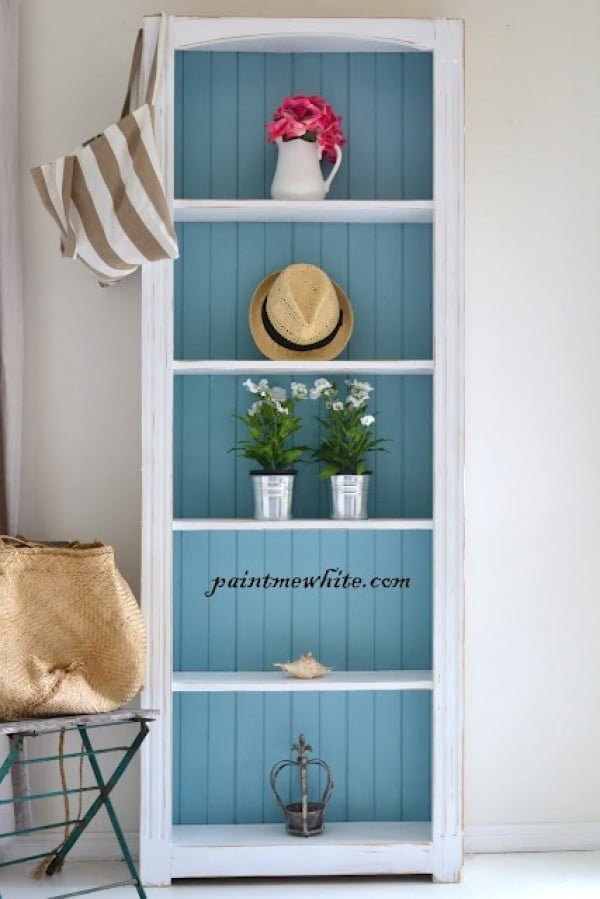 Replacing the cheap backboard with painted boards, such as a re-used pallet or reclaimed adds the visual weight and perceived value.

A wonderful transformation. It was painted black and legs were added, as well as the wallpaper applied to the backboard. The result is a vintage style bookshelf made from what was just a plain simple shelf.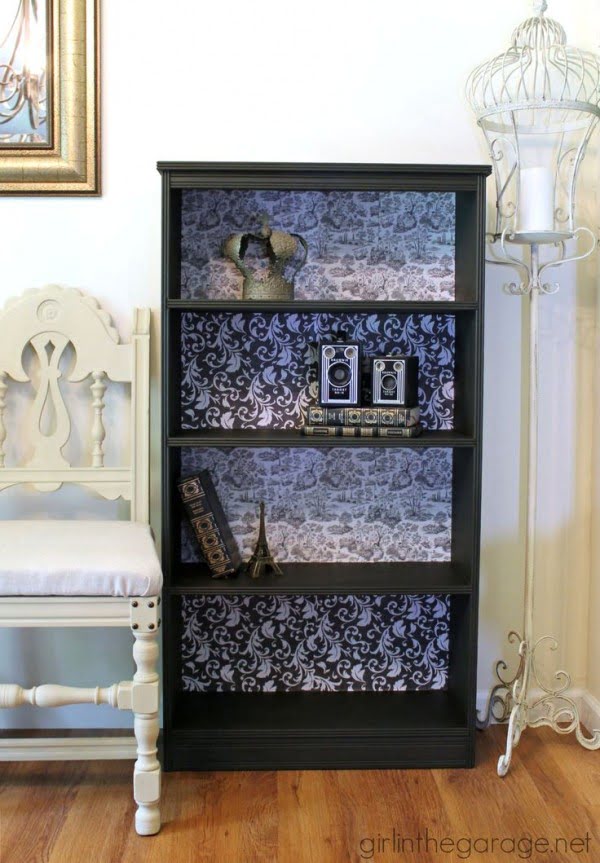 Another great example shows how you can use different pattern wallpapers to decorate the back.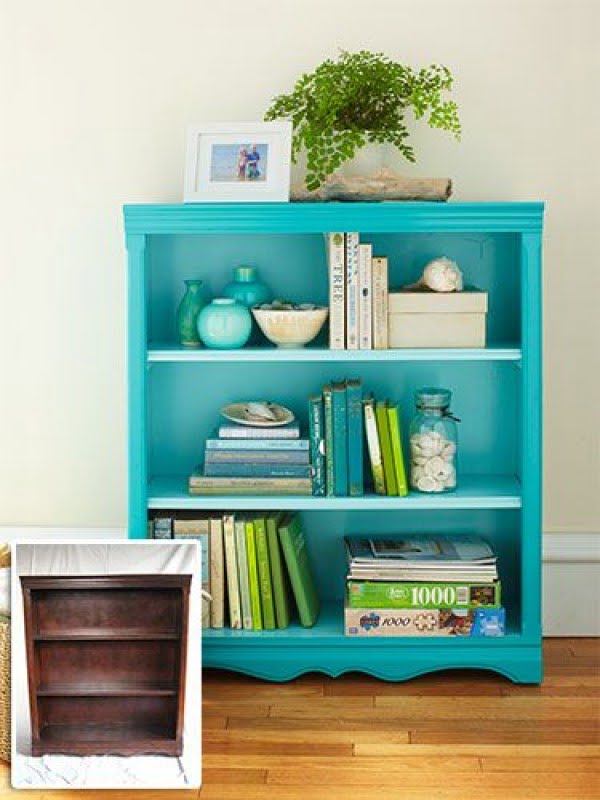 Vibrant colors make a great accent that pops.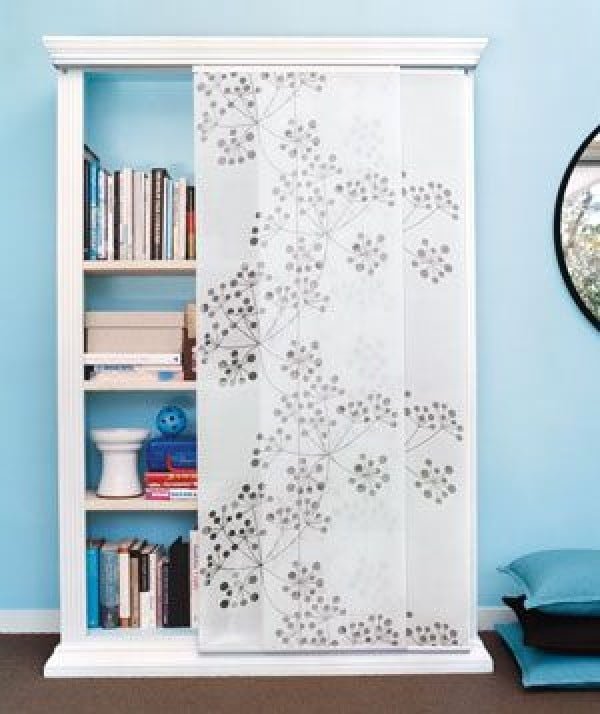 Adding panels to hide the contents.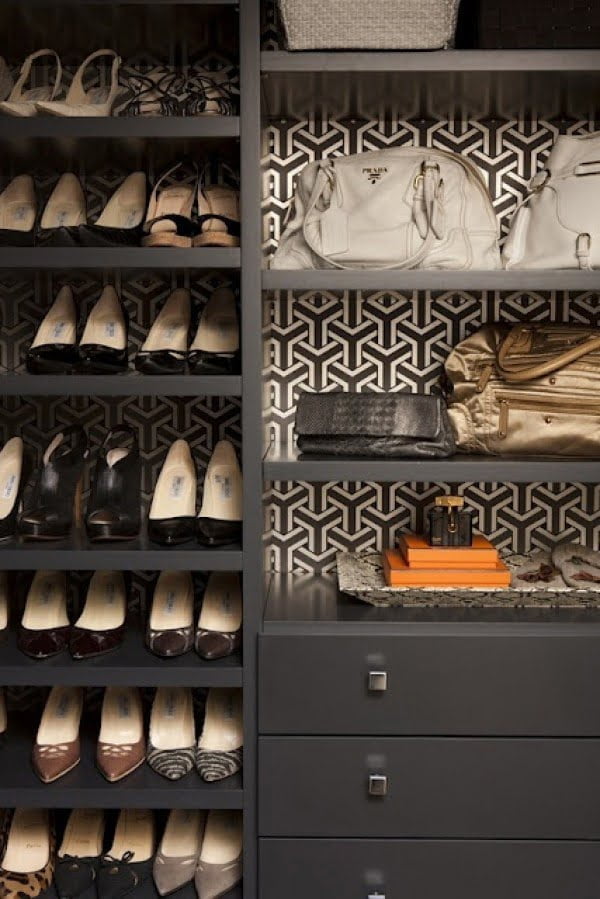 Another example of what simple wallpaper does to transform boring furniture.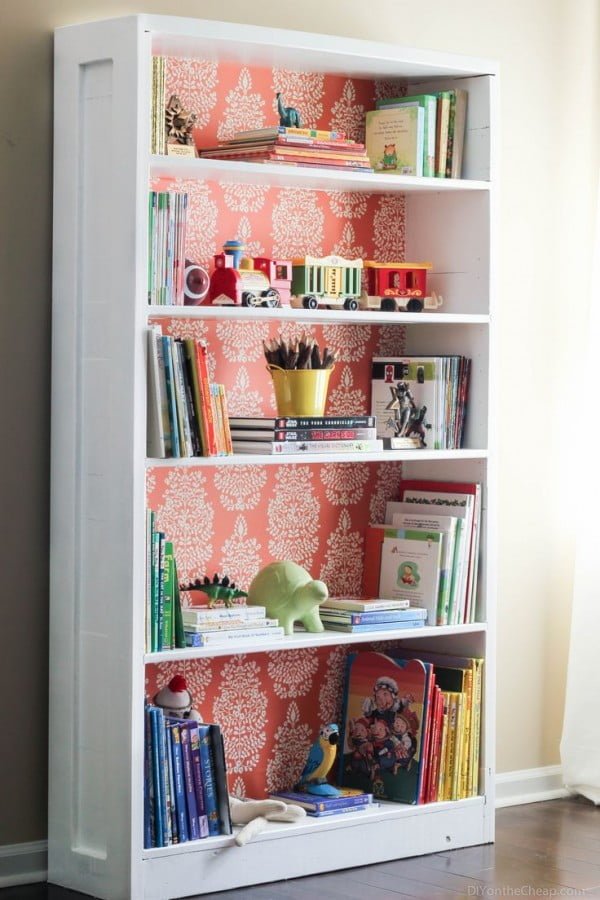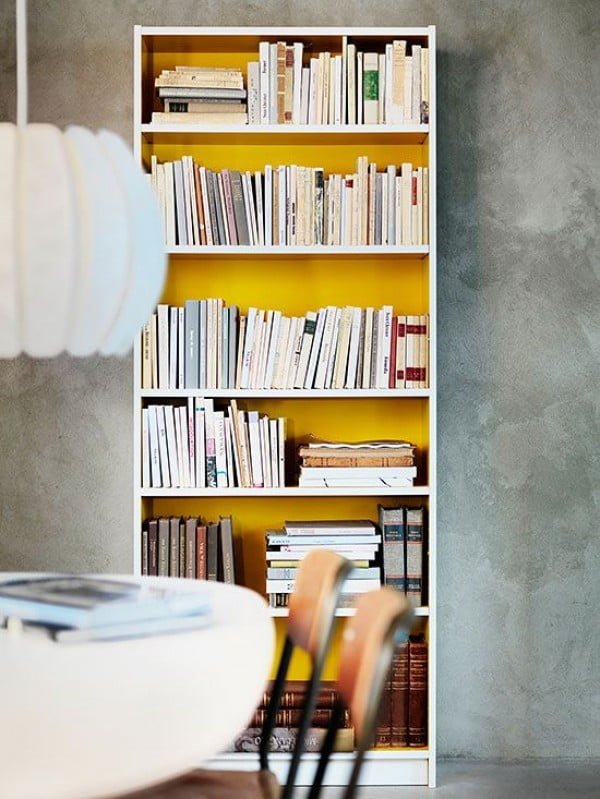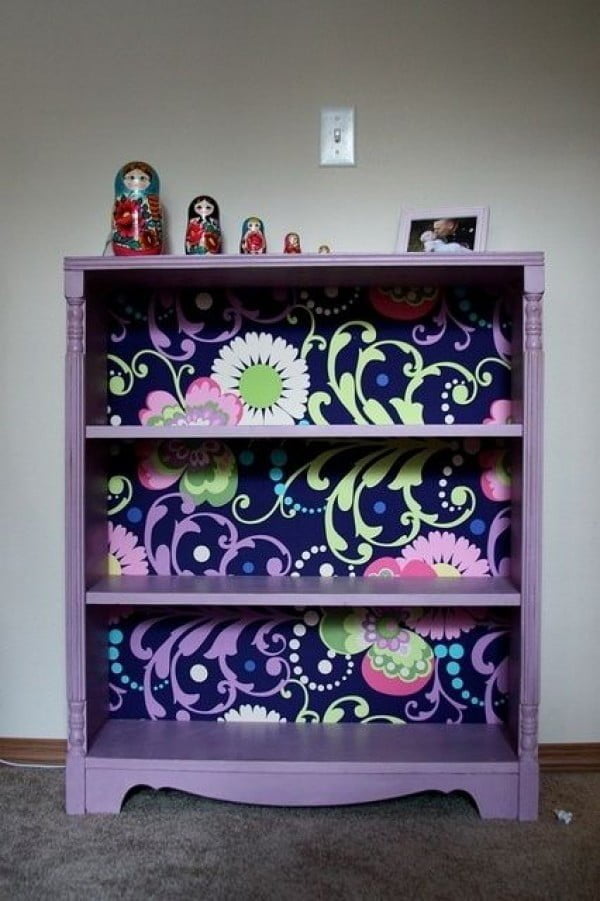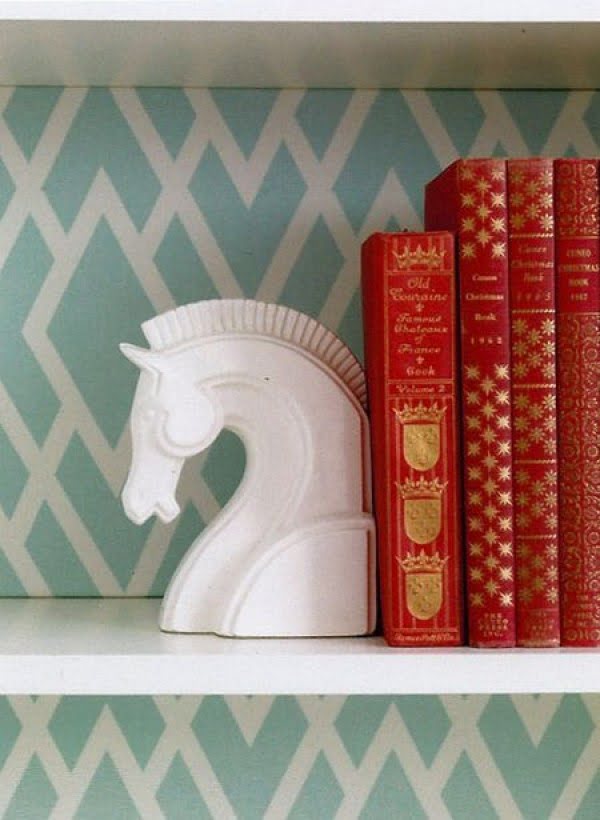 As an alternative to adding wallpaper, you can use foam board and fabric to add pattern to the backboard without a permanent makeover.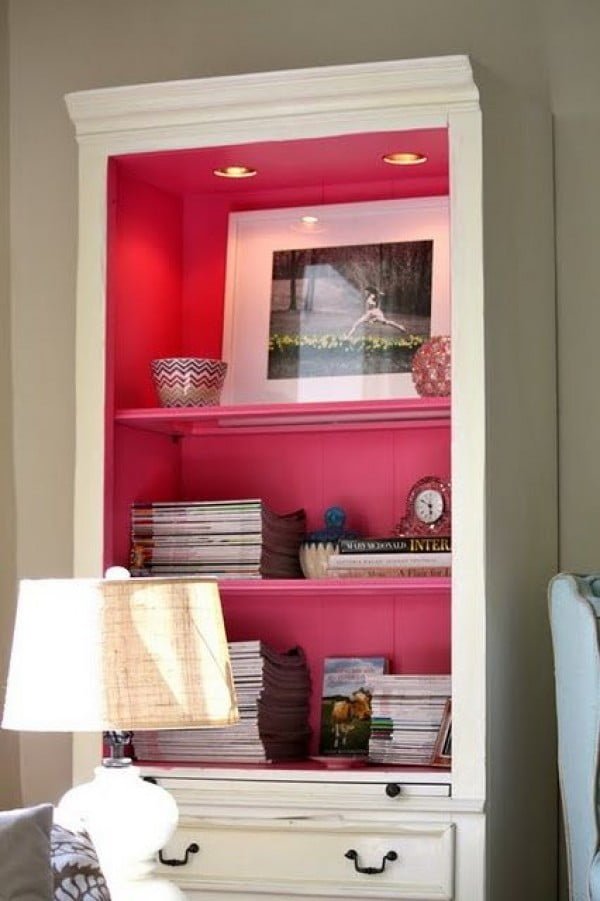 Adding light fixtures creates an attractive accent.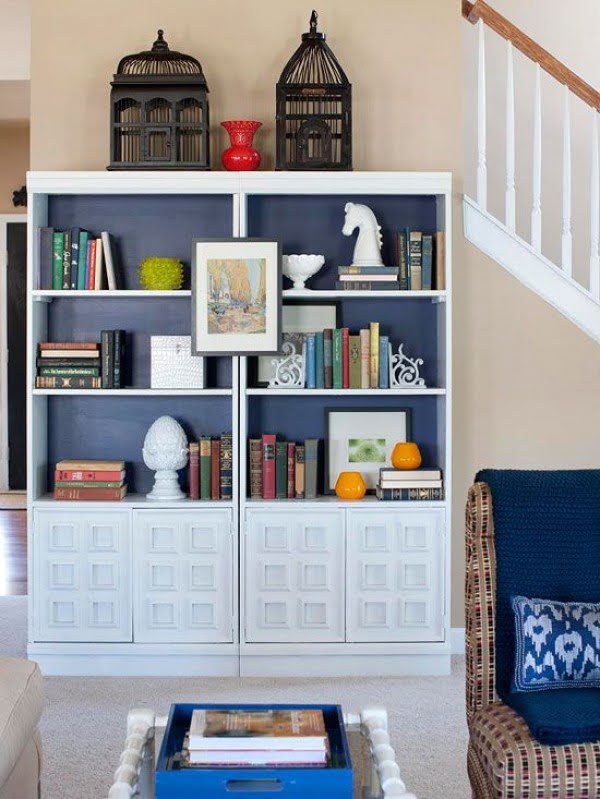 This is a beautiful vignette all around, from the colors to the use of a picture as the accent.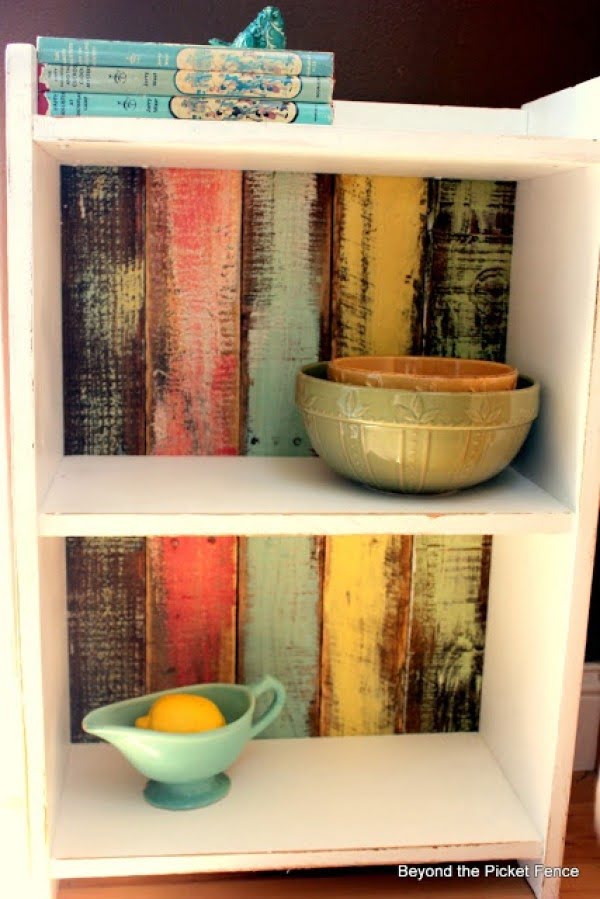 Change the cheap backboard of an old bookcase with painted pallet boards. This creates a beautiful rustic touch.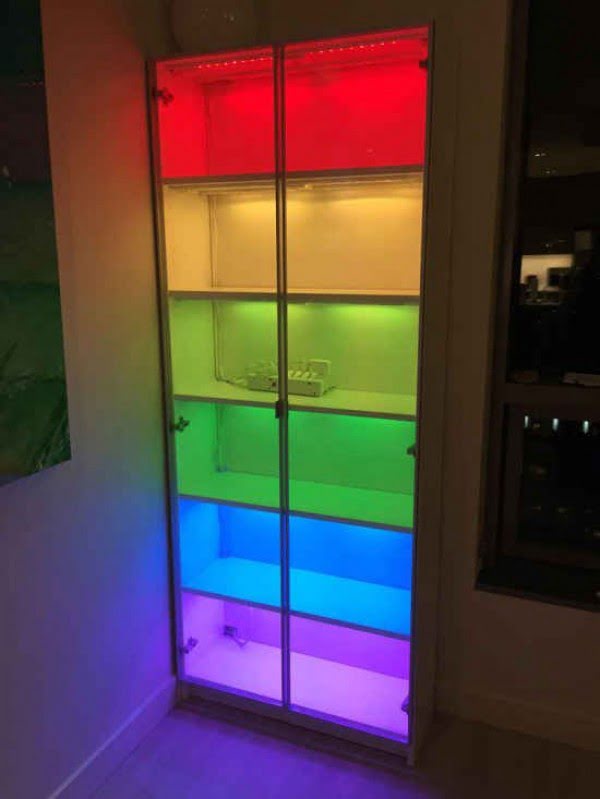 One of the most elaborate makeovers and an idea that you'd have to commit to, but individual shelf lighting in color does look appealing.