We have counted 20 types of desks. These reflect the current trends, including classic designs as well as modern styles. Read on!
A desk — everyone has one or at least wants one in their home. And everyone needs it. Especially in this day and age when working from home is so commonplace. A desk or an alternative is a must-have if you want to create a home office or a workspace.
Back in the day, a desk was this multi-purpose table where everyone in the family could do their stuff — whatever it was. Kids did their homework, mom made her handcrafts, and dad played catch up with his work.
So a desk is a type of table that a single person can use to sit and work. Meanwhile, in a general sense, a table is any surface supported by legs that can be used for many things accommodating multiple people at a time.
And still, for a piece of furniture with such a specific purpose, the humble desk has many types based on design, material, size, and other properties. We have counted 20 distinct types.
We have included shopping links where available and we may earn a commission. This convenience doesn't cost you anything extra.
Check Out the Top 10 Best Desks
Among all types of desks, some crafty people have found a way to cut the costs of buying one (you can spend $150 and above). A DIY desk is a project that uses common materials (such as wood) to build a piece of furniture.
Computer Desk
Check Out the Top 10 Best Computer Desks
The current home office environment is the most usable because of the modern computer desks. They have plenty of space for either a laptop or a computer tower and monitor, as well as a place to store computer accessories, cables, and other peripherals. It includes a keyboard tray and a substantial computing area for the CPU (often a dedicated shelf or a stand for it.) A DIY computer desk is also a popular project.
However, the widespread use of laptops potentially makes the computer desk redundant because of simplified accessibility requirements. You don't need as much space for a laptop, nor special compartments for the case or stands for the monitor. However, you may still wish to own a desk for your home office. It's a very popular type of desk so you can find deals as low as and less.
Corner Desk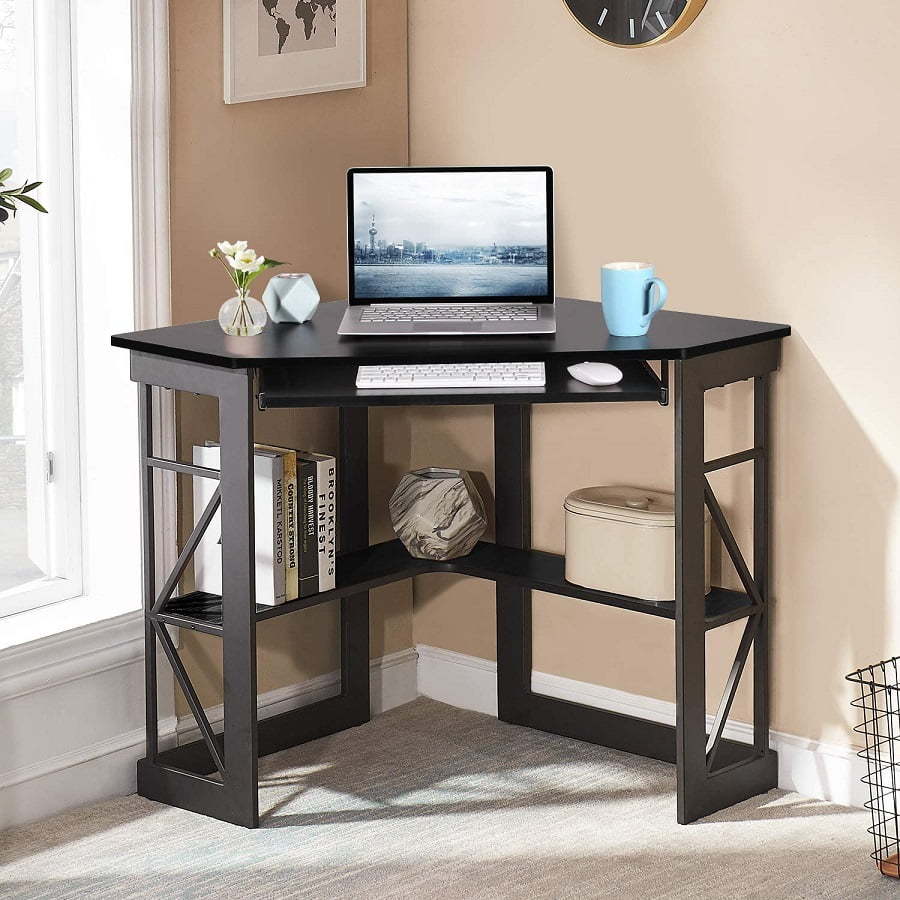 This is the design of desks most often employed in offices. It gives you plenty of space to work. They sometimes have a small chest of drawers placed on wheels for ease of storage.
L-shaped Desk
Check Out the Top 10 Best L-shaped Desks
You may put corner desks and writing desks together to be able to incorporate the benefits of both. This desk is perfect for the cubicle-like workspace.
These desks have various finishes, designs, models, and different features, allowing you to select one that is truly appropriate for your needs. The design gives your legs ample space, more freedom, and ease of movement for a better work environment.
U-shaped Desk
The U-shaped desktop provides more options while working at the desk. The design is essentially three desks put together. So you have a lot of room for an extra monitor, or co-working.
Adjustable Height Standing Desk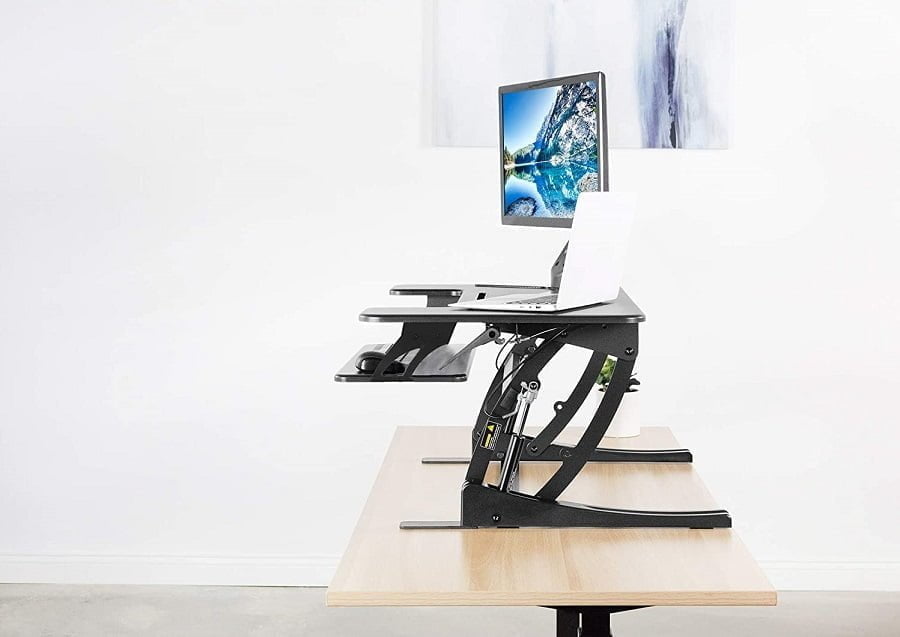 Check Out the Top 10 Best Standing Desk Converters
There have been controversies on whether it is safe to sit for long periods. The standing desk's newfound success is often attributed to the supposed health advantages of working while standing. It has also sprouted a number of alternatives.
It's a device for people to work instead of sitting in an uncomfortable chair. There are electrically height-adjustable tables and stand-up desks that are set at a fixed position. And even though you can buy a standing desk, a DIY standing desk is also an option.
Writing Desk
Perhaps the most basic type of desk is a writing desk. It's minimalist in design with the only purpose to provide desktop space. Writing desks are ideal for a modern office where a laptop is used instead of a PC. The simplicity has many decor benefits as well — you can make it work in any room.
Executive Desk
The executive desk is the CEO and king of the business world. It's not so much about the function than the showcase of status. These carved wood units with a large frame set them apart from the other types. An executive desk can take many design forms (such as L-shape, U-shape, and so on.)
Secretary Desk
The secretary desk is basically a multifunctional cabinet with doors and drawers with a surface for a desk (that can sometimes fold up). The whole ensemble is typically a tall and heavy piece of furniture. It saves a lot of space as it doubles as a storage unit. However, its biggest drawback is limited space for legs when sitting at the desk.
Credenza Desk
The Credenza desk (with a hutch) blends a desk and a bookcase of varied size. It's a living room furniture mainly favored for looks and usefulness. When you pair a desk with a bookcase, you reap the advantages of both pieces of furniture, so long as you have the room to keep them both.
Pedestal Desk
The pedestal desk comes with wide open shelves that serve as their legs. These desks are perfect for those looking to store a large quantity of paperwork or books. In reality, these desks are space-saving and very functional. And even though this design sounds complicated, it's rather easy to make a DIY file cabinet desk by placing a tabletop on two cabinets.
Armoire Desk
This is a desk built inside a cabinet. The cabinet is closed by full doors to keep the work surface away and usually is positioned against a wall. It's your workspace in a closet. The size varies from small cabinets to wall to ceiling closets.
Floating Desk
A floating desk is a great way to keep your floor in your home office open and clutter-free. A floating desk is mounted on the wall so that excessive space with bulky legs or other parts that overwhelm a room is not consumed. These are the ideal home office desks if you have a tiny office, a wide window with a view that you would like to see as you work or if you want the look of clean lines.
Dual-sided Desk
Do you need an extra-large work desk? Can you have conference-type work at home that allows you and your customer to use a wider desk? Dual-side office desks are handy since they give you plenty of desktop room and double chairs. However, if you do not have space for a big desk, these can render a small home office overcrowded and produce a tight and unattractive look and feel.
Wooden Desk
Wood is the most common type of desktop surface. Wooden desks can be made of wood entirely or have a metal frame.
Rustic Desk
A rustic desk (often a farmhouse home office desk) is a trendy design for a table. It's typically a wooden desk in a natural finish, simple frame lines, and may have a weathered look.
Metal Desk
The pinnacle in functional design is a metal desktop. It's another modern material combined with a modern design desk, like glass, which avoids color shades and stays cool to the touch. You can combine metal desktops with traditional wood-built desks for a high contrast look.
Rolltop Desk
A roll-top desk is one in which a hood rolls over the desk to protect all work material. Although it is not the most functional desk, it can be a pretty piece of furniture in an office, living room, or bedroom.
Glass Desk
Glass surfaces give every desk a courageously modern touch. The glass, combined with wood or metal, extends the visual space, lightens the whole piece of furniture. You can find glass desktops in different shapes and configurations, often removable for washing, repair, or moving purposes.
Vanity Desk
The vanity desk is a table with a mirror. Typically it has some storage space, such as drawers. The tabletop is usually not spacious, so it's mostly used as a makeup vanity alternative (thus, it's also known as the makeup vanity.)
Desk Accessories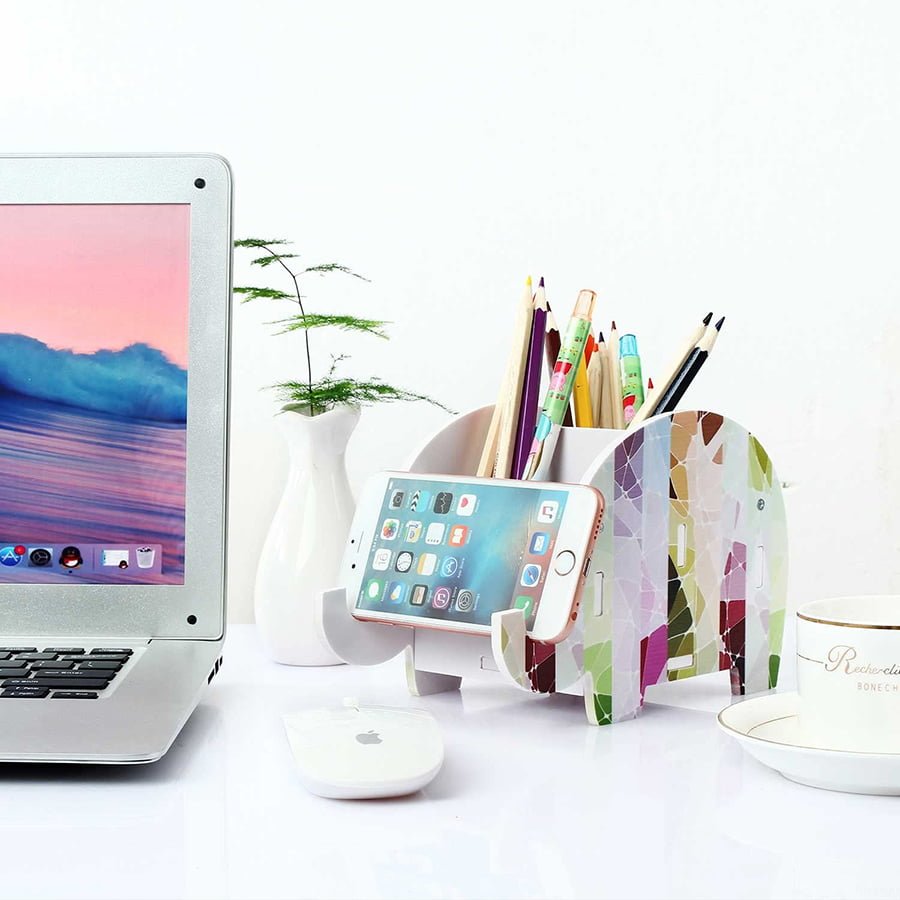 Check Out the Top 10 Best Desk Accessories
You can have a lot of accessories that make your desk more functional and create a better work environment overall. We're going to list several popular ideas next.
Desk Lamp
Check Out the Top 10 Best Desk Lamps
Working late into the night requires proper lighting. A desk lamp is then an irreplaceable accessory to have on your desk. You can find several specialty lamp options that provide comfort and improve your productiveness.
Desk Fan
Check Out the Top 10 Best Desk Fans
During the hot seasons, you may find a desk fan irreplaceable. This small gadget can usually be hooked to your computer's USB port and you can take it with you on the go or keep it on your desktop.
What is the Difference Between Desk and Table?
A desk is a table that you will find in an office (or a home office.) Therefore, what defines a desk the most is its use for work or study. Typically it contains drawers or shelves for storing work-related material (though that's not always the case.)
Desks are usually supported by legs, although some desks are mounted on one side to a wall. The desktop height is limited to the range that a sitting (or often standing) person can use comfortably. In addition to their work relationship, desks are generally used by only one person who owns them, such as the desk of mom, the teacher's desk, etc.
A table is a more general piece of furniture. Anything that has a surface and legs can be called a table. Its surface is used for different purposes, including eating, socializing, playing sports, dining, and providing a work surface for cooking in the kitchen.
Tables usually are supported by legs, but pedestals also support tables. Wide conference tables, small end tables, and low coffee tables vary in size and height. Tables do not usually have integrated storage, except for coffee or tables with shelves, drawers, or cabinets. Many people may use tables, and they are not generally associated with a specific person.
FAQ
Liked this article? Here's what you can read next: