Last updated on February 4, 2022
Looking for the best coffee table? Choose from the top 23 best-rated coffee tables of 2022.
Curious about our #1 pick? It wasn't easy, but here it is — the modern farmhouse coffee table by Walker Edison.
Choosing the best coffee table may pose a challenge with all the different options available out there for all types of tables. It depends on your budget, the decor style you're going after, and many other criteria. Our goal is always to make it as easy for you to choose as possible.
The below list of the best coffee tables of several different types will help you make the right choice in no time. We've pre-selected products that truly stand out from the rest and made the top list from them. A lot of thought has been put into choosing the best products, and testing has been done where available. We've sieved to give you the rundown through several popular stores (availability is a big factor).
Note that our shopping links earn us a commission at no expense to you.
What's Inside?
Modern Farmhouse Coffee Table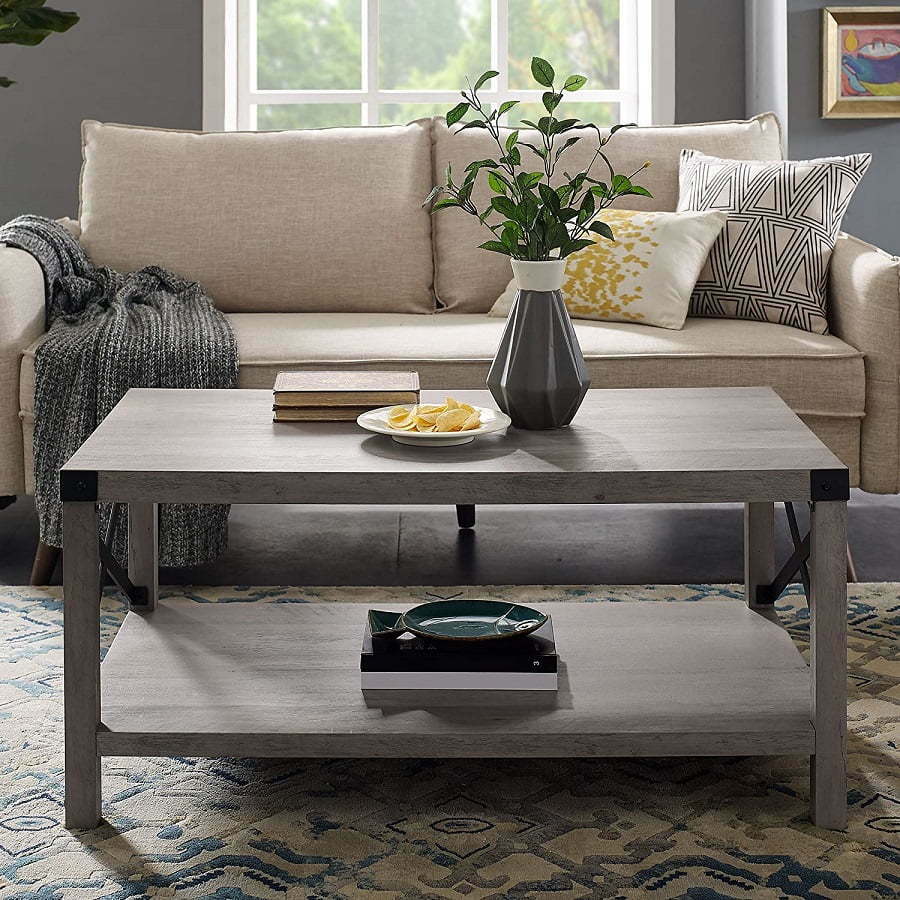 This is our editor's choice for the #1 pick.
There are a few reasons why we have chosen this modern farmhouse coffee table by Walker Edison as our top pick. First of all, the farmhouse style's simplicity and attractive design make it a piece of furniture that fits everyone. Secondly, this product comes with the choice of 5 finishes, and it has accompanying styles of the table (as a TV console, entry table, and side table.) That means you can mix and match your furniture if you want.
The table is made of real wood, making it a sturdy and roomy coffee table option for your living room. Now you need to find an area rug to match it.
Clear Glass Round Coffee Table in Pewter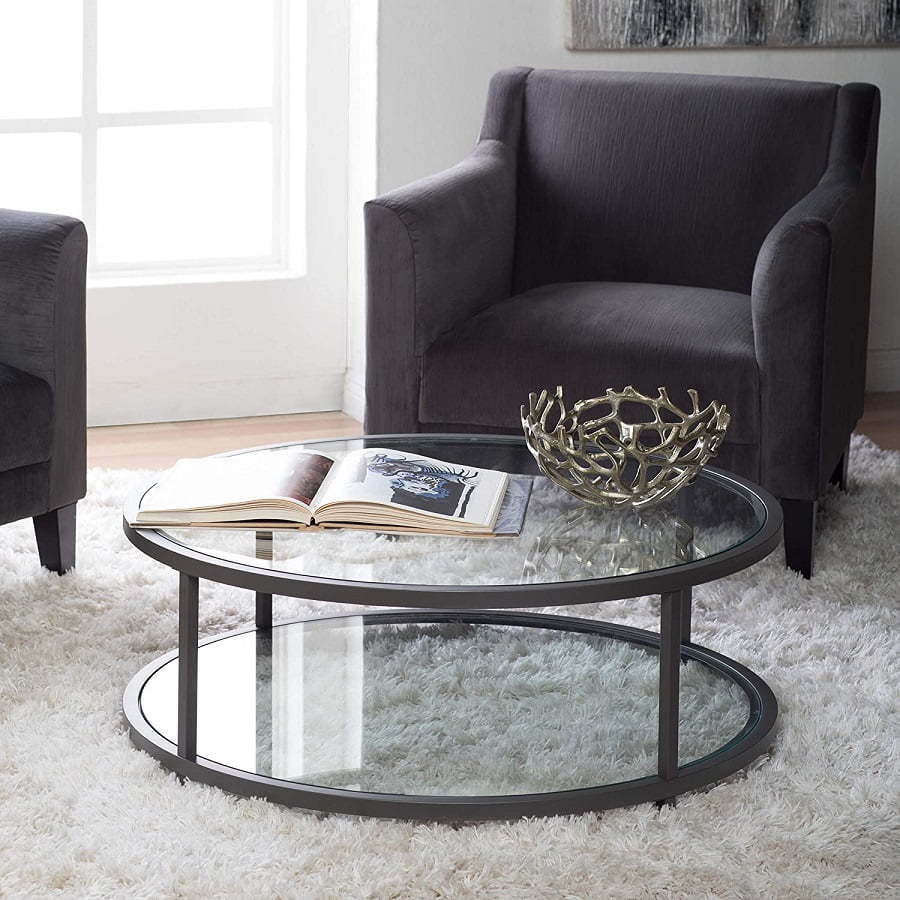 Clear-glass round coffee tables are never out of style. This table features clean, simple, unobstructed lines. This is a classic take on the reliable round glass table and works quite well in any modern setting. The round glass top and bottom are framed by a sturdy powder-coated steel frame for extra durability.
What to Love:
This table features glass sleeves that are tempered for safety. This user-friendly item allows for easy cleaning and maintenance. The clean lines also allow you to go easy on the matching furniture or go wild with accent seating.
Round Metal Base Coffee Table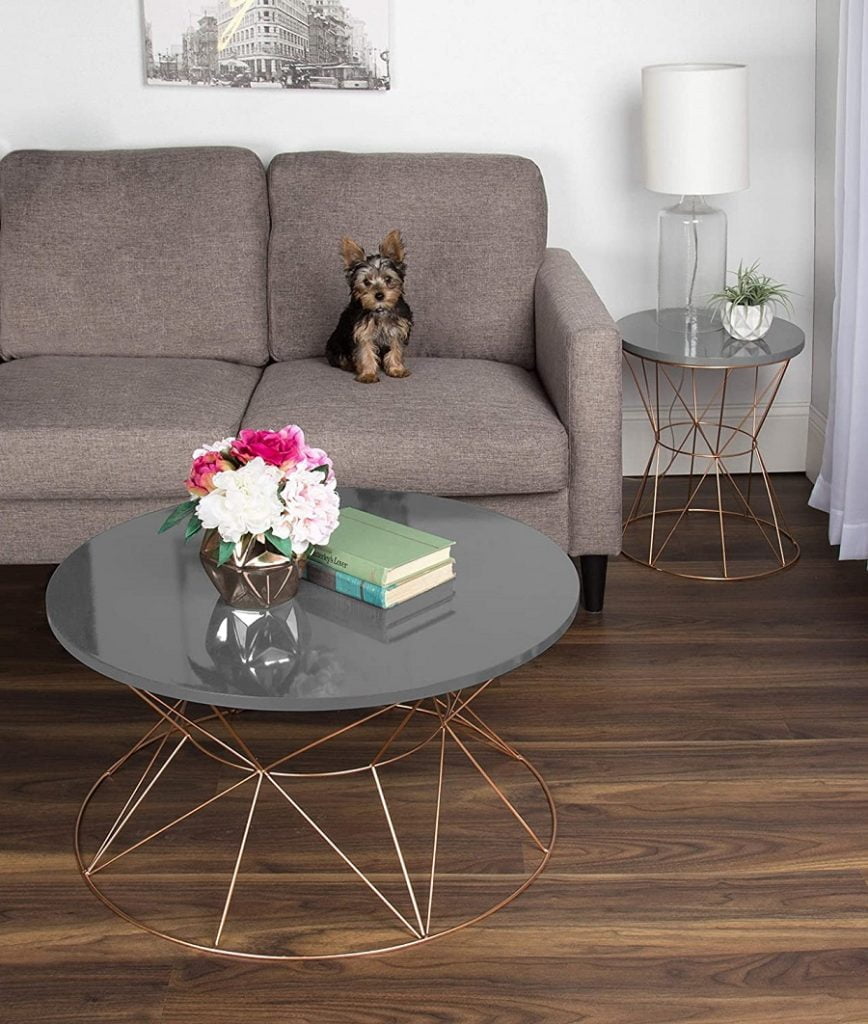 This next selection is from Kate and Laurel Mendel. If you want an accent piece, this is a perfect choice. A rose gold cage base supports the lovely glossy round top. At 30 inches in diameter, it is the right size for a small or medium-sized living room.
What to Love:
The lovely glossy blue top and simple lines make this round coffee table an excellent choice for a modern home. The color is sure to stand out without being distracting, adding a calming and classy effect to any room.
Emerson Rectangular Mod Swivel Modern Coffee Table with Glass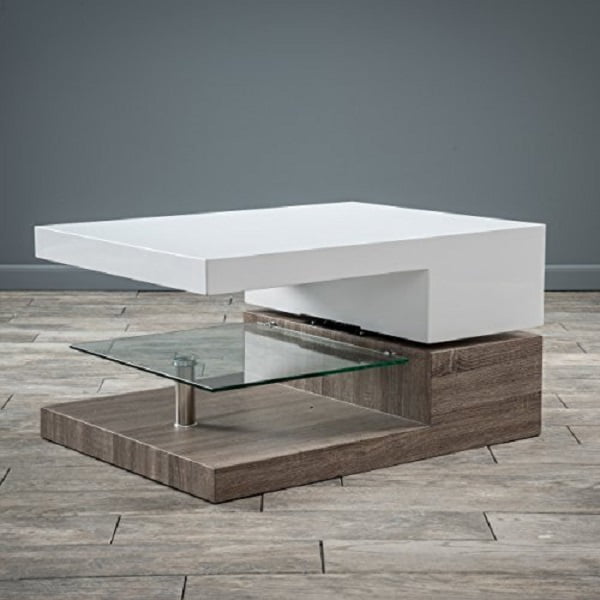 We love that the Emerson Rectangular Swivel coffee table adds a touch of style and class to any room. Some may worry that the table spins too easily, but it doesn't spin independently. We also love that it's packaged securely and doesn't have a lot of pieces to install, making it an easy build for even the most amateur DIY lover. It's not exceptionally large, suitable for small apartments, and not taking up a ton of space. With high-quality craft and sturdiness, this modern coffee table is superb.
Rotating Wood Modern Coffee Table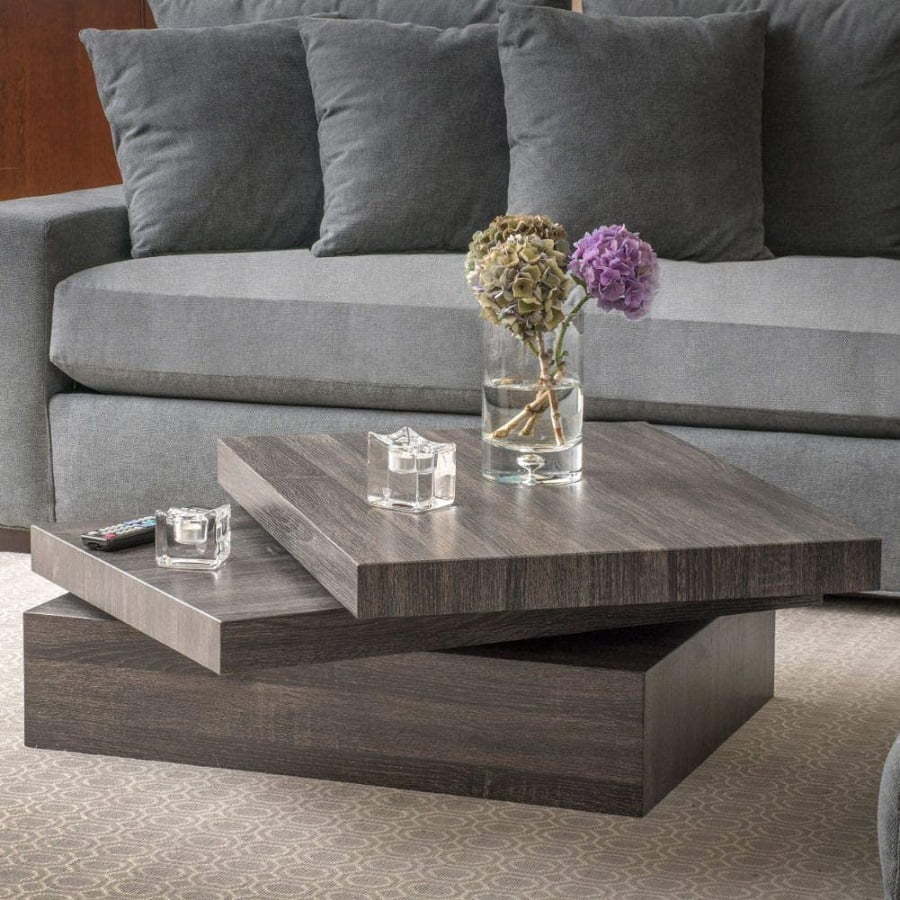 If you're looking for a modern-contemporary design with a late-60's style vibe, you'll love the Great Deal Furniture Haring Square Rotating Wood Coffee Table. It's a beautiful design that's appealing to multiple decor options. Plus, the rotation is smooth. If you want something practical and beautiful, this is the one. While it does sit lower to the ground, you can use it for dining and working on various hobbies or projects. One of the best advantages of this table is that it comes fully installed, so if you aren't handy with assembling, you can enjoy this table!
Charlize Glass Modern Coffee Table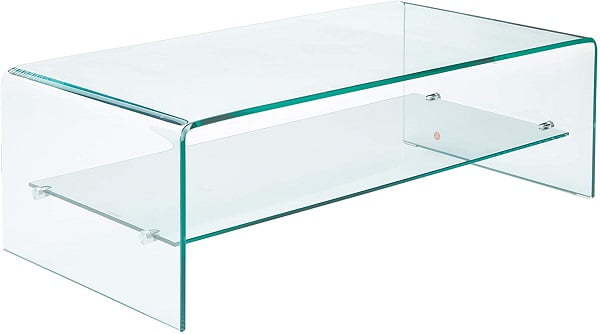 Homeowners who crave a modern coffee table can't go wrong with the Charlize Glass Coffee Table. It's a beautiful piece that comes with easy-to-read instructions. However, many people find that most components are already assembled, meaning you have to slip in the glass panels and apply the felt pads. It is quite heavy at about 75 pounds, so you may require two people to move it to the appropriate location.
SILVER Modern Coffee Table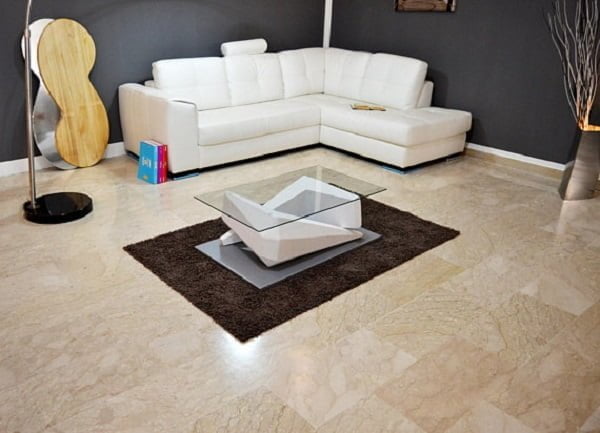 Modern styles usually require strong shaping and symmetry, and you'll find both with the SILVER modern coffee table. The uniqueness of the base allows you to use it as a conversation starter. Guests will be amazed at how beautiful it looks. Even if you have very little in your living room (or no space to have anything else), it can create a focal point and looks like a work of art. This handmade product also comes with magazine racks and a glass top.
Sauder Oak Lift Top Coffee Table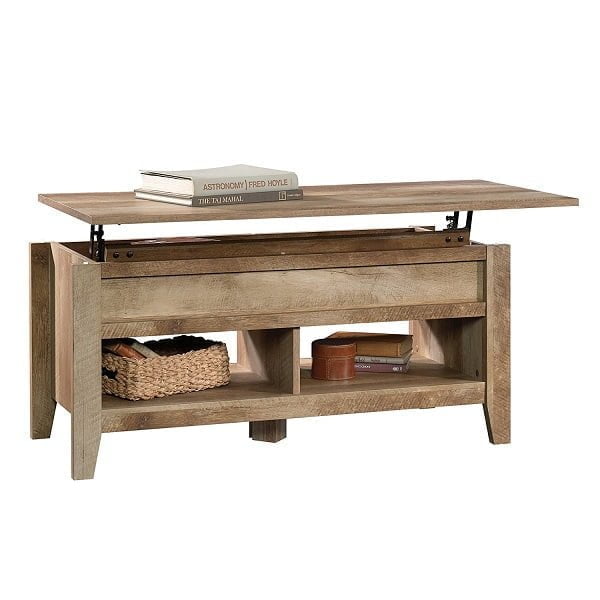 You don't expect much from a regular coffee table when it comes to function, but then there are the best lift-top coffee tables. You get a make-shift desk or a small dining table by the flip of a switch. And that's a lot.
It's always a source of satisfaction to discover that your newest piece of furniture doesn't have aesthetic appeal but is highly utilitarian too. Yes, I'm talking about the new and improved lift-up tables that have taken the world by storm, and the Sauder Oak Coffee Table is one such innovation.
Whilst it's lacking in quality — it's not really made from original oak but compressed cardboard- it's fitting to say that the artisans compromised that for a reasonable price that's within reach of many. Assembly is quite the task, though, but that's a small price to pay for a table that doubles as a lift-up table during meal times. It also has tonnes of storage space as well underneath the base.
Mainstays Lift Top Coffee Table Sonoma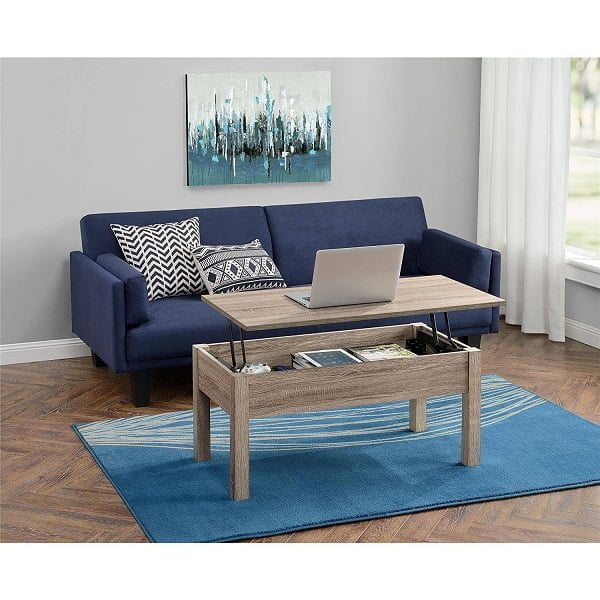 Affordability was never in question when buying a lounge table 5-10 years ago, but things have since changed. However, you still get the occasional furniture manufacturer -like Mainstay- who can still make stylish furniture affordable. This pleasant coffee table has a fully extended top that is both a snug computer workstation and ideal for dining. As if that wasn't enough, releasing open the tabletop reveals inside storage for tablets, magazines, phones, and books. Small in size and lightweight — as it is constructed from composite wood — can be used anywhere in the home. It is also easy to assemble as the legs are all you need to attach to the tabletop.
Ashley Furniture Signature Design Alymere Lift Top Coffee Table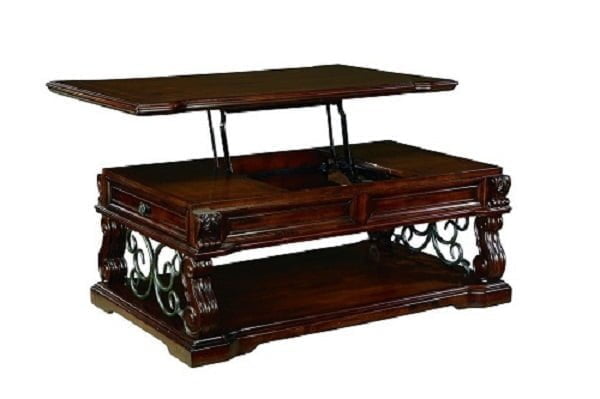 Majestic, noble, grand, regal, there's simply no limit to the high praises fitting this piece from Ashley Furniture. This is undoubtedly one of the sturdiest lift-top tables you'll ever find, brilliantly handcrafted and made of wood, veneers, and cast resin. With two built-in drawers and a fixed shelf, this is all you could ask for and more. Ideal for cocktail parties, this table will leave any guests astounded by the level of effort put into this piece. However, the price puts a damper on things as $400 is beyond the financial reach of many. Plus, its assembly requires several industry tools you may not have lying around in the house.
Tangkula Glass Coffee Table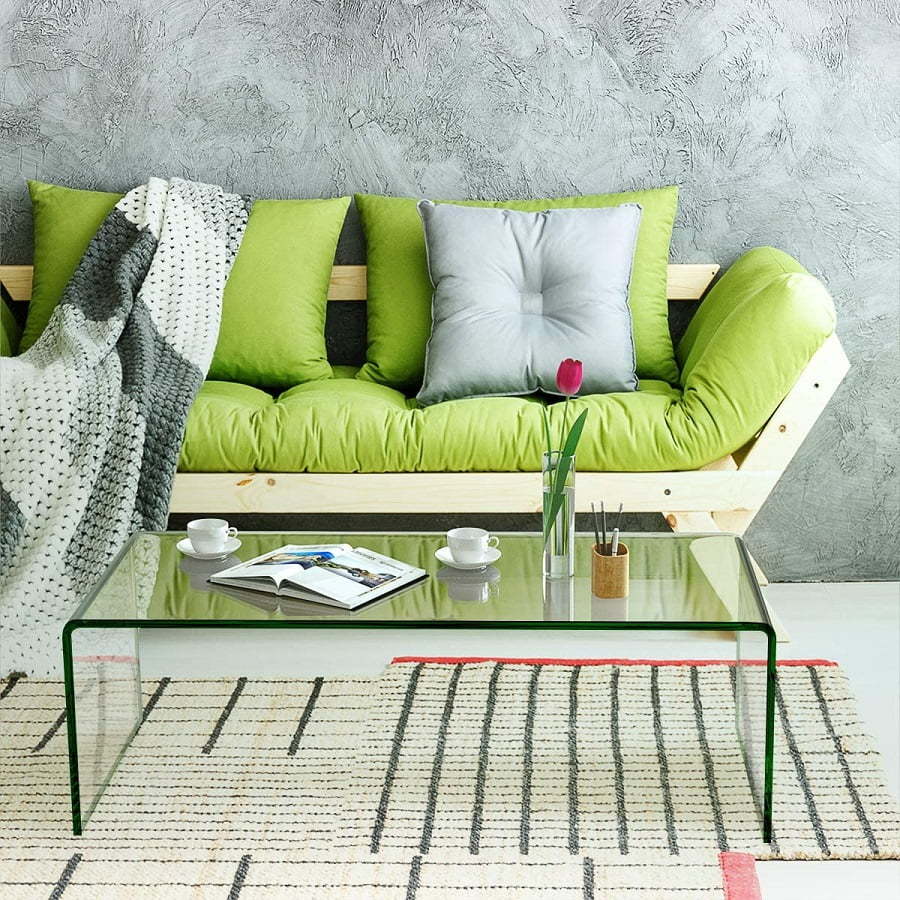 This table has earned a 4.4-star rating. The clear table is a favorite, suitable for any décor. The thick, heavyweight glass makes it virtually unbreakable.
Its strength makes it practical. It will easily hold books, dinner plates, and laptops. As the durable glass is easy to keep clean, it will always look fresh and nice. The one-piece design means no assembly is required.
The table is less than 14 inches tall. While it will easily fit into any room, some people may think it is too small. It depends on the customer's needs and preferences. 
Ameriwood Home Carver Square Coffee Table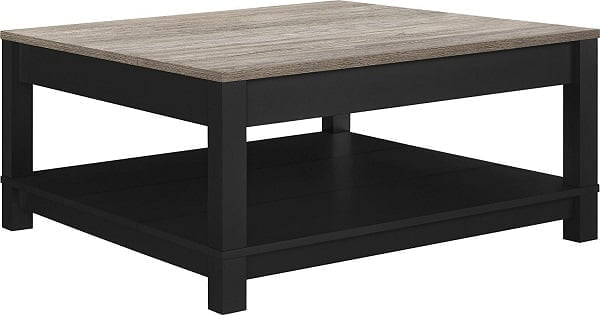 The Ameriwood Home Carver is a black, modern-looking square coffee table with a brown wood grain top. It comes with a storage shelf that can easily hold your magazines and books, ensuring the tabletop stays open and clutter-free. The table is heavy and requires some assembling. But all that effort and time you put in to assemble would be totally worth it once you see the table in its full glory. The table is extremely sturdy and doesn't wobble at all. It can also serve as your small pantry table since the two drawers can easily accommodate crackers, bread, and other kitchen items that can be squished in.
SAFAVIEH Concrete Square Coffee Table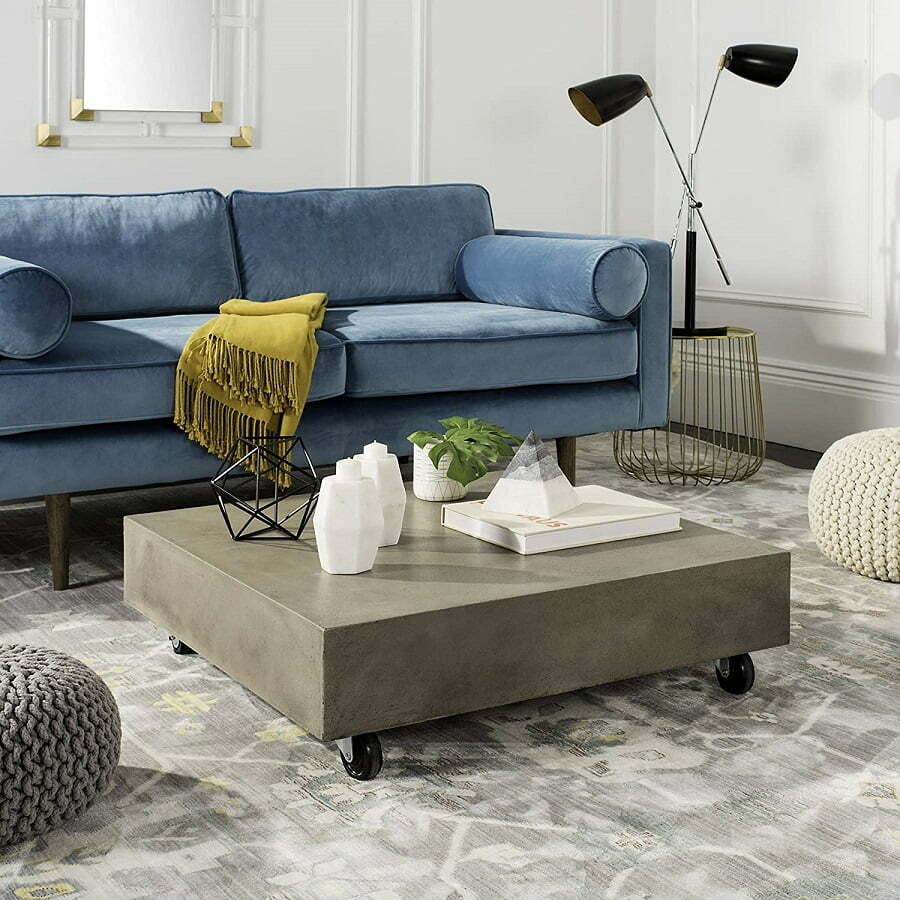 The SAFAVIEH Gargon is a chic-looking square coffee table with a concrete finish atop caster wheels. The aged metal look and weathered brown finish help the table adapt to outdoor and indoor environments. The table is strong, easy to clean, and looks far more expensive than it actually is. In other words, the table is a great marriage between elegance and sturdiness. The simple maintenance aspect can also be attributed to the fact that the table doesn't get dirty easily. In fact, if placed indoors, the table would look as good as new even after a year or two of normal use.
Modway Gridiron Coffee Table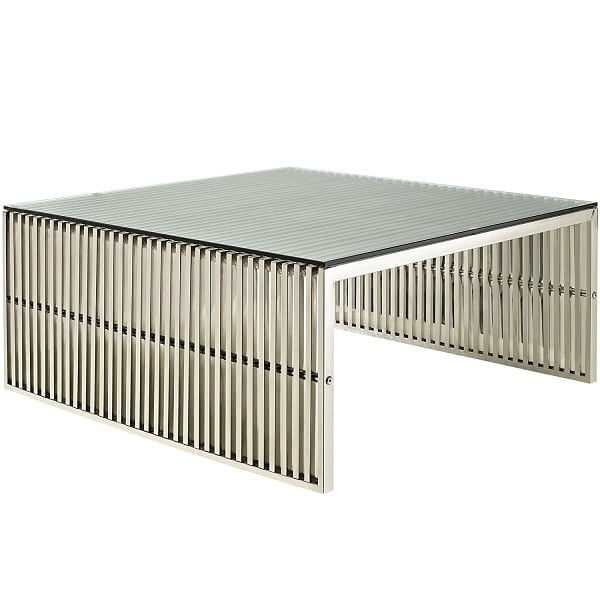 The bold accents of this Modway Gridiron coffee table make it fit seamlessly into both homes and offices. This effortlessly chic-looking table is quite functional, too, with the glass top serving as the ideal platform to display a cup of coffee. The sleek lines give the table a contemporary look, with the stainless steel tubular design offering much-needed durability. The unique blend of mid-century design and modern appeal renders the table capable of transforming any place.
Quartz Top Square Coffee Table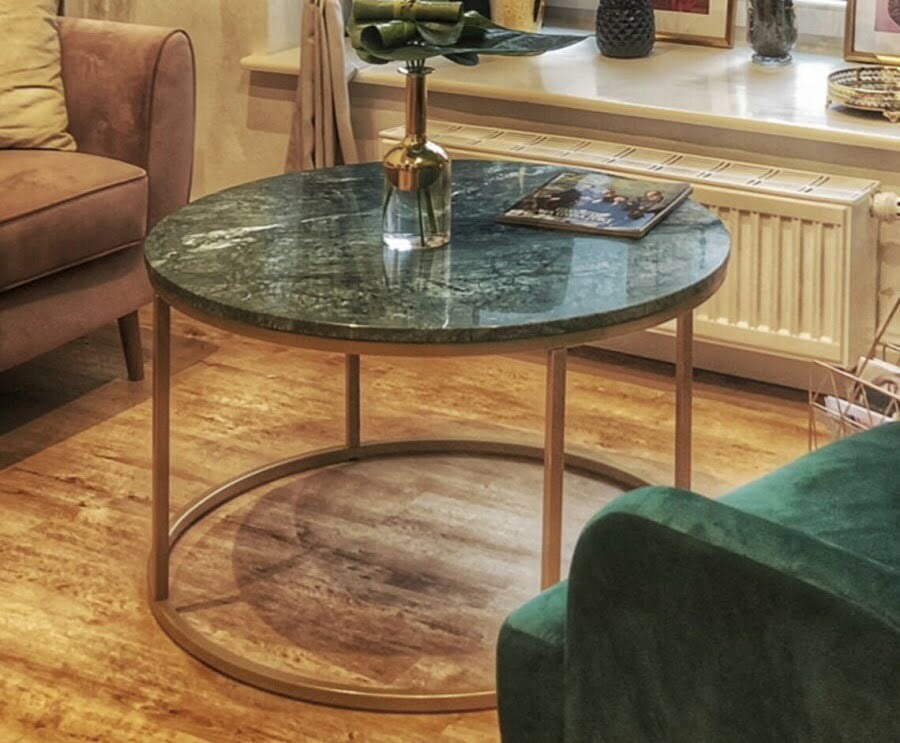 This hand-made coffee table is an ideal piece of furniture to have if you're looking for something modern and unique. The metal frame and quartz tabletop give the table a completely different look. The metal frame is powder-coated, which means it shall last long, and the color should also not give in easily. The bespoke design needs a special mention. It's a splendid display of craftsmanship that you would totally appreciate once you see the table in person. Needless to say, the table is a wonderful addition to any living room.
Rustic Barnwood Coffee Table
If you are looking for a unique coffee table, then the rustic Barnwood may be the right choice for you. It is 100% made in the USA and features a sturdy design. Because of the natural lumber that goes into the design, each table is unique. It comes fully assembled, meaning that you do not have to worry about spending time or energy trying to fix it up. This product may sometimes have various colors, including brown, black, orange, and gray depending on the natural wood used in the design.
Industrial Solid Wood and Steel Rustic Coffee Table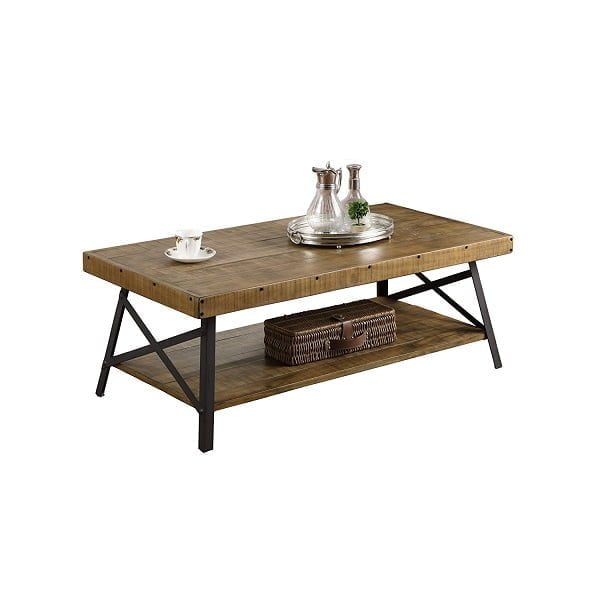 This product is considered one of the strongest because it combines quality hardwood and steel. As a result, the final product is a sturdy coffee table that can withstand rugged use. Distressed, solid wood makes up the upper part of the table, and the lower surface doubles up as a shelf for more room for keeping your stuff. Steel legs give the table a unique look while supporting it regardless of the items placed on top. 
Sonoma Natural Rustic Coffee Table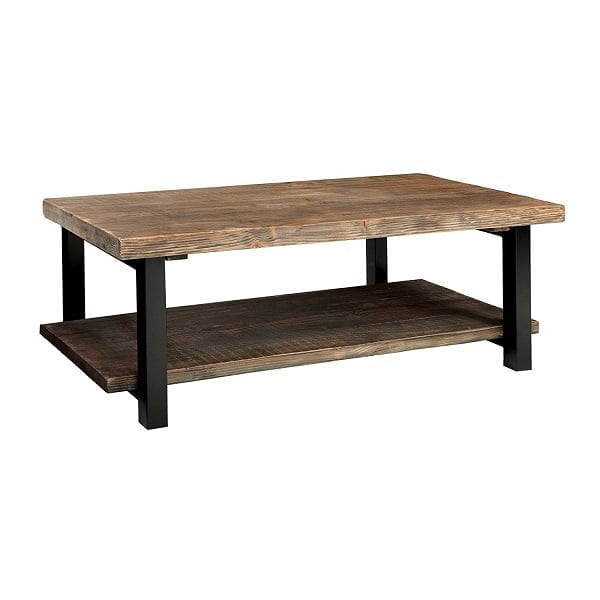 Solid wooden surfaces make this product stand out while in any room. Rustic, natural finish adds the welcoming feeling that any home should have, while metallic legs ensure the table remains strong for years. The table features a large shelf area making it possible for you to have more storage and quick access to magazines and remote controls. With this table in your room, you can rest assured of being among the few Eco-friendly people without compromising on elegance.
Better Homes and Gardens Modern Farmhouse Coffee Table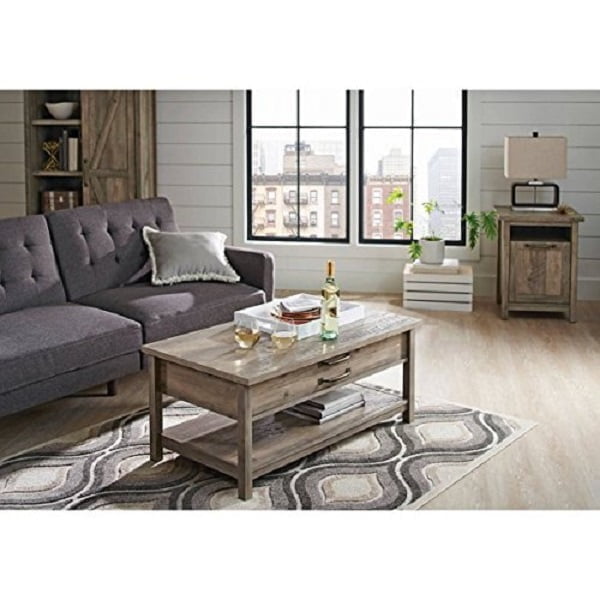 Its natural design makes it appealing to just about any room in your home. It features a lift-top making it possible for you to either pull it up or let it remain in place depending on the purpose you wish to use it for. Hidden storage areas just beneath the top allow you to keep more stuff, while an open shelf room allows you to easily keep things like newspapers or remote controls. The only downside to this table is that you have to assemble it yourself after ordering and receiving the package.
Wood Storage Coffee Table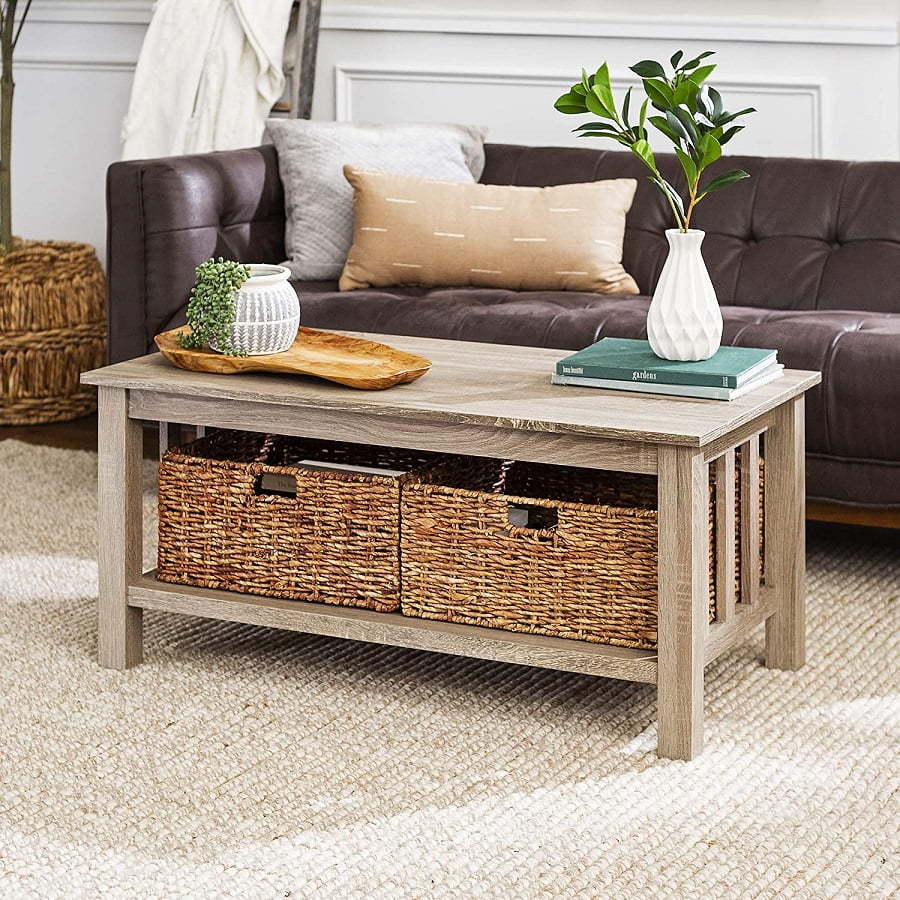 This elegantly-designed table can be used as an accent piece for a hallway, a centerpiece for a living area, or simply creating additional storage space in any room. It includes two wicker baskets that complement the table and conveniently store toys, books, or accessories. However, the baskets have some imperfections and need reinforcement to stay in place. You can give your home a trendy and tidy look with this coffee table. It is ideal for a small space. Otherwise, the piece is very sturdy and can be put together in a couple of hours. 
Round Side Marble Coffee Table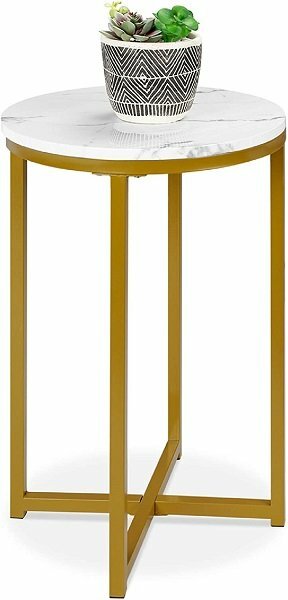 Marble is the material that brings some luxe to your decor. Best marble coffee tables work well in modern and classic interior design. And while choosing this type of table is a matter of taste, there are certainly great options in this category. 
This 16-inch round side table with its painted metal base is classy convenient. It will surely add an element of sophistication to any space around your home in which it is placed. It has a durable faux marble laminate top and can be used by itself as a staple piece in your own unique arrangement. Alternatively, it can be paired with the matching 36-inch round coffee table. The pieces are shipped ready to assemble, and step-by-step instructions are included in the package. 
Dorel Living Faux Marble Lift Top Storage Coffee Table in Black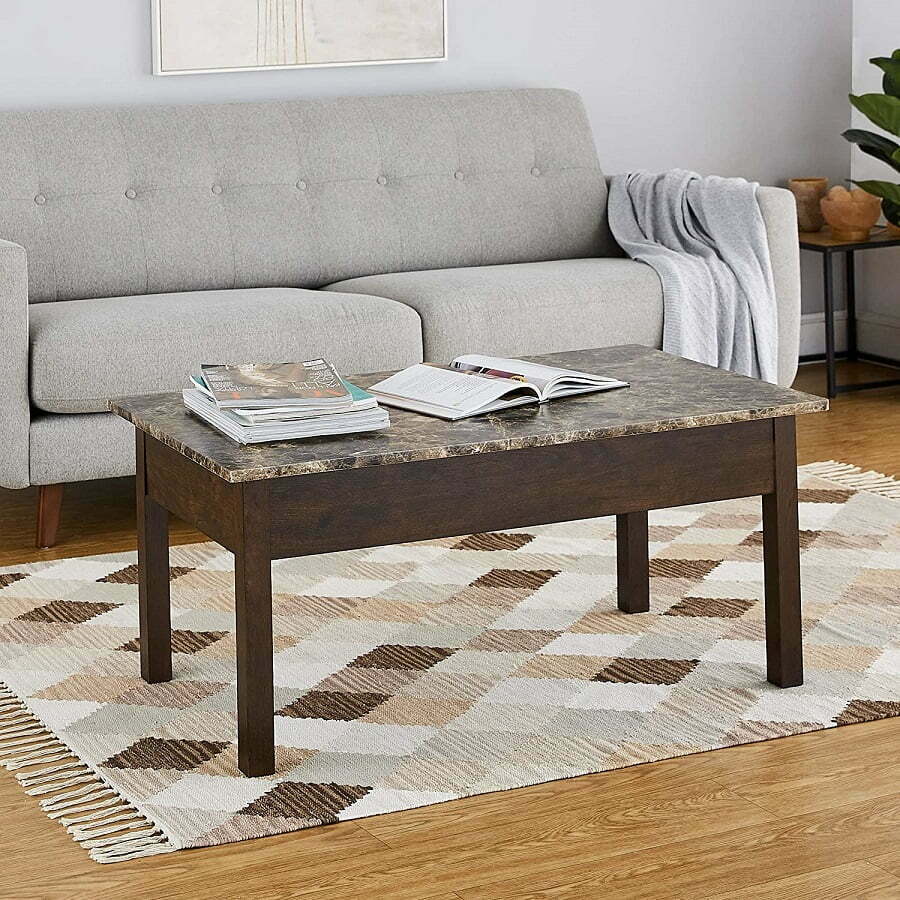 At first glance, the Rockpoint brown coffee table with a marble lift top may seem like just another coffee table. However, lifting the top will reveal an all-purpose table that doubles as a storage compartment for items that need to be put out of sight quickly. When guests are coming, books, magazines, and other items that live on coffee tables can be tucked away in the storage compartment. The faux marble top can double as a table for snacks or meals. Care should be taken when placing items like plates on the top when it is in the upright position because, in this position, the top can be a little unstable. 
Galveston Black Coffee Table by Ashley Furniture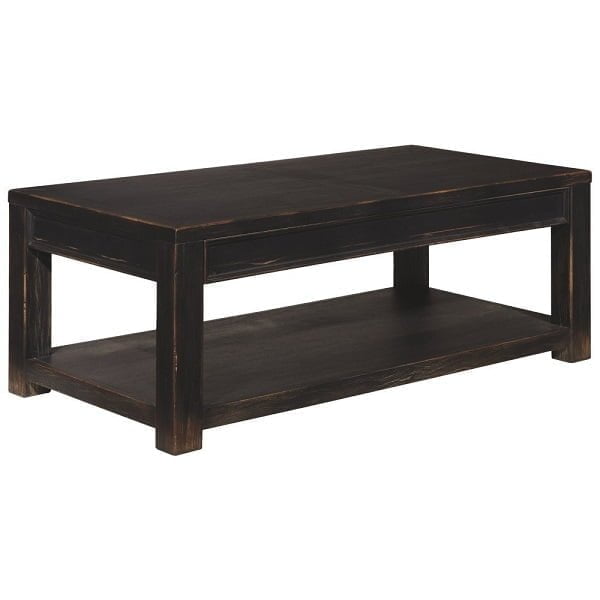 This table from Ashley Furniture is an Ashley signature design 18-inch high cocktail table. It has a classic distressed or weather-worn look with eclectic furnishings. The lower shelf is perfect for storing books and magazines while leaving the top free for other uses. This coffee table is crafted of wood veneers and manufactured wood and comes with tools for assembly.
Liked this article? Here's what you can read next:
---
Disclosure: As an Amazon Associate we earn from qualifying purchases.