Last updated on January 16, 2021
Looking for the best coffee table? Choosing one may pose a challenge with all the different options available out there for all types of coffee tables. It depends on your budget, the decor style you're going after, and many other criteria. Our goal is always to make it as easy for you to choose as possible.
The below lists of the best coffee tables of several different types will help you make the right choice in no time. We've pre-selected products that truly stand out from the rest and made top lists from them. A lot of thought has been put into choosing the best products and testing has been done where available. We've sieved through a number of popular stores (availability is a big factor) to give you the rundown.
So go ahead, choose the type of table you're looking for and find out what we have in store!
What's Inside?
Best Round Coffee Tables
Round coffee tables are very universal and especially work well in small spaces. They provide enough surface by occupying minimal space. And they look great on top of that. So here are our favorite picks for tables of this type.
Rogness Rustic Round Coffee Table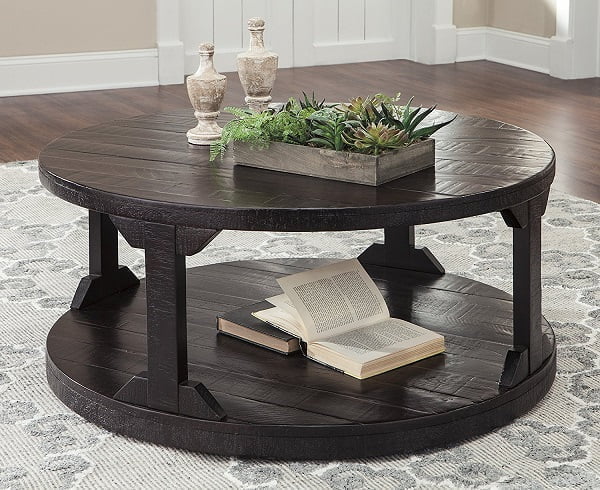 This round coffee table lives up to its name. It is rustic and lovely, with refined practicality that will be right at home in any modern or traditional living room. This table is made from solid and veneer pine and has a distressed finish to bring out its rugged good looks. A dark rum color is an excellent option for people looking for a round coffee table that can either match dark walls or complement light color schemes in the house. Available at Amazon.com (#ad).
What to Love:
The Rogness Rustic Coffee Table is easy to assemble and quite sturdy. It has a lower shelf that can be used to store magazines and books, or display figurines and plants. There are built-in casters that make this table a breeze to move.
Clear Glass Round Coffee Table in Pewter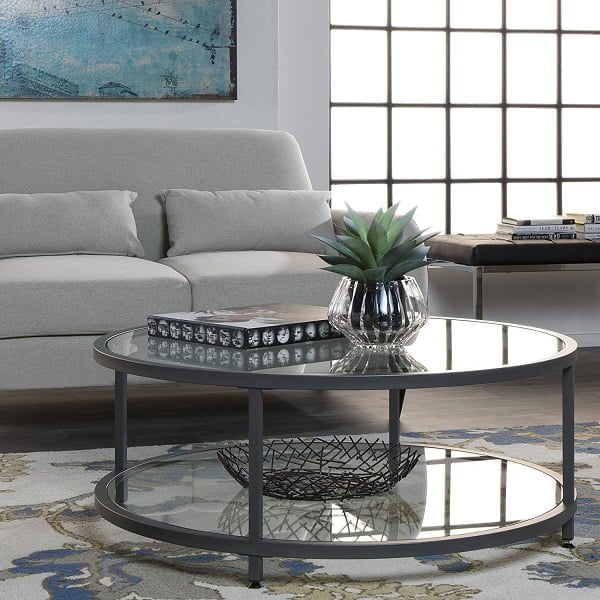 Clear glass round coffee tables are never out of style. This table features clean, simple, unobstructed lines. This is a classic take on the reliable round glass table and works quite well in any modern setting. The round glass top and bottom are framed by a sturdy powder-coated steel frame for extra durability. Available at Amazon.com (#ad).
What to Love:
This table features glass sleeves that are tempered for safety. This user-friendly item allows for easy cleaning and maintenance. The clean lines also allow you to either go easy on the matching furniture or go wild with accent seating.
Kraleene Lift Top Round Coffee Table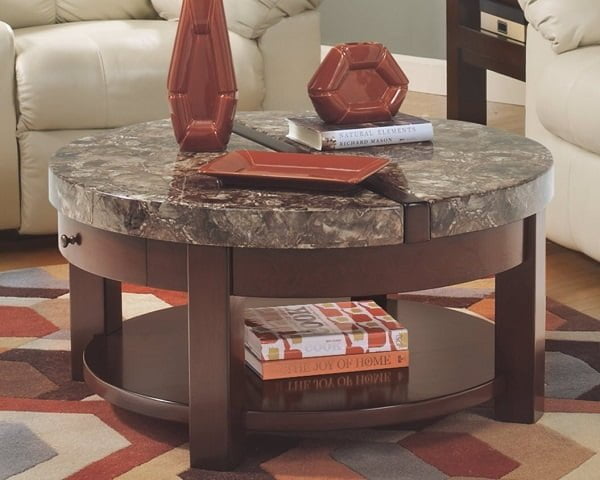 This table is what happens when you combine aesthetics with functionality. Squat and sturdy, it more than makes up for its spartan form with its dark brown faux marble top. This contemporary cocktail piece features a clean yet practical design. The table has a fixed shelf and a pull-out drawer to store essentials such as keys, magazines, remote controls, and assorted knick-knacks. Available at Amazon.com (#ad).
What to Love:
Beautifully hand-finished, this round coffee table has a lift-top design that can be raised at a convenient level for easy reach. Perfect for laid-back meals or snacks in the living room.
Round Metal Coffee Table with Blue Top and Rose Gold Base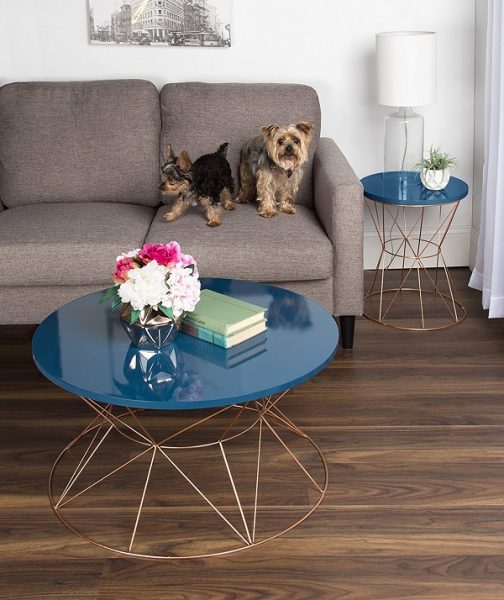 This next selection is from Kate and Laurel Mendel. If you want an accent piece, this is a perfect choice. The lovely blue wooden top is supported by a rose gold cage base. At 30 inches in diameter, it is the right size for a small or medium-sized living room. Available at Amazon.com (#ad).
What to Love:
The lovely glossy blue top and simple lines make this round coffee table an excellent choice for a modern home. The color is sure to stand out without being distracting, adding a calming and classy effect to any room.
Reclaimed Solid Wood Round Coffee Table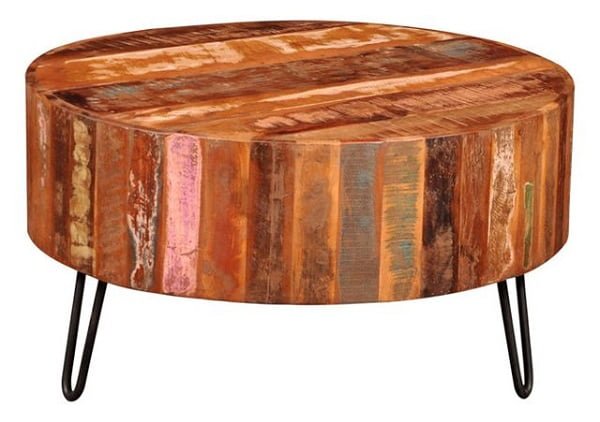 Simplicity is this table's claim to fame. It is sturdy, roomy, made from reclaimed wood. The top is partly painted, polished, and wax, keeping a slight sheen that also protects the surface. Cleaning this table is quick and easy. Available at Houzz.com.
What to Love:
This round coffee table has the perfect character that will be just right at home in an eclectic or country-style living room. Because the wood is reclaimed, each table features unique patterns, giving this piece plenty of character. The base is supported by durable metal feet.
Jupiter Walnut Round Coffee Table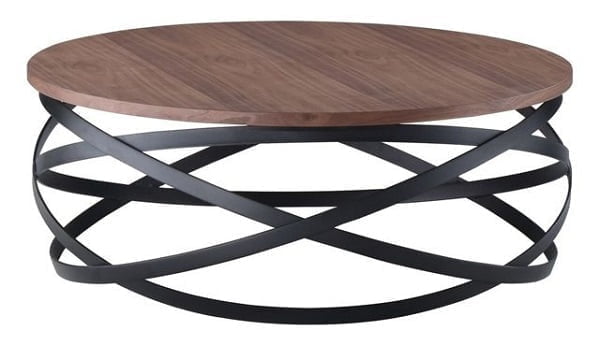 This coffee table combines the familiar comfortable design of a round wooden top and a black metal base. The base is made of several intersecting rings that create interest and movement. A very modern, simple design that will make a great addition to your living room. Available at Houzz.com.
What to Love:
The smooth walnut top is polished, providing a warm, comforting balance to the black metal base. The trendy design will make a great accent piece for the living room and provide a great surface for magazines, books, and plants.
Emerson Round Coffee Table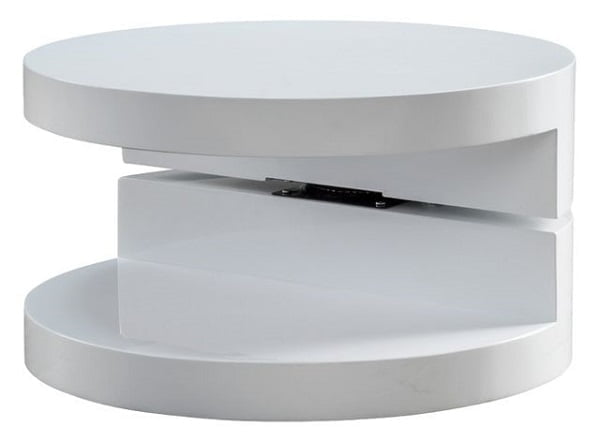 The look of this architectural beauty is a nod to the 60s design aesthetic. Spare and uncluttered, this clean white table has a sturdy, solid top and base. This is a table that doubles as modern sculpture and will make a great conversation piece. Available at Houzz.com.
What to Love:
The innovative, futuristic design features a rotating top that can be turned to the desired angle for easy reach and convenience. The table is made from engineered wood for durability and the top is finished with a high-gloss sheen.
Quinn Copper Ring Round Coffee Table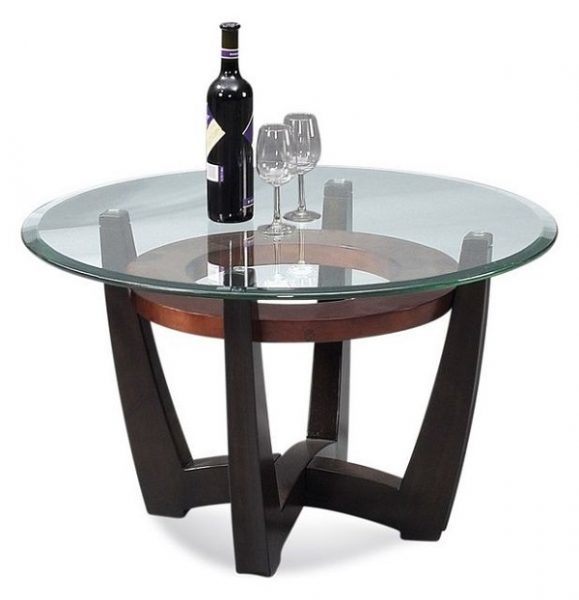 This chic, contemporary style will fit nicely in a modern living room. The clear glass top is held up by a copper base, with a second-level ring in a warm espresso finish. This beautiful round coffee table features a heavy glass top that provides a solid surface for flowers, gadgets, magazines, and items of interest. Available at Houzz.com.
What to Love:
This piece adds drama to your living space and the impact can be stunning. Sophisticated yet simple, perfect for casual social gatherings and special occasions. This table is easy to assemble and creates a sturdy piece.
Copper Pipe Wire Storage Round Coffee Table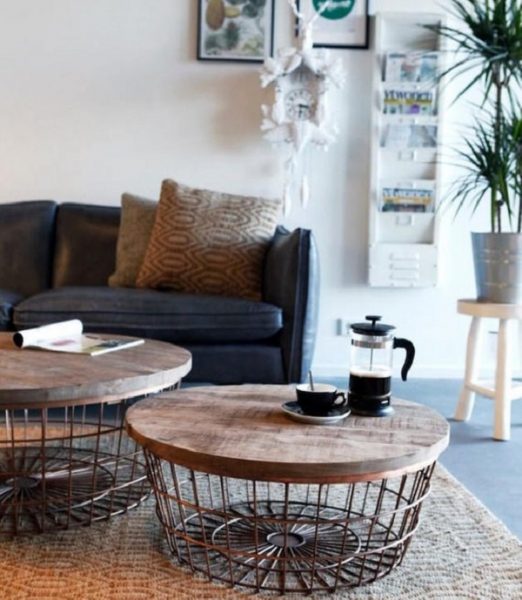 This is reminiscent of the in-demand industrial pieces that featured a mix of wood and metal. Simple, straightforward, and quite functional, this table has a mango wood top and a copper-colored steel wire base. The base tapers from the bottom to the top to provide support for the circular wooden surface. Available at Etsy.com (#ad).
What to Love:
The caged wire base is handmade using the iron that has been copper-plated to create that pragmatic look. This table is perfect for both indoor and outdoor living spaces. The top lifts off, allowing for storage in the base. The retro-industrial look is easy to pull off and will add beauty next to a leather or fabric sofa.
Custom Guanacaste Round Coffee Table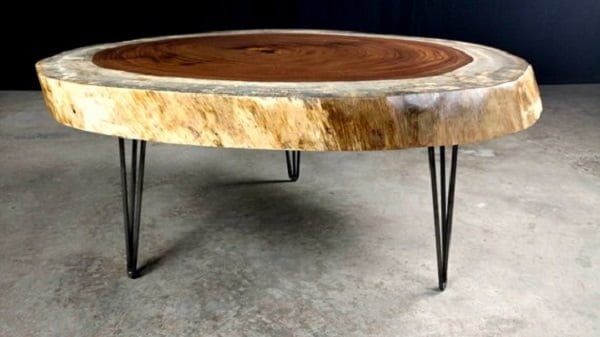 For some country-style luxury, this table is hard to beat. The wooden top is kiln-dried to completely remove moisture, making this beauty last long. The top is planed smooth, with visible wood rings for maximum interest. The wood is treated with oil to allow the beauty of the material to shine through, then sprayed with a finish that is not only durable but also resistant to heat and scratch. Available at Etsy.com (#ad).
What to Love:
The top is made of solid slab wood held up by hairpin metal legs. It's solid, thick, and sturdy – a one-of-a-kind furniture piece that boasts of careful craftsmanship and quality materials. It is a bold statement piece that, with proper care, can last for many years.
Best Modern Coffee Tables
Modern coffee tables make the safest choice as far as home decor goes. If you're going for that contemporary look, we will not go wrong with any of these tables. The only thing left to do is to choose the right one. Here are your options.
Emerson Rectangular Mod Swivel Modern Coffee Table with Glass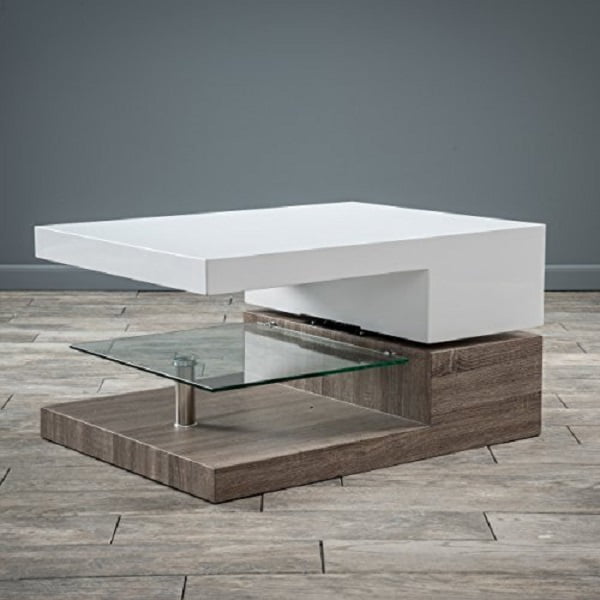 We love the fact that the Emerson Rectangular Swivel coffee table adds a touch of style and class to any room. Some may worry that the table spins too easily, but it doesn't spin on its own. We also love that it's packaged securely and doesn't have a lot of pieces to install, making it an easy build for even the most amateur DIY lover. It's not exceptionally large, which is suitable for small apartments and not taking up a ton of space. With high-quality workmanship and sturdiness, this modern coffee table is superb. Available on Amazon.com (#ad).
Rotating Wood Modern Coffee Table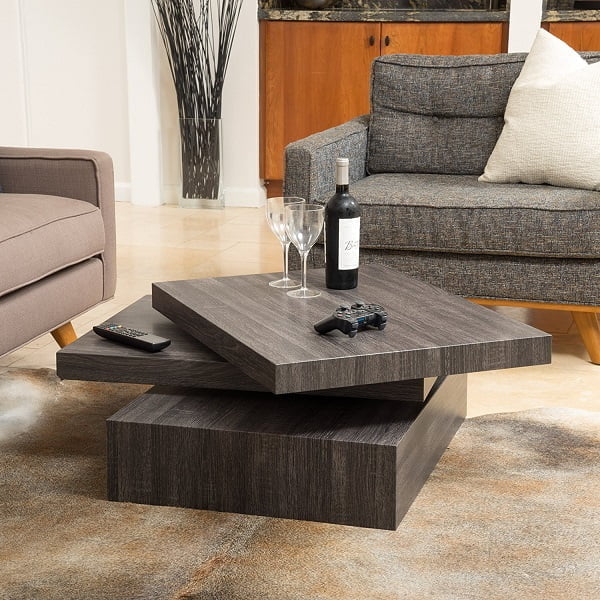 If you're looking for a modern-contemporary design that has a late-60's style vibe, you'll love the Great Deal Furniture Haring Square Rotating Wood Coffee Table. It's a beautiful design that's appealing to multiple decor options. Plus, the rotation is smooth. If you want something practical as well as beautiful, this is the one. While it does sit lower to the ground, you can use it for dining and working on a variety of hobbies or projects. One of the best advantages of this table is that it comes fully installed, so if you aren't handy with assembling, you can enjoy this table! Available on Amazon.com (#ad).
Poly and Bark Sculpture Modern Coffee Table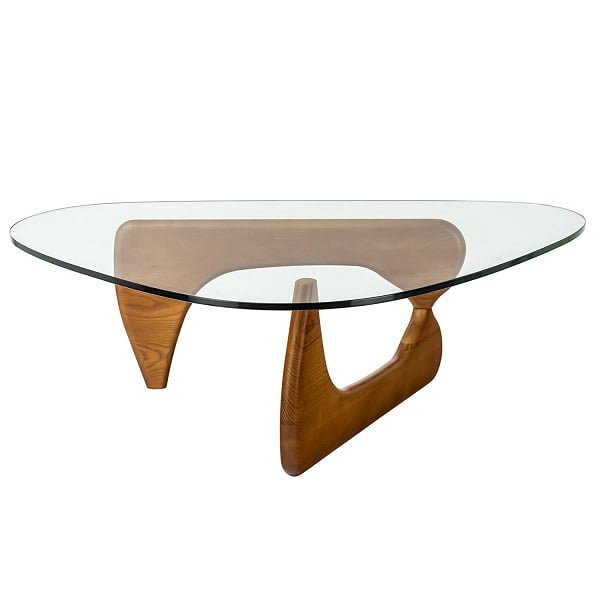 If you love minimalist designs that look abstract, this modern coffee table is for you! The Poly and Bark Sculpture Coffee Table combine man-made and natural materials together to create a piece of art that sits in your home and makes life a little more comfortable. While it may look luxurious and high-end, it's relatively affordable. With a walnut finish, it matches nearly every decor, and the wood base is sturdy and heavy enough to stay in place. The glass is also sturdy and easy to put together. Available on Amazon.com (#ad).
Charlize Glass Modern Coffee Table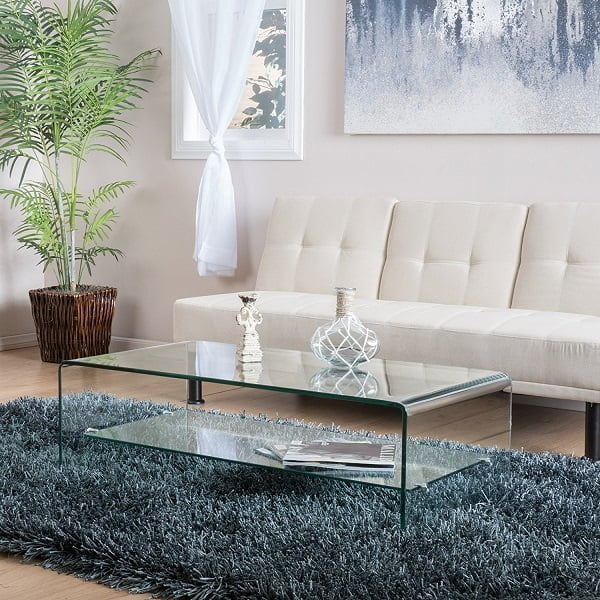 Homeowners who crave a modern coffee table can't go wrong with the Charlize Glass Coffee Table. It's a beautiful piece that comes with easy-to-read instructions. However, many people find that most of the components are already assembled, meaning you just have to slip in the glass panels and apply the felt pads. It is quite heavy at about 75 pounds, so you may require two people to move it to the appropriate location. Available on Amazon.com (#ad).
Zane Coffee Table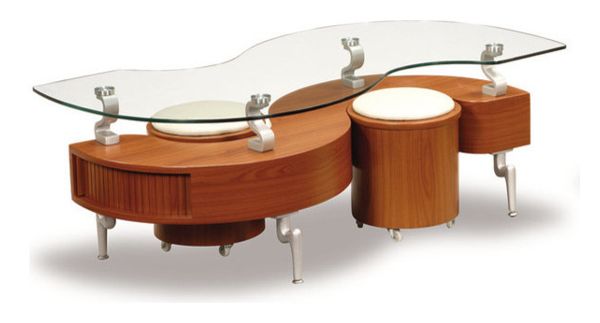 If you crave something unique and rarely found in other homes, the Zane Coffee Table is perfect for you. In fact, most guests may comment on the style and beg to know where you got it. When your home is too full, and the couch isn't enough, it also has small stools, allowing you to host more people. However, some have remarked that the stools are very small, making them perfect for young children. Assembling your new modern coffee table is a breeze, which means you can work quickly and have it set up by the evening. Available at Houzz.
Cappuccino Veneer Modern Coffee Table with Glass Insert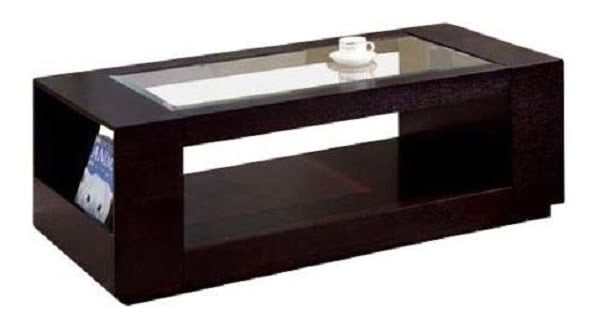 If you crave straight lines and rectangular tables, the Cappuccino veneer modern coffee table with glass insert is perfect. It has a small holder on the end to house magazines and other small items. Plus, it has a movable panel on the side, allowing you to store more things underneath. The glass top is durable and strong, ensuring that you can put large coffee mugs on it or whatever hobby you're currently working on. Just make sure that you measure the space, as this is a large table. Available at Houzz.
Kepler Modern Coffee Table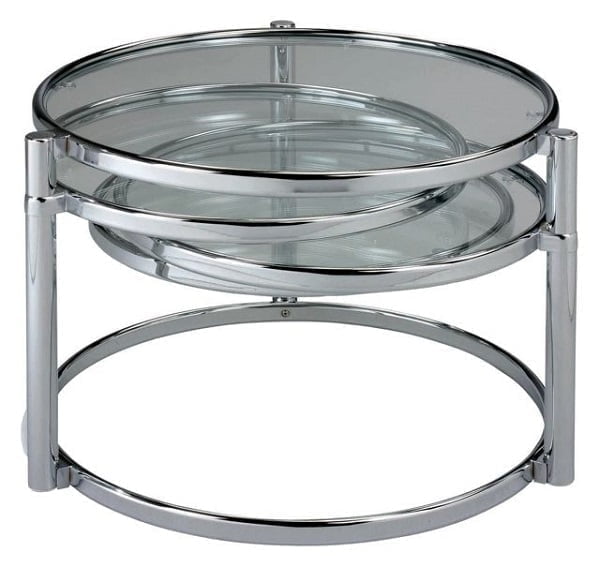 Most people have modern homes, and we love that the Kepler Modern Coffee Table has glass inserts. You can swing them out to hold more items or have them pulled in to create a magnificent 3-D effect. If that weren't enough, it's easy to assemble and creates a more open feel to the environment. Along with such, the glass panels are removable for cleaning, which means you don't have to worry about glass cleaner dripping and causing streaks. We love the chrome finish, as it is unique and not normally seen in a coffee-table setting. It can definitely be a conversation piece when you have guests. Available at Houzz.
SILVER Modern Coffee Table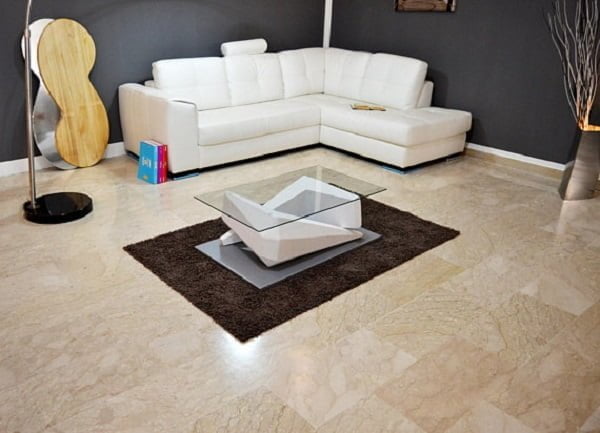 Modern styles usually require strong shaping and symmetry, and you'll find both with the SILVER modern coffee table. The uniqueness of the base allows you to use it as a conversation starter. Guests will be amazed at how beautiful it looks. Even if you have very little in your living room (or no space to have anything else), it can create a focal point and looks like a work of art. This handmade product also comes with magazine racks and a glass top. Available at Etsy (#ad).
Vintage Modern Coffee Table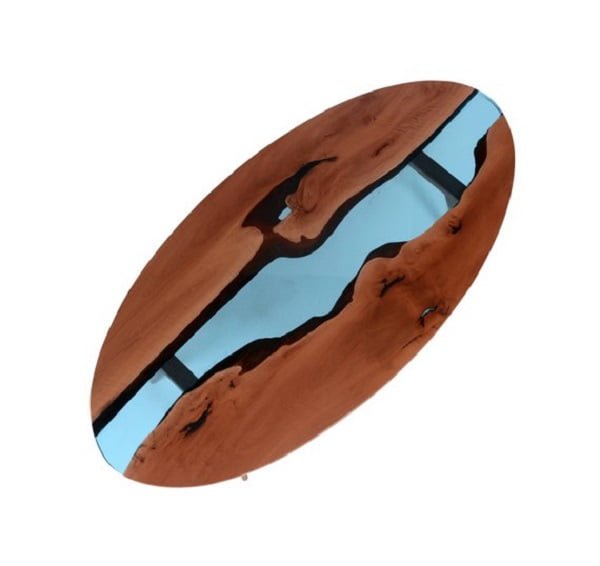 While most people don't associate vintage with being modern, you'll find that the Vintage Coffee table is a modern advancement. It's made using two pieces of wood, carefully selected to match. It's perfect for showrooms, reception areas, living rooms, and offices. The wood itself is from the Slovenian Julian Alps, which is high-quality and comes in a variety of colors and styles. It comes with a unique 'river' running through the wood, making it the highlight of any room. Whether you need something to hold coffees and books or want a work of art, you can have both. Available at Etsy (#ad).
Lift-Top Coffee Tables
When it comes to function you don't expect much from a regular coffee table, but then there are the best lift-top coffee tables. You get a make-shift desk or a small dining table by the flip of a switch. And that's a lot. So if you're looking to add function to your furniture, the following list is the one for you.
Viabella Lift Top Coffee Table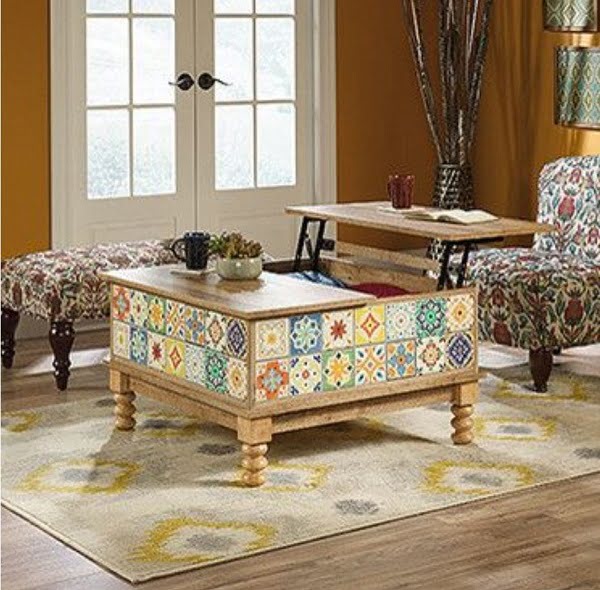 Eclectic is the way they describe it, but I prefer to refer to it as quietly stylish. If you're looking for a furniture item that, by its sheer presence, ignites conversation, then look no further than this Viabella table. Besides the rich, ornamental designs and clearly sturdy appearance, there's the Lift top to enjoy. Not only does that provide convenient eating space, but it sure makes it a completely useful furniture item. Available at Houzz.
Sauder Oak Lift Top Coffee Table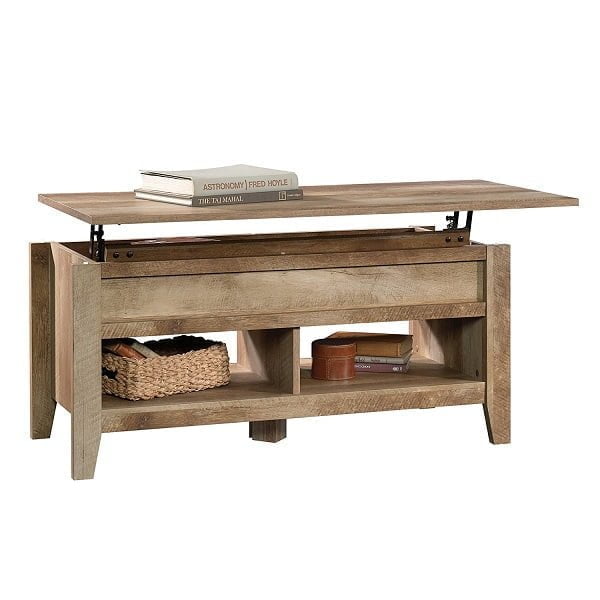 It's always a source of satisfaction to discover that your newest piece of furniture just doesn't have aesthetic appeal, but is highly utilitarian too. Yes, I'm talking about the new and improved lift-up tables that have taken the world by storm, and the Sauder Oak Coffee Table is one such innovation. Whilst it's lacking in terms of quality -it's not really made from original oak, but compressed cardboard- it's fitting to say that the craftsmen compromised that for a reasonable price that's within the reach of many. Assembly is quite the task though, but that's a small price to pay for a table that doubles as a lift-up table during meal times. It also has tonnes of storage space as well underneath the base. Available on Amazon (#ad).
Yaheetech Modern Lift Top Storage Coffee Table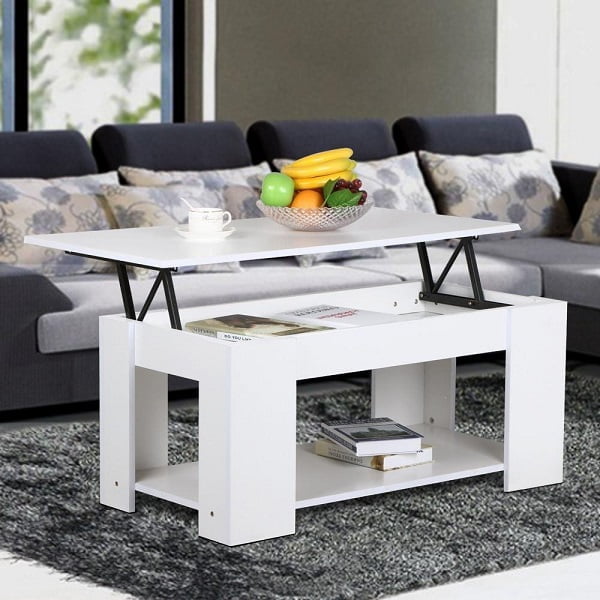 When it comes to hype, very few furniture items live up to the lofty sales pitch standards of manufacturers. However, the Yaheetech Modern Lift-up storage table has features that complement the wonderfully crafted and sturdy design of their latest offering. The price is great considering all the surprises that it churns out, chief among them being the lift-up tabletop. Plus, there's plenty of storage space underneath for packing magazines and books. The only drawback is perhaps the fact that it's rather difficult to assemble, requiring a little technical effort from the supplier if the manual isn't of any help. Available on Amazon (#ad).
Lift Top Coffee Table & Storage from Logan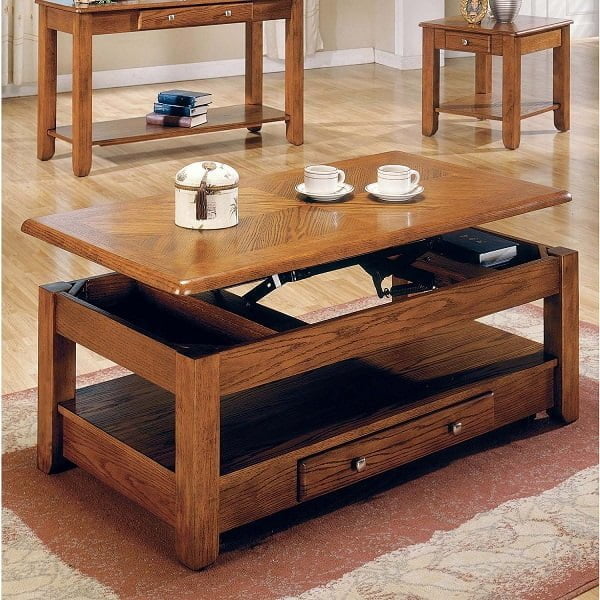 With the advent of lift top tables, combining both function and style in one furniture accessory has never been easier. Consisting of a storage drawer, a bottom shelf, and a lift top table, this piece of furniture all comes together in a cozy oak finish. Made from hardwood and oak veneers, it's easy to mistake it for the kind of table you'd come across in the homes of the opulent and successful. However, even though $200 seems like a steep price to pay for a single item, its durability makes every cent worth it. And unlike most tables of this nature, it's fairly easy to bring together without the assistance of a skilled artisan. Altogether a fantastic table. Available on Amazon (#ad).
Mainstays Lift Top Coffee Table Sonoma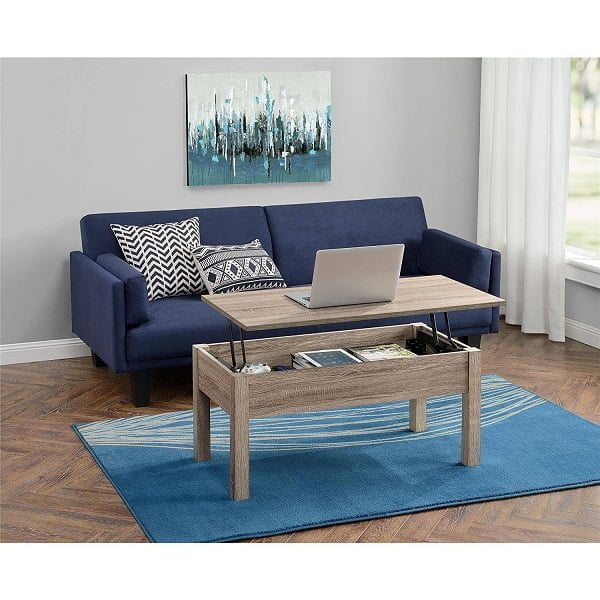 Affordability was never in question when it came to buying a lounge table 5-10 years ago, but things have since changed. However so, you still get the occasional furniture manufacturer -like Mainstay- who can still make stylish furniture affordable. This pleasant coffee table has a fully extending top that is both a snug computer workstation and ideal for dining. As if that wasn't enough, releasing open the tabletop reveals inside storage for tablets, magazines, phones, and books. Small in size and lightweight -as it is constructed from composite wood- it can be used anywhere in the home. It is also easy to assemble as the legs are all you need to attach the tabletop. Available on Amazon (#ad).
Ditmar Lift Top Coffee Table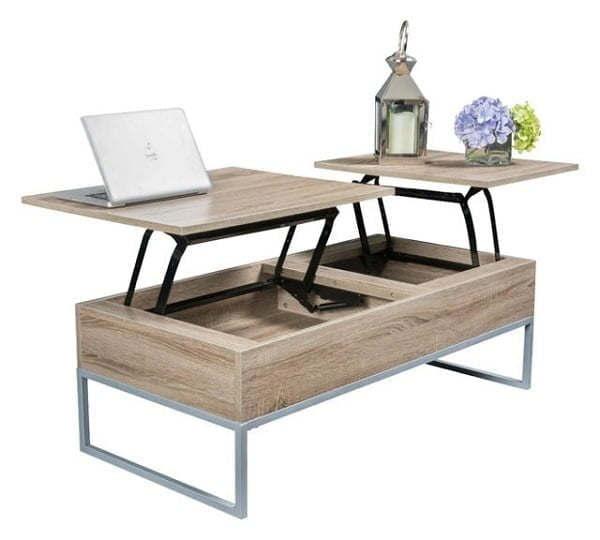 This has the 'wow' effect we all look for in a living room table. It has not one, but TWO lift top tables, making it a highly functional piece of furniture when you have extra company over for work or dinner. Solid and easy to put together, it has a sleek design that is both contemporary and utilitarian. Unfortunately, it doesn't come in the dull color as promised, seeing that it has a darker shade. On top of that, it's a little tedious to open, and the tops don't always line up properly when closed- but it gets easier with time. Over and above, the height is nice and comfortable. Available at Houzz.
Lift-Top Coffee Table in Cherry Wood Finish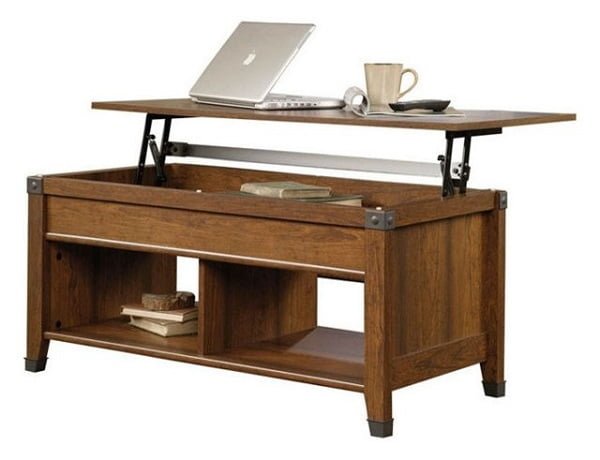 This is the kind of living room table you buy if you're serious about owning a home. Why? Simply because it's a timeless piece of furniture whose appearance alone is enough to tell you that it might possibly outlive you! Made from recovered timber and riveted wrought iron, the natural cherry finish is a complementary touch to a very simplistic, albeit lavish, design. Not only does this clever integration of usefulness and style blend casually with any surrounding decor, but it also seeks to make your home more secure courtesy of the hidden storage compartment covered by the lift top. It also includes open shelves for extra display and storage alternatives. Available at Houzz.
Ashley Furniture Signature Design Alymere Lift Top Coffee Table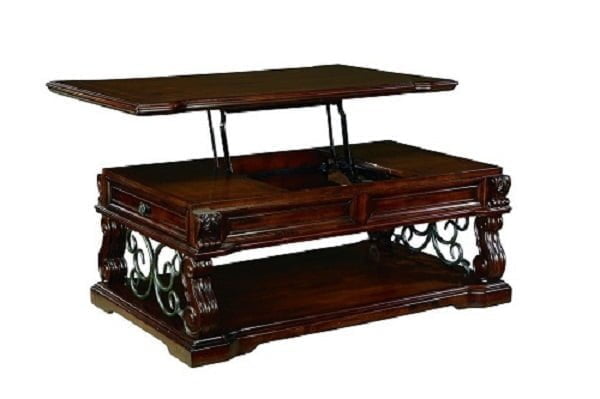 Majestic, noble, grand, regal, there's simply no limit to the high praises fitting for this piece from Ashley Furniture. Brilliantly handcrafted and made of wood, veneers, and cast resin, this is undoubtedly one of the sturdiest lift top tables you'll ever find. With two storage drawers and a fixed shelf, this is all you could ask for, and more. Ideal for cocktail parties, this table will leave any guests astounded by the level of effort put into this piece. However, the price puts a damper on things as $400 is beyond the financial reach of many. Plus, its assembly requires a number of industry tools you may not have lying around in the house. Available on Amazon (#ad).
Hammary Oasis Wedge Traditional Lift Up Coffee Table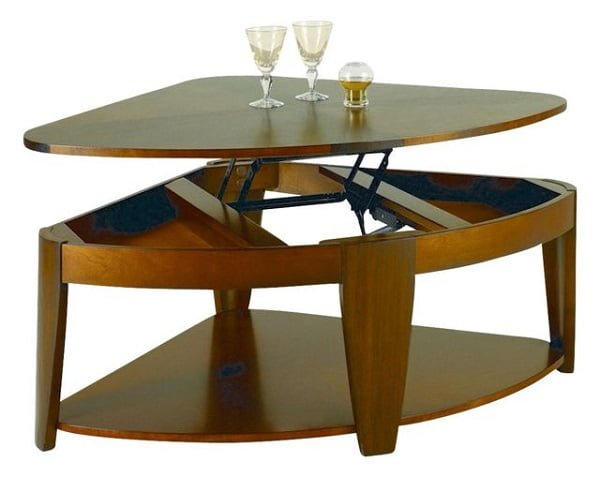 This totally redefines the concept of a Lift top table. For one, it's spacious, accommodating at least 3 people for an evening of lighthearted drinks. Secondly, it's ABSOLUTELY ultra-modern and chic, making it the kind of trendy addition to any living room space that causes enough complimentary chit-chat. Assembly is fairly straightforward if you go through the manual carefully. Available at Houzz.
Best Glass Coffee Tables
When it comes to the material of which a coffee table is made, it's usually wood. But you don't necessarily want to be limited to that. Especially when other materials have so much to offer. Take glass coffee tables for example – translucent furniture occupies almost no visual space and that's perfect in small spaces. They also look very good in most interior designs. If you want something like that, here's a list of the top products for you.
Tangkula Glass Coffee Table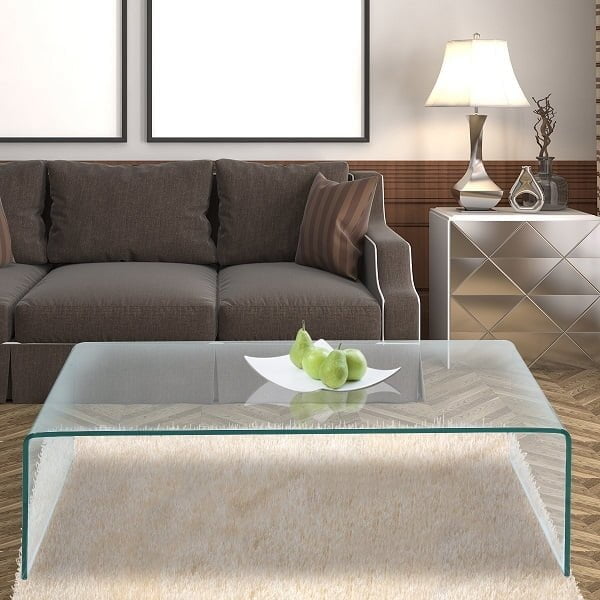 This table has earned a 4.4-star rating. The clear table is a favorite, as it is suitable for any décor. The thick, heavyweight glass makes it virtually unbreakable.
Its strength makes it practical. It will easily hold books, dinner plates, and laptops. As the durable glass is easy to keep clean, it will always look fresh and nice. The one-piece design means no assembly is required.
The table is less than 14 inches tall. While it will easily fit into any size room, some people may think it is too small. It depends on the customer's needs and preferences. Available on Amazon (#ad).
Chrome Metal Glass Accent Coffee Table with Shelf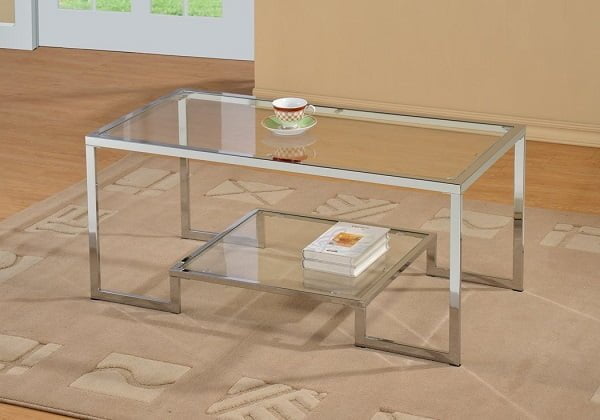 This sleek glass table has just enough chrome to give it a modern touch. It can be used as a functional coffee table or an accent piece. The table has a 4.5-star rating.
The suction cups that hold the glass in place make it ideal for families with children or pets. The glass will not move, even if you have an active lifestyle. Some customers say the table scratches easily, and that it was scratched when they received it. If this occurs, you may need to return the table for a replacement. Available on Amazon (#ad).
Metal Frame Glass Coffee Table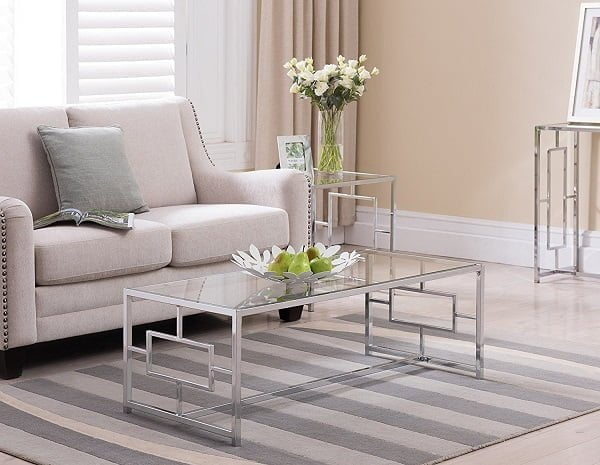 This table has a 5-star rating. Although it is slightly less expensive than similar tables, it is well-made, classy, and will add beauty to your living room. You can also purchase a matching side end table with the same design.
The surface top is large, so it is practical as well as attractive. The design will fit into any décor. Some customers may find assembling the table difficult or time-consuming. If you are thinking of buying this table, you should take the assembly into consideration. Available on Amazon (#ad).
Donatella Designer Glass Coffee Table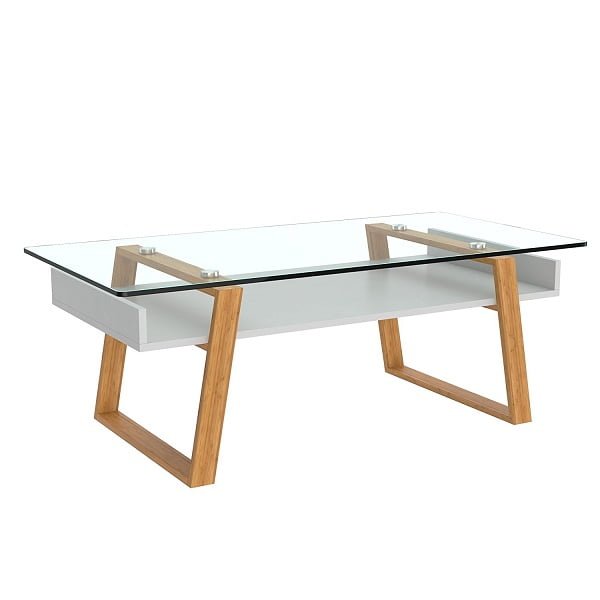 With a 4.5-star customer rating, this contemporary design table is tempered glass with solid bamboo legs. It is easy to keep clean, and strong enough for everyday use. The storage compartment is useful for small items. It is equally appropriate for a coffee table or a side table.
Customers like its sturdiness, stability, and simple elegance. They like its clean look, and quality materials at a low price. Some customers find it difficult to assemble, especially because the glass is quite heavy. If you buy this table, you may need help assembling it. Available on Amazon (#ad).
Villette Stainless Steel and Glass Nesting Coffee Tables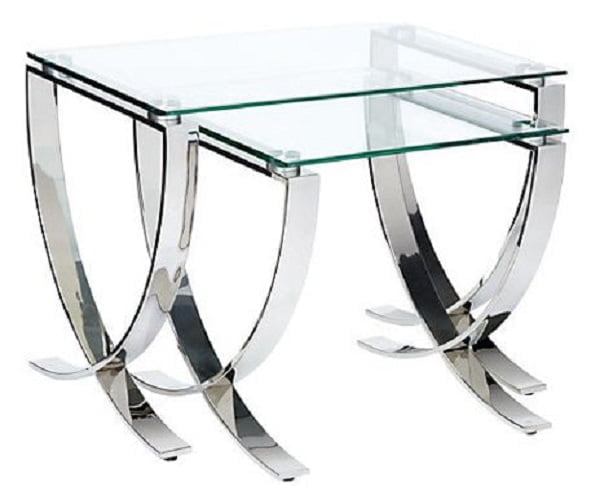 This set of nesting tables is made of tempered glass and stainless steel. It has a 4-star customer rating.
As the tables stack together when not in use, the set is a convenient option for small rooms. The tables require little to no assembly, so they can be added to your living room as soon as they are delivered. The compact size and sleek design make these tables perfect for any home. Although the tables are easy to clean, they can become damaged if cleaned with furniture cleaning products. Available at Houzz.
Boyd Clear Glass and Oak Coffee Table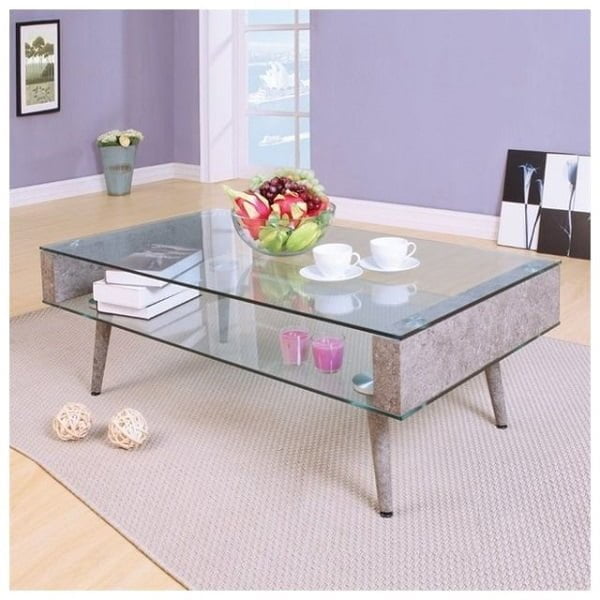 Made of faux stone and glass, this heavyweight table has a 5-star rating. Both the top and open-storage bottom shelf are strong enough to hold 180 pounds. It can be used to store practical items, or display your favorite collectibles.
The table itself weighs 112 pounds, so it is a sturdy table for an active lifestyle. It can be a nice addition to rooms with compatible décor. Considering its large size, it might not be appropriate for small living rooms. The hardware is included, but the table needs to be assembled. Available at Houzz.
Glass-Top Coffee Table with High-Gloss White Legs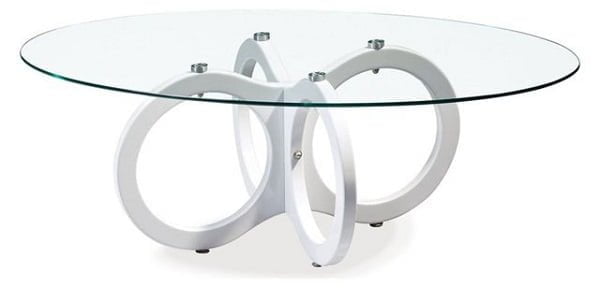 This glass coffee table has medium density fiberboard legs. The geometric design appeals to customers who prefer contemporary furniture. With its compact size, it can be used in a living room, college dorm, or a bedroom. The table has a 4.8-star rating.
With a clear glass top and glossy white legs, it complements any décor. A little assembly is required, but customers say it is simple, and no special tools are necessary. Some customers who loved their tables have said shipping took longer than expected. Available at Houzz.
Alix Glass Coffee Table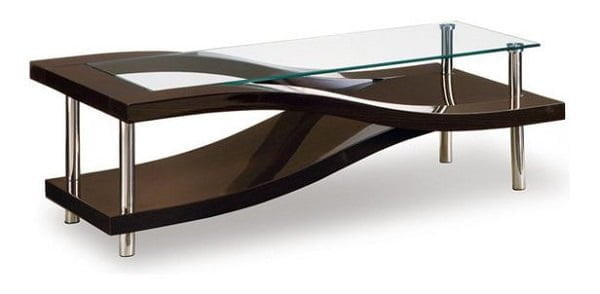 Customers who enjoy unique furniture love the wave design. This larger-sized table is made of wood veneer, fiberboard, glass, and metal. The eye-catching design will definitely be the highlight in any medium or large-sized living room. Its customer rating is 4.7 stars.
"Unique" is the word customers use to describe the table. Its appearance is impressive, beautiful, and contemporary. One potential drawback is the glossy finish. Some people do not like this feature. The second drawback is the price. It is more expensive than other tables. It can be worth the investment if you can afford it, but it may not fit into your budget. Available at Houzz.
Black Glass Coffee Table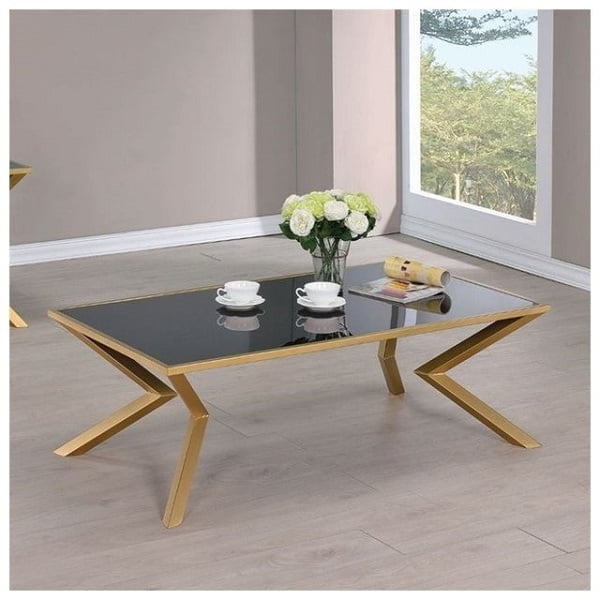 This midcentury-style glass coffee table is simple, sleek, and elegant. It gives a modern, airy appearance to the room. It has a 4.8-star rating, and customers love it.
This larger size table is a good value at a lower cost. The gold-finish angled legs and black top make it a conversation piece. It is large enough to gather your family together for a snack or entertain your friends. Customers who prefer clear glass tables may not like this table as much. The glass is opaque black, and the company does not offer a clear glass table in this particular style. Available at Houzz.
Sculptured Glass Coffee Table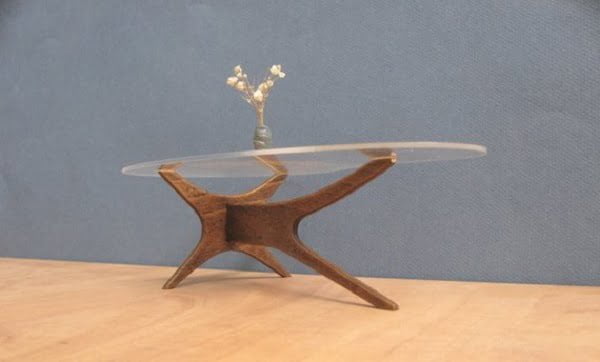 This imported, handmade table is truly a collector's item. It can be used as a decorative piece in the living room or another room. It is suitable for displaying small items. Each table is custom made to order. Most customers have given it a 5-star rating.
As the tables are custom made, you have options. You can request a different size or color, and it will be made for you. Considering its low price, you can order more than one. The shipping fee is nearly as high as the cost of the table. Available at Etsy (#ad).
---
Square Coffee Tables
Square coffee tables are classic because they provide ample surface area and usually a lot of storage space. They occupy a bit more room space than the roundtables, but then again, there are a lot of sizes to choose from. If you're looking for a table of this type, check out this list.
Ameriwood Home Carver Square Coffee Table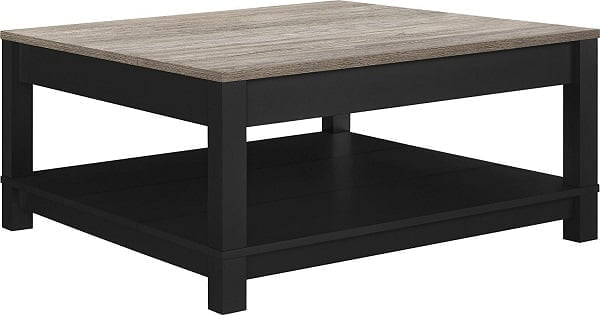 The Ameriwood Home Carver is a black, modern-looking square coffee table with a brown wood grain top. It comes with a storage shelf that can easily hold your magazines and books, ensuring the tabletop stays open and clutter-free. The table is heavy and requires some assembling. But all that effort and time you put in to assemble would be totally worth it once you see the table in its full glory. The table is extremely sturdy and doesn't wobble at all. It can also serve as your small pantry table since the two drawers can easily accommodate crackers, bread, and other kitchen items that can be squished in. Available on Amazon (#ad).
Watson Oversized Coffee Table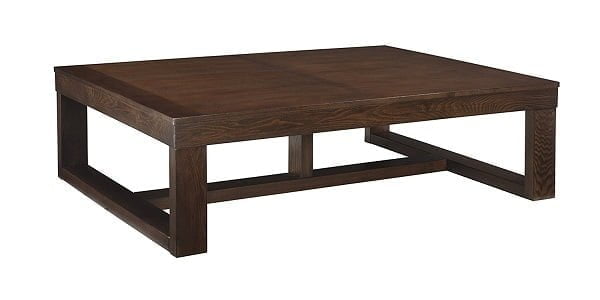 This Watson is an oversized rectangular coffee table that easily fills up space and can be the centerpiece of any room. Place a bowl in the center of the table and throw in some plants for a truly functional and complete looking table. The table is definitely on the heavier side (easily over a hundred pounds), which is a good thing as it adds to the table's sturdiness and also reminds you of the premium build. The table can easily withstand small and large adults, pets, kids, etc. Not to mention, the wood stain and bark patterns look good. Overall, if you've got a good space at home, this table is definitely worth the money. Available on Amazon (#ad).
Home Styles Concrete Square Coffee Table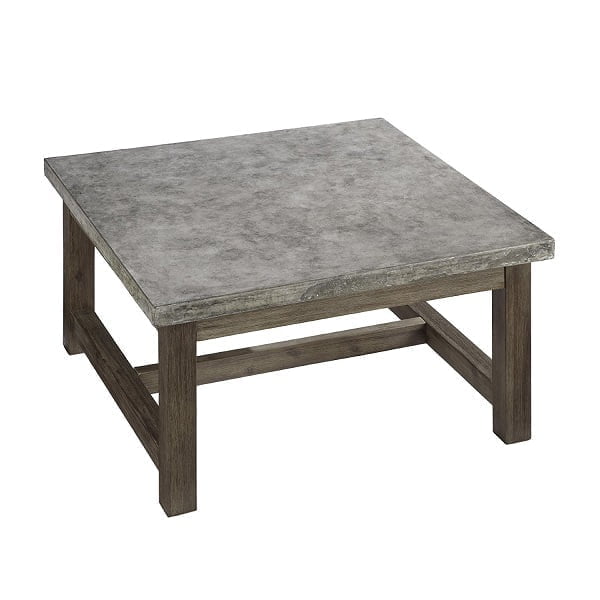 The Home Styles 5133-21 is a chic-looking square coffee table with a concrete finish atop. The aged metal look and weathered brown finish helps the table adapt to both outdoor and indoor environments. The table is strong, easy to clean, and looks far more expensive than what it actually is. In other words, the table is a great marriage between elegance and sturdiness. The 'simple maintenance' aspect can also be attributed to the fact that the table doesn't get dirty that easily. In fact, if placed indoors, the table would look as good as new even after a year or two of normal use. Available on Amazon (#ad).
Modway Gridiron Coffee Table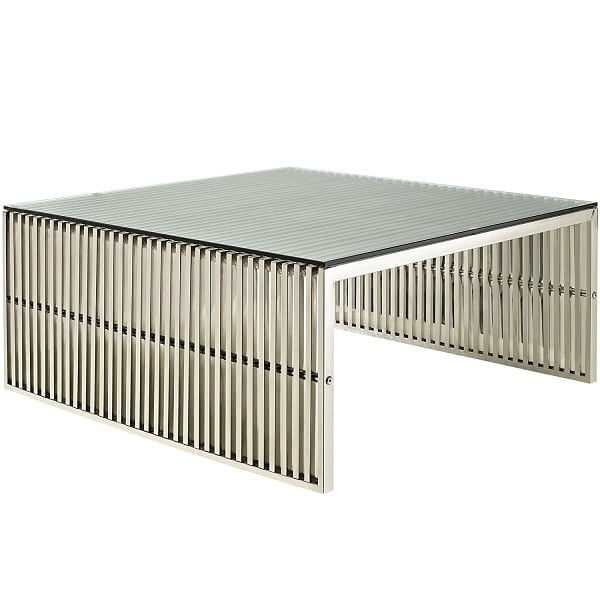 The bold accents of this Modway Gridiron coffee table make it fit seamlessly into both homes and offices. This effortlessly chic looking table is quite functional too, with the glass top serving as the ideal platform to display a cup of coffee. The sleek lines give the table a contemporary look, with the stainless steel tubular design offering much-needed durability. The unique blend of mid-century design and modern appeal renders the table capable of transforming any place. Available on Amazon (#ad).
Flash Furniture Square Coffee Table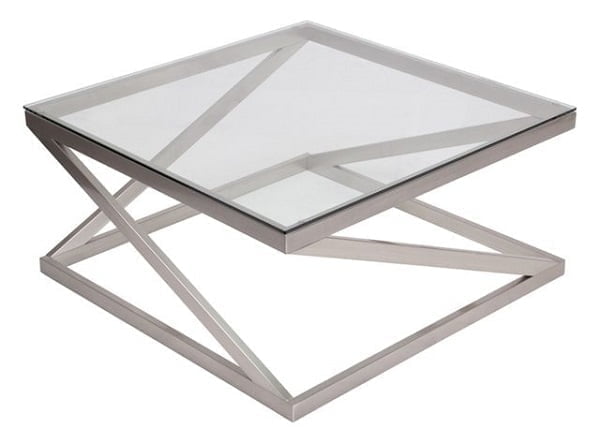 This modern-looking, square cocktail table by Ashley Coylin is good looking, solid, and easy to assemble. The tempered beveled glass tabletop and the tubular metal frame with its brushed nickel finish make the table visually pleasing. On its own, the table may look a bit too simple. But once you put the table to work, with a rug as the base and some decorative items atop, the table suddenly looks completely different. The table works best when you use it as your living room centerpiece. However, the naked design makes it easier to adorn and personalize the table, so that you could fit it in wherever you want. Available at Houzz.
Troy Origami Square Coffee Table with Glass Top
This square coffee table with a glass top is a true Troy Origami art piece. This contemporary table's brushed steel base looks extremely futuristic and unlike the four-legged tables that people generally use. The tempered glass top enhances the sleekness of the table and can be easily styled with colorful accents, such as a flower vase or a big coffee table book. The table is heavy and reassuring and the glass top, which comes shipped in the box, is quite durable too. Also, the installation part is quite straightforward and won't warrant any tools. Available at Houzz.
Rosewood Ming Style Square Coffee Table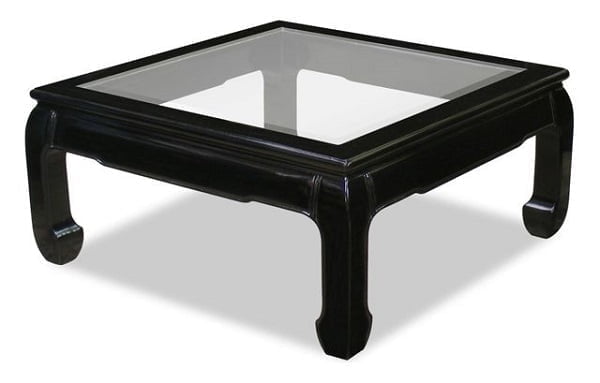 This coffee table with quadrangular rosewood legs and a glass top epitomizes Ming Style furniture. The horseshoe feet do not just look unique but also ooze with quality and give you the assurance that the table would come good for years. The hand-carved solid rosewood and manually applied black ebony finish make the table ideal living room furniture. If you have predominantly wooden furniture in your house or space where a contemporary looking coffee table would look out of place, this is the table you need. Available at Houzz.
Mastic Square Coffee Table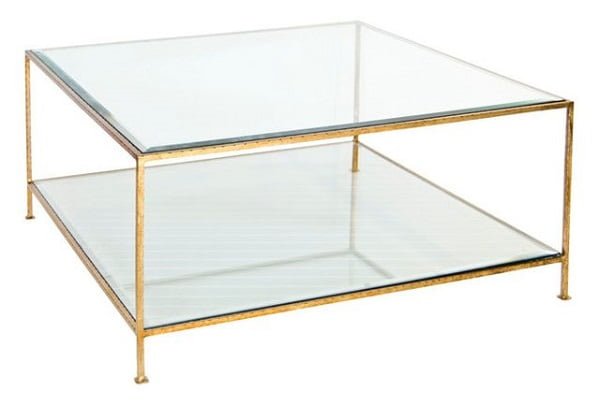 This Mastic table is a simple yet stunning looking coffee table. The gold-leaf accents outlining the edges of the glass table create a contemporary look and feel and also add a dash of glitter to the overall appearance. The table uses two pieces of glass, with the lower tier offering sufficient room for a cocktail set, magazines, and other typical living room items that you'd like to keep handy. The Mastic looks modern and also has a classic charm to it, which makes it appealing to a wider section of people. Available at Houzz.
Elegant White Marble Square Coffee Table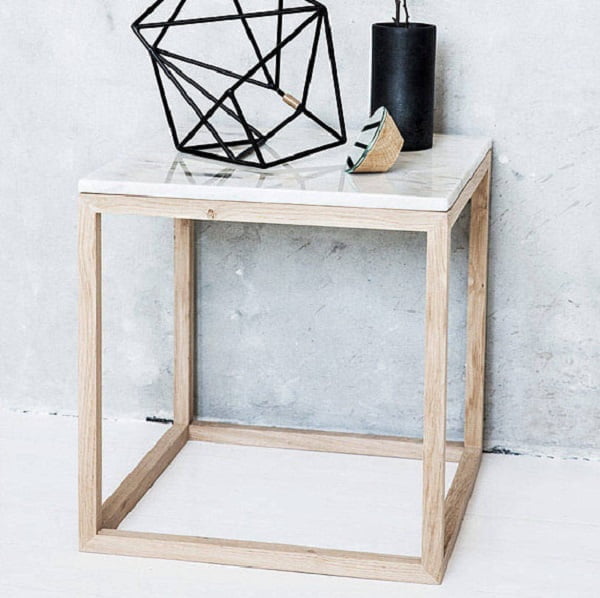 The coffee table space is crowded. And to stand out, a table has to be unique in some way. This table is certainly unique in the way it brings together marble and wood. With white Italian marble and high-quality wood at play, the table truly looks stunning. Also, you can be assured of the solid build. The table is also fun and easy to put together. The table is a bit on the taller side for it to be positioned in the center of a room. Therefore, stick it against a wall, and people walking in would notice the table right away. Available at Etsy (#ad).
Quartz Top Square Coffee Table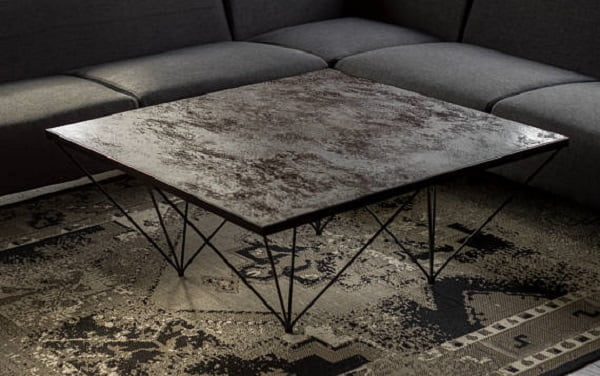 This hand-made coffee table is an ideal piece of furniture to have if you're looking for something modern and unique. The metal frame and quartz tabletop give the table a completely different look. The metal frame is powder-coated, which means it shall last long and the color should also not give in easily. The bespoke design needs a special mention. It's a splendid display of craftsmanship that you would totally appreciate once you see the table in person. Needless to say, the table is a wonderful addition to any living room. Available at Etsy (#ad).
Best Rustic Coffee Tables
Everyone is crazy about rustic and farmhouse furniture these days. Maybe it's that DIY look or the coziness it inspires. In any case, a rustic coffee table is a great choice if that's what you're looking for. And if you're not interested in making your own DIY coffee tables, choose one from the following list.
Rustic Barnwood Coffee Table
If you are looking for a unique coffee table then the rustic Barnwood may just be the right choice for you. It is 100% made in the USA and features a sturdy design. Because of the natural lumber that goes into design each table is unique. It comes fully assembled meaning that you do not have to worry about spending time or energy in trying to fix it up. This product may sometimes have a variety of colors including brown, black, orange, and gray depending on the natural wood that is used in the design. Available on Amazon (#ad).
Industrial Solid Wood and Steel Rustic Coffee Table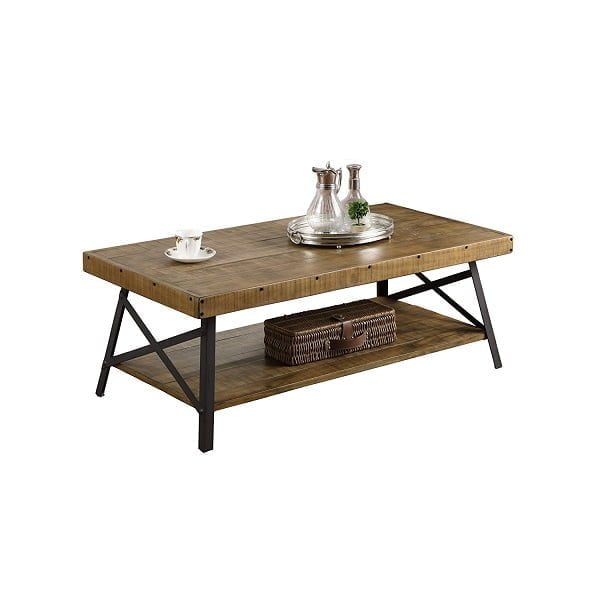 This product is considered one of the strongest in the market because it combines quality hardwood and steel. As a result, the final product is a sturdy coffee table that is able to withstand rugged use. Distressed, solid wood makes up the upper part of the table plus the lower surface that doubles up as a shelf for more room for keeping your stuff. Steel legs give the table a unique look while supporting it regardless of the weight of the items placed on top. Available on Amazon (#ad).
Sonoma Natural Rustic Coffee Table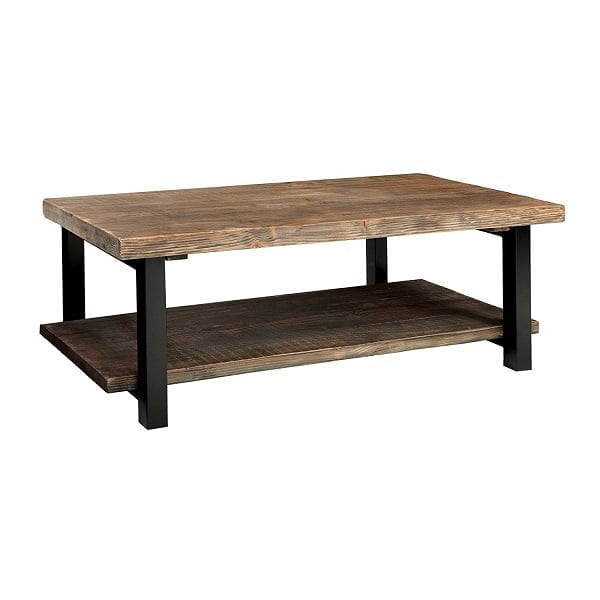 Solid wooden surfaces make this product stand out while in any room. Rustic, natural finish adds the welcoming feeling that any home should have while metallic legs ensure the table remains strong for years. The table features a large shelf area making it possible for you to have more room for storage and quick access to things like magazines and remote controls. With this table in your room, you can rest assured of being among the few people who are Eco-friendly without compromising on elegance. Available on Amazon (#ad).
Better Homes and Gardens Modern Farmhouse Coffee Table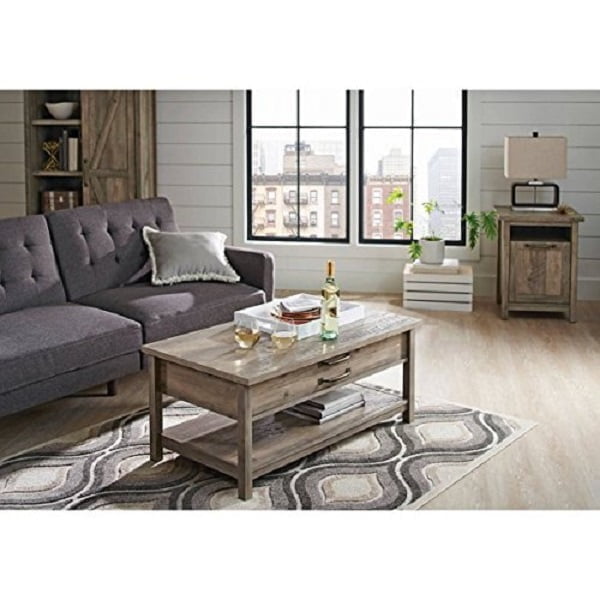 Its natural design makes it appealing to just about any room in your home. It features a lift-top making it possible for you to either pull it up or let it remain in place depending on the purpose you wish to use it for. Hidden storage areas just beneath the top allow you to keep more stuff while an open shelf room allows you to easily keep things like newspapers or remote controls. The only downside to this table is that you have to assemble it by yourself after ordering and receiving the package. Available on Amazon (#ad).
Live Edge Cedar Rustic Coffee Table
If you are shopping for beauty this table should be among the top products on your list. It is designed using quality cedar slabs to make it unique and eye-catching. Nostalgic copper pipes ensure that it remains strong regardless of the surface on which it is situated and the amount of weight it has to bear on a daily basis. While assembling the table you can opt to include a shelf area for more storage room or leave it out for a meek look. Available on Amazon (#ad).
Weathered Rustic Coffee Table with Shelf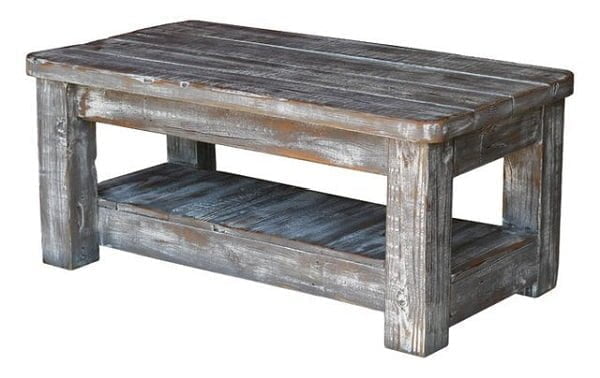 This table is designed with a rustic finish but still comes out as being chic. It has four corners that are reinforced using nails making it quite sturdy and durable. The natural finish means that you do not have to spend a lot of time on maintenance work. All you have to do is wipe the surfaces using a wet piece of cloth. It is heavier than it looks but this makes it stable while situated in the middle of the room. Available at Houzz.
Painted Rustic Coffee Table with Shelf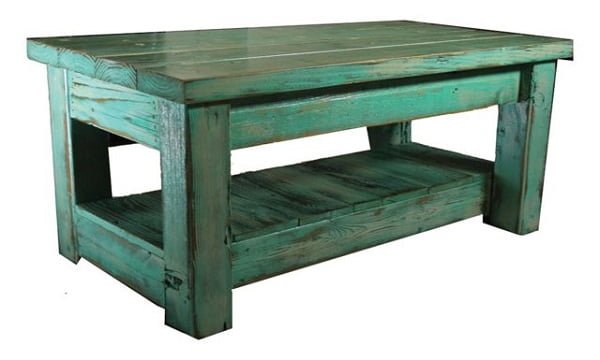 This rustic coffee table is designed using top quality reclaimed wood meaning that anyone using it is keen on keeping the environment safe. It features a shelf that makes for a perfect storage area for accessories depending on which room you place it in. The table is stained and painted to ensure that it retains its true beauty while staying protected from the elements. The craftsmanship is done by professionals to ensure that the table is sturdy and durable regardless of how frequently it is used. Its color is moderate making it blend with other themes in the room instead of taking over or disappearing from view. Available at Houzz.
Four Hands Bina Bryan Rustic Coffee Table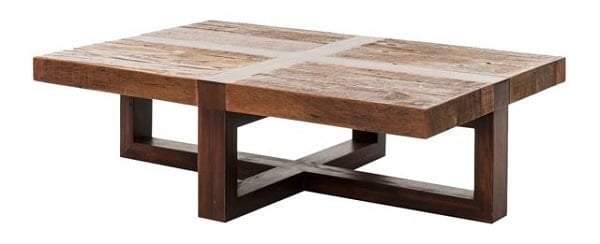 This table is built using reclaimed wood giving it the natural, rustic look that most people love. It features a mixture of rough and refined textures that make for a truly beautiful table. Its large surface allows you to place just about anything you want while taking your coffee or meal. Acacia wood underpinnings are repeated to give the table an outstanding look of the art. Available at Houzz.
Lemmik Reclaimed Pallet Wood Rustic Coffee Table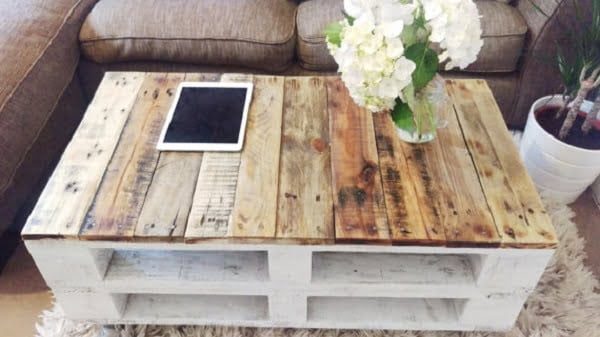 This product is made by hand using reclaimed industrial timber pallets. This means you can expect to find things like old nail holes, scratches, knots, and different tones. However, it is these seeming imperfections that give the table a unique appearance and natural feel. The surface of the table is close boarded, sanded, and buffed twice to ensure that it looks beautiful while remaining durable regardless of the elements that may come into contact with it. It also has a lower deck which makes it possible for you to keep accessories or other items in the room. Available at Kontrastco.
Retro Pallet Rustic Coffee Table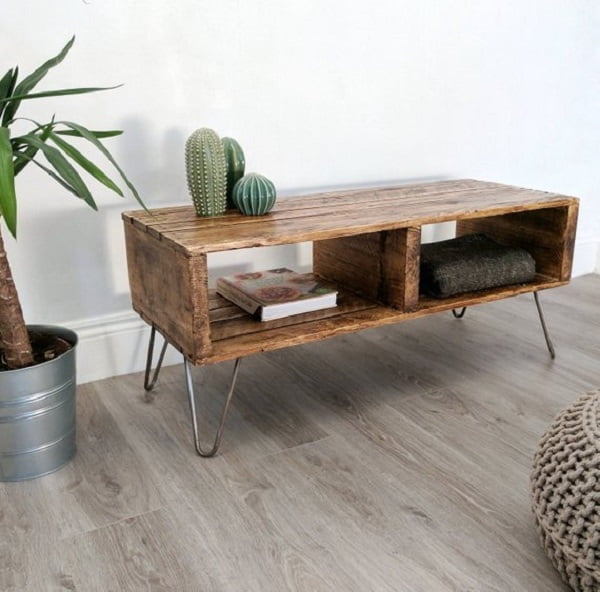 This table is made from reclaimed industrial wooden pallets. It features metal hairpins which makes it both sturdy and durable. The surface is professionally cleaned and sanded to give it a smooth texture. It is also waxed to ensure that it remains durable even when it comes into contact with things like water or spilled beverages. The lower part of the table is split into two compartments allowing you to organize items that you want to keep out of sight. Available at Kontrastco.
Best White Coffee Tables
Color is an important criterion in your choice of the coffee table, so we have lists for multiple popular color choices. The following is a list of the top white coffee tables.
Indoor Fireplace White Coffee Table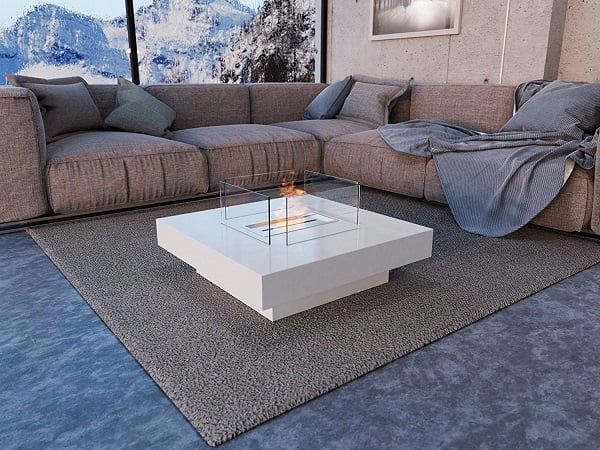 This coffee table will instantly become the focal point of any room in which it is placed. Except for four tempered glass inserts that slide seamlessly into notches on top of the table, this one-piece furniture requires no additional assembly. This table is tremendously well built and made out of metal. It stays put and it is quite sturdy; however, it is actually light enough to be moved on your own, if necessary. Additionally, this white coffee table is lower than its traditional counterparts, which makes it the ideal height for floor seating. Available on Amazon (#ad).
Lift-up Top White Coffee Table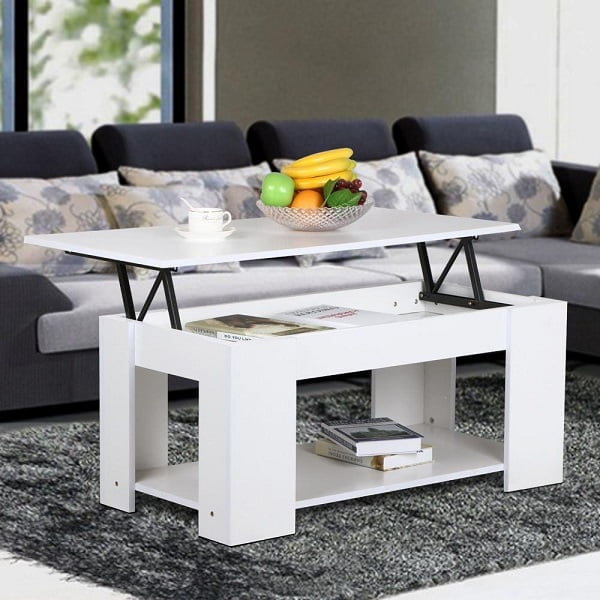 This lift-up top coffee table has a hidden storage compartment and shelf. It is most suitable for a modern aesthetic and will effortlessly provide a focal point for any space. Its solid structure makes for a heavy-duty coffee table and this ensures high capacity for concealed storage up to 44.1 pounds. It is quite versatile and is perfect for the parlor, living room, kitchen, drawing room, and the office. The table is also practical, making it a remarkable place to store magazines, books, flowers, fruits, laptops, and remote controls. Additionally, its chic and stylish design is seamlessly integrated into any décor. Available on Amazon (#ad).
Mod Swivel Coffee Table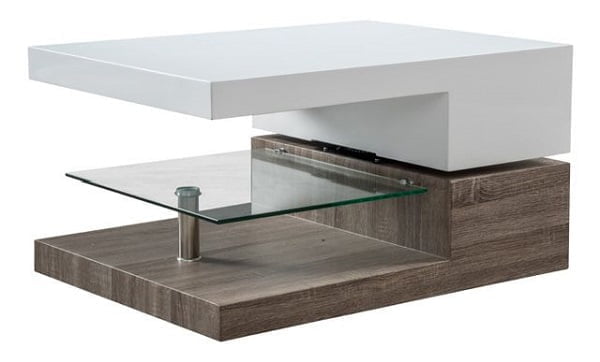 The Emerson Mod Swivel Coffee Table is rectangular in shape and is reminiscent of the era of the late 1960s. This table is designed to convey a modern aesthetic and it has a rotating top that is made to be angled 90 degrees, based on your convenience and comfort. It also has a tempered glass shelf as a unique accent, which is both functional and visually appealing. This coffee table is miles away from being traditional. It is designed to be quite the statement piece in your bedroom, living room, office, or anywhere else it is placed. Available at Houzz.
Hampton Square White Coffee Table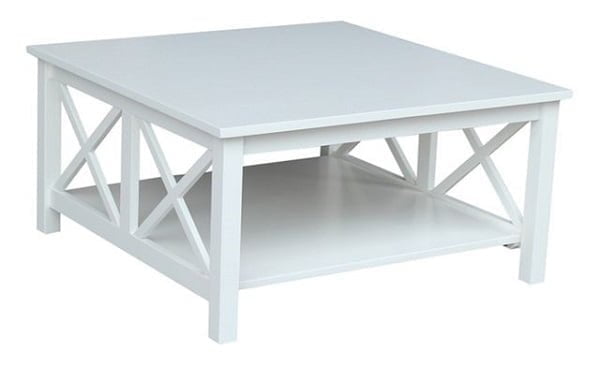 With its beautiful butcher block surface, this coffee table is made out of solid wood that has been finished in a shade of crisp white. The simplicity and style of this visually appealing and functional piece of furniture can be used as a great anchor for any living space. With details like its lattice sides, clean lines, and open shelving, this piece exudes an airy, fresh vibe. It is easy to assemble and with its beauty and versatility, it can be a great addition to a transitional, traditional, or farmhouse space. Available at Houzz.
Elegant White Coffee Table
This elegant coffee table has clean, graceful curves that are wonderfully accented by its soft white finish. It is a classic coffee table that is sophisticated in its simplicity. It is designed for use as an accent that can brighten and add charm to just about any room. In addition, the table is quite sturdy and provides additional storage and display spaces for books, magazines, and other accessories. The graceful curves of this elegant coffee table can bring an atmosphere of cottage style romance to any space in which it is placed. Available at Houzz.
Best Coffee Tables with Storage
Do you want your new coffee table to have enough storage space? If that's an important criterion for you then here's a list of coffee tables with storage. These products are appealing in their design as much as in their ability to store things in a convenient way.
Craftsman Oak Coffee Table with Storage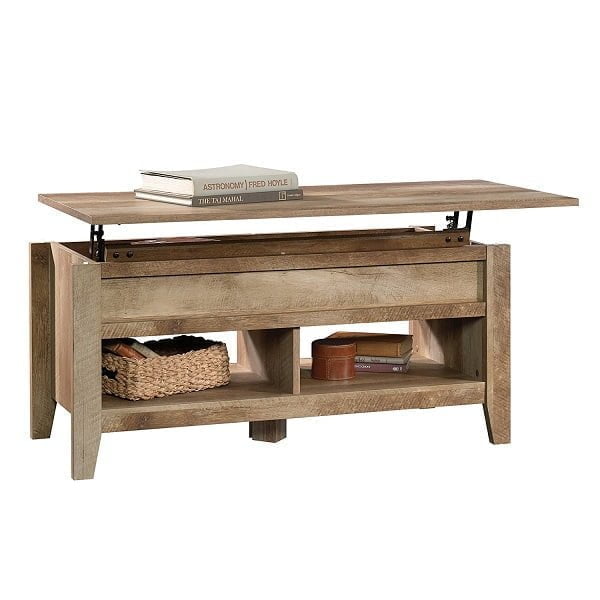 This unique lift-top table can redefine your living space and add beauty and function to your home. The top of the table lifts up and can be moved forward to create a multi-purpose work surface. As such, you can surf the Internet, work from home, or relax on the couch while eating a snack from the table. It has open shelving and concealed storage underneath for items like board games and blankets. This versatile coffee table is finished in rustic Craftsman Oak on all sides, bringing function and style to your preferred space. Available on Amazon (#ad).
Wood Storage Coffee Table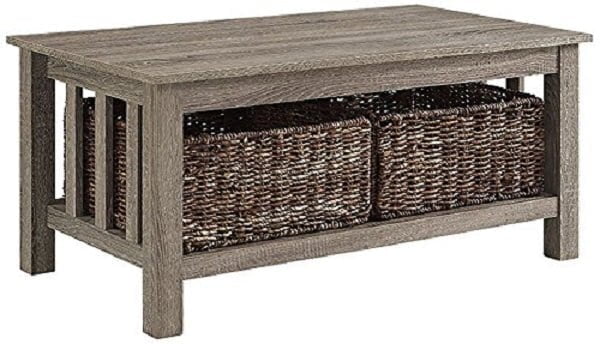 This elegantly-designed table can be used as an accent piece for a hallway, a centerpiece for a living area or to simply create additional storage space in any room. It includes two wicker baskets that complement the table and offer convenient storage for toys, books or accessories. However, the baskets have some imperfections and need reinforcement to stay in place. You can give your home a trendy and tidy look with this coffee table. It is ideal for a small space. Otherwise, the piece is very sturdy and can be put together in a couple of hours or so. Available on Amazon (#ad).
Contemporary Walnut Storage Coffee Table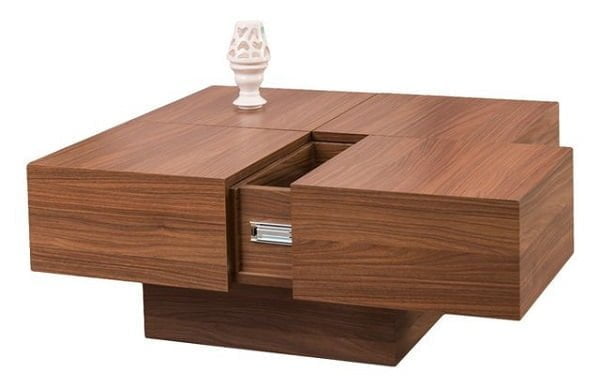 The design of this walnut table is both functional and stylish. Its walnut veneer will bring a distinctive look and feel to your home. Its sleek exterior opens to disclose secret storage compartments that are convenient and designed to easily and neatly store preferred items. The secret drawers slide quietly on a soft-close mechanism and there is no assembly required. This enables its seamless placing in any area of your home or office you desire. However, it should be noted that the piece is heavy and typically needs two people to move it from one place to the next. Available at Houzz.
Sunset Valley Cocktail Table with Storage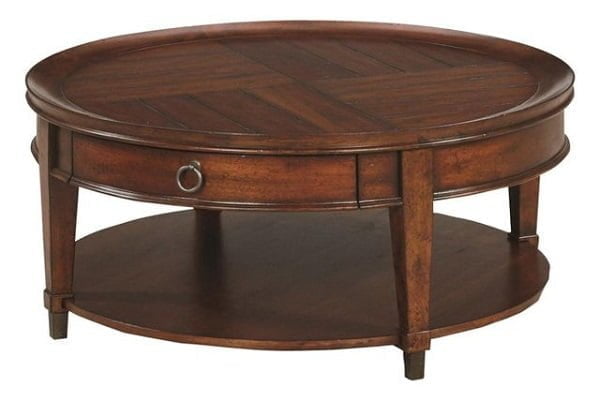 This round cocktail table is designed to bring style and function to different spaces around the home. It is a great option for those who prefer traditional furniture pieces. It is sleek, has numerous storage options, and is an overall great choice for your home. It is equipped with drawers, shelving, raised base, ring pull hardware and its legs are slightly tapered. The round top is sizable, which brings functionality to any space. It can be paired with matching occasional tables in the collection to give your home a completed look. Available at Houzz.
Rectangular Coffee Table with Storage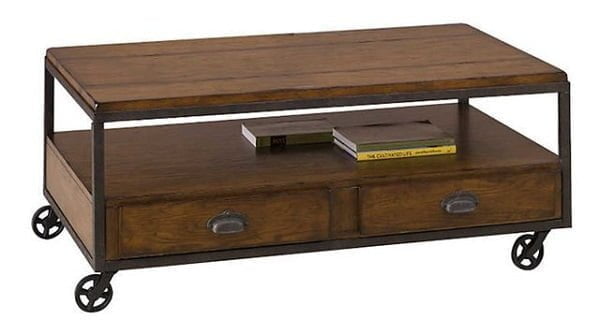 Chic, stunning, and functional, this rectangular storage table is craftily designed with rustic finishes. The finish of the lower shelf, thick tabletop, and the drawers of this table is done in a warm shade of antique lumber. Classic dark-finished metal is used to create the table frame, classic drawer pulls, and old-fashioned casters. Its design is charming and adds character to space. Its two spacious drawers provide storage for items like remote controls and accessories. The casters pay homage to vintage industrial style and make it easy to move the table. Available at Houzz.
Marble Coffee Tables
Marble is the material that brings some luxe to your decor. Best marble coffee tables work well in modern as well as classic interior design. And while choosing this type of table is a matter of taste, there are certainly great options in this category as well.
Soft Modern Marble Coffee Table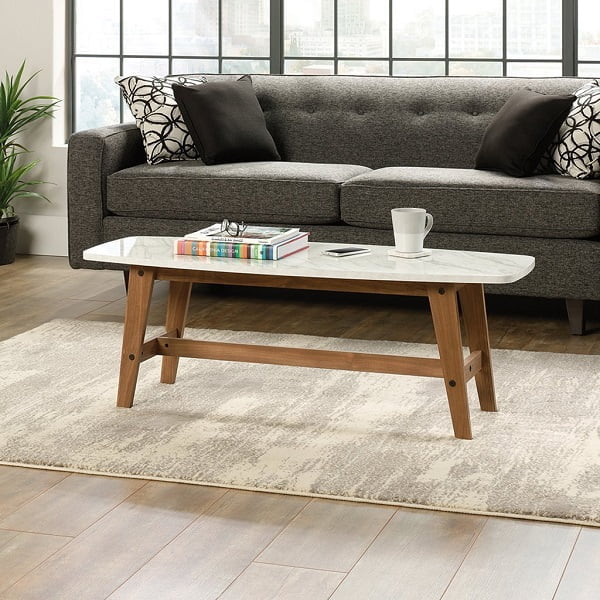 This table is very sleek and understated. The faux Carrara marble tabletop helps to conjure up a nostalgic, mid-century modern coffee table style that is sure to add flair to a room. It is shipped flat and requires assembly before you can begin to enjoy the piece. It takes roughly 40 minutes to an hour to complete assembly. It should be noted that certain fluids like wine can stain the surface if they are not cleaned up immediately. This is ideal for those with limited space who prefer a longer table as opposed to a square/boxy one. This elegant looking table is environmentally friendly and will not clutter up space. Available on Amazon (#ad).
Round Side Marble Coffee Table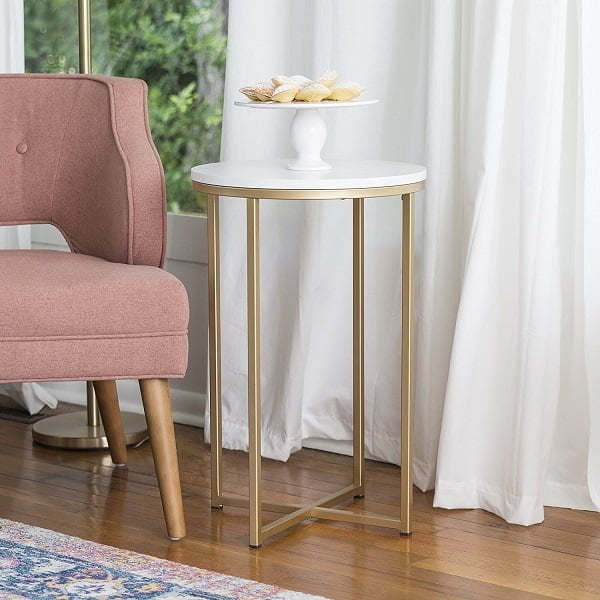 This 16-inch round side table with its painted metal base is classy, convenient and will surely add an additional element of sophistication to any space around your home in which it is placed. It has a durable faux marble laminate top and can be used by itself as a staple piece in your own unique arrangement. Alternatively, it can be paired with the matching 36-inch round coffee table. The pieces are shipped ready to assemble and step-by-step instructions are included in the package. Available on Amazon (#ad).
Bay Point Marble Coffee Table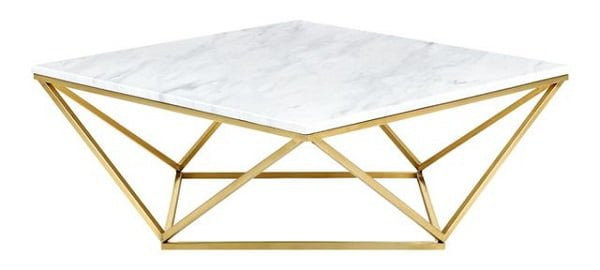 Geometry is used to inject a modern touch into your home by way of this coffee table designed by Bay Point. This design fashions a marble tabletop that is accommodated by its stainless steel base in its gold finish. Style and durability are effortlessly incorporated into the design of this coffee table. The table has a striking finish and its interesting shape provides a sleek design to instantly transform the look and feel of your space. The solid heavy marble used on the table looks and feels expensive. It requires minimal assembly to use this piece. Available at Houzz.
Aurora Marble Coffee Table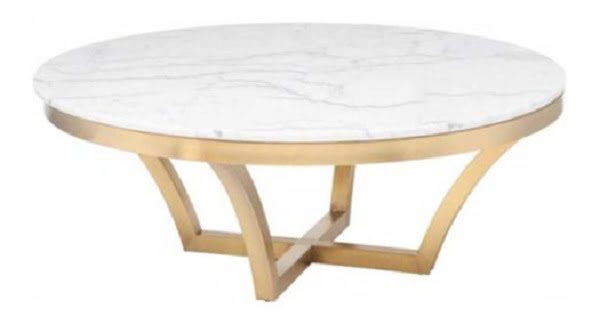 This marble coffee table top is white, soft-grained and it sits on top of a remarkable, stainless steel base. The gorgeous, natural grain stands as a complement to the base by providing balance and accenting any space in which this coffee table is placed. The collection in which this table belongs places focus on blending modern designs with exceptional craftsmanship and top quality materials. Overall, the table adds a pop of style to space, and its attractive curves and modern aesthetics are sure to be complementary to just about any décor. Available at Houzz.
Metal Side Accent Marble Coffee Table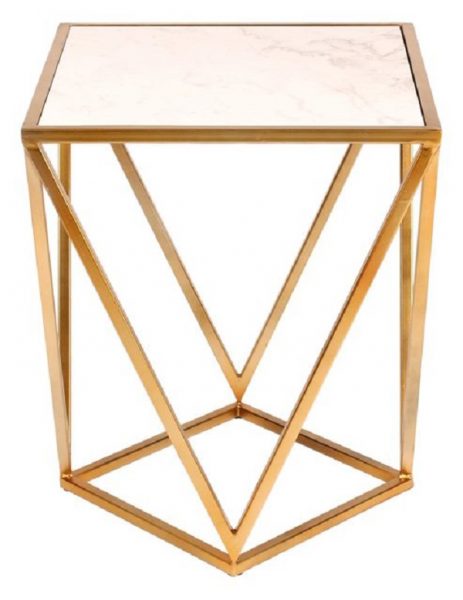 This stunningly stylish and modern side table provides the perfect place for you to casually set down your drink. There is a piece of natural marble rock on this accent table and with it in your home, you can experience the radiance that it evokes. This geometric table is elegant, has an angled base crafted from metal and a glossy finish. Its solid marble tabletop has a warm natural finish. It is designed to be the perfect fit next to a chair or sofa in the living area. It could also serve as a modern nightstand beside your bed. Available at Houzz.
Best Black Coffee Tables
Black is classic in any decor style because it's a neutral color. And a black coffee table will find a home in just about any type of living room. The only matter of choice is what kind of black coffee table you want exactly? Here are your choices for the best of them.
Dorel Living Faux Marble Lift Top Storage Coffee Table in Black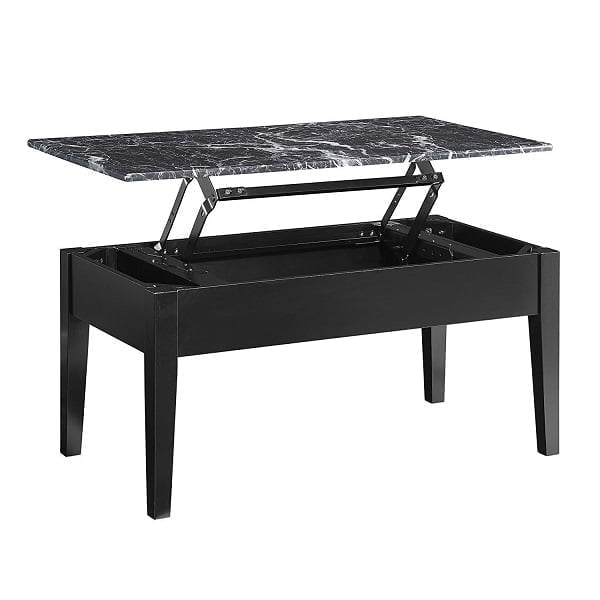 At first glance, the Dorel black coffee table with a marble lift top may seem like just another coffee table, however, lifting the top will reveal an all-purpose table that doubles as a storage compartment for items that need to be put out of sight quickly. When guests are coming, books, magazines and other items that live on coffee tables can be tucked away in the storage compartment. The faux marble top can double as a table for snacks or meals. Care should be taken when placing items like plates on the top when it is in the upright position because in this position the top can be a little unstable. Available on Amazon (#ad).
Galveston Black Coffee Table by Ashley Furniture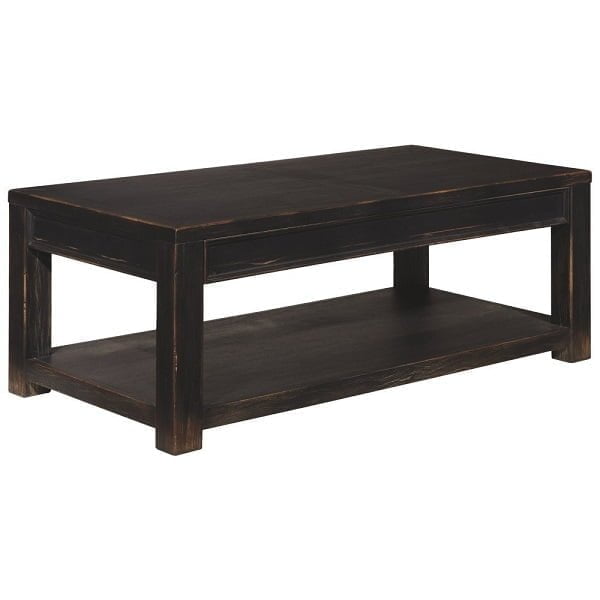 This table from Ashley Furniture is an Ashley signature design 18-inch high cocktail table. It has a classic distressed or weather-worn look that pairs well with eclectic furnishings. The lower shelf is perfect for storing books and magazines while leaving the top free for other uses. This coffee table is crafted of wood veneers and man-made wood and comes with tools for assembly. Available on Amazon (#ad).
Morlita Black Coffee Table by MOD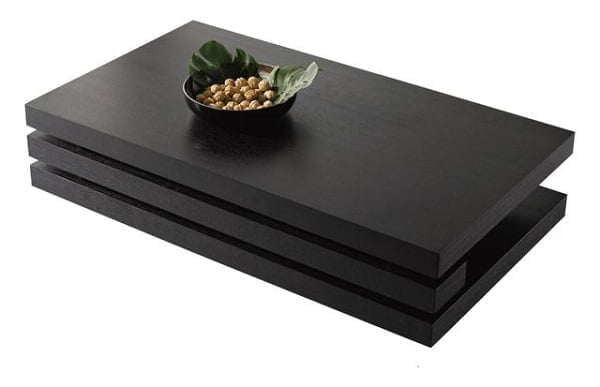 The Morlita coffee table by MOD is a modern simple style constructed of MDF (medium-density fiberboard), oak veneer, and wood. The table is appropriate for an apartment or house and works well with contemporary furnishings. The design gives the appearance of floating shelves. The bottom shelf makes a neat storage area for books and other items. The Morlita table is easy to assemble, and it gets high marks for style. However, the parts should be checked before assembly, as some purchasers have discovered dents that may have occurred during shipping or packing. Available at Houzz.
Round Transitional Black Coffee Table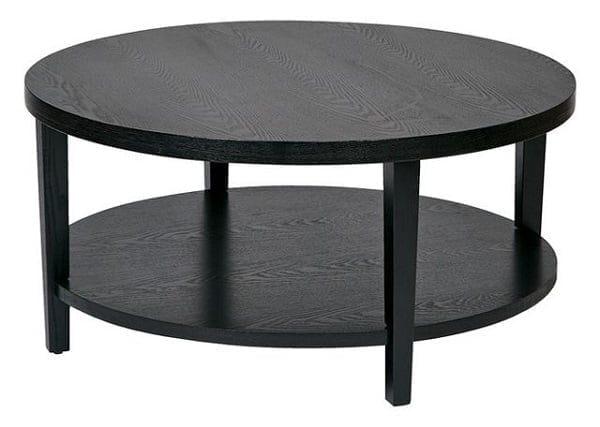 The Work Smart Merge 36-inch round coffee table in a black finish is can be used to anchor a conversation corner. It also works well in a waiting room in an office or workplace. The table is 36 inches round and is described as a commercial grade. The lower shelf provides extra space to store magazines and other items. Constructed of Ashwood and medium-density fiberboard, the table has a black finish. Manufactured by Office Star Products and sold by Houzz, the table is good quality and it is easy to assemble. Available at Houzz.
Valora Black Coffee Table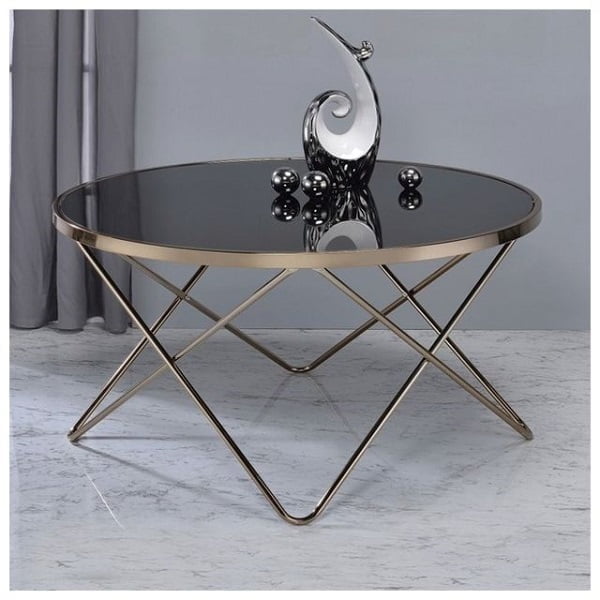 The Valora black glass and champagne coffee table is made by ACME and could be described as a work of art. The table base is constructed of champagne metal tubing and the black glass top is trimmed with champagne metal. The glass and metal construction of this piece gives it a sleek, sophisticated look with a touch of mid-century character. The round shape and open design make this table suitable for a small space. One of the drawbacks is that the table does not have a storage shelf at the bottom. Assembling the table can cause some challenges, so it is important to read the instructions carefully. Available at Houzz.
Liked this article? Here's what you can read next:
---
Disclosure: As an Amazon Associate we earn from qualifying purchases.