Last updated on April 8, 2023
Looking for the best coffee table for your sectional sofa? These are the top picks, all things considered. Read on!
Coffee tables for sectionals are often overlooked because they're simple and small. They are an afterthought because all eyes are on the sectional sofa itself. However, the right piece of furniture can make or break the room's decor. So we have put a list of the best sectional coffee tables for everyday use.
These coffee tables can be used in a lot of ways. Some are versatile for work, relaxing, or eating, and some have extra space or storage. Some units might even be the living room's focal point because of their decor value.
How to choose the best coffee table for a sectional sofa?
These are some of the features to check before buying one:
The golden rule of thumb for the size of the coffee table to go well with a sectional is 1/3 to 2/3 of the size of the horizontal seat.
Determining the size is important because although they are small, some units can be too small depending on how you use it. Pay attention the to size and type of your sectional.
Mobility – this also comes in size; you want your table to be mobile in case you need to move it around or put it in another room.
Functionality – some tables can be converted into a dining table, a work station, or have extra hidden storage.
Consider your living room decor – what the coffee table will do to it.
While getting our list of top-rated picks together, we couldn't help but notice the common caveats that started glaring at us. You would do well to have these in mind.
Here are some of the problems you might encounter:
Wobbly – since these tables are small, they might move too much which can be irritating to some people.
Assembling – though most of these are small and easy to build, there are some tables (especially those with more functionality) that can be hard to build.
Sometimes they might have a strong chemical smell that might not be good for kids or pets.
Ready to see our best coffee tables that we think are ideal for sectionals? We did our best and came up with a great shortlist of excellent choices for several different use cases. Note that we will be compensated for some qualifying purchases from this list (tagged #ad) with no additional cost to you.
Which one of the following will be your sectional sofa's best buddy?
Small Coffee Table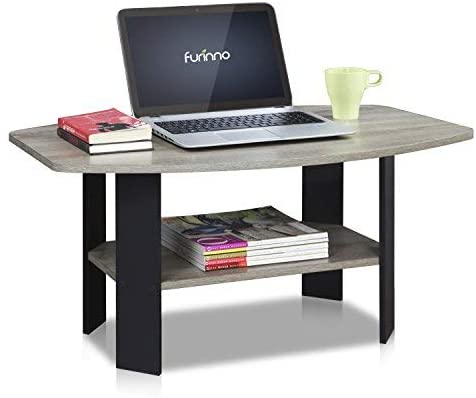 This table may be small, but it is stylish and functional in any type of room. Made up of composite wood from recycled rubber trees, this affordable furniture is easy to set up, portable, and a breeze cleaning. It will fit any small sectional with a chase and will still provide a shelf for coffee table books.
Pros: there is no foul smell; a durable composite wood frame; fits in a small space; its simple design accentuates the living room.
Cons: quite small; the edges are rough.
Oval Coffee Table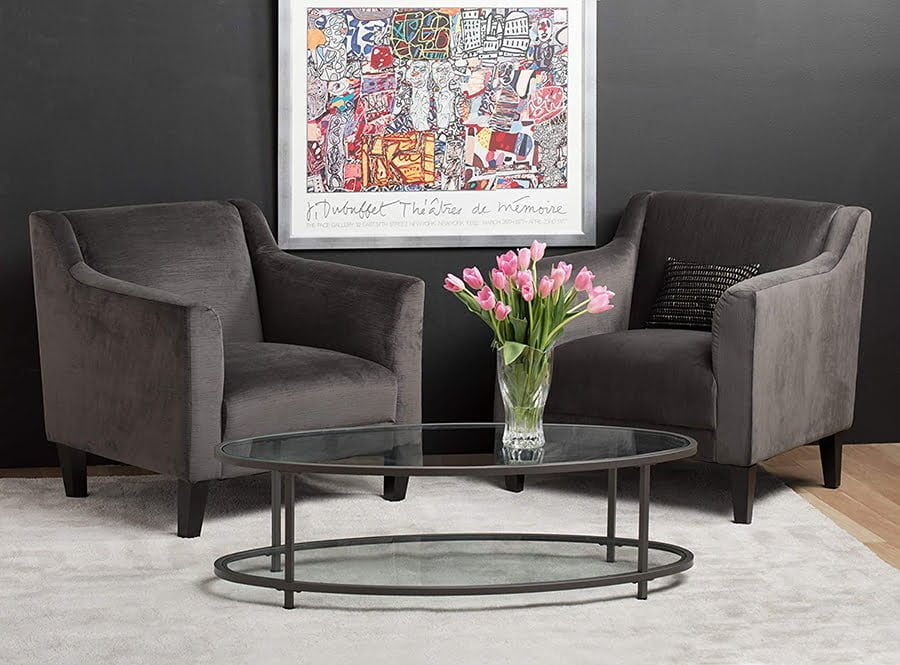 This oval table packs an extra storage space underneath for even big items. It also has floor levelers for increased stability on any flooring surface, while its metal grey frame with tempered glass provides a simple yet modern look. As it is sizeable, it will work with a bigger sectional.
Pros: a durable powder-coated steel frame; simple modern lines and neutral color; all parts are marked and simple to assemble.
Cons: nothing holds the glass in, so it may fall out if you tip it a little.
Large Coffee Table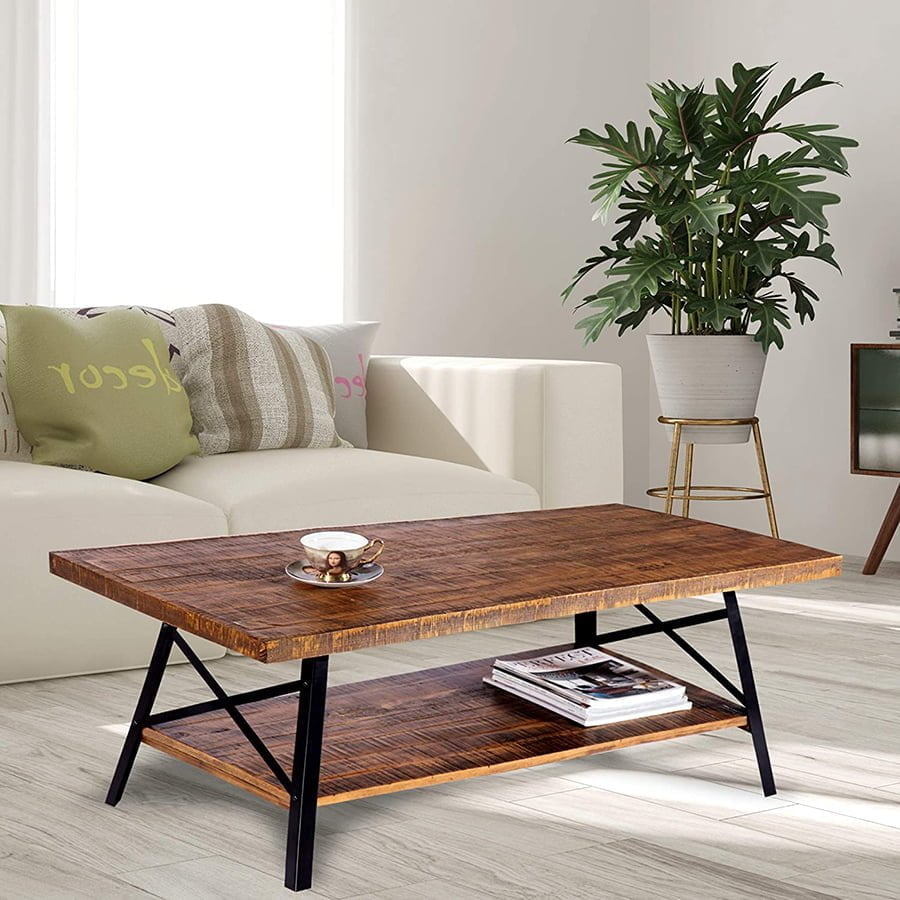 This product can offer a natural-looking table with steel legs built for durability. It's easy to build and provides extra storage underneath for everyday items. As a large piece, it will work with a large sectional.
Pros: made of natural pine wood board and solid steel legs; has storage underneath; very sturdy and solid; no cheap, thin metal or loose wobbling; lightweight enough to move it at ease.
Cons: the black metal is slightly flimsy, so be cautious while assembling.
Small Round Coffee Table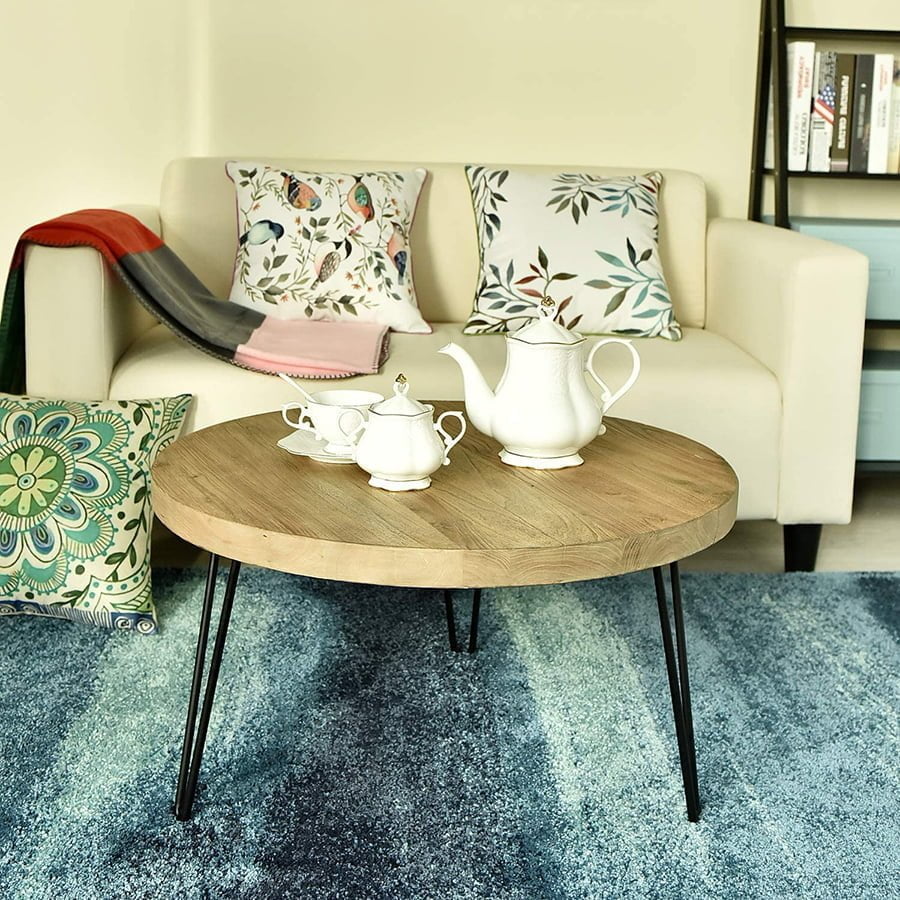 An antique-looking table made of Elmwood is sure to become the center of the party. An excellent collection for any room, this unit might be little but durable, built to last, and is made of rare materials. Try to match it to a sectional with horizontal seating twice this table's size.
Pros: elmwood is solid, and the legs are heavy; great for any small space; the top is nicely finished with a very natural rustic look; great little accent unit that looks well-made.
Cons: the tabletop is rough, and it is a little low to the floor.
Pop Up Coffee Table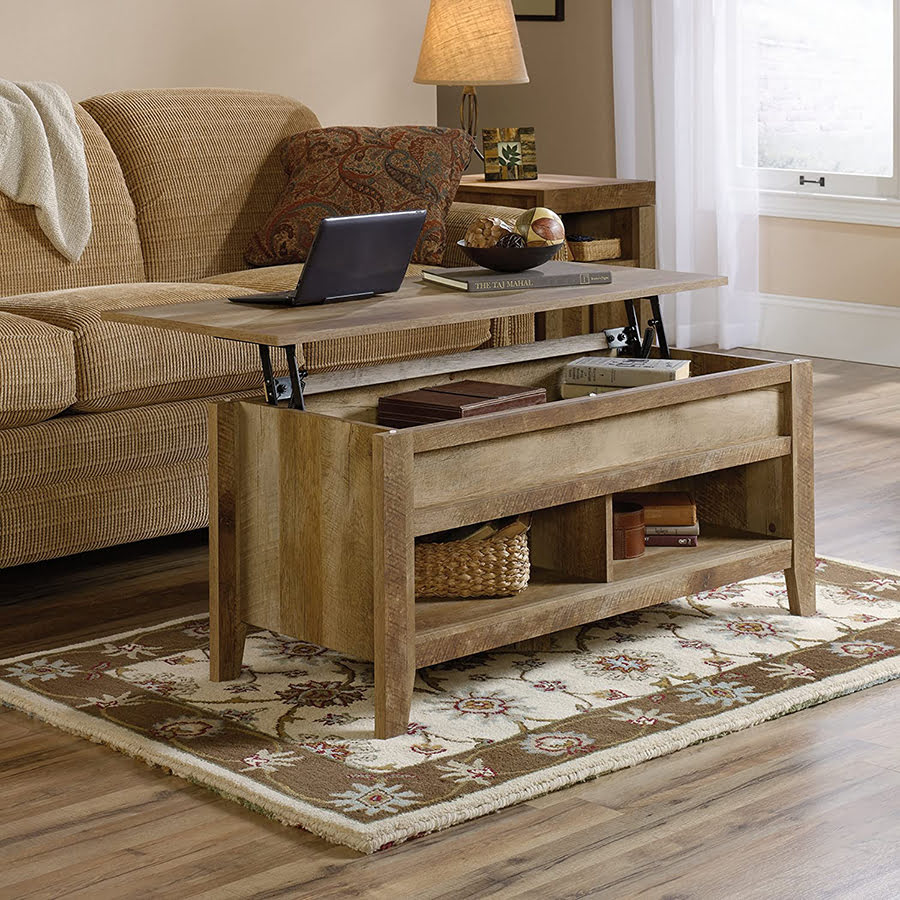 This is an all-around coffee table that will truly surprise visitors. The top can be lifted for multipurpose work with hidden storage in addition to the open shelves underneath to display items. Large sectionals will accommodate this unit well.
Pros: hidden storage compartment and shelf underneath the tabletop; a lift top feature creates a versatile work surface; great size for smaller spaces.
Cons: sharp corners, so you may not want it if you have younger children.
Round Glass Coffee Table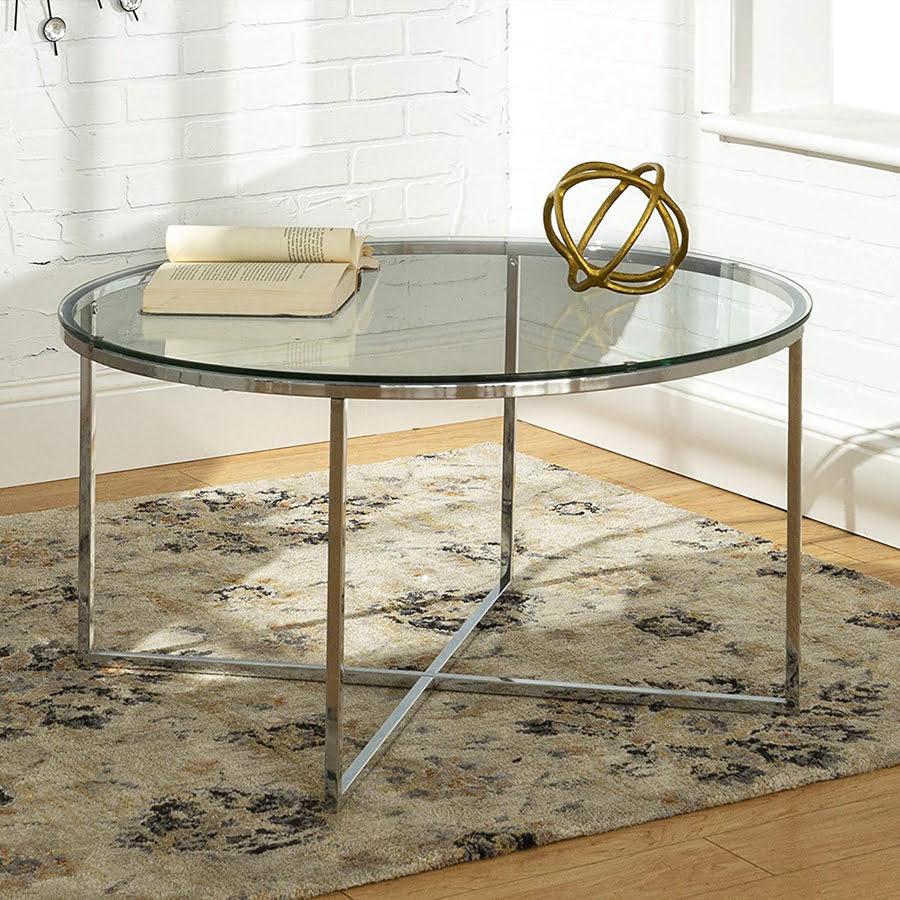 This built-to-last product can hold up to 50 lbs of items. A practical round table that is easy to build, classy and expensive. It can be paired with a matching side table to complete a living room set. An L-shaped sectional can accommodate it well.
Pros: lightweight but well made; the base is metal painted in gold; tempered glass tabletop; very easy to assemble.
Cons: a bit wobbly, and the legs aren't all on the same plane.
Large Square Coffee Table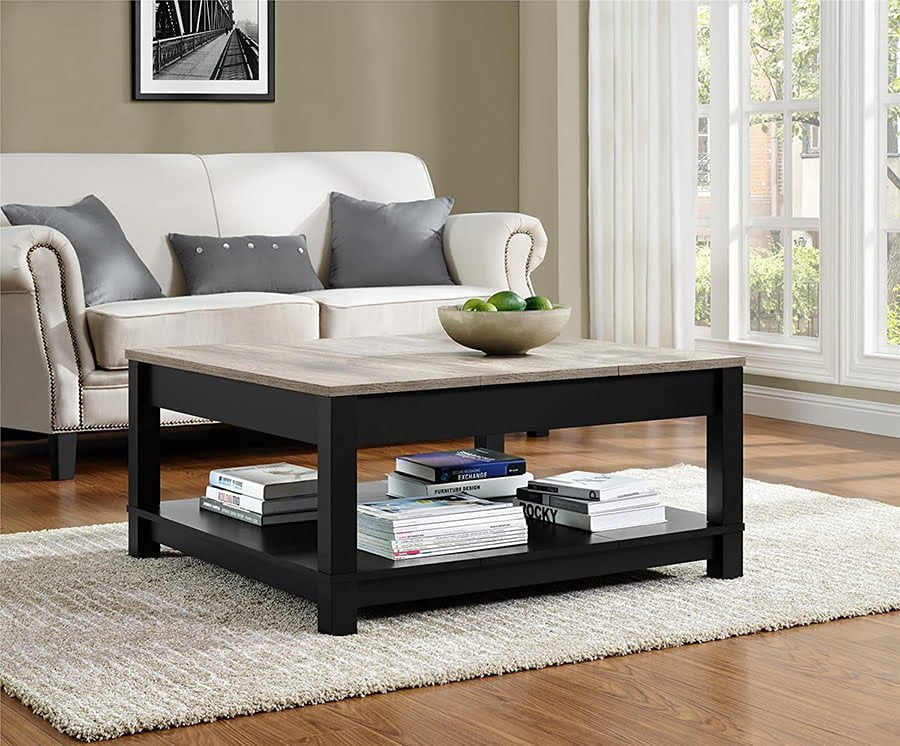 This table is the best for items to be displayed. The bottom shelf can be used for decoration or extra storage for everyday items. You might need an extra pair of hands to assemble this. It matches with a large sectional or an L-shaped sofa.
Pros: easy to clean; it has a bottom shelf for additional storage space; has a great visual aesthetic.
Cons: the bottom shelf isn't very sturdy and cannot support a lot of weight.
Round Marble Coffee Table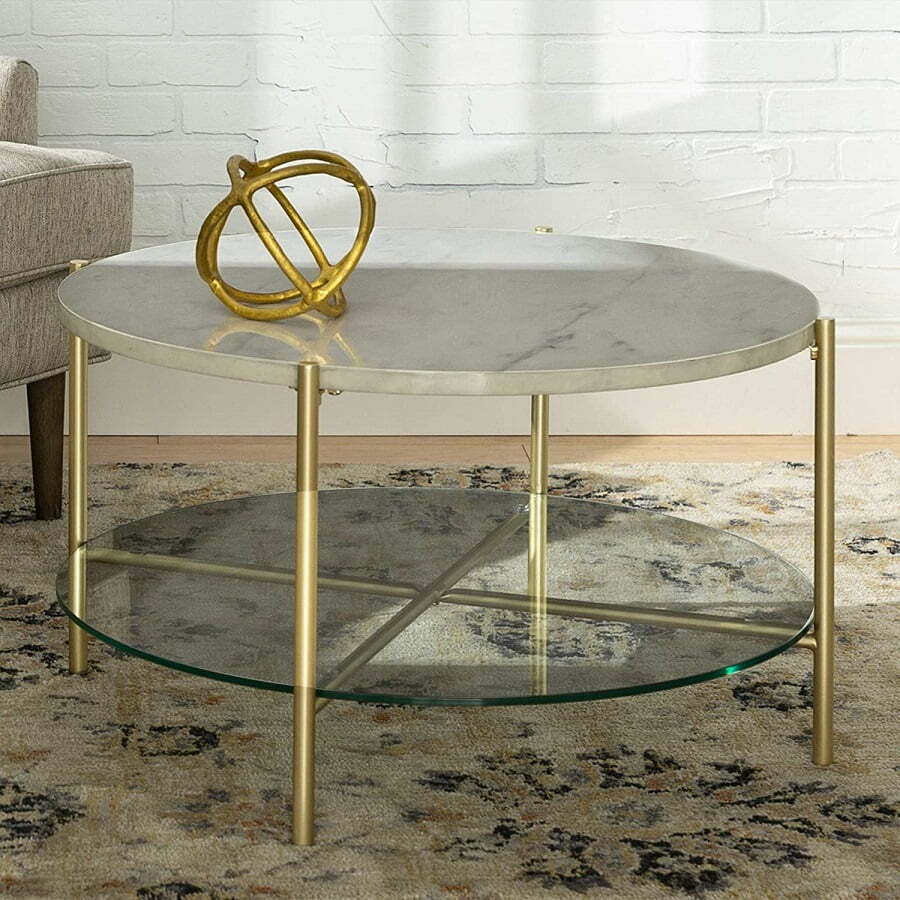 This table is fairly light but very durable. A simple round top with golden legs provides a beautiful and smooth appearance that will look great in any room.
Pros: the faux marble top is beautiful and looks close to the real thing; pretty lightweight, and you can move it easily; great size and height.
Cons: suction cups to hold the glass top may not be stable.
Narrow Coffee Table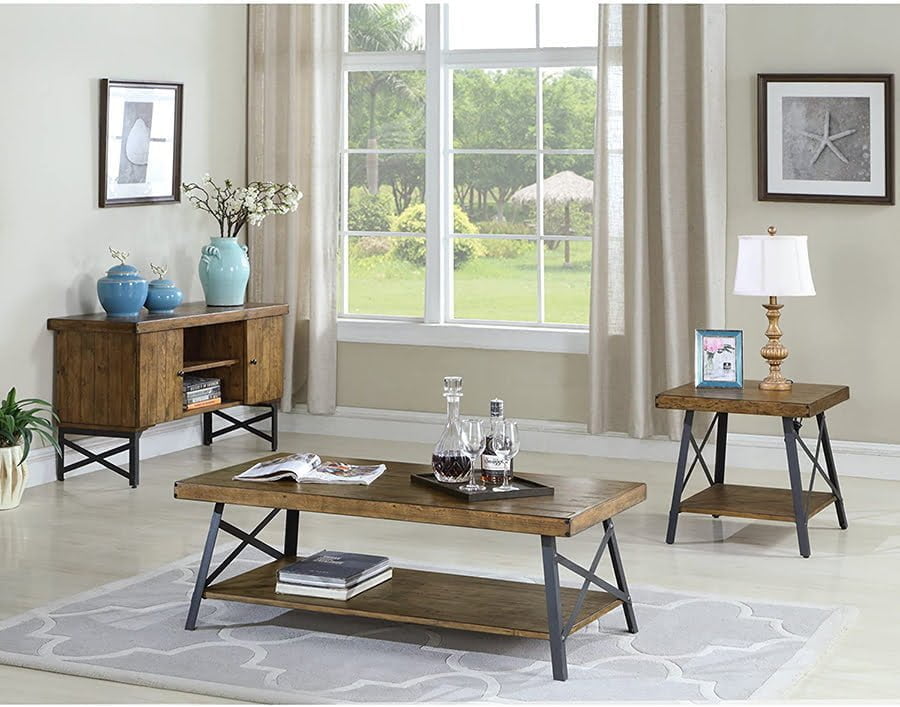 The top might be a bit rough; however, this solid table is sturdy and will be a striking addition to your room. It has an open shelf at the bottom for displaying items or extra storage, and the combination of rustic hardwood and industrial steel makes it better.
Pros: the wood is finished and shouldn't be hard to clean; solid, sturdy, gorgeous, made from real wood; easy to assemble; a rustic look.
Cons: the tabletop is not that smooth.
Round Coffee Table with Storage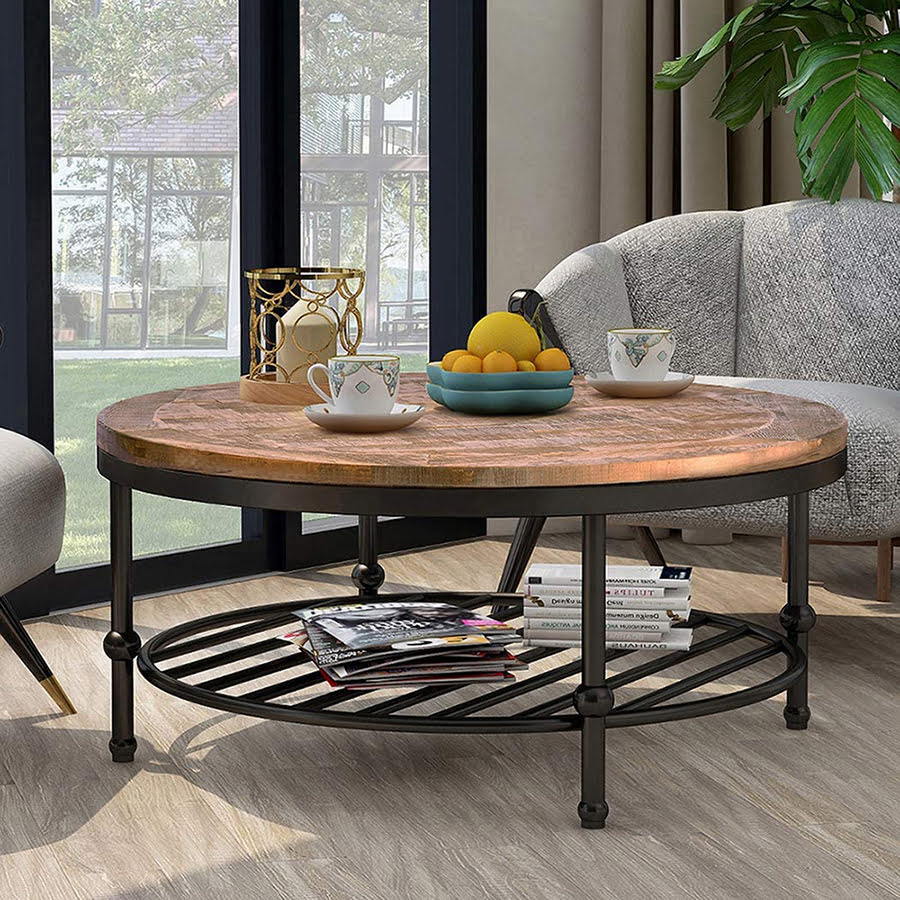 This powerful table has a solid iron support base that can support up to 300 lbs of items. It even has extra storage to accommodate more items to keep or display. Gorgeous because of its rustic style. It will match any large sectional sofa.
Pros: rustic solid wood surface; solid iron support base; super easy to put together; heavy-duty and well made.
Cons: when assembling, the screws would not tighten well.
Recap
---
Disclosure: As an Amazon Associate we earn from qualifying purchases.
Liked this article? Here's what you can read next: