Last updated on December 20, 2022
Having privacy problems with the windows of your home? The best privacy window films will help. Honest!
Our top pick: this decorative stained glass window film
I lived in a home that had a bedroom window coming out to the street. If the blinds were open, the neighbor across the street could see clearly into my room from their second floor. This meant either spending my days holed up behind the blinds with no sunlight or have my own special version of The Truman Show.
Honestly, I was constantly juggling between feeling like living in a cave or being watched. This had to end!
The solution? Privacy window film. In my case, it was a decorative stained glass film that let just enough daylight through but none of the view. It had an added benefit of blocking UV, which was nice as well.
Window film has some great benefits compared to other privacy providing window treatment options.
The decorative effect is nice.
It lets the light through but blocks the view completely.
It can turn the windows into a decor statement.
You can use the film on all types of windows, including front door glass, door side windows, porch windows, bathroom windows, etc.
You can use it on cabinet doors for a decorative effect (for example, I've used my leftover film from windows on my entertainment center glass doors for a lovely effect.)
So why wait? Let's dig in. Here are some really great window film options for privacy. We include shopping links for your convenience, which may result in our site getting a commission. It doesn't cost you extra.
Decorative Stained Glass Window Film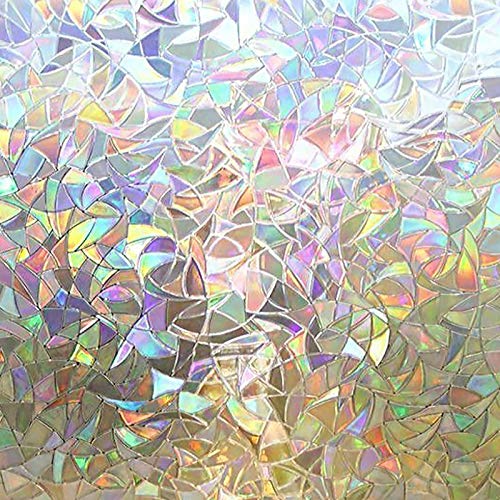 This is our top pick for the best privacy window film. And the privacy it provides. This film is ideal to leave more daylight, but it doesn't look like it. It's quick to mount. The most challenging thing would be if your windows were massive. But even then, it's easily doable. For best use, make ready enough soapy water. Cut the film a little oversize. Then remove the back paper before you put it. It is best to pinch out air bubbles before cutting the edge to the exact size. Use a sharp blade to slash edges.
The film's rainbow effect is most pleasing. Buy it to make your windows more private, especially if they're overlooking the street. When the light gleams on it at the right angle, the rainbow colors are cast on the wall.
Reflective Anti UV Window Film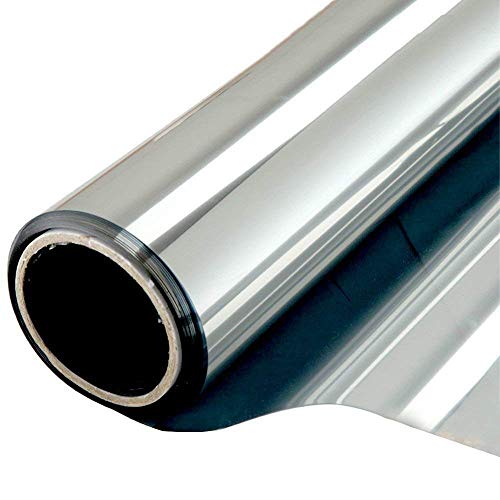 This window film works fantastically. At night, you won't need to close your blinds. Clean your windows very well before applying it. Be careful when you peel your back because it will ruin your finish if you get a kink in it.
From the outside, at a glance, it just looks like a reflective window. Inside, any sunlight that enters effectively no longer has heat. Over the summer, you will not have to sit around in the dark while you have the AC on or think about overheating gadgets in the daylight.
Frosted Window Film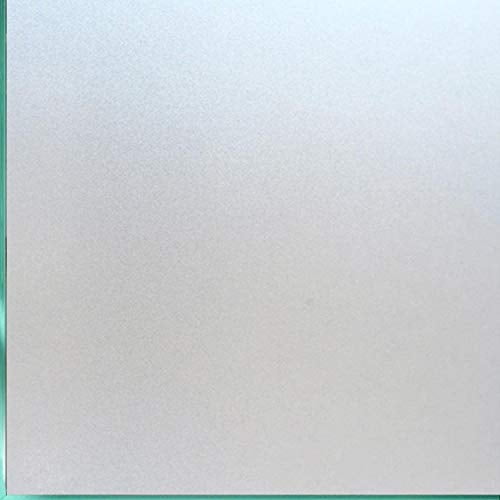 Mount these films on your windows over your porch, and they will turn out really nice. They have a pleasant even light, and keep the brightness down when the sun shines. It's straightforward to install and a product of high quality. For the best performance, we'd recommend using soapy water in a spray bottle, freely sprayed without a puddle. Use an old credit card to smooth out bubbles and a sharp knife for cutting any edges.
We like this film because it offers the ideal coverage while also leaving some light, extremely important. This product is inexpensive as well but be cautious about the square footage and its coverage. One roll covers an average full glass door.
Pattern Window Film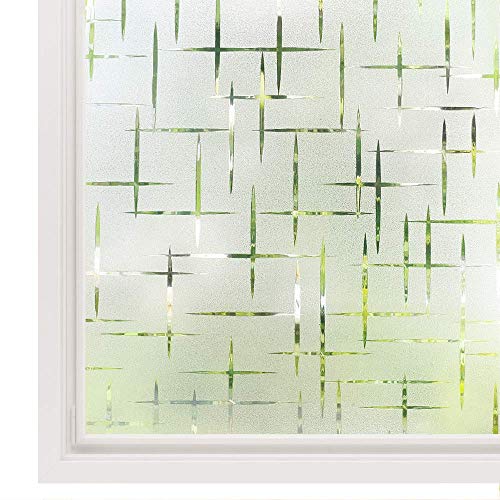 Flatly put the product on the floor, label the back (the sharp one that you peel off to scale), and then cut it with a precise knife. Quick and easy! You will like the design that is better than just frost for your front doors because it helps you see a little if I look at it to check who is there before opening your doors. It's elegant and even at night provides complete privacy.
Removable Privacy Window Film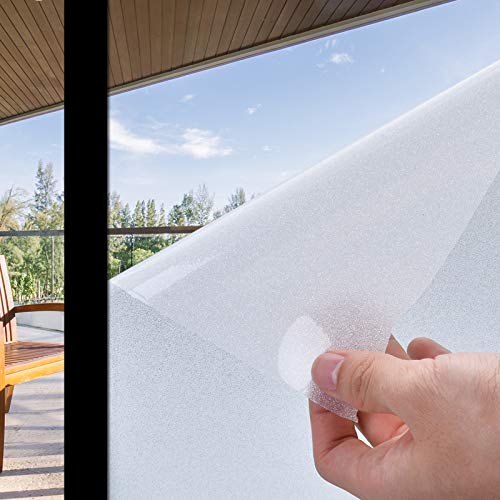 We would recommend this window film to anyone who wants to hold the light but lose sight. This may be easy enough to mount, but it will not be completely effortless. Take your time. Clean the windows and clean them again. Let's assume you have a big lazy cat, for instance, who knows he's supposed to stay away but is a cat, so he can't care less. You're going to want to vacuum first, dust, scrub the entire place, clean the window and install the film then. Otherwise, it'll look amazing, and the next day you'll know how many cat hairs it made between film and window.
Holographic Sticker Window Film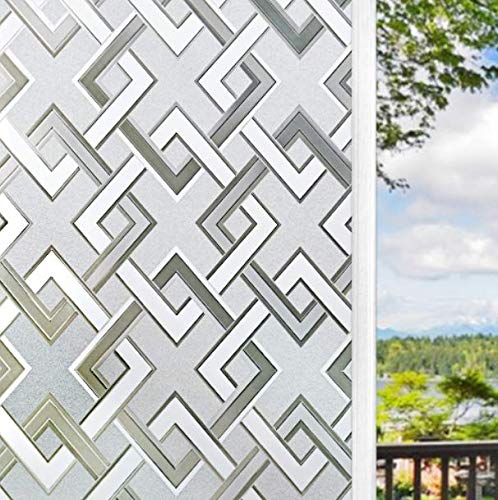 We love this style. It's cool in person and gives you perfect confidentiality. If your backdoor has a wide window, but you want some privacy and a light block, it will suit you. It's super quick to mount, and you can do it yourself without any assistance. You need a spray bottle of Windex or water, a plastic card, and a cutting knife. Thoroughly clean the windows, spray the water, use the film, cut the excess, and use a card to force out the bubbles.
Pattern Window Film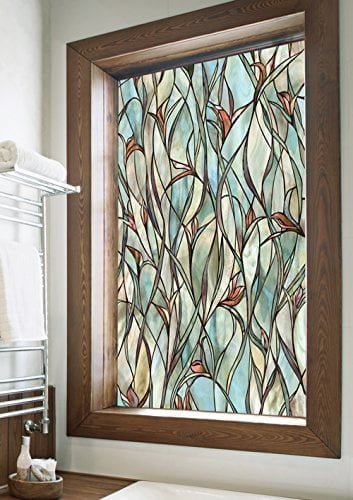 You'll be pleased with the result. If a window faces the street or your near neighbors, this will be a great alternative to window blinds.
As the parts are not large enough, your windows will need one roll plus one part of another. So three tasks are required to balance the pattern. It was worth it, though. It is effortless to apply if you follow the directions. Use more fluid than you thought and be very gentle. You'll have no issue rubbing it off. If you fit a seam to match the pattern, a lot of liquid will make it easier — if it's slippery, you can still shift it slightly.
Static Cling Decorative Window Film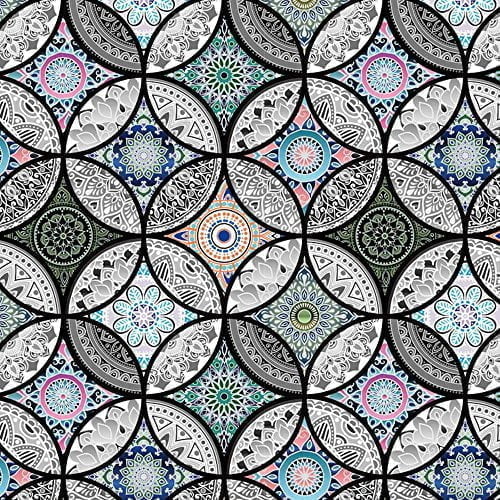 This film is really user-friendly. It does not come with a cutter or a tool for smoothing out excess bubbles/water, but you can use scissors, a box cutter, and an old credit card. With this product, you will be able to cover both sidelights of your front door, and when you're done, you'll still have a little leftover. It looks lovely. Such a versatile design can be used on more than just windows. For example, you can use it on cabinet glass doors.
Reflective Window Film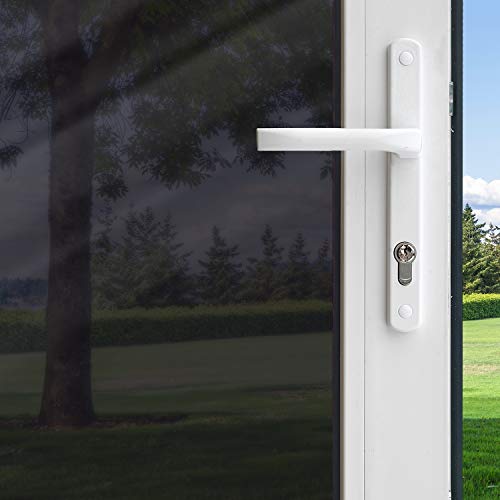 It is a fantastic price for a lot of area in a roll. Installation is simple. It will give you a mirror effect on the windows. The tint is sufficiently black but not too dark. It allows some light to go through and provides privacy. Use a bucket of soapy water and a clean towel to apply. Use a regular box cutter to cut the window's size and a credit card to suck out the excess of the soap.
Decorative Anit UV Window Film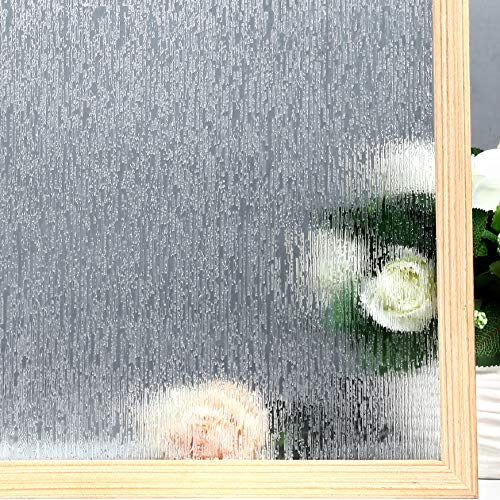 Get this product to give your dining room window a light privacy screen to prevent kids from seeing your neighborhood. It works well to blur the view from outside inside, and the rain effect on this film provides a wonderful feeling of looking at the rain. It is straightforward to mount (it's adhesive.) No peeling or bubbles if you apply it with soapy water.
Recap
---
Disclosure: As an Amazon Associate we earn from qualifying purchases.
Liked this article? Here's what you can read next: