Last updated on April 8, 2023
Looking for the best drain for your shower floor? Here are the top 10 options that will serve you well, save you from water overflowing, and still match your bathroom decor!
Our top pick is the linear drain from Neodrain.
How do you pick a shower drain?
Match your bathroom fixtures or have it integrate into your shower floor (match the tiles.)
Ensure it provides enough water drainage (sloped design.)
It needs a durable finish.
It should have a decent hair and filth catcher.
The weep holes should provide enough moisture dissipation.
Deep drains will help prevent the bad smells.
Plan your budget for the drain's price.
Shower drains offer many advantages to those upgrading from a clawfoot tub. Resilient finishes on metal are available with various grates integrated into the design of either version, functioning as good water drainage; air-gaps for sound insulation with silicone sealant; protection from mildew and bacteria. The attractive design makes this piece of plumbing instantly recognizable at eye level and functional, too, allowing users to shower in peace, knowing hair does not clog up small crevices or seep into their new fixtures.
High-quality shower drains eliminate odors and trap unwanted particles like hair. This type of drain often comes equipped with durable, self-aligning metal mesh grate covers and a lightweight grid skirt to help prevent rust because they are stainless steel made. These drains provide excellent water drainage and an integrated hair catcher that resists clogging formation while still delivering super easy cleaning and maintenance. Most luxurious models offer resistant porcelain finishes in either white or black – both color options blend beautifully with the décor of most bathrooms.
Here are our top picks. Our site earns a commission from the links but doesn't influence our product choice. This doesn't cost you extra.
Linear Hidden Shower Drain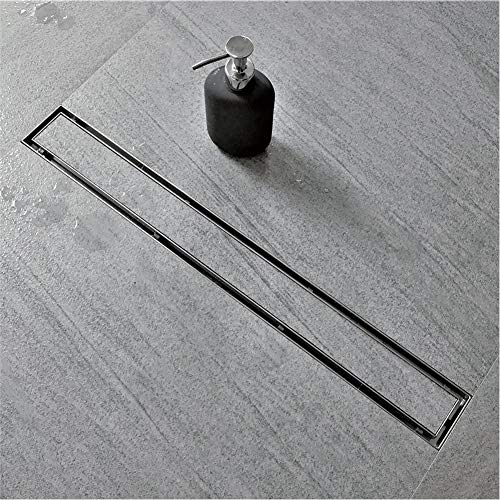 This is our top pick.
Neodrain offers a tileable (hidden) drain that seamlessly integrates into your shower floor. It's a trending design that's a must-have for an Instagram-worthy shower.
The facts:
A 24" long.
Drains high flow 30 liters per minute.
Built to fit your standard 2-inch drain base.
The hidden design fits the shower floor seamlessly. It is designed to be easily adjustable and removable. The V sloped design makes the water drain fast.
Overall, it's an excellent linear shower drain in a trendy design. (Are linear drains better?)
Square Shower Drain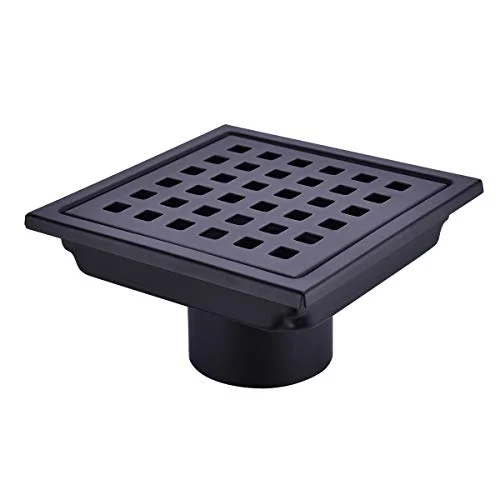 The bathroom shower drain is 304 stainless steel, which enhances durability. The product features removable care and has a dam packaged with it to clean your hair from the shower stall easily. It is easy for installation since you only need to cut off the existing drain section to install this square drain.
However, the downside of this product is that there are no base screws included, so you have purchased them separately. This grate also lacks an overflow system which can be beneficial because it helps avoid overflowing when draining or having excess water escape from being higher up on the grate, allowing it to flow faster down into the drainage pipe.
Matte Black Shower Floor Drain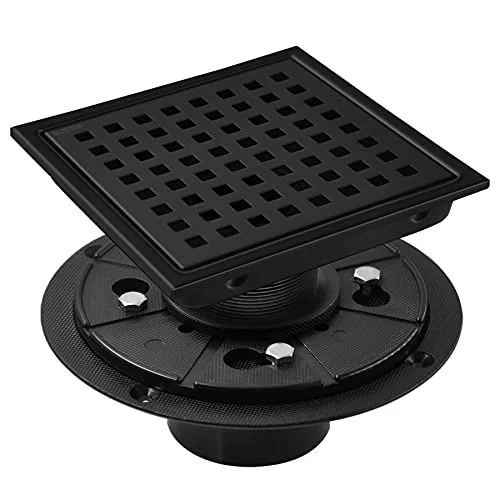 This is a drain made with durable matte black AISI 304 steel construction. It looks great. The grate design is piazza-style and brings some modernity to your shower area, while the hair will never get tangled thanks to its stainless steel mesh strainer and lifting key included with this product.
The grate has overall high-quality construction and can withstand corrosion heavy water floods. It is attractive if you like the design style. It fits drains of different sizes with straight cuts in tiles for 1, 2, and 3 sq. Try it for 6″ x 6″ curb installation too. Installs quickly and easily. Price varies depending on size. They have much smaller grate covers than other products, which means more hair clogging up your drain, so you may need to clean more often, but at least it's hidden and down there where no one can see.
Some other pros:
Works with all tile sizes making installation easier.
Maintain good drainage system without leak problems.
High-Quality materials hold off corrosion well.
Round Shower Drain
This round shower drain is constructed from high-quality materials, ensuring durability and reliability. The height for the WingTite design is 4.25″. The product will replace leaky shower drains and be compatible with multiple sub-flooring systems across various working environments. Furthermore, this round-shaped drain offers an easy installation that will make you save time and money.
Stainless Steel Shower Drain Grate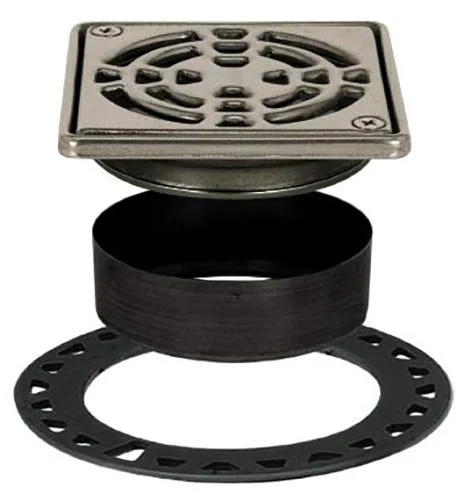 The stainless steel shower drain is a product manufactured by Schluter Systems. Their grate cover and hair catcher are designed to be attractive and easy to clean off hair to prevent clogs from getting stuck in the pipes under your tile surface. This comes in different styles to suit anyone's tastes, also corrosion-resistant for many years. Not even rust can slow down the performance or efficiency of this product!
Pros:
A very stylish-looking product – available in single-hole or three-hole designs (lots of options for edge trim).
Many consider this product the best shower drain because it has evenly distributed water drainage, grates that prevent slipping and heat retention from escaping are durably made of stainless steel material, and many grips all around its surface for better grip.
Kohler Shower Drain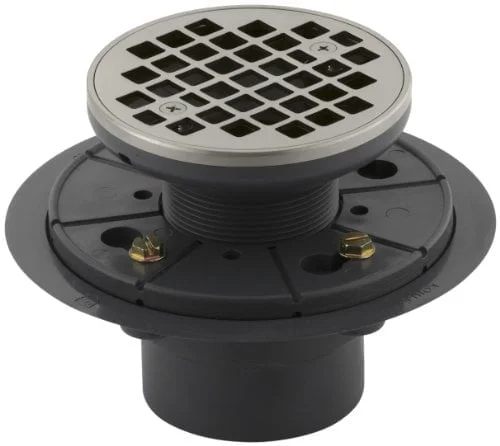 The Kohler shower drain is a product that has durable construction and Kohler quality. It has an inside tailpiece for 2″ and 3″ drains. This prevents some water from leaking from gaps or grooves in the drain hole and provides a better seal when the diameter changes as it travels down the pipes. It also features a Grooved collar that works as weep holes while the grooved flange adapter provides a strong seal.
The con about this product is that sometimes it takes time to install.
A major pro for this product is its durable, superior quality that balances durability with elegance to provide an upscale look in your bathroom decor, particularly if matched with similar finishes in other fixtures and accessories, especially from Kohler.
Linear Trench Shower Drain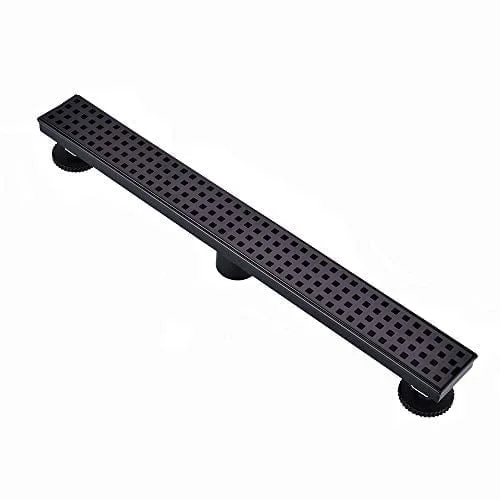 This is a linear trench shower drain. The product has the following features: a slide design, adjustable feet, an elegant and timeless design. The length is 24 inches, and the grate size is 2 inches in diameter with Levo central outlet. Compared to other types of drains on the market, this has a center slope design to provide better water drainage.
Oatey Stainless Steel Shower Drain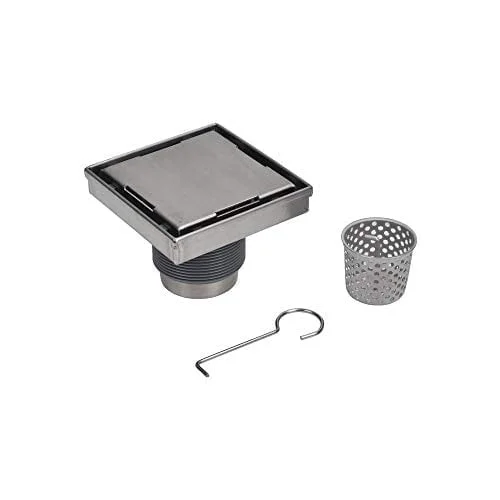 The components of this shower drain are corrosion resistant, so it will last many years. It also sits at a slanted angle to ensure water exits, not get clogged with hair and dirt.
It includes grommets that make it easy to disconnect for cleaning or maintenance and an overflow channel on top of the grate cover that helps minimize any rattle due to moving debris. The bottom bar is removable for easy installation with a 2-in-1 design.
The disadvantages include the price being significantly higher than other brands from a big-box store, although available in Lowes and Home Depot stores online or in person.
Oatey stainless steel shower drain has a 304-degree grade stainless-metal construction, a sloped drainage channel, a walking key for easy maintenance, and a debris basket with a silicone soundproof band to reduce noise.
Brass Caulk Shower Drain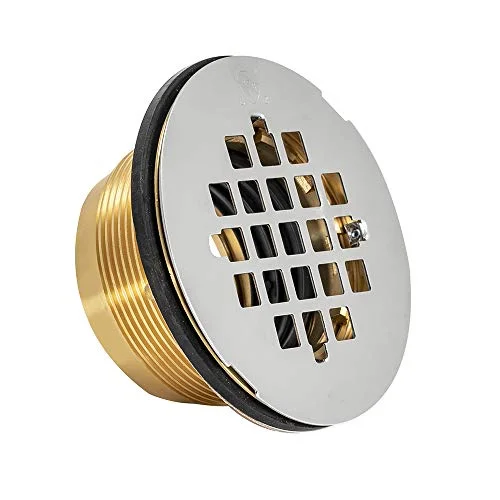 In our opinion, The Brass Caulk Shower Drain is a high-quality drain product that can be placed on any modern shower base. We like the stainless steel grid part of it for easy maintenance and cleaning, but also think that it can form a seal without caulking which prevents leak paths. One disadvantage might be that these are not customized to individual wishes. A big pro would be the resilience finish: it does resist rust and corrosion!
Performance-wise, this is not an inferior drain product — after all, our objective review is unbiased — rather, we made this product rank lower on features because we found other products, such as Kohler drains, to have higher quality.
The Brass Caulk Shower Drain is designed to fit a 2″ IPS (Iron Pipe Size). It features a stainless steel grid that facilitates quick cleanup and maintenance. This drain kit includes all necessary components, making it indispensable for homeowners to install new showers or repair existing ones.
Pros: The product's durability leads to longevity if you install it correctly. A final mention of pros is the beautiful appearance and aesthetic design, which snag hair easily but makes cleaning it easier.
The only disadvantage of the Brass Caulk Shower Drain comes with installation. Some preparation and experience with plumbing are needed when installing such a kit and properly setting up pipes before caulking them tight around the base.
Neodrain Linear Shower Drain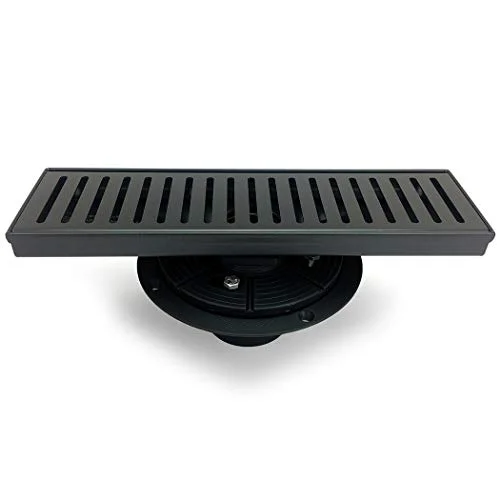 This linear drain product is ASTM AISI304 stainless steel, provides excellent water drainage, and removes the grate cover. It has a deep slope design, therefore preventing unpleasant smells.
The cons of this product are that it is expensive, drain placing becomes difficult when installing a tub resulting in leaks.
The linear shower drains equipped with adjustable feet on both sides, stainless steel threaded adapter to help adjust height and waterproof plug for a tight seal and good surrounding protection against potential leakage.
Removable grate makes it easy to clean away hair and other debris from floor drains.
FAQ
What can I use to stop my shower drain from smelling?
Cleaning the shower drain regularly will prevent bad smells. But also, a deeper drain design can help avoid the smells for longer.
Should a shower drain be centered?
No, off-center shower drains are better because they are situated out of the way of the person showering, so they don't block the drainage.
Recap
---
Disclosure: As an Amazon Associate we earn from qualifying purchases.
Liked this article? Here's what you can read next: