Last updated on January 27, 2022
What are the types of shower drains you can choose for your shower drainage? Interestingly there are only 2 main types, but your choices aren't limited to that. Read on!
Currently trending: linear shower drains and hidden drains.
The main two types of shower drains are point and linear drains. These two then branch out into different styles, designs, and installation types. So you have a wide choice of shower drains, but you need to worry about only two types of floors that fit these drains. Most brands carry both of these types.
We'll discuss the differences, pros, and cons, as well as popular styles of shower drains in this article. (Is linear the better option?) We hope that you will find your inspiration.
We have also included shopping links to show you what these shower drains are and where to get them. Our site makes a commission from this.
Point Drains
Point showers are the most common and usually sit in the center of the shower floor. The floor should slope to the point drain from all directions for fast drainage. Certain designs have a square top, but you'll mostly use them round. Point drains are small and inexpensive but still effective at draining any size shower.
They have small sloped sections at their corners, which allow for the separation of some of the flowing water to run against the drain's slope in certain directions. This provides built-in overflow protection against overfilling and flooding. A point drain may not be the best option for curbless showers, which do not have a curb separating them from the rest of the room.
Overall, point drains are less expensive and more common than other drain types. This type can be used with round or square grills but will not work well if the shower is curbless or has widely-spaced tiles.
The funnel in a point drain throws off many small tiles, so it is hard to use large, flat tiles on floors. Many people would prefer that the shower floor have a different look from the rest of the bathroom. Point drains can be a good option for this, so they are common choices.
Linear Drains
A new trend, linear drains are long and rectangular drains, and you place them against the wall of your shower. The slope then moves towards the drain in one direction, which means that you can use tiles in interesting ways and choose whatever size of tile you want. Linear drains work best when making a curbless shower, too, since the entire floor slopes away from the edge of the opening.
On the downside, they are more expensive than point drains and will only work with sloped flooring.
Linear drains are more spacious and allow for larger tiles to be used. However, you can still install smaller tiles if you wish. Linear drains have a certain aesthetic that is popular with some homeowners as they create a seamless overall look in bathrooms, making them seem bigger than they may actually be.
The key difference from point drains is that you can use larger tiles for the shower floor. The entire floor is evenly sloped in one direction, so there's no difference in what size of tile you choose. If you want small tiles – which would produce the same effect of linear draining, then it's fine too.
Decorative Drain or Hidden Drain
After you decide which type of drain you will use, it's important to decide what style and color you'd like for your grates, which usually show around the drain where water comes down when taking showers.
It's best to choose something that looks nice with all your other bathroom fixtures and makes your shower look good. There are many amounts of drains that you can buy at any local hardware store.
In this instance, the same tile used on the shower floor is applied to the top of a solid surface grate. The water drains around the edgings of tiled tiles on the grate and becomes nearly invisible within this confined space.
Single-Piece Drain
A single-piece drain is the simplest. You can find it in tiled shower bases on concrete floors. The concrete floor doesn't suffer damage if exposed to water and moisture, so the most basic design is enough. These drains have a strainer screwed directly into the pipe socket. The drainpipe is placed inside this socket using screws, which act as connections at the top of the drainpipe.
Multi-Piece Shower Drain
Multi-piece shower drains are different than other variations. However, they tend to be found in the most basic shower stalls out there. The drain consists of an opening that is propped up by a lock. A rubber bit rests between the base and lid, which maintains water pressure through tight seals on either side of it. This includes a metal ring made to wrap around the outside on some holes, and many times this includes additional metal fasteners.
Multi-piece shower drains provide a level tiled floor where the shower pan or liner and the subfloor meet. The drainpipe comes with three pieces: the bottom piece rests on the top of solid surface; the middle piece spans over the shower pan or liner, with an adjustable height to match the tile you'll be installing; finally, threaded rubber gaskets are tightened so that there won't be a gap (with the exception of weep holes.)
If a shower floor is being installed, you must install the drain components from the strainer to the flange before you can slide said shower base into place. All remaining pieces are found below or behind the base, and installation should occur in this order.
Shower Drain Finish and Style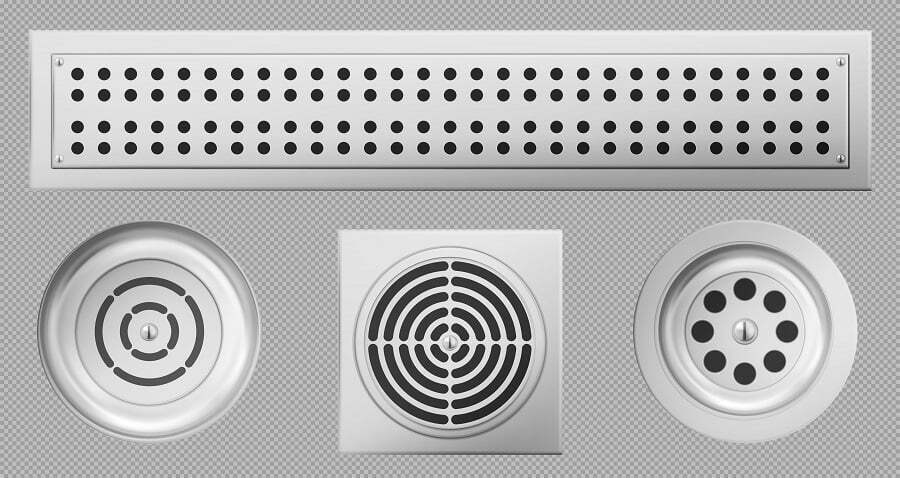 There are many different finishes and styles of shower drains you can choose from. Choose the style and finish that matches your bathroom decor and fixtures. Popular finishes include stainless steel, brushed nickel, rubbed bronze, matte black, etc.
For styles, there is a personal choice more than anything. There are so many to choose from. You can go for classic or timeless pieces or take a risk with louder and bolder designs.
Tileable Drain Grate
A tileable grate would work with the material on top of the liners, and it will give a clean, minimalistic feel. This way, you can make any drain integrate (point or linear) with your shower floor and seamlessly disappear. The only drawback is the decreased water drainage speed.
FAQ
How do I choose a shower drain?
Choose a shower drain that matches your bathroom decor and fixtures as well as the shower floor type.
What is a linear drain in a shower?
A linear drain is a large rectangular drain along the wall that enables better water drainage due to its larger surface.
Liked this article? Here's what you can read next: