Last updated on December 19, 2022
Looking for the best Japanese futon (Shikibuton) as a space-saving bed alternative? We've researched all versions of it, from traditional to the Western variations to find the best. Find out what it is, next.
► Our top choice: FULI Traditional Shikibuton
The traditional Japanese futon (a.k.a Shikibuton) is a thin rollable (foldable) mattress that is used for sleeping straight on the floor (or on a Tatami mat). This frameless futon is the ultimate solution to a space-hogging bed. It is an ideal option for minimalist sleeping or accommodating guests in a limited space. Fans and experts also boast about its health benefits. You might want to convert!
But what is called a Japanese futon doesn't necessarily mean the traditional Shikibuton as many floor mattresses are manufactured in a similar fashion. They use this term to capture the idea behind this bed alternative. This means that there's a lot to cover and research.
We begin by pinpointing the essential qualities that such a futon should carry. Both, traditional and Western models carry the same goals but their manufacture methods are different.
Here's what we've discovered:
The traditional Shikibuton is only 3-4 inches thick. But floor mattresses and foldable futons can be up to 8 inches. It all depends on how much support you need.
A Shikibuton is padded with cotton. But cheaper alternatives with foam exist. They are more like your typical Western framed futon.
Flippable models help to keep the sleeping surface clean longer.
They're inexpensive compared to other sleeper options.
Rollable and foldable futons can be easily stored away and you can keep a few of these for unexpected guests.
Something to be aware of is the sacrifices that are made in cheaper designs:
Thicker foam mattresses aren't necessarily hypoallergenic, they collect dust, especially when you're so close to the ground.
A shikibuton should be firm, that can't be said about all floor mattresses.
A rollable Japanese futon is easy to hang outside in the sun to kill bacteria. That might be difficult to do with foldable futons.
A big drawback of the traditional shikibuton is that it takes 2-3 days to fully expand. This is fixed by foam mattresses.
The following are the top 10 products that we've found during our research and they are worth attention. You'll find our top pick as well (editor's choice). As a transparency disclaimer, be aware that link provided for your shopping convenience result in a commission for us. There's no addition cost to you.
Which one of the following is going to be your minimalist bedding solution?
Best Japanese Futon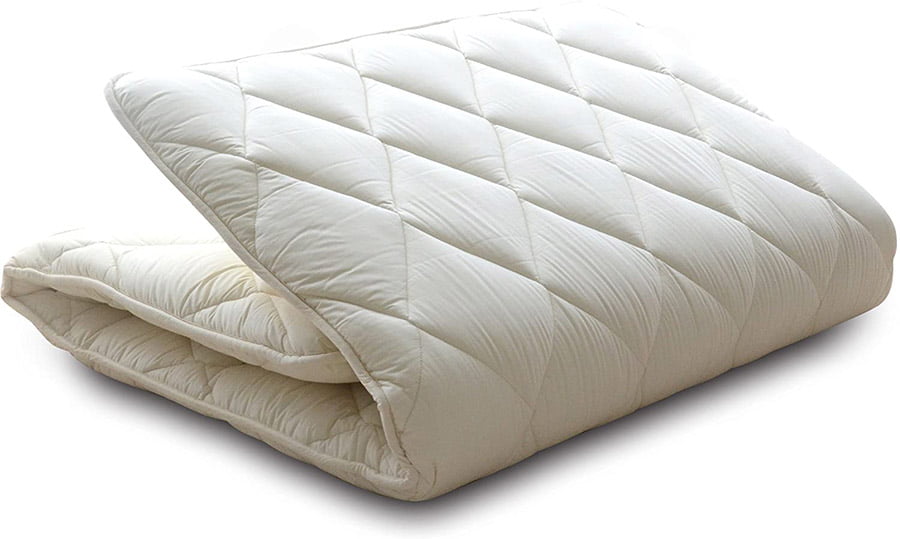 This Japanese futon is firm and is made of anti-bacterial materials. It relieves back pain and really comfortable providing you a night of better sleep. It might not last long though if improperly used.
Pros: Firm; anti bacterial; relieves back pain; memory foam; comfortable.
Cons: Thin; not long lasting; takes too long to expand.
Best Shikibuton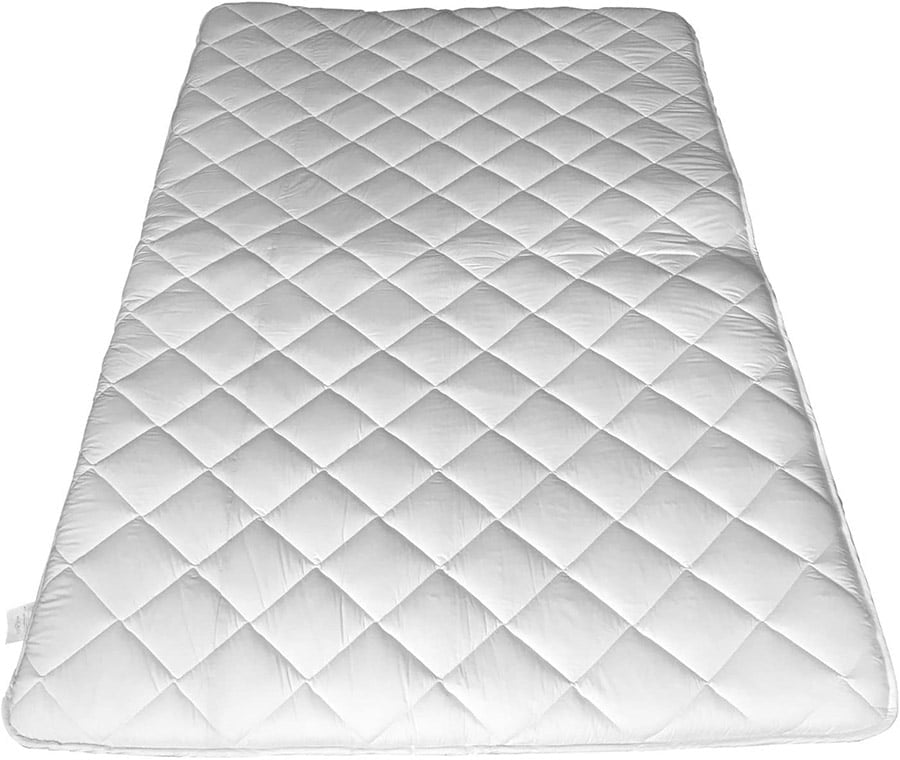 This is our choice for the best Japanese futon. A bit expensive and thin (3 inches) but is made of high-quality materials, this Japanese futon is very close to the traditional shikibuton. It is very portable and space-saving because it's so easy to fold. The fabric is really soft but it needs regular cleaning to maintain its beauty and softness.
Pros: Fast drying; high quality materials; easy to fold; soft fabric.
Cons: Expensive; thin; needs regular cleaning.
Japanese Futon Mattress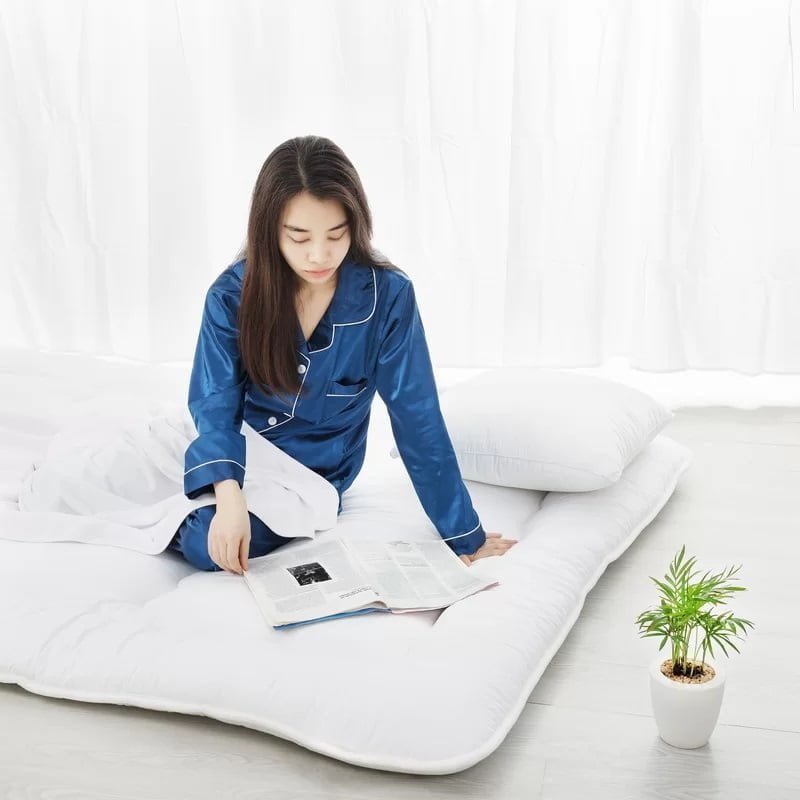 It may have an uneven surface but this futon will still make your sleep better. It keeps your back and body healthy and can be folded easily so you can bring it to a camp or beaches if you want to. It can be used not just for sleeping but for yoga as well.
Pros: Folds easily; hypoallergenic; multipurpose; lightweight; easy to clean; non toxic smell.
Cons: Uneven surface; too thin.
Tatami Bed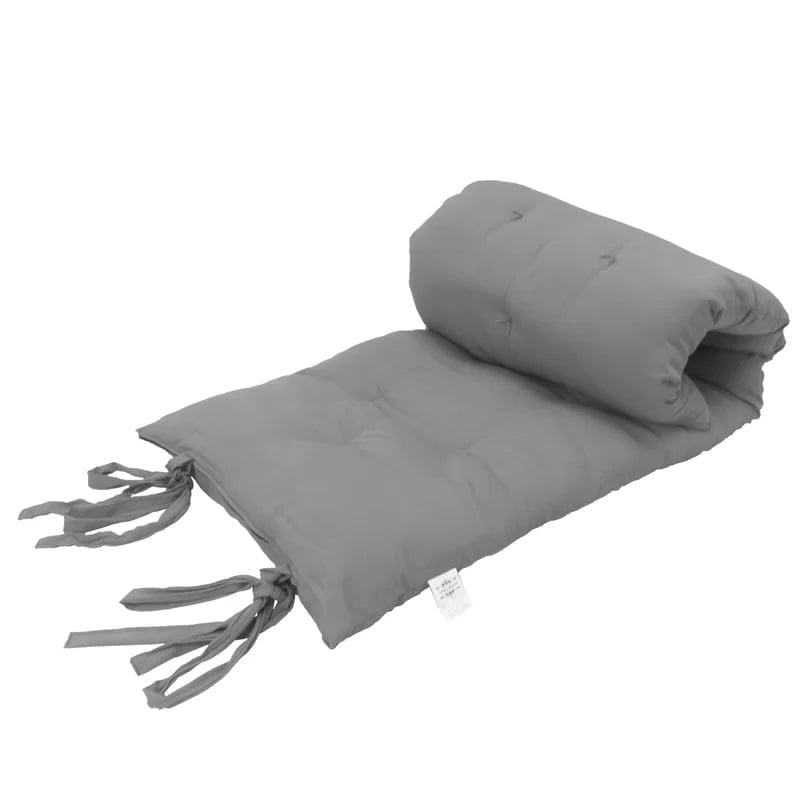 It might be heavy but this futon can be rolled up or fold for easy carry and move around. It can be used for a lot of things other than sleeping like picnics, games, massages, or yoga. It has eucalyptus so it gives a nice smell and improves air circulation.
Pros: Easy to roll up or fold; multipurpose use; made of natural materials; comfortable; practical; improved air circulation; smells great.
Cons: Not dense enough; not firm; heavy and big.
Small Futon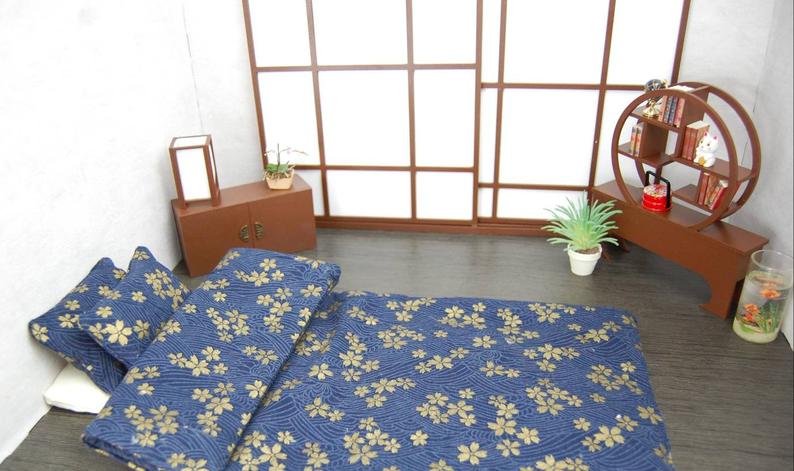 This Japanese futon is best suited for kids as it is really small but it can be used for dolls too. It is really affordable but obviously made of thin fabric. It is hand made and is beautiful when you look at it.
Pros: Really affordable; beautiful looking; handmade; perfect for kids.
Cons: Thin fabric; really small.
Roll Up Mattress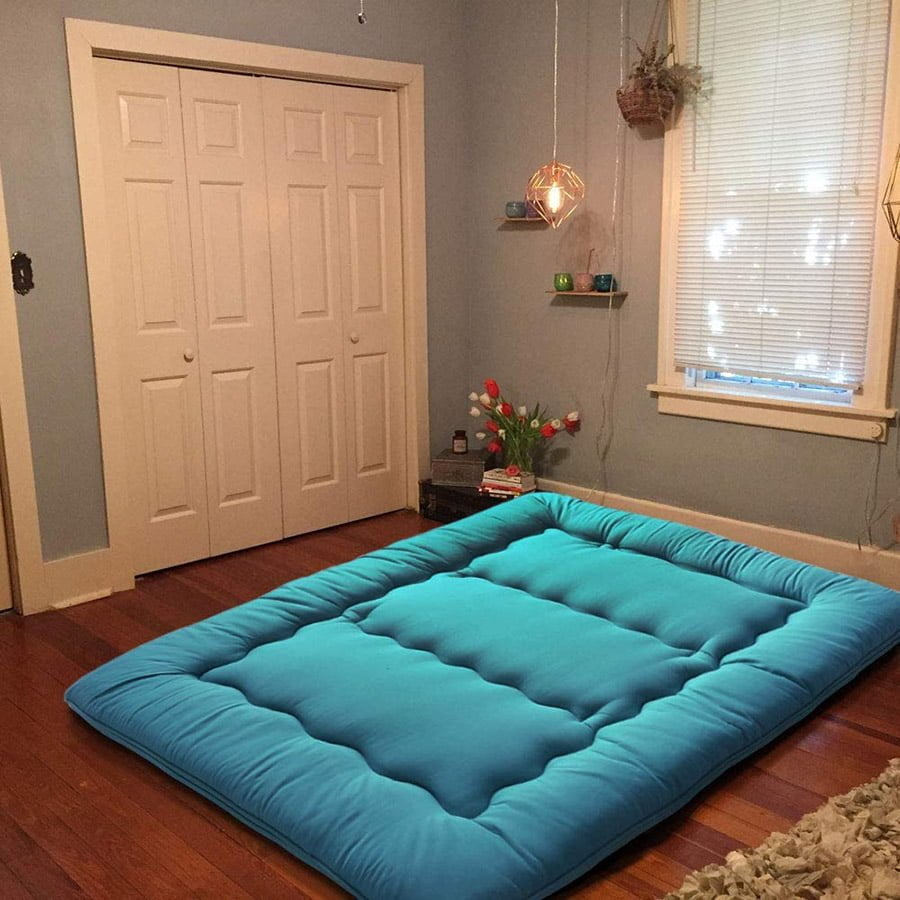 A big futon that is dustproof and resilient to damages is what this item can bring on the table. It's thinner than what you expect but it provides firm support for a good sleep and lesser back pains. It can be used for sitting, playing, and even by pets.
Pros: Dust proof; multipurpose; resilient; firm support; comfortable.
Cons: 2 to 3 days to fully expand; thinner than expected; not for heavy users.
Japanese Floor Mattress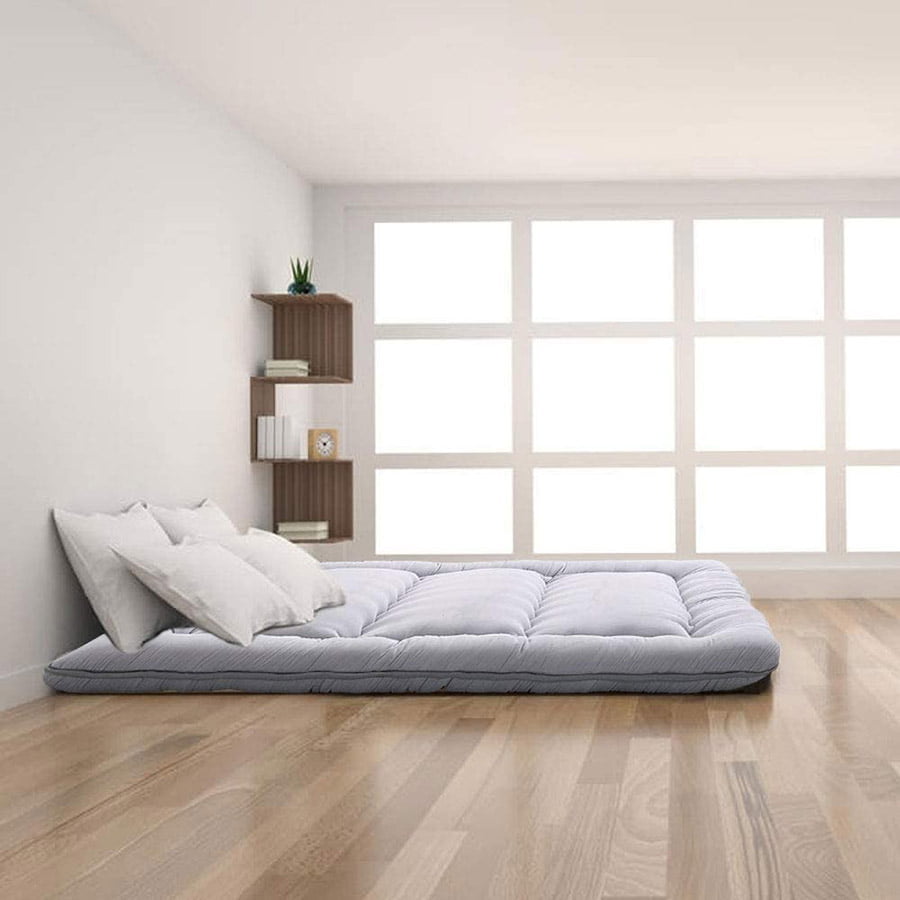 This is not recommended for pet owners as it's not really thick it can get scratches easily. However, it has a dustproof cover, the fabric is skin-friendly and non-toxic so it's safe for kids as well. It can be used outside too.
Pros: Dustproof cover; rolls up; portable; versatile; nontoxic; skin-friendly.
Cons: Flat; not that thick; not good for pets.
Japanese Bed Roll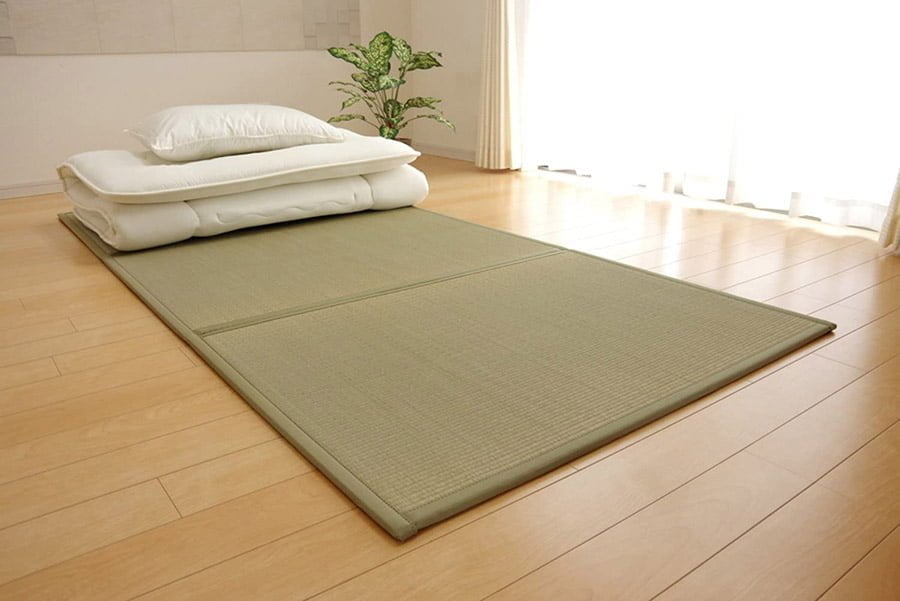 If you have allergies, you might think twice about this because it gives a natural smell of grass because it's what its made of. It can be folded in 3 making it really compact and easy to store. It is thin but durable and can even relieve stress and pain upon using. This tatami mat needs a separate futon mattress to be used as a sleeper.
Pros: Folds in 3; can be used as oriental rug; relieves pain and stress; durable.
Cons: Not soft; odor; really thin.
Floor Futon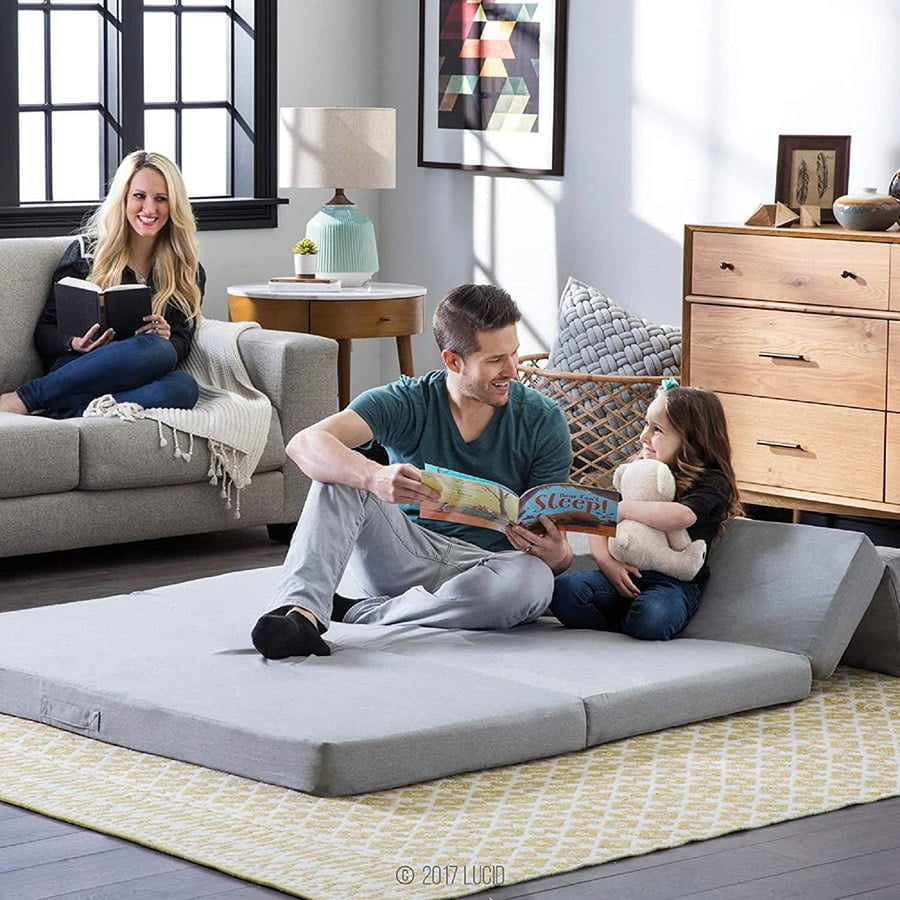 You might think this futon is easy to store because it can fold 3 ways but it actually takes much more space than normal. But this futon has a removable and stain-resistant cover protecting the inside mattress. It can be used as a couch, lounge, or bed due to its 3 folding capabilities.
Pros: 3 folds; versatile; removable and stain-resistant cover; temperature regulation; extra comfort.
Cons: Poor quality materials; couch is too small; big even when folded;
King Futon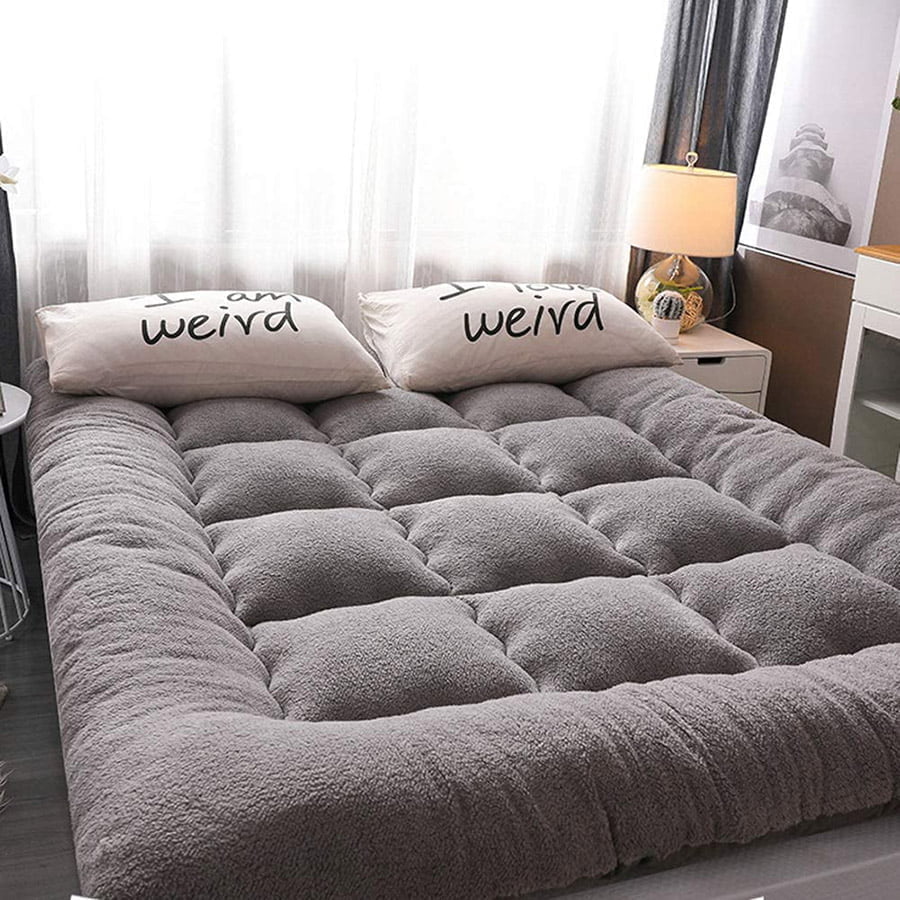 A heavyweight among the Japanese futon, this big unit is firm and wear-resistant making it last for a long time. It also absorbs moisture and even though it's big, it is portable and easy to store. It can be used in many different ways and overall improves sleep quality.
Pros: Firm; wear-resistant; moisture absorption; multipurpose use; easy to store; quick to expand.
Cons: Thinner than it looks; heavy; slight odor.
Recap
---
Disclosure: As an Amazon Associate we earn from qualifying purchases.
Liked this article? Here's what you can read next: