Last updated on September 2, 2021
Looking to stop noise from coming into your space from another side of the door? Use one of the best door sweeps for soundproofing.
Which door sweep is the best for soundproofing anyway? It's this soundproof door sweep.
Living with noisy roommates, I have learned that one of the best ways to soundproof a door is to roll up a large towel and stuff the gap under the door. It reduces the noise significantly (provided there are no other gaps around the door's frame.)
But you don't have to resort to the poor man's solution because there are some great and inexpensive door sweeps you can get to do the job perfectly. Their purpose is more about blocking drafts and keeping the room temperature in control, but soundproofing is often their great benefit.
So what do you have to choose from? Basically, most door sweeps are similar to the good old rolled-up towel. You have two choices — a silicone strip or a foam roll (usually covered in vinyl or fabric). Both options work great, but we have our favorite.
When choosing your door sweep, most importantly, not the size of your door and the height of the gap underneath it.
Note that the shopping links we're provided for your convenience earn us a commission at no expense to you.
What's Inside?
MAXTID Soundproof Door Sweep
This is our editor's choice for versatility (for internal and external doors) and great noise-canceling properties.
This door draught blocker is a one-sided adjustable roll that measures 30 to 36 inches long by 1.3-inch diameter. It has Velcro with good adhesion, which is easy to adjust, thereby following the door effortlessly. This draft blocker can reduce the outside noise, smell, and light that may leak through such gaps (and save energy bills simultaneously.)
You can use this for your front door, rear door, garage entrance doors, and bedroom doors to cover any potential space where cold air may come in or heat might escape from providing warmth inside the house during wintertime.
Quick facts:
Four sizes available for 30 to 36-inch doors and covers up to 1.3-inch gaps.
Velcro installation.
Works on interior and exterior doors.
Suptikes Door Sweep for Exterior and Interior Doors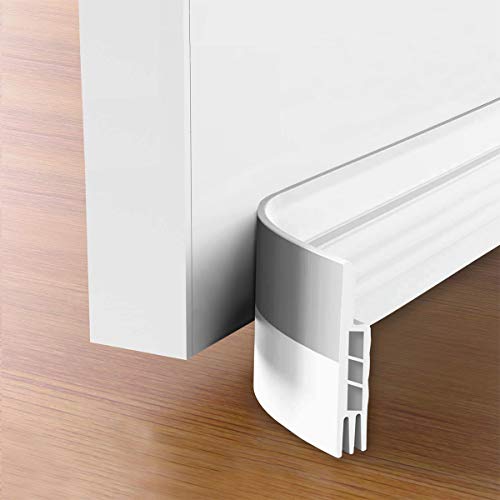 This draft stopper has 2 layers of sealer that remove gaps up to 1 inch on an exterior/interior door. It is made of high-grade vinyl adhesive that creates an even closer seal than weather-stripping alone would provide. Its electrostatic strap helps crease gasps easily without tearing or creating wrinkles underneath the product for a better seal with your specific needs. Installation is quick—measure your door width cut to size peel off the backing stick at least 1 inch away from the edge of the closure area on either side.
Quick facts:
2-layer sealer.
1 4/5″ width and 37″ length (cover gaps of up to 1 inch).
Peel and stick installation.
ZBEIVAN Silicone Under Door Soundproofing Sweep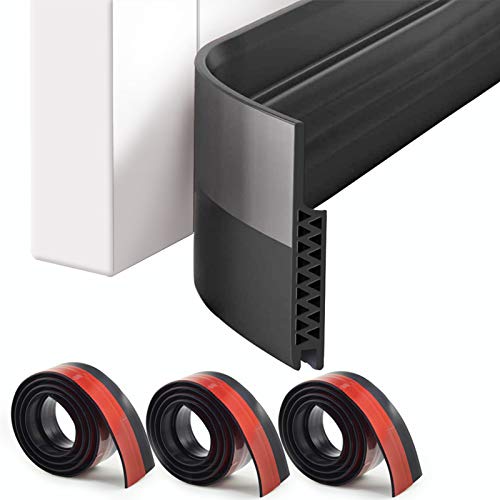 The door sweep is made of non-toxic and flexible silicone material, easily cut, and stays in place. It consists of 3 layers that block out all draft, noise, dust, or unwanted pests. It has the most effective solution to prevent heat from escaping or cold entering. Good sound cancelation too.
Quick facts:
Sized 39.37″ length by 1.73″ width and can cover up to 1.1-inch gaps.
Made of silicone.
3 layers for soundproofing.
Peel and stick installation.
Holikme Twin Door Noise Blocker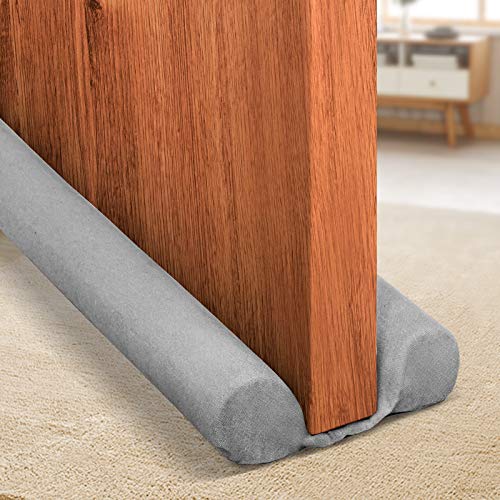 This door sweep is:
adjustable and large-size (34 inches) to better fit a variety of doors;
made with a sponge material that will not move within the door's opening or closing;
equipped with HOOK&LOOP fixation to secure it in place;
able to reduce the noise and block cold or hot air from entering through the gaps between patio doors or screens.
Quick facts:
Made of sponge material.
Blocks sound from both sides of the door.
Adjustable length of up to 34 inches.
Hooks from both sides of the door for installation.
VERGILIUS Under Door Adjustable Double Noise Blocker Sweep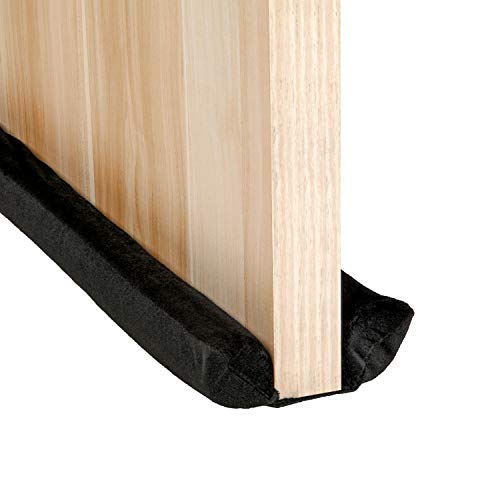 This door draft blocker easily moves with the door and glides over carpet, wood, tile, and linoleum. Owing to its silent design, you will never have to worry about noises.
The door draft stopper (self-adhesive) is a one-piece foam double drafted protector that covers both sides of your doors to seal out cold frosty air and humid warmth, all the while letting just enough air in for comfortable living inside (preventing those pesky drafts from spoiling your cozy little abode!)
Quick facts:
Sized 32 to 36 inches for up to a 1.6-inch gap under the door.
Double-sided.
Washable.
Soundproof Self Adhesive Gap Silicone Door Strip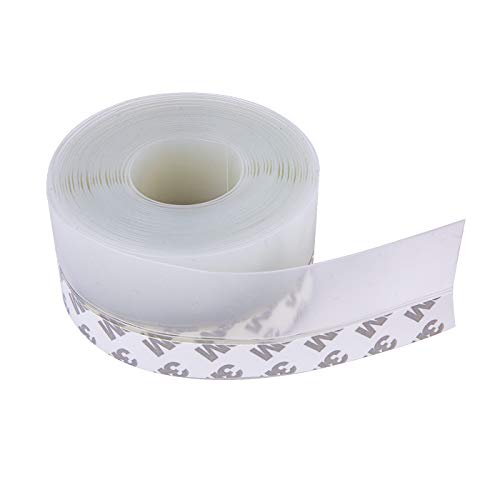 This strip features two layers of protection, both in a silicone door seal. Ideal for higher-frequency noise; repels water and steam, dries quickly, resists tearing, and provides better airtight seal than equivalent products in the market; superior to vinyl door sweeps.
Quick facts:
Made of silicone.
1 to 2-inch width tape for gaps.
Self-adhesive installation.
McDILS Under Door Noice Reduction Blocker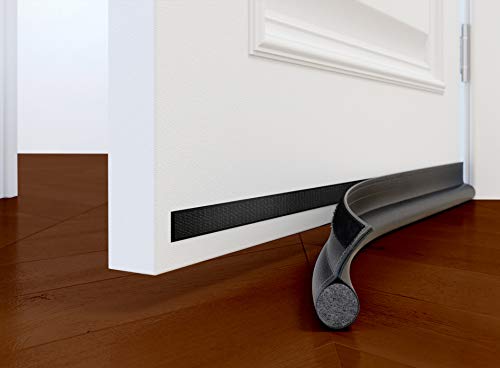 The door draft stopper is made to be easily adjusted. It easily moves with the door and glides over carpet, wood, tile, and linoleum. It prevents drafts which in turn creates cold air that lowers bills by keeping energy consumption down. Door draft stoppers can fill gaps of up to 1.3″ inches without additional adhesive. They also adjust from 30″-36″ wide so you can find one for your entry needs! Neither side of the metal foam block is textured, allowing it to glide over any flooring type without being hampered by texture or carpet augmentation material on either side.
Quick facts:
Sized up to 36 inches for up to 1.3-inch gaps.
Made of styrofoam.
Velcro installation.
YOUSHARES Door Seal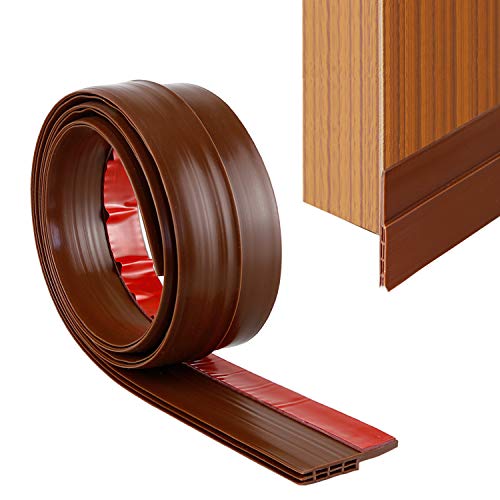 This is a 39-inch long door sweep made out of foam. These are designed to cover the gaps on the bottom of doors to keep outside air and noise coming in. One side is cut at an angle to seal sound and prevent cold air from coming in when closed or surrounded by hot cross-breezes during the opening.
Quick facts:
Sized up to 39-inch width and 2 inches height.
Three layers for draft and soundproofing.
Self-adhesive.
DECOREALM Door Draft Stopper and Blocker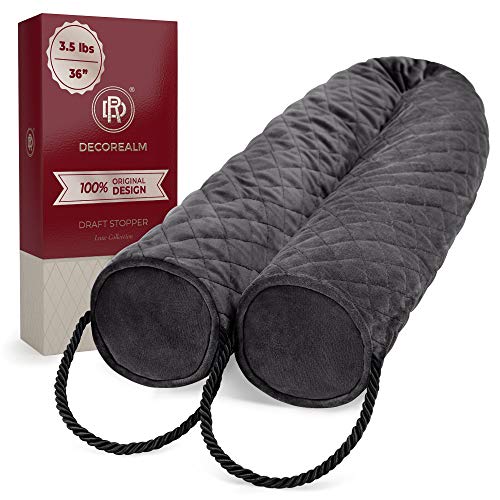 The DECOREALM insulator is a 3.5" x 36" door sweep consisting of two layers: soft velvet-quilted fabric with ceramic beads. Its durable weighted materials function to keep air out and heat in; shielding much more than just your entrance from the winter cold or summer heat. The DECOREALM Door Stopper also has a double silk loop to hang on a coat rack or handle when not in use–meaning it can be stored anywhere for easy access later.
Quick facts:
Velvet fabric weighted with ceramic beads.
Unique decorative design.
Weights 3.5 lbs.
Sized 36 inches by 3.5-inch diameter.
Evelots Double Door Draft Stopper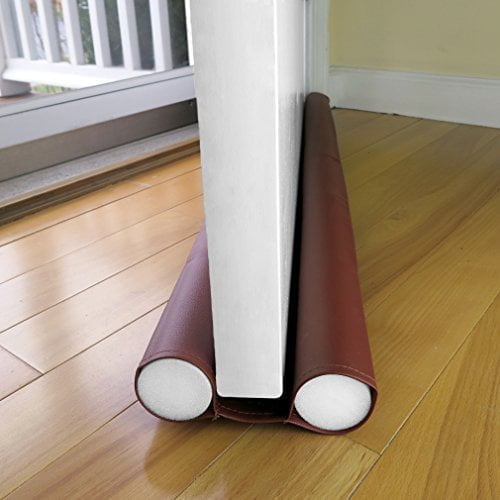 Evelots Draft Stopper will keep your home warmer in the winter months and your home more comfortable year-round, as well as soundproof. Installing this door sweep is easy. With a strong adhesive strip, you can cut the door sweep to size for any height door frame, and the adhesive side positioned to touch the floor surface for a more sealed option.
This draft blocker has a vinyl covering its flexible foam tube of 2″ diameter that eliminates slippage or pinching when installed correctly. The foam core retains heat and sound while reducing wrinkles, pinch marks, or scratches that scrape on the metal threshold.
Quick facts:
Vinyl-covered double-sided foam material.
Self-adhesive installation.
2-inch diameter and 36-inch width.
Do door sweeps reduce sound?
Door sweeps reduce sound if they cover the gap between the door and the floor completely and there are no other gaps in the door frame. You can weatherstrip all gaps if needed.
How do you soundproof the bottom of a door?
Use the correct size of a door sweep to soundproof the bottom. Make sure it's thick enough or has multiple layers for best results.
Should a door sweep touch the floor?
The door sweep doesn't need to touch the floor if there's a threshold bevel. Otherwise, it has to touch the floor to seal the gap fully.
Why is there a gap under my door?
There can be multiple reasons for the gap under a door. For one, a gap is necessary if the floor is not level. The door touching the floor would damage it over time. Another reason is letting the air out of the room when closing the door, thus equalizing air pressure between the rooms.
Liked this article? Here's what you can read next:
---
Disclosure: As an Amazon Associate we earn from qualifying purchases.