Last updated on September 30, 2023
Looking for a recliner that you can guiltlessly nap in? Or perhaps you have a condition that makes sleeping in a bed difficult? Either way, you will love one of the best recliners for sleeping.
So which one is it? We choose this power recliner as the best option.
It's not our business to ask you why you need a recliner for sleeping. We have taken a nap in a super comfy recliner more than we care to admit. But if it's comfy, it begs you to take a nap. Sometimes it ends up being a full night's sleep. And sometimes, your health issues leave you no other choice.
In this article, we say it's more than OK to spend a night in a recliner. That is if it's the best recliner for sleeping. We will establish what that is in a second.
Naturally, you would only sleep in a recliner that fully supports your body and is covered in breathable material (for skin comfort). You can't take any shortcuts or cheap out there. While you may give up massaging or heating features, even powerlifting functions, you cannot cut corners on the frame and body support.
All products on this list are suitable for napping and sleeping. And we have our favorite too. If you can splurge on it — do it. It's a good investment.
As always, we include shopping links for which we get a commission. You get the convenience at no extra cost.
Irene House Dual Motor Lift Chair Recliner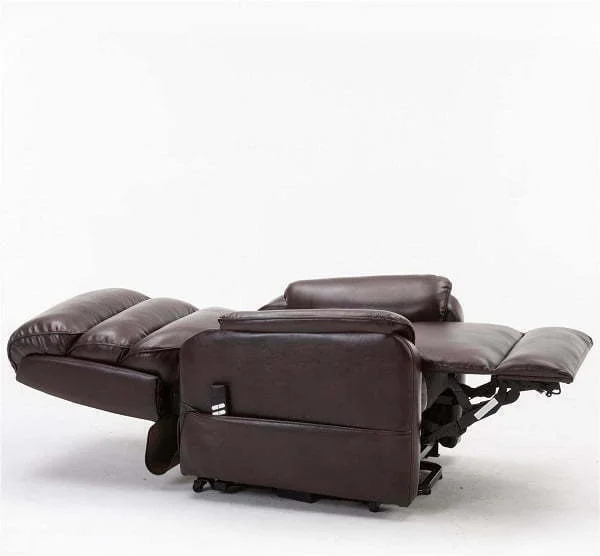 This is our editor's choice for full-body support and a comfy sleeping experience.
This heavy-duty lift chair is powered by electricity and two high-quality motors. The OKIN motors are extremely quiet, smoothly, and independently moving any chair part you want. The backrest and footrest can be adjusted in many positions individually, using the 4-button hand controller. It allows anyone to easily get up from their chair by lifting the entire chair (power lift). You can recline to an almost lying down flat position with full support for your legs.
Quick facts:
It's a leather recliner.
Power lift motor.
Set back up to 180 degrees.
Weight capacity of 300 lbs.
Available in 8 color and fabric choices.
Esright Heated Massage Recliner Chair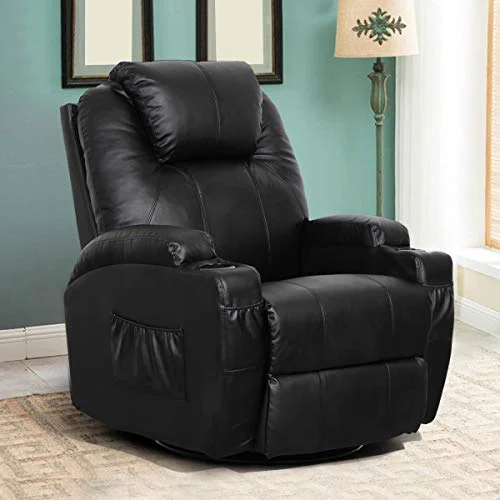 The chair has a reclining mechanism that allows it to recline a full 140°, the footrest is hard plastic, and the styling is similar to car seats. It includes cup holders as well and a place to store items. It also vibrates, swivels 360°, it's a rocker recliner, and has heated seating. The material used is faux leather, sponge padding, and two heating elements.
The armrests have left-side and right-side cup holders to keep your drinks comfy even when you're not. So you'll never forget them for long – particularly if you're feeling sad and roast beefed out. There's also a storage bag hidden underneath the seat.
This plush recliner has a comfortable ergonomic bucket seat and generous lumbar pillow. The polyester fabric cover is plush, and the PU leather on the outside is stylish. The footrest is shaped like a cocoon, it's very supportive, and there are pockets for storing all your stuff. With features like vibration massage, 360-degree swivel, reclining motions in 5 steps with two vibration levels to choose from, and multiple reclining degrees up to 140°, this chair welcomes a long nap.
Quick facts:
Manual recline control.
Set back up to 140 degrees.
360-degree swivel.
Heating and vibration massage.
Cup holder.
ANJHome Single Recliner Chair for Living Room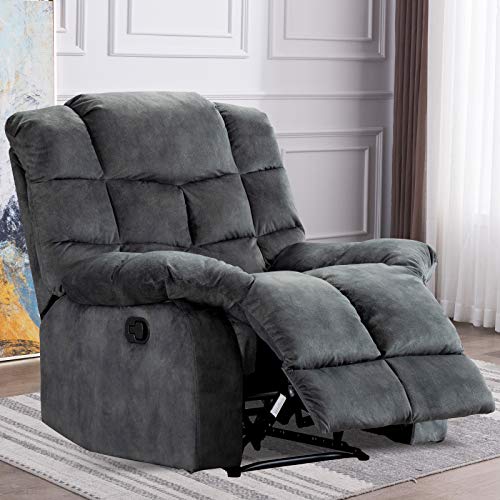 A recliner is a chair that makes it easier to rest. It has an armrest on both sides of the chair to help support the person sitting in the chair, and there is a footstool attached to the front leg of this armrest. Two reclining mechanisms allow it to be reclined backward by pulling on them with some strength. The elbow supports fall back when pulled outward, so flesh rests comfortably against them for a more upright position.
The recliner comprises high-resiliency foam cushions, polyester upholstery, and a steel frame. The footrest is there for the convenience of usage. It has different heights that are good if you're sleeping because they provide adequate support to different parts of the user's body.
This recliner can be left open with the footrest somewhat raised or pulled up and pushed down at your leisure. It offers adequate support to different parts of the body regardless of whether you're sitting upright or completely reclined, allowing one to eliminate stress and refresh or take a nap.
Quick facts:
Cover made of breathable polyester microfiber.
Manual reclining mechanism.
Three positions for reading, watching TV, and sleeping.
Weight capacity of 300 lbs.
ANJ Electric Recliner Chair with Breathable Bonded Leather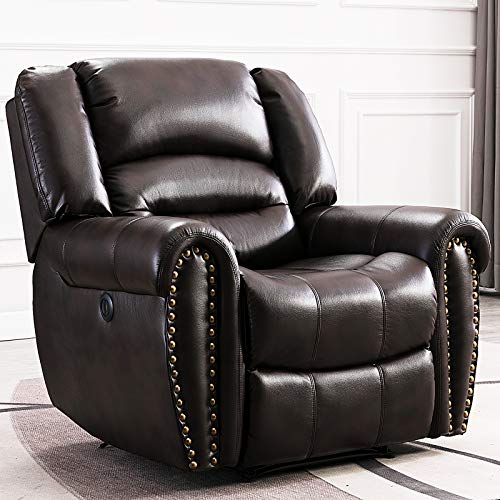 An electric reclining system with a simple two-button press to activate the reclining function. The motion of the chair is very smooth and gentle. A person's neck, back, and lumbar will feel extremely comfortable after laying against the backrest for hours in different seated positions.
It also has one USB charging port, meaning you could charge your devices while reclining with this chair! It has easy-to-clean breathable leather that can be very hard to clean in comparison. Also, it's a large size.
This is a recliner made of imported leather. The headrest is filled with pillows, and the bed has straps to prevent your feet from sliding off and won't make much noise.
Quick facts:
Covered in breathable bonded leather.
Two backrest set back positions.
Weight capacity up to 300 lbs.
Fabric Single Sofa Recliner Chair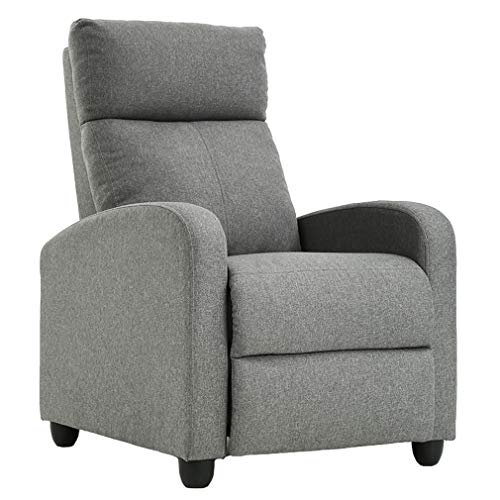 This recliner couch is made of a combination of fabric and wood. It has a manual recline that helps relax your body and a footrest for easy adjustment. The recliner is extremely comfortable as it uses a high-density sponge padding under the fabric for support.
It has a patented recliner mechanism that allows the head to rest against the back with either tilting forward for more upright viewing or relaxing against it fully for optimal comfort.
It also has padding that is sensitive to people's weight. It can be reclined for long periods without the weight remaining on your feet the whole time, which is a good feature if you want to lie back to read or watch TV or take a nap. Furthermore, it can be folded and relocated easily. This is because it only requires bolts fit together with an Allen key to fix into place securely.
Quick facts:
Solid wood frame.
Density sponge padding.
Nap recline position.
Manual recline control.
Weight capacity up to 275 lbs.
Mecor Massage Recliner Chair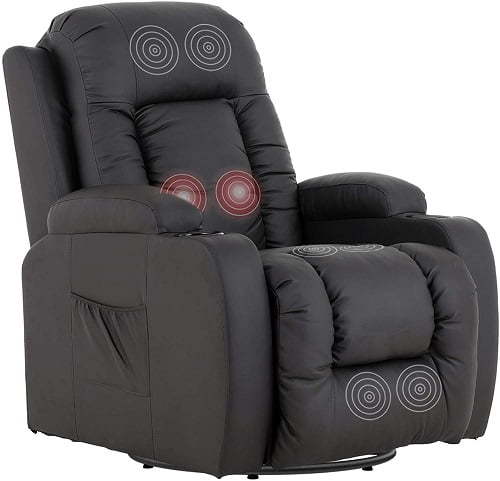 The recliner is designed with reclining, rocking, massage, heated, and swiveling features. It features 8 point massage, a heating system, and five massage modes. Made of soft 100% high-quality bonded leather, the solid wood frame ensures durability over time, while the luxuriously padded armrests ensure the body is comfortable enough to spend hours in it and take a nap or sleep.
Quick facts:
Reclines to 160 degrees.
360 degree swivel and rocking.
Massage and heating features.
Covered in bonded leather.
Vitesse Gaming Recliner Chair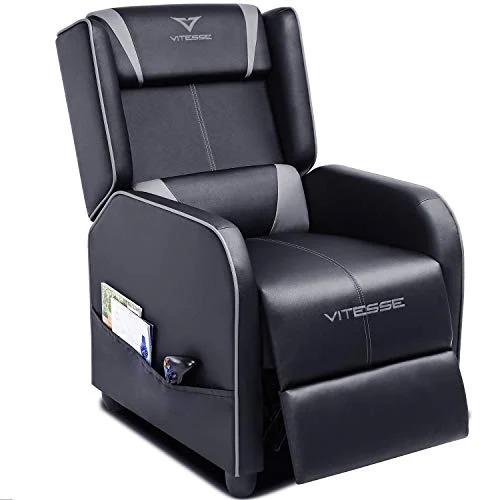 It appears to have a leather-like fabric, high resilience foam, and a long armrest on both sides with an epicenter cushion. It has adjustable straps on the back of the chair, which control the reclining mechanism. The recliner is skin-friendly and water-resistant.
The recliner is designed specifically to be a gaming chair with an ergonomic design. It's made of skin-friendly PU leather and a high resilience sponge that improves comfort while being durable. It has a nice storage sleeve on the side.
The chair form can be adjusted to a 90-degree reclining position, with head, lumbar support, and footrest. It can also be adjusted into a 180 reclining position when one wants to sleep. There are metal ornaments for rigidity that add support to the footstep on the seat base of the chair for stability. The product provides immersive comfort as well as durability in handling any stains.
Quick facts:
Covered in skin-friendly PU leather.
Padded with resilience sponge.
Recline to 180 degrees.
Weight capacity of 300 lbs.
Homall Recliner Padded Seat Chair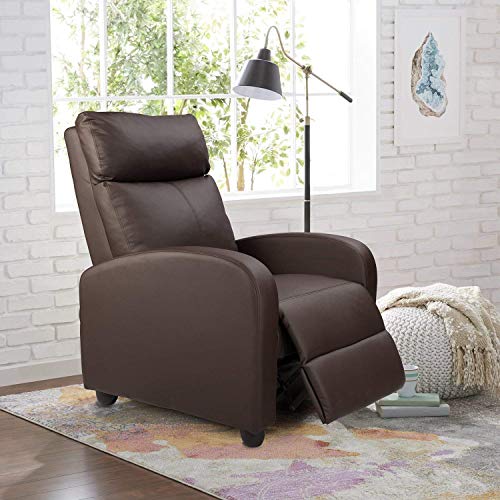 This recliner is made of high-quality PU leather. It also has a steel frame – the frame gives the product added durability and height when needed. On the top of it is a sponge pad with high density – this pad enables maximum comfort to those resting on it. This recliner also has an adjustable mechanism, which allows it to be flexible in seating configurations. It can transform from 90 degrees upward all the way to 180 degrees comfortably positioned for gaming, working, watching movies, or napping time.
Quick facts:
Covered in PU leather.
Reclines to 180 degrees.
Weight capacity up to 265 lbs.
Available in 4 color choices.
Canmov Power Lift Recliner for Elderly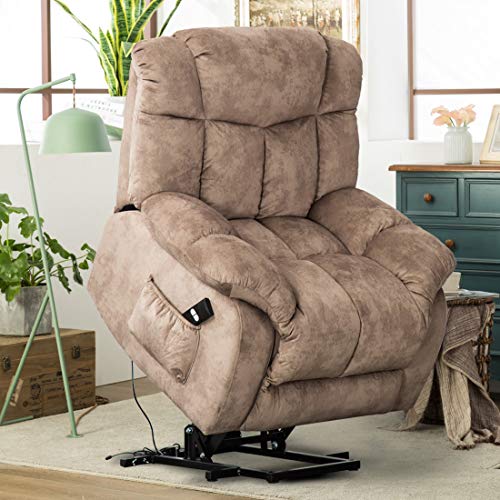 Modern recliner for sleeping. Made of high-quality materials, including faux leather upholstery and a power lift mechanism. Features remote control and reclining features allow the user to find the most comfortable position to sleep in.
This sturdy recliner made with durable, long-lasting materials ensures a pleasurable lounging experience. Reclining positions range from medium to fully extended, complemented with the footrest, high back, and cushioning to provide ultimate comfort. Overstuffed pillows designed for back, seat, and armrest for optimal support and comfort with high-grade upholstery, which reduces the risk of skidding.
The reclining mechanism is based on a single motor and heavy-duty mechanism. It can tilt from upright to lying position using the power lift. A built-in pillow provides more comfort and support for the upper body area.
Quick facts:
Power lift mechanism.
Overstuffed cushioning.
Wide armrests.
180 degree recline.
Weight support up to 300 lbs.
Flamaker Power Lift Recliner Chair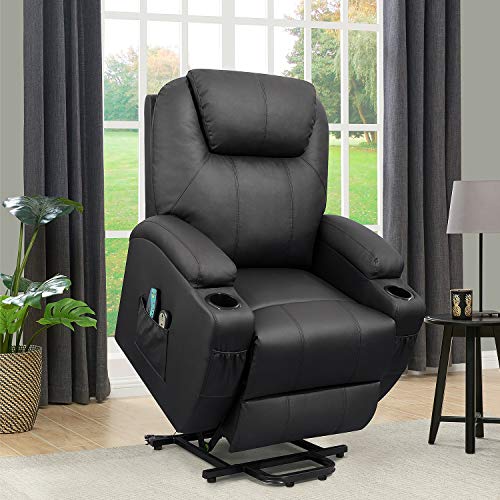 The back of the chair and the footrest are both electric. It also comes with an automatic lift, which rapidly helps you to get up with a push of a button on the remote control. It relieves loads on your back and knees and gives you ultimate relaxation never experienced before!
This is a recliner that allows you to lie down in your living room and have a rest. The footrest can be extended and retracted so that it's optimal for stretching your body. It has a heat function, massage function, and timer feature. Lastly, it has user-friendly features like its classic style and electric control.
The recliner is made of a sturdy fabric, plush padding, and a steel frame. The reclining mechanism allows the chair to switch between 40 degrees upward to 180 degrees for flat laying with just the push of a button. There are 4 points of massage and a heating option.
Quick facts:
Power lift mechanism.
Massage and heating.
180-degree recline.
Covered in PU leather.
Padded with a high-density sponge.
Recap
---
Disclosure: As an Amazon Associate we earn from qualifying purchases.
Liked this article? Here's what you can read next: