Last Updated on
Looking for the best reading chair for a cozy nook in the living room or the bedroom? Our top-rated picks will help you choose. Read on!
A reading chair is that accent chair standing somewhere in the corner of a room accompanied by a floor lamp, a side desk, and a well-decorated wall. At least it should be. We will not go into how you should decorate around the chair and where to put it for the moment. But we will offer you some classy and comfy reading chairs for your reading pleasure.
Indeed, any mid to large living room ar a bedroom has an extra chair. Even some smaller rooms can fit one. That chair works as a reading nook for many people who love to take the moment out of their day for a good book. We understand that as well as anyone who likes reading so we've made a great list with top reading chairs.
How do you choose the best reading chair?
We suggest thinking through these things:
How much room do you have for the chair? Oversized and comfy chairs will take more space.
Do you want the classic look that an armchair can provide?
Make sure you think about the ergonomics – it has to be comfortable and good for your body to spend a prolonged period of time in it.
Leather or fabric upholstered?
How it will work with your decor?
These are all great points that will help you with looking around for a good reading chair. Some will set you on the right track. And we want to make it even easier for you with our top 10 picks. These are the chairs that tick all the boxes, so to speak. We know what makes a good chair and we've found the products that meet the criteria.
As a disclaimer, note that we might be compensated for qualified purchases by Amazon (links tagged #ad) at no expense to you. This motivates us to do the best job we can.
What's your favorite?
What's Inside?
Oversized Chair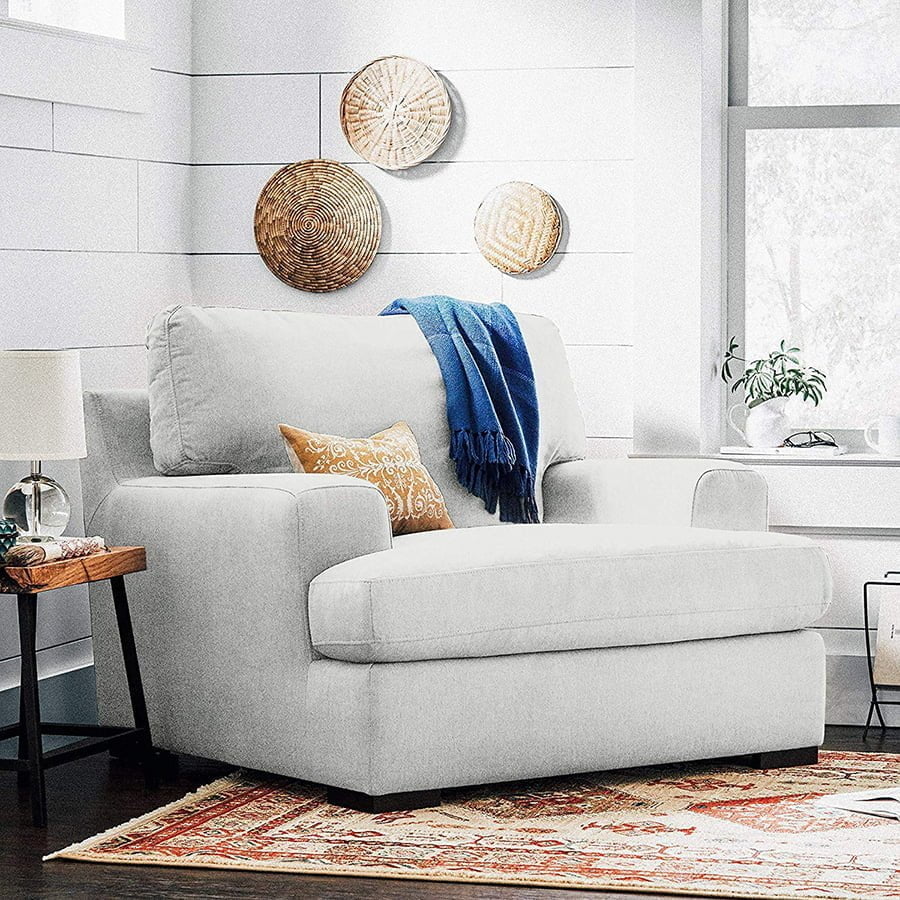 An oversized armchair makes one of the most comfortable nooks you can have. It's roomy so you can curl up under a blanket with a cup of tea and a good book.
Pros: made from solid hardwood frame with moisture-repellent; removable and reversible seat cushion; very comfortable; does not hold pet hairs; a huge comfortable chair in a great neutral color; cozy and durable.
Cons: some may have creases; measurements are a bit off.
Arm Chair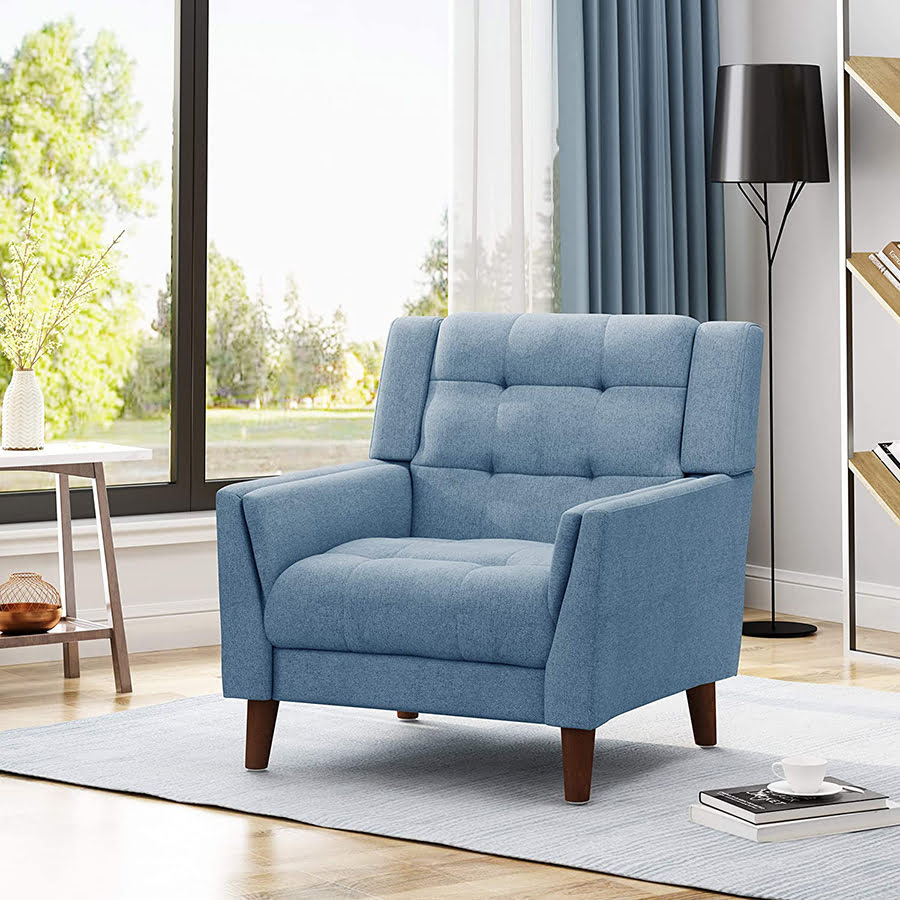 An armchair is a classic chair for reading. It's both, comfortable and visually attractive. You can put it in any room. This mid-century modern piece will do wonders for your decor too.
Pros: very easy to assemble; very firm and comfortable to sit; has a modern design; good accent chair for home office; a durable modern fabric chair.
Cons: no assembly instruction manual included.
Most Comfortable Chair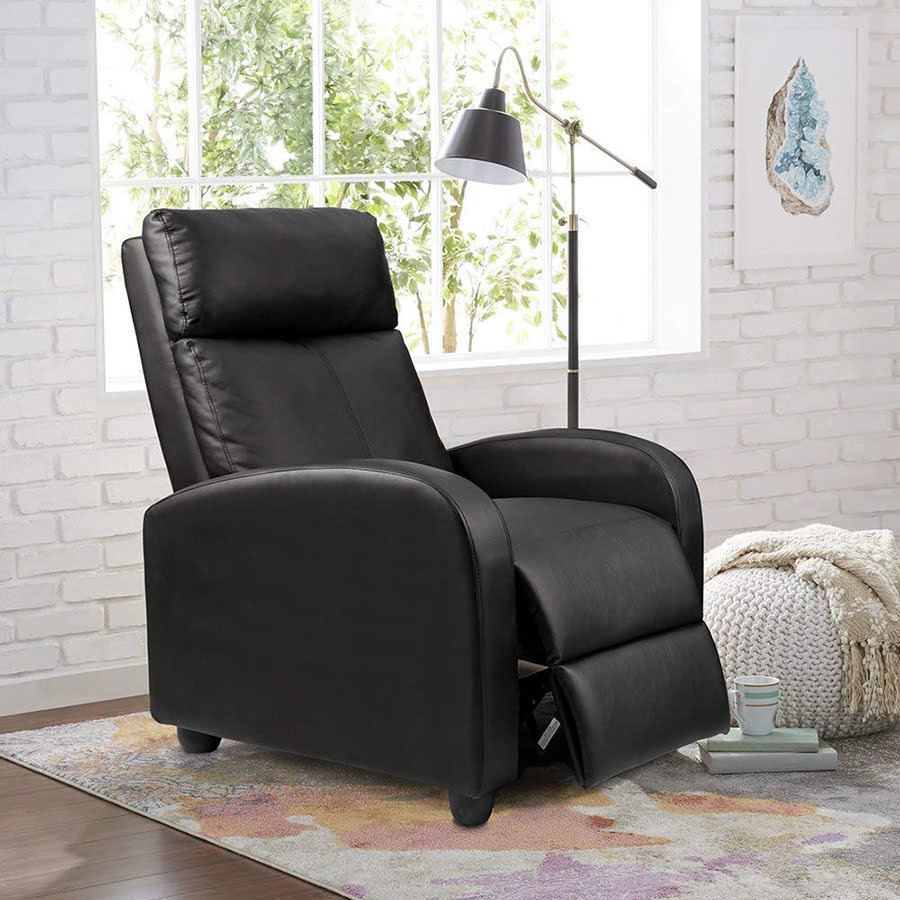 We've been wondering long and thorough about what would make the most comfortable reading chair. Finally, we've decided it had to be a recliner. But one that's subtle and classy in its design.
Pros: high-quality PU leather; highly durable steel frame with thicker foam padding; it has adjustable footrest; highly durable steel frame with thicker foam padding; thicker recliner back; comfortable to use.
Cons: the chair has a tendency to tip over backward and the armrests are very low.
Living Room Chair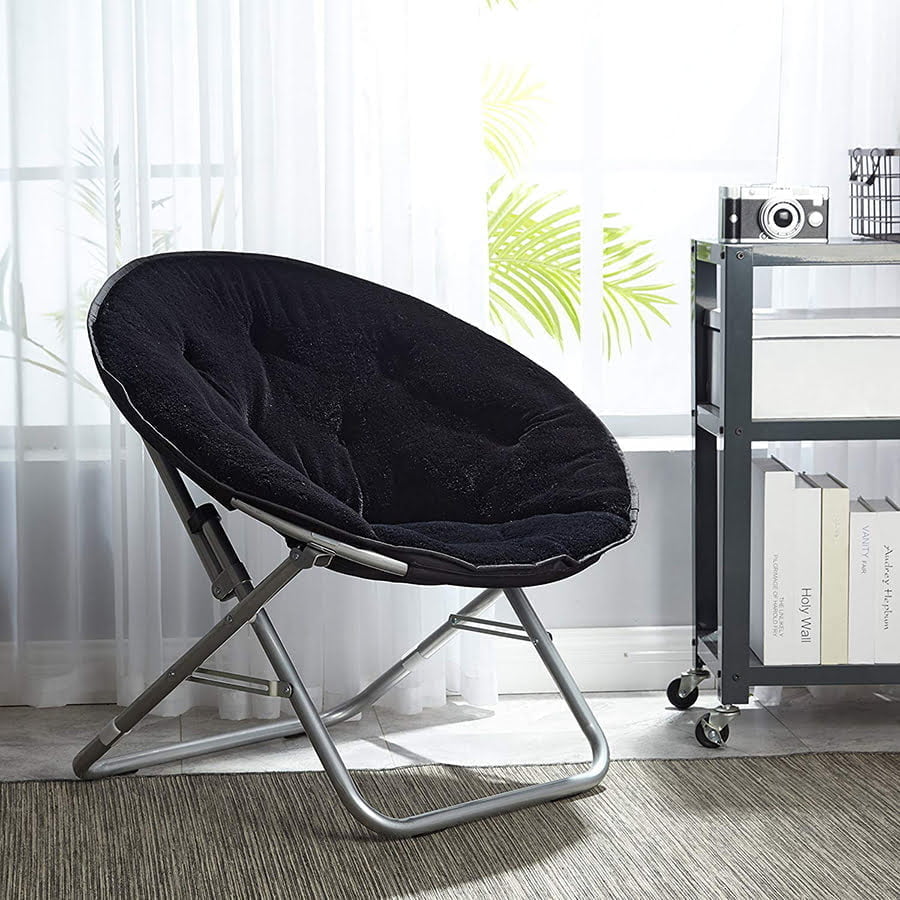 A living room reading chair has to be a piece that can double as an accent chair when not used. This modern chair will do its job on both accounts.
Pros: opens and folds in seconds for easy storage; made from 100% micro mink fabrication with durable metal frame; no assembly needed; it has a safety locking mechanism; perfect decorative addition to update any room because of its modern look.
Cons: would definitely be small for a larger adult; back is not tall enough to support your neck/head.
IKEA Lounge Chair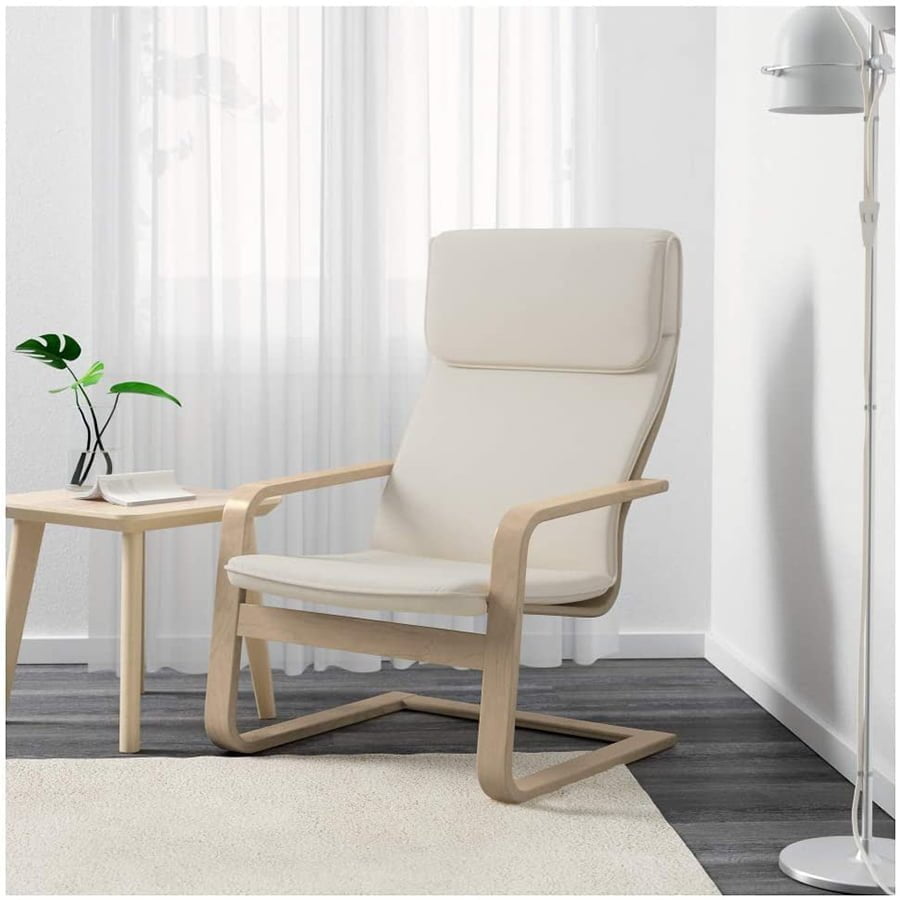 We like what IKEA has to offer for a reading chair. The PELLO is a typical minimalist Scandinavian piece that looks good as it is comfortable.
Pros: doesn't take up a ton of space; very comfortable; easy to assemble and very sturdy.
Cons: the cushion moves every time some one sits down.
Lounge Chair with Ottoman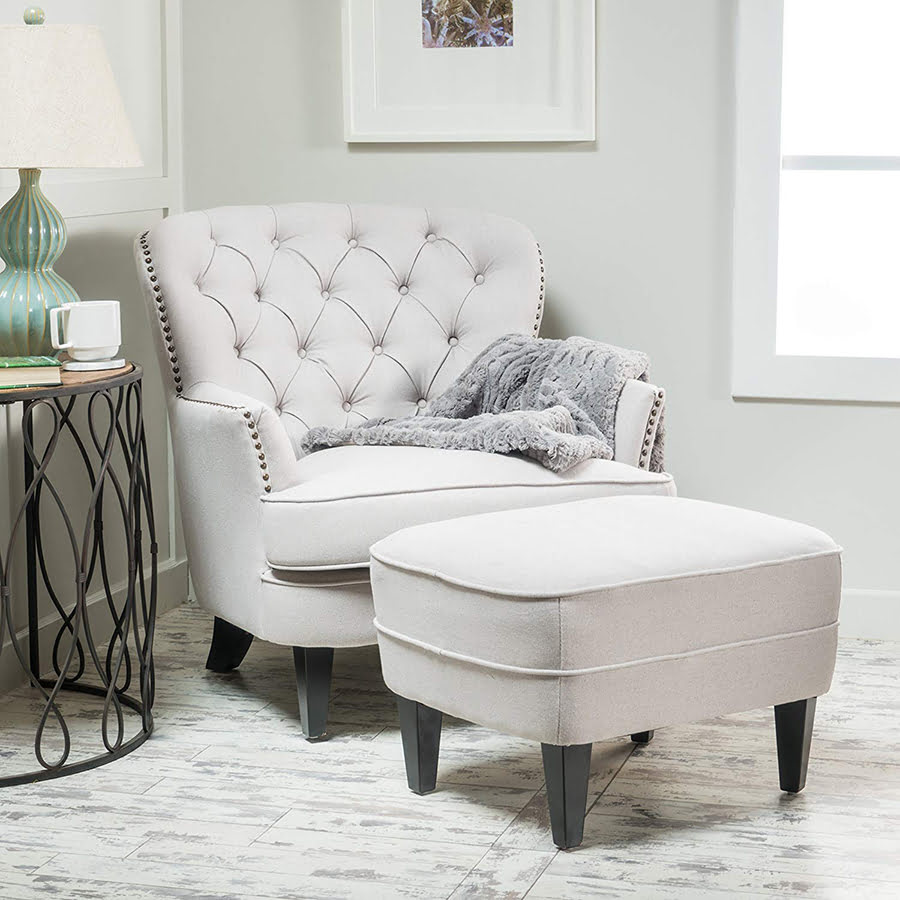 Want an extra feature for your chair? Get one with an ottoman. So you can use it as a footrest while you're reading, and it can double as seating or a coffee table if needed.
Pros: the cream color will complement most furniture sets; has a firm padded cushion and soft; it has wide back that provides support for your back; convenient armrest; has a classy look
Cons: legs are quite short for a chair, so it's pretty low to the ground.
Reading Chair for Bedroom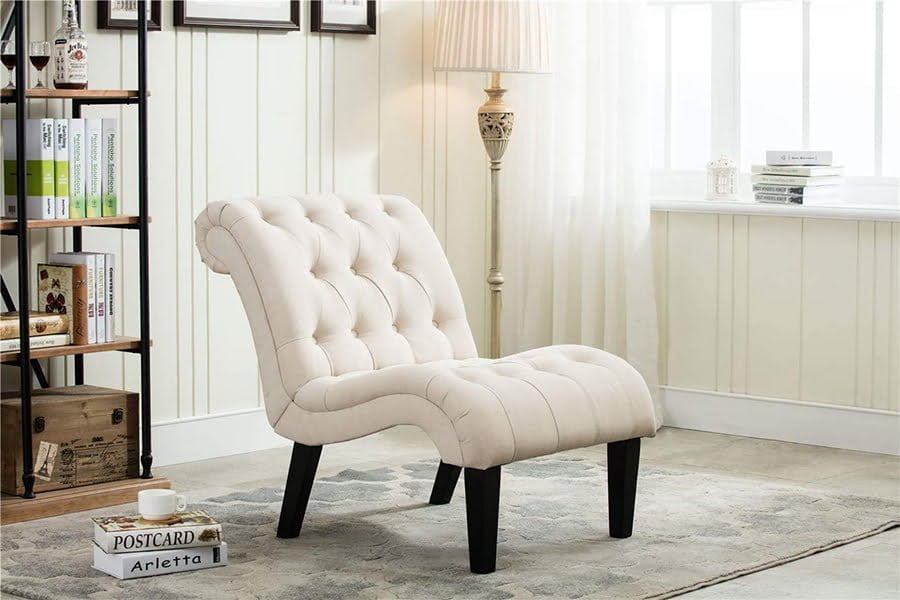 A piece for the bedroom has to be compact as most bedrooms tend to be smaller. It also has to be ergonomic to accommodate comfortable reading or lounging time. This classy seat will do it.
Pros: made of fireproof sponge, cotton linen fabric, and solid wood legs; the chair is visually very nice; easy to put together; nice and strong made with very good quality fabric.
Cons: it does need some adjustments upon assembly.
Leather Chair and a Half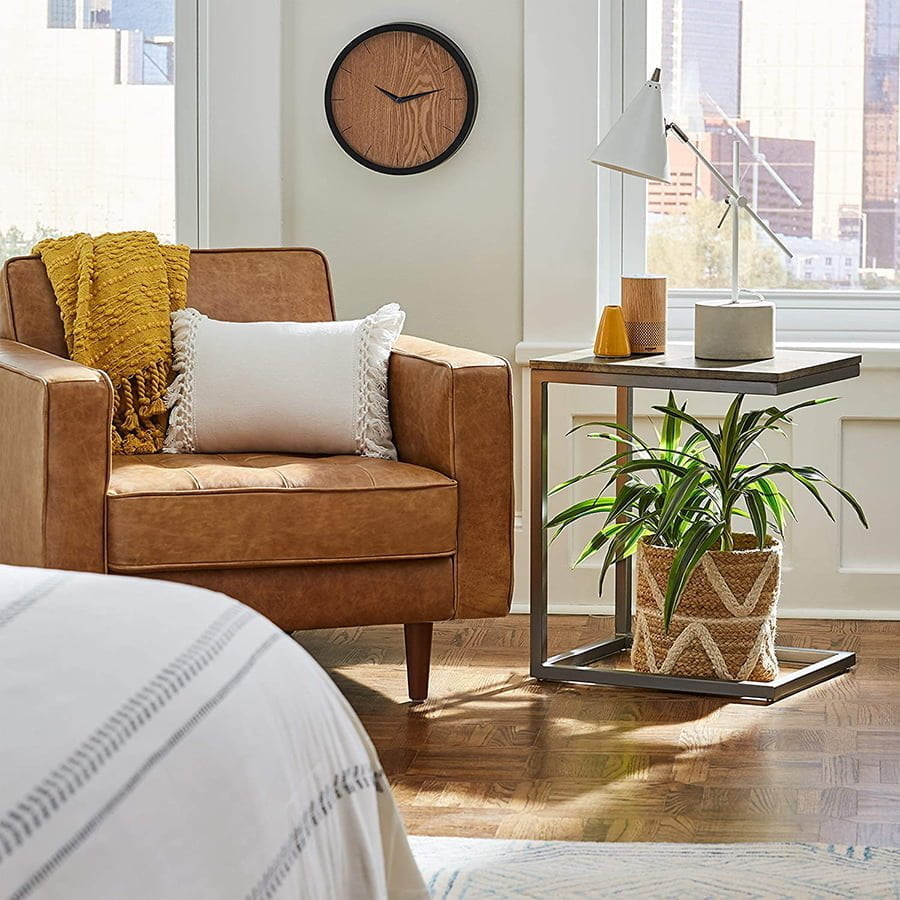 A chair and a half is a term for a piece that is wider than your regular chair. It gives plenty of room for anyone seated. That's exactly what you need for a good read.
Pros: perfect mid-century chair; durable upholstery materials; removable and reversible back cushions for easy cleaning; comfortable and firm at the same time; leather is very good quality.
Cons: the chair is really short and is more for a formal setting.
Small Armchair
Most reading chairs take up some extra space in a room. If your space is smaller, you may need a chair that can fit your premises. But it still has to be classy.
Pros: the material made from 100% Polyester; cushion has extra padded to ensure maximum comfort; easy to assemble; it is charming, elegant, and nicely-crafted armchair; good quality.
Cons: legs are a little shorter; it slides around easily on a hardwood floor.
Pottery Barn Leather Chair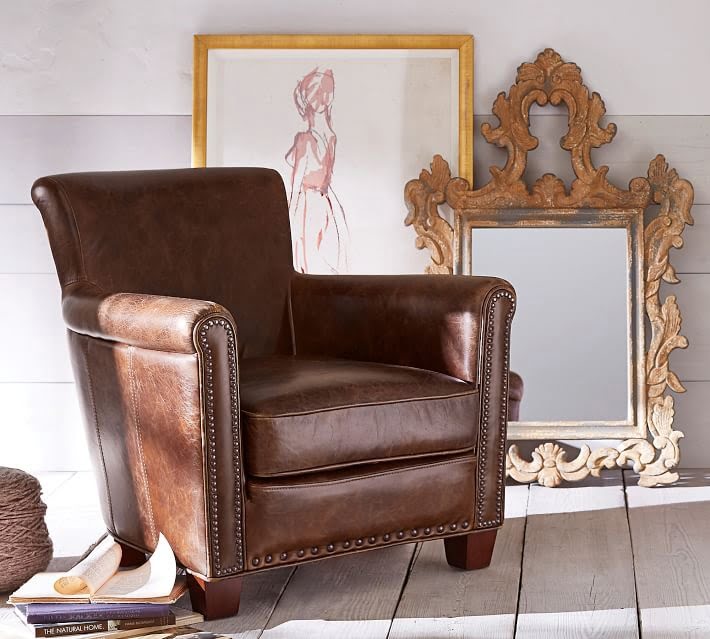 We love what Pottery Barn has to offer for a nice reading chair. Its classic look will make an accent in any room, and it's quite comfortable too.
Pros: polyester-wrapped cushion; very firm; it has adjustable levelers to provide stability on uneven floors; classical look perfect for a mid-century chair.
Cons: just for a smaller setting that's just right for a library, den or small living room.
Related reading:
---
Disclosure: As an Amazon Associate we earn from qualifying purchases.
We are a participant in the Houzz Inc. and Etsy Inc. affiliate advertising programs designed to provide a means for us to earn fees by linking to Houzz.com, Etsy.com, and affiliated sites.