Last updated on December 16, 2022
Getting an ottoman for your home? Great choice! Now, where do you put it? Here are 14 ideas to ponder. Read on!
I have fond memories of my first ottoman. It was a small round storage ottoman, and it fit in my small living room nicely. I placed it next to the coffee table and a tiny sofa.
The unit doubled as seating and a footstool. Despite being small, it could fit quite a bunch of random things (a few books, a blanket, and whatever I had to hide quickly.) And it was a sturdy little fella that never failed.
The positioning was classic. That's where you typically want to see your ottoman (next to the sofa and the table.) Had I been dead-set on the accuracy, I would keep it 12" inches away from the sofa and the coffee table.
Even though I didn't measure the distance, it couldn't have been a lot more than that. You naturally keep things conveniently positioned, especially in tiny spaces.
But besides the classic position, what else is there? We've come up with 14 different ways you can use your ottoman in both the living room and the bedroom. Here they are.
Note, we've included convenient shopping links to illustrate our points. We get a commission for those, but they cost you nothing extra.
What's the Point of an Ottoman?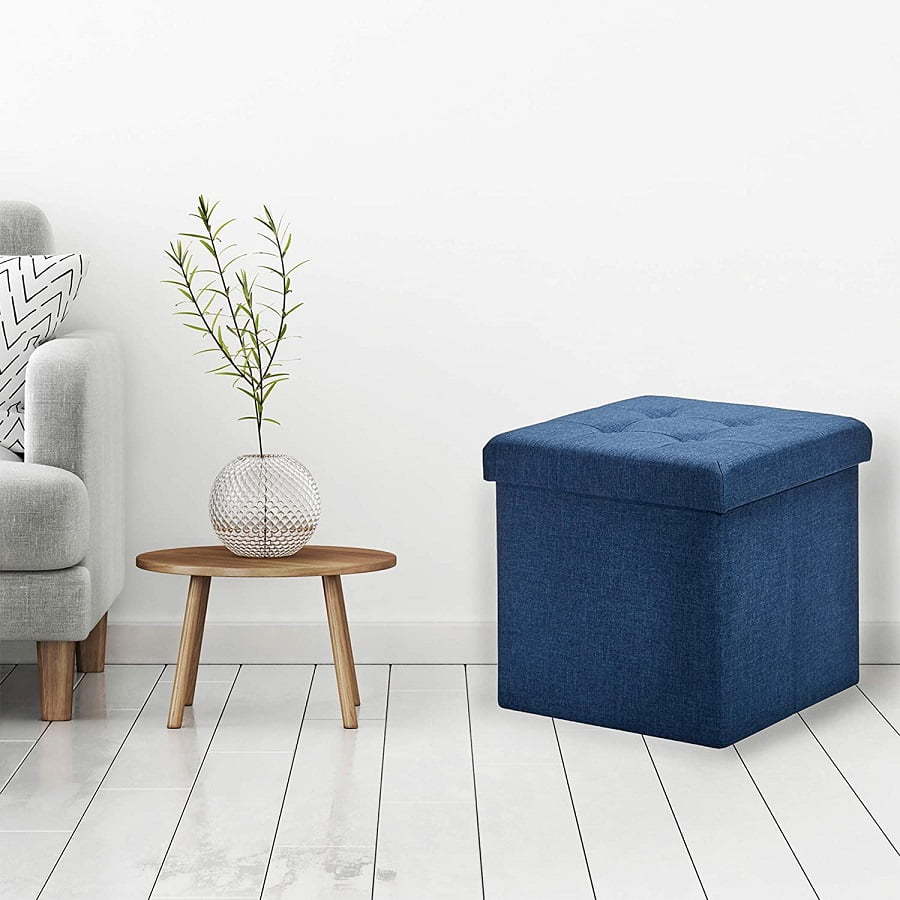 The point of the modern ottoman is to provide a footrest and extra seating. Sometimes, it can be used as a coffee table as well. Storage is also a welcome option to have in an ottoman. So, in a nutshell, it's a usually small but functional piece of furniture. Considering ottomans are usually very affordable, they are common in most households. Nevertheless, there are ottoman alternatives that can be used.
The purpose of an ottoman also dictates its placement in a room. It largely depends where you will place it based on how you're going to use it. We will discover this next.
How to Place an Ottoman in a Living Room
The living room is of course the most common place where you'll find an ottoman. So how do you place it there? Here are several options to consider.
Ottoman as a Coffee Table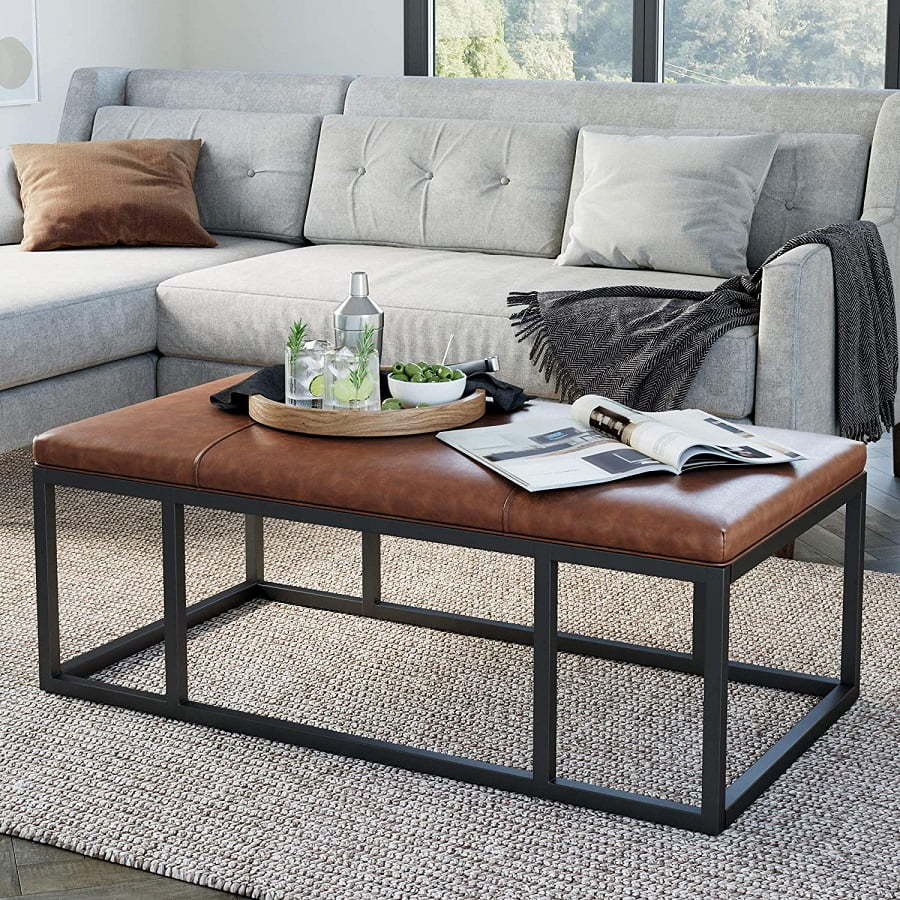 If you want a small coffee table that's slightly lower than your sofa, you can use an ottoman topped with a tray (some models have built-in or accompanying trays.) This is also known as a cocktail ottoman.
You can pick up a couple of attractive trays for your ottoman to serve as table surface and place your books, magazines, remote controls, and decorate them.
Ottoman or Pouf as a Footrest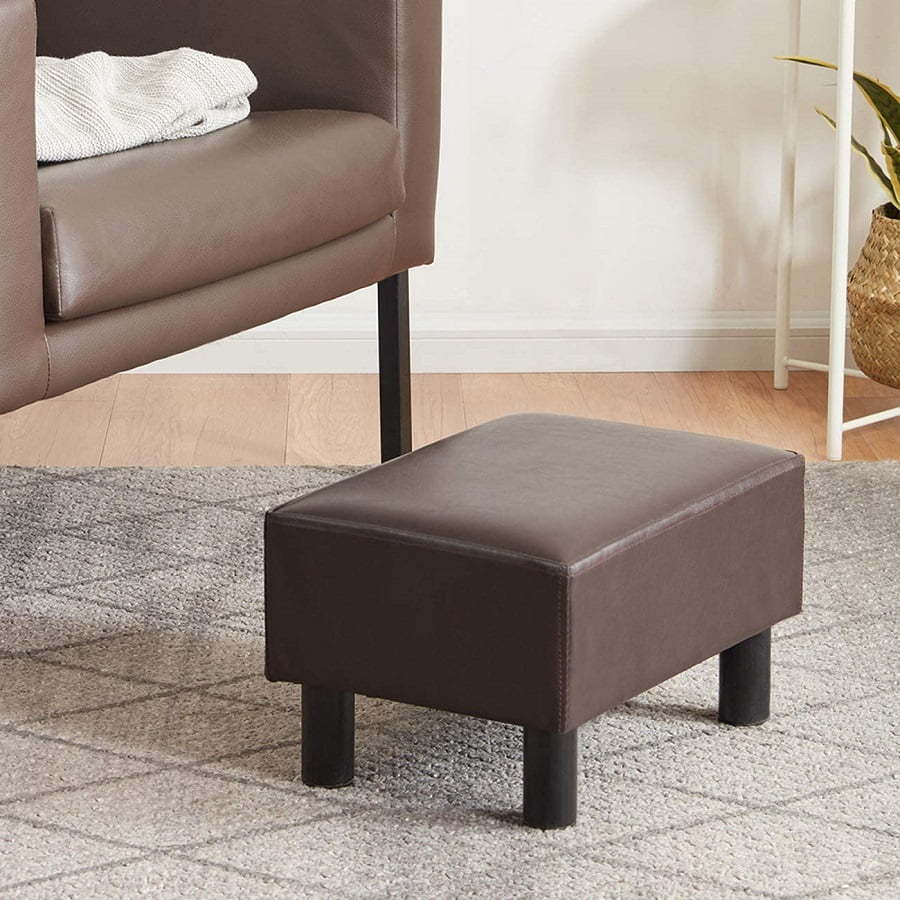 You can place the ottoman near your seating zone if you use it as a footrest. This setup is often used with reading chairs and loungers. Likewise, it will work if you position it by the couch.
Use an Ottoman as an Extra Seat
Add an ottoman as a seat just about anywhere. Small or fordable ottomans are great because they can be put away when not used. Then you can pick them up anytime you have guests and need extra seating.
Small Ottoman Under a Table
Any tall table that can use a chair will fit an ottoman as well. Think about a vanity table, for instance. A small ottoman (the like of a stool) will anchor the otherwise empty table frame.
Put a few cube-shaped ottomans under a table to take up the gap between the legs. Tall tables without anything underneath them can give an appearance of being shaky. This is a great way to store those extra ottomans and take them out when seating is needed.
Pair with a Chair
Besides, as you might have noticed by now, this looks fantastic as a footrest. The ideal positioning is if ottomans are placed between two seats and centered between the two chairs. They can sit next to a chair when they are not being used, serving as a side table to position many things. Experiment until you get a look you are fond of.
Ottoman with a Coffee Table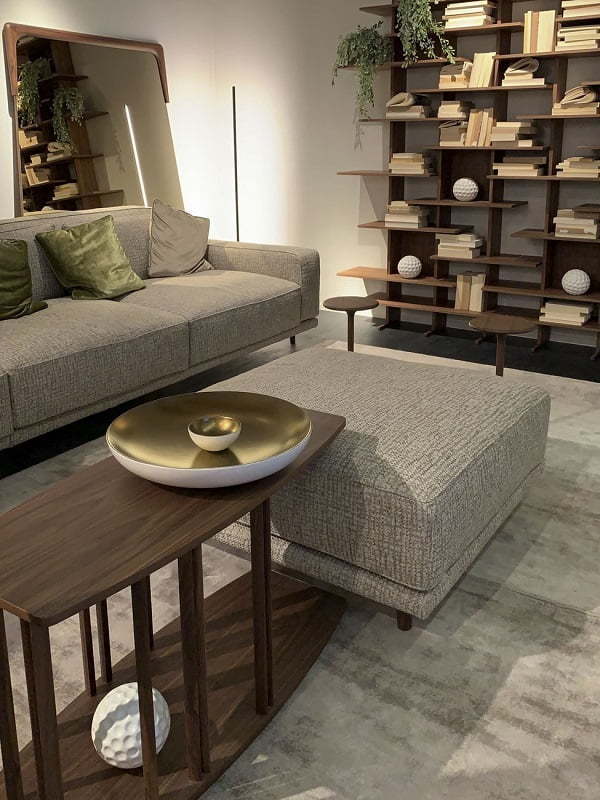 You may get both an ottoman and coffee table at the same time in your living room. There are benefits to this setup. The only thing you need to worry about is keeping the distance between pieces of furniture (so space doesn't seem cramped.) The typical distances are 18" between the sofa and the coffee table, 12" between the ottoman and sofa and the table.
Two Identical Ottomans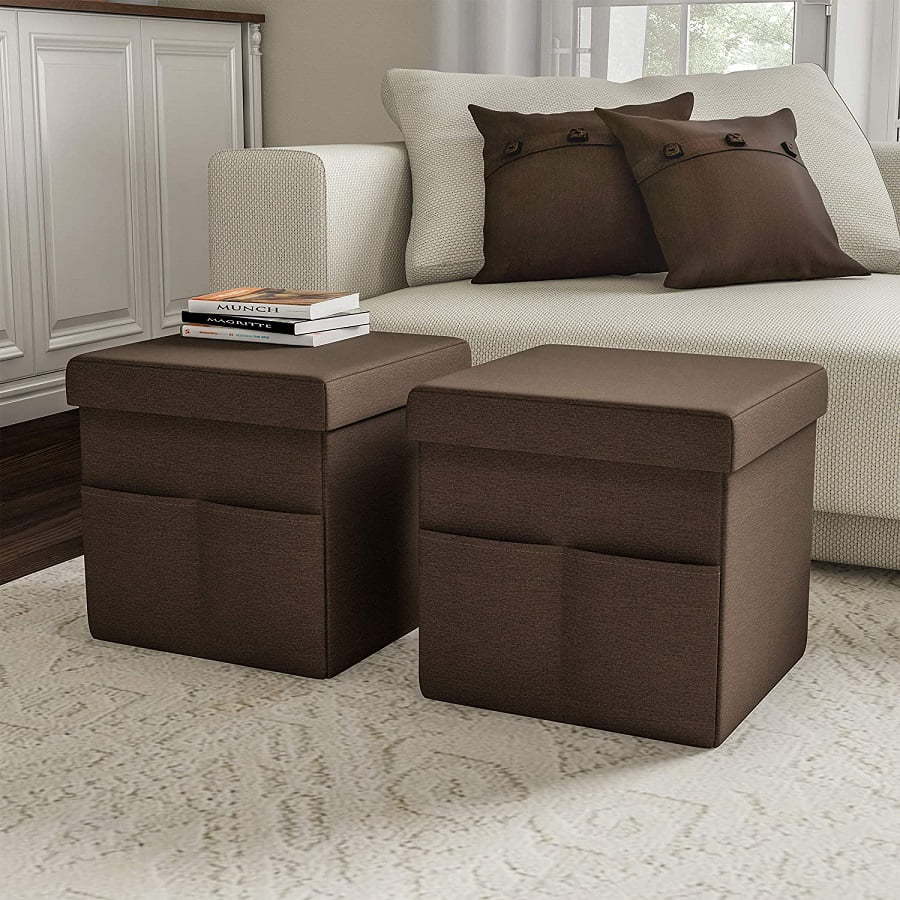 Using ottomans in identical pairs has many great decor benefits. It's practical too.
If you have a sofa and a coffee table, place two ottomans across, creating extra seating.
Add a pair under any tall table, such as a console or vanity table.
You can use taller ottomans at the dining table.
A fireplace setup with two matching ottomans oozes coziness.
Pairing It with Existing Furniture
Before adding one or more ottomans to your living room furniture arrangement, take a close look at the state of all the furniture you are about to combine. Most people buy units that fit the shape of the room.
Looking at your elegant and contemporary living room, you would want to pick a stylish ottoman. If you are more of a traditional person, a tufted ottoman will be a fitting choice.
Think about if you wish to match fabrics or use your ottomans as unique art objects. If your color scheme is monochromatic, make sure your ottoman has some bold-colored highlights. This changes everything.
How to Place an Ottoman in a Bedroom
Another common place where you can put an ottoman is the bedroom. The popular spots are around the bed. But it's not limited to it.
Storage Ottoman in the Bedroom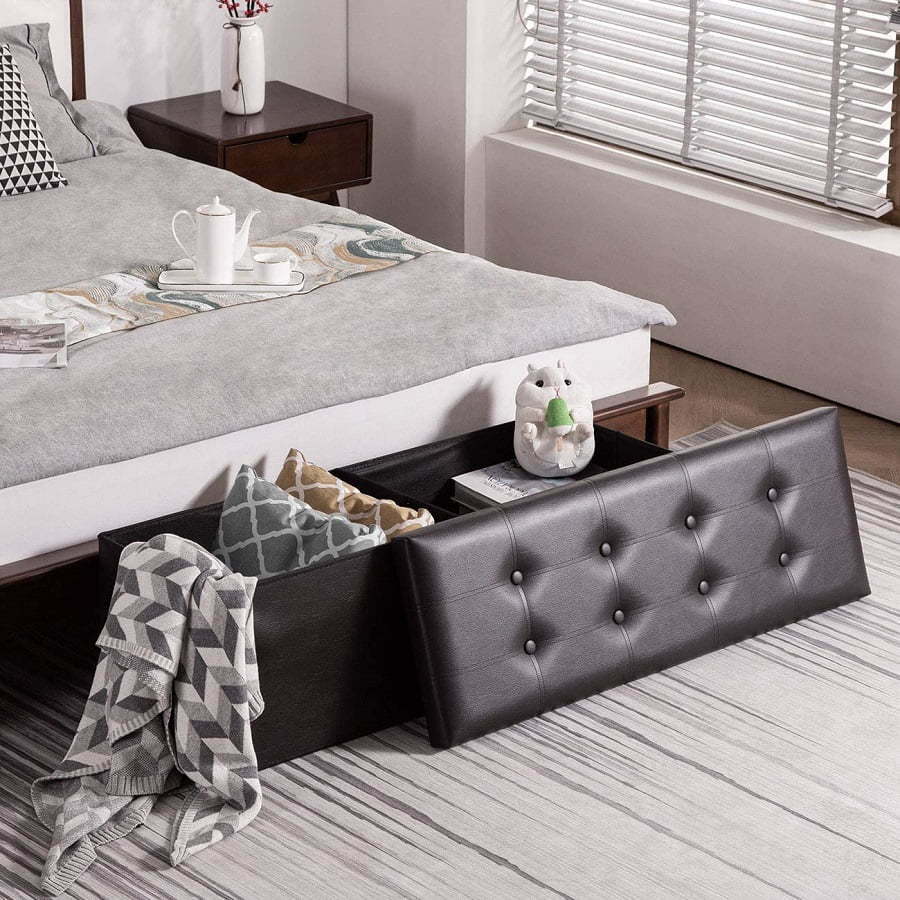 A storage ottoman can be an extremely versatile addition to your space. Place a bedside ottoman at the foot of your bed to rest and put on your feet.
Ottomans are perfect storage closets for those decorative pillows you only use once or twice a year or for storing extra blankets.
A storage ottoman can serve a wide range of purposes, not only as a toy box but also as a pedestal from which a child can read a bedtime tale.
Ottoman Bench at the End of the Bed
It is the right choice for a bedside ottoman bench. You can enlarge your sleep area with some extra pillows too. When choosing an ottoman for the end of your bed or a stool to use as a bedroom vanity, it should be tall enough. Once you get ottomans for all purposes, you can gather them together and use them as extra seating when a crowd of guests comes over.
Small Ottoman as a Nightstand
Placing an ottoman at the head of the bed allows you to use it as a nightstand. And why not? It doubles as a small table perfectly.
FAQ
How much space should be between ottoman and sofa?
About 12 inches is the right distance between the sofa and a dedicated ottoman. It's enough space to allow passage and not far enough to allow resting your feet.
Should your ottoman match your sofa?
It would be best if you didn't try to force the matching of any furniture. Most of the time, combining different designs gets the most satisfying result. An ottoman is an excellent accent piece anyway.
How much weight can an ottoman hold?
Depending on its construction an ottoman can hold from 200 to 600 pounds and more.
Liked this article? Here's what you can read next: