Last updated on January 10, 2022
This is the ultimate list of the best ottomans – you will definitely find what you're looking for. The list is updated for 2021.
► Our top choice: This small foldable storage ottoman.
Once upon a time, I lived in a small studio as a bachelor. It was so tiny there was barely any space for a small coffee table (and the sofa.) Storage was always a problem, so was the extra seating for guests.
Enter the ottoman (the furniture, of course.) I had a tiny cube ottoman, and it's amazing how handy it was. I put stuff in it. I put stuff on it. People sat on it. Above all, it didn't look out of place — it looked great.
Now, this might not be your idea of the best ottoman (especially if you need one for a fairly large living room and you want it to double as a coffee table.) It just proves that no solution fits all.
But we can make an educated guess that a list of the top 10 best ottomans will cover most of the bases. There's a lot to choose from! From countless types of ottomans to different materials and functions as well as styles.
So, HomeISD introduces the ultimate guide to choosing the best ottoman of any type. We've selected ottomans of each type and made the top list consisting of the best of them (we keep updating it every year.) A lot of thought has been put into vetting only the top products so you can be sure you're choosing from the best.
Also, note that the shopping links included in this post result in us getting a commission. This helps us grow, and it costs you nothing extra.
Small Foldable Storage Ottoman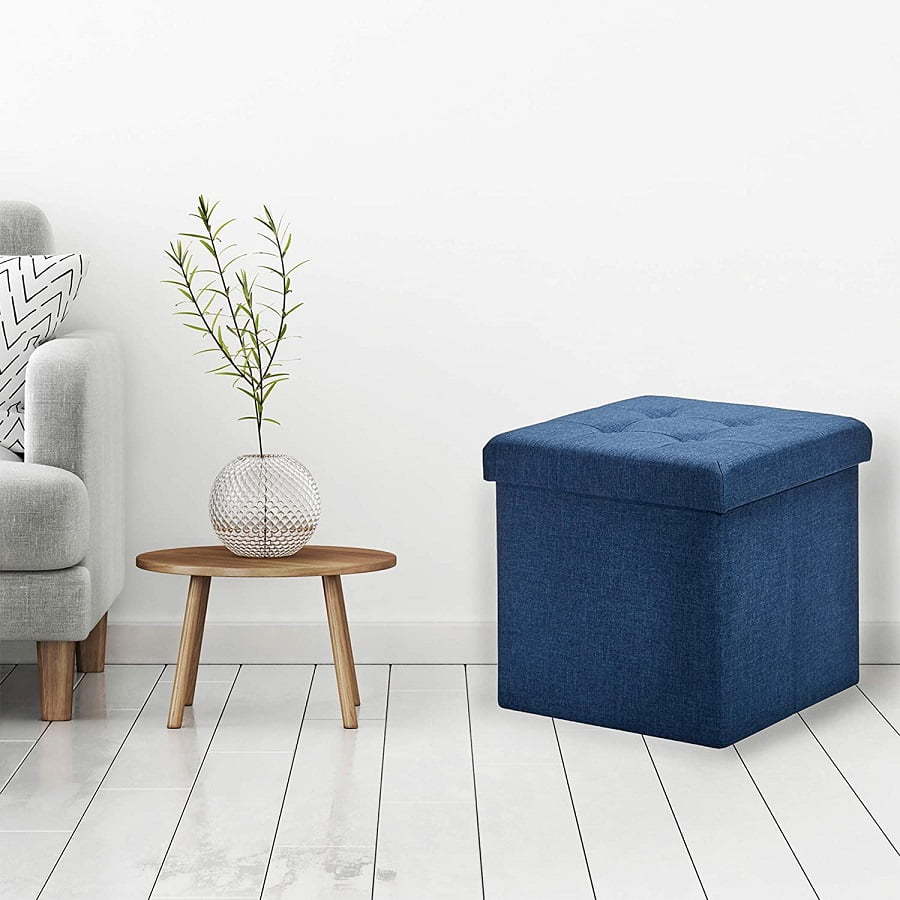 We've picked this small storage ottoman as the best option (editor's choice) for its value for the money.
If you work hard to make your life easier while maximizing your home space, finding storage units that double as furnishings is the perfect solution for a more organized life. This ottoman is a decent quality, durable piece that's just right for any house.
You can put anything in it that you otherwise keep in baskets (they always look cluttered.) With your Seville, you will have quick access to your things. When the lid is on, the ottoman looks like a stylish small bench. Don't need it anymore? The foldable design means you can store it anywhere with minimal space wasted.
Round Bonded Leather Ottoman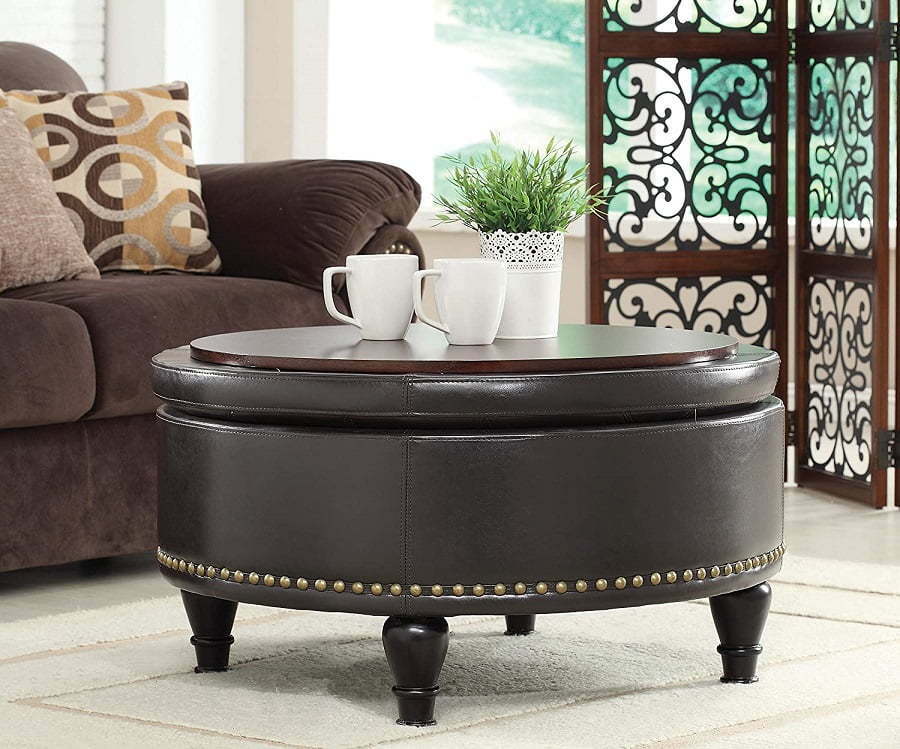 This 32-inch round ottoman in bonded leather has storage and the vintage look and the style of this piece makes it all the better. The ottoman comes in dark espresso color that will fit traditional as well as modern decor. We particularly like this piece's brass nailhead trim, which nicely complements the darkly traditional leather covering of the stool.
The ottoman is about 18 inches tall, which means you can use it both as a seating option, as a plush footrest, and even as an ottoman coffee table (a tray for a sturdy surface is included.)
Faux Leather Lift-top Square Storage Ottoman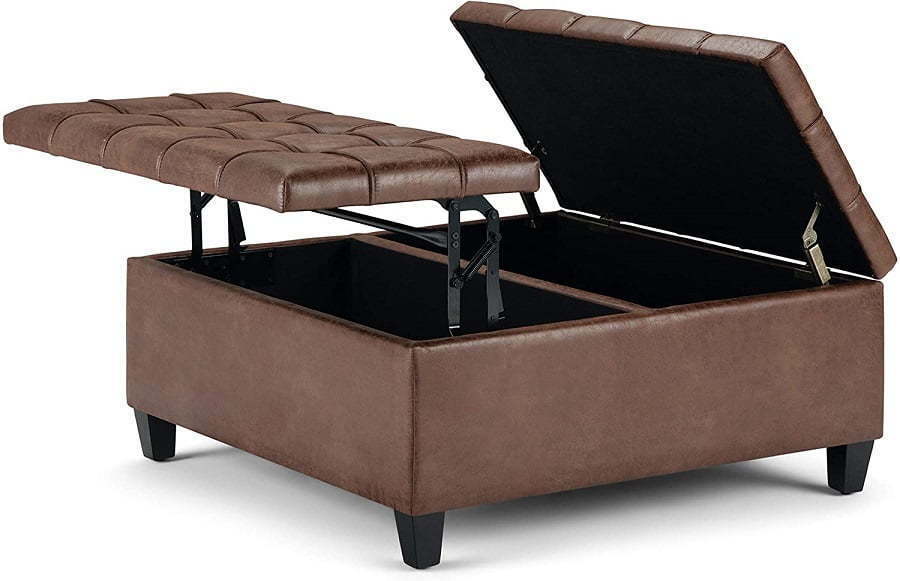 Both functional and stylish, you will love this faux leather ottoman for your living room. There is ample storage space with two separate storage boxes as well. The lid opens easily, and the piece is sturdy enough so you can use the padded and upholstered lid as a comfortable seating option, too. The lift-top surface of the unit easily transforms into a small table. This ottoman can double as a coffee table as well.
Tufted Storage Ottoman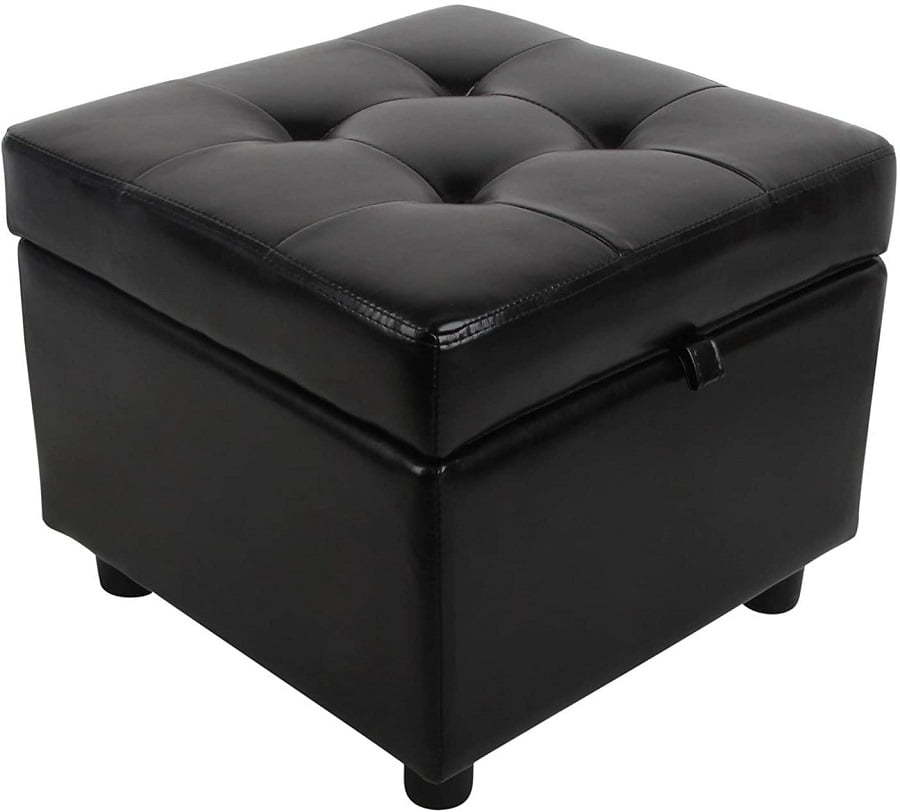 This square tufted ottoman is not only beautifully designed (an instant classic), it's small and sleek — a great fit in any decor. No matter where you place it, rest assured that the piece will always work as the centerpiece of the room. The ottoman includes storage that isn't big but enough to store magazines or a few plush toys.
Each plastic leg comes with a washer, and you won't have any problems twisting them on. Because the legs are plastic, we recommend that you use foot pads if you intend to put them on hardwood floors. The inside of the lid is of high quality, and if needed, the lift tab can be pinned on. The stitch and tufting make it look spotless and sleek. Finally, for a small unit, it's just enough for two people to rest their feet.
Modern Cube Tufted Ottoman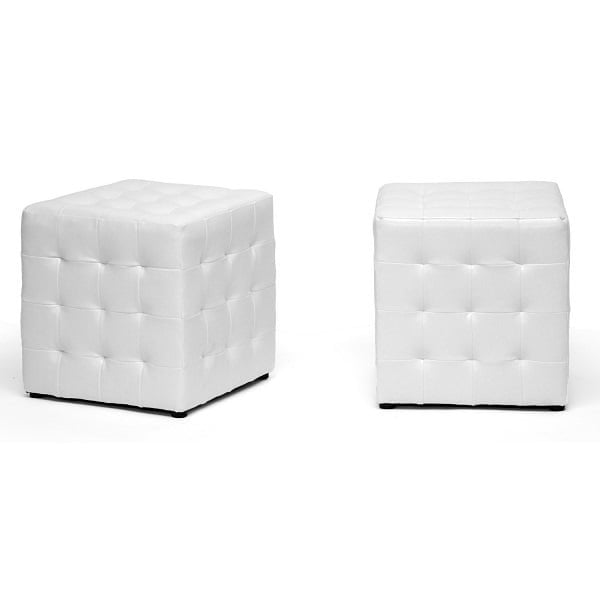 These cube ottomans will come in handy if you are looking for affordable and relaxed seating options around your living room or studio space. The pieces are covered in white faux leather and sport a tufted appearance. And since the frame is made of a mix of plywood and solid wood, these cubes are sturdy enough, too. We recommend using them as extra seating options in larger rooms, especially when you have many guests and friends visiting. Come in red, black, and dark brown colors, but we love the white ones the most.
Milltown Small Ottoman Bench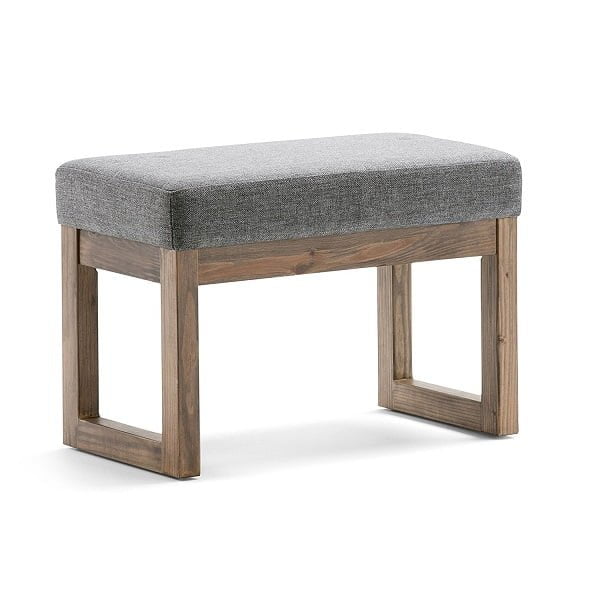 We love the no-frill sleek design of this ottoman bench. The piece will fit in nicely in all modern decors and be ideal to have in your bedroom or somewhere close to the entryway. The soft linen grey upholstery of the seat nicely complements the understated elegance of the solid pine wood construction of the frame and the legs. This stylish piece comes in two different sizes, so you can choose one that suits your needs.
Rattan Storage Ottoman 2-Piece Set
Add some color and style to our room with these beautiful wicker and rattan storage ottomans, complete with soft and cushioned hassocks on top. The body is made of handcrafted bulrush, which is then dyed and lacquered in rich brown hues. The set includes a larger and a smaller stool. Both can be used for seating as well as storage. Additionally, the smaller one will also serve nicely as a footstool.
Place the set in your master bedroom, the kids' room, or pretty much wherever you like. The body is sturdy enough, so you can easily use it for storing clothes, kids' toys, CDs, or even books. The item also comes in five different shades of brown with a slightly altered design for each one. So, make sure to check your options well before you order!
Small French Quarter Cube Ottoman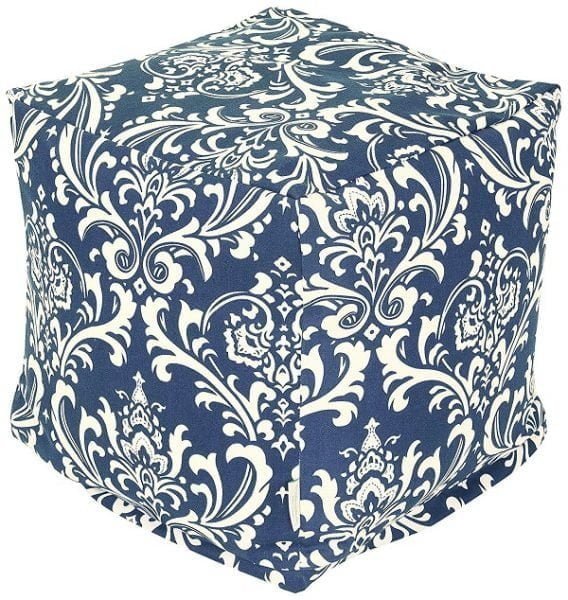 Update your living space with some style and a rich splash of color with these beautiful cube ottomans with attractive patterns. Standing at about 17 inches tall, the cubes can be used as a side table, footstool, or as extra seating options. You can also use them outdoors as the slipcovers are made of outdoor treated polyester and are equipped with up to 1000 hours of UV Protection.
The style and the make are more like ottoman blended with bean bags! Available in navy blue and hot pink. So, get more than one of them if you will — and mix and match any which way you prefer!
Chic Bicast Leather Ottoman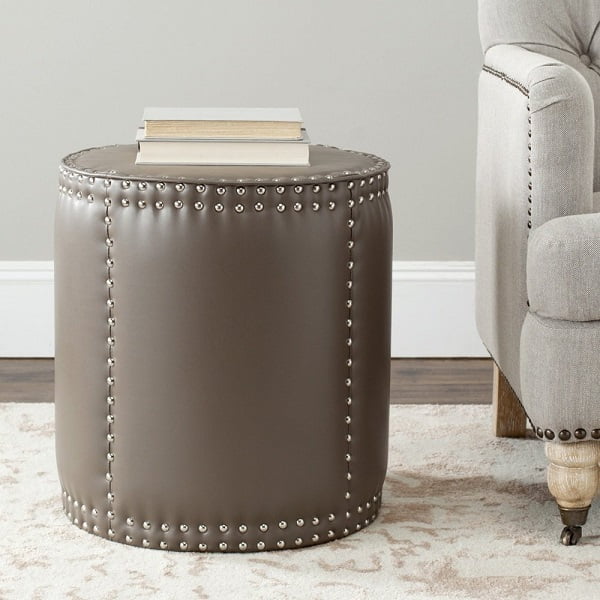 This tall drum shape ottoman will work as a gorgeous accompaniment to any living room space with modern or transitional decor. You can use it at the foot of your bed, by the side of your living room sofa, as a center table, or as an extra seating option—the choice is yours! Also, you may use it to put books, vases, or a lamp atop it.
The soft-toned clay upholstery wedded with the stated elegance of the brass nail trim of this accent piece is embracing all kinds of uses and will nicely adapt itself to it. No storage with this piece, but we don't see you complaining!
Round Mid-century Modern Ottoman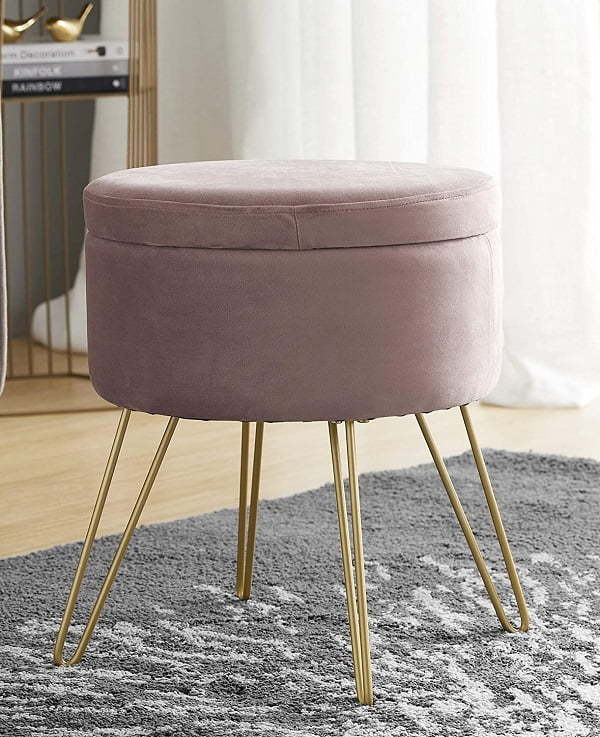 With mid-century modern style making the rounds in every second household (that follows Instagram and Pinterest), this round hairpin leg ottoman is of course on the list. It looks luxurious at a very affordable price.
The assembly is easy. It is very sturdy. The colors are accurate. It promises to be able to support up to 300 pounds. We love the flip top which has light wood circle for small table function. Definitely recommended. You might need a carpet or an area rug for the hairpin legs (metal legs on hardwood or laminate don't go well without plastic protectors.)
FAQ
Are ottomans comfortable?
Anyone who has rested their feet on an ottoman while sitting back on a couch will tell you they are very comfortable. On the other hand, as seating (due to their lack of a backrest and, usually, low height) ottomans aren't that high on the comfort scale.
What is the best height for an ottoman?
The best height for an ottoman is 16 to 18 inches. It's the same height as that's the average coffee table or the sofa seat. If you're going to sit on it or rest your feet, it will have to be the same height as the sofa seating (or an inch higher.)
Should your ottoman match your sofa?
An ottoman doesn't have to match your sofa. Making it look like a furniture set is rarely a good idea. Instead, you should use this as a chance to bring an accent to the room's decor.
Do all ottomans have storage?
No, not all ottomans have storage. However, its shape often lends itself to be an ideal hidden storage unit.
What's the difference between an ottoman and a pouf?
An ottoman is a firm piece of furniture (and it often has legs), while a pouf is more like a floor pillow — soft and squishy. They do share the same purpose and, often, similar design.
Recap
---
Disclosure: As an Amazon Associate we earn from qualifying purchases.
Liked this article? Here's what you can read next: