Last updated on October 1, 2020
This is the ultimate list of the best ottomans by type – you will definitely find what you're looking for. All lists are updated for 2020.
An ottoman is a remarkable piece of furniture. It's so versatile and can be used as seating, as a coffee table, as well as double as a storage unit. But no doubt you already know all that and you're looking for the right ottoman for your home. There's a lot to choose from! From countless types of ottomans to different materials and functions as well as styles.
We're introducing to you the ultimate guide to choosing the best ottoman of any type. We've selected 10 ottomans of each type and made top lists of each and every one of them. A lot of thought has been put into vetting only the top products so you can be sure you're choosing from the best.
What's Inside?
Top 10 Best Ottomans
While we have several lists of different types of ottomans in this guide, we do understand that your time is precious and you might not want to read a lengthy list. That's why we've made a top 10 list of ottomans overall regardless of their type. Check it out if you want to make a quick selection, but consider reading through this article for more choices.
Mini Round Faux Leather Ottoman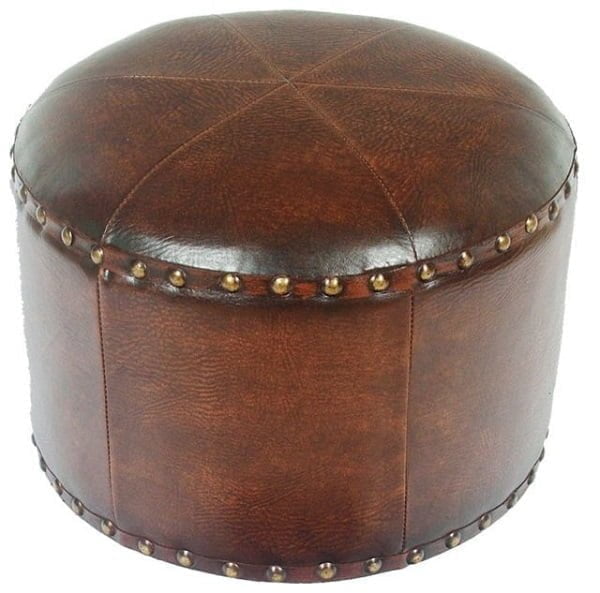 This small and round faux leather mini ottoman does not have a storage option, but the vintage look and the style of this piece amply compensate for that. The ottoman comes in three color options: saddle brown, mixed patch work and dark brown. The first two will nicely fit any traditional décor while the dark brown would be a nice match for modern decors as well. What we particularly like about this piece is the brass nail heads which nicely compliments the darkly traditional leather covering of the stool. The ottoman is about 12 inches tall which means you can use it both as a seating option or as a plush footrest. And on occasions you feel cramped for space, you may also conveniently tuck it under your coffee table. Available at Houzz (#ad).
Drayton Espresso Leather Storage Ottoman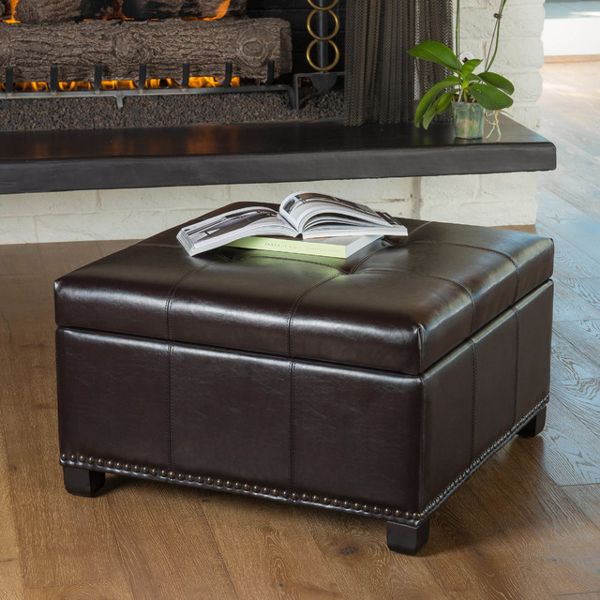 Both functional and stylish, you will love this bonded leather storage ottoman for your living room. There is ample storage space with a separate storage box as well. The lid opens easily and the piece is sturdy enough so you can use the padded and upholstered lid as a comfortable seating option, too. We especially like the studs lined around the lower perimeter of the piece. Add extra elegance to this already luxurious piece of furniture. Available at Houzz (#ad).
Tufted Square Ottoman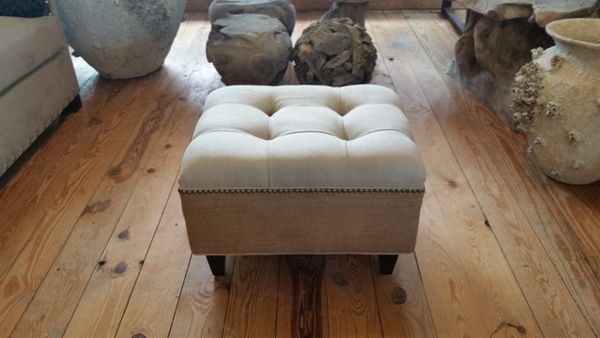 This linen and burlap ottoman is not only beautifully designed, but the level of craftsmanship that goes into it makes it worth the last penny you spend on it. Made of American linens and locally sourced red oak lumber, this little beauty will fit in as nicely in rustic, wooden decors as in more modern and transitional ones. And no matter where you place it, rest assured that the piece will always work as the centerpiece of the room. Of course, we would have loved it even more if it came with storage options, but let's not get greedy here, right? The ottoman also comes in as many as six different sizes. Available at Houzz (#ad).
Baxton Modern Cube Ottoman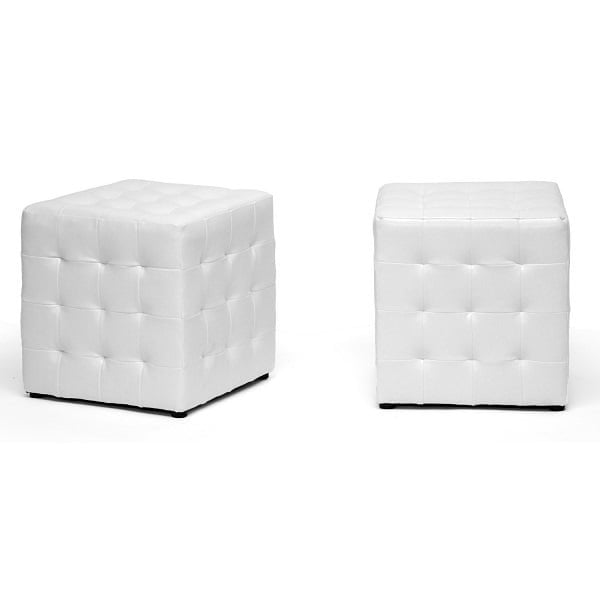 These cube ottomans will come handy if you are looking for affordable and relaxed seating options around your living room or studio space. The pieces are covered in white faux leather and sport a tufted appearance. And since the frame is made of a mix of plywood and solid wood, these cubes are sturdy enough, too. We would recommend using them as extra seating options in larger rooms, especially when you have a lot of guests and friends visiting. Come in red, black and dark brown colors, but we love the white ones the most. Available at Amazon (#ad).
Milltown Small Ottoman Bench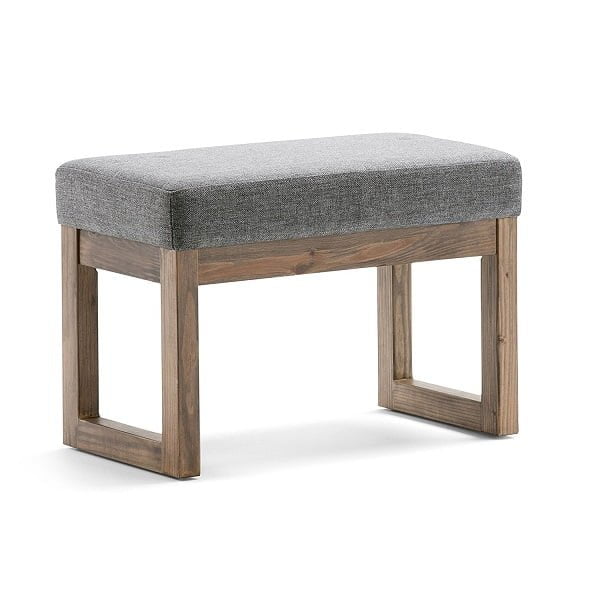 We love the no frill sleek design of this ottoman bench. The piece will fit in nicely in all modern decors and will be ideal to have in your bedroom or somewhere close to the entryway. The soft linen grey upholstery of the seat nicely compliments the understated elegance of the solid pine wood construction of the frame and the legs. This stylish piece comes in two different sizes as well, so you can choose one that suits your needs. Available at Amazon (#ad).
Rattan Storage Ottoman 2-Piece Set
Add some color and style to our room with these beautiful wicker & rattan storage ottomans complete with soft and cushioned hassocks on top. The body is made of handcrafted bulrush which is then dyed and lacquered in rich brown hues. The set includes a larger and a smaller stool. Both can be used for seating as well as storage. Additionally, the smaller one will also serve nicely as a footstool. Place the set in your master bedroom, the kids' room or pretty much wherever you like. The body is sturdy enough, so you can easily use it for storing clothes, kids'toys, CDs or even books. The item also comes in five different shades of brown with slightly altered design for each one. So, make sure to check your options well before you order! Available at Amazon (#ad).
Upholstered Ride-on Ottoman in Animal Shape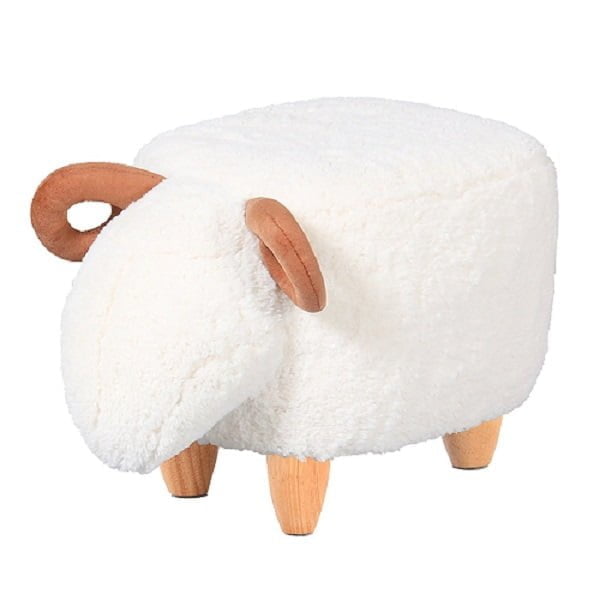 Come your kid's birthday and this little 'sheep' ottoman might be the perfect gift you were looking for. Primarily meant as a footstool, the piece is sturdy enough to act as extra seating options (And you may make good use of that when you are reading your child his daily dose of bedtime story!). The surface is made of high elastic sponge covered with premium quality berber fleece. All nice and squishy to your touch! This particular 'sheep' model doesn't come with a storage option, but you can find many other 'animals' on this line and most of them come with a storage option. And all of them are just as cute as this one, so pick any one of them if storage is important for you. Available at Amazon (#ad).
Small French Quarter Cube Ottoman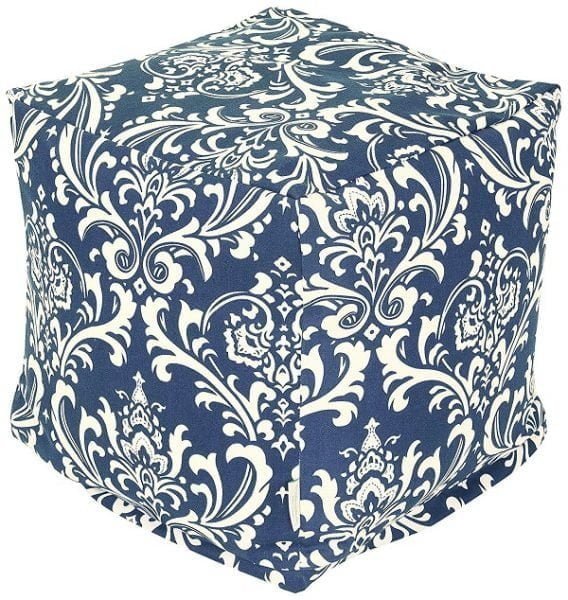 Update your living space with some style and a rich splash of color with these beautiful cube ottomans with attractive patterns. Standing at about 17 inches tall, the cubes can be used as side table, footstool or as extra seating options. You can also use them outdoors as the slipcovers are made of outdoor treated polyester and are equipped with up to 1000 hours of UV Protection. The style and the make are more like ottoman blended with bean bags! Available in navy blue and hot pink. So, get more than one of them if you will — and mix and match any which way you prefer! Available at Amazon (#ad).
Safavieh Mercer Collection Paula Ottoman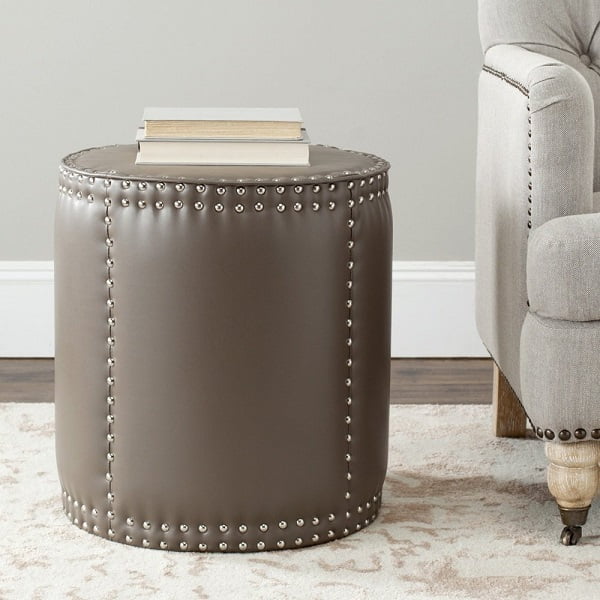 This tall drum shape ottoman will work as a gorgeous accompaniment to any living room space with a modern or transitional décor. You can use it at the foot of your bed, by the side of your living room sofa, as a center table or as extra seating option—the choice is yours! Also you may use it to put books, vase, or a lamp atop it. The soft-toned clay upholstery wedded with the stated elegance of the brass nail trim of this accent piece is embracing of all kinds of uses and will nicely adapt itself to it. No storage with this piece, but we don't see you complaining! Available at Amazon (#ad).
Elyse Natural Off-White Ottoman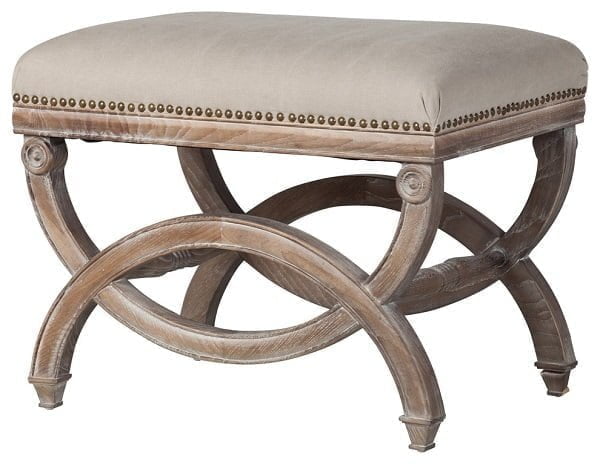 If you are in the lookout for an ottoman which also closely resembles an antique piece, this one is it. The piece has a carefully crafted shabby off-white look which screams of an old world elegance. We love pretty much everything about this piece—the wood-carved details, the off-white cotton upholstery with the uniform trim of brass finish nail heads and finally, the white washing of the base wood frame that completes the idea. The piece will blend in effortlessly with traditional old house decors and furniture, but it will perform just as well (if not better!) as the centerpiece of a contemporary living space. Available at Houzz (#ad).
Square Twisted Arizona Ottoman
To cap it off, we have this handicraft ottoman that will add a nice decorative accent to any space you put it in. Hand-woven in an abaca style, this salak brown piece looks sturdy enough in itself. However, what may not be apparent in the first sight is that it also includes a foam under-weave cushioning at the top to facilitate extra comfort. In short, an exquisite piece to add to your existing furniture set. Available at Houzz (#ad).
Storage Ottomans
If you want your new ottoman to be as functional as possible, you need it to have ample of storage space. A good ottoman will serve as a storage unit perfectly but you want it to be a good piece of furniture and serve its main purpose as well. Below is a list of our top storage ottomans.
Brentwood Storage Ottoman Sandstone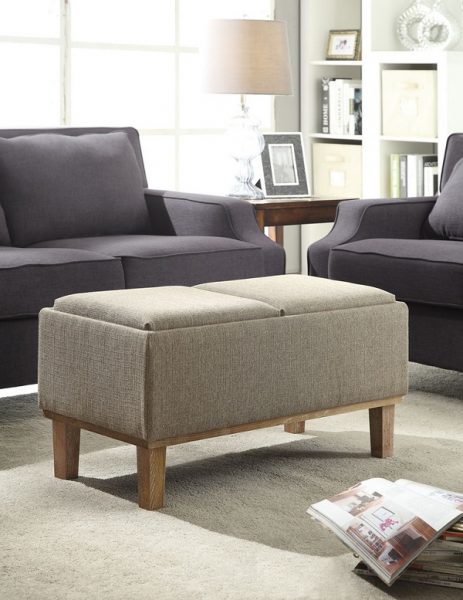 Here is a nice example of a neutral toned storage ottoman that would blend with just about any color scheme. It offers a generous open storage cubby that will securely hold your items in both safety and convenience. This ottoman is designed for use with the height of your favorite chair, couch, or love seat, so that you can put your feet up at that oh-so-perfect angle that provides maximum relief and minimum stress on the joints. Although it is listed as being Sandstone in color, it might be easier to think of it as a nice earthy beige tone. Available at Houzz (#ad).
Faux Leather Ottoman Trunk with Lid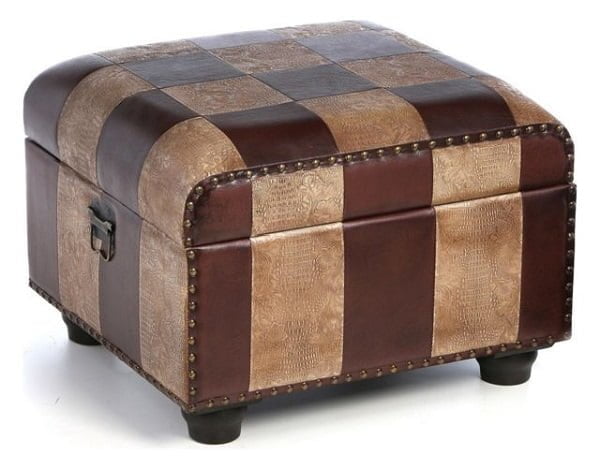 This lovely faux antique square ottoman comes with brass tack accent work and an elegant checkerboard design with embossed detailing evocative of the era of the finest in custom leather work. If you prefer a solid color rather than a patchwork, the item also comes in both dark brown and saddle brown — both minus the embossed detailing and the brass tack accents. All three variants feature a generous and easily accessible storage compartment inside that, when closed, makes it appear that this is just a simple ottoman and not a well-designed piece of multi-functional furniture that will look good in any home. Available at Houzz (#ad).
Safavieh Hudson Collection Leather Ottoman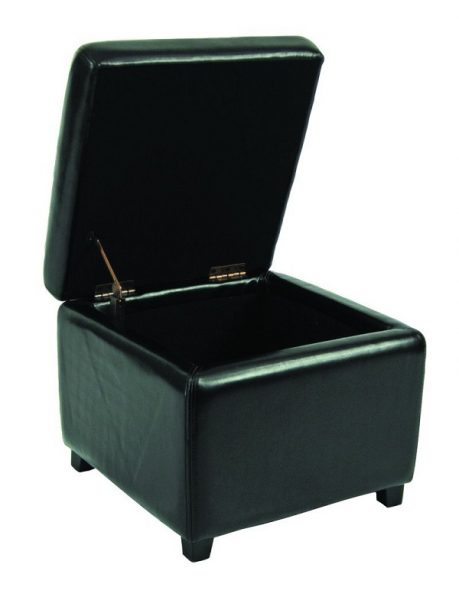 Here is a pert little storage ottoman that is boiled down to its essential ingredients and nothing else. Small enough that it can be handled easily and stored underneath many other furnishings when not in use, it still offers a generous storage compartment that makes it useful for more than just putting your feet up after a hard day on the job. With five different colors available (black, brown, red, saddle, and white), you are certain to find the one that will mesh with your current room furnishings. In addition, its lack of extraneous decorative touches means that it will continue to blend even if you remodel everything to a different style. Available at Amazon (#ad).
Adeco Accents Rectangular Storage Footstool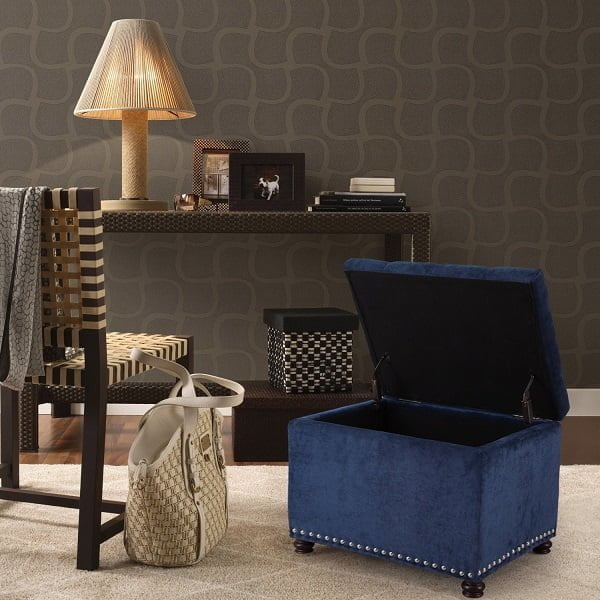 For those who are looking for something that has a little more personality in its own right, this rectangular tufted top storage ottoman is the perfect addition to your home's need for more comfort and extra storage. Choose from a stunning royal blue or royal olive gray fabric or an ottoman finished in durable, easy-to-care for red PU-leather. All three feature a line of bright tack accents along the bottom of the piece, a sturdily-hinged storage compartment and, of course, that extra comfortable and deeply padded top with the fabulous button tufting to give it that extra burst of panache. Available at Amazon (#ad).
Cortese Home Storage Ottoman Leather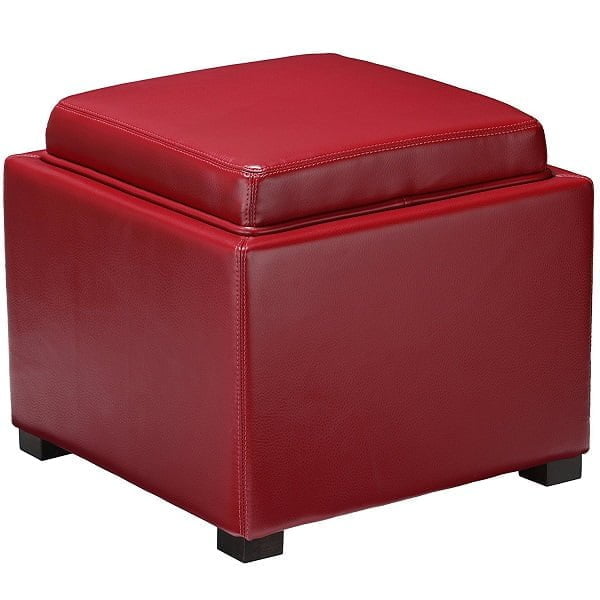 Shhh. This storage ottoman has a secret. Not only does it provide the functionality of an ottoman in combination with a nice dollop of extra storage space hidden inside, but it also offers an extra bonus. Flip the comfy padded top over and you have a surprise serving tray to hold drinks or food for your guests. These ottomans also come in a quartet of fun colors — white, orange, red, or sea breeze — that will pep up any room they are placed in. Elegant bonded leather on a solid wood frame means that these ottomans are also built to last. Available at Amazon (#ad).
Belleze Rectangular Storage Ottoman Footrest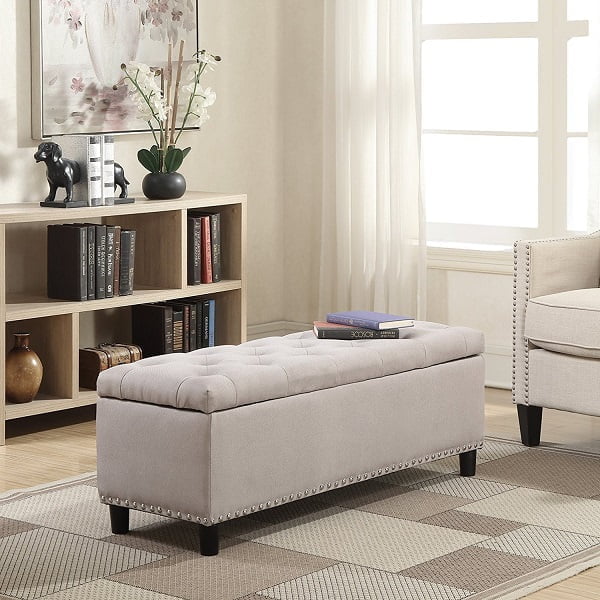 If you are looking for something that is, frankly, not square, you will love this fine quality coffee-table-sized rectangular ottoman. There is plenty of room for both of you to put your feet up in comfy togetherness, plus you get that big, deep storage cavity underneath it that will put all of your essential clutter in a place that is close at hand yet out of sight. This tufted top ottoman comes in natural and gray fabric or else you can get it in easy-to-care-for brown leatherette as well. As an extra seat in the room, as an extra closet, or as a foot rest, this ottoman can do it all. Available at Amazon (#ad).
Simpli Home Rectangular Leather Storage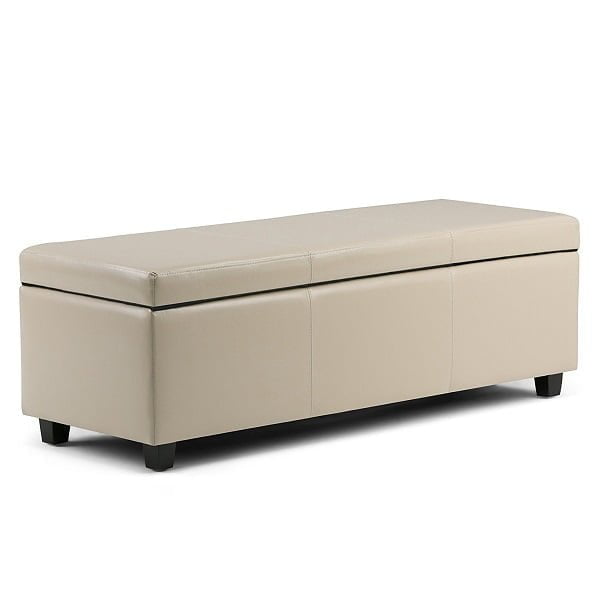 So, if you're searching for a large size storage ottoman but aren't quite sure what color would go best with your furniture, you are in luck with this fashionably understated item. It comes in seven different colors. You may choose from black, blue, brown, cream or red faux leather or, if you prefer a fabric ottoman, it also is available in fawn brown and slate grey. Regardless of which color or covering you are partial to, every variant of this ottoman offers the same generous storage capacity, timeless design, and durable construction that will keep going strong for many years to come. Available at Amazon (#ad).
Handmade Linen and Wooden Wine Crate Ottoman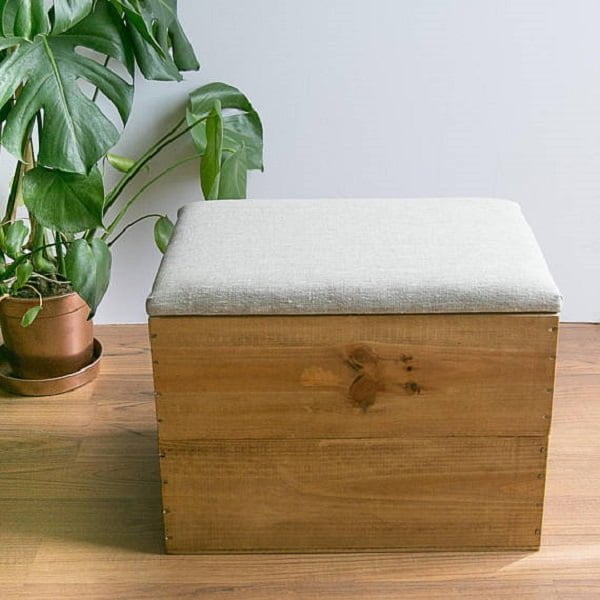 Perhaps you have your own ideas as to what constitutes the perfect fabric for your new storage ottoman. If that is the case, this ottoman is built on the framework of a delightful and original wine crate, repurposed to serve as a smart storage solution and a unique conversation piece. It comes with a top covered in any of four different fabrics — natural, pale grey, duck egg blue, and navy. Yet it doesn't have to be that way unless that is the way you like it. You can also arrange for it to be finished with a fabric of your own choosing so that you get a custom one-of-a-kind piece that matches your décor perfectly and yet doesn't cost a fortune. Available at Etsy (#ad).
Galaxy Storage Wooden Crate Ottoman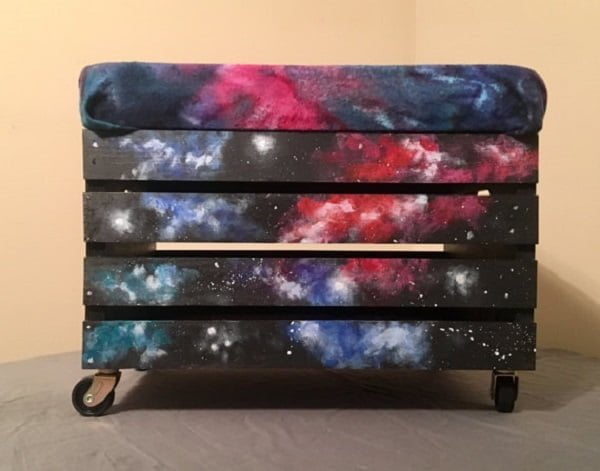 Ready for something cute and whimsical? This hand-crafted storage ottoman will have you seeing stars, quite literally, since it is a galaxy-themed piece of furniture that displays the glories of the cosmos on both its sturdy wooden sides and its generously-padded fabric-covered top. Not just hand-crafted, but also each individual piece is hand-painted as well, which means that it is both an utterly unique item plus a work of art as well. This creation shows how the sedate functionality of a timeless favorite can be updated into something that is not just for your parents living room but instead fits your own quirky personality and lifestyle. Available at Etsy (#ad).
Reclaimed Wine Crate Ottoman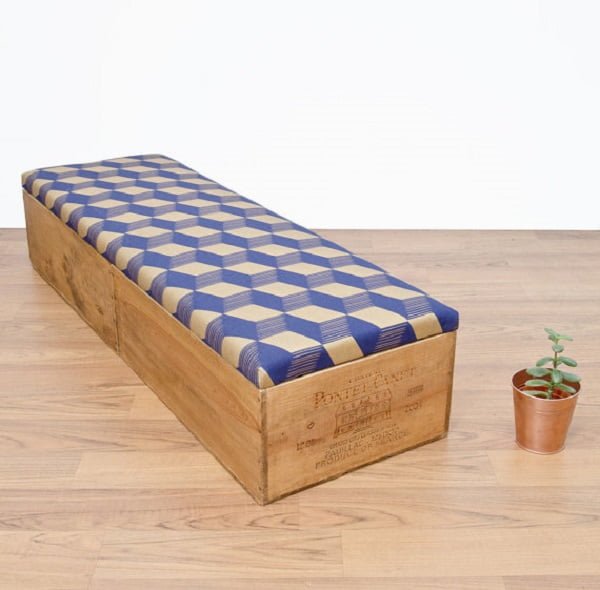 Are you seeing things? Yes, it's a fabulous hand-printed fabric top that is lovingly mated with a pair of genuine wine crates from France to create the most perfect blend of European flair and functionality. Available in two lovely shades of blue and grey linen, this custom creation can also be fitted with your own fabric on the top by arrangement with the shop that builds it.
This large-sized ottoman will hold all of your cherished belongings or perhaps serve as the perfect storage spot for linens and extra quilts at the foot of your bed. No matter where you put it, however, you will be reminded of its hand-finished craftsmanship and its unique Anglo-French pedigree that hearkens back to an era of small cabinet shops and fine continental fabrics. This storage ottoman is proof that furniture can still be art as much as an item of commerce. Available at Etsy (#ad).
Stone & Beam Round Arm Ottoman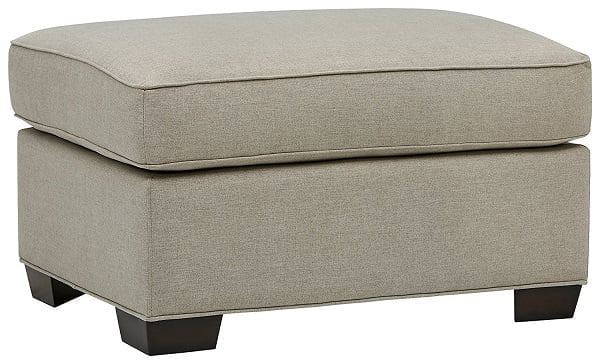 Go for this one if you want a multifunctional ottoman in a classic casual style. The piece is wide enough to serve as a snack tray or as a coffee table and it actually comes as part of the Stone & Beam Round Arm Sofa Set, although you can buy it individually as well. There is a large storage space as well, however, the piece is craftily designed so that the lid and the storage division is not as visible as in most other ottomans—something the buyers will surely appreciate. What is more, the nylon/polyester performance fabric is amazingly resilient and cleans very well. Even if you accidentally spill some liquid over it, you can simply use a soft cloth to wipe the liquid off and no stain will be left behind. Available at Amazon (#ad).
---
Round Ottomans
Round ottomans are pretty specific but you can use one in just about any decor style. Their main benefit is that a round design can be used even in very small spaces and they still provide a lot of room as a surface or storage. Check out our top round ottomans.
Tufted Linen Round Ottoman with Caster
Get this wide and round tufted linen upholstered ottoman to add a touch of elegance to your living space. This beautiful piece comes with a vintage look and will fit right into many classic décor schemes or as an ironic addition to a modern home. Also, if you already have other pieces of tufted or decorative furniture, you may consider this ottoman to complement them. Use this to give your tired feet their deserved rest at the end of a day; or you may use it as an extra seating option; or for other purposes such as serving trays, to put books, magazines or the odd article on and so forth. The casters are a welcome addition and the wheels will move easily, even on a carpeted floor. Available at Houzz (#ad).
Faux Fur Round Ottoman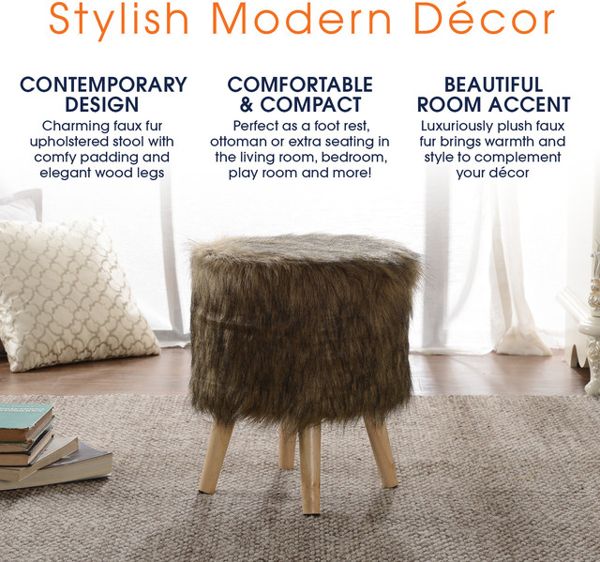 Jazz up your living room with this fun-looking faux fur covered round ottoman tool. This four-legged stool comes with wood-finished legs and in an overall sturdy build, so have no fear in case you want to use it as a seating option as well. In any case, no matter whether you use it to cradle your foot or for seating purposes, you will love the plush and squishy feel of the dense fur coating. And if you have kids around, you may bet they will love it even more! Available at Houzz (#ad).
Safavieh Vanessa Round Ottoman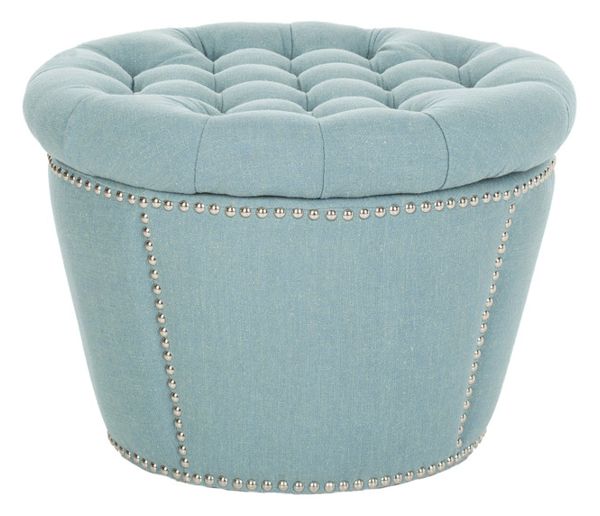 Want a stylish and functional addition to your furniture set? Consider this tufted linen storage ottoman. It is comely in appearance with its soft toned sky blue hue and the vertical and horizontal rows of nailhead trim details added to the base. The lid is easily lifted and there is ample storage space in the base which you can use to put clothes and other articles in and this will help keep your space organized. Just make sure to lightly brush or vacuum clean the lid cushion at least once a week to help retain its beautiful appearance. Available at Houzz (#ad).
Brianna Octagon Tufted Ottoman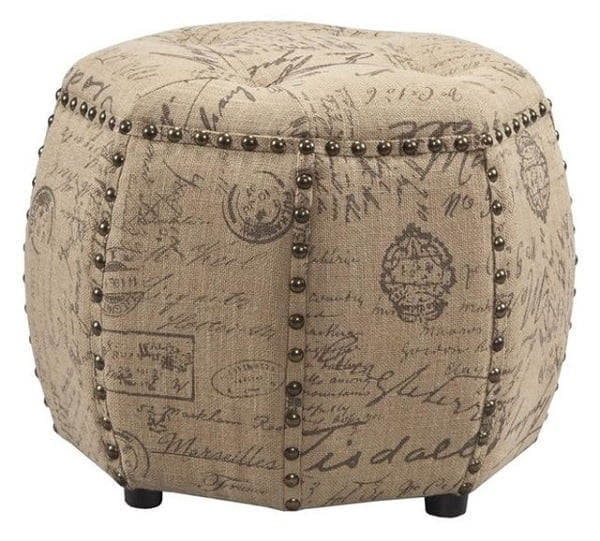 Want a chic addition to your living area? Then consider one or a pair of this innovatively designed octagon shaped jute script fabric ottoman. It will act as a versatile accent piece to any contemporary décor scheme. The frame is made of select hardwood and plywood and can support up to 200 lbs of weight and the high-density foam allows for all the comfort you can expect from an ottoman. So use this any way you want—as a cocktail table, as a footrest or as an additional seating option. Available at Houzz (#ad).
Safavieh Mercer Collection Paula Round Ottoman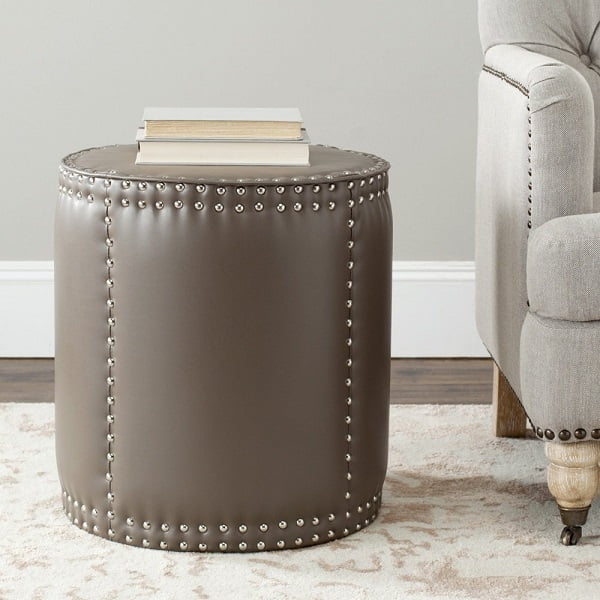 This tall drum shaped ottoman is a blend of chic and classic design and will fit in nicely with pretty much all décor schemes. As with all Safavieh products, the piece rightfully boasts of high and exquisite workmanship. It will work great as a center table in your living room space. There are three available designs in different colors with different upholstery materials used for each one. The clay model comes in a bicast leather upholstery while the more vintage looking champagne and off-white models are upholstered in fabric materials. You may choose one that goes best with your existing décor and furniture set. Available at Amazon (#ad).
Rope Knit Pouf Ottoman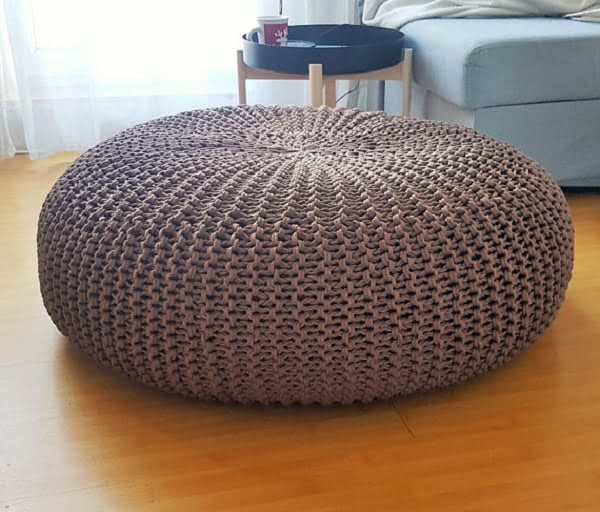 These hand-crafted polyester rope pouf ottomans come in a large variety and you will have choices aplenty in terms of color, sizes, material (stuffed/unstuffed) and more. The soft polyester rope material is welcoming to bare skin and you will love sinking in there (in the case of giant ones) or just cradling your feet upon them. The vibrant colors will add a touch of mirth around your rooms and these poufs are also ideal for kids' rooms. What is more, the resilient polyester material makes sure that you can use them outdoors as well. Available at Etsy (#ad).
Black Magic Suzani Round Ottoman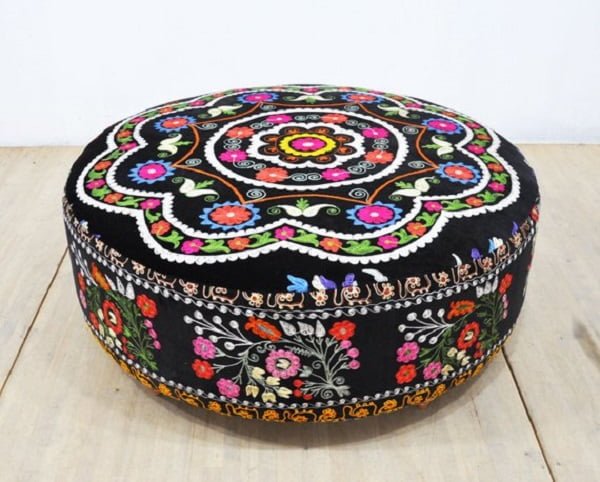 If you want to add something unquestionably 'trés belle' to your living room, this one is it! Oriental and eclectic, this round ottoman beautifully upholstered in handmade Suzani fabric will add that extra oomph to your décor. With a beech wood frame, the piece is sturdy enough, so you can put it to all the common uses an ottoman is meant for, but chances are that you will treasure this one way too much to put it to any practical use at all! Yes, the price is something which may make you think twice, but if you can afford a bit of splurging, we recommend that you do it on this one! Available at Etsy (#ad).
Sleek Tufted Round Ottoman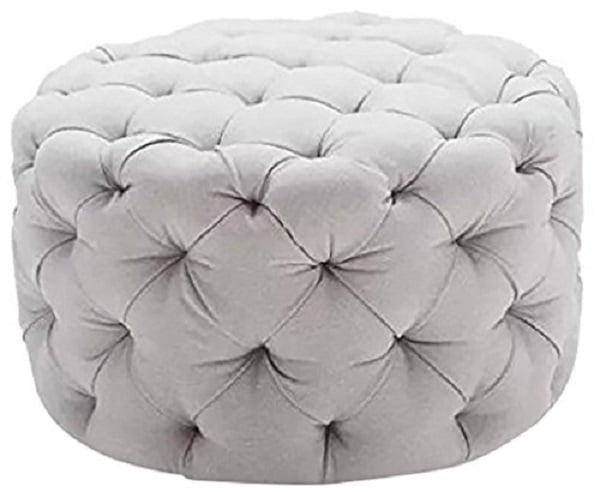 Consider this round pouf ottoman if you want a sleek, contemporary feel piece that will sit in nicely with your modern home décor. Textured and tufted all over, it will serve nicely as a plush footrest or as a serving place. And at 13 inches high, it will also come to good use when you crave for some low seating option. The piece is made of a sturdy wood frame, so have no fear—it won't give in under you! Available at Amazon (#ad).
Top-Grain Leather & Wood Round Ottoman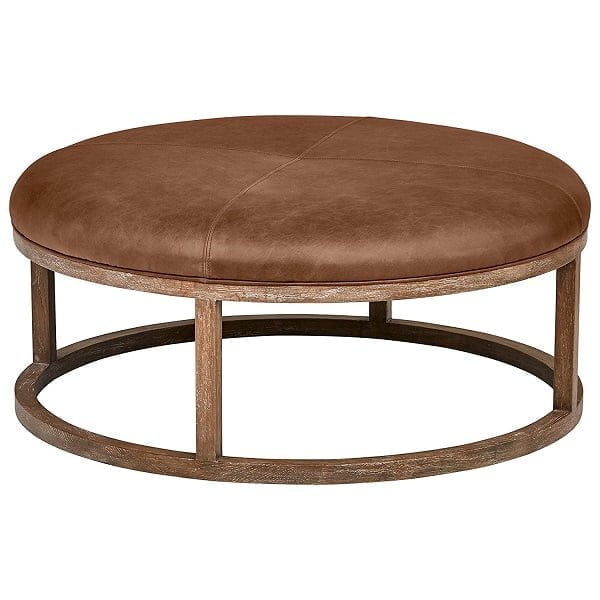 Simple and elegant, this ottoman with a top grain leather upholstered top is also one of the widest pieces you will find in this category. It measures about 39 inches across and this makes it ideal for use as a center table. The wood frame base with an oak finish also has a simple and unaffected look to it and this helps the piece to fit in nicely with pretty much all types of décor. The price is a bit on the higher side, but this is understandable considering the piece uses 100% original leather for the upholstery. There is not much maintenance involved either. Just make sure to wipe the leather top with a soft dry cloth now and then and it will retain its sheen for a long time to come. Available at Amazon (#ad).
Pouf Ottomans
How about a fluffy soft pouf ottoman to add more coziness to your home? If that's what you're looking for and you don't care for extra storage or a piece of furniture that can double as a table, a cute pouf is just what you need. Check out our top pouf ottomans.
Vintage Berber Moroccan Pouf Ottoman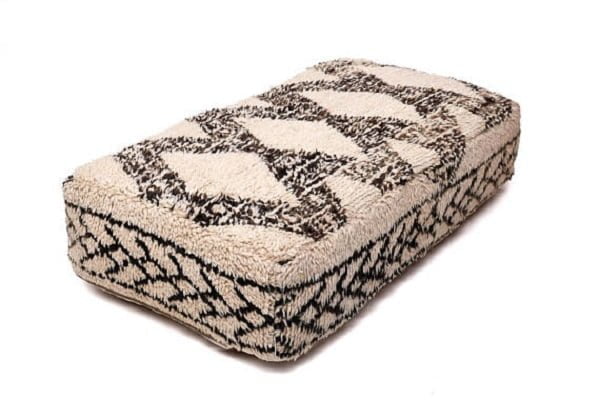 This floor cushion style wide pouf ottoman is crafted from a refashioned vintage Berber rug. The product comes from Berberology, a company that produces only artisan grade, premium quality handmade Berber wares for home. The refashioned cover is crafted by skilled artisans and is entirely handmade while the insert is designed by a professional upholsterer. You can order the 'cover only' or both the cover and the insert. Based on existing user reviews, we highly recommend this versatile product as a practical and elegant addition to your living room. Available at Etsy (#ad).
Crotchet Multi-Color Pouf Ottomans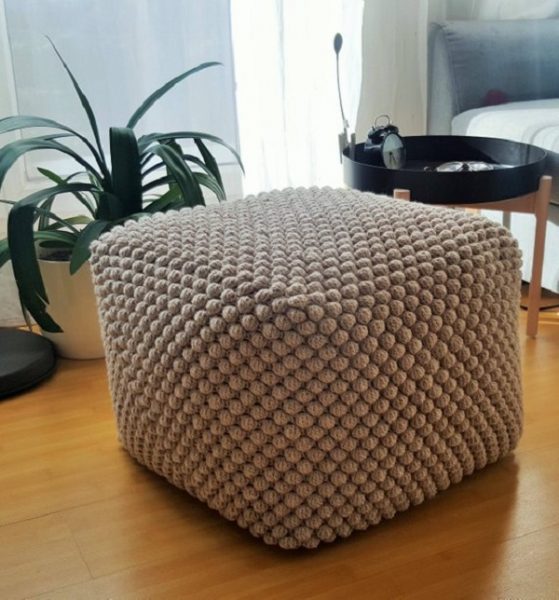 If you like the feel and the warmth of the natural materials, you will love this wool knitted stuffed ottoman. The stuffed fabric bag is made of high-quality Lithuanian polystyrene beads and you can easily separate the crochet cover and the fabric bag as the cover comes with an opening at the bottom. This comes in handy when you need to clean your pouf. You can wash the bag and the cover separately.
The covers come in a number of soft toned pastel colors, so you can get multiple pieces and color coordinate them. The knitting pattern looks beautiful, so apart from the comfort involved, these poufs will also act as nice accent pieces around your living space. What is more, you can also request custom pieces with your own specified dimensions and colors and you can choose either square or round pieces; or, given the versatility of these products, preferably both! Available at Etsy (#ad).
White/Off White Crotchet Pouf Ottoman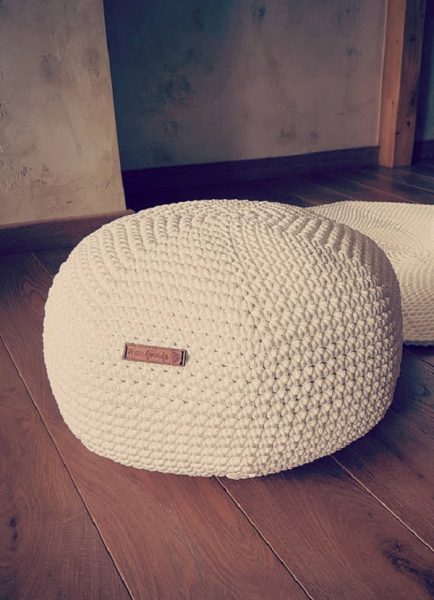 These handmade pouf ottomans are made of firm and robust polyester rope which is highly durable and feels nice and pleasant to bare skin. The crotchet pattern with wood buttons has an attractive look to it, too, and one or more of these poufs will be a nice and welcome addition to your kids' room or your living room.
The products are made and shipped directly from Lithuania and they also come with a convenient 'made to order' option. It may also help you to know that polyester rope, since it does not attract dust, is able to retain its color for a long time. So, you needn't worry if you have your mind on the milk-white variation. Rest assured, the cover material won't experience fading.
Now, one thing to keep in mind when you are buying this product (and this goes true for most products in this category and especially when they are brought online) is that the listed price is for the cover and the insert fabric bag. If you want the pouf complete with stuffing and all, you'll need to pay more. Also since the stuffing makes the product much heavier, the shipping costs will go up a few notches, too. We mention these since some customers appear to have some misunderstandings in this regard and this sometimes results in poor reviews for the products, which however they do not deserve! Not for this reason! Normally, it is best to order the cover and the insert and you can then fill it up with a stuffing of your choice. Available at Etsy (#ad).
GRAN Handmade Leather Stuffed Moroccan Pouf Ottoman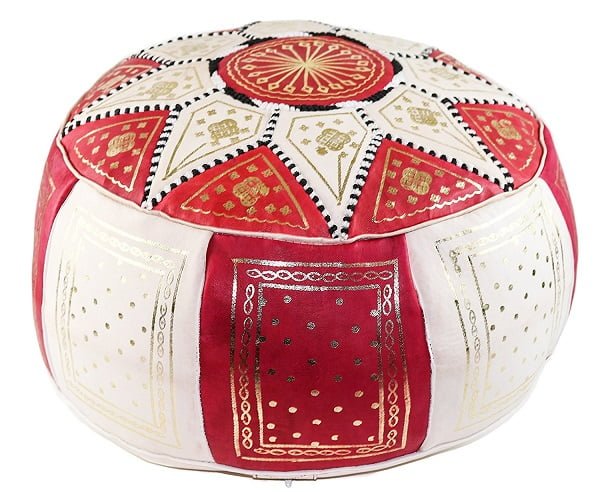 Use this beautiful genuine leather ottoman to give an oriental feel to your den. Simple and elegant, the cover of this decorative pouf is fashioned of genuine red and beige leather designed with hand embroidered stitching. Use it as a coffee table, footrest, extra seating, etc. The product comes filled with premium poly fiber stuffing, although you also have the option to order it unstuffed. Available at Amazon (#ad).
Vintage Patchwork Indian Pouf Stool Ottoman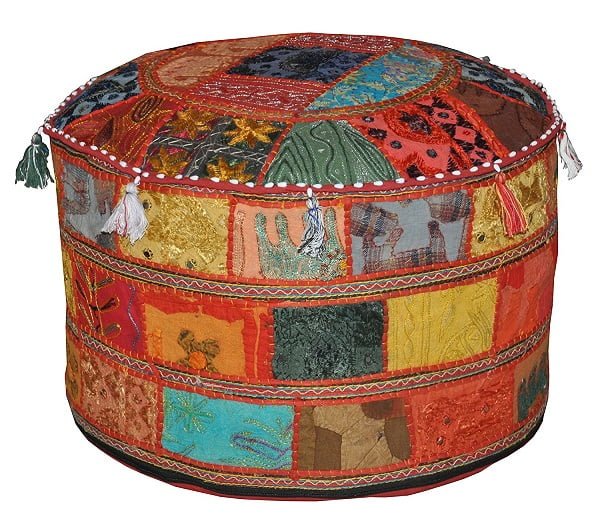 This beautiful Banjara style patchwork pouf cover is our absolute favorite. The handmade patchwork, just as the name suggests, is a wonderful and eclectic mix of a flurry of different patterns, designs, threads and colors—and often spangled or sequined. We also adore the bead trim with the decorative tassels. This is the art of an old and, sadly, disappearing world. So, get it while you still can! Just keep in mind that this piece is the only cover and there is no filler included. Available at Amazon (#ad).
The New Villa Collection Ottomans From Majestic Home Goods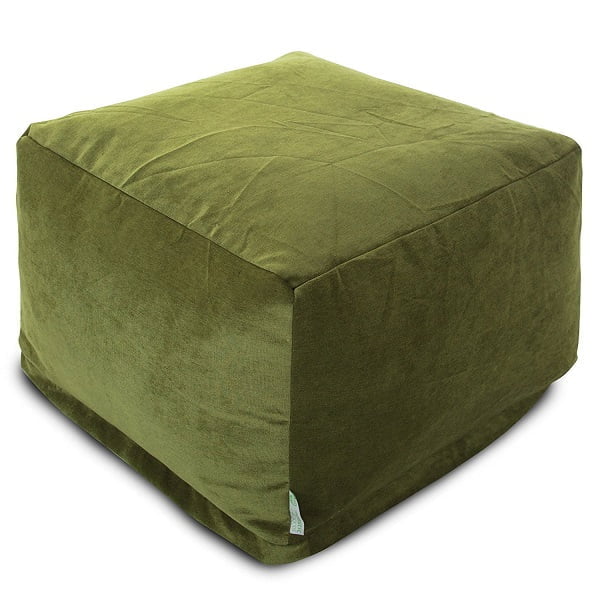 Get one or more of these square ottomans with a velvety soft cover to add a decorative accent as well as some splash of color to your living room area. Perfect for use as footstools, poufs, serving place or as extra seating, these zippered slipcovered (crafted with 100% polyester micro-velvet) ottomans enjoy highly favorable ratings across many different sellers' websites. Just make sure to add ample stuffing to keep the shape firm. These Villa Collection cubes come in multiple colors, Aple, Azure and Fern among them. Available at Amazon (#ad).
Tribal Jute and Wool Pouf Ottoman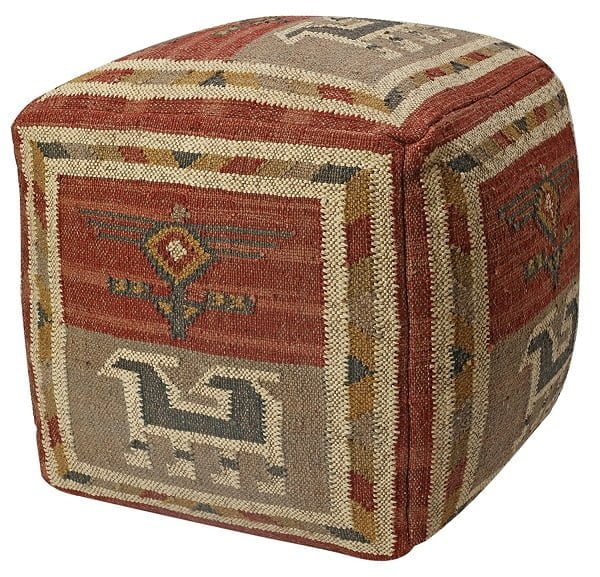 This somewhat larger sized pouf ottoman with intricate hand knotted tribal patterns will add a nice exotic flavor to your family room or den. The durable and sturdy Kilim shell is made of a mixture of wool and jute fibers. The matte primary colors, in conjunction with the tribal motifs of the design, will add a nice rustic charm to your décor—all redolent of an ancient world. In addition, the piece comes complete with generously stuffed high-quality foam bead filling. Right now, some sellers at Amazon are also offering free shipping on this product. So, if you want one of these, do hurry! Available at Amazon (#ad).
Braided Bright Twist Pouf Ottoman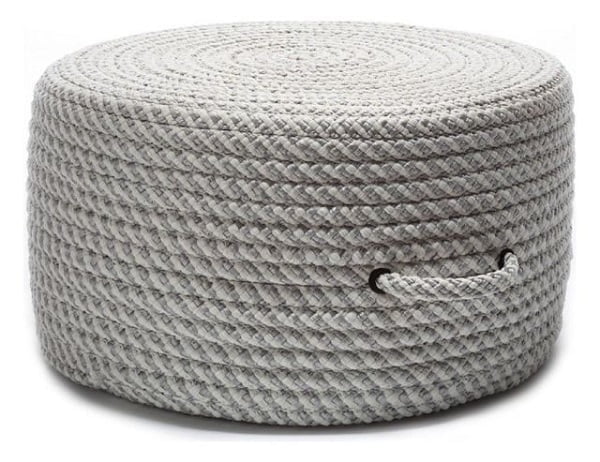 This braided twist pattern pouf comes in an attractive design and can be an ideal addition to your kids' room. Made of a highly durable polypropylene material which is also stain resistant, this product is great value for money. The shadow-colored simple design will blend effortlessly with a range of different décor schemes. However, keep in mind that the stool is only 11 inches long, so it may not be ideal for large interior spaces. It is best that you use it for your kids' den, the little cuties will love it! Available at Houzz (#ad).
Surya Jute Navy-Striped Pouf Ottoman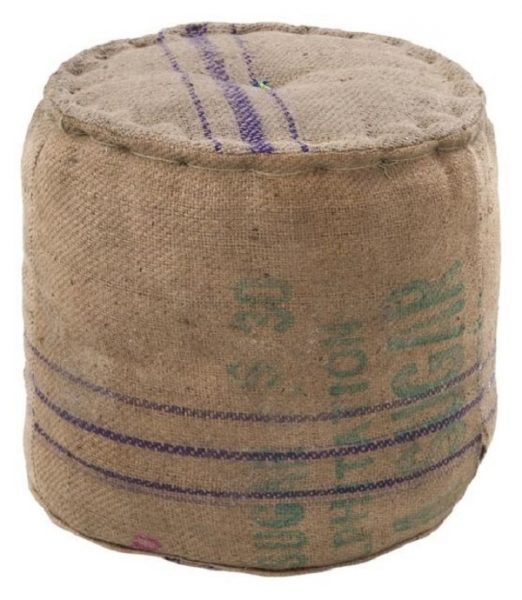 Looking to add a somewhat whimsical touch to your living room décor? Use this innovatively classic jute bag design pouf to wow your visitors. Sturdy and durable, this pouf has a fashion-forward look to it. At the same time, you will appreciate the understated simplicity of the design, too. And when it comes to constriction and style, you cannot find much fault with this product, either. Overall, highly recommended. Available at Houzz (#ad).
Brown Leather Arrow Hide Pouf Ottoman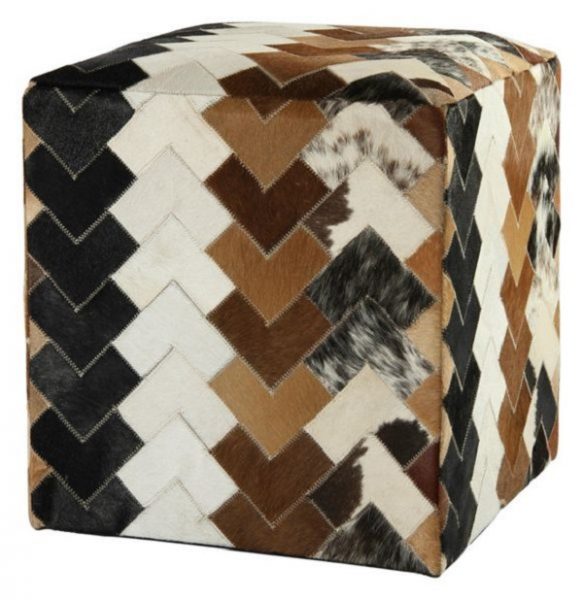 Last on our list is this gorgeous hair on hide authentic leather pouf ottoman. The cover is designed beautifully with hand stitched leather pieces arranged in a uniform pattern which is then mounted on a sturdy wood frame. The top of the seat comes with extra cushioning to facilitate comfort. In all, an exquisite and eloquent accent piece to add to your décor. Available at Houzz (#ad).
Coffee Table Ottomans
A roomy ottoman can double as a coffee table. That way you get a really multifunctional piece of furniture that serves as a stool, a foot rest, a table and a storage unit. Talk about dollar well spent! So here are our picks for ottomans that can be used as coffee tables.
White Leatherette Storage Ottoman with Reversible Tray Tops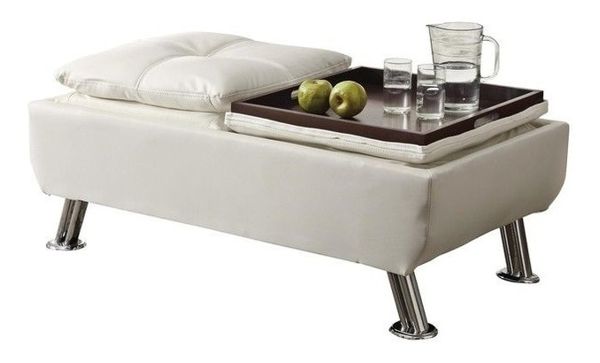 We start our coffee table Ottoman list with this stylish and trendy unit from Coaster. This Ottoman features reversible, convenient tray tops – along with contemporary design and chrome leg finish. Customers have also heralded the product for accentuating their leather sofas and/or love chairs. With fine upholstery and durability, this leatherette truly adds a touch of class to any formal or casual living room. The chrome leg finishes are designed to correlate with modern, contemporary and futuristic themes. However, this unit is perfect for all types of decor and very cozy and comfortable. Available at Houzz (#ad).
Cyrus Storage Ottoman with Trays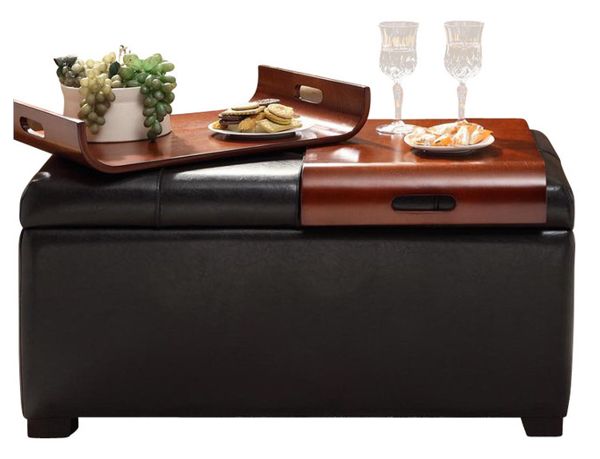 When it comes to coffee table units, the Cyrus storage Ottoman with trays continues to receive great customer reviews as well. In fact, this 4 ½ star item combines true comfort with classic designs. This hinged lid also offers maximum storage capacity, while the solid woof feet and bent wood trays enable true versatility. This elegant yet functional piece is designed to correlate with any design scheme or seating plan. Here are some more benefits of this lavish unit:
• Espresso color
• Wood trays are included
• Hinged lids for optimal convenience
• Faux leather, solid wood, and medium-density fiberboard.
• Great customer reviews for its look, functionality, and quality.
Available at Houzz (#ad).
The Jefferson Ottoman Coffee Table
GDF Studio features the Jefferson Tray Top Storage coffee table Ottoman for homes and businesses. This unit has brown bonded leather with a padded top that flips over the serving tray. There is also a storage room for pillows and blankets, along with Espresso stained legs. At just $106.00, customers have praised the product for its smooth color, durability, and size. The Ottoman is also very mobile and easy to move around any room. Available at Houzz (#ad).
The Harley 4-tray Top Storage Coffee Table Ottoman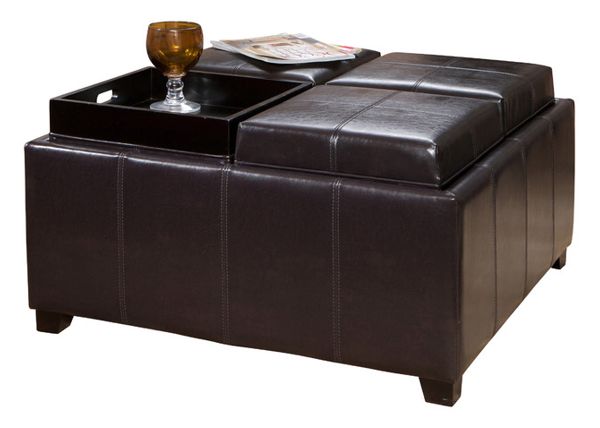 GDF Studio has another winner here with the Harley 4-tray Top Storage Ottoman. Whether for coffee, snack or just lounging and relaxing, this units features a hardwood frame and black-stained legs. It also has soft-bonded leather, and this Ottoman doubles up as a coffee table or serving tray when the need arises. Customers have given this item 5 stars on Google and other sites. Here are some essentials of this popular product:
• Four large interior storage spaces for pillows and blankets.
• Four lids that double up as serving trays for coffees, beverages, and snacks.
• Dark stained sturdy wood frame designs.
• Soft-bonded leather in cool Espresso color.
Available at Houzz (#ad).
Dove Grey Home Harrison Coffee Table Ottoman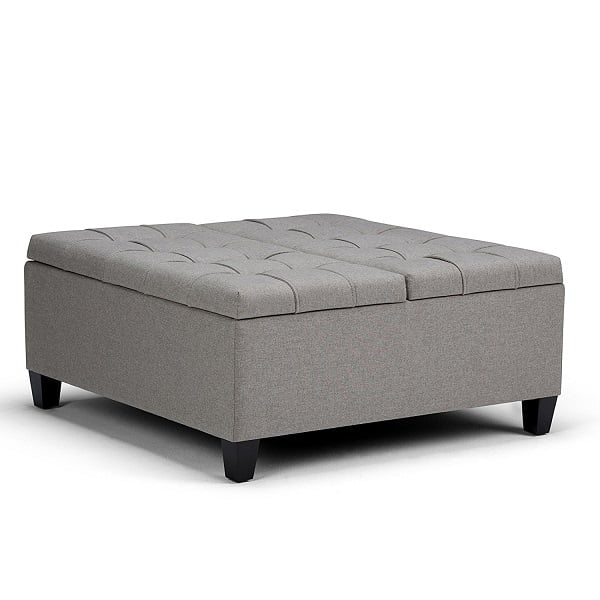 Simpli Home Harrison Coffee Table has received 4 stars on Amazon. This Dove Grey Ottoman unit is fabric-based with a linen polyester look. The unit also features solid engineered woods, along with tufted detailing. Many customers have praised this coffee table/Ottoman for its extra large storage compartments and child safety features. Similarly, the unit is designed to prevent lid slamming and is available in Dove Grey and other soothing colors as well. Available at Amazon (#ad).
The Gerstad Ottoman Coffee Table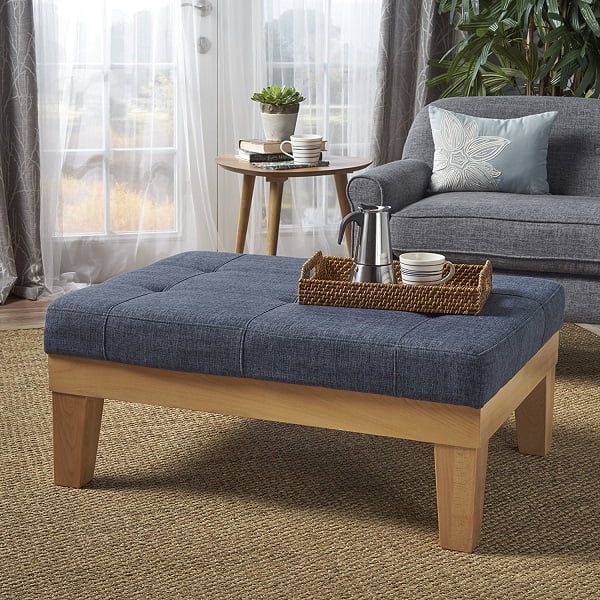 Gerstad features a 5-star Ottoman Coffee Table with mid-century Danish-inspired designs. With contemporary and modern features, this particular unit is upholstered in a classy, dark blue fabric. Amazon customers have given these product great reviews — especially for its attractive beech legs and natural finishes. There will be some light assembly involved but you are sure to be satisfied across the board. Whether for kicking your feet up to watch TV or reading your favorite novel, Gerstad has truly combined elements of comfort and stylish design into this lovely Ottoman coffee table unit. Available at Amazon (#ad).
Belham Living Coffee Table Storage Ottoman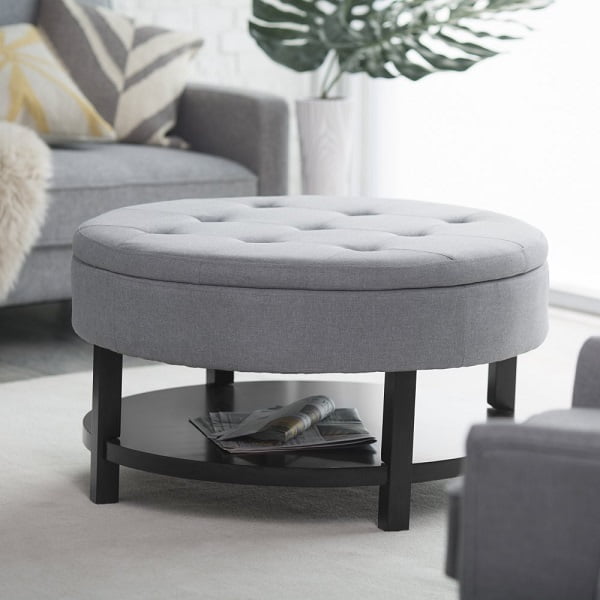 The Belham Living Coffee Table Ottoman with shelf features a convenient lid and more storage room. The wood-based upholstery combines neutral gray fabric with polyester blends. At 36″ diameter and 20″ height, this unit is perfect for living rooms, dens and practically anywhere you need to kick up your feet. This coffee table Ottoman is fairly priced at $389 and currently in stock at Amazon. If you are looking for the perfect Ottoman to accentuate your living room furniture and décor, this 5-star product is guaranteed to meet your needs within time and budget. Available at Amazon (#ad).
Custom Tire Ottoman Piece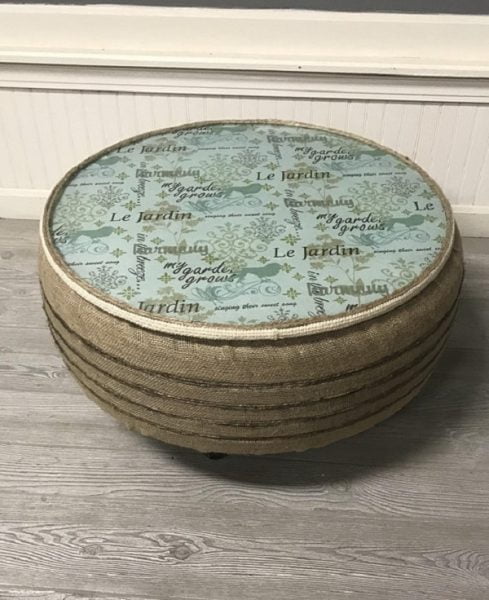 Ottomans do not necessarily have to be pre-manufactured furniture. In fact, the Sirpillashabbytochic shop in Ohio has converted an old tire into a magnificent Ottoman. At just $95, this unique, customized item features a glass top with burlap and roping on the sides. The glass top can also be removed to secure additional storage within. With trendy wood designs on the side, this handmade item is circular in design — and the perfect way to enhance your overall living room, den or even bedroom decor. Available at Etsy (#ad).
Cowhide Ottoman and Footstool by MoxBelox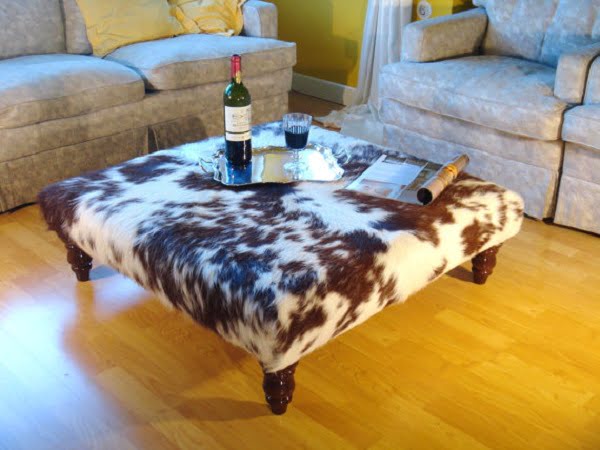 The German-based MoxBelox has also designed a unique, cowhide Ottoman and footstool. This product features high-quality materials, along with first-class cow skins. The item is also very durable, versatile and perfect for lounging or placing food and beverage trays on. This footstool easily doubles up as a coffee table, however, there are no built in trays or servers. The cowhide also offers a true feeling of Mother Nature and is perfect with wood-based décor and accents.
These are some of the top Ottoman coffee tables on the market today. With a mix of contemporary and classic styles, your options are truly unlimited when it comes to finding the right unit for your home or office. Available at Etsy (#ad).
---
Leather Ottomans
Leather as a material comes into play whenever you want to add some classy luxe into your home decor. Ottomans are no exception. So here are our top leather ottomans for you to choose from.
Vera Bonded Leather Storage Ottoman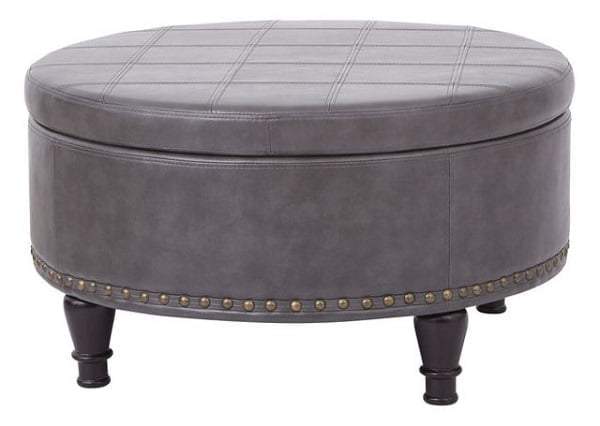 This leather ottoman doubles as a storage space, coupling aesthetics with functionality. Coming in 5 colors, the Ottoman features a flip-up lid that opens up to reveal a hollow space for your storage needs. Thankfully, the legs of the Ottoman already come preinstalled, so there's less fiddling with bolts and screws. The perimeter of the Ottoman is augmented with nail head trims, imparting an almost 18th-century French look. It's important to keep in mind that if you have rambunctious animals or small children, then the Ottoman may not hold up for long since the leather has been known to be a bit on the thinner side. Available at Houzz (#ad).
Round Storage Tray Ottoman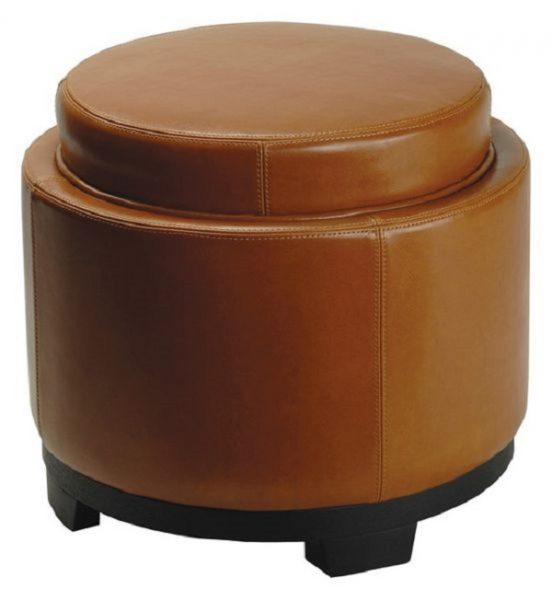 This ottoman is a bit unconventional in its design. The theme of this Ottoman is circular, geometric shapes. It's pretty tall for an Ottoman — but beneath its beautiful saddle brown leather upholstery, there's a thick cushion that serves as not only a seat but as a serving tray in a pinch. It's the perfect ottoman for living rooms and can be used to augment dining areas. The leather on this round storage Ottoman is also rather robust, making it ideal as a footrest. Due to its taller size, it storage abilities are perfect for more taller items. Available at Houzz (#ad).
Ravishing Styled Wood Leather Ottoman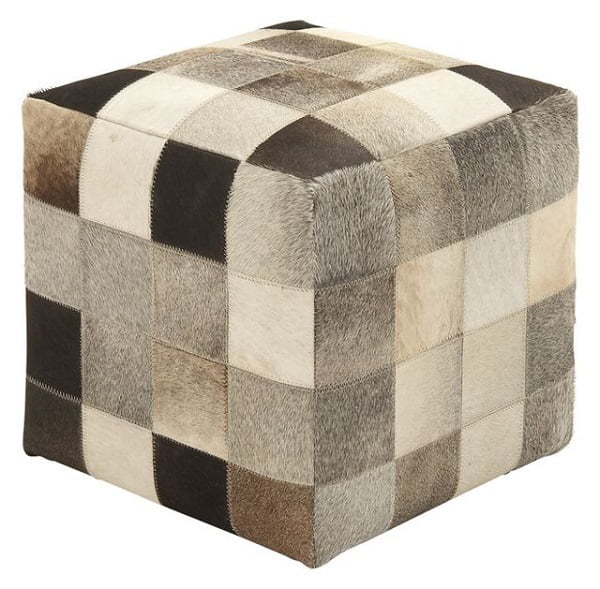 This Ottoman will surely be a statement piece in your home. It features a checkered pattern that will give your home an excellent sitting arrangement. The outside of the Ottoman is constructed out of faux fur, yet it is made with quality in mind. Each square comes in variable colors between gray and white shades. Due to its almost amusing colors, this Ottoman can be the perfect piece in the living room as well as in your bedrooms. Available at Houzz (#ad).
Monarch Specialties White Leather-Look Ottoman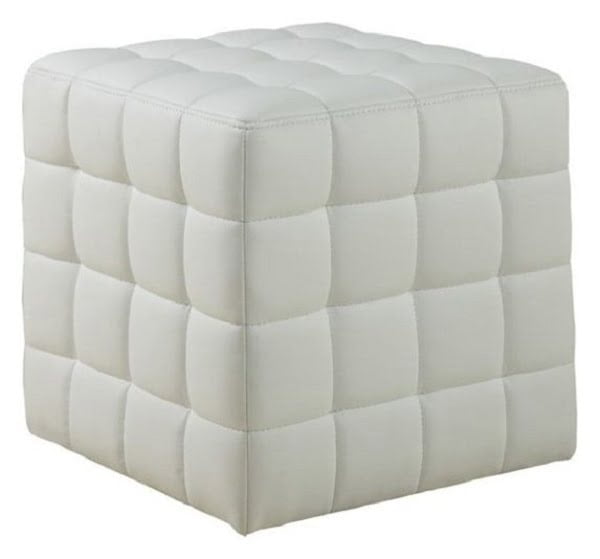 The Monarch specialties Ottoman is a crowd favorite. It has a unique aesthetic, with cushioning providing comfort as a convenient footrest or accent piece in your living room. Never underestimate the relaxing power of putting up your feet after a long day working or doing chores around the house. However, remember since it is a white color, remove your shoes to ensure that you do not stain it. To ensure that this white does not become discolored, wipe it regularly with a microfiber cloth. Other than the regular maintenance due to its light coloring, this Monarch specialties Ottoman is a crowd favorite. Available at Houzz (#ad).
Ashley Furniture Signature Design Oversized Ottoman
If you want to make a statement and have an Ottoman that you can even perhaps lie down on, then look no further than this oversized Ottoman. With a 40 inch diameter, this is one of the largest Ottomans. The Ottoman is cushioned and wrapped in leather. Even though big, it is augmented with small details like windowpane stitching to impart a classic style. While this Ottoman is brown in photographs, it's actually a bit darker in person. Keep this in mind when purchasing it. But if you're looking for a dark-colored seat that is designed to last, then this might be the Ottoman for you. Available at Amazon (#ad).
Ashley Furniture Signature Design Fresco Traditional Ottoman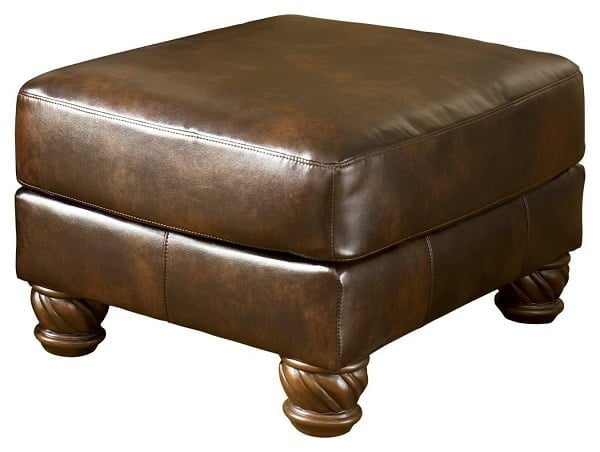 This fresco accent Ottoman is made out of faux leather, perfect for those who want a more low-maintenance piece of furniture. Faux leather is made out of vinyl derivatives, making it stain and fade resistant. This is a larger Ottoman that makes it a perfect footrest. The faux leather adds an almost antique flair to your room. One of the favorite ways that homeowners tend to use this Ottoman is to connect it to the foot of their favorite leather chair to extend it. Available at Amazon (#ad).
Safavieh Hudson Bleecker Red Leather Cocktail Ottoman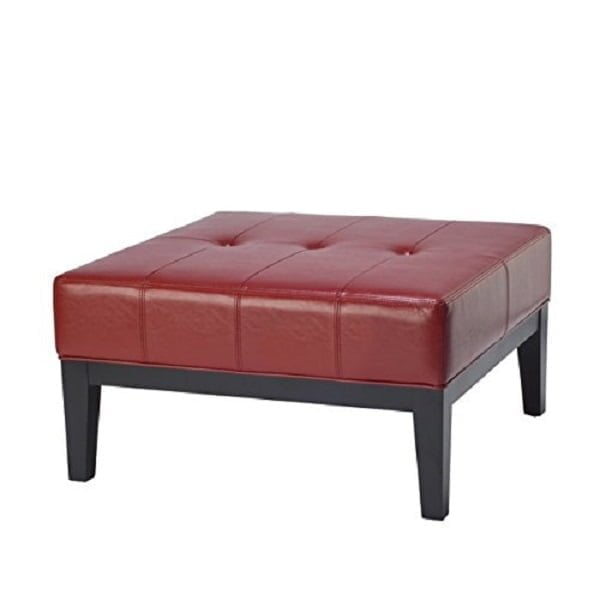 This is one of the more beautiful Ottomans that will surely make a statement in your room. The dark red color contrasted against the black legs adds a contemporary style to any space. It's wide enough to be not only a footrest but also a seat or serving space. The red leather gives the Ottoman an almost lux look and feel, it's also a very wide Ottoman at about 30 inches, providing ample space for versatility. Available at Amazon (#ad).
Leather Pouf Vintage Ottoman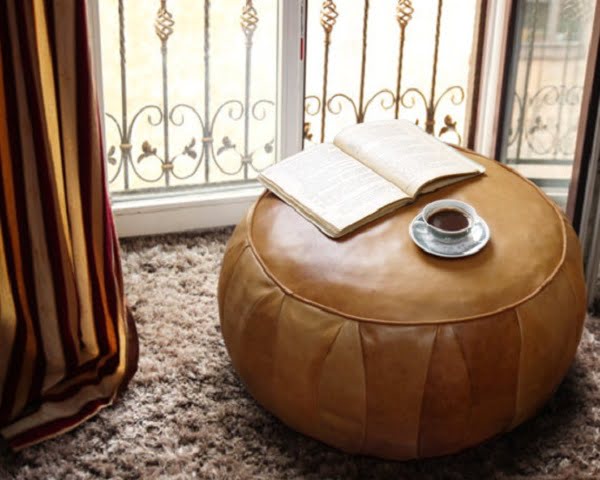 This is a handmade Ottoman that does not come in the signature squares and rectangles that we're familiar with, it actually has an almost oval design, imparting a unique appearance. You have the option to fill this Ottoman with cloth, crumpled paper, or polystyrene beans. As with any handmade product, expect slight variations. But overall, there is firm quality control with this Etsy Ottoman. This Ottoman has a dated feel, so you may not find it in every living room or living space. Available at Etsy (#ad).
Handmade Morocco Pouf Ottoman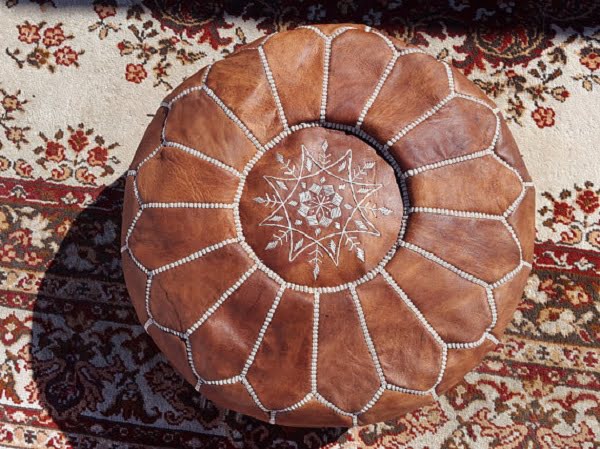 This Ottoman almost has an ethnic, Mediterranean feel. The Ottoman handmade with genuine leather, imparting a natural tan color. Its design and aesthetics look fantastic backdropped by Arabic rugs, sandy tones, and a rustic setting. Just like other handmade Ottomans, this one is hand-stitched by skilled artisans, so expect slight variations compared to pictures. The leather in this one isn't dyed in any way due to it being virgin leather. Due to the fact that it is genuine leather, it's worth the maintenance to prevent any cracking or discoloration over time. So that means using sulfate free leather cleaner to deodorize it, and a leather moisturizer to ensure that it doesn't dry and crack. Available at Etsy (#ad).
Cowhide Ottoman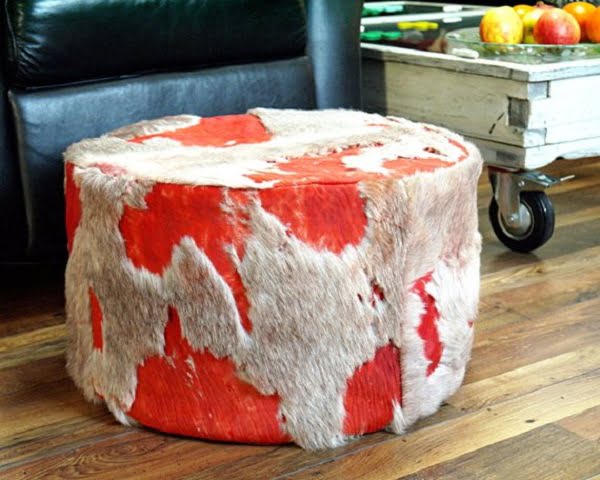 This is probably one of the more interesting ottomans on the list. The skin of this ottoman is purposely designed to create a worn effect akin to cow skin. Its patchwork looks like it was right from a cow. It is made of durable leather. This is actually a poof that needs to be filled in – this is made to keep the costs down for the artisan, allowing them to pass the savings onto you. You may worry that this type of Ottoman will shed all over your home — however, except the loose hairs that will naturally fall off of it in the beginning due to production, it does not shed throughout the ottoman's lifetime. Available at Etsy (#ad).
Tufted Ottomans
A tufted ottoman is classic. And while it doesn't necessarily work with every home decor style, there are certainly times when you cannot do without it. If you're looking for a tufted ottoman to add to your classy decor, the next list is for your attention. Here are the top tufted ottomans.
Tufted Square Ottoman, Linen, and Burlap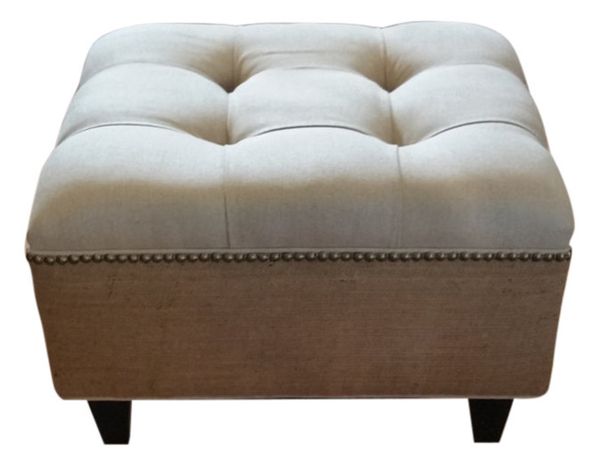 When you are looking for a tufted ottoman, the chances are good that you have a traditional square ottoman in mind. This one is just exactly what you are looking for, and it is made in America as an additional quality bonus. Its tastefully distinct use of two different fabrics done in two separate shades provides you with a very nice gradient of color that goes well with anything. In addition to being well-built, it is also very well padded and that means that you get comfort and quality, as well as fashion, all in the same package. Available at Houzz (#ad).
Maelyn Plush New Velvet Ottoman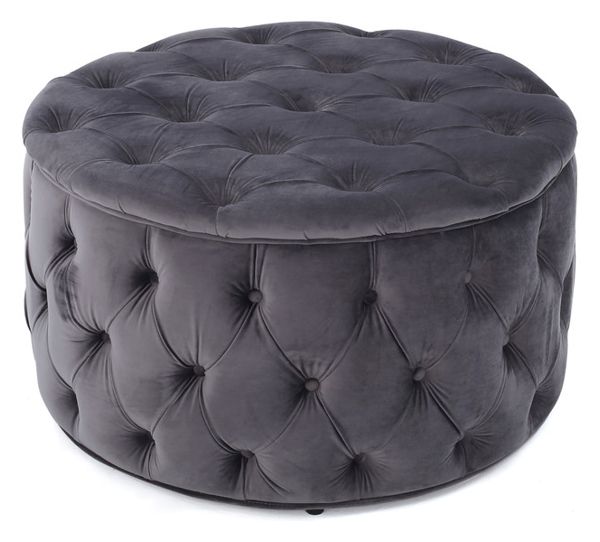 Of course, ottomans are also seen in their round format as well, particularly in a bedroom format. One of the distinctive features of this specimen is that it employs a taller body on very short legs, which gives it the look of a full pillbox with no visible space underneath. It is still the same approximate height of any other ottoman but has a very different, and more modernistic, appearance that is found in a traditional squat-legged one. Although listed as a Dark Gray ottoman, this offering also comes in Dark Magenta, Sky Gray, and Teal. Available at Houzz (#ad).
Charleston New Velvet Tufted Storage Ottoman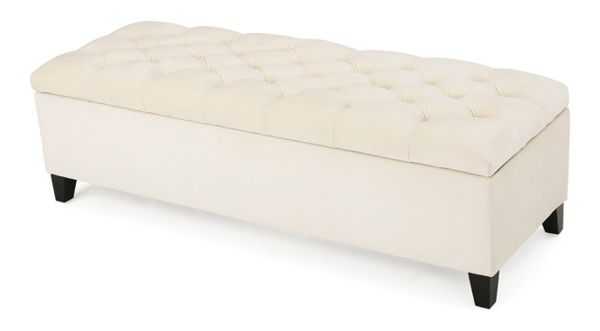 Rectangular ottomans are also in high demand this season. For those who are looking for something to place at the end of their bed, this piece would be an ideal candidate for inclusion. In addition to its solid construction and lovely tufted fabric work that comes in 5 colors, it also features a hinged lid that allows you to use it for storage. There is no better place to keep your extra linens and winter quilts than right at the foot of your bed, and no better storage ottoman than this one to use for the purpose. Available at Houzz (#ad).
Provence Tufted New Velvet Fabric Ottoman Pouf
This lovely ottoman offers a generous dose of beautiful boudoir chic that will enhance the appearance of any room, not just the evening chamber of a princess. You can lounge at ease with this deliciously padded piece in the family room as well as offer it for display in your formal living room. Just one look at it and you know that it is going to be a gorgeous and extremely comfortable addition to your room design. Available in both an elegant dark gray and an absolutely imperial-looking midnight blue, this tufted ottoman offers fine craftsmanship and high value for every home. Available at Houzz (#ad).
Blue Velvet Tufted Design Upholstered Storage Bench Ottoman
Here is a full-sized bench ottoman that offers a wide range of possibilities for every room. Perhaps its best and the most distinctive feature is its set of metal cabriolet legs, which is a feature not seen on a lot of other ottoman designs. What makes this so attractive is not only its visual pop but also its extremely practicality. Cleaning underneath most ottomans requires you to physically move them. Since this bench ottoman also offers a large amount of storage space, that can mean extra weight if you needed to move it for cleaning– but you won't have to. Available at Amazon (#ad).
Lazio Tufted New Velvet Ottoman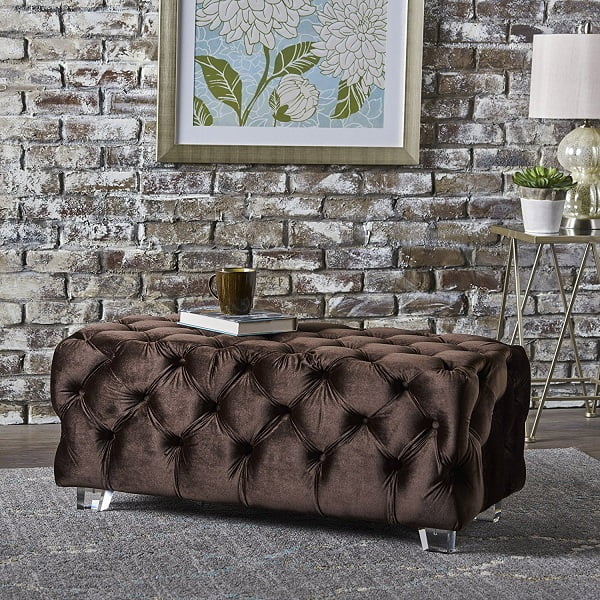 Not every ottoman in the world has to be designed to the same rigid parameters. Sometimes, even one slight variation can lead to great new possibilities without sacrificing the inherent value of the basic concept. In this demure variant, the designer has elected to set his gorgeous chocolate-hued creation atop four svelte Lucite legs instead of the traditional wooden blocks. This one departure from the norm really does provide an enchanting new take on an old favorite. The sultan would be pleased. You will be as well if you add this quality item to your home. Available at Amazon (#ad).
Divano Roma Furniture Classic Tufted Velvet Ottoman with Casters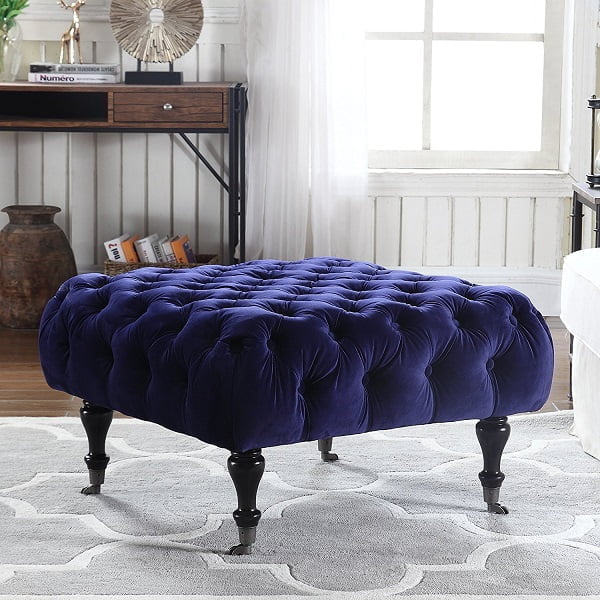 People do occasionally need or want to move their furniture around. When it comes time to do so, this large square tufted ottoman sits on four casters that are designed to roll smoothly both on carpeted surfaces as well as on wood and tile floors. Particularly when it comes time to entertain guests, that can prove to be a very handy little feature. With five vibrant colors to choose from (Royal Blue, Black, Red, Purple, and Grey), it is easy to match this up with every possible décor choice. Available at Amazon (#ad).
Vintage Tufted Ottoman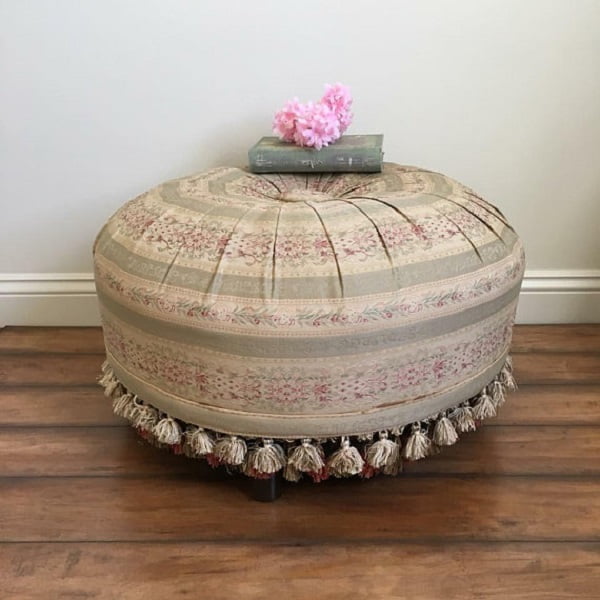 And now for something completely different. This gorgeous one-of-a-kind, round, tassel-bottomed ottoman is the perfect retro piece to complement your other vintage look furnishings. It will prove to be a fantastic addition anywhere you choose to place it in your home. It even comes with its own protective slipcover so you can keep it dust free right up to the moment you choose to display it to your admiring friends and family. Available at Etsy (#ad).
Safavieh Amelia Tufted Storage Ottoman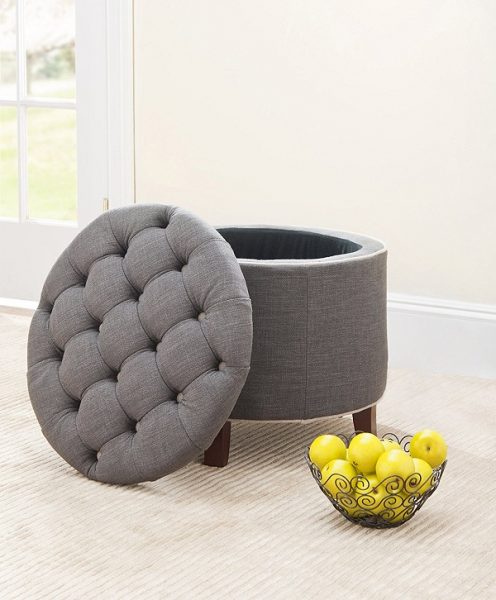 This is the perfect item for those who are looking for a tufted storage ottoman that will complement what they already have in their home. Because it comes in such a plethora of color options, you are certain to find one that will match up exactly with the piece or color theme you are are looking to pair it up with. Unlike many other ottomans, which offer anywhere from 2 to 4 options, this one has a whopping 14 color choices to select from. Yes, you can find a match in there somewhere. Available at Amazon (#ad).
Tufted Round Ottoman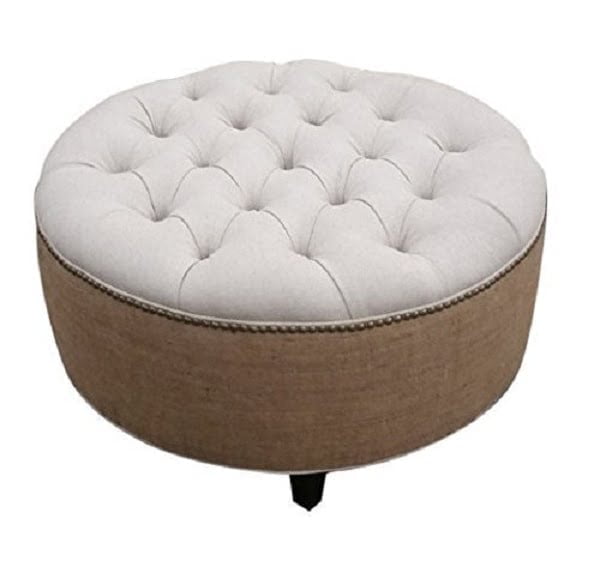 This large round tufted ottoman is handmade in North Carolina so you know that it is going to be as durable as it is beautiful. The contrasting shade differential between the burlap body of the ottoman and its tasteful linen top make for an exquisite, eye-catching, and yet understated piece that will provide majestic service in whatever room you choose to employ it. The tackwork beading also provides just that extra little bit of attention to detail that lets you know that you have made a wise investment. Available at Amazon (#ad).
Liked this article? Here's what you can read next:
---
Disclosure: As an Amazon Associate we earn from qualifying purchases.