There are 30 types of coffee tables, and perhaps we've missed some. How do you get around this myriad of styles? This is your guide to the world of coffee tables.
The coffee table has gone a relatively short way from being an afterthought to a must-have piece of furniture in just over a hundred years (in furniture years, that's like yesterday.) Indeed, in the 19th century, it was a scarce table in an awkward design. It had clumsy legs and was low to the ground. It was used for no more than serving drinks.
It is called a coffee table because its original purpose was as a low table to keep your drinks between sips while sitting. The low table was popularized in the middle of the last century with the advent of television.
Today, the humble coffee table takes at least 30 forms (in addition to its alternatives), and it's used as the centerpiece of the living room, a social gathering object, and even a storage unit. The price range is a great indicator of its popularity as coffee tables can cost under up to a few hundred.
We'll go over the contemporary trends and styles of this table by looking at every type of it we could count.
We have included shopping links where applicable (they earn us a commission at no expense to you).
Let's dig in!
Check Out the Top 10 Best Coffee Tables
Ottoman Coffee Table
Check Out the Top 10 Best Ottoman Coffee Tables
A new trend is that ottomans are used as a coffee table. It's so popular now that ottomans are sold as coffee tables. It's the best of both worlds — a unit that provides a table, extra seating, storage, and a footrest when needed.
Storage Coffee Table
Check Out the Top 10 Best Coffee Tables with Storage
A coffee table is a perfect way to add style and storage to your living room. Not only does it make a great place to display magazines, remote controls, and paper plates of half-eaten snacks, but it can also help you add some extra style to your living room. The best part is that even though most tables are built to look good from the top, they're also sturdy enough to hold the weight of all of your stuff.
Marble Coffee Table
Check Out the Top 10 Best Marble Coffee Tables
While it is often seen in countertops and flooring in contemporary homes, its provenance goes back much further than that. Marble may look like a dark gray rock. It is actually a metamorphic rock composed of the same elements as granite (silica, oxygen, calcium, iron, etc.) but in different proportions. And, since marble is softer than granite, it can be carved into all manner of shapes, including the beautiful coffee table.
Mid-century Coffee Table
Check Out the Top 10 Best Mid-century Modern Coffee Tables
Modern mid-century design refers to the style of interior design standard during the 1950s and 1960s. Modern coffee tables from the mid-century are distinguished by smooth, clear lines and bentwood or plastic moldings. Wood furniture typically has a straight finish to highlight its natural beauty.
Lift-top Coffee Table
Check Out the Top 10 Best Lift-top Coffee Tables
The Lift-top Coffee Table is a type of convertible coffee table that has a lift-top and a storage compartment (for magazines, remotes, books, etc.) to hide clutter and give the appearance of a clean table. Its functional design is an excellent choice for people who love to read in bed, but still want a nice looking coffee table to entertain guests on.
Coffee Table for Sectionals
Check Out the Top 10 Best Coffee Tables for Sectionals
This is a type that can span several styles. It refers to a table that aesthetically fits with a sectional sofa. The rule for the unit is 1/3 to 2/3 of the size of the sectional's horizontal seat.
Square Coffee Table
Square coffee tables give your living room a finished and symmetrical look. They are the most convenient type of coffee table.
Rectangular Coffee Table
Rectangular coffee tables are more modern and provide the most surface space possible. These coffee tables were originally designed to be used in living rooms of houses with a lot of space to furnish. The table was not only used for coffee but was also used for decoration. Today, rectangular coffee tables are just as fashionable as they were decades ago but are much more versatile.
Round Coffee Table
A round coffee table welcomes visitors and large families who want to snack around the coffee table while watching a movie. The round coffee table can have a diameter of about 2.5 to about 6 feet. The most common sizes are about 3 or 3.5 feet. They are available in a variety of materials and a wide range of prices. Round coffee tables tend to be used more for decorative purposes than functional ones. When people need a table to hold objects, they will choose a square or rectangular coffee table.
Wood Coffee Table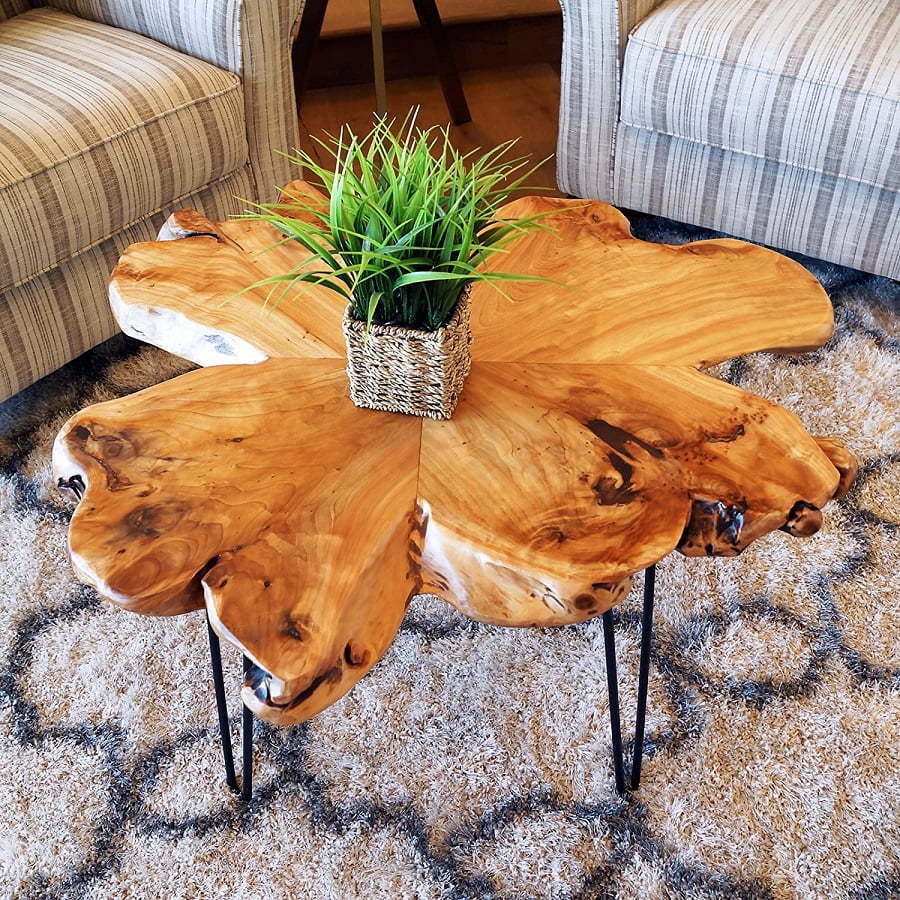 Wood construction is, as always, the most common feature for tables of any type. The vast majority of shapes and styles of a wooden coffee table are flexible, warm, timeless, and rich.
It doesn't mean you get a boring table made of wood, though. For example, natural (or live) edge wood slab coffee tables make unique decor accents.
Metal Coffee Table
The second most popular material you can see while shopping is metal tables. These are durable and can be lighter than conventional wood units. Metal makes thinner legs and supports and can be created in unexpected ways. Though, often a metal frame is topped with a wooden (and often glass) tabletop.
Glass Coffee Table
Glass has increased in popularity with modern technology, making flexible and striking designs. Some tables are 100 percent glass constructions, often linked through metal joints or support structures.
Often metal is used to frame glass tops, and in that case, it comes in either black — contrasting, or chrome — blending finish. It is important to note that alternatives to glass table tops also exist.
Rattan Coffee Table
Rattan, or wicker, is also known as a material for patio furniture because it can perfectly withstand the weather. However, as merging indoor and outdoor living spaces has become a prevalent trend, you may find rattan tables used in the interiors.
Acrylic Coffee Table
The acrylic appears to the naked eye as glass but allows for versatility and clarity without weight and costs. These tables are some of the most contemporary examples, with new shapes that fit any modern environment.
Leather Top Coffee Table
Leather topped coffee tables also come as an Ottoman hybrid. The material covers a padded layer, providing a smooth surface on which the owner can support the feet if the piece is not a table. This is a scarce type of coffee table, often accompanied by wood trays for stability.
Traditional Coffee Table
Traditional coffee tables are probably the most popular tables ever seen. With their style going back to the last century, their popularity is timeless. Standard tables are almost always made of sculpted wood and molded into a rectangular or oval top.
Contemporary Coffee Table
While modern and contemporary can seem synonymous, contemporary style refers to what is fashionable today. Modern designs also feature solid interiors with daring, luminous accents. Typical elements for contemporary coffee tables are glass tops and metal bases.
Modern Coffee Table
Modern style spans most of the 20th century, and even though it's sometimes considered contemporary, it's a slightly different style in design. It stresses functionality, pure forms, and the fusion of practical and esthetic goals.
Rustic Coffee Table
The rustic style recalls the old-fashioned rural areas. The material is almost always wood, graven into simple patterns as opposed to a modern or traditional coffee table. Some examples include metal fittings, which evoke a mostly lost feeling.
Coastal Coffee Table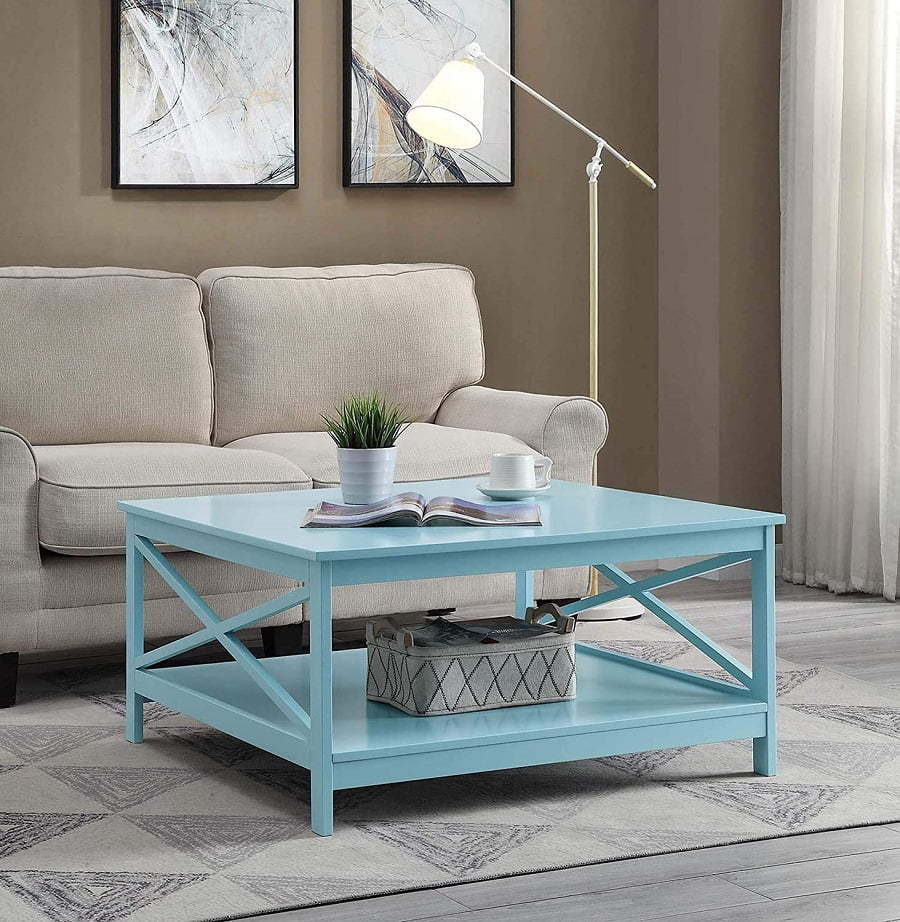 Coastal style is intended to evoke a natural, airy beach house vibe. These pieces also use light-tone wood, natural shapes, and a relaxed feeling more than traditional or rustic tables.
Industrial Coffee Table
The industrial design evokes the purposeful look and feel of tools used in rugged construction with metal and wood. You can pair these with living rooms in the loft-style or complete contrast to a softer setting.
Vintage Coffee Table
This is a style that evocates unique, often odd philosophies of design from past days. Often the retro coffee tables with repurposed materials have a kitschy, traditional, original touch that blends perfectly in the atmosphere of other vintage pieces.
Nesting Coffee Tables
Stacking or nesting tables are an innovative choice for people who need a table for a small room or flexibility. With two or three tables in the package, the nesting designs allow the tables to fit together for a modern look that saves space.
Use them separately when hosting visitors and combine them to keep magazines, floral arrangements, or drinks and snacks. Nesting table sets of stone, wood, or glass tabletops are available in round, square, and rectangular forms.
Folding Coffee Table
Folding coffee tables are comfortable and great for space-saving. They are comfortable, versatile, lightweight, and portable. You can conceal them in the closet and optimize space when not in use. Furthermore, these folding tables are known for their durability.
Minimalist Coffee Table
You can go for a bare-bones coffee table if you are a minimalist and still want a place to place your drinks (or anything else you put on coffee tables).
Geometric Coffee Table
Instead of a typical shaped coffee table, use a geometric-shaped table.
Oval Coffee Table
Oval coffee tables are perfect for the shape and role of balance. They encourage movement and have enough space to store items on top. There are no sharp edges here, so oval tables are perfect for kids.
Shaker Coffee Table
Shaker furniture is a distinctive furniture style created by the Shakers. This religious sect had ideals of simplicity, usefulness, and integrity. Their values have been expressed in the furnishings of minimalist styles. The furnishings were carefully designed with a practical shape and proportion. They were made from cherry, oak, or pine wood, usually stained or painted with one of the colors dictated by this sect.
The shaker coffee table is classically built and can be used in several rooms. It has simple straight legs, a double drawer with a wood shaker knob pull, and a small bevel as the most simplistic detail.
Parsons Coffee Table
The Parsons table, a modern square or rectangular table, has four-flush, square legs, which are as thick as the flat top. The Parsons table was developed in the 1930s. Although it is basic in shape, a coffee table can be improved by polishing or using various materials to fit several design schemes.
DIY Coffee Table
Check Out the DIY Coffee Table Ideas
As you can tell by the name, a DIY coffee table is just what it sounds like: a table you build yourself. Although DIY coffee tables do not have to be a complicated project, they can be quite fun to make, and they can save you quite a bit of money over buying one already made. (You can easily build a DIY coffee table for $100 or less.)
FAQ
Recap
Liked this article? Here's what you can read next: