There are 36 main types of tables (we've counted as many). You don't need all of them in your home. But knowing about all of them will help you choose the right tables for your purpose.
It's hard to think about a home without a single table. Who exactly has come up with its construction is unknown because it dates back as far as Ancient Egypt. The idea of an elevated platform to keep food and other things is a logical advancement, much like the wheel.
So it makes sense that the table would have many variations designed through centuries of its existence. We could count hundreds of different tables, but it's not even practical to do so. It's enough to know the main types of tables used in modern times. This is exactly what we will do in this article.
It's practical to think about tables by considering the room they're in and the purpose they serve. This is why the kitchen tables are very similar to dining room tables, and the living room tables are very different from the former. The bedside tables serve an entirely different purpose altogether. And then, some tabes are ubiquitous in any room.
A bit confusing, isn't it? It's bound to be with this many types. So let's consider the following tables by their purpose and their most common names. We have listed them by popularity as they are used in the home.
You will find shopping links that point to the exact table talked about. These links earn as a commission at no expense to you.
Coffee Table
Check Out the Top 10 Best Coffee Tables
The coffee table is an integral part of any living room. It's a gathering spot for friends and family, a home base for snacks, drinks, remotes, and kitty toys. The coffee table anchors the room's style, so it's worth investing in one you love. While you can find cheap coffee tables at most discount stores, these tables are usually made of low-quality particleboard. If you're going to spend time with your family and friends, you deserve a coffee table you can be proud of.
Accent Table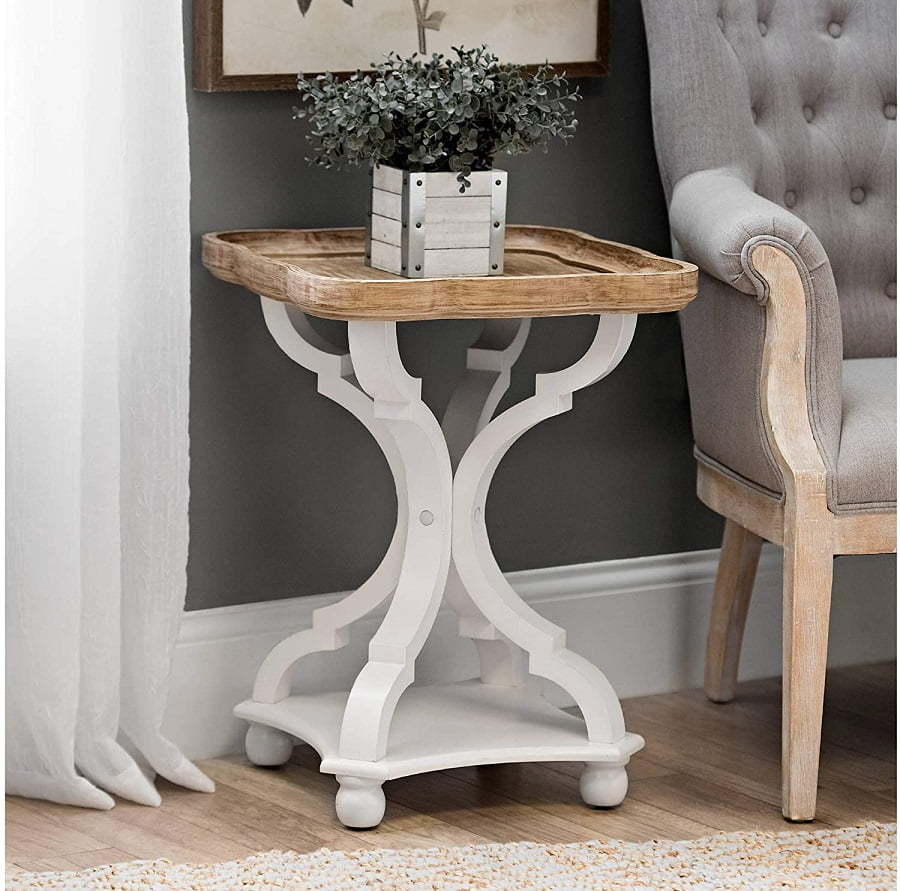 If you're looking to add a little something to your living room but don't want to commit to a large piece of furniture, an accent table could be the answer. An accent table is a small piece of furniture, usually round or oval, that usually sits in a room's corner.
If you want to create a decor statement with this piece, you may pick up something unique in used furniture stores online.
Console Table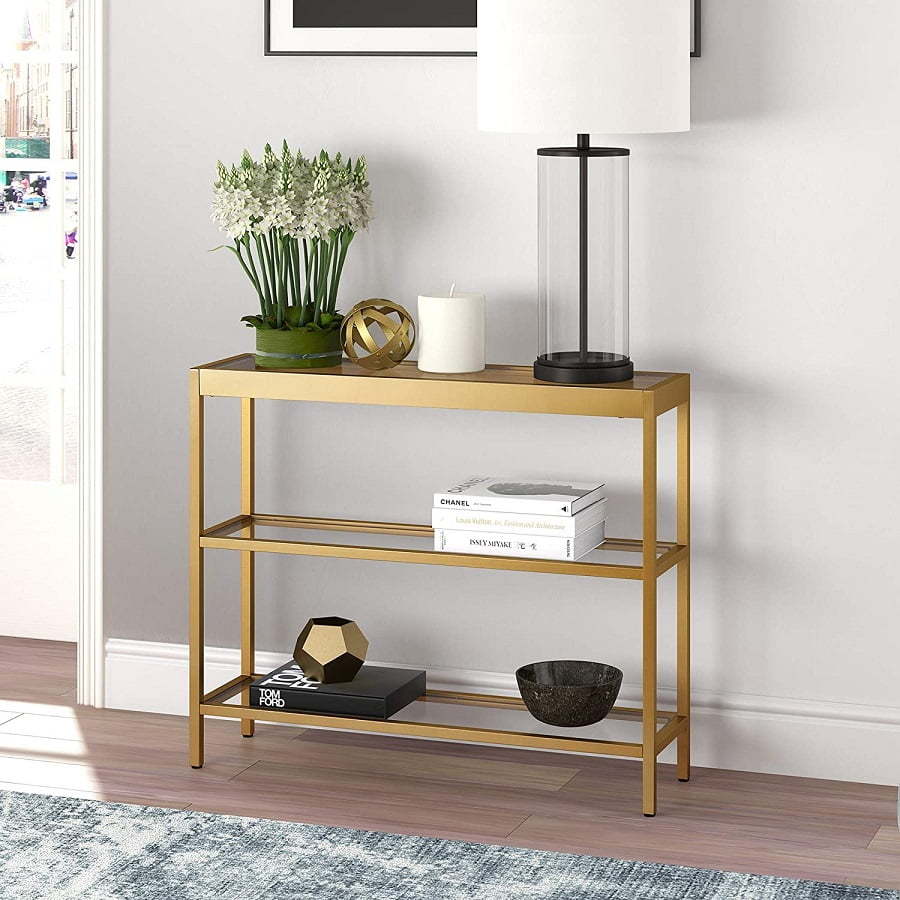 A console table is a piece of furniture that serves as a bridge or transition between two spaces or as a table with storage. You may think of a console table as a decorative piece of furniture that is used to complement the decor of a living room.
Console tables also provide a hiding place for small items, such as keys, remote controls, or even a vase with a fresh flower arrangement. They have many alternative options too.
Media Console Table
Check Out the Top 10 Best Media Consoles
The name of the media console is similar to the traditional console but only because of its visual appearance. Basically, someone at some point has taken the console and put a TV on it. The sideboard design is ideal for it, especially since flat screens have become prevalent.
Side Table
A side table is often a small table placed beside a larger piece of furniture, such as a sofa. It is also sometimes called a nightstand, although that term is often used for a portable table used beside a bed at night. Side tables are often found in bedrooms, living rooms, recreation rooms, and other home areas.
Ottoman Table
Check Out the Top 10 Best Ottoman Coffee Tables
It's also called the ottoman coffee table and doubles as seating. Imagine a coffee table with a padded but still firm top. It's a double-duty piece of furniture that's become popular for the multi-functionality.
Dining Table
Check Out the Top 10 Best Dining Tables
When you think of dining tables, the first thing that comes to mind is probably a large table in the middle of a room, surrounded by chairs. While this arrangement is certainly common, it is not the only way to set up a dining area. In fact, many homeowners, especially those who live in small apartments without room for an expansive dining room, have come to love the small dining table, such as the one pictured above.
Kitchen Table
Depending on its size, the kitchen table is one of the most multi-purpose pieces of furniture in the home. It can provide an extra surface for prepping food, storage space, a rack, or a table to dine.
Computer Table
Check Out the Top 10 Best Computer Desks
It's better known as the computer desk, and its purpose is to accommodate a workspace with a computer. This table can be as simple as a surface of the right height for ergonomic use. But it can also have a keyboard tray, a PC stand, or a monitor riser. A popular shape is an L-shaped desk that offers the most optimal work surface.
Nightstand
Check Out the Top 10 Best Nightstands
A nightstand is a small table used to place objects on at night in a bedroom (also known as the bedside table). In the past, nightstands have been used to hold a candlestick for nighttime lighting. In modern times, the candlestick has become obsolete, and the nightstand is used for holding items that may come in handy at night or in the morning.
C-table
C-table is an exciting way to change your living room's look without having to buy a new coffee table. The C-table can be transformed from a simple table to a table with a shelf attached to a two-tiered coffee table with its unique design. The C-table has a sleek, contemporary design that will look good anywhere in your home, from your living room to your den to your bedroom. One of the C-table's best features is that it's easy to use over a sofa or bed for a laptop, drink, or a snack plate.
Drink Table
Remember the tiny accent table? Well, this table is even smaller. Imagine a coaster on legs. That's your drink table. And its sole purpose is to keep your drink afloat next to your seat. It's so adorable you might just want one.
End Table
End tables are perfect for the living room or the bedroom since they serve as a resting place for drinks, and they can also hold small lamps, trays, and books. The fact that end tables are small means that they're easy to move if you need to rearrange the room, so you can put them wherever you want to, whether that be next to the sofa, the bed, or even the dining room.
Drop-leaf Table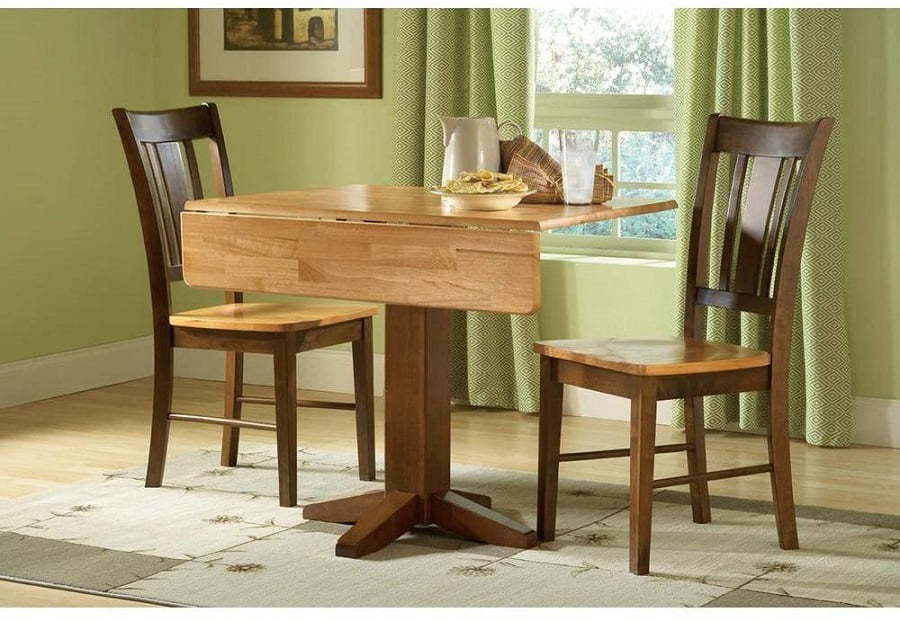 Drop-leaf tables are an ingenious and simple way to anchor extra seating during a dinner party without making your guests feel like they're in the way. They also take up less space than a fully-extended table, perfect for smaller homes where space is at a premium. Once you've had a drop-leaf table, you'll never go back to having to plan your dinner parties around the size of your dining room table again.
Wall-mounted Table
Check Out the Top 10 Best Wall-mounted Tables
When you live in a small apartment, there is no room for an extra table. With a wall-mount table, you can do something about that. It's a unique way to make use of small spaces, and it will turn a boring wall into something functional and visually special.
Foyer Table
The foyer table is the first thing people see when they enter your home. This is why it is so important to have a beautiful table in your foyer. It is a small space, so you want to make sure your table is the correct size. The best tables for foyers should be less than 3 feet across and no more than 2 feet deep. You also want to make sure the height is correct, and you shouldn't have to bend over to put things on this table.
Bistro Table
Bistro tables are a perfect option for small spaces that need a little extra seating. You can also use them in your dining room, as a side table, or in your small living room for a cozy vibe. Bistro tables have a small footprint so that they won't take up too much space, but they still have room for your favorite vase and a couple of glasses.
Bar Table
Tall tables with tall stools are the bar or pub tables. You can have one in the kitchen if you have limited countertop space for catering.
Patio Table
Patio tables come in various shapes and styles, but they're all designed to enhance your outdoor living space. The first thing to consider is the size—a table that's too small won't be practical, but one that's too big will take up too much room. Likewise, you should think about the style (and material) of the table you want. Some people prefer tables with umbrella holes, while others want a built-in grill for cooking. Finally, you'll want to think about how you'll be using your table. If you host many patio parties, you'll want one made of high-quality materials that will hold up under heavy use.
Picnic Table
Check Out the Top 10 Best Picnic Tables
The picnic table is an outdoor table used to accommodate outdoor dining activities (BBQs, picnics, etc.) Often these tables have built-in benches and are collapsible for portability.
Vanity Table
The Vanity table is usually smaller in size and can be used to place or hold a mirror, shaver, perfume bottles, makeup, brush, and so on. The mirror may be attached to the table or kept in a separate frame or box. In general, Vanity tables are made of wood or glass. Wood is considered the best material for the vanity tables. It can be polished to create a smooth surface. Glass vanity tables are also gaining popularity, as they are available in a wide variety of colors.
Folding Table
Check Out the Top 10 Best Folding Tables
The folding table is not a decor piece, it's not even part of the interior. It's a table you keep folded away in a closet and take it out when more table space is needed. You can use it when catering to a large group of people, to do crafts, or take it outside.
Work Table
A work table is simply a table with a single purpose. It may not be the most practical of furniture pieces and may even look a bit odd if it's not in the right environment, but a work table is designed to do one thing and one thing only: help you do work. They come in all shapes and sizes, from the small corner table to large workbenches, and they're designed to help you get a job done with the least amount of fuss. A work table's strength is its lack of versatility, but it will always be there for you when you need it.
Conference Table
Conference tables are a popular piece of furniture in meeting rooms and classrooms across the world. They are a vital part of any furniture set, but in the end they are just a table, only a large one.
Drum Table
When someone says "drum table", you probably think of a heavy, circular coffee table that's big enough for books and magazines. Sometimes the term only refers to large round wooden tables. As an old type of table that dates back the the 18th century, the drum table has largely antique appeal.
Industrial Table
Tables made of wood and metal that feature a raw and natural look are considered industrial. This style has become increasingly popular for its ability to create personality and character in home decor.
Farmhouse Table
Similar to industrial tables but most often are made entirely of wood are the farmhouse style tables. These also feature natural wood finish and have a sentiment of an old grandma's table on the farm. This brings a lot of coziness to the interior design.
Mid-Century Modern Table
The mid-century modern table is a style that's been popular for many years, and it's easy to see why! Lightweight tables make it easy to switch things up and move them around, while sturdy ones can provide years of use in busy, active households. The mid-century style's clean lines, use of materials like steel and wood, and colors like earthy, white, black, and stainless steel are all beautiful, particularly to people who want to avoid distracting patterns or bright colors.
Designer Tip: A quick way to achieve an authentic mid-century modern look is to select furniture with high, straight sides and a clean, simple design.
Minimalist Table
You can call it the bare minimum or Scandinavian style table. There are many minimalist table designs that incorporate modern materials and functional use. A well-designed table can serve as a decorative centerpiece for any room.
Wood Veneer Table
Wood veneer is a thin layer of wood glued to a base material to create a solid-wood-look surface. The base material can be cheaper wood, plywood or composite particle board material. Solid woods are typically used because it creates a natural look and feel and it's more durable for heavy duty. Veneer is similar to laminate but it's not the same as it's still wood that can be refinished.
Laminate Table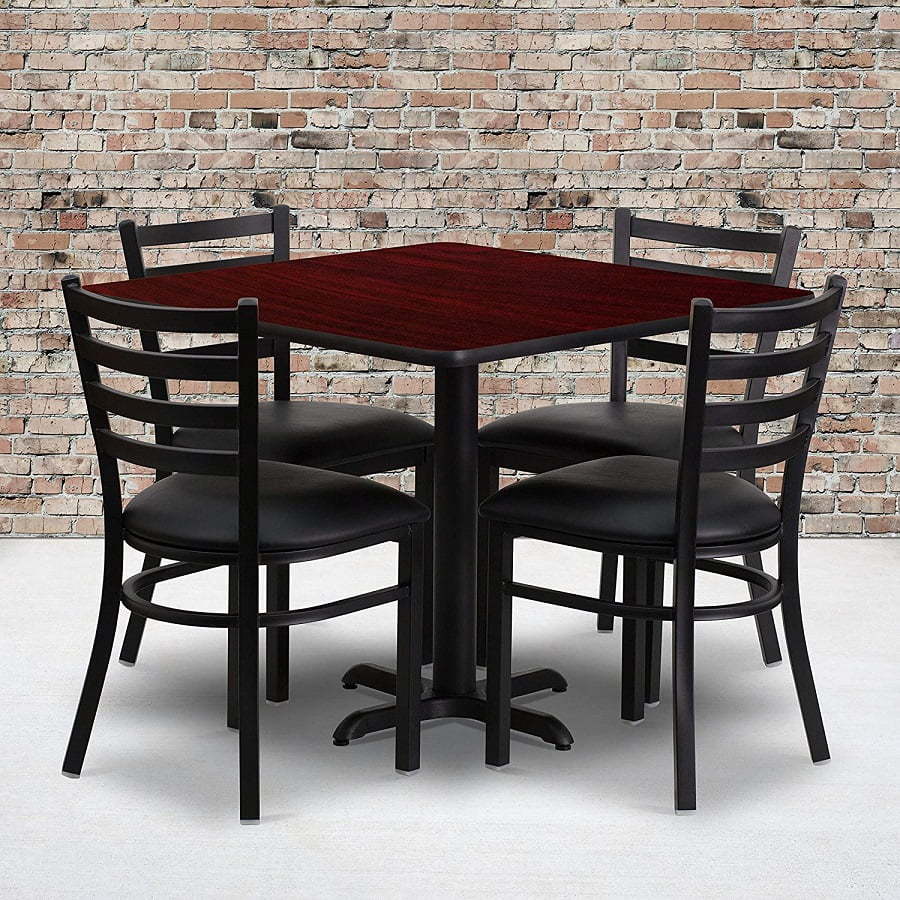 Laminate tables are usually the cheapest option. Typically it's MDF covered in a printed PVC laminate that mimics the look of wood. As such, it is inexpensive but lower quality. For example, laminate is subject to wear and tear and it's easily damaged by water if it stays longer on the surface.
Marble Table
Marble is one of the most popular materials for tabletops because of its durability and beautiful look. It is a metamorphic rock formed when limestone undergoes intense heat and pressure, which can cause discoloration and craze lines in the material. The porous nature of marble also makes it susceptible to moisture absorption, so it's important to re-seal the table from time to time.
Solid Wood Table
Solid wood is the best material to make tables because it is durable and easily recycled. It is also affordable compared to other materials. The furniture industry is always looking for ways to improve the strength and sustainability of its products. Solid wooden tables are easy to recycle, but they are also easy to repair, and the wood properties make it a durable product.
Metal Table
The metal table is a piece of furniture that is, unsurprisingly, made of metal. It is often used as a substitute for dining tables and it is also used as a desk for studying, working, and so on. It is made by using different types of metal, and it has a shiny surface. Such a table is very durable and it is often used where durability is paramount (kitchen, workshop, etc.)
Glass Table
If you're looking for an elegant way to display your decor items, it's hard to beat a glass table (or any glass table top alternatives that has the same look.) These pieces of furniture are designed to showcase your favorite items in an eye-catching way, and they can be found in a huge variety of shapes, sizes, and styles. Typically the tabletop is made of glass but the frame is metal or wood.
Nested Tables
A set of varied height of tables that can be stacked under each other is called a nested table. It's a simple way to provide more surface in limited space.
Tables You Can DIY
A simple table is not a complicated construction. A big part of our site is about DIY projects. If you're into it, you can make a nice table yourself. Here are the types of tables you can make:
FAQ
Recap
Liked this article? Here's what you can read next: