Last updated on April 6, 2023
Makeup vanities don't have to be expensive. Here's a list of makeup vanity alternatives that match your room decor.
Vanities are essential pieces of furniture for women and men alike (yes!) Some vanities are pre-installed or built-in, while others are free-standing tables that can be moved around. It's a space where you can get ready for the day.
Makeup vanities come with hefty price tags, depending on the material and design. However, alternative ways exist to still have the best-looking vanity in your room but not shell out a hefty sum. You could easily DIY your way into it to repurpose other furniture in your house.
If you're looking for a new makeup vanity but don't know where to start, here we have a list of makeup vanity alternatives to choose from.
Multi-tier Rolling Cart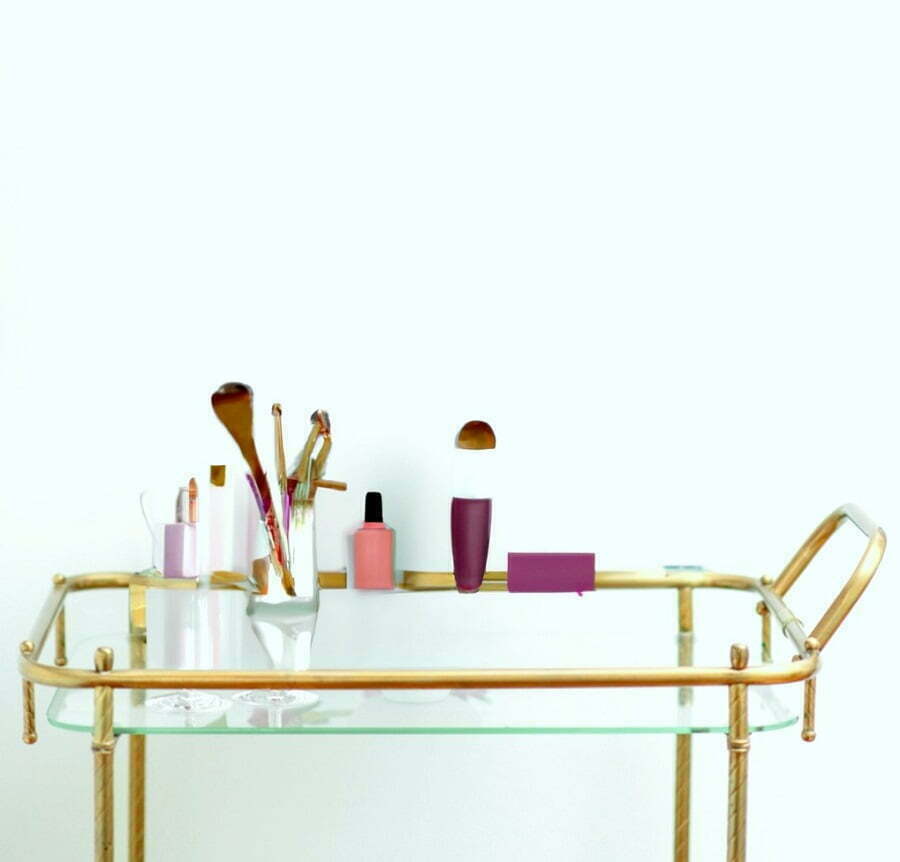 A multi-tier rolling cart is a great space saver and makeup vanity alternative. It is a multi-purpose cart that can hold as much as a makeup vanity (if not more). Many types of rolling carts can be customized, depending on the storage space required.
These are also quite convenient since they can be moved around easily. There are also several options in terms of materials, the most popular of which are metal, plastic, and wood.
Small Bookshelf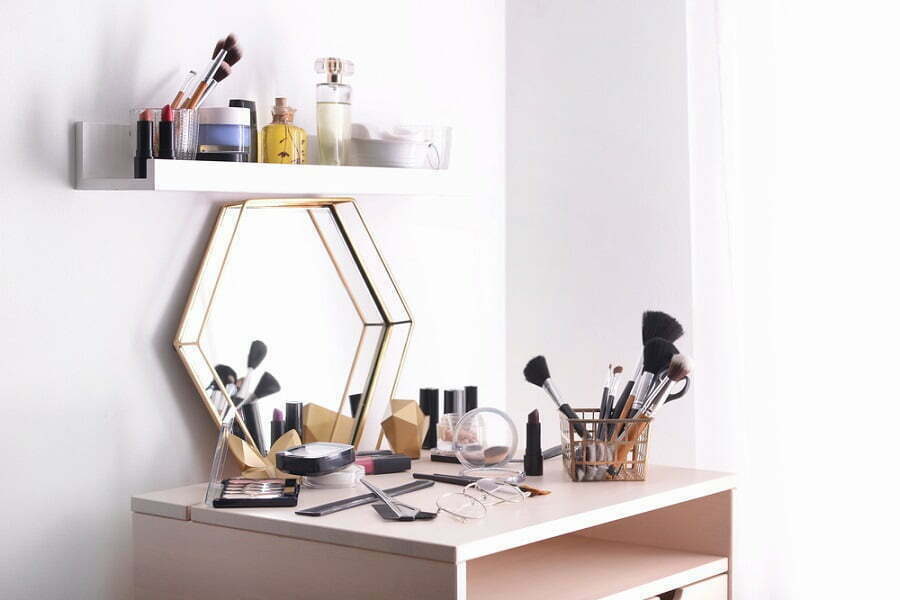 Small bookshelves come in several standard sizes. Some book shelves are open types, while others are built with glass fronts to protect their contents from dust and debris. A small bookshelf is a practical makeup vanity alternative.
A small bookshelf can also be mounted, so there is enough space on the floor if desired. They can also be expanded by adding new units to create larger storage space.
Closet Shelf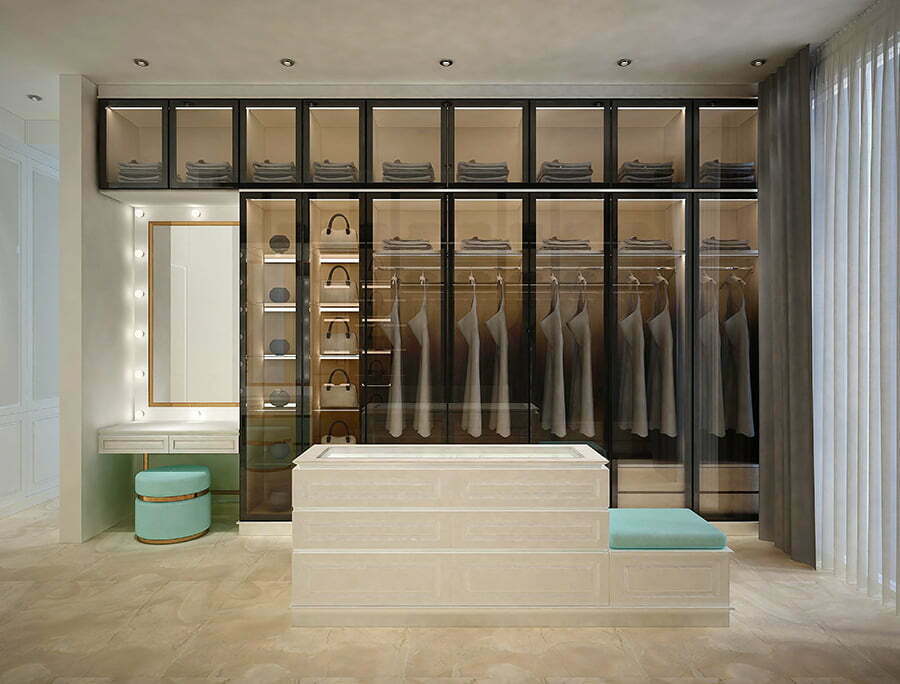 If there is extra space in your closet, consider setting aside one or two shelves to hold your makeup and trinkets. Spruce it up using some fabric, vinyl, or decorative paper, then hang a mirror on the closet door (it works as a closet door alternative).
Closet space is quite accessible when you need to put on skin care products, making them a terrific makeup vanity alternative you do not have to buy.
It's a perfect and essential DIY solution!
Upcycle an Old Door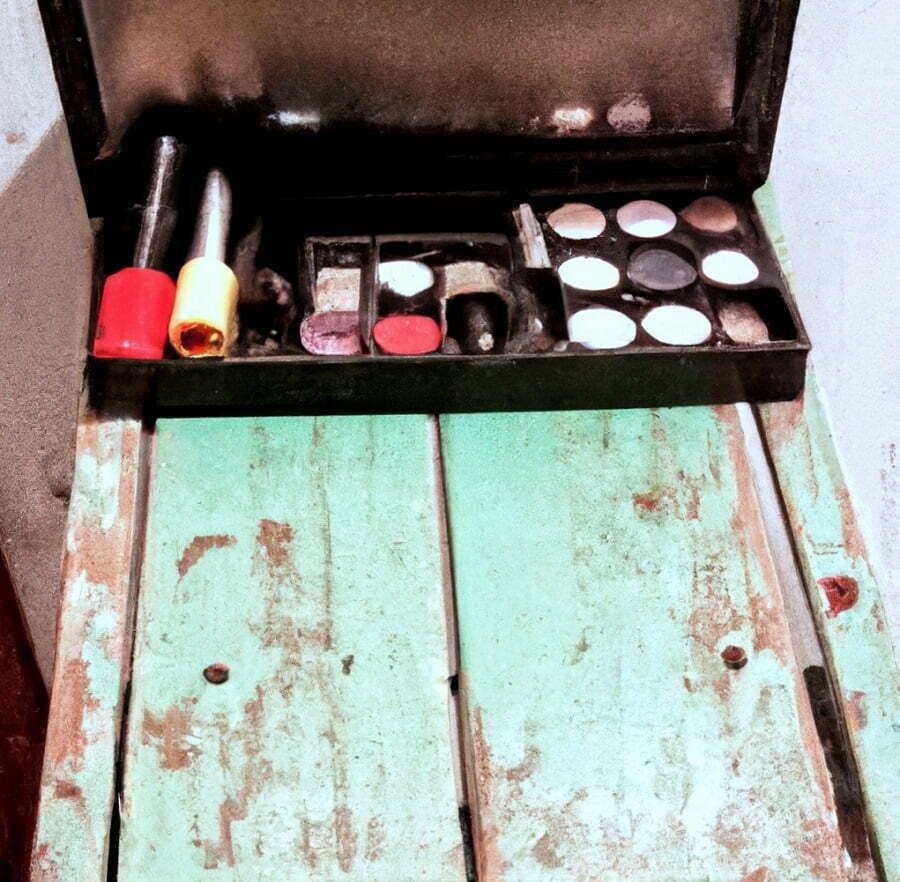 An old door sitting around waiting for its next incarnation can be perfect as a makeup vanity alternative. Old doors have a charm and can be repurposed by installing a few additions, such as legs and a mirror.
Get a vintage look using cracked paint and scratches on an old door. Classic aesthetics can never go out of style.
Mirror on a Window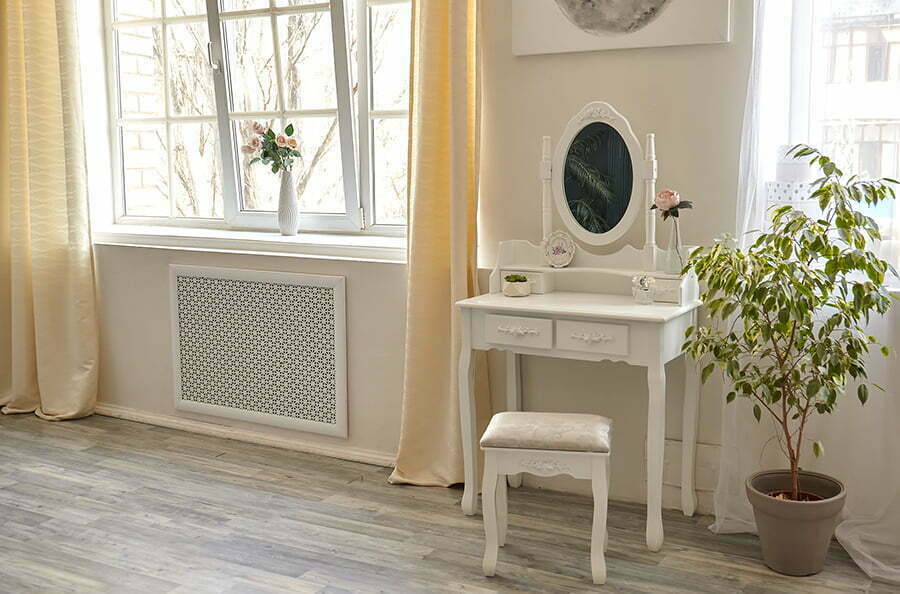 Placing a mirror on a window is another space-saving solution for makeup vanities. If you have a window that is not always used, it can be maximized to save space and create an instant vanity at no cost.
You can use a wall shelf, bookcase, or rolling cart to hold supplies or use the space on the windowsill. This option is excellent for using natural lighting when putting on makeup.
Mirror with Shelf on the Wall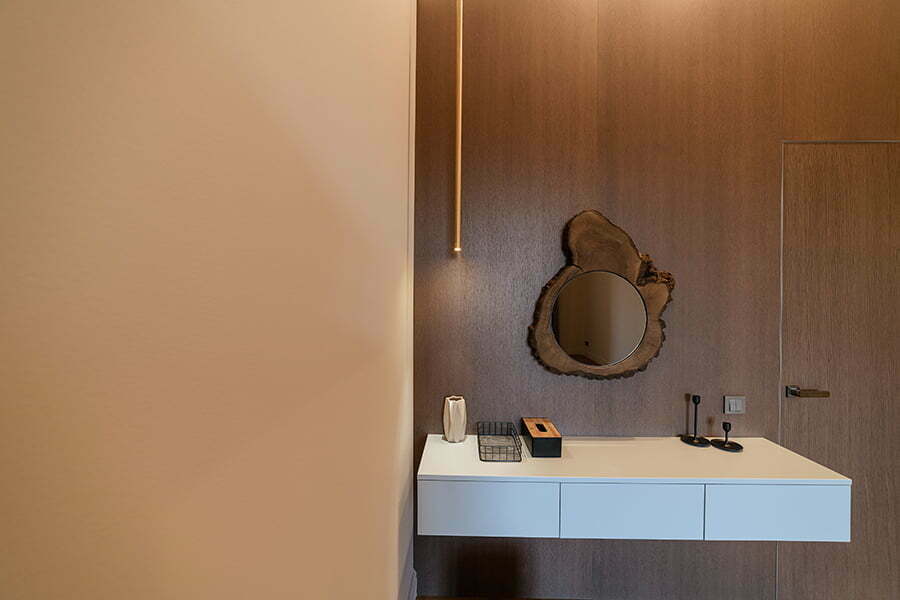 Get the most out of your empty wall space. Install some shelves for storage. If you already have shelves, try hanging a mirror. Use the shelf space for your makeup and skincare items.
This works for smaller rooms or living areas. It's also cost-efficient as you don't need many materials to create another vanity alternative.
Dresser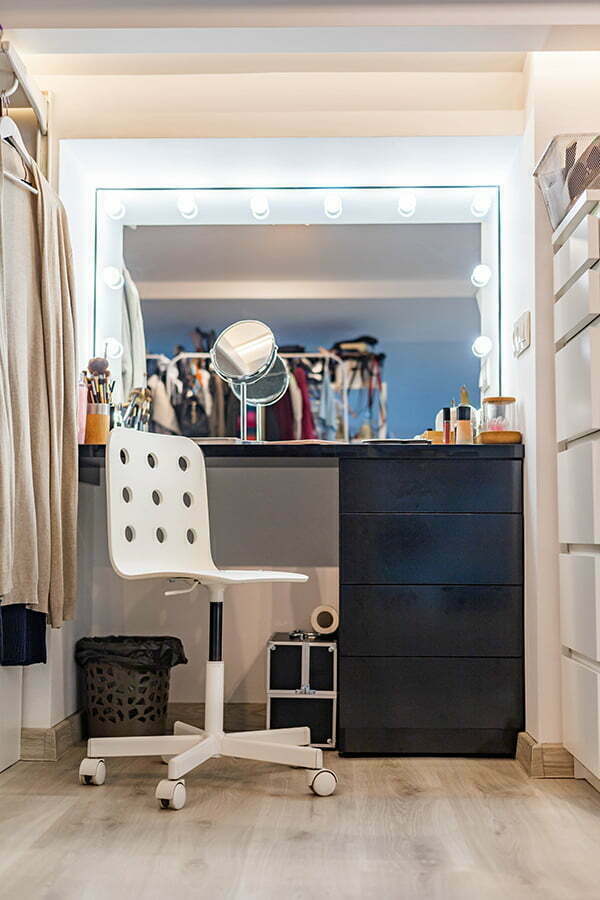 Why not use an existing dresser and turn it into a makeup vanity? Dressers offer plenty of space, and you could keep some supplies inside the drawers on both sides. Hang a mirror on the wall above the dresser and add a chair.
You can repaint the entire dresser to match the color of the room. Another option is to change the handles; a gold minimalist handle is often a great choice.
Laptop Table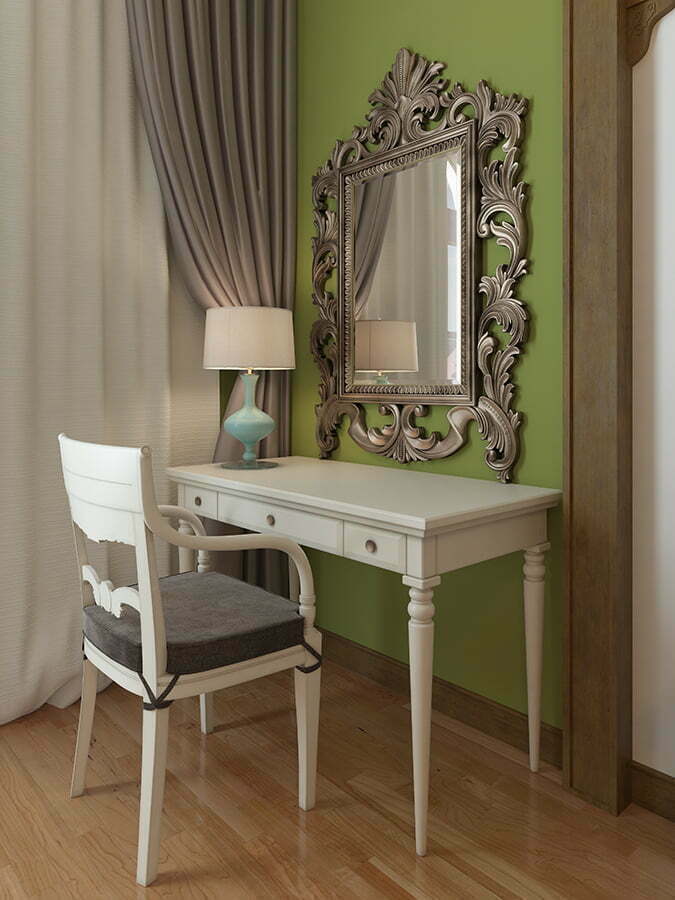 A laptop table may not always offer the most storage space for makeup, but it will do nicely if you do not use a lot of supplies. If the table has wheels, it can be rolled to a corner space or anywhere it is needed.
It's not that wide and can be placed in the corner of a small room. Add a well-looking, comfortable chair, and your vanity is good.
Wall Mounted Wooden Shelves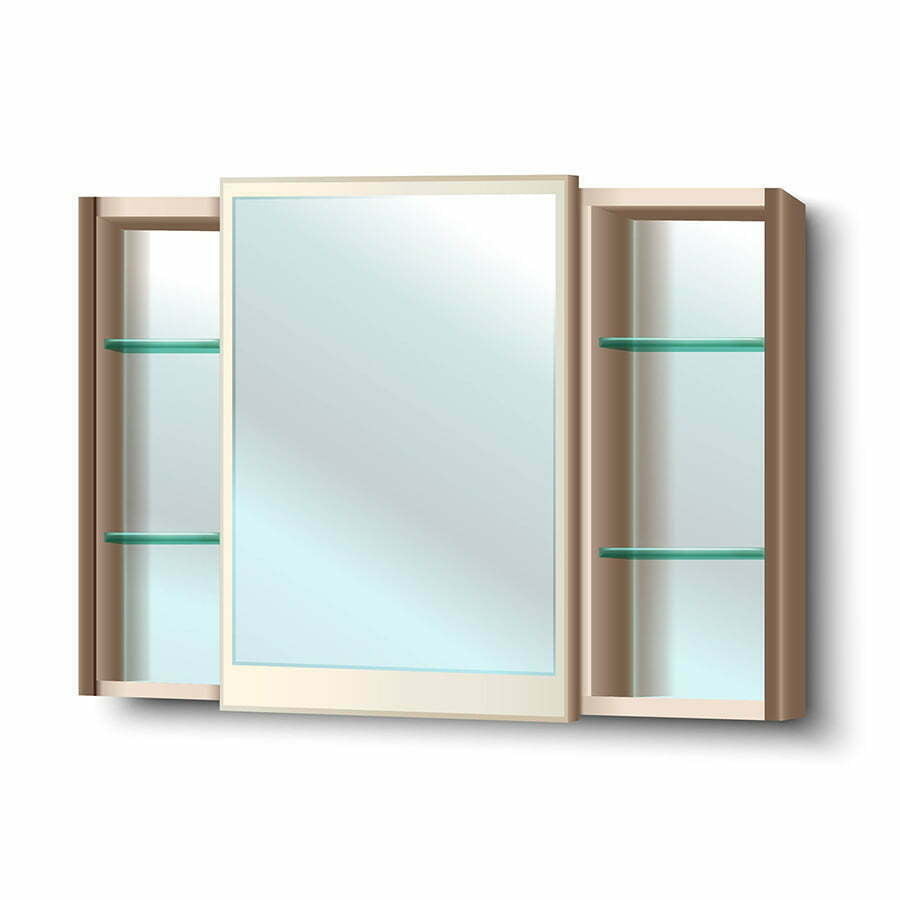 Make use of a blank wall with wooden shelves for storage. Put up wooden shelves using brackets, or go for floating shelving that hides all hardware.
Wall-mounted shelves let you save floor space and make it convenient to access your supplies when you need to use them. Install a mirror on the wall, then add a chair to complete the set.
Shallow Shelves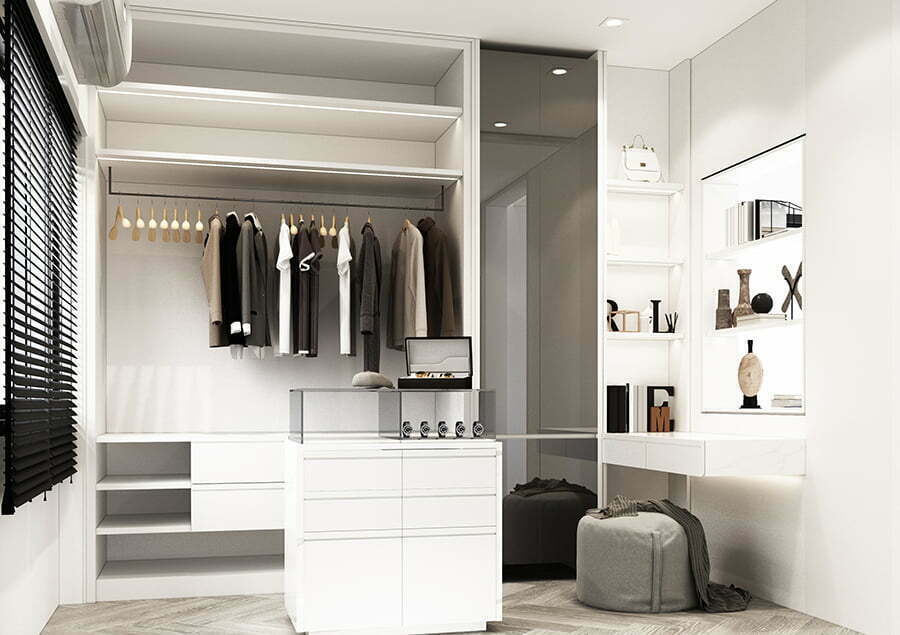 Shallow shelves are perfect alternatives for makeup vanities. They have storage spaces to hold your cosmetics and other skincare products. Shallow shelves work well in limited areas but will still have enough space to store bottles, tubes, jars, and cans.
A little repaint DIY and a good position can change the entire mood of your room. Get your creative streak on and repurpose your shallow shelves into a vanity.
Wooden Board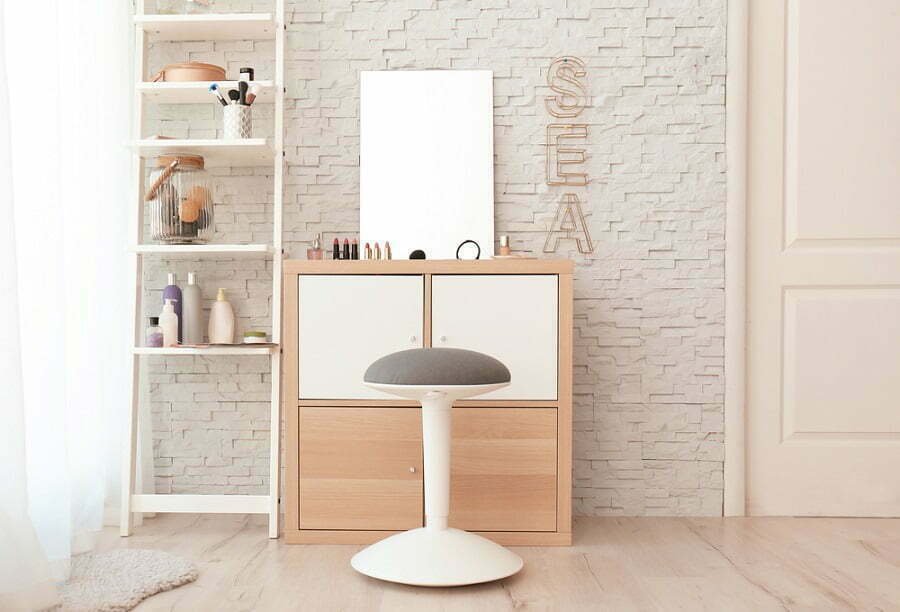 Use a wooden board as a makeup vanity alternative. A wooden board offers plenty of customization options since you can choose the width and length of the board.
It also offers you installation options since a board can be installed on the wall, floor, or into a rolling set of shelves.
Computer Table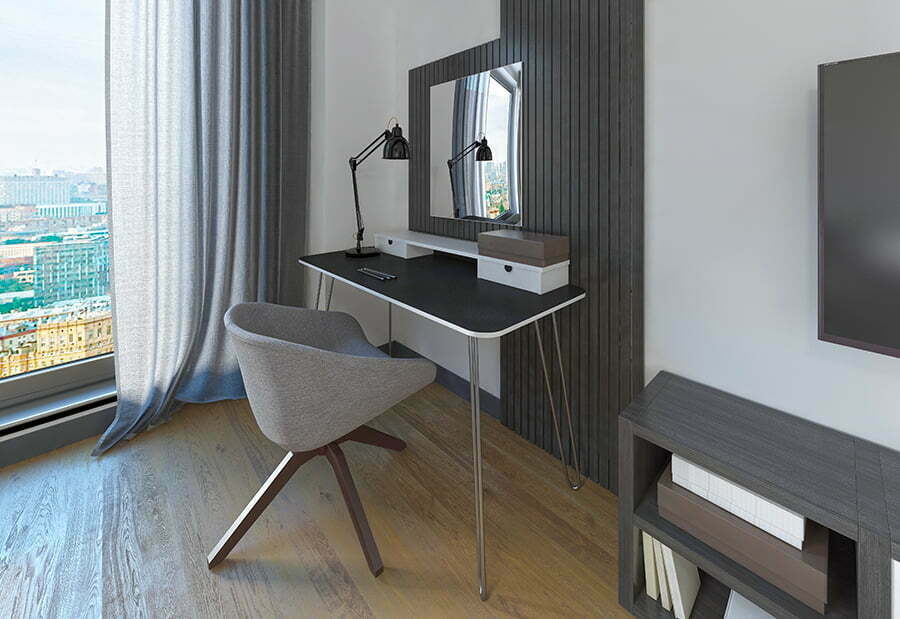 Turn an unused computer table into a makeup vanity. Computer tables have flat surfaces and often come with side shelves. These shelves are perfect for storage areas.
Some tables have a retractable shelf in front to hold the keyboard can be a temporary space extender when putting on makeup. You could even have a mobile makeup vanity if the computer table comes equipped with wheels. Just install a mirror and add a chair.
Floating Shelves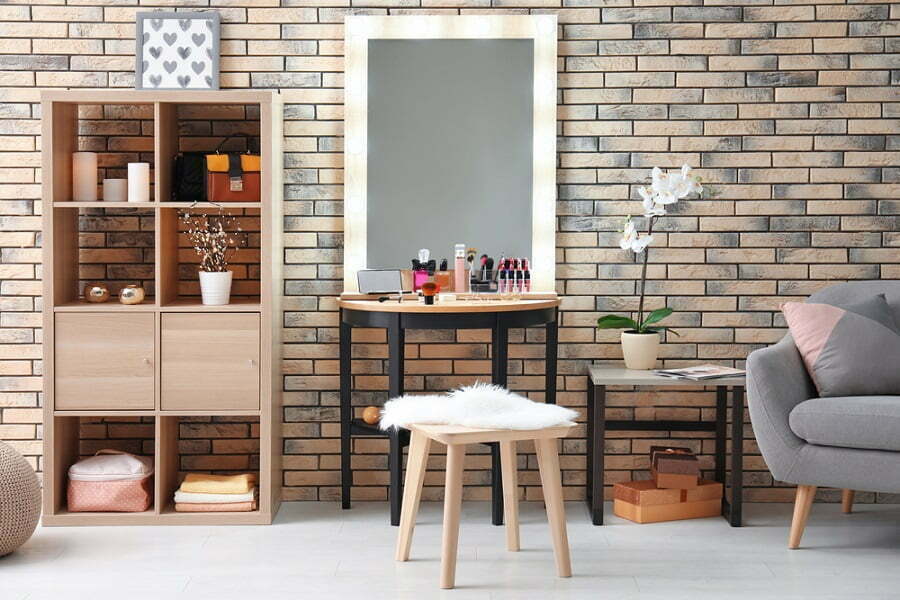 If you do not like the look of brackets, screws, or nails, consider floating shelves. You will love the clean, classic look that offers plenty of function to hold all your skin care products.
These shelves can be installed in areas that will otherwise remain unused, such as corners, blank walls, and behind doors.
Glass-top Desk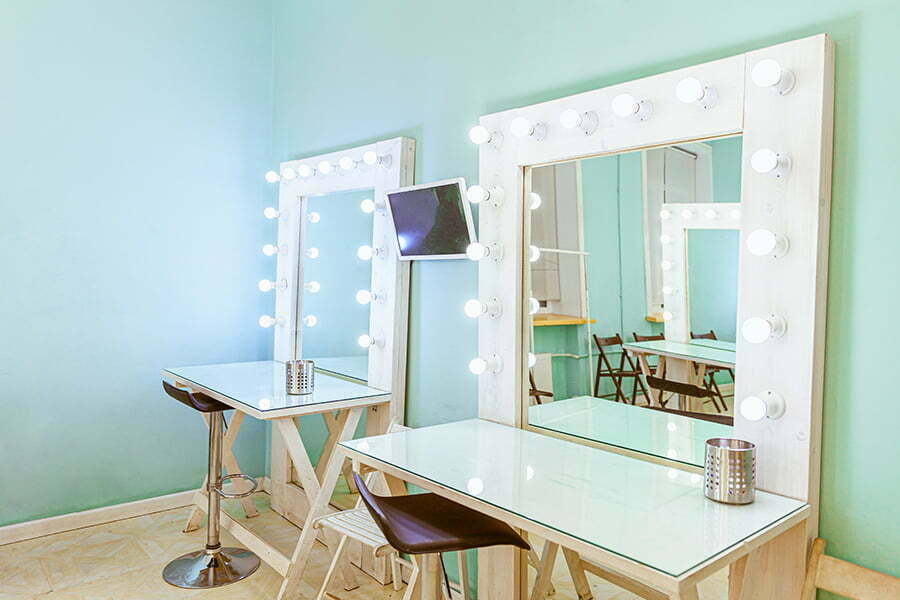 A glass-top desk brightens up an area of your room while providing much-needed space to hold supplies. For smaller rooms, choose a desk with a transparent glass top. It gives an illusion of more space and light.
Glass is also easy to maintain and can be wiped using a clean rag. On top of that, there are plenty of styles and options to choose from. You could opt for clear, tinted, frosted, digitally printed, or crackle glass and choose from wood, metal, or stainless steel frames.
Vintage Suitcase Makeup Vanity
Suitcases come in many sizes, styles, and colors. Don't throw away or donate that old suitcase gathering dust in the closet. Why not turn it into a makeup vanity if it is still intact?
Plus, they have plenty of room to hold a lot of makeup products. They even feature pockets that will contain items such as brushes, pins, sponges, and cotton pads – quite handy for when you need to keep small things organized.
Kitchen Barstools
Barstools offer the advantage of elevated height and can be arranged to let you use several stools to hold different types of cosmetics.
Adjustable barstools are quite a creative solution and can be arranged at different heights in a corner or lined up against the wall.
Recap
Liked this article? Here's what you can read next: