Last updated on April 8, 2023
Looking for the best bar stools for your home? Whether it's for the home bar, kitchen, or even your workspace, we have you covered. This is the digest of 2022.
Our editor's choice: these bar stools with back.
Bar stools are great. That's it — let's leave it at that.
Kidding aside, not only do they provide comfortable seating when it is needed, but they are also space-efficient so that you can have several of them in a room. If we know anything about home decor, we can honestly say that stools are essential in any modern kitchen with an island (but not limited to it).
And yes, you got that right, you can use bar stools outside of the kitchen too. Your home bar might be located somewhere else. Aside from that, they can be used if you have no dedicated dining area. And they can even chip in as seating in your workspace if needed.
So how do you choose the best bar stool?
Consider the size:
Stools for counters range from 23 to 28 inches.
Stools for bars range from 29 to 32 inches.
But you may require extra high stools if your bar table or counter surface is higher.
Who will use them?
If you have kids, make sure the stools are heavy enough and cannot be tipped easily. Swivel chairs are more accessible for kids as well.
Adults will find heavier stools more comfortable too as there's less chance to wobble (here's how to fix a wobbly stool.)
How often will you use them?
Occasional use doesn't require much function, so decor appeal is your top priority.
However, if you will use them daily, make sure they are comfortable. Swivel chairs with backs are a more attractive option.
How many?
Do you have enough counter space to accommodate that many stools?
Make sure you leave enough elbow space when deciding.
Our top picks of bar stools will help you answer all of these questions and help you choose. A lot of thought and research has gone into making these picks. Most importantly, these choices are based on what our readers (that's you) are interested in, so they are more topical. This is backed with 3rd party data we're privy to and testing. Also, note that we get compensated by qualifying purchases on Amazon (indicated with #ad) at no expense to you. This helps us do a better job.
Now, on to the beef. Which bar stool is your pick?
Bar Stools with Back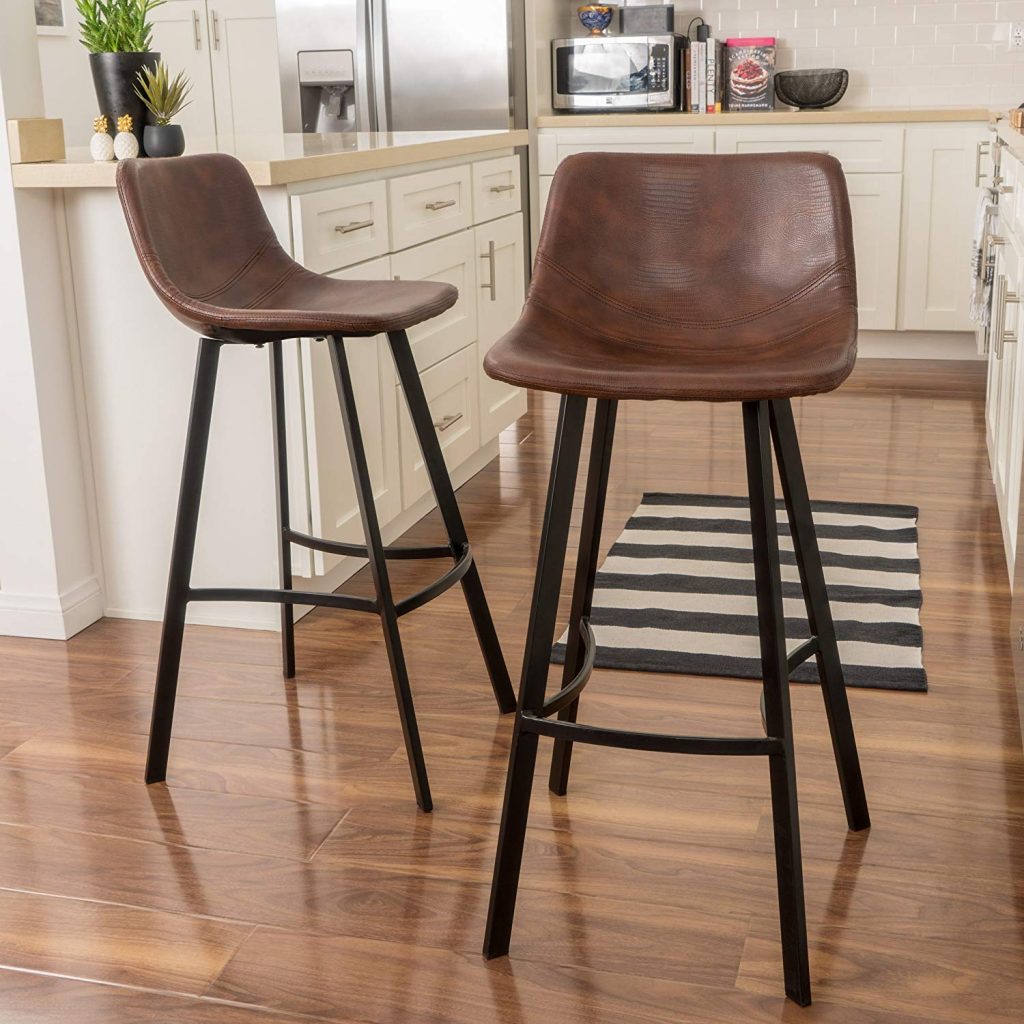 These bar stools are our editor's choice.
Bar stools with back support are better for people who plan to spend a lot of time sitting down. Other stools may get uncomfortable fairly fast, but his one from Christopher Knight Home stays nice and snug for a long time. The curved seat has cushioning, and the shape hugs the bottom. It even looks appealing with the refined texture and earthy color. On the other hand, the stool may wobble, and there are no leg adjustments to fix it. Quality control issues with screw holes can make assembly difficult.
Pros:
Modern minimalist design.
Made with natural materials — real leather.
Ergonomic seating.
Upholstered with ample cushion.
Sturdy steel frame.
Back support.
Cons:
Counter Height Bar Stools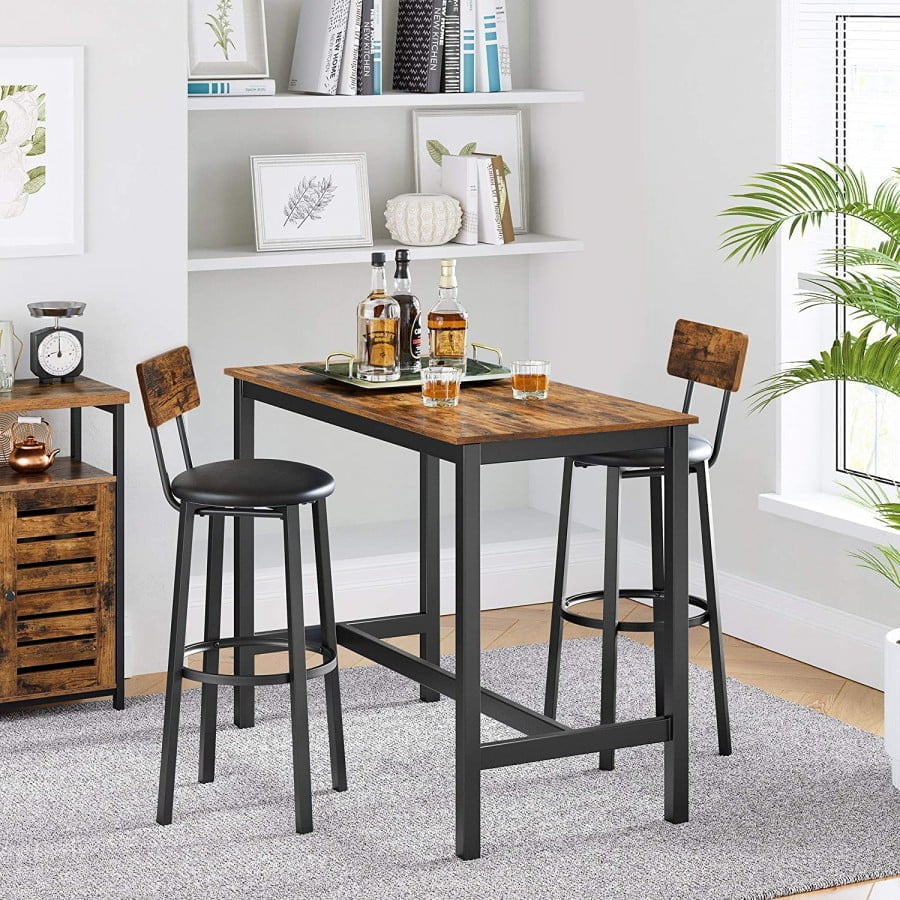 Counter height bar stools can make the kitchen a more welcoming place. Guests can gather there for snacks and conversation. These stools from Vasagle are a great example of a small bar stool with a rustic design that looks great in traditional homes. Uneven floors are not a problem thanks to their adjustable feet levelers for stability. However, the feet tend to leave marks on wood floors. Place these stools on a carpet to prevent scratches. Note that these are best for light use only.
Pros:
Rustic industrial wooden finish.
Adjustable stool feet levelers
Faux leather seat
Cons:
Not for heavy use
Leaves marks on floors
Metal Bar Stools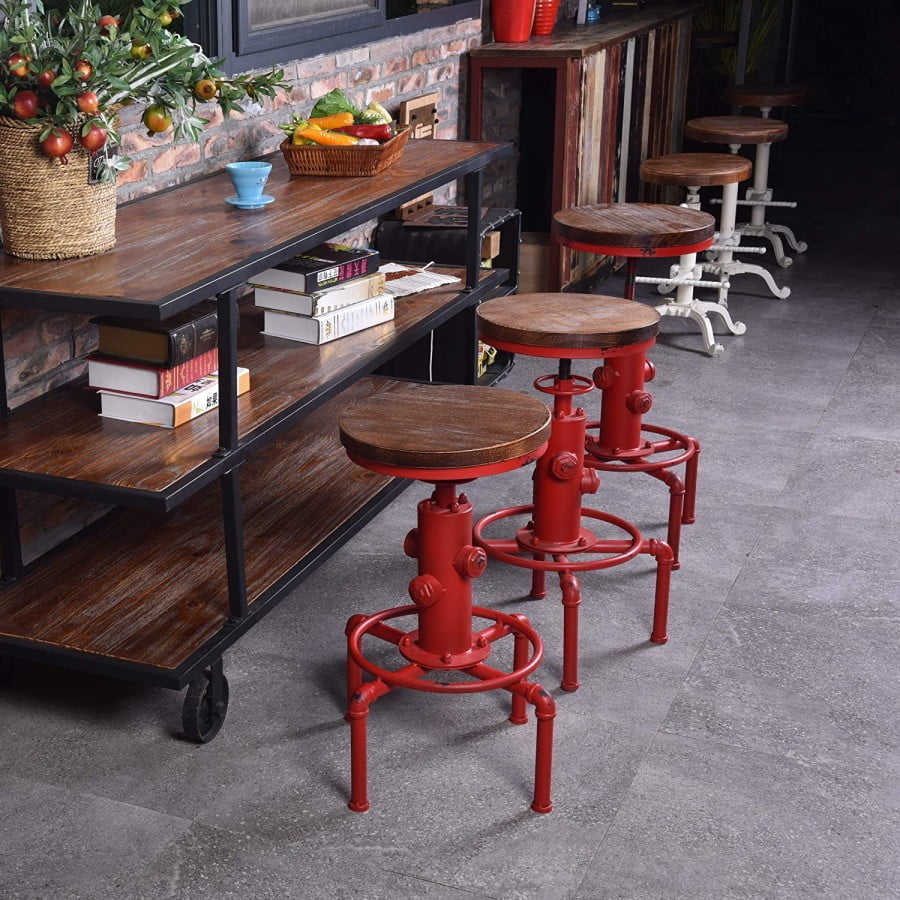 Metal bar stools are often preferred because of their sturdy construction compared to wood and plastic. For example, this bar stool from Topower store has a 440-pound weight capacity. That is more than enough to support most adults so you can sit with confidence. Since it is made of metal, it can be used indoors and outdoors without worries. These are stackable, so storage is not an issue. The industrial look makes for an interesting decorative look.
Pros:
440lb weight capacity.
Natural pine wood seat.
Ideal for a wet bar.
An array of color choices.
Cons:
Possible dents and scratches.
Modern Bar Stools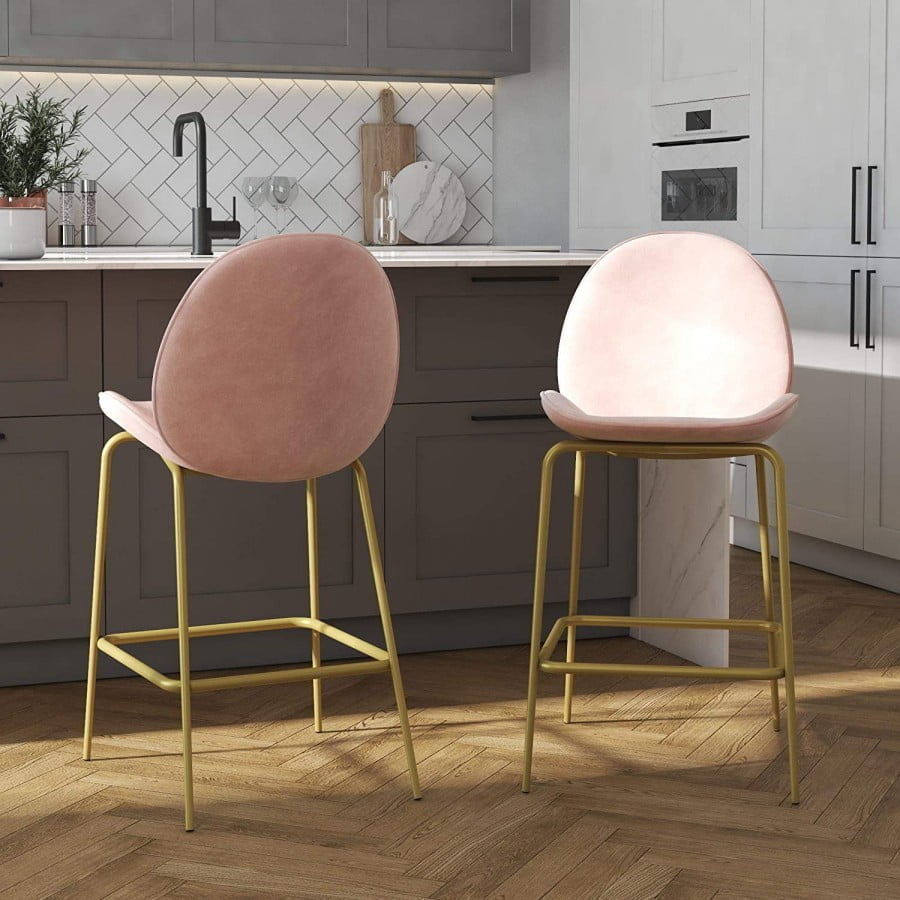 Modern bar stools pair well with modern interiors. These from the CosmoLiving by Cosmopolitan Store are well-designed for user comfort. It has back support, a curved seat, and an upholstered design. The fabric is velvet in a lavish design. The pink fabric goes well with the brass metal legs but there are other color options. The base is made from brass for strength and visual appeal. Sometimes the colors shipped are mismatched, and customer service is unhelpful. It may also scratch wooden floors, so place a protector underneath.
Pros:
Industrial minimalist design.
Brass legs.
Upholstered seats.
Easy to clean fabric.
Cons:
Scratches wooden floors.
The edges may pose difficulties to get off the seat.
Extra Tall Bar Stools
Extra tall people need extra tall bar stools. Superjare provides one that can be adjusted from a height of 23.6 up to 32.2 inches tall. It has a lot going for it aside from the length. For instance, the design looks quite stylish, and the seats are highly cushioned. This chair can swivel 360-degrees so you can be free to move when preparing drinks or talking to people around the bar. Its weight capacity is limited to 265lbs, and it tends to wobble at a full height, so be careful at the extremes.
Pros:
Very high.
Stylish design.
Adjustable height.
Swivel chairs.
Floor scratch prevention.
Advanced fabric.
Cons:
Plastic trim.
Not for heavy-duty use.
Wobbly at full height.
Folding Bar Stools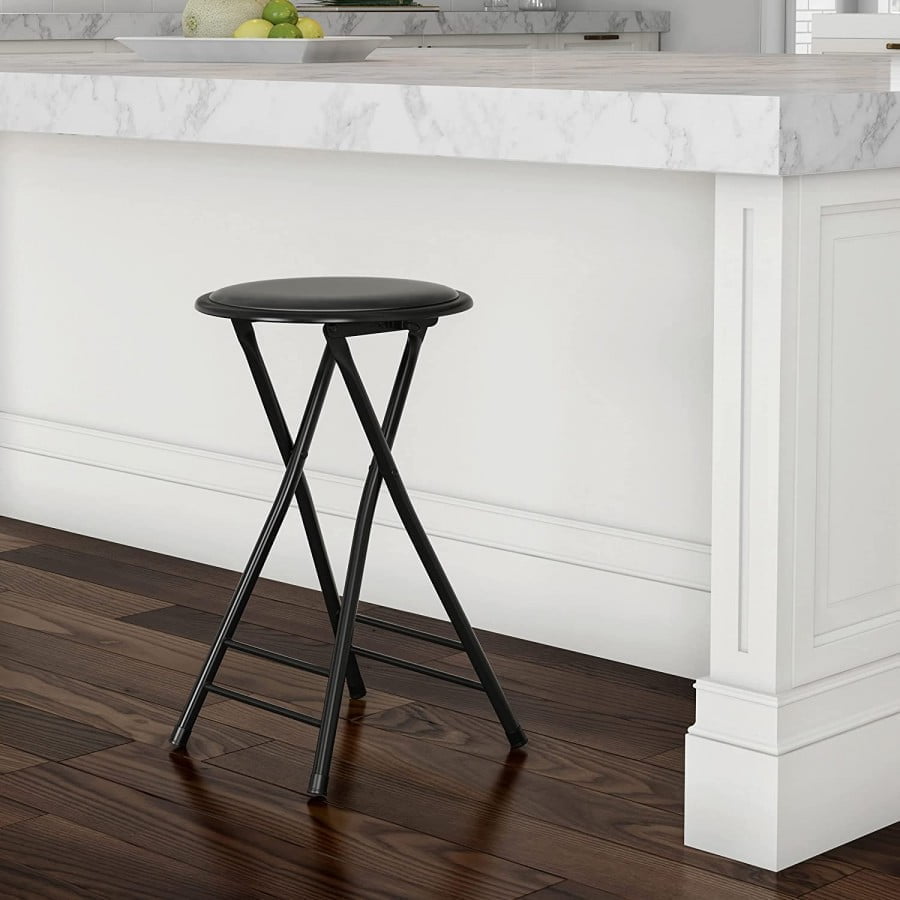 Small apartments need small furnishings. Stools are ideal because of their tiny footprint, but you can do even better by picking up folding bar stools (see also, best folding chairs). This model from the Trademark Home Collection store allows people to sit comfortably for eating and drinking with cushioned seats and backrests. After the guests are gone, the stool can be folded and tucked away to clear space. It comes fully assembled, so it's ready to use out of the box. Just don't expect it to carry big weights.
Pros:
Easy to store.
Supportive back.
Cushioned seat.
Fully assembled.
Cons:
Not durable material.
Folds when scooting back.
Not heavy duty.
Kitchen Counter Stools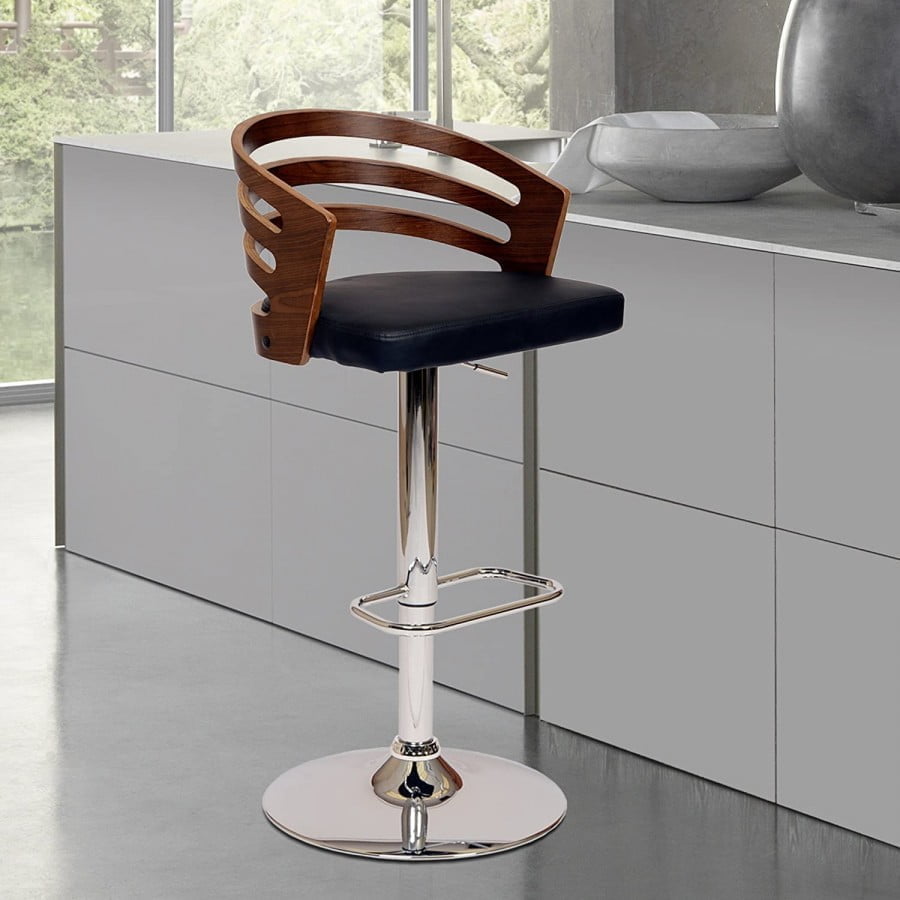 If you are looking for kitchen counter stools that can accommodate everyone in the family, consider this adjustable model as good for adults as it is for kids. The stool looks sleek, especially in the black and chrome combination with a wood veneer back. It can swivel around for freedom of movement while staying sturdy. The easts are cushioned so they are quite comfortable.
Pros:
Elegant modern look.
Swivel action.
Shiny chrome base.
Adjustable height.
Wooden veneer backrest.
Sturdy.
Cons:
The back lacks finishing.
Styrofoam padding.
Swivel Bar Stools with Back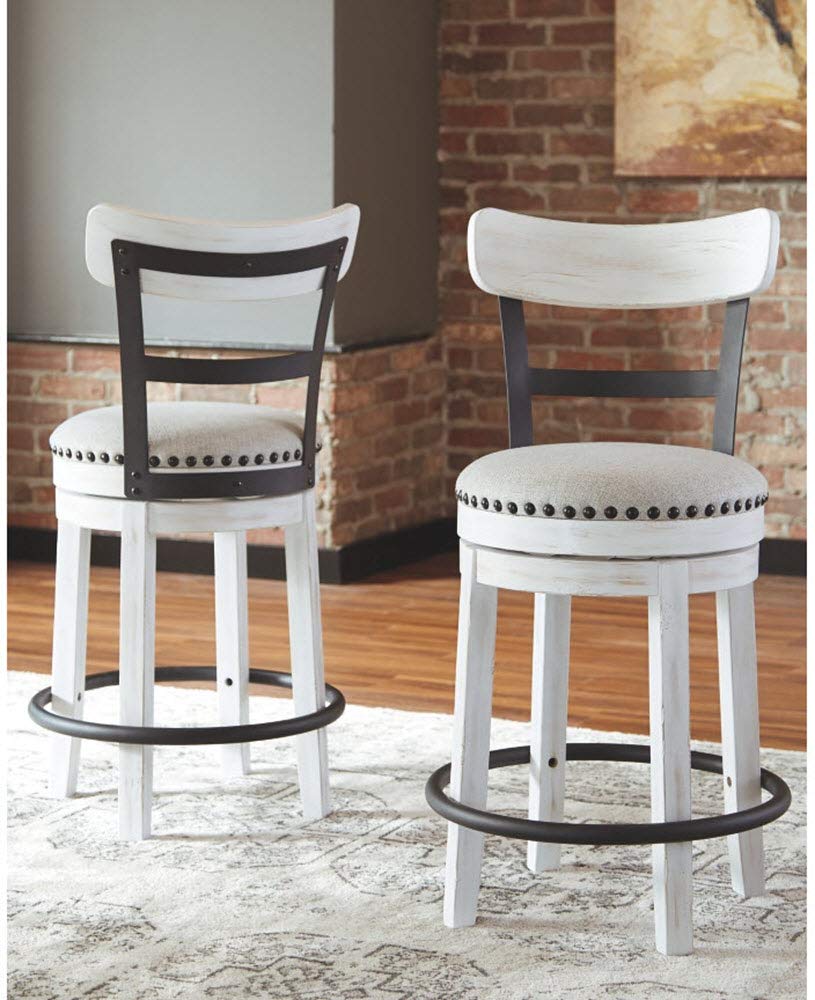 Swivel stools are great because they allow you to turn in any direction to face other people or reach for drinks at the bar. However, most of these have a backless design that makes lengthy use difficult. Fortunately, manufacturers like Ashley also make swivel bar stills with a back like this one. It has a curved backrest and upholstered seat for added comfort. It does need assembling, and the swivel bracket tends to come loose, so watch out for that.
Pros:
Upholstered seat.
Swiveling action.
Curved backrest.
Rustic design.
Cons:
Assembly required.
The swivel bracket comes loose.
24-inch Bar Stools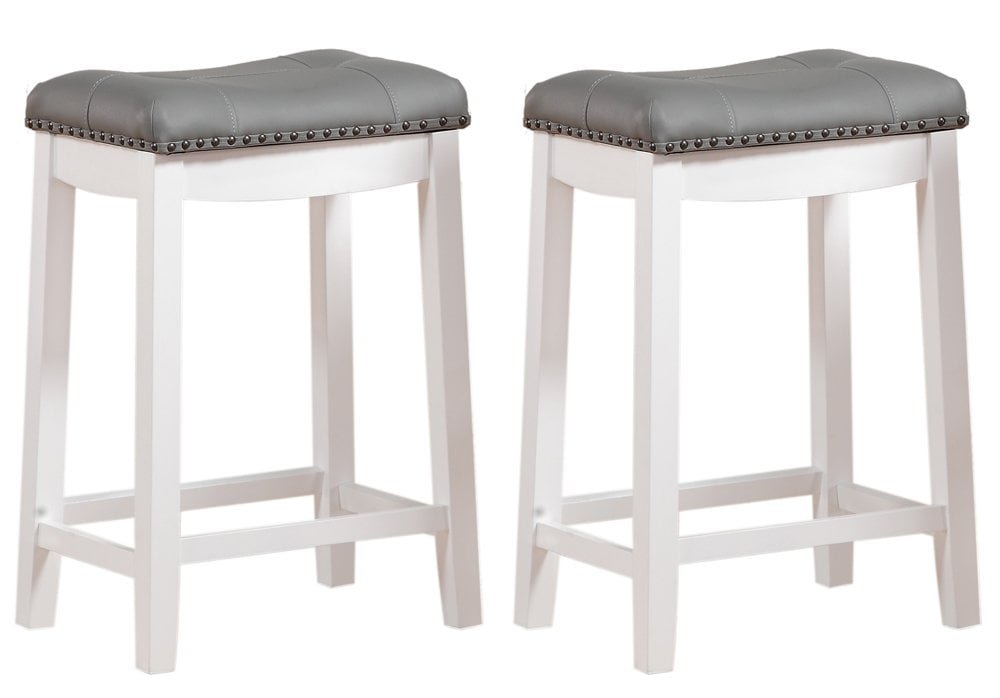 People don't always need a tall stool. Sometimes 24-inch bar stools are more than sufficient as long as they tick other boxes. This model from Angel Line is a compelling product with a simple design that looks elegant. The top of the stool has a generous cushion under gray leather. It is comfortable to sit on for long periods so you can chat with friends long after you've finished your meals and drinks.
Pros:
Simple yet elegant.
Generous cushion.
Affordable price.
Ease of assembly.
Cons:
Stitching leaves room for improvement.
Leather Counter Stools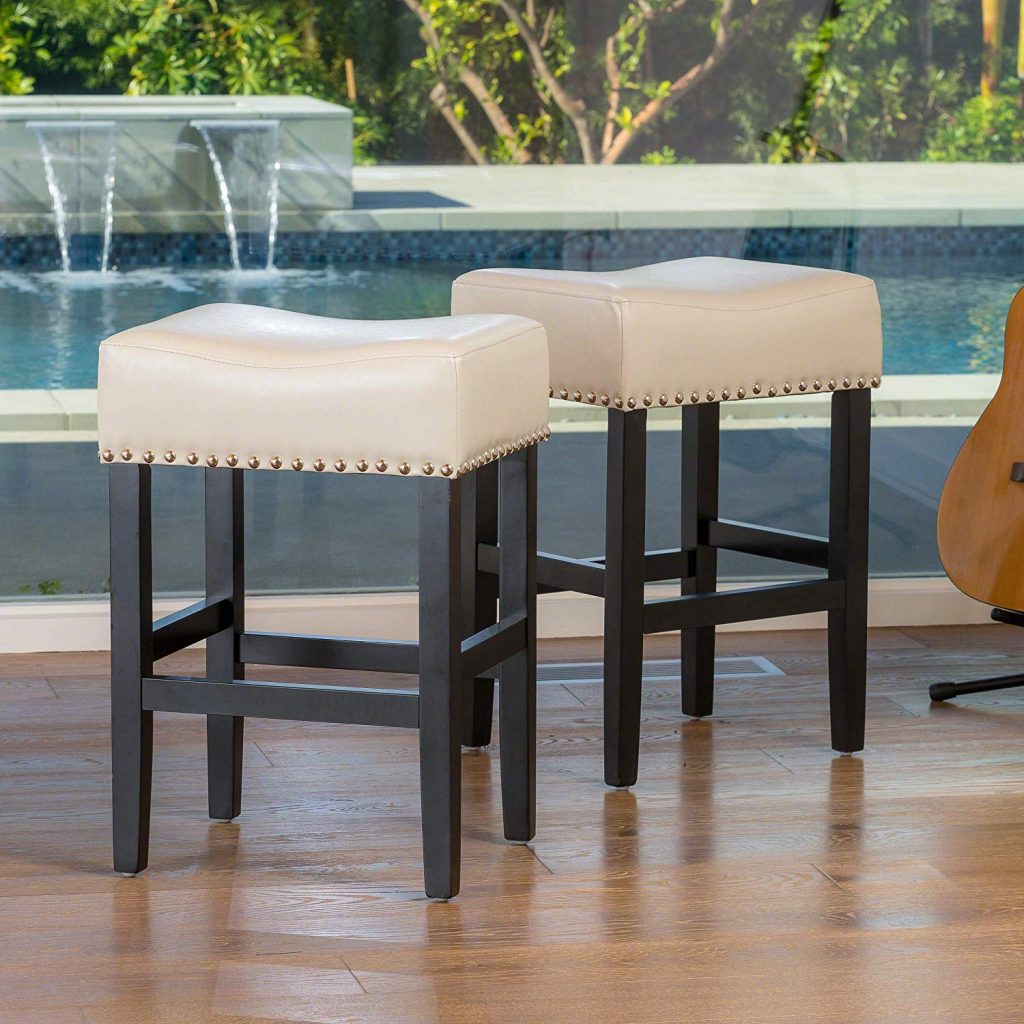 If you like leather counter stools, then this product from Christopher Knight Home should prove to be extremely compelling. The leather upholstery is smooth to the touch. The seats are quite comfortable though they stain quickly, and these are hard to remove. Novices might have a hard time with assembly due to unclear instructions. Some units have quality control issues but are not necessarily deal-breakers.
Pros:
Ivory leather upholstery.
Contemporary design.
Comfortable seats.
Cons:
Inadequate assembly instructions.
Quality control issues.
Stains easily.
Recap
---
Disclosure: As an Amazon Associate we earn from qualifying purchases.
Liked this article? Here's what you can read next: