Last updated on April 8, 2023
These picks for the best mailbox of every type are what you're looking for to revamp your mailbox in 2022. We've used extensive research to come up with this list. Read on!
Curious about the #1 pick? It's this mailbox with a post.
Most of us see the mailbox as a necessity rather than part of the exterior decor of the home or part of the front yard landscape. But if you choose right, the mailbox can significantly increase your curb appeal. Indeed, in many cases (boxes on a post), it meets your guests before they even get on your driveway.
So what do you need to know before choosing the right mailbox? A few things:
Is it installed on a post (mailbox posts have alternatives) or wall-mount?
How big you need it to be (do you receive many parcels)?
How durable you want it to be?
What material is right for your climate?
Decor appeal.
We've gone ahead and picked the best top-rated mailboxes that meet the above criteria. Granted, you don't have a single unit to tick all checkmarks. That's why the top 10 is a well-rounded list to make the final choice for your specific needs.
How did we pick these products, and why are we so sure they are the best? We have an extensive process of researching and testing products. We pick them based on the interests of our readers first and foremost. Then we have tons of data from 3rd party sources. This insight allows us to pinpoint the exact mailboxes worth the attention even to try them.
This list is not ranked – each mailbox has its own pros and cons and represents its respective type.
The shopping links earn us a commission at no expense to you.
Mailbox with a Post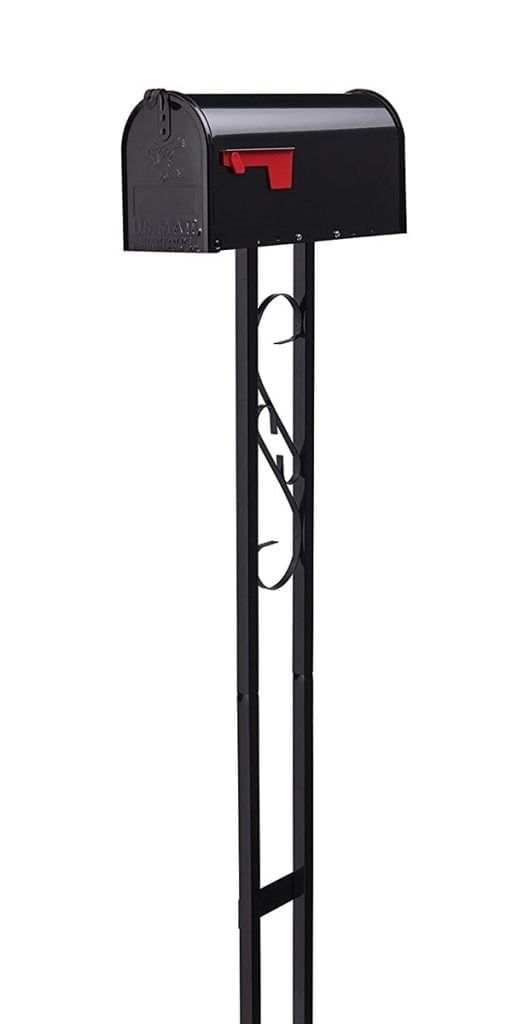 This product is our editor's choice.
The Gibraltar Mailbox with a post is made from decorative galvanized steel in black, and the mailbox received 4 out of 5 stars in verified Amazon reviews. The kit includes everything you need for installation, and the low price makes it perfect for the outdoors. This mailbox is an affordable option for those who want a freestanding mailbox.
Pros: Black powder finish that resists rust; medium capacity for small packages; decorative aesthetic; affordable price for a complete kit.
Cons: No space on the side for house numbers; no choice of color.
Extra Large Mailbox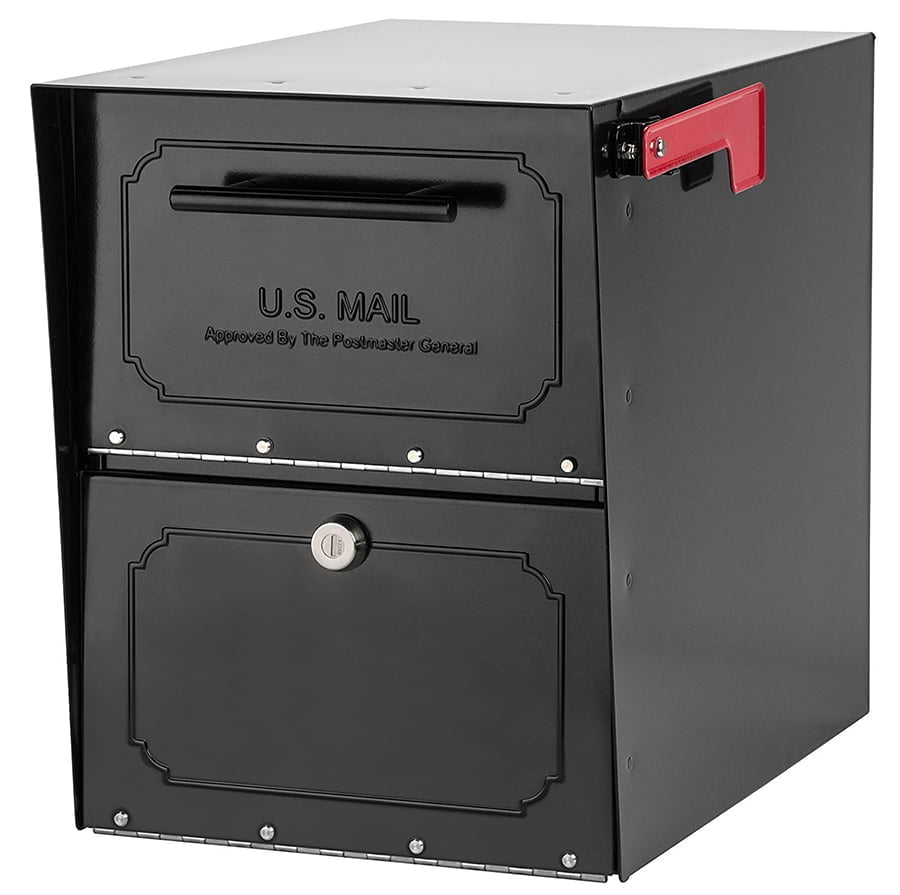 The Oasis looks like a safe, and it's built for extra security. The Postmaster General approved the design, which is perfect for families that regularly receive small parcels and mail bundles. Durably constructed from 16- and 18-gauge steel, the mailbox features rubber moisture seals to keep out moisture. The mailbox measures 18" by 14" by 11.5". It's excellent for anyone who receives many parcels.
Pros: One-piece design that resists the elements; suitable for mounting on a column or pilaster; receives larger parcels than other mailboxes; tamper-resistant.
Cons: Requires a post or column for mounting; design susceptible to exterior rust.
Metal Mailbox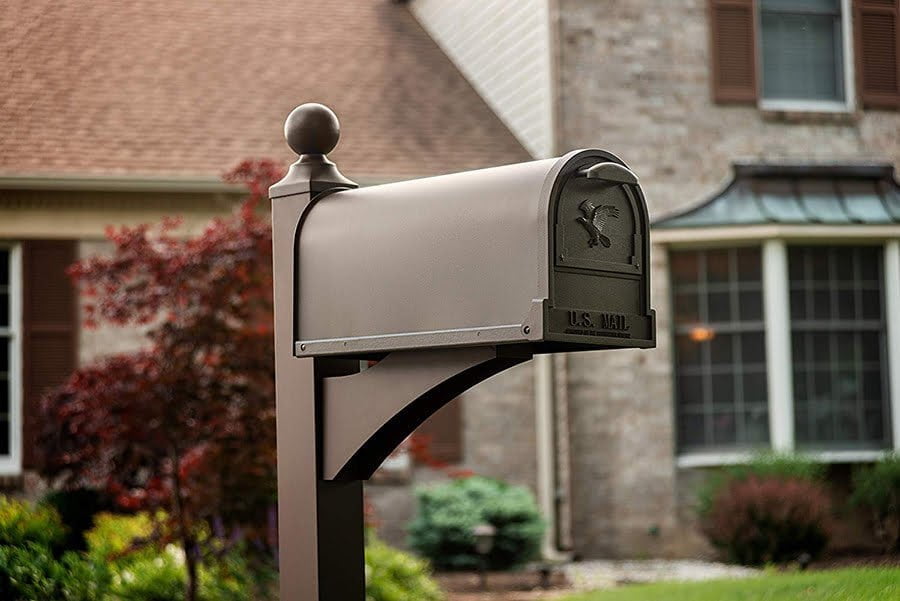 The Gibraltar Mailboxes model AR15T000 is made of galvanized steel with the traditional design of a long rural mailbox. The large capacity is perfect for keeping small packages out of sight, and the design complements any home decor. The powder-coated paint provides extra protection from rust, moisture, and the elements. The mailbox door latches securely with a roller catch.
Pros: Bargain price; classic design; large capacity; mail opening that's 9.2″ high by 7.6″ wide.
Cons: Doesn't come with any installation hardware; offers no security other than concealing packages.
Stone Mailbox Kit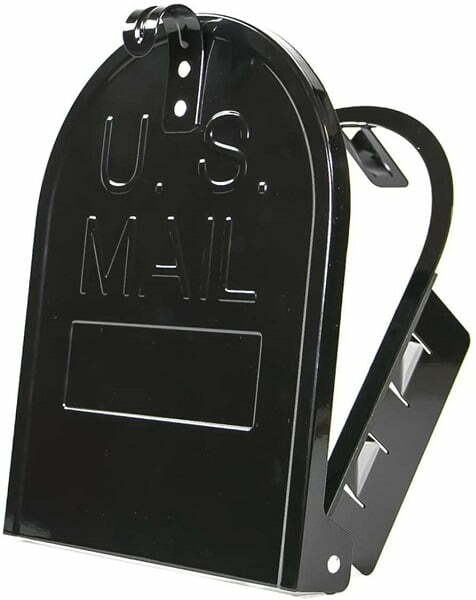 The mailbox door replacement kit is great for front-mounted built-in mailboxes in doors or stone walls. You can also buy a complete replacement that includes the Mailbox Flag and Mailbox Door that snaps in. The doors are available in 8" wide by 10" large sizes.
Pros: Saves money on mailbox replacement; snap-in replacement; can be installed as DIY.
Cons: Not easy to secure closed.
Best Locking Mailbox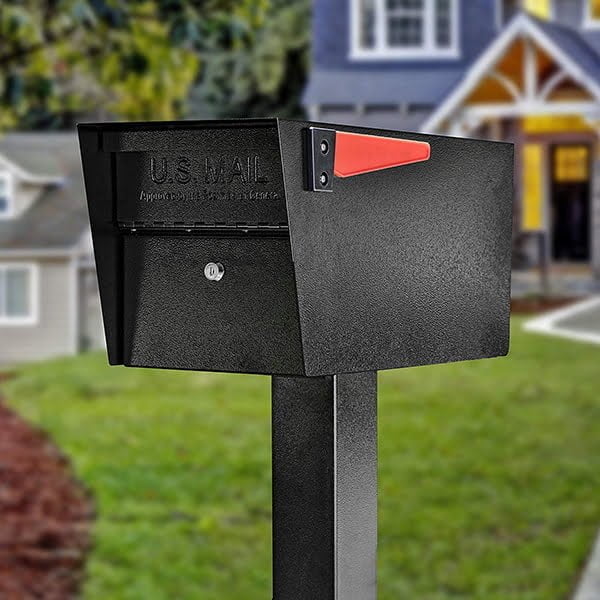 The Mail Boss Mail Manager is ideal for security-conscious people who receive lots of sensitive mail and packages from online companies. The mailbox received 4.7 out of 5 stars at Amazon, and the USPS approves it as a residential mailbox that locks securely to prevent theft. Available in various colors, you can match or contrast your exterior decor. This mailbox keeps you safe from identity theft with its wafer lock.
Pros: Kit includes three keys, concealed outgoing mail clip, installation hardware; patented Anti-Pry locking system; baffle door for one-way package insertion; 14- and 16-gauge steel construction that resists tampering, vandalism, and theft; deters hand fishing.
Cons: 4 X 4 post not included; outgoing mail clip only accommodates small pieces.
Waterproof Mailbox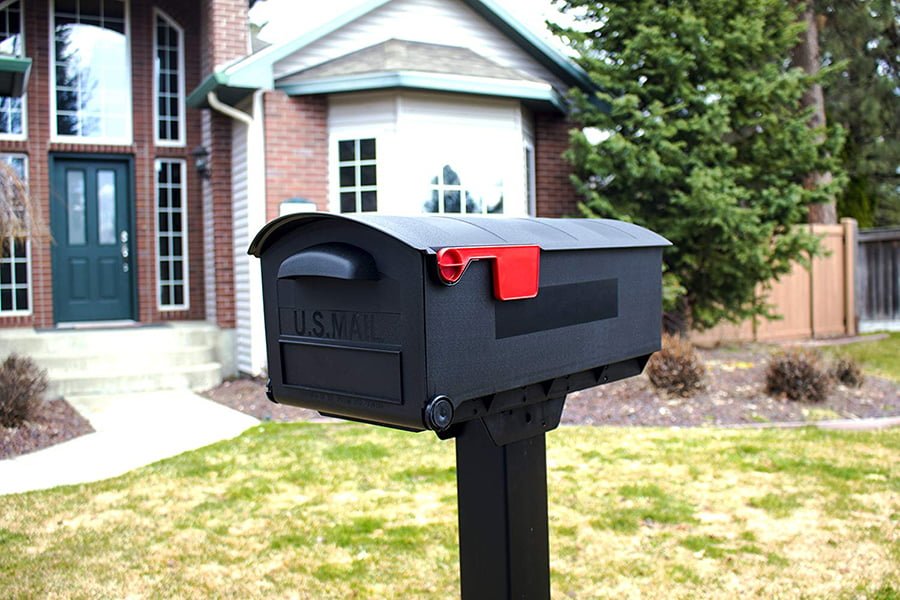 The Patriot is a post-mounted mailbox that received 4.7 out of 5 stars in Amazon customer reviews. The large capacity has a streamlined look that's sportier than traditional mailboxes. The mailbox is constructed from polypropylene plastic, durable, long-lasting, resistant to corrosion, and completely waterproof. The wide opening is perfect for magazines, padded envelopes, small boxes, and parcels. The optional Gibraltar Mailboxes posts with a letter "E" designation match the mailbox perfectly to create an appealing aesthetic design.
Pros: Large capacity that accommodates packages and heavy mail volume; fully assembled and ready for mounting; optional indicator flag included that attaches to either side of the mailbox.
Cons: Buyer must provide a post for mounting; no lock for security.
Small Mailbox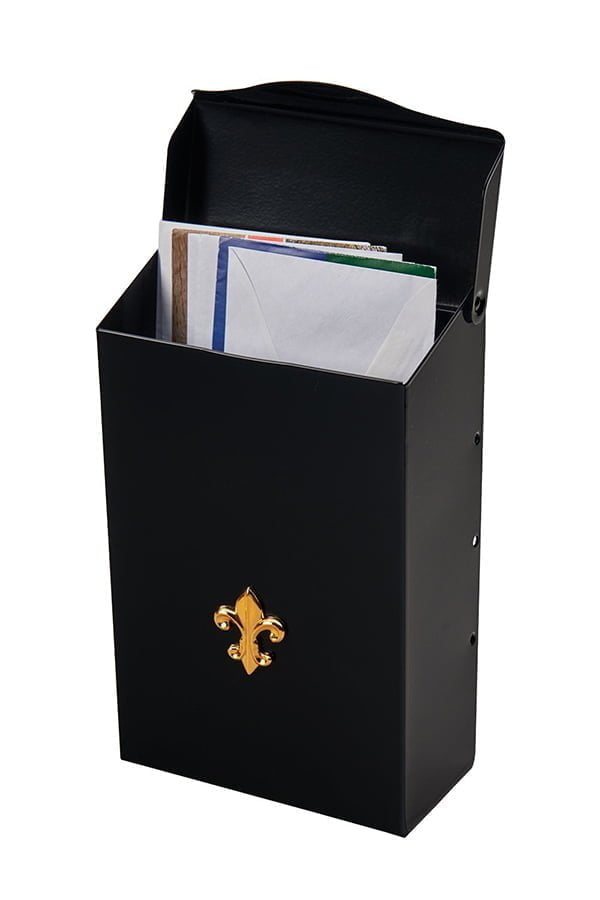 The Gibraltar Mailboxes City Classic model is a small-capacity mailbox designed for mounting on a wall and it mounts easily on flat surfaces. The classic design of this vertical mailbox is inconspicuous and perfect for homes in urban environments. Constructed of galvanized steel, the mailbox resists rust with its powder-coated finish. The mailbox even features a classic fleur-de-lis design in gold for an appealing aesthetic. Designed for recessed installation, the mailbox is simple, affordable, and unobtrusive.
Pros: Available in black or bronze finish; mounting guide provided; accommodates an average volume of mail; one of the lowest-priced mailboxes available.
Cons: Requires some assembly; mounting hardware not included.
Vintage Wall Mount Mailbox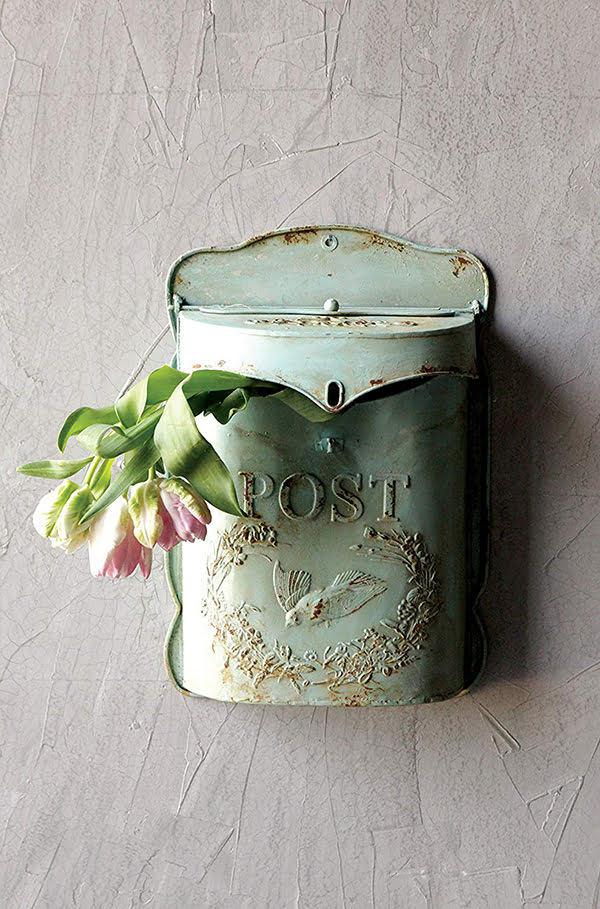 The Creative Co-Op fosters nostalgic design with its Embossed Tin Letter Box. You can display this vintage wall-mounted mailbox to accent your home's curb appeal, and it also works well for dorm room doors as a stylish receptacle for notes and messages. The creative retro design is available in many colors for a personal touch.
Pros: Beautiful design that includes two mail slots in different sizes; distressed finish; an assembly for placing a lock on the larger slot; wipes clean with a dry cloth.
Cons: Not weather or rust-resistant; flimsy construction that's more aesthetically pleasing than durable.
Durable Mailbox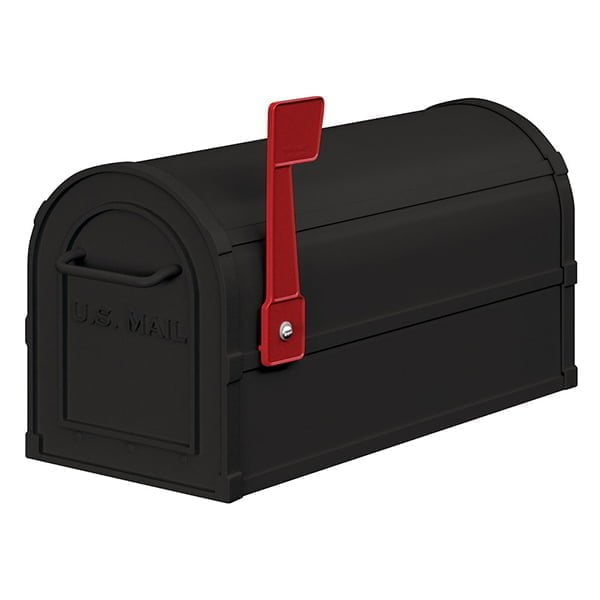 The Salsbury Heavy Duty Mailbox is one of the most durable mailboxes available. It's constructed of ⅛" thick die-cast aluminum that won't rust or corrode. You can buy the mailbox in green, black, white, and beige finishes that are powder-coated for resistance to the elements. The mailbox comes with a magnetic door catch, and it can be mounted on posts or in columns, walls, or masonry. The USPS approved the mailbox for heavy-duty rural use.
Pros: Flexible mounting options; years or decades of use; ISO certified manufacturer; stainless steel hinges on the die-cast door.
Cons: Higher cost than other mailboxes, no mounting hardware included;
Plastic Mailbox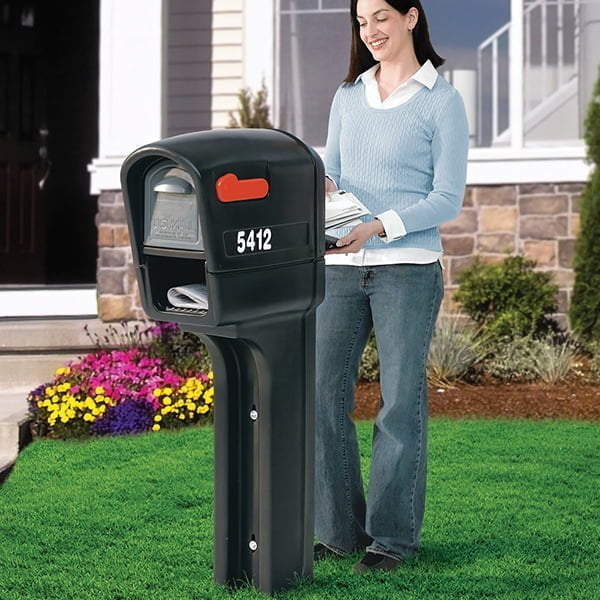 The Step2 Mailmaster Plus 541200 Mailbox received 4.7 out of 5 stars at Amazon is a durable plastic mailbox designed as an all-in-one piece. Installation is easy, and magnetic closures protect both the front and back doors from being dislodged by heavy winds. The mailbox is weather- and rust-resistant and includes space for newspaper delivery.
Pros: Front and rear access, built-in newspaper holder, address numbers, post cover, and mounting hardware included; mounting hardware included.
Cons: Post not included; fairly small mailbox dimensions.
FAQ
Which is better plastic or metal mailbox?
That depends on how you plan to use your mailbox. If you have a small number of mail items each day, plastic mailboxes are best. They are easier to clean, and you can install them more quickly. However, if you are expecting to receive many pieces of mail every day, metal mailboxes are the best choice. They can hold much more mail and are built to withstand frequent use.
What are mailboxes made of?
A typical mailbox is made of galvanized steel, but other options include stainless steel, plastic, and even wood.
Recap
---
Disclosure: As an Amazon Associate we earn from qualifying purchases.
Liked this article? Here's what you can read next: