Last updated on February 8, 2022
Looking for the best leather recliner chair that will provide you with the ultimate comfort? Our top-rated picks will do even more than that. Read on!
Quick – what is the best? This Top Grain Leather Recliner.
A good recliner (or a reclining sofa) will provide you with a comfortable lounge seat and sometimes a place to sleep. But a great leather recliner chair will create a cozy nook that you will not want to leave for days. We're talking about the chairs that make you release a sigh of relief and pleasure when you move into the reclined position. This is a story about the best of them.
There are many excellent options, so you can try and find the most comfortable option for yourself. But there's also a big caveat – most of these recliners are ugly. They have powerful functions, bells, and whistles, but do you actually want to make your living room like a massage parlor? That's why we've gone beyond the features in our search for the best chairs and made sure you don't spend your money to make your decor ugly.
How do you choose the right leather recliner chair?
Think it through:
How much space do you have for it? Most options are big-sized, but you can save some space with a compact chair.
Do you need swivel action? How about a headrest?
Does it have to be an electric power recliner for the most support? This option is the best fit for seniors but also a great comfort feature to have for anyone.
The type and quality of leather. Top grain leather will break the bank. PU leather might look cheap.
Think about the design style and extra features – contemporary, mid-century modern, chairs with wings, ottomans.
Need help with considering these points? It isn't easy with the number of options you have in stores. We've done the legwork for you and narrowed it down to the best picks in every category. The top 10 list follows. Note that purchasing some of these products may result in us being compensated by Amazon at no expense to you (links tagged #ad). This does not influence our choices but helps us spend more effort in our research.
Which of the following recliners will make you go ahh?
What's Inside?
Top Grain Leather Recliner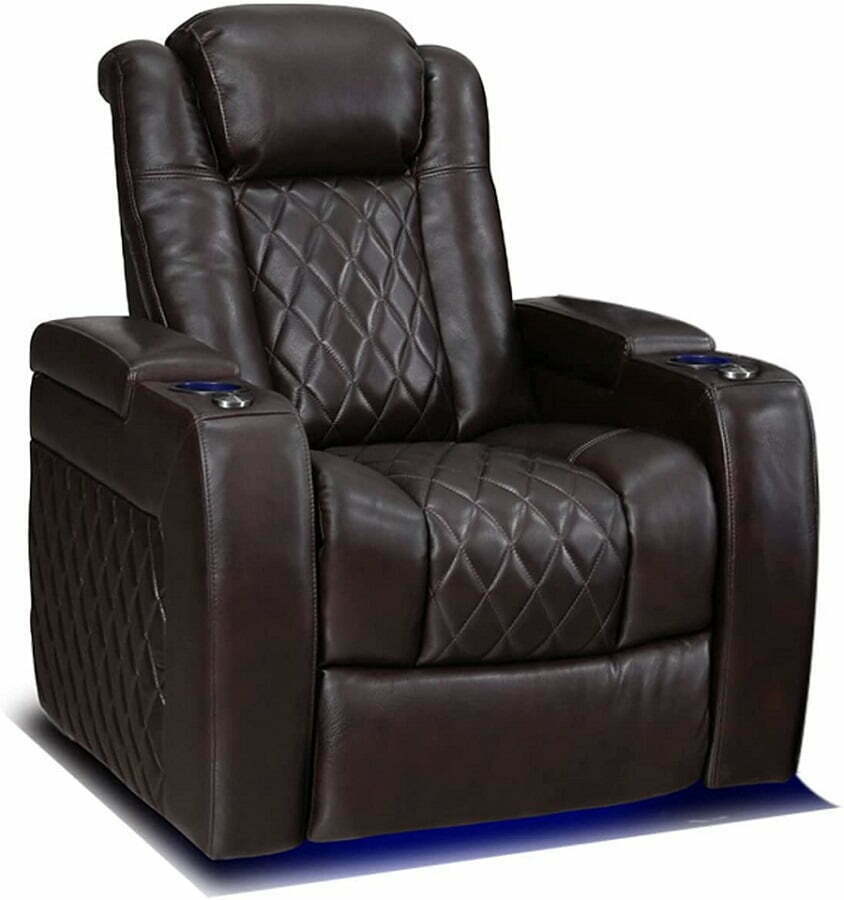 We've picked this recliner chair as the editor's top choice because the best leather recliner must be made with real leather. And this is it.
If you're looking for the best quality top grain leather, this is it. You need a higher budget for this, but it's all worth it. Quality Italian leather makes the difference.
Pros: real top-grain leather; beautiful chair with support in all the right places; has a luxurious feel and quality; features a distinctive design; comfortable to sit; the lumbar support is excellent for the back; the headrest is comfortable; the armrests have a cup holder.
Cons: expensive.
Power Recliner Chair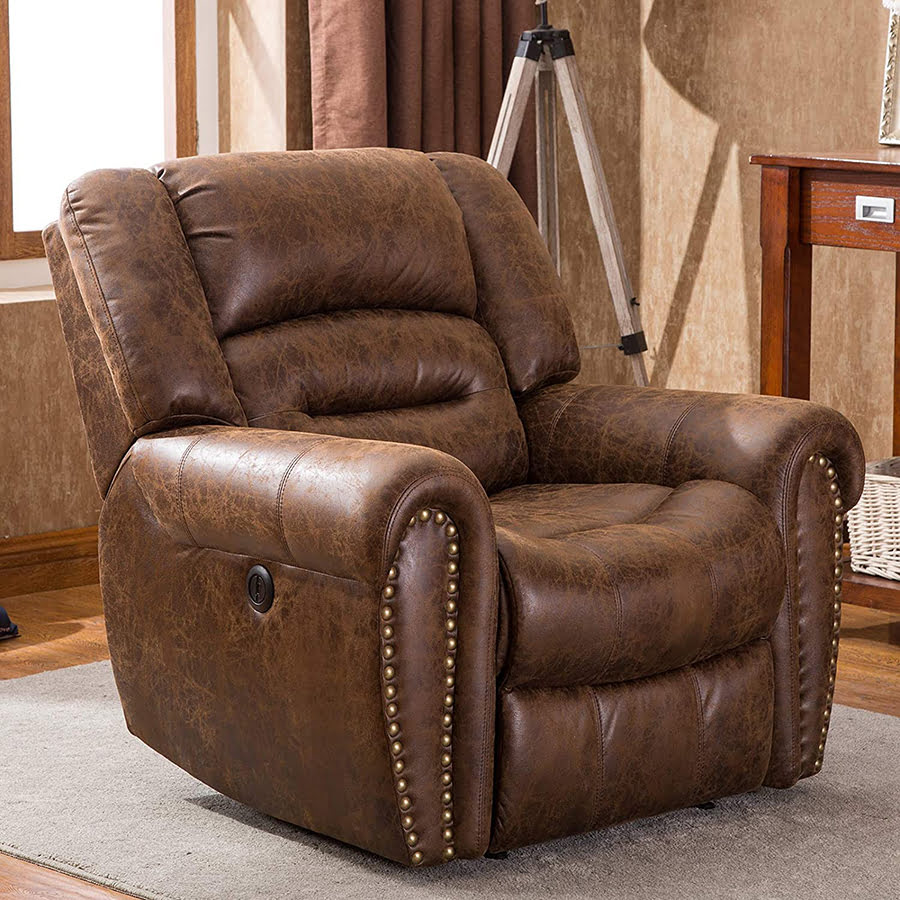 A power recliner that is functional but comes in a classic brown leather design. It's for those who need a powerful chair but don't want to sacrifice their looks for it.
Pros: comfortable recliner chair; power lift feature; the fabric is soft, and the nailhead trim adds to the appearance; it has easy and smooth motion; good quality and appearance; and it comes with one USB charging port on the right side of the chair.
Cons: the back is short; not recommended for tall people.
Leather Swivel Recliner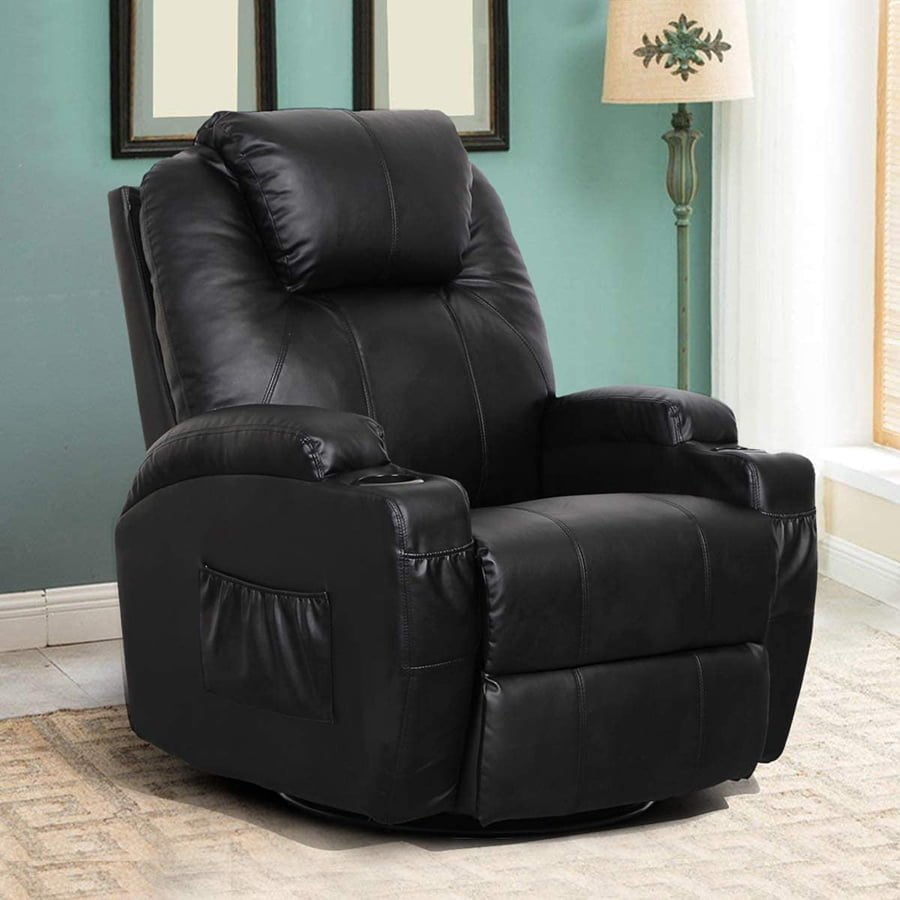 A comfortable recliner packed with functionality (it's a massage chair). It's the swivel recliner you've been looking for.
Pros: you can relax in this recliner chair with vibrating, reclining, heating capabilities; has a thick pad in back cushion and armrest; has two cup holders and has two extra side pockets; has a headrest; water-resistant.
Cons: footrest is difficult to put back down; the chair won't stay reclined back unless your weight is holding it.
Oversized Recliner Chair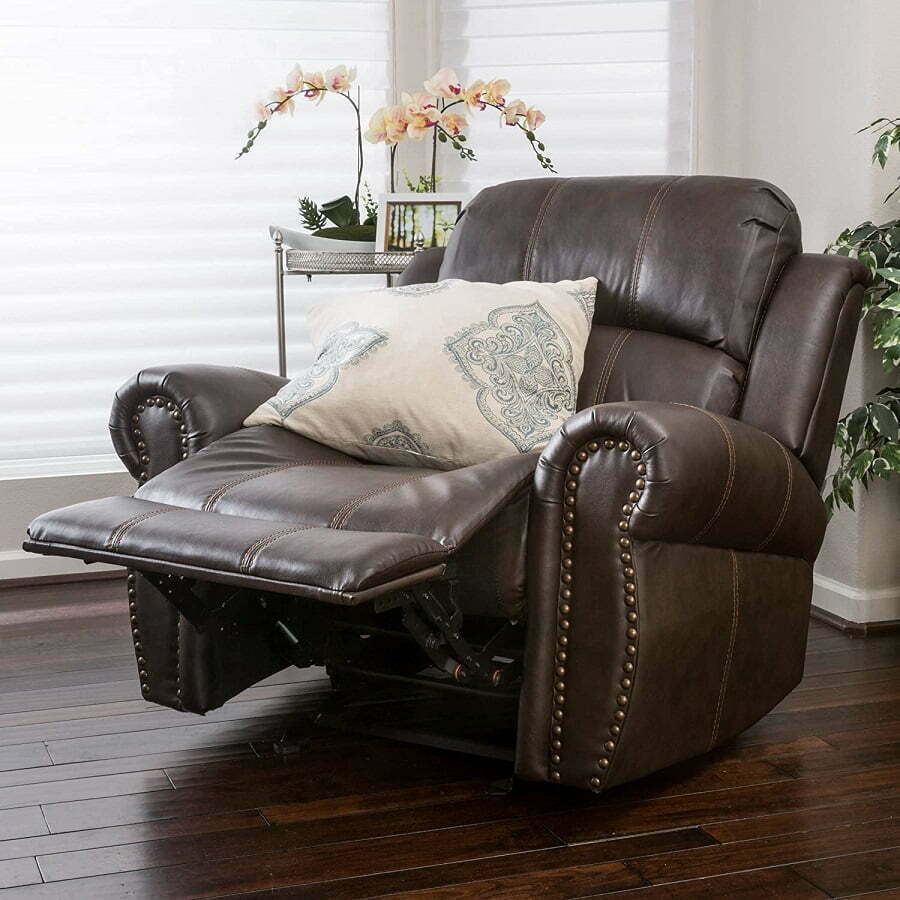 Oversized chairs provide the extra comfort and coziness that you need. Imagine getting yourself comfortable after a long hard day in this one.
Pros: overstuffed padding and leather surface fabric; very comfortable to use; effortless one-pull reclining motion; easy to assemble; straightforward to clean.
Cons: It is a bit of a struggle to get it back in the upright position; it is not recommended for tall people because of its size.
Rocking Recliner Chair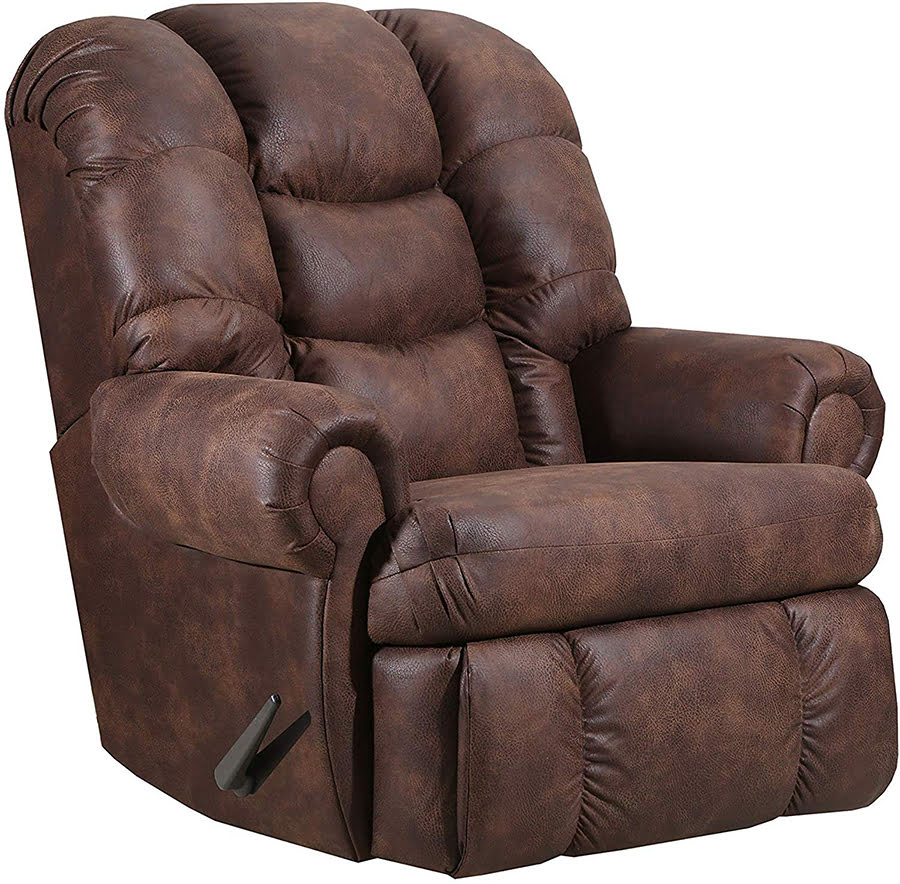 Rocker recliners are catered to our seniors. It's a very comfortable chair with the added rocking action.
Pros: the best piece of furniture for tall people; very well supported; heavy-duty; the chair folds down easy; very comfortable seat, footrest, and back.
Cons: the reclining handle is not a little tight; does not rock easily.
2 Person Recliner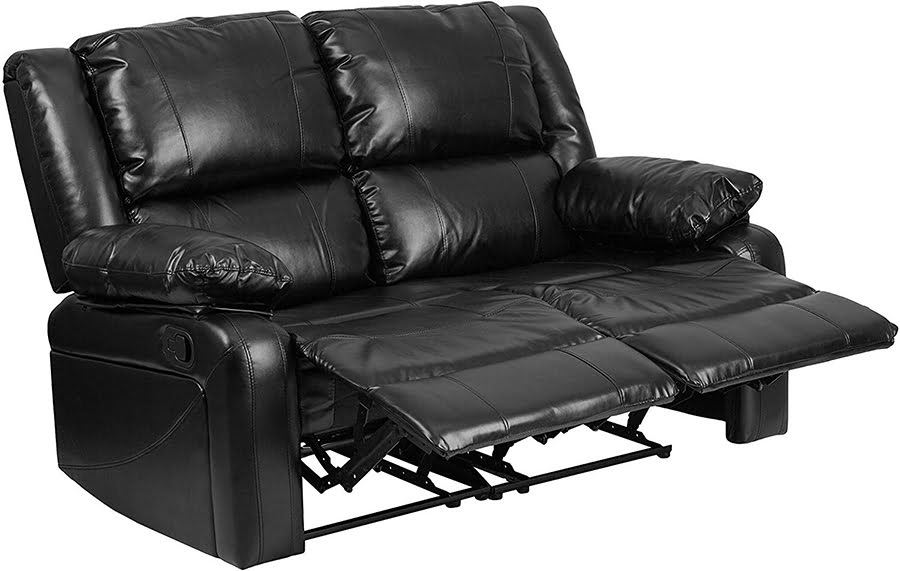 You don't have to be alone in your recliner. This is basically a loveseat with built-in recliners. It's in black leather, and it's good.
Pros: has pillow back cushions for extreme comfort; has padded plush arms; has a quick pull on the recessed lever, double recliner is perfect; comfortable and sturdy.
Cons: It is too low for a tall person; it does not stay fully reclined.
Small Leather Recliner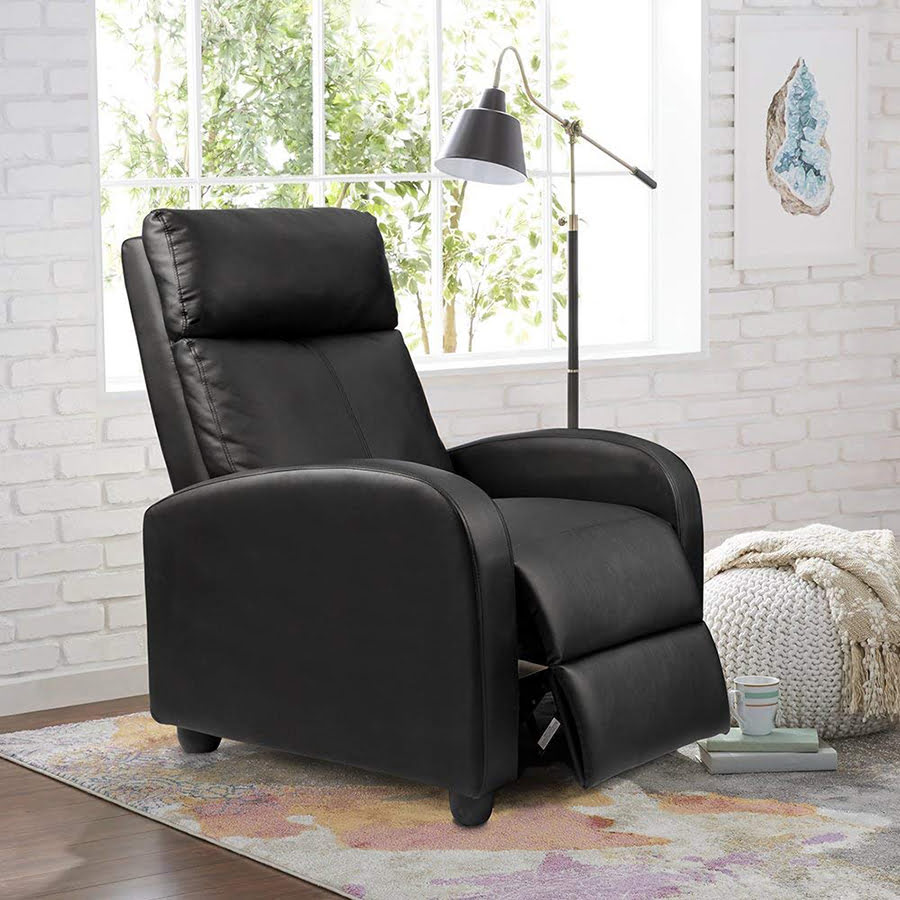 Most leather recliners are big. They need the size to provide comfort. But if you're short on space, this small chair will give you functionality and decent comfort.
Pros: comfortable, skin-friendly, and easily cleaned; wider armrests with curved shape; larger-size seat cushion and thicker recliner back; very easy to push down; this is a small chair, so it's not heavy to push it down like a standard recliner.
Cons: the operation of the chair is completely manual; it has no cushions or wings on the back to support you when you lean to either side.
Brown Leather Recliner
This design is the staple of mid-century modern. Its main benefit is that it's simple but visually interesting—a great addition to a living room for an accent chair that's functional too.
Pros: durable leather upholstery allows for easy cleaning and regular care; suitable recliner with ottoman; perfect chair for a reasonable price; straightforward to assemble.
Cons: does sit low to the floor, so it's not the easiest to get out of (senior's perspective); chair does swivel, so be careful getting in and out that it doesn't swivel too much.
Modern Leather Recliner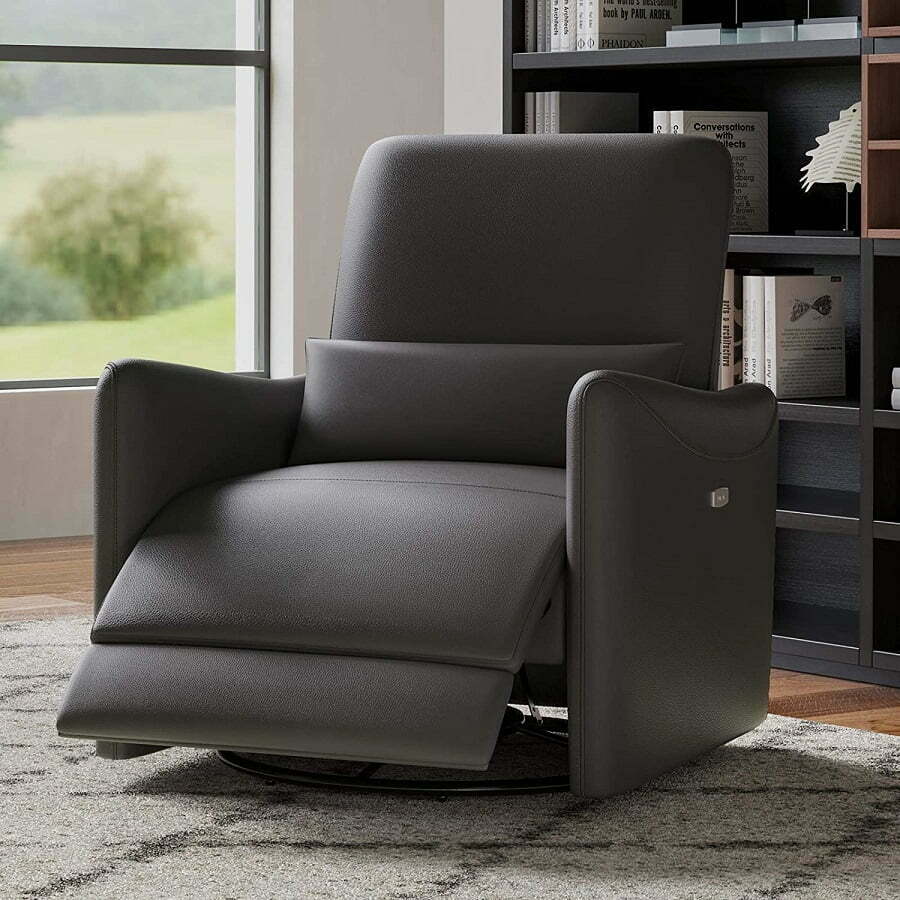 Modern chairs feature a compact look that bare necessities for a recliner. They look good in any modern decor and provide you with just enough comfort for casual seating.
Pros: clean and casual styling perfect for all modern living rooms; comfortable and durable; easy to assemble with sturdy hardwood frame; perfect width in the seat for even a larger person.
Cons: It isn't easy to get the footrest to click back into place when lowered.
Recliners That Don't Look Like Recliners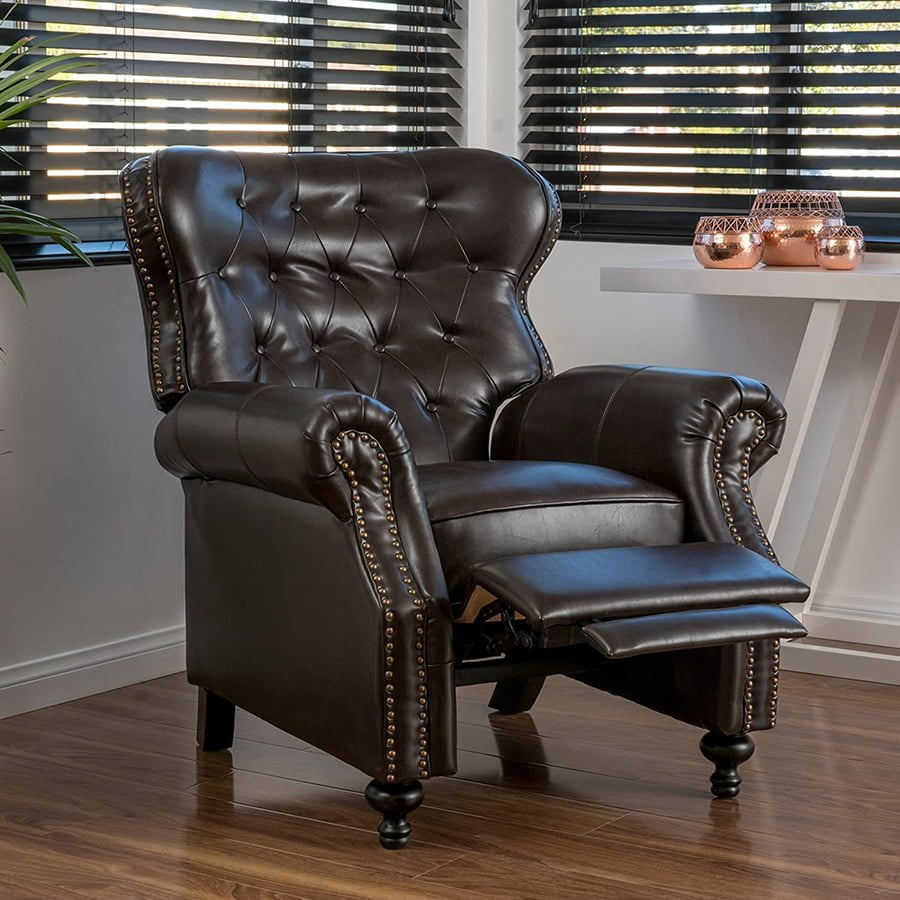 Most recliners look like massage chairs and seem like they should be at a massage parlor, not your living room. They are comfy as crazy, yes, but what about your decor? When it clashes badly, you need a recliner that doesn't look like one. Such as this club chair.
Pros: upholstered in bonded leather with wood frame; simple to assemble and functions as described; very comfortable and supports well; easy to push to the reclining position; an exquisite piece of furniture
Cons: the head doesn't get much support without a throw pillow; the seat cushion is deep.
FAQ
How much should a good leather recliner cost?
A good leather recliner can vary greatly depending on the quality of the materials. A high-quality leather recliner will have a higher price tag than a cheap one. If you want something really nice, expect to pay between $500-$1,000.
Where do I buy a leather recliner?
You can purchase leather recliners online or in stores. Online retailers often offer free shipping, making them ideal for those who don't live near a store. Stores typically charge delivery fees, however, so if you're looking for a specific model, shop around until you find a retailer that offers free shipping.
Are leather recliners better than other options?
Leather recliners are generally considered superior to other types of recliners because they provide excellent support and comfort.
Are leather recliners made of real leather?
Yes, most leather recliners are made from genuine cowhide leather. Some manufacturers may use synthetic leather, though.
What kind of warranty does a leather recliner come with?
Most leather recliners come with a 1-year manufacturer's warranty.
Do leather recliners require assembly?
All leather recliners require some level of assembly. Most models include instructions, which make things easier.
Can you tell how old a leather recliner is by its appearance?
It's impossible to determine the age of a leather recliner based on its appearance alone. However, if you notice scratches or tears, it could mean that the recliner has been poorly maintained over time.
How to control a recliner?
The controls on a leather recliner usually consist of buttons located on the armrests. The easiest way to operate these controls is to press the button twice to raise the footrest, twice to lower the footrest, and three times to lock the footrest in the raised position.
Liked this article? Here's what you can read next:
---
Disclosure: As an Amazon Associate we earn from qualifying purchases.