Last updated on April 8, 2023
Looking for floor pillows to introduce some stylish extra seating space? Here are the top 10 best-rated floor pillows to choose from in 2022.
Curious to see our #1 pick? It's the Azza floor pillow.
Have you ever hosted your guests and ran out of seating space? That's an awkward situation to be in. The solution is to have extra seating space ready at all times. Unfortunately, you can't clutter up your space with all those extra chairs.
That's when floor pillows, ottomans, and floor sofas come in handy. They don't take up much space and can be stored away easily. They can also work as beautiful decor accents. All you have to do is choose some for your home.
We've gone ahead and examined a lot of floor pillows to find the best. Here's our list of the top 10 best pillows for you to choose from.
Note that the shopping links we have provided may earn a commission for us. That costs nothing extra for you.
Modern Floor Pillow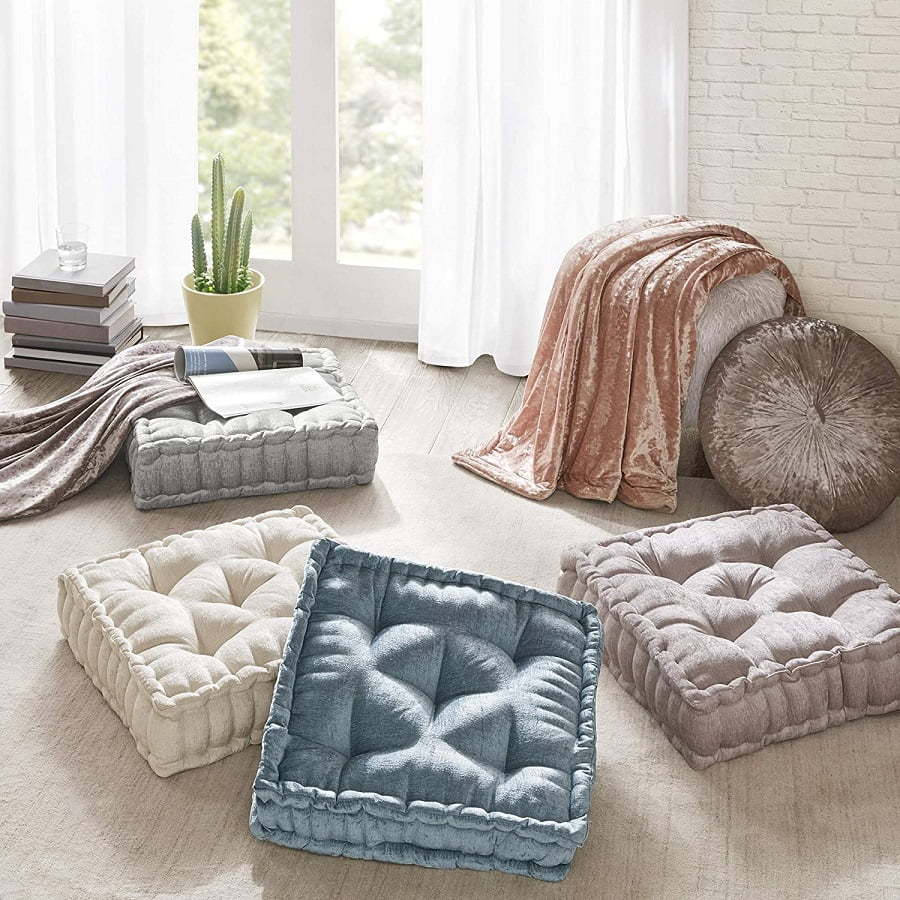 Looking for something minimalist and comfy? These floor pillows are what you can stack up on for those unexpected guests. At the same time, it will provide an attractive decor accent that can be put away and free the space. There are many uses for this versatile modern floor pillow.
It's a high-quality product with a lot of decor value and affordable price. That's a winning combination.
Why it's our #1 pick? The Azza floor pillow offers great decor value and function for a low price. It's a high-quality product that gets our choice award.
Japanese Floor Pillow Cushion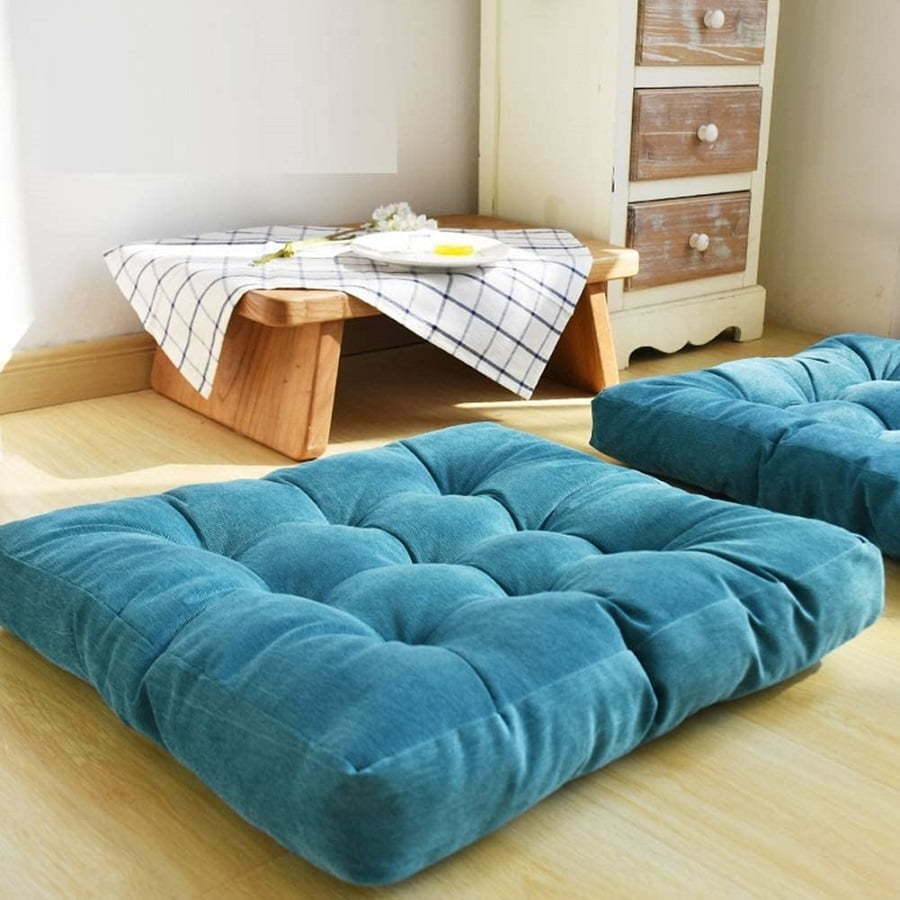 Japanese floor pillows are very versatile and attractive as decor accessories. They can be used as floor pillows, chair cushions, bay window cushions, as well as meditation pillows. Their square design fits everywhere, and you have a wide choice of fabric patterns.
We like these particular Japanese pillows because they are well made durable, and there's a choice of several different colors. We're sure you'll love them too.
Why it's our pick? These are the best floor pillows as far as Japanese pillows go at this price point.
Mandala Life ART Bohemian Large Floor Pillow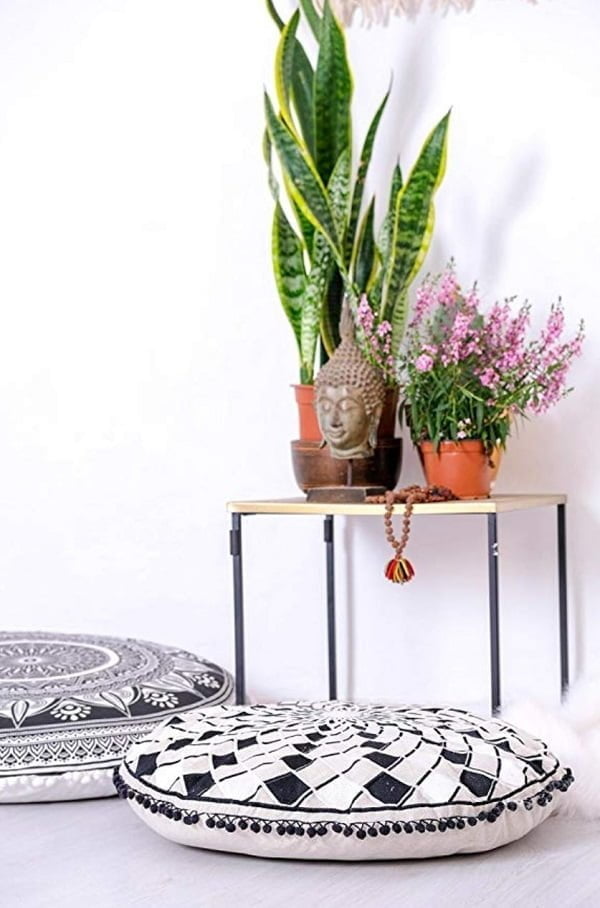 Mandala art is trendy nowadays, and if you're looking for some up-to-date accents in your home decor. Getting a floor pillow in this style is one way to add them. This large pillow is not only stylish, but quality made too.
The pillow's filler (sold separately) is firm enough to work as seating (you won't sink into it). The fabric is well designed in a Mandala pattern, but it's 100% organic cotton.
All in all, it's a great product if you're looking for a comfy floor pillow that offers excellent decor value. You can choose from several colors too. Do you think you can get some likes on Instagram with it?
Why it's our pick? It's the best Mandala floor pillow out there. The product is of high quality and available on Amazon.
Huge Bean Bag Floor Pillow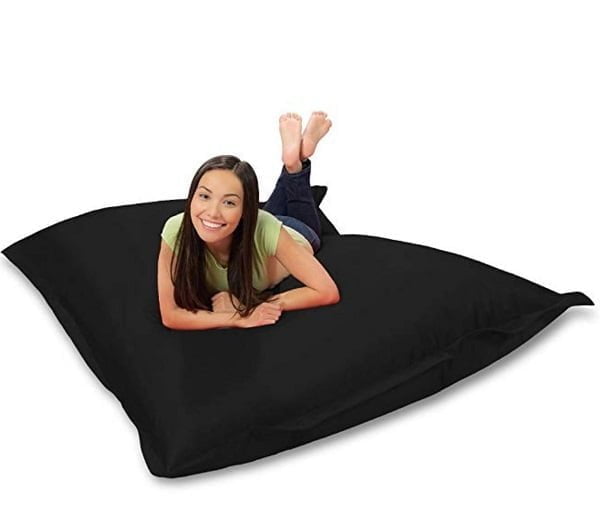 Bean bags are the go-to seating in any modern lounge. But did you know you can get floor pillows with bean bag filling? It's the best of both worlds. The floor pillow is big enough to be comfy, and it's decor-neutral to fit into any room and style.
So if you're looking for a big and sturdy floor pillow, consider this bean bag. Note that the cover is made of nylon, which is important because it's not fabric. Nonetheless, it's a great product.
Why it's our pick? This floor pillow is huge and comfy. It can more or less act as a piece of furniture.
Bohemian Floor Cushion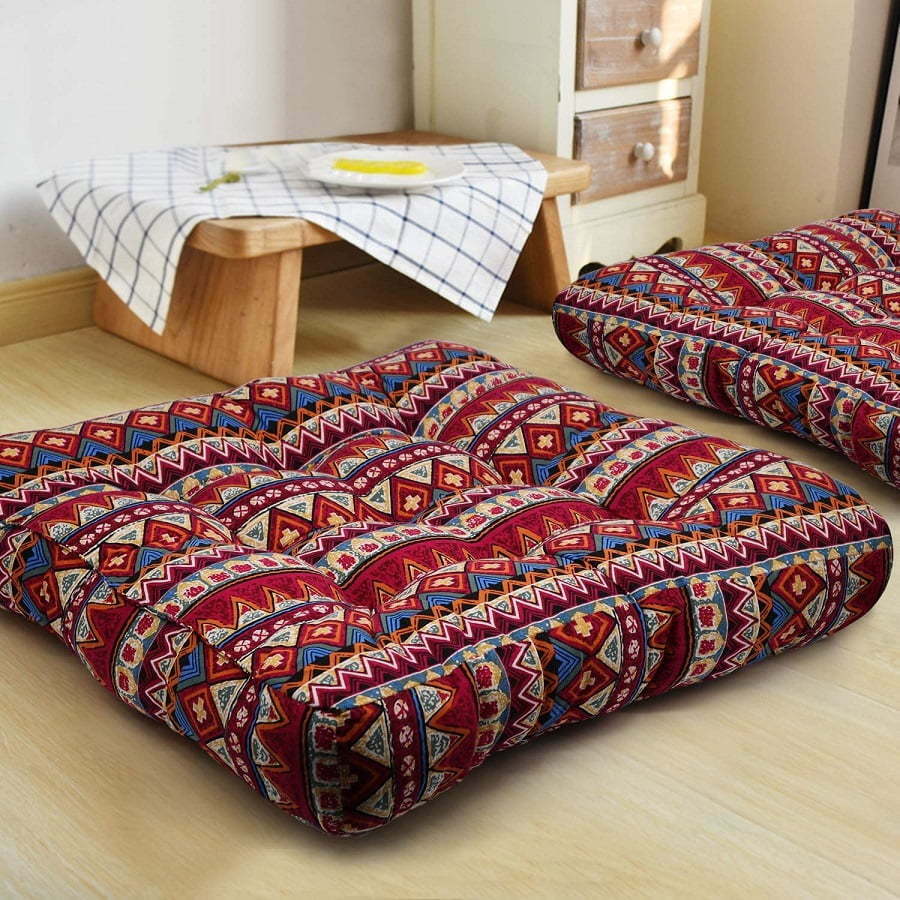 Bohemian accents have been a thing in home decor for a while, and they still have a place. Floor cushions in this style are an excellent way to add some more patterns to your visual space. And they work as great extra seating.
This floor cushion is as comfy as a pouf, though it won't double as a throw pillow. Suppose you need something just for the floor. It's also a great conversation piece for being artisan-made.
Why it's our pick? These floor cushions come in several different patterns and sizes (round and square). It's a versatile and quality choice.
Handwoven Braid Floor Pillow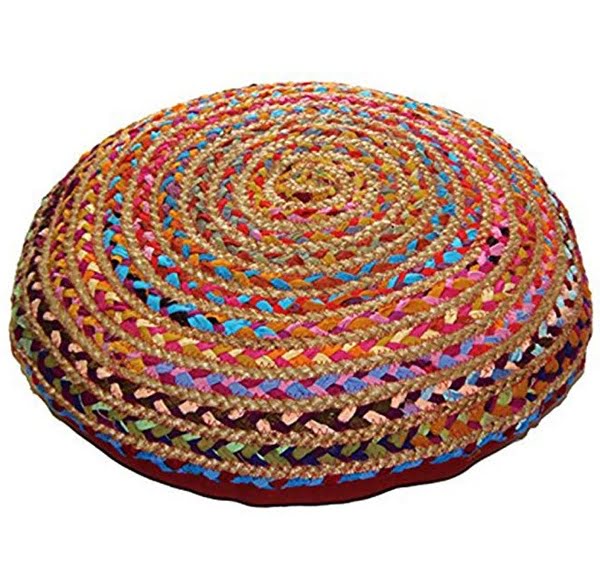 If you're looking for a home decor accent that would be a real conversation piece, here's another awesome floor pillow for that. It's handwoven from recycled cotton rugs. This design makes a vibrant multi-color accent that pops in any decor.
This decorative pillow is not as comfy as attractive, but it will work as extra seating. There's a variety of patterns and shapes to choose from as well. And while it's a bit pricey compared to other floor pillows, it's well worth it.
Why it's our top pick? Handcrafted items always attract attention. This product does it so well, and it's quality made.
Greendale Home Fashions Square Floor Pillow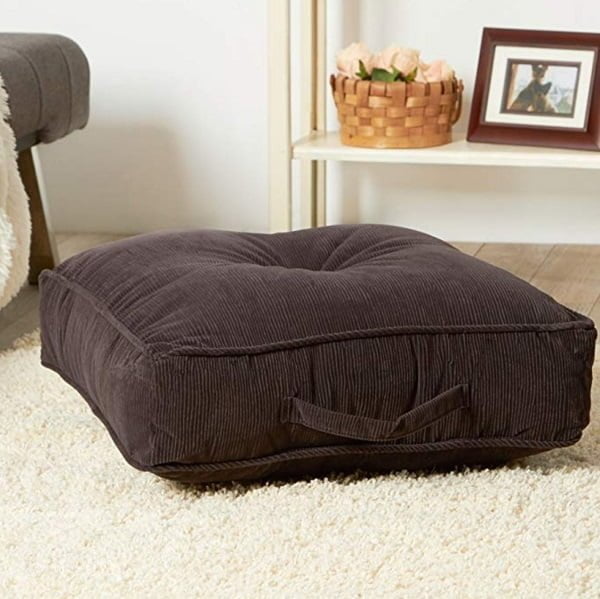 Looking for a square floor pillow that doesn't take much space but is comfortable at the same time? This Greendale Home Fashions pillow is just right for extra seating, and it will look good in any decor.
The pillow cover is made of microfiber that is comfy and durable. It's stain and water-resistant too. These square pillows make a great space-saving seating solution. Ideally, you would want to get a few of them as they are easily stackable.
Why it's our pick? These square pillows are very practical. As quality made products, they are decor friendly as well.
Shag Floor Pillow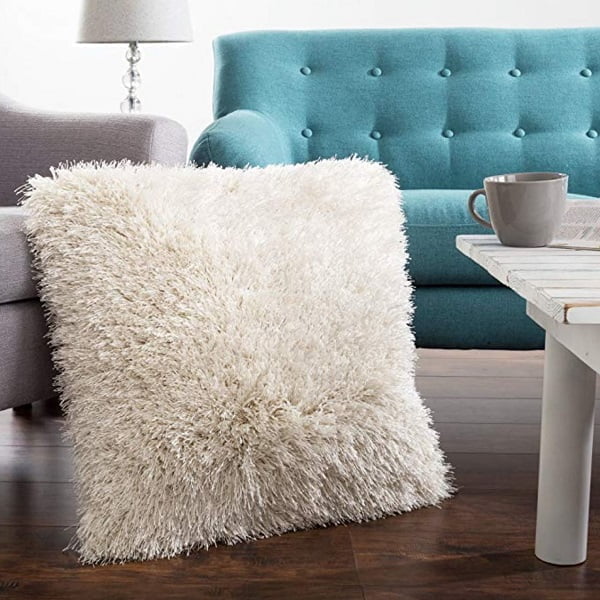 If you're looking for a fuzzy accent in your decor, this lavish shag floor pillow is it. The pillow's style implies luxurious decor even though it's a rather low-priced product. At the same time, it's a comfortable temporary seating solution.
The only drawback is that it has a prominent factory smell out of the box. It does go away after a few days of airing out, though. Despite this drawback, it still is a great floor pillow.
Why it's our pick? If we can get something that looks luxurious but is cheap to buy, it's going to be our pick.
Flower Floor Pillow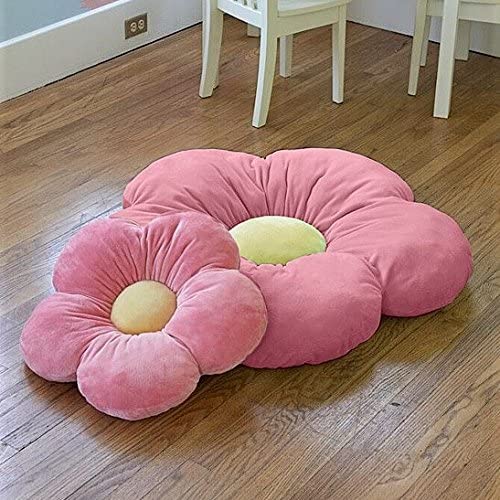 This flower pillow can be used as a floor pillow in a kids' room or as a decorative pillow. In any case, it's a fun item to get for your home. Having a few of them around is quite a saver anytime your kids are playing on the floor or if you get cheerful visitors.
The pillow cover is machine washable and is of high-quality material. It will last a long time. Considering that kids will be using it's a big deal.
Why it's our pick? The flower floor pillow is one of the most fun home accessories for kids. It's a lot of fun for the whole family.
Vintage Patchwork Floor Cushion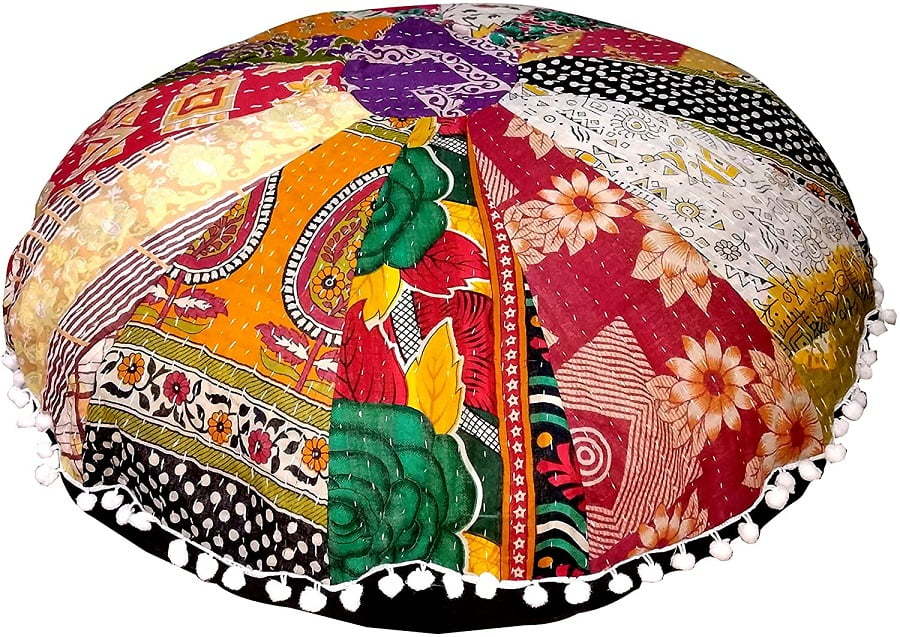 The more unique the pillow, the more value you get from having it at home. This multi-mandala floor pillow is an excellent example of a vintage patchwork style. It is sure to be the perfect conversation piece every time you have guests at home. And it will work as excellent extra seating as well.
The pillow is designed to be compact and mobile, so you can even carry it to a yoga class. It will, of course, do great things to your decor when used at home. This high-quality hand-stitched product is a sure winner.
Why it's our pick? It's a lovely handcrafted floor pillow that makes a great decor accent.
Recap
---
Disclosure: As an Amazon Associate we earn from qualifying purchases.
Liked this article? Here's what you can read next: