Last updated on September 22, 2023
Looking for a wall-mounted table to save space in a room? These space-savers are a genius solution, especially if they fold down too. Check out the best wall-mounted tables of 2022.
When it comes to saving some space in a small room, we are always thumbs up. Granted, it should play well with the decor too. But wall-mounted tables are interesting enough to be a decor accent themselves. And if they have a folding feature, they take up literally no space when unused. This type of furniture unit is as functional as it gets.
Let's talk about the versatility of the wall-mounted table. It's not big (it cannot be big to hold any significant weight while wall-mounted.) So as a small table, it can double as anything minus a kitchen island or a large dining table (however, it can be a small one.) Here's the list of ideas of what it can be:
A wall shelf
A TV shelf
A desk
A kitchen table (task table)
A small dining table for one or two persons
A nightstand
A laundry room table
A workbench
A table for any space that is too small to accommodate the traditional surface.
It's versatile, alright, but how do you choose the best one?
Here's what we suggest to consider:
What will be its purpose?
Does it have to fold down (drop-leaf)?
How much weight it has to hold?
Can you install it yourself?
Should kids be able to access it?
Feels like there are too many questions to answer? That's where we come in to help. You see, we have a lot of data through our site about what people are looking for. We've published a lot of ideas about tables. And we can use our knowledge to make the best picks that answer all your questions. The top list follows below, and please note that we might get compensated by Amazon for qualified purchases (labeled with #ad). This contributes to better publications.
Which would you choose?
Wall Mounted Folding Table
With its clear texture, this durable, wear-resistant table is made from pine wood, and it will not deform easily. Its wall-mounted design makes allowance for unobstructed floor space and comfortable and practical seating. This multi-functional surface can be used as a desk, dining table, kitchen, bedroom, or any other room that requires additional workspace. The package includes wood triangular brackets and high-quality hardware accessories designed to make it stable and safe.
Pros: sturdy, safe and durable material; space-saving and multifunctional; convenient and practical.
Cons: The single support bracket is a little wobbly.
Wall Mounted Drop Leaf Table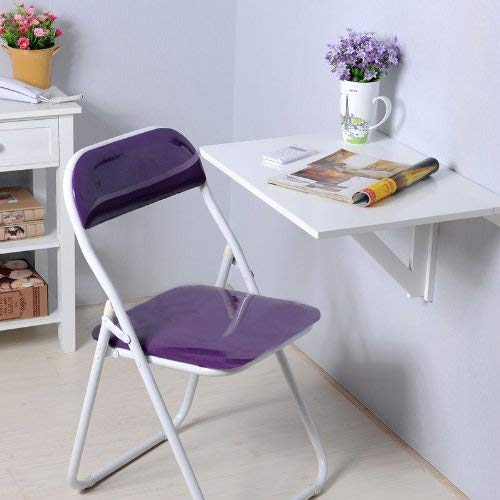 This is a uniquely-structured, stylishly-designed wall mounted table that is easy to assemble. It includes clear assembly instructions and can be set up in about 30 minutes. It is a sturdy and efficient piece of furniture designed to satisfy individuals' demands on a budget. It is made out of E1 grade engineered particle board, making it highly durable. It is also made without harsh chemicals, which promotes healthy living.
Pros: well constructed; visually appealing; easy to install; two color options.
Con: included mounting hardware is substandard;
Wall Mounted Dining Table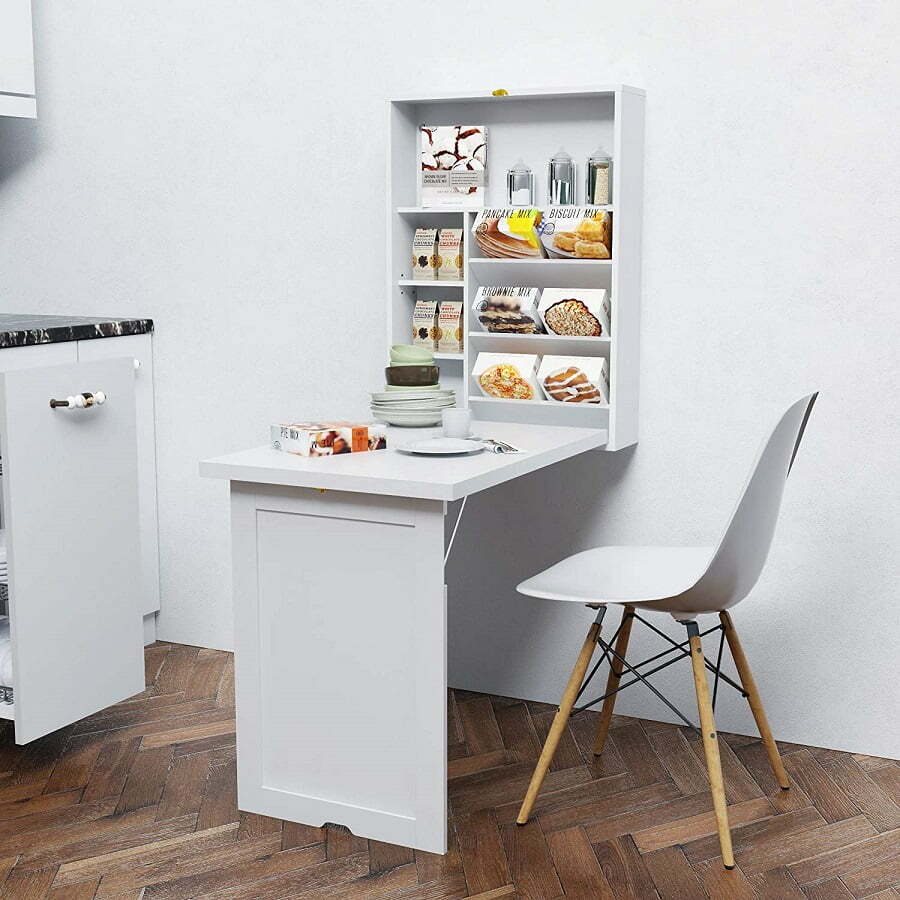 This sturdy and durable wall-mounted table is made out of high-quality engineered wood. The drop leaf is secured underneath when opened, making a perfect surface for a breakfast nook and other small spaces. The set provides cozy seating for two individuals and has enough space for an added guest. For additional storage space, the folded table has shelving compartments.
Pros: sturdy; easy to install; storage space.
Con: the instructions consist only of pictures; the hinges are weak.
Folding Kitchen Table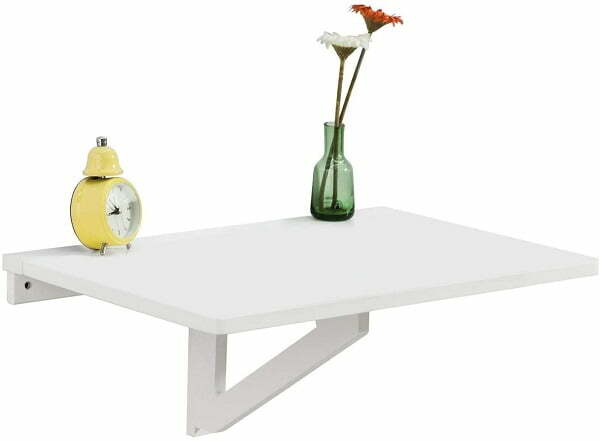 This table is made from a durable MDF material, and its classic white color finish is designed to match virtually any existing decor. It quickly and easily folds out when needed and provides additional dining or working space. The dimensions of this table are roughly 23.62 inches in length and 15.78 inches in width. It weighs in at 8.8 pounds and can support approximately 44 pounds. This folding table is sturdy and stable, and it is ideal for use in narrow spaces.
Pros: sturdy and solid; easy to install; has an option to include an additional shelf.
Con: included hardware needs upgrading.
Folding Wall Shelf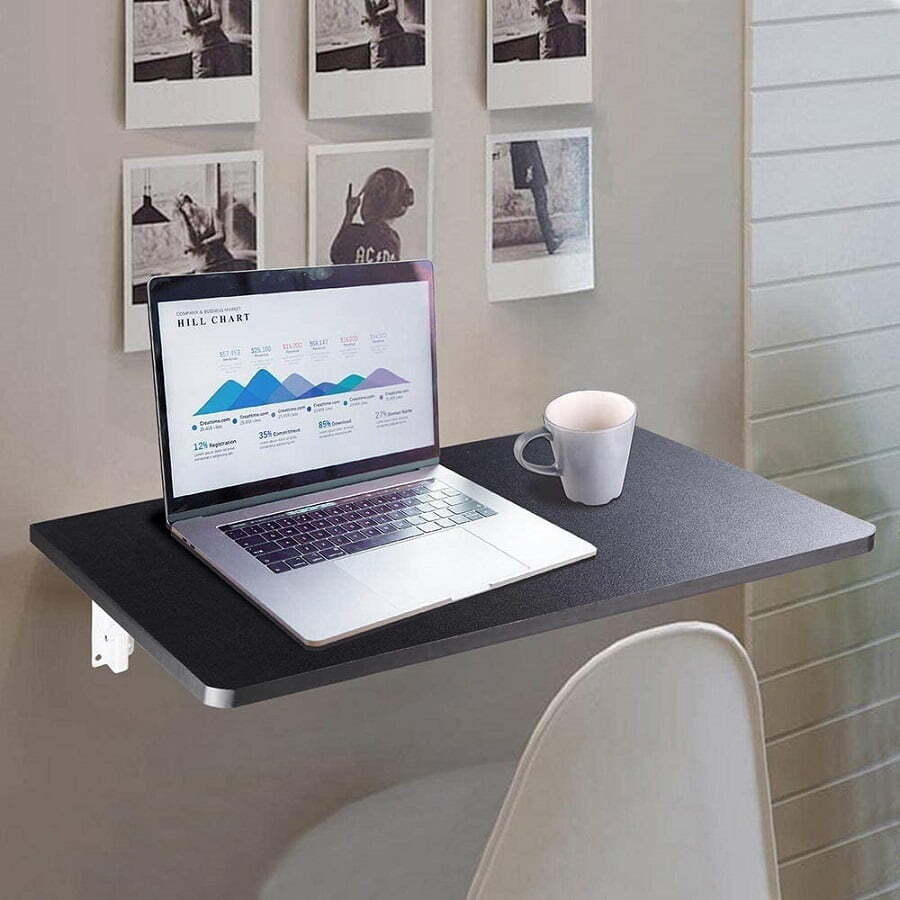 This space-saving and convenient wall-mounted folding wall shelf is a great option for your office and home. It is designed to maximize convenience and can be used anywhere around the home or office. It can make a great desk for children when mounted a bit lower and makes for a cool bar table when mounted higher. It can be securely fixed to the wall at the desired height with fasteners. Before purchasing, it is wise to determine the load capacity of the wall.
Pros: highly functional and convenient; attractive.
Con: anchors and screws are inferior.
Murphy Dining Table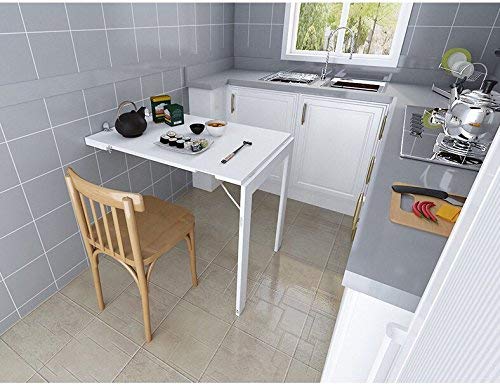 The simple, stylish, and unique wall-mounted design brings elegance to your home. It is designed to be installed on the wall to maximize the space of the floor. Its multi-functional design makes allowance for it to be easily folded and stored away when not in use. It is easy to install and ideal for saving space.
Pros: well-built and solid; easy to install; simple yet stylish;
Con: the suspension bolt included does not work well with drywall; installation instructions are not English.
Wall Mounted Bar Table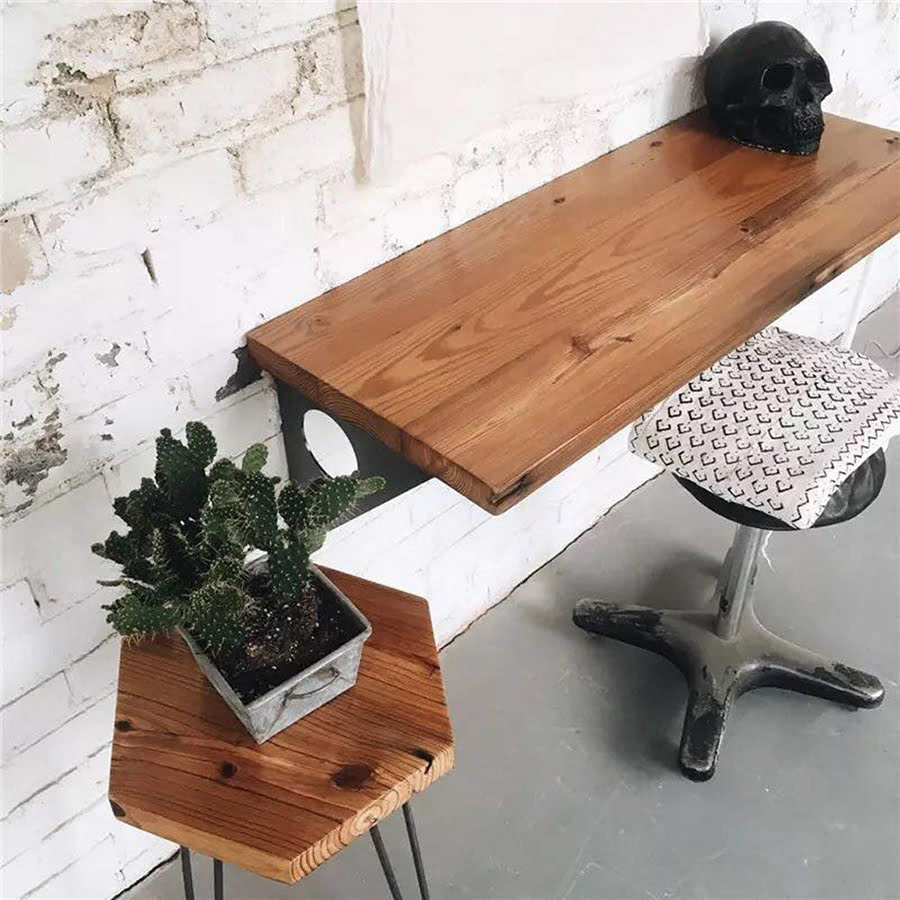 Hand-stained finished and made out of quality wood. This makes for a great wall-mounted bar table. The included brackets are made out of heavy cast iron, but there is also the option of making the table collapsible by purchasing a folding shelf bracket. Assembling the table is quite easy, and installation instructions are included in the package. In addition to being used as a bar table, the surface can also be used as a dining table, desk, bench, and television stand.
Pros: durable, high-quality wood; visually appealing.
Con: it does not include mounting instructions.
Small Fold Up Table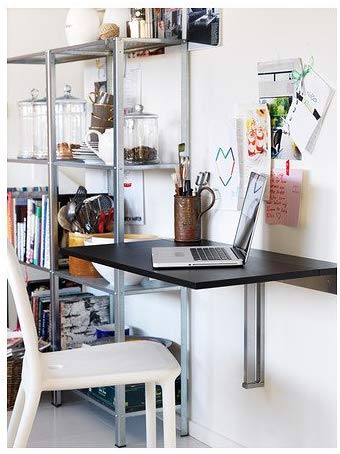 This multi-use table can be used for various activities around the home. It is a great solution for a laundry room that needs a space to sort and fold your clothes. This quality, well-made table has a modern aesthetic and can also be used as a computer desk. In an RV where space is a premium, this table can provide a place to eat.
Pros: aesthetically appealing; saves on space.
Con: installation can be a bit of a hassle without a helper.
Folding Table Brackets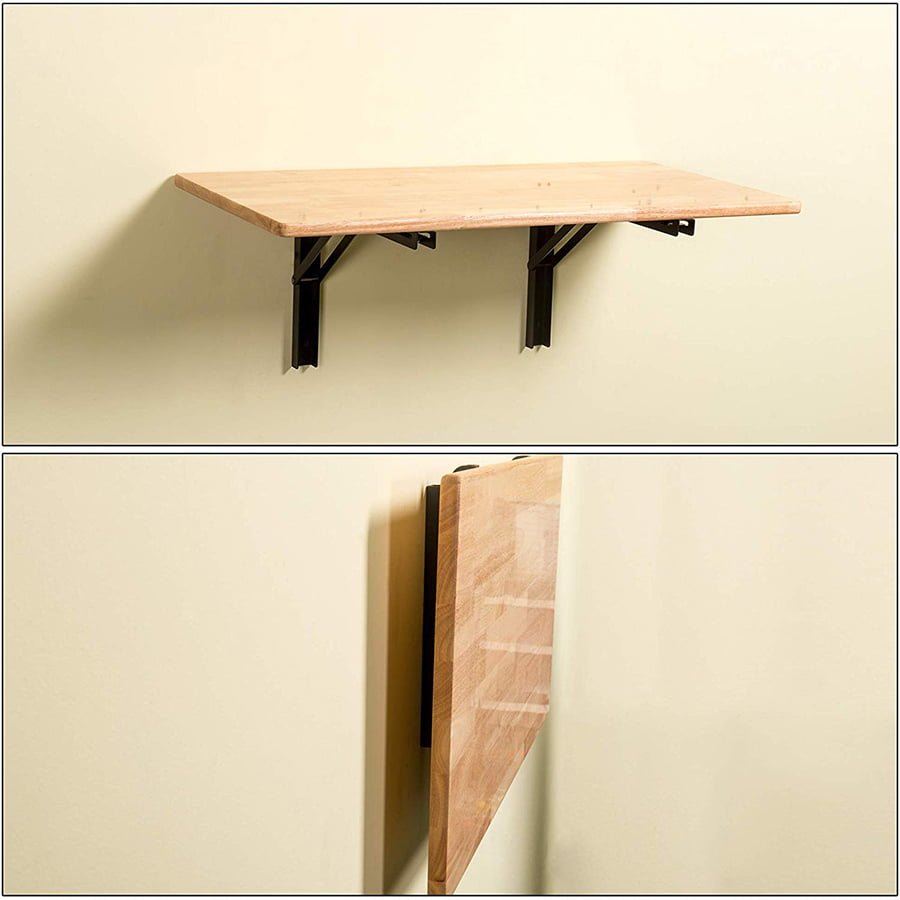 This shelf bracket is collapsible and suitable for supporting your table or bench. It is a great option when you need a place to repair and clean your tools. It is also ideal for surfaces used for do-it-yourself projects around the home, apartment, garage, shed, or RV. They can be easily collapsed when not in use, taking up under 4 inches of space. Its powder-coated steel construction makes it durable and resistant to cracking, rusting, and chipping. Additionally, the brackets accommodate up to 550 pounds.
Pros: well made and durable; can turn any tabletop into a folding table.
Cons: installation can be a bit tricky; it requires DIY skills.
Wall Mounted Folding Workbench
This multifunctional folding workbench can be used at home or the office as a coffee table, computer desk, dining table, study desk. In addition, this workbench is great at saving space. With your finger, you can access the controller underneath the desktop, and the top will fold down, and you will be able to regain your space.
Additionally, it is quite strong, sturdy, and has a maximum weight capacity of 110 pounds. The workbench is made from steel and is equipped with heavy-duty brackets that lock it into place.
Pros: heavy-duty; versatile for any room.
Cons: the mounting hardware is a bit skittish.
Recap
---
Disclosure: As an Amazon Associate we earn from qualifying purchases.
Liked this article? Here's what you can read next: