Last updated on September 30, 2023
Looking for the best wall-mounted TV shelf for a small room? These are the top 10 best under TV shelves of 2022 that will make the perfect space-saving entertainment center for your home.
► Our top choice: this floating TV shelf.
Having a TV in a small room can be quite a hassle. If you add a big entertainment center, it can take up all of the free space in a place and make it look cluttered. Still, you need to keep all your devices somewhere. The DVD player, the cable box, the sound system, the gaming console, all the DVDs, etc. Everything has to be stored somewhere.
Small but roomy under-mounted TV shelves can be a great TV stand alternative. We've made sure to pick only those units that give the most value regarding storage and home decor. Pick any of these top 10 under TV shelves to get the most for the money spent.
Floating TV Shelf with Strengthened Tempered Glass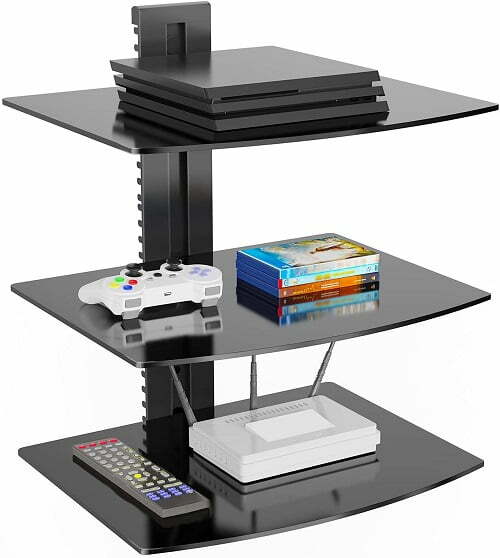 This is our editor's pick for the best under TV shelf for small rooms. It's compact, sturdy, comes in an attractive modern design, most of all — it's very affordable.
This floating shelf under the TV will hold your DVD player, gaming console, and other TV accessories. The wall-mounted shelf looks slick and modern; it has a built-in cable organizer, so it won't leave cables dangling.
You can get one to three shelves on the wall-mounted rack. The shelves are made of tempered glass, which makes them extra sturdy. At the same, the design has an appealing look that won't break your home decor. It supports up to 17.6 lbs.
Why choose this TV shelf? Its simplicity and modern design, together with durability, make it a great product.
Modern Floating Under TV Shelf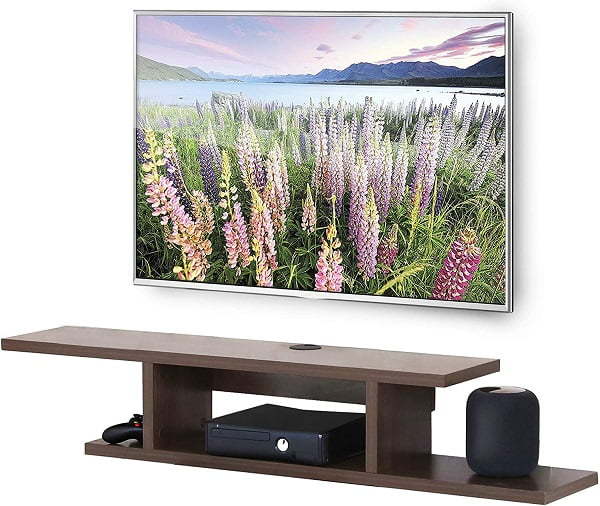 If you're looking for a stylish way to keep your TV accessories and devices under the unit, this modern TV shelf is a great choice. It's a small shelf, but it gives enough space for storage and display items. It's easy to install on the metal brackets provided to get the floating look.
This TV shelf will be great for those who look for decor value and extra storage space. The design of this two-level shape has a modern, slick, and interesting look.
Why it's our pick? We want something that adds decor value and has a timeless design. This TV shelf ticks these options.
Floating Solid Wood TV Shelf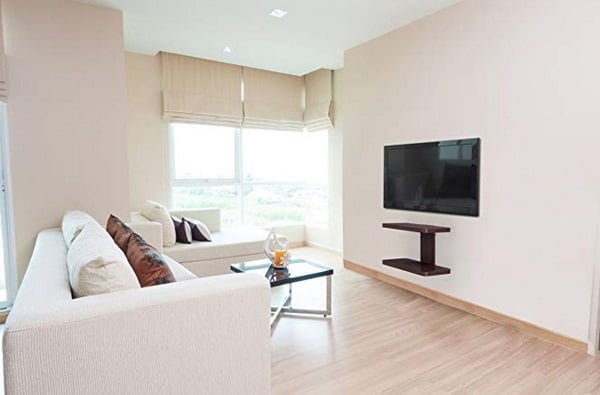 Looking to replace your oversized entertainment center? There's no reason it should take up so much space, and in a small room, a big TV stand is not an option anyway. This solid wood under the TV shelf provides surprisingly a lot of space to replace a full entertainment center.
It's also a stylish solution that adds decor value, made of solid wood. Additionally, it has a cable compartment that will hide the eyesores away.
Why you should choose this TV shelf? If you're looking for something small that will store all of your devices.
Rustic Corner TV Shelf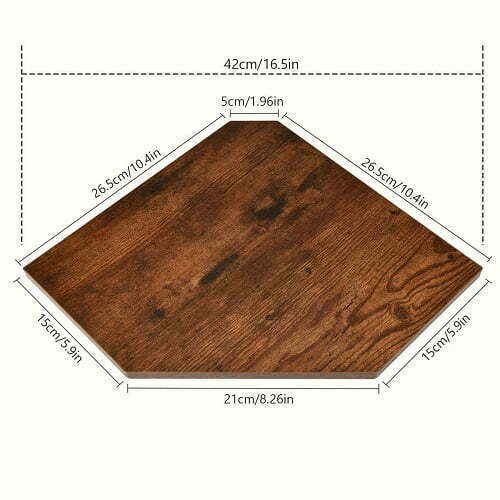 Corners are handy in small spaces. It's amazing how much stuff you can store in an empty corner without cluttering up space. And that's the perfect place for a TV too. Only to place it there, you need a corner TV shelf.
This option is a very stylish way to use corners for a TV. This corner shelf is made of engineered wood and has a unique rustic look. It's a very high-quality product that works as a great storage solution.
Why it's our choice? There's no better way to put a TV in the corner and add decor value at the same time.
Floating TV Console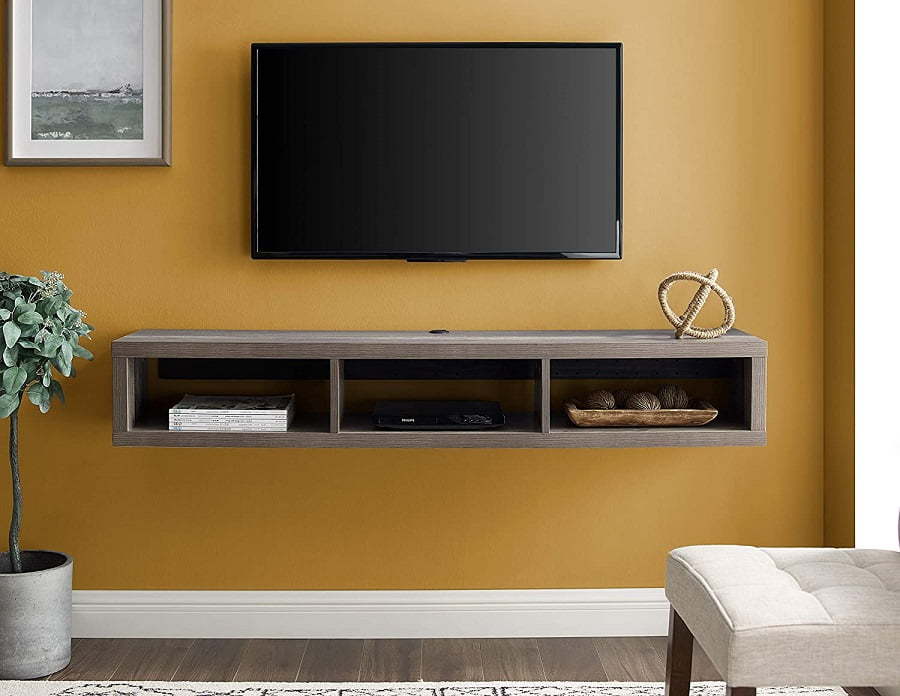 This floating TV console is for you if you're looking for a small entertainment center that can be wall-mounted. The modern wood finish design is what you need to make your TV area pretty. It's made of particleboard, which makes it lighter and more spacious than its wooden counterparts.
Finally, there are several finishes and two sizes to choose from – 48-inch and 60-inch – you can choose whichever fits your specific needs. Overall, it's a nice-looking and useful product for a TV shelf.
Why it's our pick? The design and wealthy choice of options of this shelf are what works for us.
Wall Mounted TV Shelf Console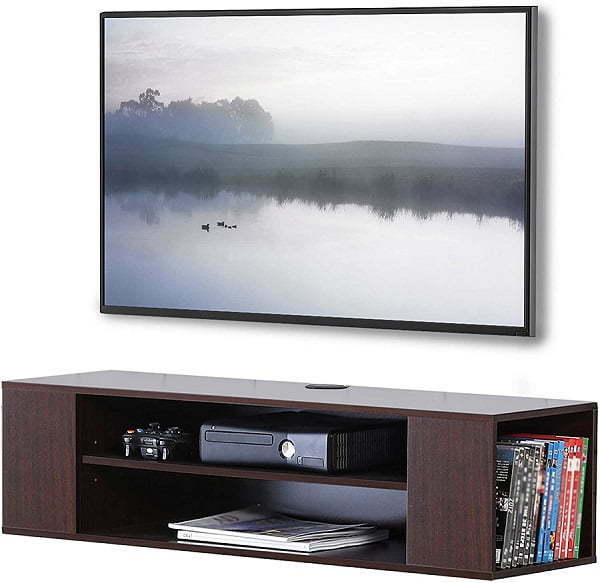 If you're looking for a bigger wall-mount unit, this TV shelf console will hold a lot more of your devices and DVDs. At the same time, it's not very space-consuming. You can easily install it under your TV and hide all the cords for a visually pleasing look.
All in all, it's a nice modern style TV shelf unit with a wooden finish for a small entertainment center.
Why it's our pick? It provides a lot of storage space for a TV shelf. The product has an interesting look with decor value too.
Asymmetrical Wall Mounted TV Shelf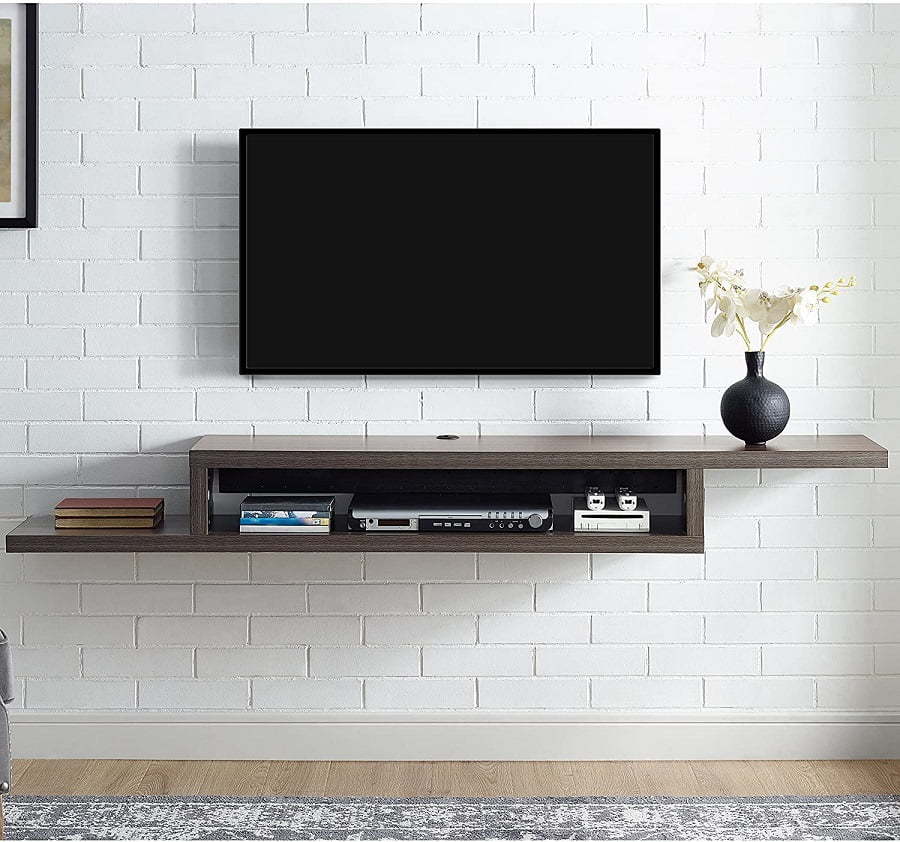 There's a lot of decor value in this asymmetrical wall-mounted shelf. And it provides a lot of space for your devices, accessories, and DVDs. Albeit it's rather small, there's enough surface to accommodate some display items too.
Overall, it's a sturdy particleboard shelf with a laminate wood finish. It will hold its weight mounted on the wall and support your DVD player, stereo system, cable box, or gaming console.
Why it's a good choice to consider? This TV shelf is stylish and convenient, it's a great addition to a small TV area.
Rustic Floating Cube TV Shelf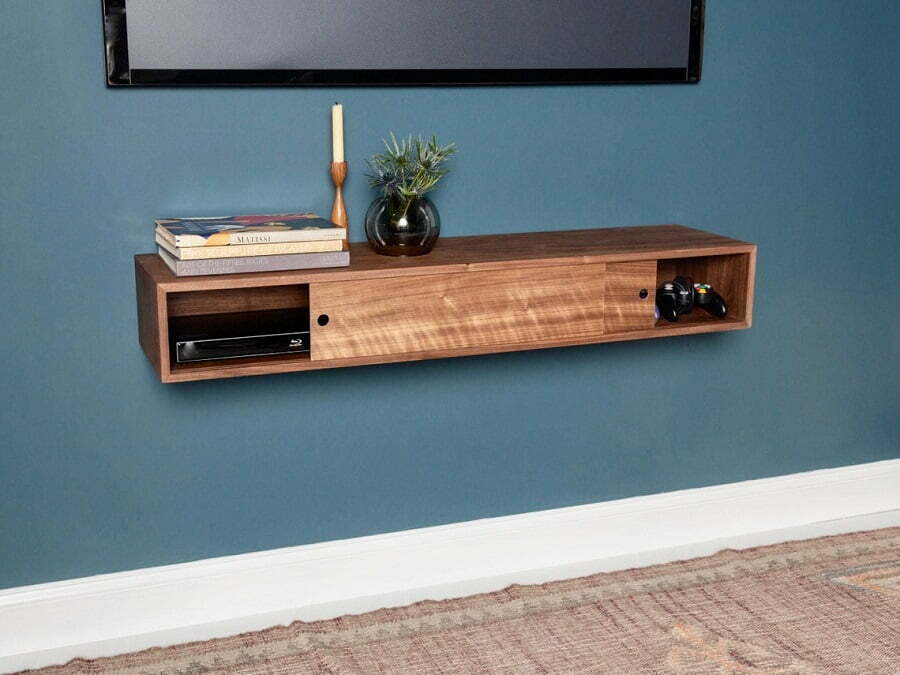 This handmade wall-mounted shelf with sliding doors will give your small home entertainment center a rustic look. The design is simple but functional. The cube provides two levels of shelving, on the top and within the cube. Put this shelf under the TV for the optimal setup.
Overall, it's a great product, especially if you like handcrafted items. It can easily be a conversation started in your home decor.
Why it's our pick? This TV shelf is a high-quality handmade product for that rustic look at home.
Soundbar Wall Shelf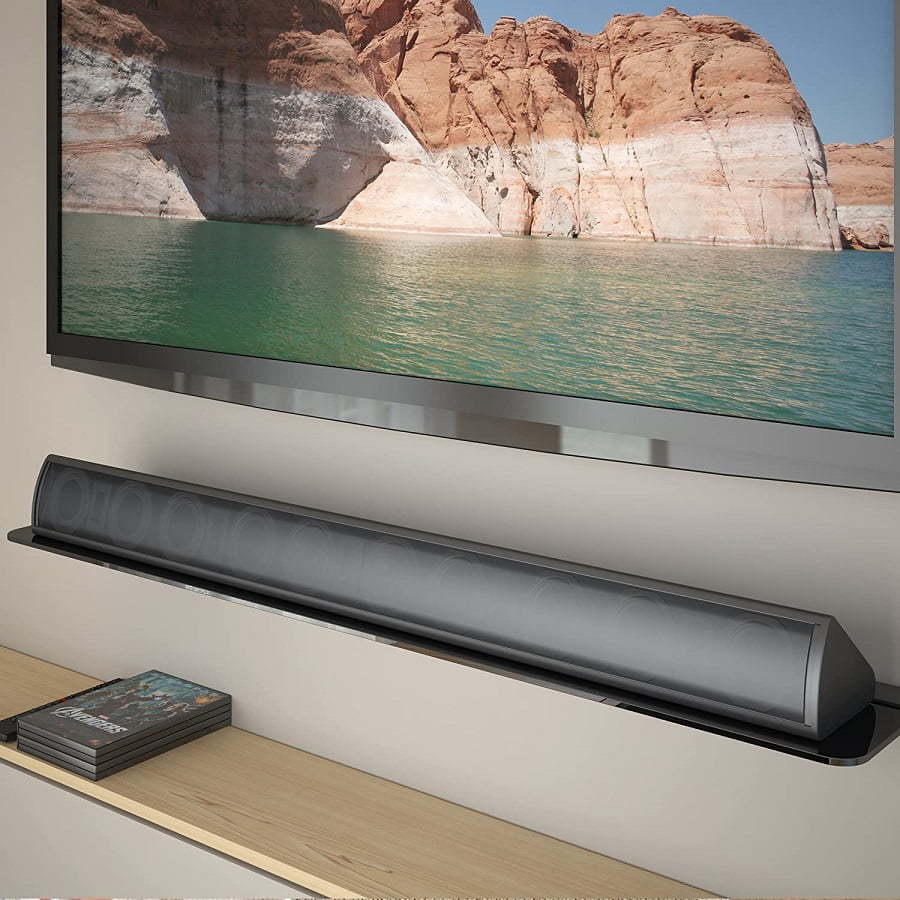 This shelf is for those with a soundbar as part of their home entertainment center who want to store it in a stylish, space-saving way. Mount it on the wall under your TV to use it. It's as simple as that. The black tempered glass look adds a lovely accent to your decor around the TV as well.
Why it's our choice? This handmade soundbar shelf is one of a kind. It has a specific use, but it's perfect if you have a use for it.
TV 2-Shelf Board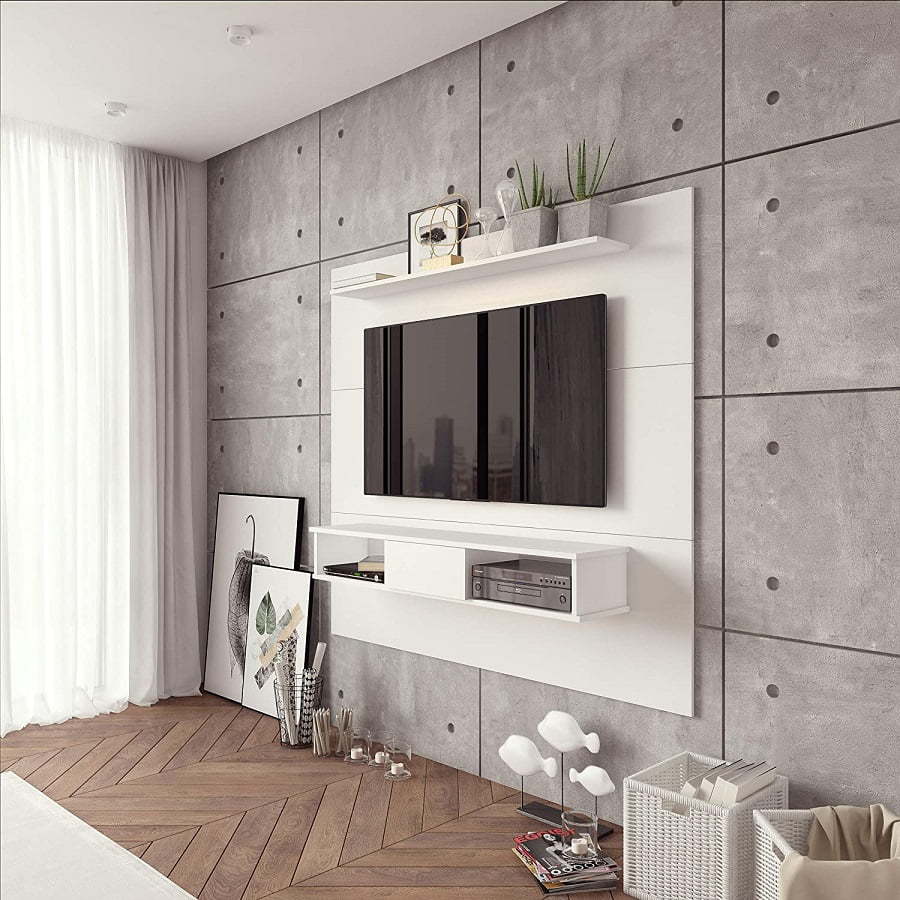 If you're looking for a home decor focal point rather than just a TV shelf, this accent board is your choice. The 2-shelf board provides everything you need to decorate around the TV. Mount the device at the center of the board and use the shelves to keep other devices and display items for a complete look.
The distressed wood makes a great rustic accent. This board packs the most decor value when it comes to space-saving TV shelves. And while it's the last on this list, it's certainly not the least!
Why it's one of our top picks? There's no other unit that packs so much decor value. You get a focal point of the room by getting this TV shelf unit.
Recap
---
Disclosure: As an Amazon Associate we earn from qualifying purchases.
Liked this article? Here's what you can read next: