Last updated on October 24, 2023
Looking where to put the TV and choosing a TV stand vs. a wall mount? We will offer you our arguments and offer a solution. Read on!
In a hurry? This is our proposed answer.
TV mounts are designed to keep your TV secured to a wall, while TV stands are designed to keep your TV on the ground. Though installing a TV mount takes a bit more effort, it's ultimately a more secure option, which is especially important if you have children or pets.
If you want the best possible picture quality, it's hard to beat mounting your TV on the wall. Not only will you get an absolutely level picture, but you'll also have a lot more space in your living room.
On the other hand, if you want to move your TV, it can be a pain to wall-mount it. You'll also need a lot of space to store the mounting bracket.
Here are a few things to consider when trying to decide whether your TV should go on the wall or whether a stand will do (as a mounting alternative). If you want to go with a wall mount, you'll need to know how to actually mount the TV. The process can be a little complicated if you want to do it yourself.
We have included a few shopping links so you can see what exactly we're talking about. These may earn us a commission at no expense to you.
The Best of Two Worlds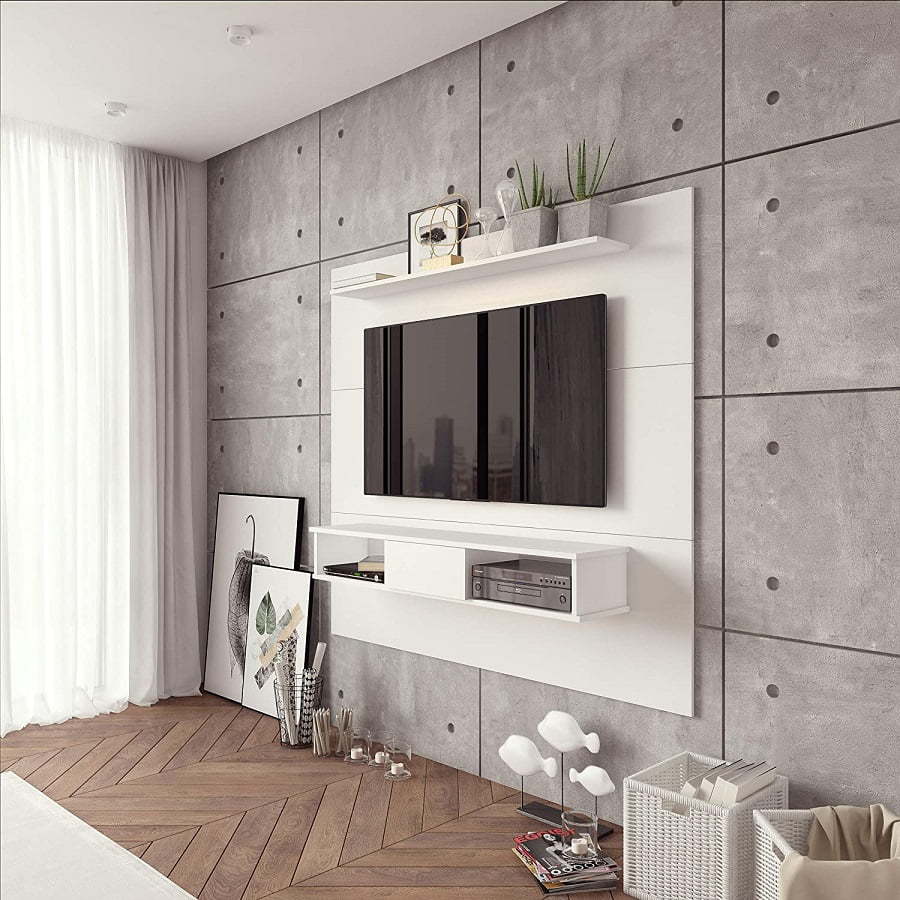 Check Out the Top 10 Best Under TV Shelves
Before we go over the pros and cons of each TV placement method, we will suggest an option that combines the pros of both. It's the under TV shelf. While you don't put your unit on it (it's wall-mount), you can use it for storage, decor, and to hide cables. You can put something under the TV too. So basically, you eliminate most of the wall-mount problems. Only one caveat remains, and that is the weight of a big flat-screen TV.
TV Stand Pros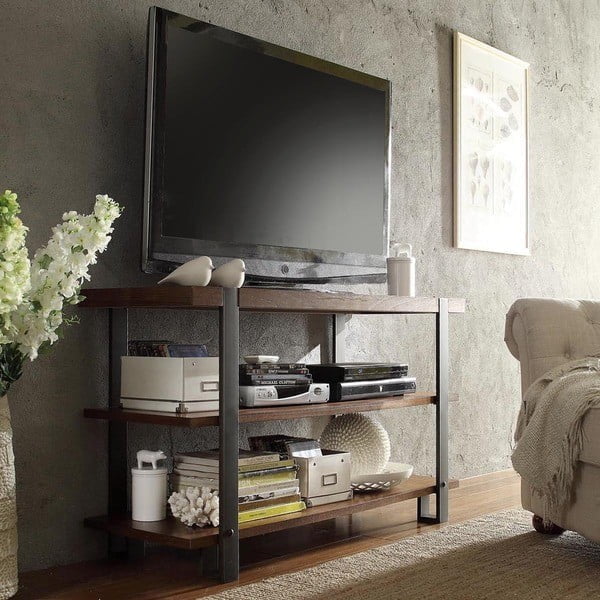 Check Out the Top 10 Best TV Stands
TV stands can be beautiful pieces of furniture that attach or make a design statement showcasing your style (especially the media console or entertainment center type). You can also have them appear incorporated in your room for an architectural emphasis. Entertainment centers typically are large pieces of furniture, so they can easily store your media, decor items, books, and even kids' toys.
They are quick to transfer if you want to rearrange or sell the furniture in your room too. It is more straightforward with a TV stand to attach additional components since it all needs to be connected and you can hide the cables more easily.
TV Stand Cons
Using stands has some drawbacks, the foremost being that the TV covers the surface. You need to have a tabletop or other flat surface on which to position the TV, and it should be reasonably large for the stand of the TV. Sometimes, the base stand or legs are too broad and will not easily fit the existing table. Also, the viewing height depends on the unit's size, and a lack of height will make the TV too low for many people.
Another significant drawback is your TV's security and the safety of your children and pets. The TV is not attached to something and only lies on a flat surface. So it can quickly flip and fall with even a slight unintentional push that can damage the television itself or injure someone.
Compared to wall-mounted TVs, the stand units can be accessed easily by children and pets — this increases the possibility of harm or injury. TV on stands with all the attached components can lead to awkward cords that can be seen. Finally, stands take up more space as a piece of furniture that can restrict your seating area.
TV Mount Pros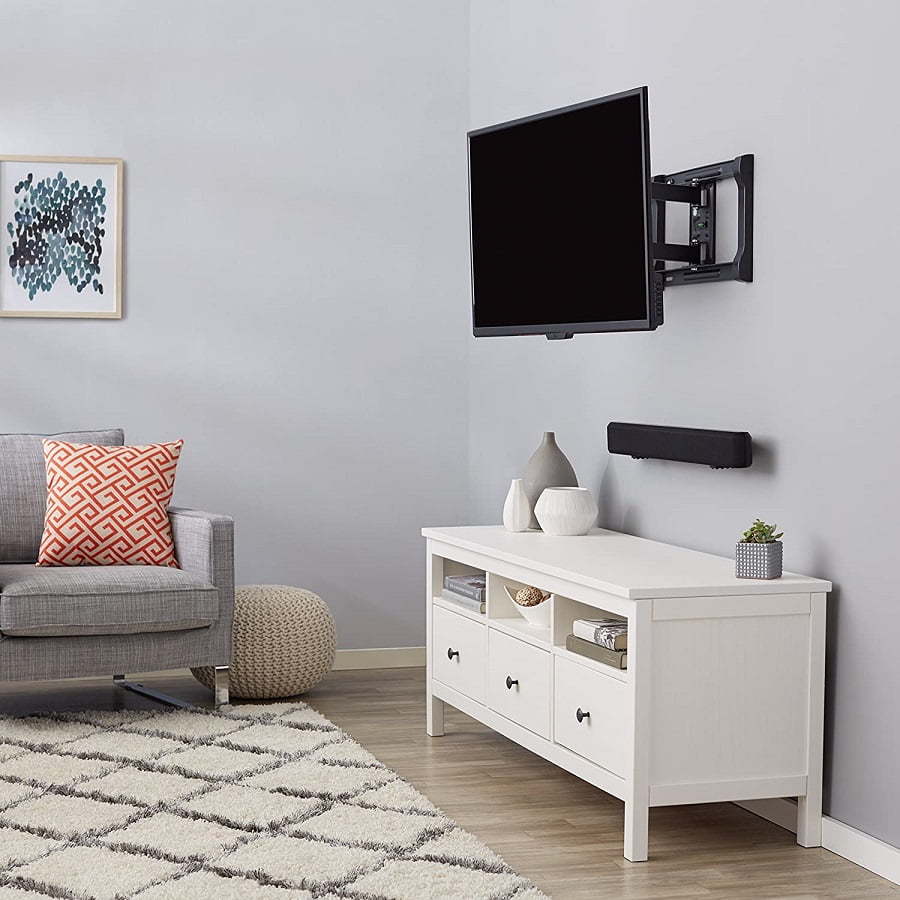 Check Out the Top 10 Best TV Wall Mounts
If you need to save room, you can have it. With a wall mount, you have more flexibility to determine what TV placement to use because you don't have to think about the right viewing height.
They're better for children too. With a TV on the wall, your children or pets won't be hurt in an accident.
TV mounts can be used for the minimalist look or rooms where you cannot fit extra furniture. TV in your bedroom, in your kitchen, or your game room? How much more chores and exercise would you do if you could watch your favorite shows simultaneously?
It provides more rearrangement options since you don't occupy space with furniture. One of the advantages of a wall-mounted TV is that it saves space. The need for a stand or table that usually takes up room on the floor is removed. The explanation is that the TV is flat, making it very easy to secure close to the wall. You aren't stuck with a media center that suits only one wall. TVs can almost be mounted anywhere, including on the ceiling.
Get a tilting mount to turn your television down (especially over a fireplace or for gaming) or get full movement to watch from anywhere in a room.
If you want a clean, elegant, and modern finish, a wall-mounted TV is excellent as well. As the emphasis of space, cleanliness is essential. You can effectively minimize clutter and cover wires with wall-mounted TVs. This minimizes the risk of tripping on these wires.
Another advantage is the simplicity of installation, which is easier than many people believe. Typically, the mount comes with a step-by-step guide to help you navigate the process. You will find many how-to videos online when you feel that the material in the guide is inadequate. If you do this right, the installation typically takes less than an hour.
Choosing the installation height will help you prevent pressure on the neck or eyes. The establishment of the optimum viewing distance also helps to mitigate these problems.
TV Mount Cons
Yes, you must find where you can store your things, but with a TV mount, you have more flexibility. Choose a retro dresser, locker, or surfboard bench to place under it. Add floating racks for the decoration to the wall, or add a sleek and practical medium frame.
This type of installation has its drawbacks. It might need professional installation, which may make it more costly. Do it yourself or hire someone, but you must make sure it is safe and properly installed because the mount keeps up your precious flat-screen from falling down.
Failure to install could lead to the mount being loose and resulting in the TV falling and damaging. Additional caution is needed in areas with heavy vibration that could loosen the mount, such as building sites, railways, or train stations.
Wall mounting can also make it hard to reach ports in the back of the television since most wall mounts have a low profile and maintain very little distance between the television and the wall. This could also lead to difficulties in linking TV equipment or require special cables. Furthermore, cables like power and HDMI may be visible unless they are hidden on the wall and need additional electrical work, of course.
Flat-screen TVs can be heavy, so make sure the wall mounts are correctly mounted and positioned for 75 lbs of loads or more. Since the assembly needs hardware, the wall and finished surfaces may be damaged superficially and may not be ideal for owners or homeowners who move regularly.
Types of Wall Mounts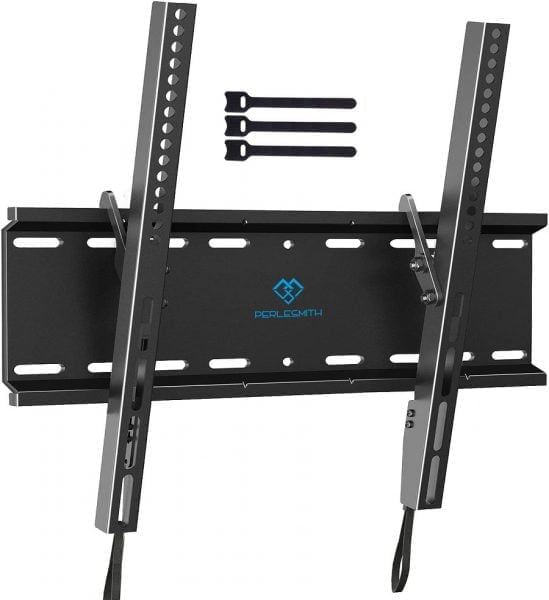 If you plan to use a wall mount in your place, different wall mounts will be available. You may choose a fixed mount, a tilting mount, or full-motion mount.
The fixed mounts provide a simple setup but do not offer a tilting or angling. It can be difficult and uncomfortable to attach or detach cables behind the TV. However, if you want cheap wall mounts, these are an option.
Tilting mounts, as the name suggests, provide a tilting motion. It allows you to change the TV viewing angle, so you're not so limited by the height where you hang it on the wall. It can be adjusted at any time.
Finally, full-motion mounts give you the most flexibility regarding how and where you can hang the unit. You will adjust the viewing angle on the go and avoid things like glare or changing the angle when you watch the TV standing or while seated.
Types of TV stands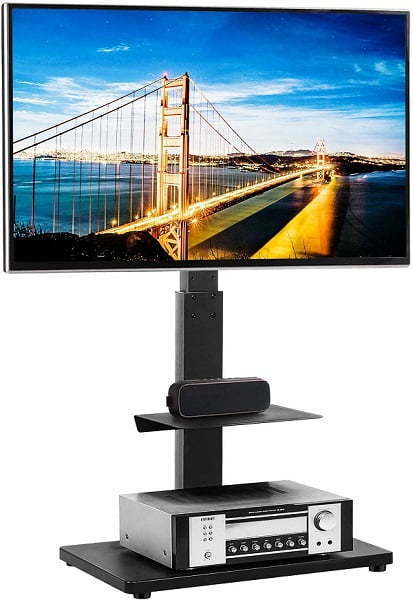 Open Shelving
The open shelf design rapidly becomes the most common, particularly if you are looking for a less strenuous framework, save space and provide a visual feature that is open. The frame houses multiple racks and provides the television itself with its mounting bracket.
Media Console
The media console design has a distinct shape and integrates useful shelving and a large surface into a concisely furnished item. Many versions have a rectangular structure and shelving closed. The console design combines a distinctive, holistic design, useful shelf, and ample surface area into a concisely furnished item.
TV Stand with Speakers
The TV stand with space for speakers is a design representing most of the functions and features of a complete entertainment center, with two tall, structured shelves flanking the central stand and the TV. This allows speakers and any other additional equipment to be mounted.
Hutch
The hutch is a venerable piece of furniture, where cabinetry or rack are stacked on a horizontal table. This version of the TV stand only makes room for the television and includes flanked cabinets.
TV Cabinet
The TV stand-style cabinet comes in two primary types. One, a closing cabinet below a free surface for the console version. Another, with drawers underneath the completely enclosed space, can cover the screen if not in use.
Swivel
The pivoting TV stand positions the entire structure on a revolving base, allowing a clearer view of the stand itself in either direction. This is ideal for TVs without a revolving base or those installing speakers in or on the stand.
Floating Shelf
The floating shelf design is a wall-mounted piece that offers fully open space and a clean, discreet look providing shelving and cord disguise. TVs can be mounted on top or mounted over the floating stand.
Entertainment Center
The entertainment center is a relatively large furniture piece that can set a living room off, with its singularly massive presence, artful presentation of the television and associated electronics, and rich, detailed construction. These units are more extensive than any standard TV stand and often contain shelving or closed cabinetry for housing art pieces, books, and your media collection.
Be Aware of Your TV's Weight
Make sure the anchor screws you pick are designed to support the weight of your TV. The weights can vary from model to model, but the average 32-inch TV weighs between 25 and 30 lbs. This means a larger screen weighs more (up to 75 lbs and more). Check the load capacity of the anchors you pick.
Be Aware of Your Wall's Condition
The best wall anchors won't matter if you install a TV on drywall or plaster, old and flimsy wall. Walls that seem damaged will bow and bend under your TV, probably breaking at some point. The best way to install brackets is to find wall studs or use a concrete or brick wall (if it's available).
Recap
Liked this article? Here's what you can read next: