Last updated on September 24, 2023
Here are some creative ideas for how to decorate your TV wall, from wall art to shelving, lighting, and more. Read on!
Decorating a wall with a TV can be a great way to add style and functionality to any room. The base idea is to paint the wall in a light, neutral color. Then add texture with wood panelling or wainscoting and hang up framed artwork or photos.
Install recessed lighting above and below the TV for ambient lighting, then mount it onto a swivel arm for easy adjustment.
You can accessorize with plants, candles, and other decorative items to make the space feel homey.
Here are a lot more ideas to create a stunning TV wall.
Showcase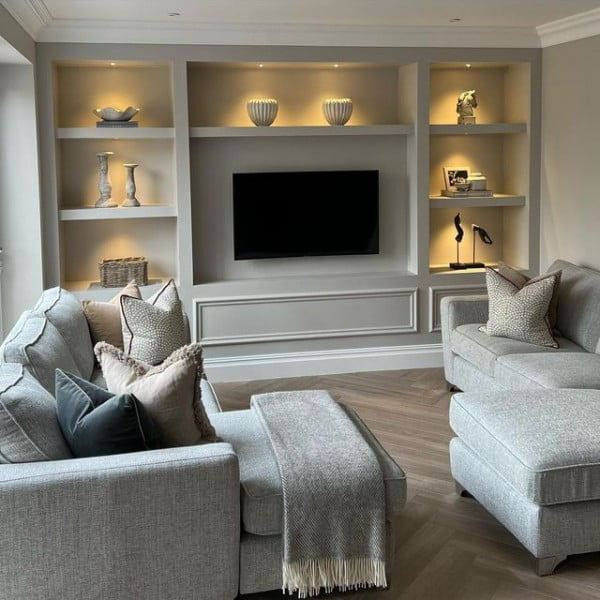 Source: @thehousetombuilt
Start by painting the wall around the TV in a light, neutral color like Farrow & Ball's Cornforth White. This will create a bright and airy backdrop for your media wall.
Add some texture to the wall with wood paneling or wainscoting. You can use either pre-made panels or make your own using wood planks and trim pieces from your local hardware store.
Hang up some framed artwork or photos on the wall to add visual interest and personalize the space even more.
Install recessed lighting above and below the TV to provide ambient lighting for watching movies or playing video games at night without having to turn on all of the lights in the room.
Finally, mount your TV onto a swivel arm so that you can easily adjust it depending on where you're sitting in relation to it, as well as making sure that everyone has an optimal viewing angle when watching something together as a family.
TV Built-in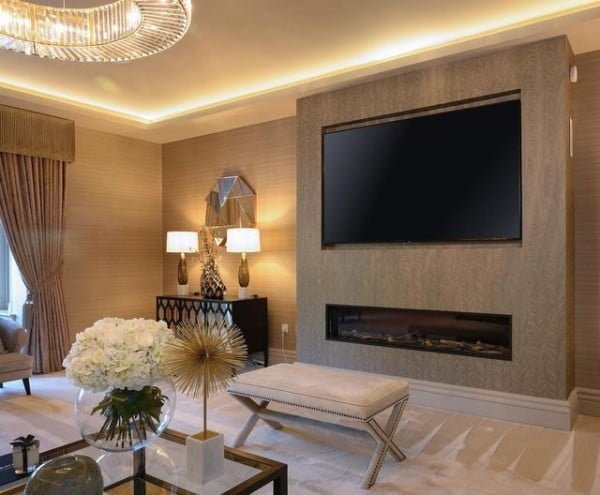 Source: @fotheringham_interiors
A built-in space for a wall-mount TV makes a seamless and modern look. This can easily be combined with an electric fireplace (shown above) or small shelves for decor items.
Accent Wall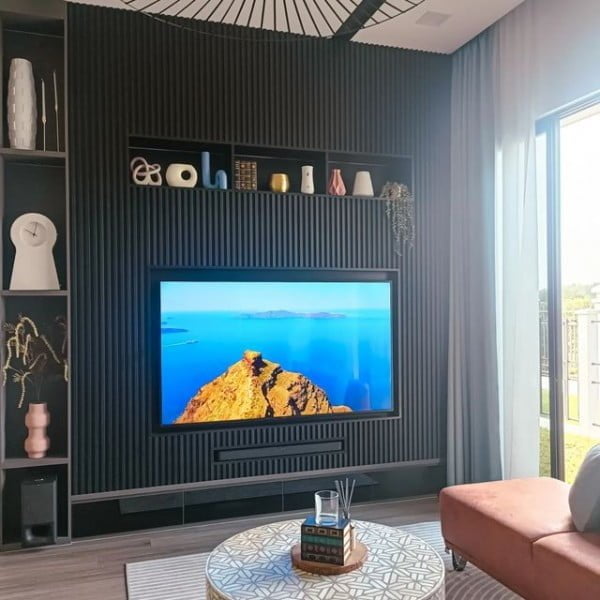 Source: @housetalgia.my
Decide on a design for your TV wall, such as marble laminate, plain fluted panel, matte color or tall dark and handsome.
An accent wall stands out as a focal point by its self. The TV blends in, and you can really only notice it when it's on (it's not an ugly black box when off.)
Hang up any additional decorations around the TV such as frames or shelves if desired to complete the look of your new TV wall.
Two-tone Wall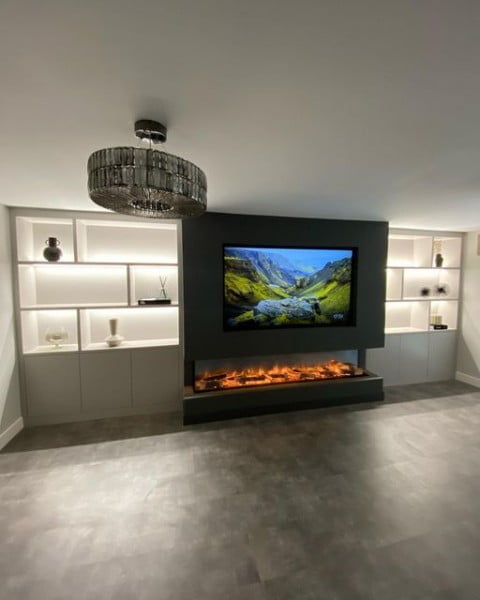 Source: @jonesinteriors_sw
Choose a material for your wall such as wood, stone, brick or tile that will complement the rest of your decor. If you're looking for something more modern, consider using metal panels or glass tiles instead.
Install shelves around the TV to create an attractive display space for books, photos and other decorative items like plants or sculptures.
You can also use this space to store DVDs and gaming consoles out of sight but still within easy reach when needed.
Hang artwork above the TV to add color and texture to the room while also helping draw attention away from it when not in use (this is especially important if you have a large screen).
Add lighting fixtures around the TV wall so that it stands out even when not in use – this could be anything from recessed lights set into ceiling beams to sconces mounted on either side of the television itself!
Simplistic Media Unit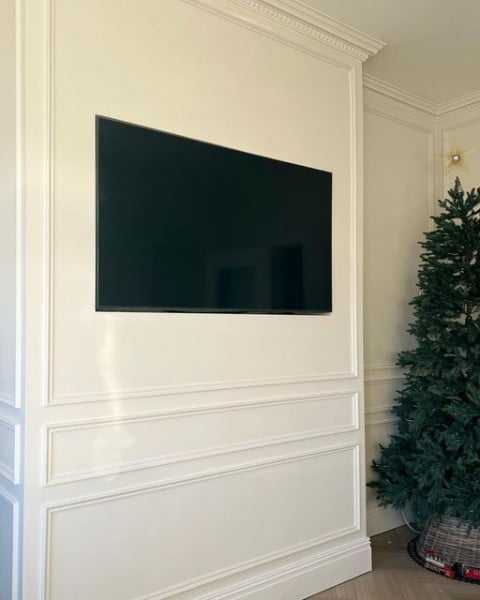 Source: @lc.interiors
Sometimes, a simple solution is the best one. For instance, a wall that has nice architectural features (such as crown molding shown above), you don't need anything else.
Keep the TV mount as minimal as possible to prevent the unit from sticking out when it's not on.
TV Wall Design with Neoclassical Slab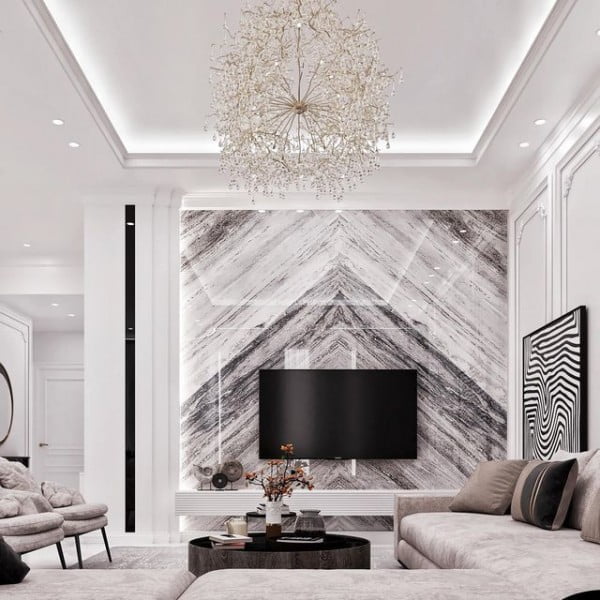 Source: @alitaghavi_architect
Consider using slab materials such as natural stone to create an interesting texture and visual appeal.
Install a floating shelf above the TV to hold any additional electronics or decorations you may want to display on your wall.
Hang artwork around the TV that complements its size and shape, such as framed photographs or paintings in coordinating colors with your other decor items in the room.
Add lighting fixtures around the TV for extra ambiance when watching movies or shows at night time, such as LED lights or track lighting mounted on either side of it for an even distribution of light across all areas of your living space.
Fireplace Media Wall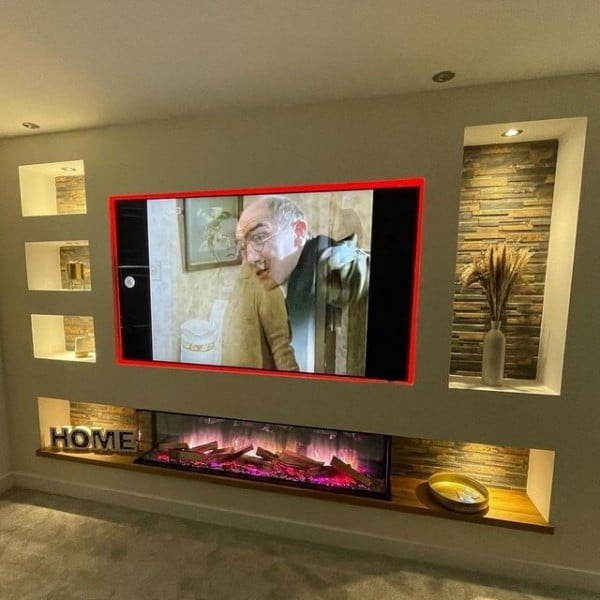 Source: @flameritefires
Install an electric fireplace into the center of your media wall for an eye-catching focal point that will keep you warm during cold winter nights. If desired, add shelves or cabinets to either side of the fire for extra storage space and display items like books or photos.
Slatted Wood TV Wall Panel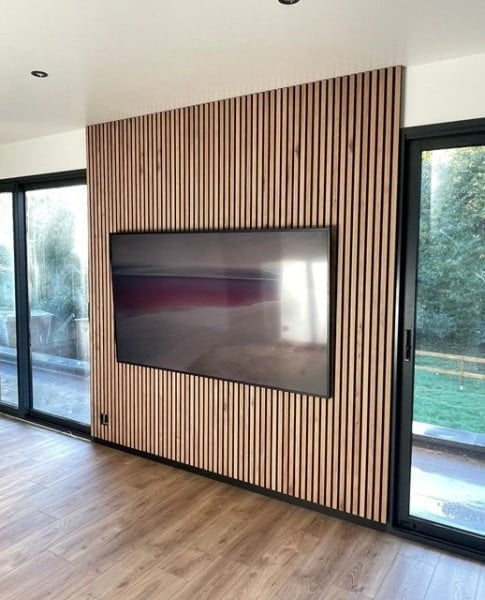 Source: @woodupp_com
Choose a type of wood paneling that fits with your decor, such as oak rustic natural or another type of wood paneling.
Get enough panels to cover the wall space around your TV, plus any additional pieces needed for trimming or edging if desired.
Hide all cables behind the panels by running them through holes drilled into each piece of wood prior to installation. This will keep cords out of sight while still allowing access when needed for maintenance purposes later on down the line.
Finish off with some decorative trim pieces along edges where two panels meet up, such as crown molding or other types of trim work depending on what look you're going for in this project.
Floating TV Stand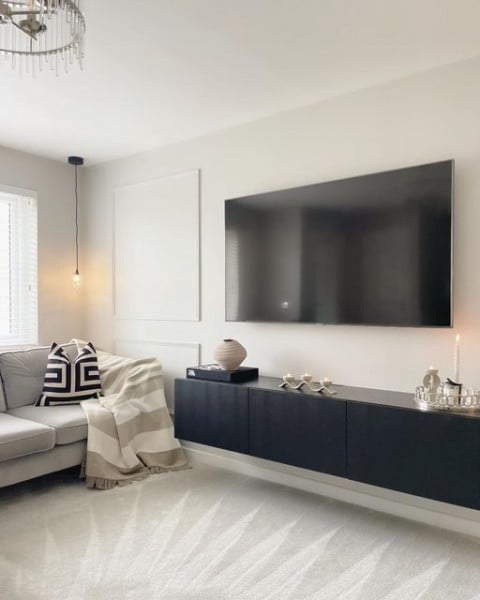 Source: @thekinlochhome
A wall-mount TV stand is classic and never gets old. The trick is to find a way to decorate the blank walls around the TV unit itself. This can be done with wall art.
Bespoke TV Unit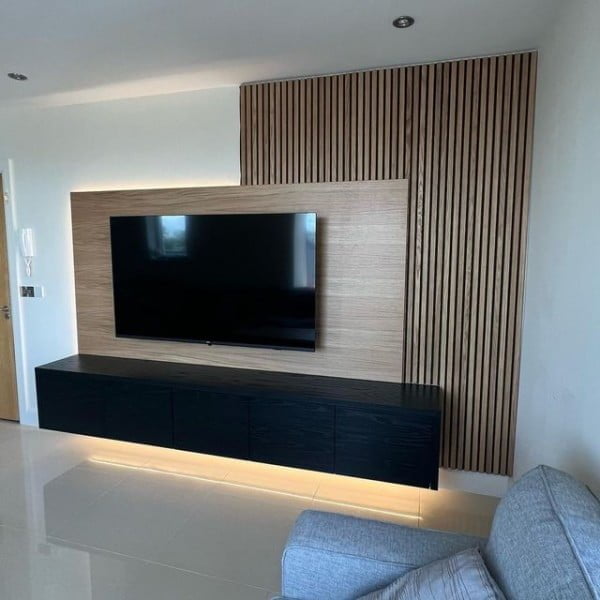 Source: @derekbarrettdesign
Add slats on the back wall for an extra decorative touch – these can be stained/painted in a different colour than the rest of the media unit if desired for contrast.
Finish off with LED lights around the edges of your media unit to give it an extra modern look – this will also help light up whatever is displayed on top.
Custom Luxury Wall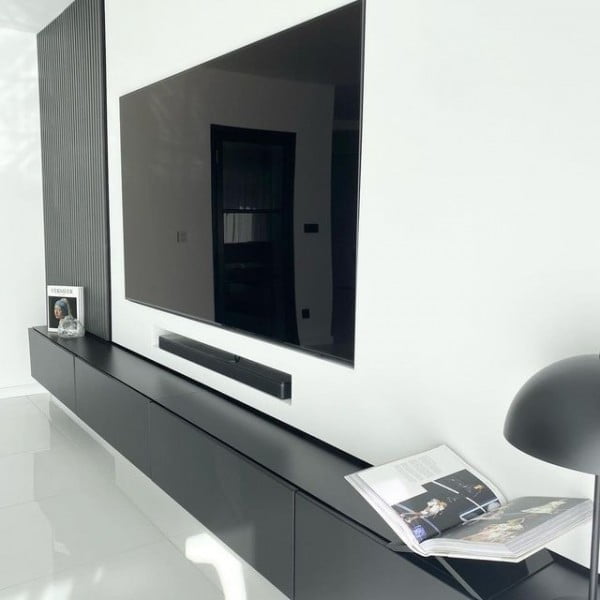 Source: instagram.com
Select a material for your shelves or cabinets that complements the overall design of your living room, such as wood, metal, glass, etc., and purchase them accordingly.
Add decorative accents such as artwork, plants, bookshelves etc., around your TV setup to create an inviting atmosphere in this part of your home.
TV Bookcase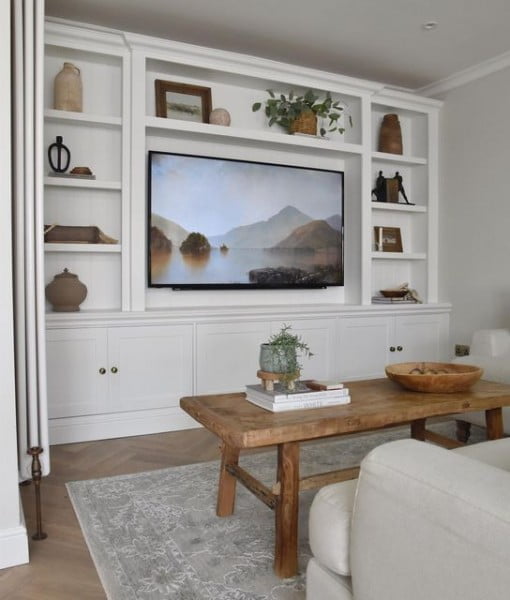 Source: @thecheshiregreyhome
Start by selecting a media unit that will fit the size of your TV and wall space. Consider a floating shelf or wall-mounted unit to save on floor space.
Add a rug underneath the media unit to create warmth and texture in the room, as well as providing an extra layer of sound insulation from the TV.
Place a coffee table in front of the media unit for added storage and display options, such as books, magazines, plants or decorative items like vases or sculptures.
Hang artwork above the media unit to add visual interest and colour to your wall decor around the TV area. Accessorize with smaller pieces like vases, candles or trays for additional style points.
Oak TV Display Unit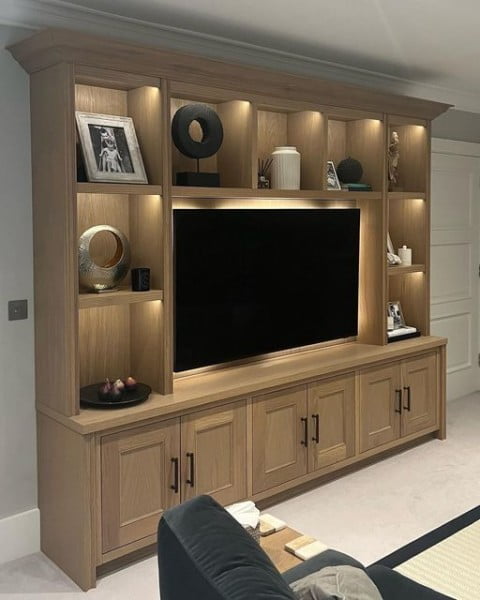 Source: @derekbarrettdesign
Select a media unit that will fit in the space, such as an oak display unit with shelves or drawers for storage.
Paint or stain the media unit in a color that complements your existing decor, such as Rubiomonocoatuk Mud Light used in this example.
Add any additional accessories like bookshelves, artwork, plants etc., to complete your design and create a cozy atmosphere around your new home entertainment center.
TV Wall with Houseplants
Source: @noona_interiors
Add some shelves around the TV for displaying books, plants, photos, or other decorative items that will help tie in your theme.
Hang some art pieces on either side of the TV that match your overall theme – this could be anything from abstract prints to photographs or even framed quotes.
Framed TV Wall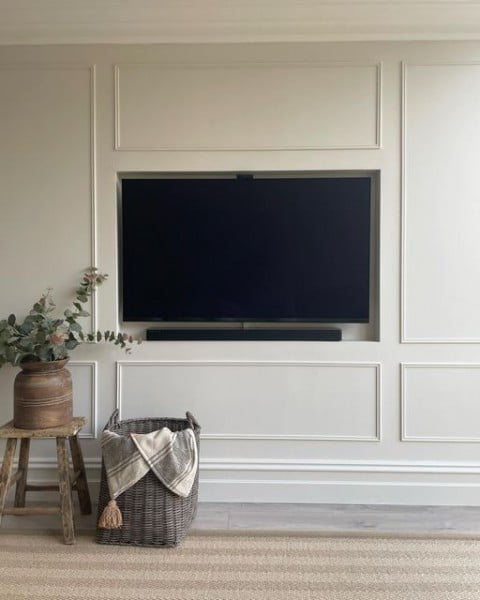 Source: @claire.totman.designs
The idea is to use wall molding to create a frame for the TV, so it looks like wall art. Be sure to use a built-in recess for a seamless look.
Luxury Style and Timeless Finish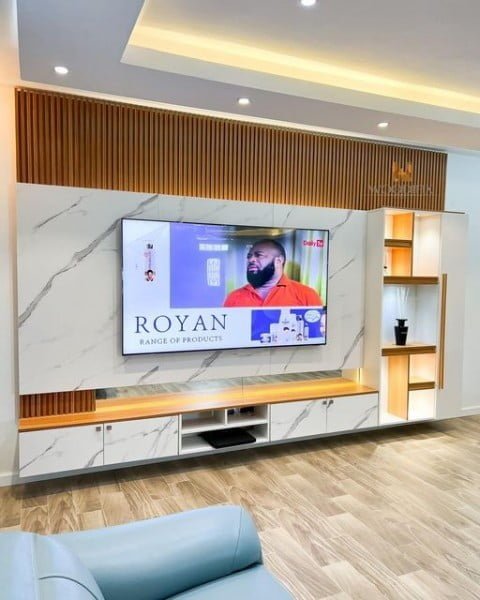 Source: @woodifix_decor
Hang shelves around the TV to display decorative items, such as books, plants, photos, or artwork. Use wood accents for a timeless look.
Add lighting fixtures above and below the TV to create an inviting atmosphere in the room while also providing additional illumination when needed.
Place furniture pieces around the area to create a cozy seating arrangement for watching movies or shows with friends and family members.
Large Media Units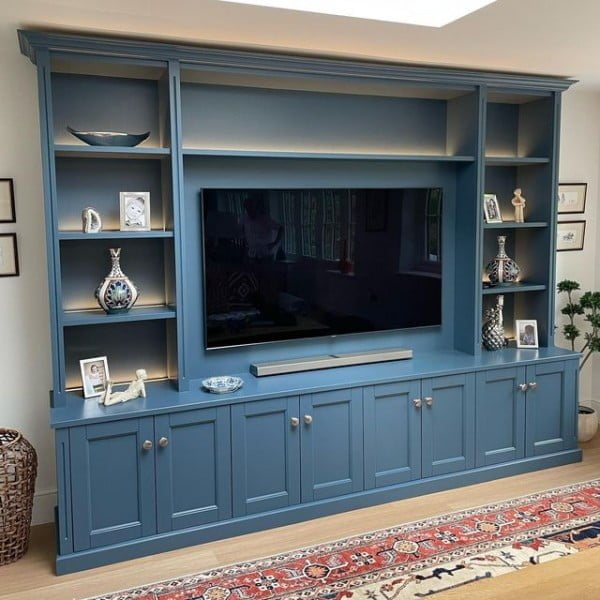 Source: @jmcarpentryjoinery
Choose a style for your media unit, such as shaker or modern, and select materials that will match the rest of your home decor.
Shelves and cabinets provide storage space for DVDs, books, gaming consoles, etc.
LED Backlit TV Wall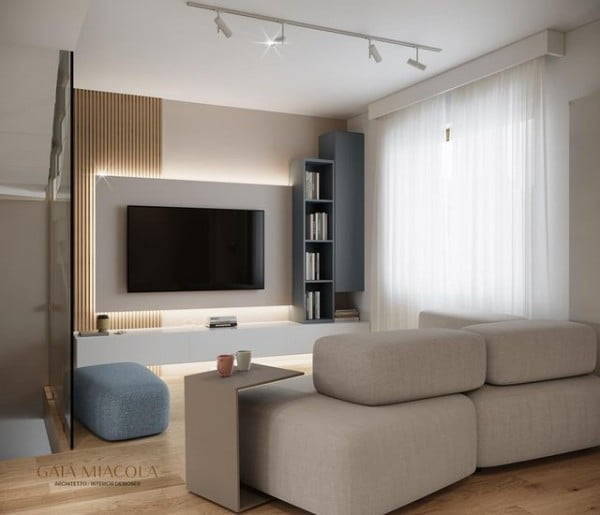 Source: @gaia_miacola_architetto
Place accent LED lighting around your TV to highlight certain features of your design, such as artwork or shelves filled with decorative items like books and plants.
Home Theater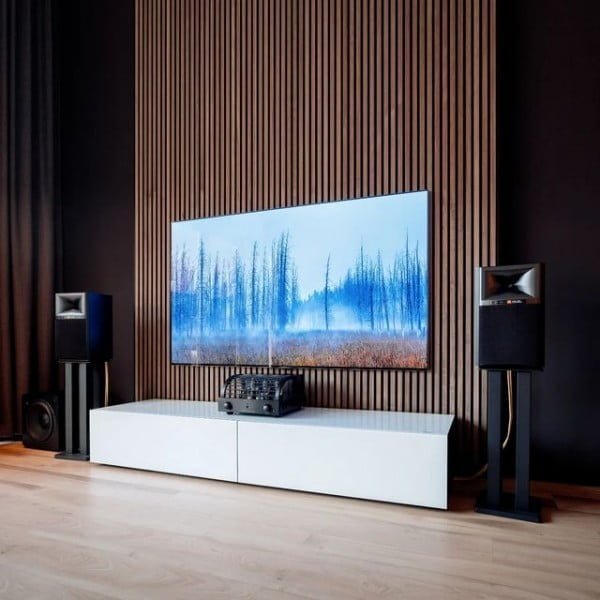 Source: @verbruci_hifi
Choose a wall that is large enough to accommodate the TV and other components, such as speakers or soundbars. Paint the wall in a neutral color, such as white or light gray, to create a clean backdrop for your setup.
Place your speakers around the TV in an aesthetically pleasing arrangement; consider adding shelves or stands if necessary to achieve this look.
Add decorative elements around the TV, such as framed artwork or photographs, plants, bookshelves, etc., to give it more of a homey feel and personalize it according to your own taste and style preferences.
Color LED Backlit TV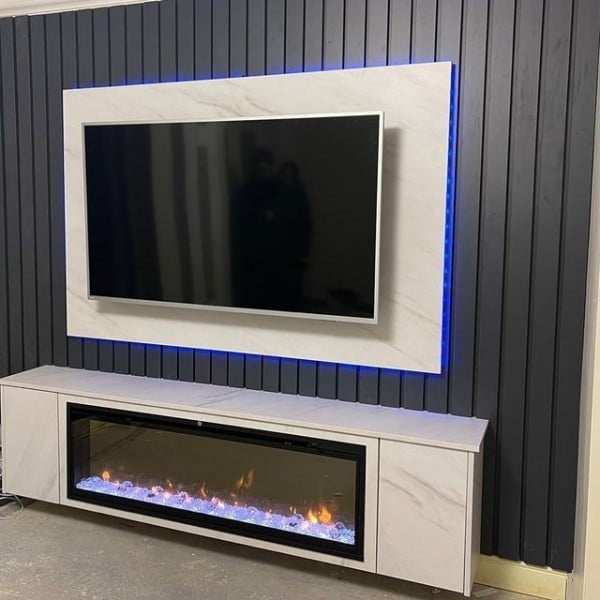 Source: @mvp_mediawalls
A backlit TV wall-mount doesn't only mean white LED light. You can choose any color you want. Blue is a calming color for a cozy feature wall.
Recap
Liked this article? Here's what you can read next: