Last updated on October 29, 2023
A wall-mounted TV saves a lot of space, but what do you put under it? That's the number one problem of anyone who has ever hung a TV. We aim to solve it here and now.
This happens every time. When you hang a TV on a wall, and there's nothing under it, the wall looks lopsided. Been there, done that. And if you don't think this through before drilling the holes for the mount brackets, you'll get to go through an emergency decorating session.
There's a lot to consider too. Placing furniture seems like the obvious choice. But mounting a flat-screen on the wall comes as a solution for small spaces, in the first place — where do you find space for another piece of furniture?
And then, how about those dangling cables? What's up with the web of eyesores? You need to solve that too.
We've found the solutions to all of these problems and alternatives to them. Hopefully, these will find you at the right time.
Where Is the TV Mounted?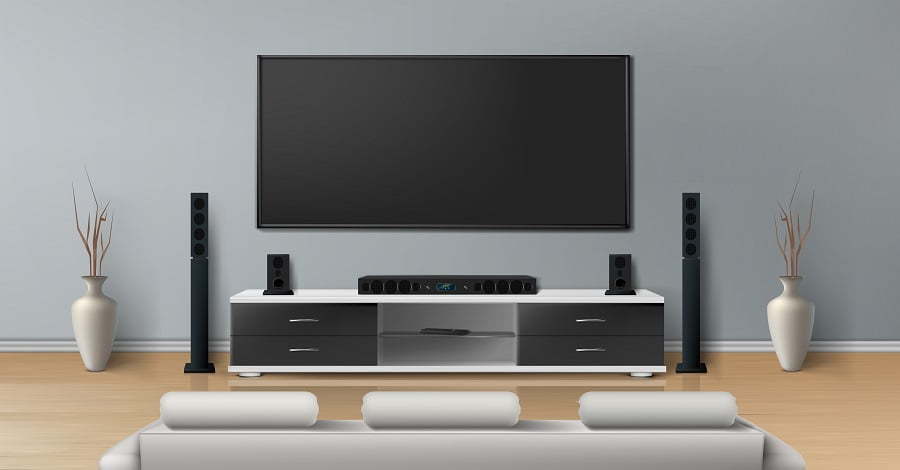 The first thing you need to figure out is how much room you have under and around your wall-mounted TV. If you have a large living room you probably need some piece of media furniture to contain and organize your media equipment in the home entertainment area.
These are your usual suspects – a large media console, a buffet, shelves, or even a dresser. If you have a big TV, media furniture will prevent the unit from appearing isolated and visually heavy.
On the other hand, if it's a small space, adding more furniture isn't that good an idea. leaving the floor space under the TV empty will help you preserve space. You can instead use other ways to decorate it (using wall decor.)
Finally, how is it mounted? TV wall mounts have several alternatives.
How Many Devices?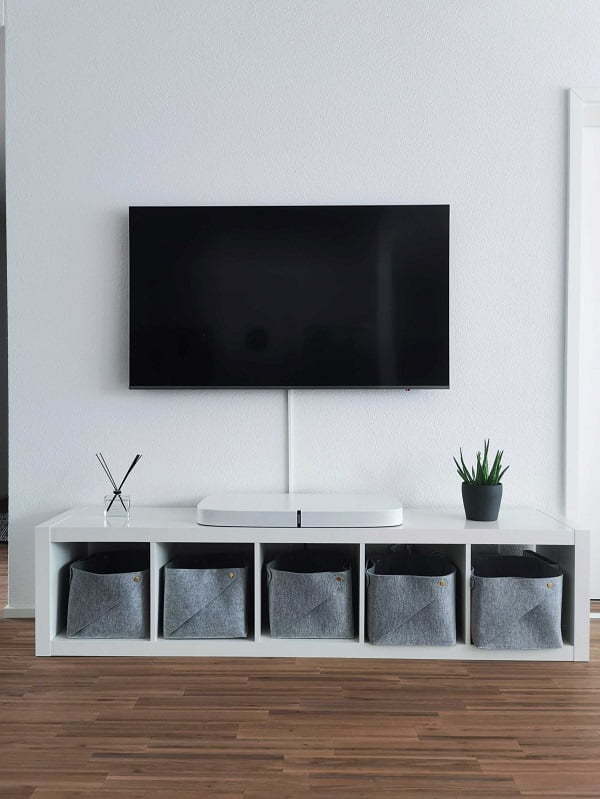 Besides considering room size, it would help if you think about the number of media devices you have in your home entertainment center. If you have several gadgets like TV speakers, cable boxes, Blu-ray players, and game consoles connected to your TV, you'd probably want to keep them tucked away in a closed cabinet.
In small spaces, alternative storage solutions will be needed (if you don't have a cabinet). Wall shelves with cable organizers are brilliant for this. Some TV mounts will provide extra space for that as well.
Wall Decor and Hiding the Cables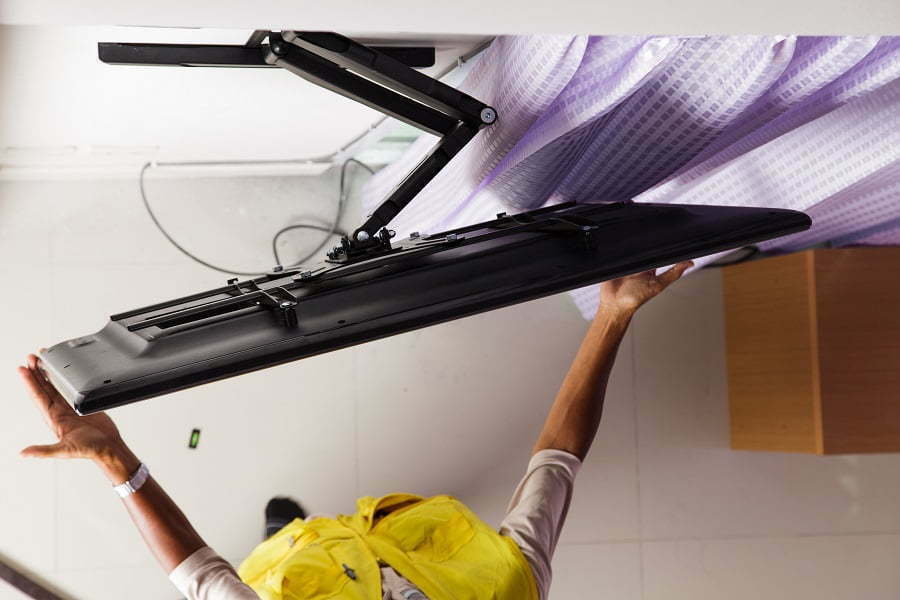 A huge part of decorating under the mounted TV is, of course, hiding the ugly cords. They are there — we can't avoid them. But we have to hide them. So whether you use furniture under the TV, or you're decorating a wall around it, implementing a cable management solution is paramount.
Some of these ideas include:
Drilling the back of furniture for cable placement.
Using shelves with hidden compartments for cables.
Using mounts with cable organizers.
PVC pipe or even tape to bundle up the cables.
Furniture Under the Mounted TV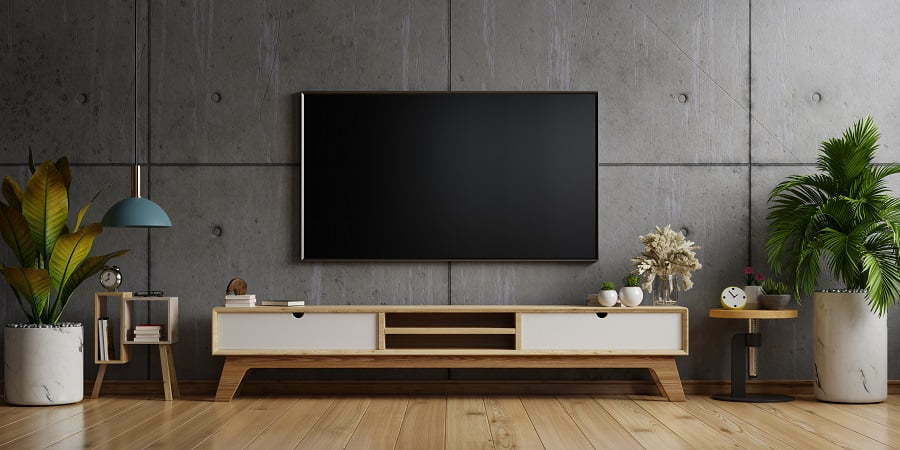 The general rule of thumb to adopt when buying furniture is to choose any that measures at least slightly longer than the size of your television screen to keep the unit balanced. Choosing the right furniture can be subject to personal preference.
Buffets
Buffets fit well under-mounted TV for several reasons – they are trendy, convenient, and spacious. They are equipped with suitability for many business activities.
Floating Shelves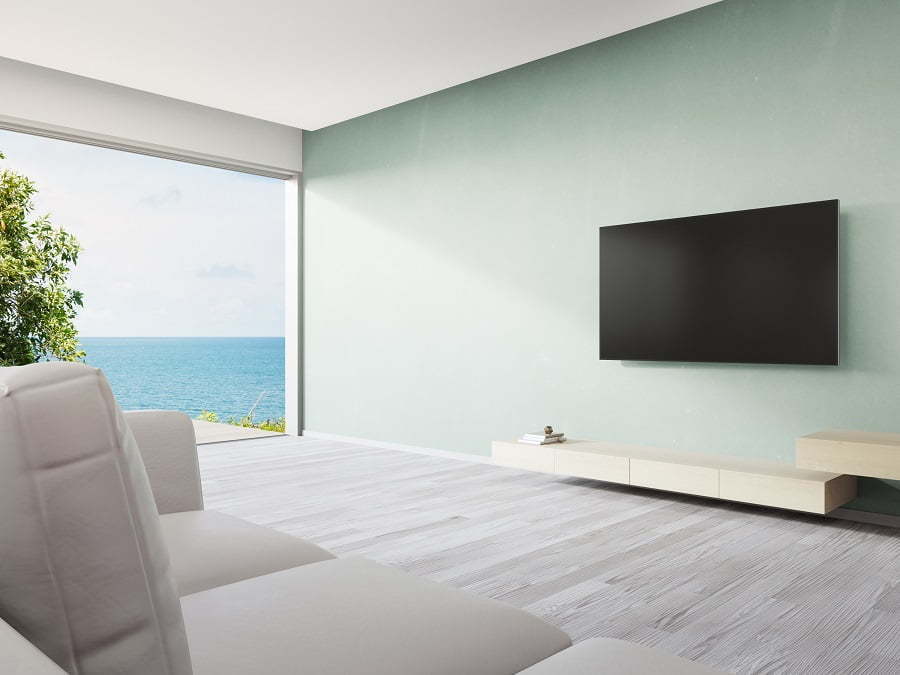 A floating under TV shelf is the right choice for any TV enthusiast searching for something affordable and easy to put together. Shelves bring your TV into the room's overall design – removing the ugly box effect and providing a lot of versatility as well. You can rearrange the devices and accessories displayed on your shelves time and again.
Bench
A small bench underneath will accommodate a TV comfortably. So it will not feel like your TV set is visually heavy.
Dresser
Similarly, never highlight your TV set too high on the wall next to a piece of intricate furniture like the wooden dresser. If you are living in a little living room, installing a wall-mounted TV is the best option. A dresser is a great storage solution for all things around, gadgets notwithstanding.
Gallery Wall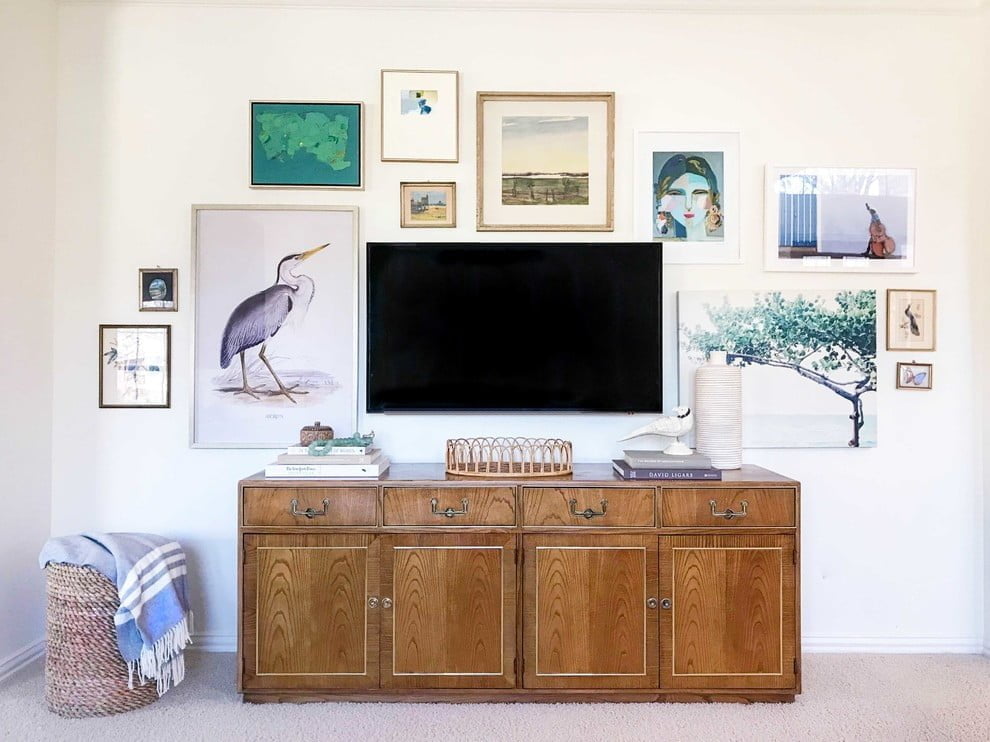 Build a gallery wall around the TV. Treat it like another picture. This role changing of the TV is practical, but it also improves the living room's appearance.
TV Above Fireplace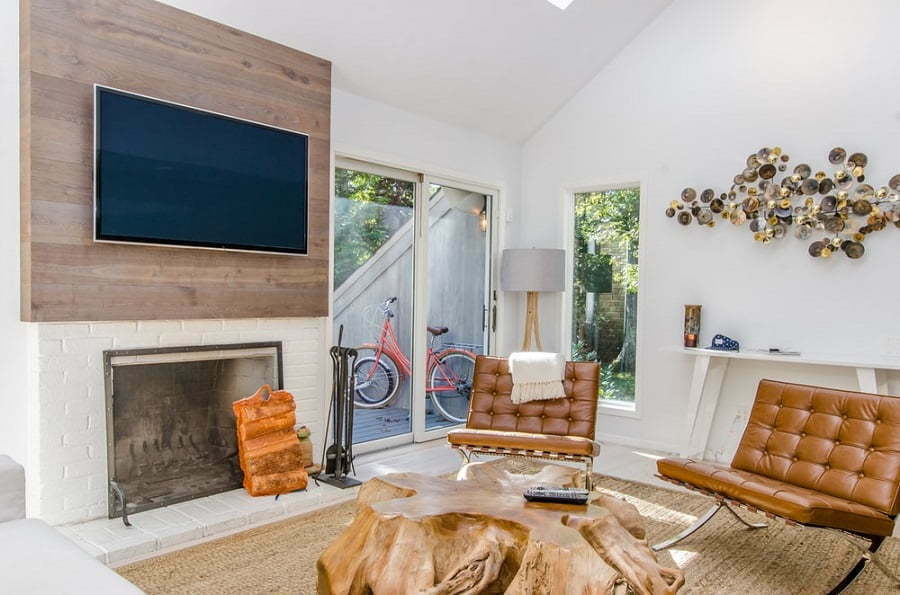 If possible, hang your TV above a fireplace and decorate the mantel. Try to keep your television set to the back of the room behind a custom made pieces of furniture, and keep a tidy, uncluttered backdrop behind it. It will help you by concentrating on one thing at a time.
Decor Accessories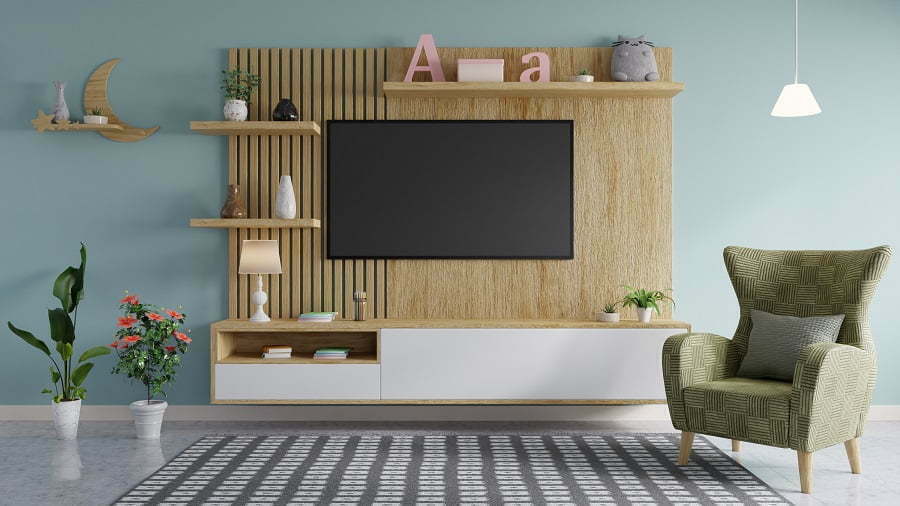 A small shelf or even a ladder can hold display accessories and decor vignettes without occupying much space. Just be sure you're not blocking the screen with tall items.
Houseplants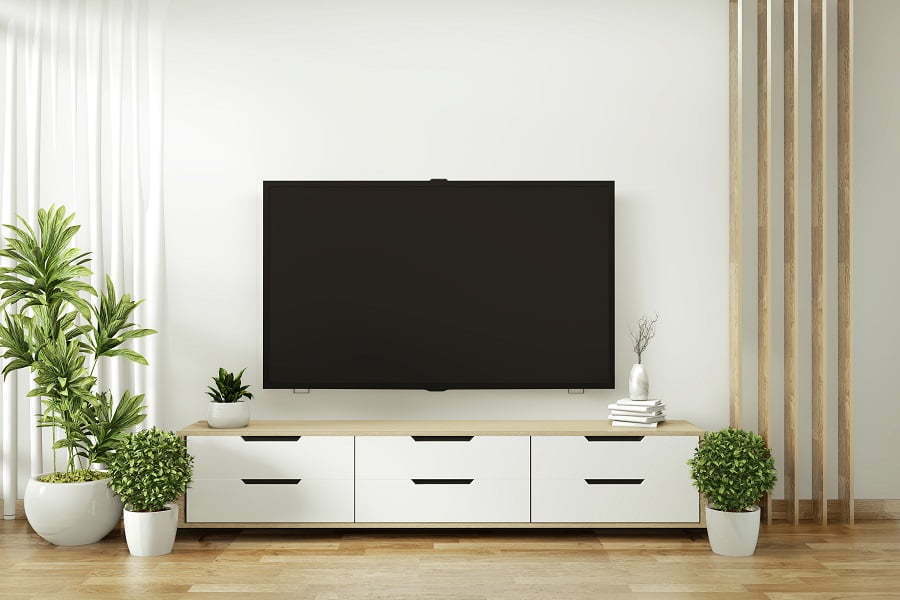 Regardless of whether you put furniture under the TV or not, this is an excellent setup for the home. Adding some green plants can make the area a lot friendlier.
FAQ
Where should you put your TV on the wall?
The TV center should be at the eye level when sitting. So you need to calculate the height based on your unit's size. Bear in mind that this will change based on how you're sitting as well (reclining). The recommended viewing angle is no more than 30 degrees.
Can you put a TV on the wall without drilling?
In short, you can, but you probably shouldn't. Even the strongest adhesives may not hold the TV forever. Drilling is the only safe option if you want to hang it on the wall. An alternative is to use a hybrid stand, which provides a raiser construction to lift the TV above the stand to the required height.
Will my TV fall off the wall?
It won't fall off if it's properly mounted. If unsure, hire a professional to do it for you.
Do TV wall mounts leave big holes?
If installed correctly, the wall mounts don't require you to drill big holes — a few small holes are just right.
Is my wall strong enough for a TV?
Typically drywall or hollow wall won't provide enough support for a correct installation of the mount. Studs are needed to hold enough weight. Brick or concrete walls, on the other hand, are strong enough.
Recap
Liked this article? Here's what you can read next: