Last updated on October 1, 2020
Want to create rustic wood wall decor in your home but not sure how to do that? You must see these unique rustic wall decor ideas.
Rustic decor is all the hype these days. It seems that there's no interior designer who doesn't include some rustic accents in their work. And every DIYer out there is absolutely crazy about the rustic look. You can easily see the reason why. Rustic decor is affordable, relatively easy and it gives a home character as well as personality.
Of course, you have to know where to start; you have to know what works and what doesn't. Pretty much like everywhere in home decor. So the purpose of this article is to give you 40 creative ideas that you can use to make rustic wall decor at home. Check out these ideas, some of them even come with tutorials.
Rustic Sconces Wall Decor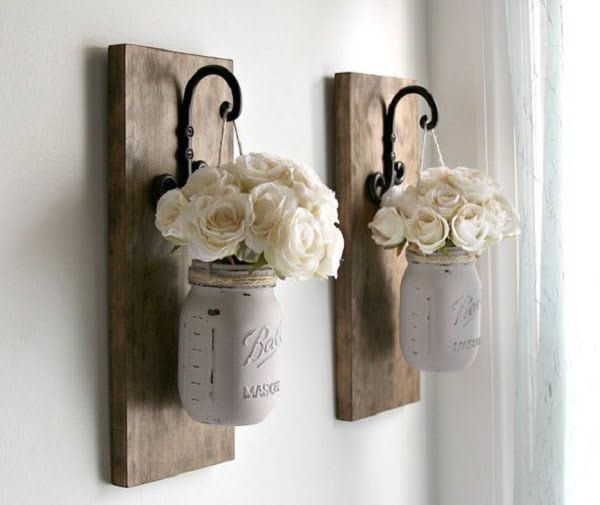 Rustic sconces with mason jars make a lovely rustic decor accent. Mason jar crafts always do. You can get these sconces on Etsy, or if you're crafty, you can make them yourself too. This look is a great way to add decor interest to your wall decor.
Wire Art Rustic Wall Decor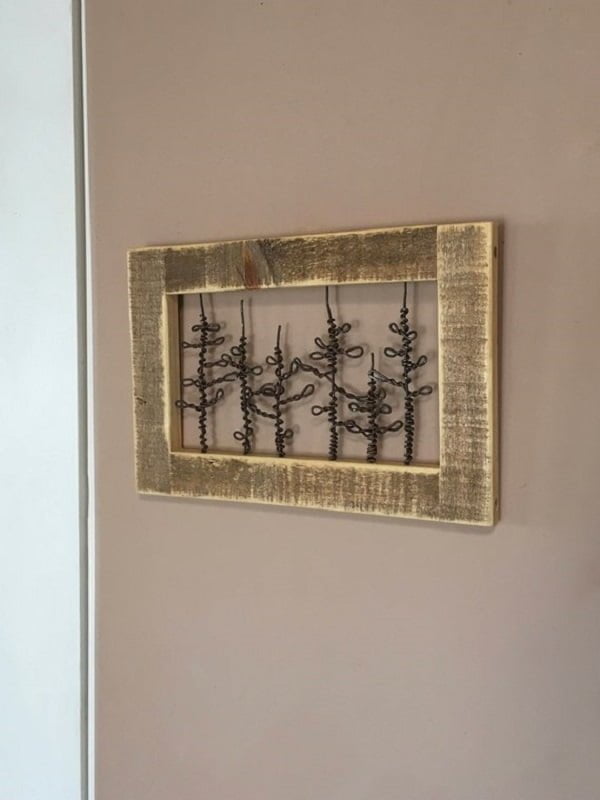 Wire art in a rustic reclaimed wood frame makes a unique decor accent on your walls. This is something you can try making at home, or you can get this art on Etsy. This rustic artic is the perfect alternative to charming wall decor.
Decorative Shelf Rustic Wall Decor Idea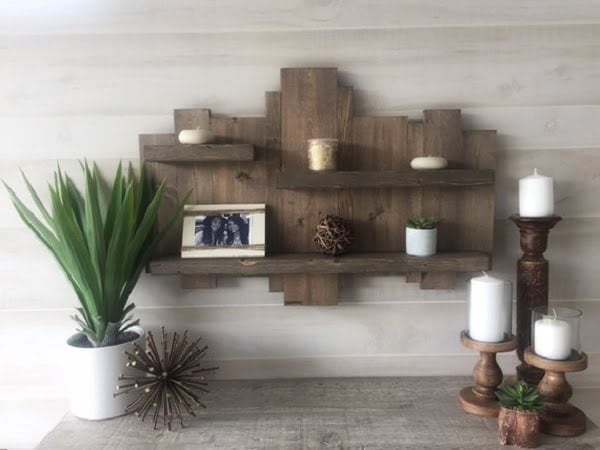 Decorative shelves make excellent wall decor because you can use all of your display items to decorate. Rustic shelves made from reclaimed wood make charmingly warm wall decor accents. You can get these shelves on Etsy too. Or you can try your hand at making them.
Tree Branch Rustic Wall Art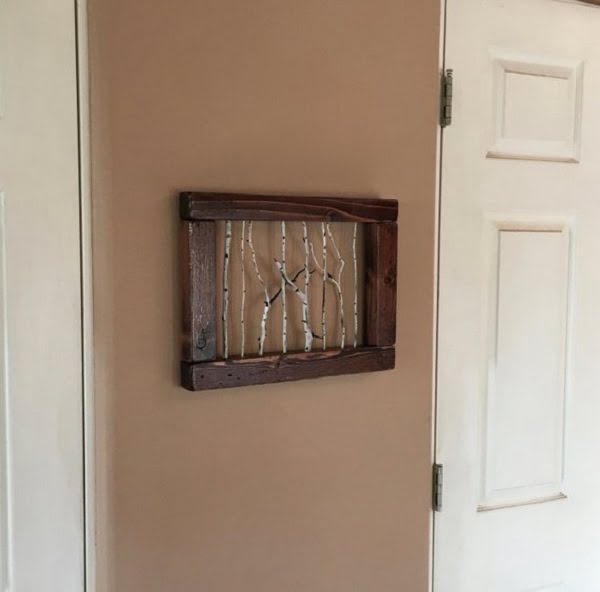 Here's another brilliant idea for rustic wall decor. A tree branch framed art in a rustic picture frame is a conversation piece worthy of your wall decor. You can find this piece of art on Etsy, or you can make it at home yourself.
DIY Geometric Wood Rustic Wall Decor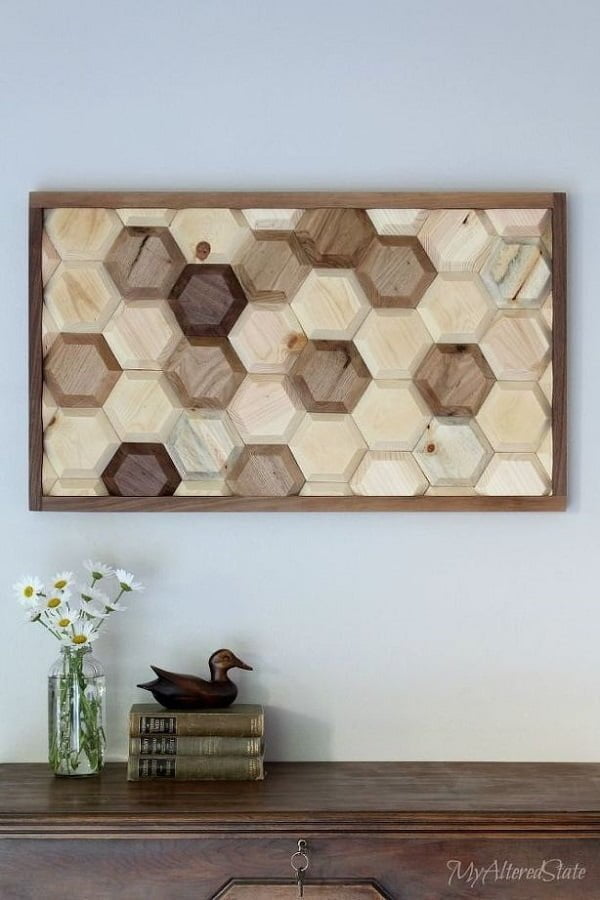 Hexagon wood art is a lovely piece you can add to your rustic wall decor to introduce a unique feature. It's a conversation piece that will charm all your guests. Check out this tutorial that shows how you can make it yourself.
Herringbone Wooden Rustic Wall Decor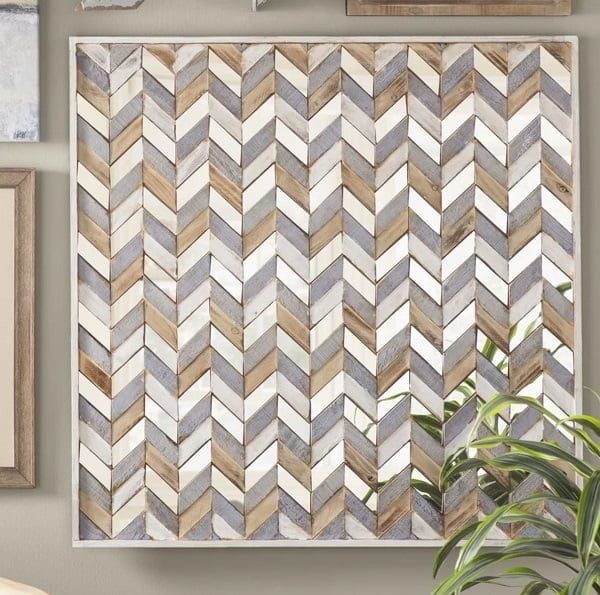 Herringbone patterns make a warm rustic accent when used in wall decor. You can use this pattern in framed art too. That's an easy way to decorate your walls and use it as part of gallery walls.
Rustic Wall Clock Decor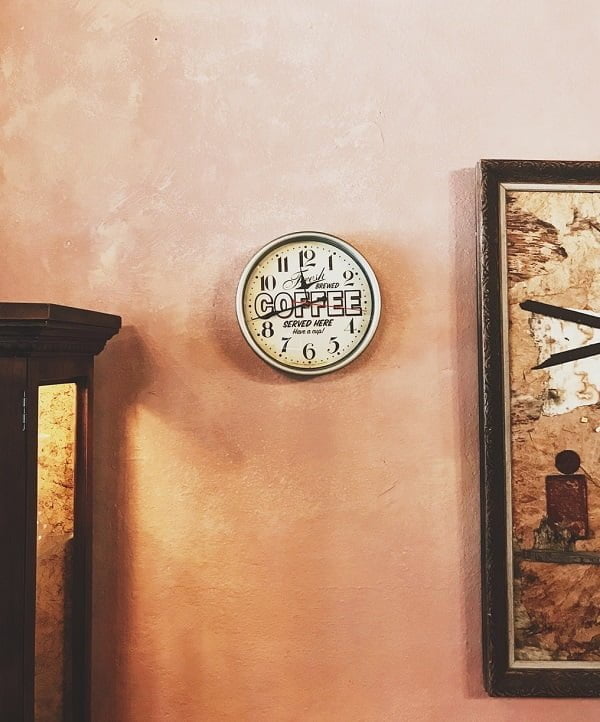 A vintage rustic wall clock makes a unique statement decor with a lot of character. Decorate your walls this way to create a functional decor. All you have to do is to find a suiting clock. Try a local free market or a thrift store.
Chalkboard Rustic Wall Decor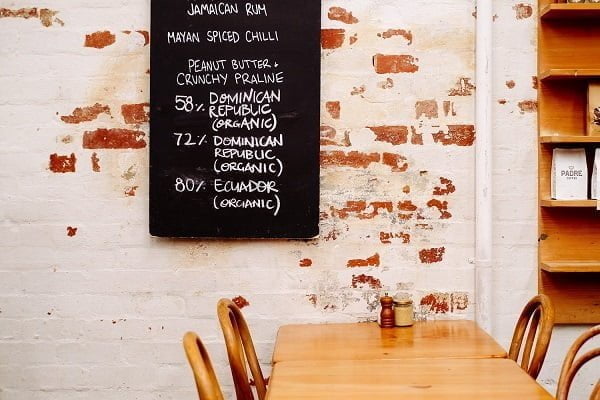 Yes, you can hang a chalkboard for rustic wall decor. It especially works well in the kitchen where you can write down your menu. But don't be limited to that, use the idea creatively. For a better rustic decor, you can use reclaimed wood to create your rustic chalkboard.
Vintage Map Rustic Wall Decor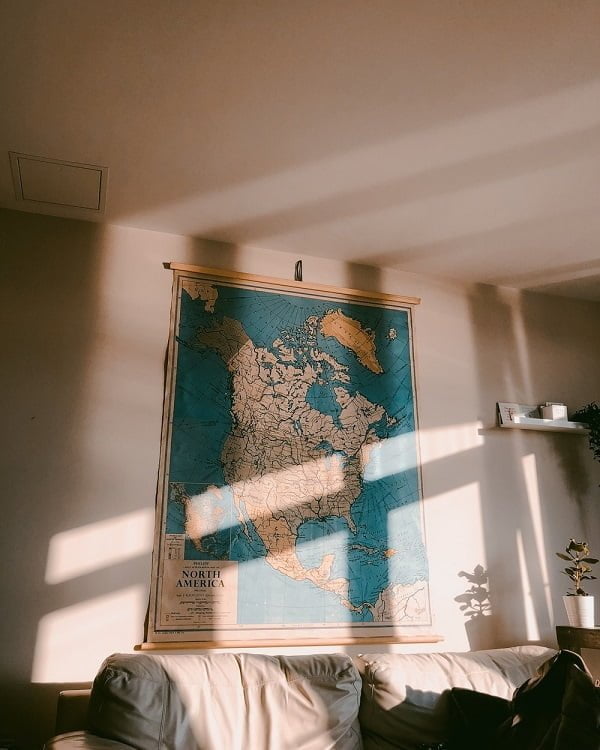 A vintage map makes a great rustic accent wall decor. Find an antique map in a flee market for a lot of decor interest and character. This way you can create unique accent decor and make a great conversation piece that will work in any room of the house.
3D Wood Art Wall Decor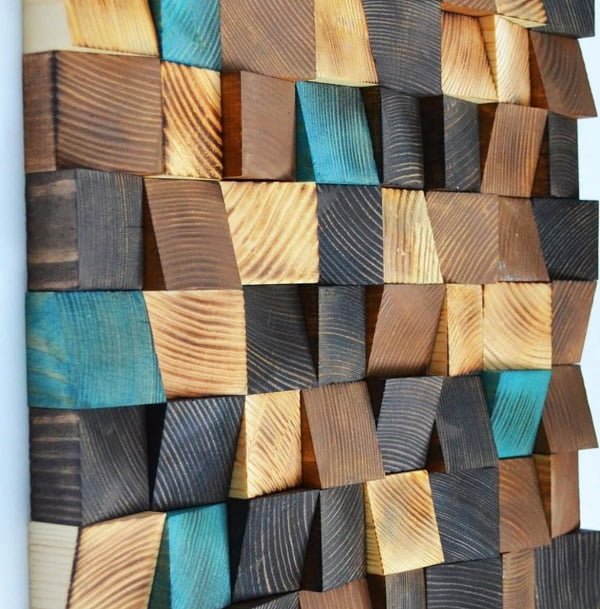 Wooden art is a big hit in home decor. It always creates nice and warm rustic accents anywhere you hang it. This 3D wooden wall art takes wall decor to another level. It's a neat idea to try at home.
Reclaimed Wood Rustic Wall Decor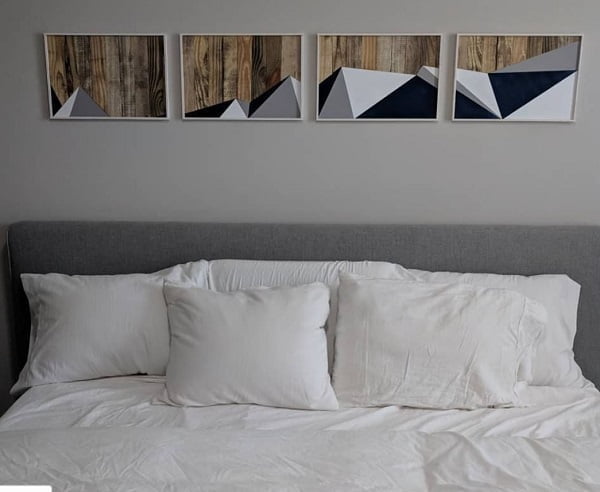 Reclaimed wood plaques make excellent wall art. The idea is to use them as canvas and paint them in patterns or geometric art. The result is a unique rustic paining that will work as an accent piece in any room.
Reclaimed Wood Accent Wall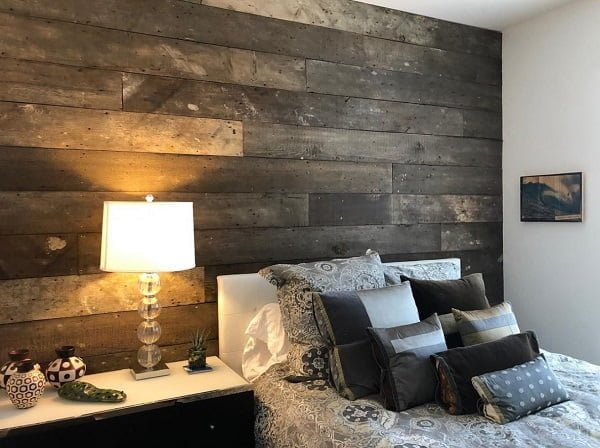 Why stop at wall hangings when you can make an entire accent wall from rustic reclaimed wood. It's a big hit in the interior design trends. Of course, this project is more involved and requires more thought.
Old Tire Outside Rustic Wall Decor Idea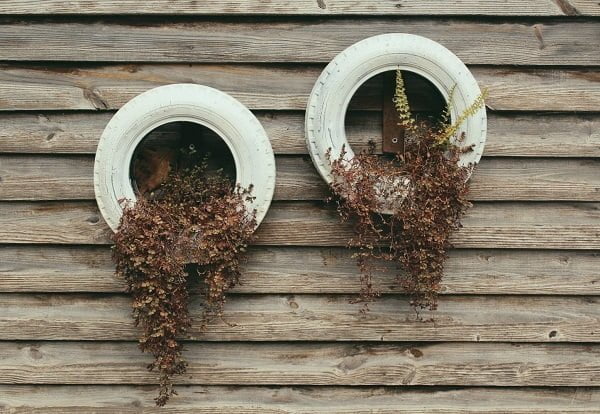 Don't forget the exterior of your house and check out this idea of decorating outside walls with old tires. You can paint the tires and make whimsical planters from them for excellent accent decor.
Rustic Wood Tile Wall Decor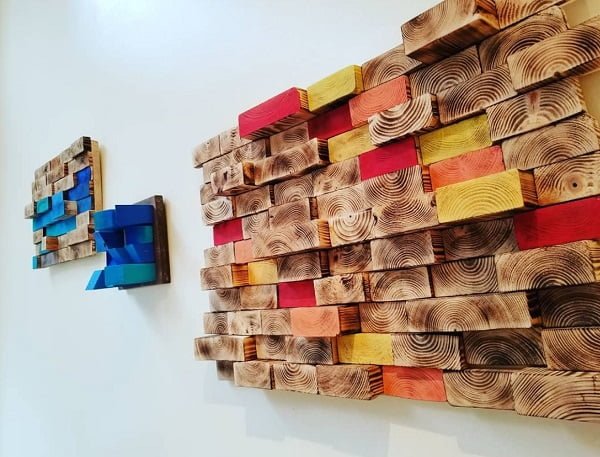 Wooden tiles are all the rage these days, and you can use this idea in your home decor too. You don't have to go all-in to decorate entire walls or floor with wooden tile, but you can use a few accent pieces using this idea.
Framed Old Magazines Rustic Wall Decor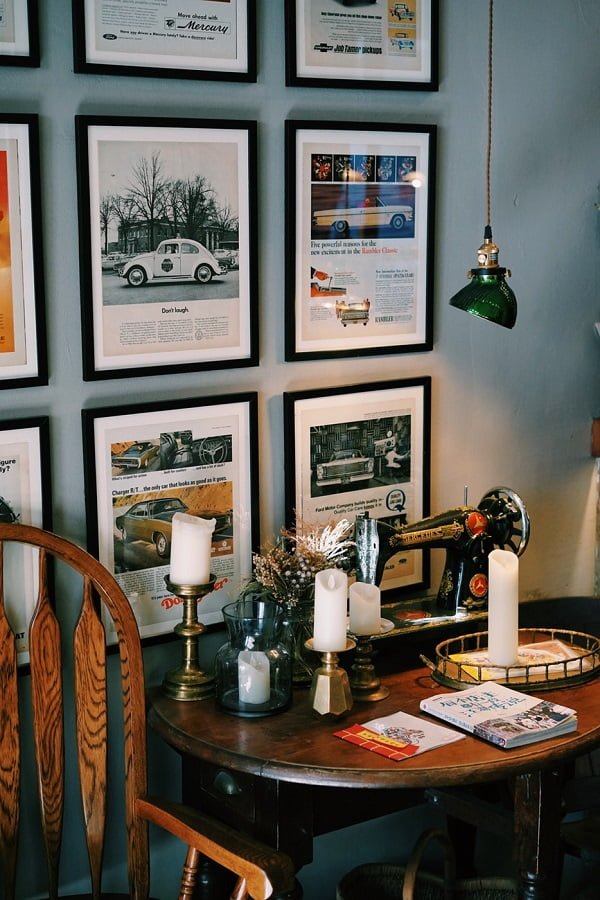 If you're looking for a simple and easy to implement rustic wall decor idea, try this. Find a few old vintage magazines (try flea markets and thrift stores) and frame them as art. They make truly whimsical decor accents and great conversation pieces.
Bard Door Vases Rustic Wall Decor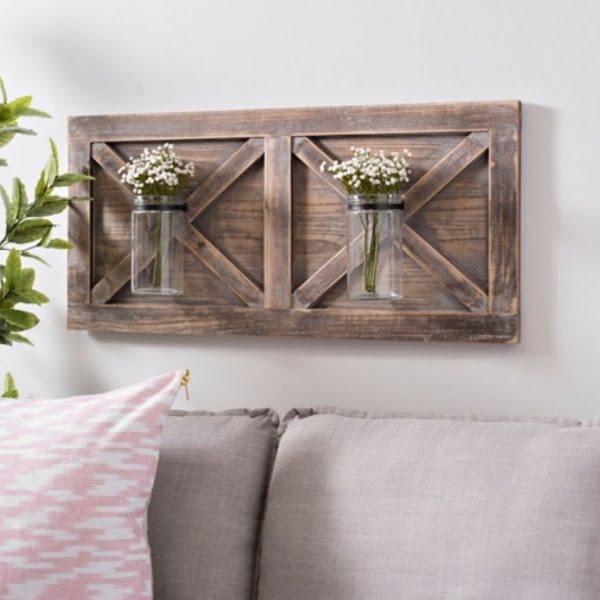 Barn doors have always had their way in rustic themed home decor. So no wonder we have them on this list. You can use one as a plaque with minimalist vases to create a warm rustic accent in your wall decor. It certainly makes a great conversation starter as well.
Old Window Frame Rustic Wall Decor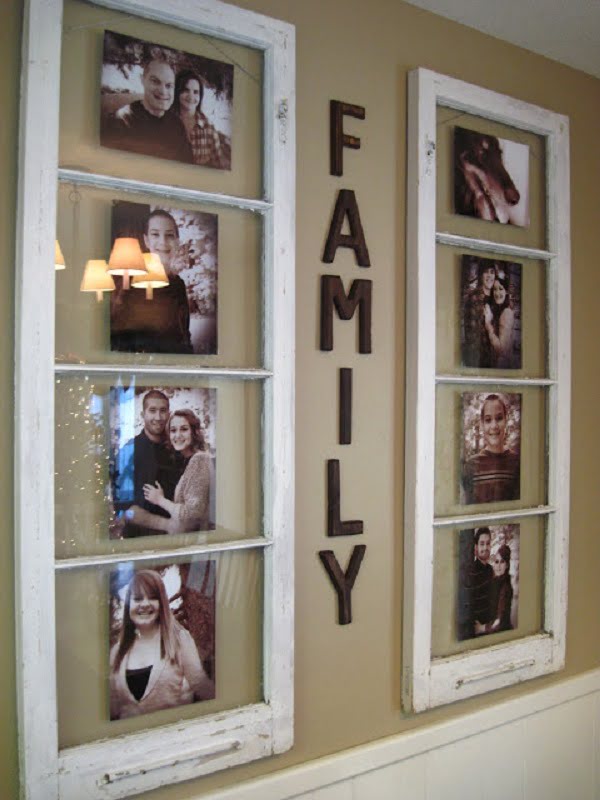 What do you do with old wooden window frames? Don't throw them away! Repurposing is what it's all about. And you can create amazing rustic wall decor from simple old windows. Check out this idea on how you can create a brilliant wall gallery.
DIY Wooden Arrows Rustic Wall Decor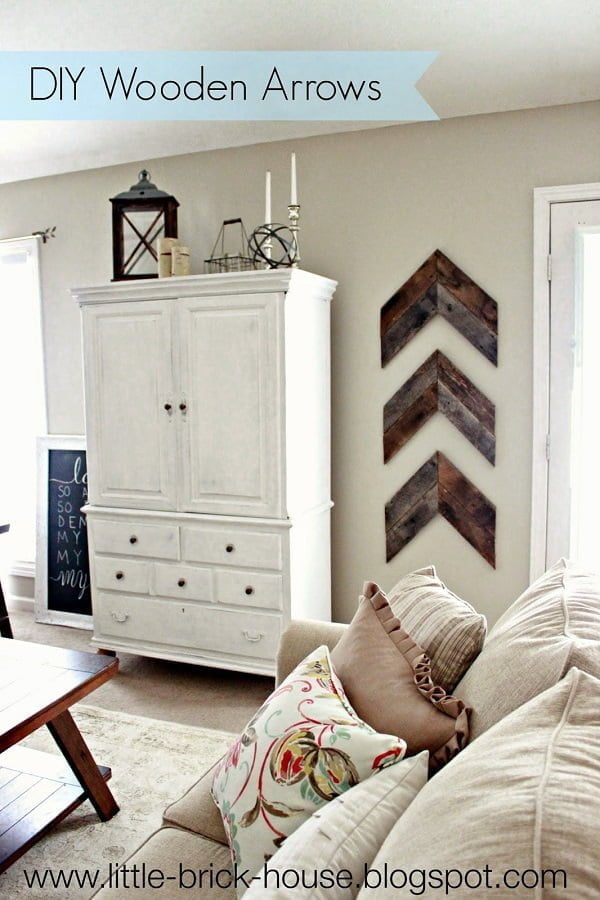 Reclaimed wood continues to be the go-to material for rustic home projects. It can be as simple as using some recycled wood boards to create accent arrows for rustic wall decor. Check out this tutorial to see how it's done.
DIY Colored Wall Sconces Decor Idea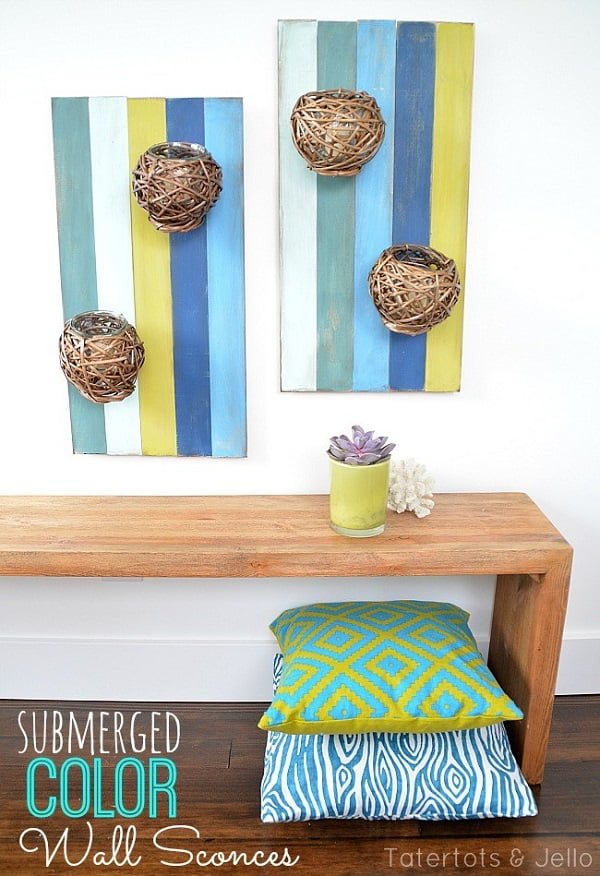 Usually, rustic decor means lots of earthy tones. But it doesn't mean you can't use some color in your rustic wall decor. Check out this DIY idea on colored sconces that add lots of rustic charm in color.
Rustic Barnwood Corner Gallery Wall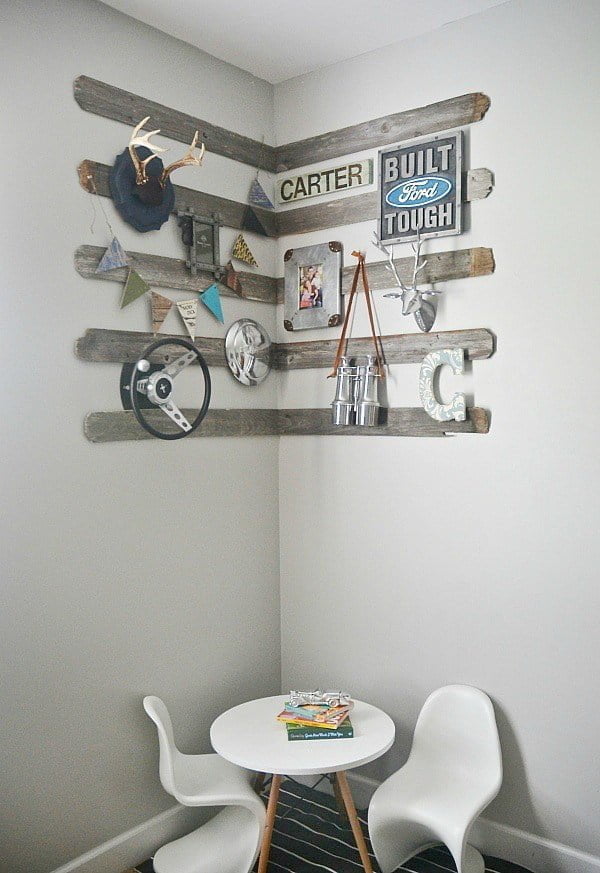 Want to create brilliant rustic wall decor? Liz Marie does it so well every time. Check out her idea on how to decorate a corner by making a rustic gallery wall. This is an amazing inspiration.
Geometric Wooden DIY Wall Art
Bits of wood form geometric patterns while suspended inside a black frame. The contrast of colors, grains, lengths, shapes, and angles add interest.
Large Wood Collage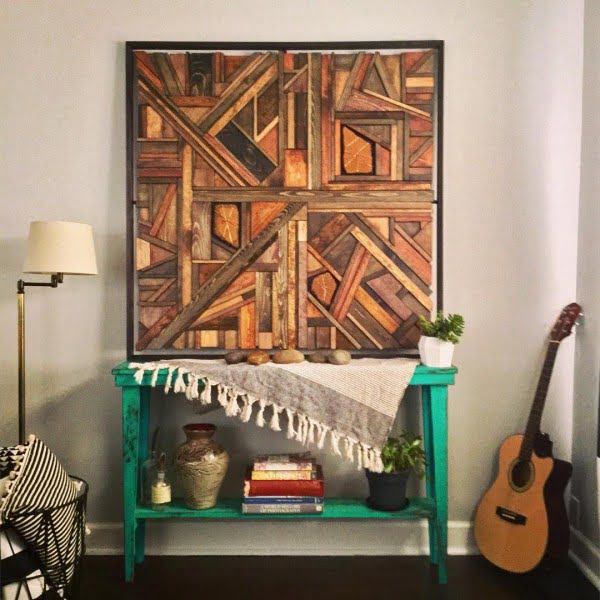 The style is similar to the artwork above but made on a larger scale for greater impact. The wooden elements fill up more of the square frame on the wall.
Handmade Pegboard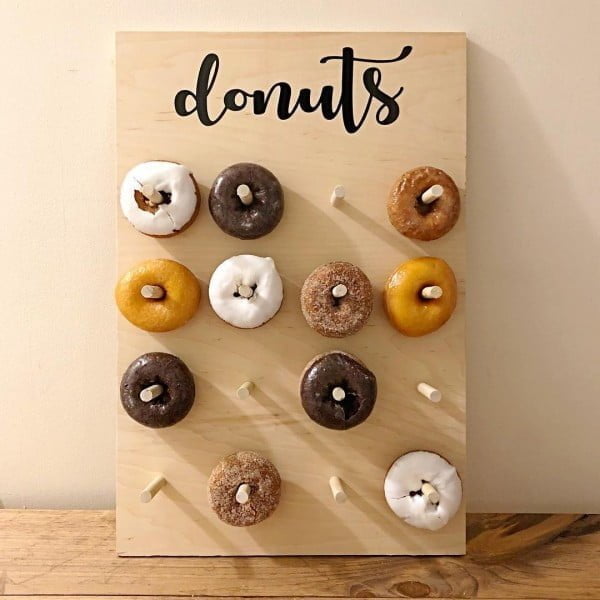 This pegboard is made of reclaimed wood. Artisans created holes and inserted pegs to let users hang anything they want from keys to food. Text can be written on top to identify the contents.
Wooden Heart Coat Hanger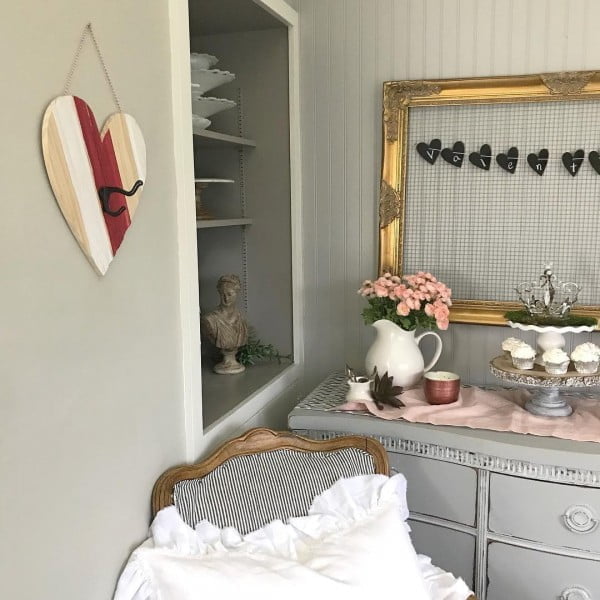 This one is a heart-shaped coat rack that can be hung on any wall. Copy the design or paint it whichever way you like.
Barn Board Wall Frame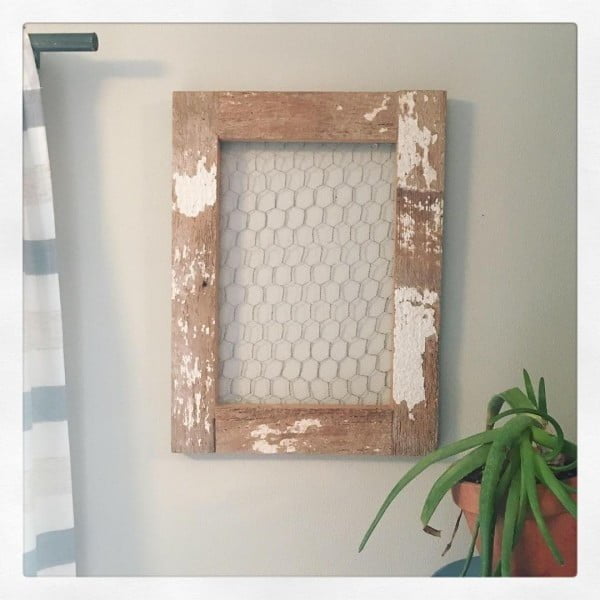 Here is a rustic wall décor made from reclaimed barn board and hex wire mesh. Just be sure to clean the wood to make it more attractive. You can leave the paint on or give it a fresh coat.
Rustic Wall Gallery
You can make any room come alive by placing interesting décor across the walls. This one features framed scenes of various birds, along with deer heads and horns from hunting.
Mug and Wine Glass Holder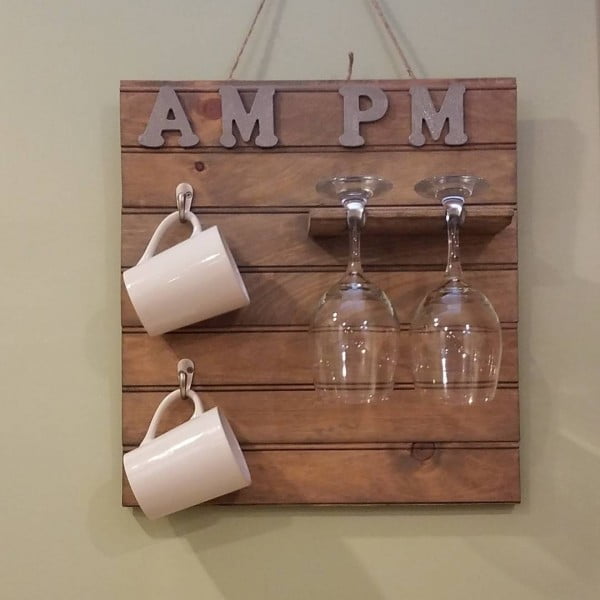 This square board has hooks for hanging coffee cups and notches for slender wine glasses. Signs add charm and mark the ideal use of these tableware. The weathered oak stain enhances the rustic look.
Hexagonal Shelves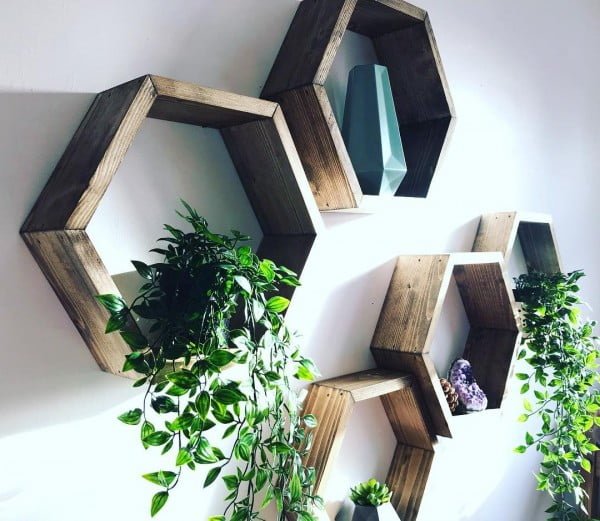 Think outside the box and reimagine what a shelf could be. In this project, wood planks were cut at an angle to create hexagons. They are great for holding décors such as vases, crystals, and plants.
Rustic Kitchen Sign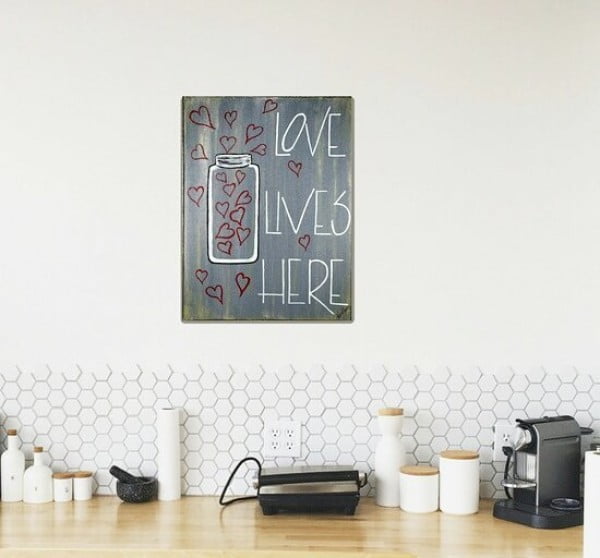 This wooden board got a gray weathered stain to serve as a neutral background. The creator chose to write the words the best describes their kitchen and draw a simple illustration.
A Rustic Corner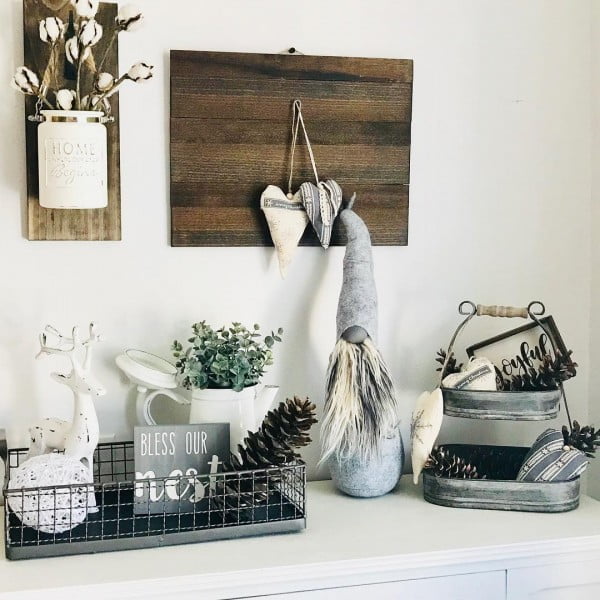 This little corner holds a lot of trinkets including a felt gnome, a reindeer figurine, a yarn ball, a wall sconce with jar, a hanging board, and even some found objects like pine cones.
French-style Laundry Room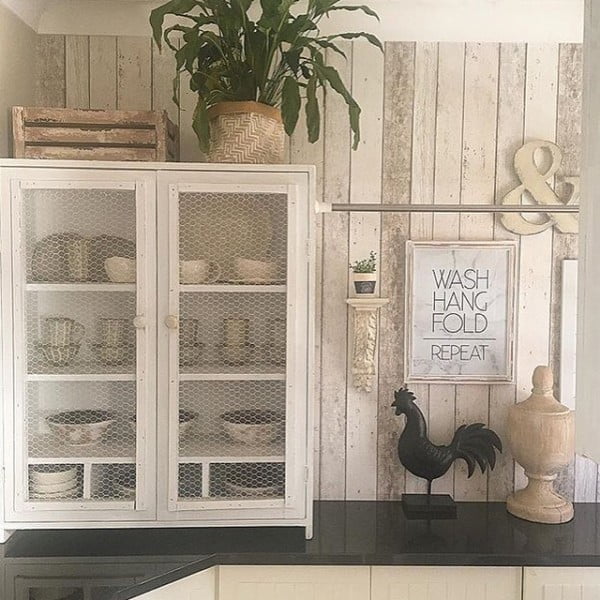 A sign proclaims this room's motto to "wash, hang, fold, repeat". Vertical wood planks with uneven widths and a weathered look form a unique backsplash on top of the counter.
Farmhouse Window Wall Hang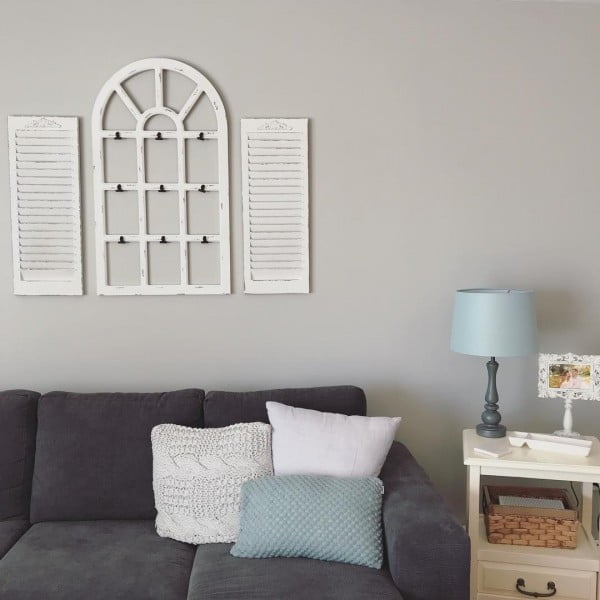 The top of the couch is always a challenging place to decorate. If you are not keen on using a canvas, then try other treatments such as this example where the owner used an old farmhouse window.
Vintage Wall Sign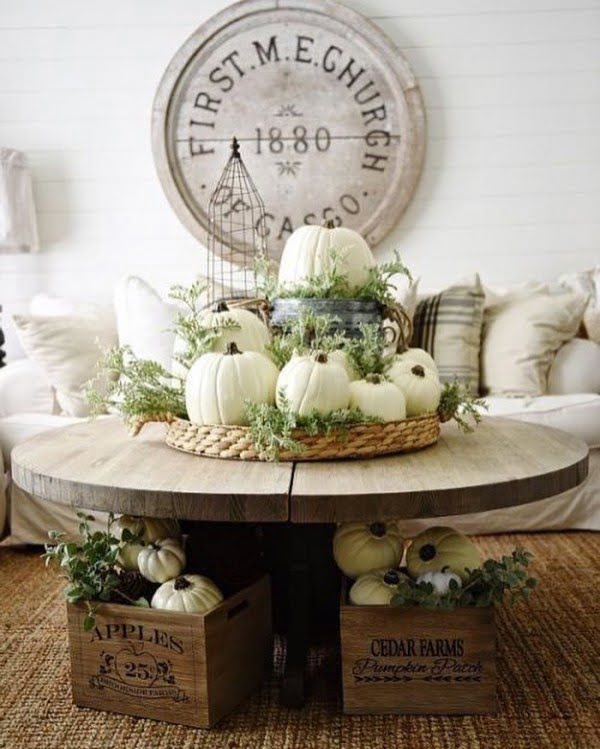 Instead of a framed painting, you may also opt to hang a large sign such as the vintage find on this example. The faded gray goes well with the white background, as well as the rest of the room.
DIY Dream Catcher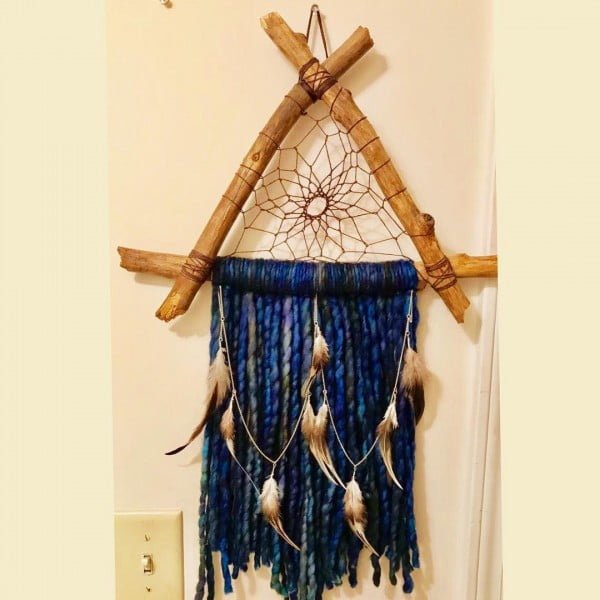 Anyone can create DIY wall art from scratch. This one uses simple materials like sticks of wood, strings to hold them together, thin colored ropes, and a few feathers. The result is a dream catcher looks great against any wall.
Simple Floating Shelf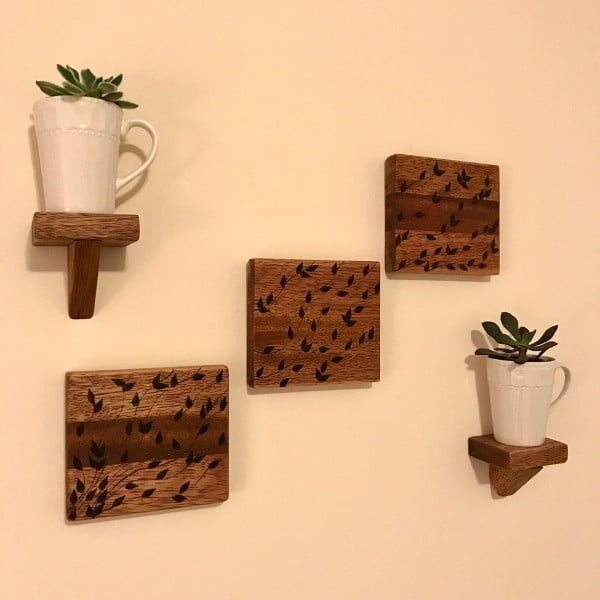 This rustic shelf floats on the wall thanks to clever installation. Its primary purpose is to hold decorative items such as this Mason jar that was turned into a vase and this small stylized sculpture of an atom.
Wooden Plaques and Miniature Shelves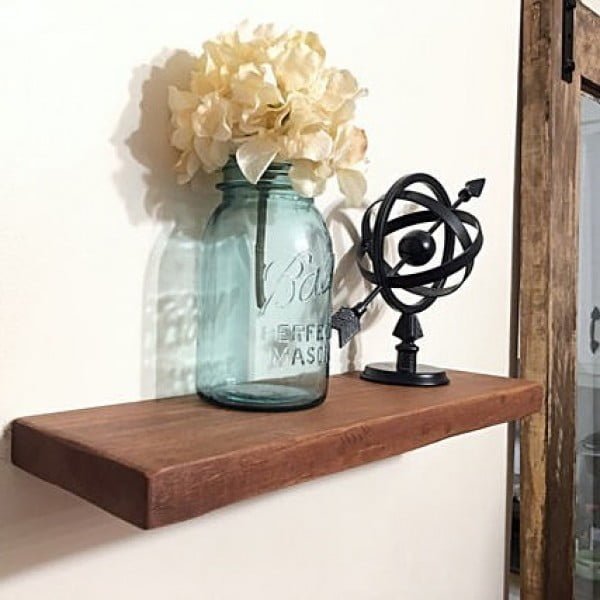 Shelves can be made even smaller if your purpose is just to have them hold a single object like a potted plant. Make things even more interesting by adding these wooden plaques with burnt leaf patterns.
Mexico-inspired Wall Décor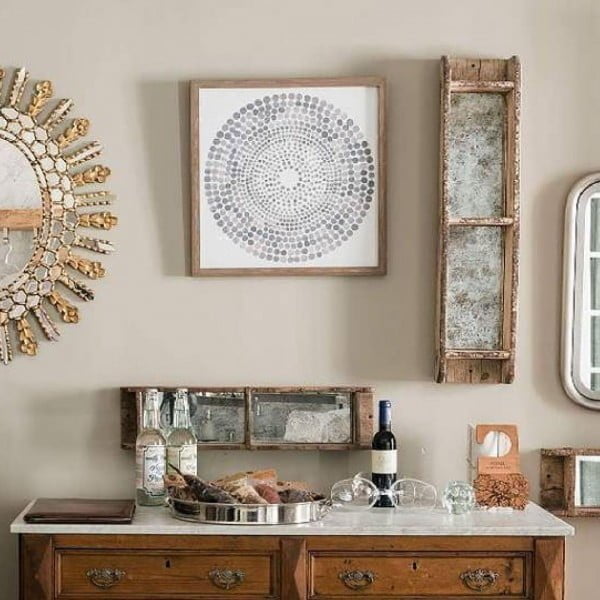 The rustic wall decor in this picture was inspired by a trip to Mexico including the wood-framed mirrors and paintings. Behold their pure beauty and farmhouse feel.
Rustic Entryway Treatments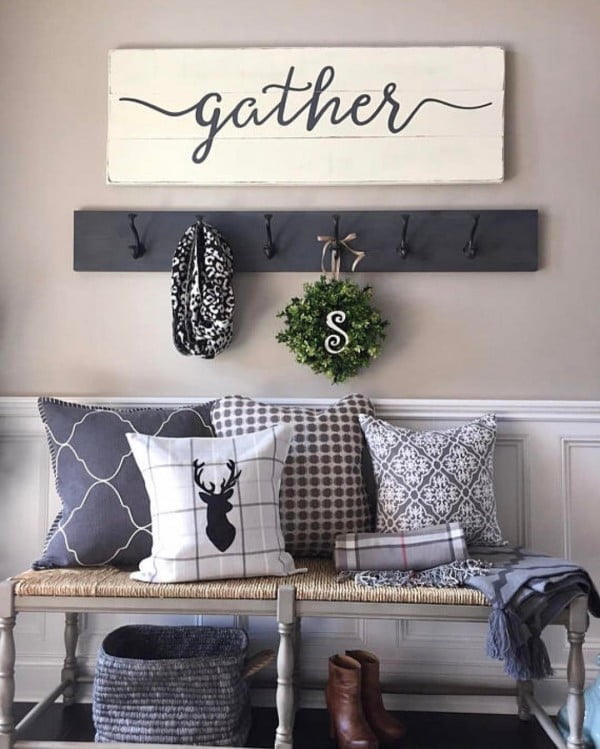 On top of the bench is modest wood plank a row of hooks for hanging coats, hats, and decor. A monochrome sign with handwritten text calls on the guests to gather in this space.
Nature-inspired Wall Décor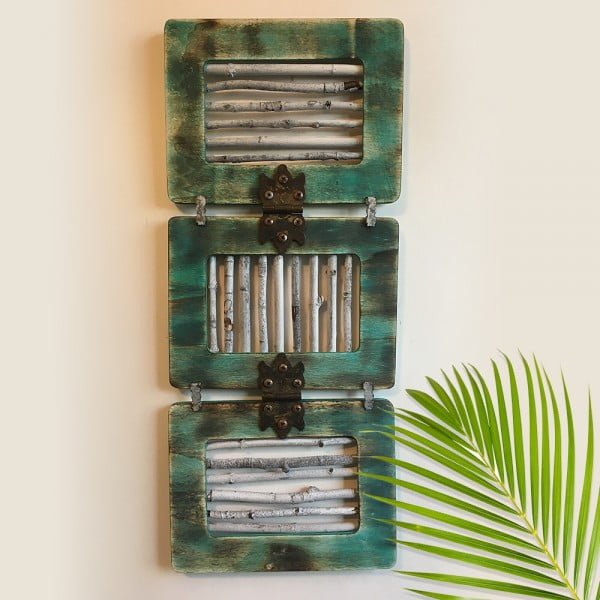 This hanging fixture brings the colors of nature indoors. Dried twigs are framed in small batches, alternating in horizontal and vertical stretches. The frames were painted green and bolted together by metal fasteners.
Oversize Wooden Clothespin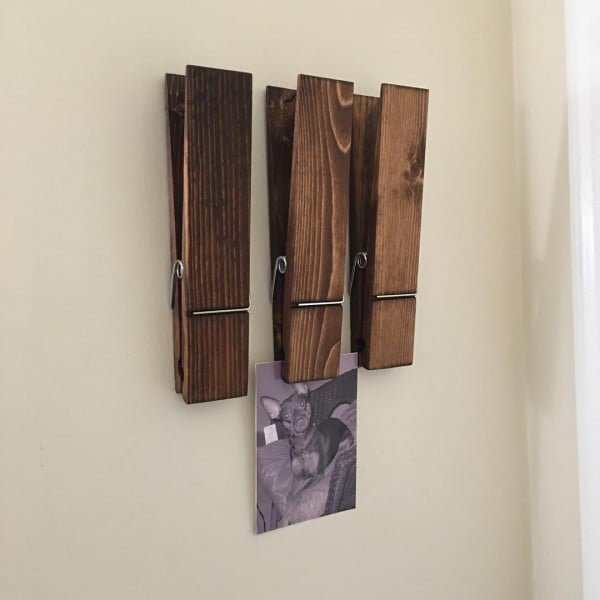 The humble clothespin takes center stage as a wall decoration with its impressive size and beautiful wood grains. These are also functional as each can hold a picture for display.
Recap
Liked this article? Here's what you can read next: