Last Updated on
Want to decorate your home with DIY crafts? Mason jars crafts are easy, and you can complete them in a few hours. Here are 20 excellent and creative ideas.
If you asked us what are the most popular crafts in home decor, we'd say that without a doubt it's decorative mason jars. First, they are very easy to make. Secondly, the variations and uses for them are endless. You can easily make unique decor over an hour and be proud of it. So here are our favorite DIY mason jar crafts that you can do too.
What's Inside?
What Do You Put in Decorative Mason Jars?
In a nutshell, here are some things you can put in mason jars to decorate:
Candles
String lights
Seashells
Small accessories
Soap
Live or dried flowers
Tissues
Colored pens and pencils
Herbs
Kitchen utensils
Pebbles
Tiki torches
Light bulbs
Colored Sand
And we can continue the list; the inspiration is endless. Next are 20 of our favorite mason car craft tutorials.
Jar Candles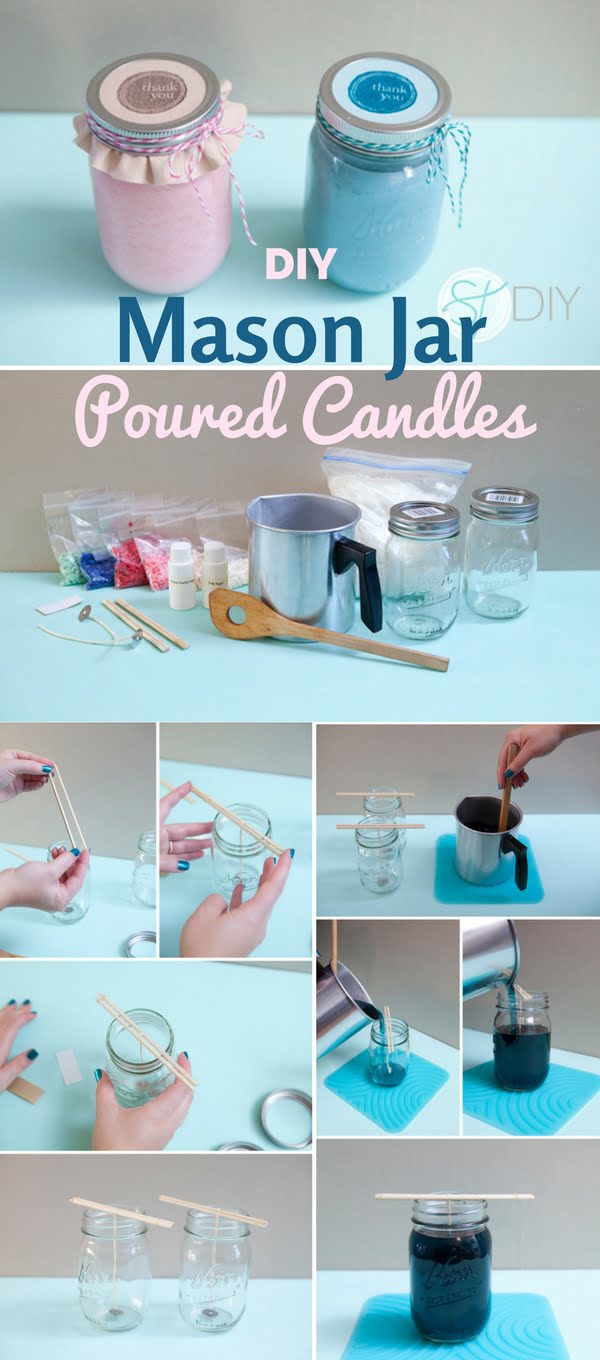 One of the best things you can do from a mason jar is your very own DIY mason jar candle. These things are quite impressive and even make a nice gift to someone.
Mason Jar Prism Light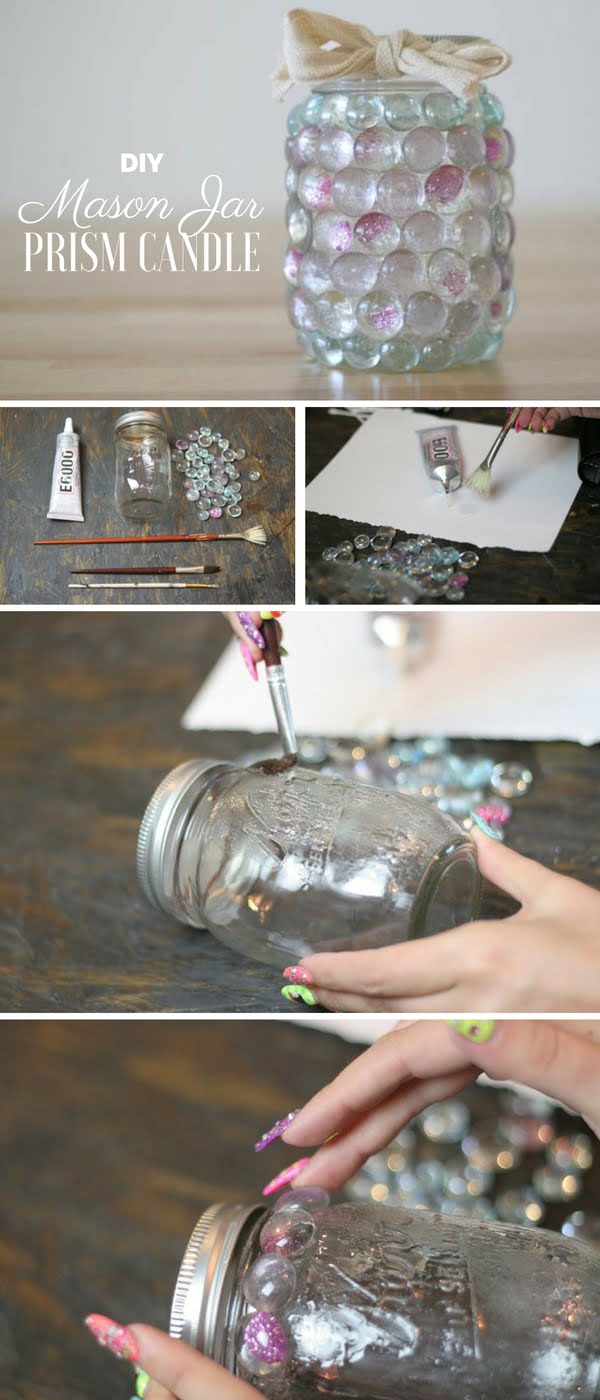 This is quite a creative project that plays with light. All you need is a mason jar (of course) and a bunch of glass crystals or other glass details that you can glue to the surface of a jar. Add a candle inside and enjoy the lights.
Fishnet Wrapped Jar
This one works best with a tinted glass jar, and you get a nautical themed vase or a storage container. There's quite some room for creativity in choosing materials and knotting but you can experiment for the result you'll love.
Distressed Chalkboard Jars

There are many ways how you can paint a mason jar, but this chalkboard paint distressed look makes really awesome vases or storage containers for small things.
Soap Dispensers

Yes, mason jars can make pretty great soap dispensers too, and they make a nice bathroom decor statement to go with it.
Painted Distressed Decorative Jars

That chic rustic look of a distressed mason jar is really the thing. So here's another way how to do it.
Bathroom Storage

Mason jars make the perfect storage for bathroom accessories, and if you design them in the style of your choice, you can make a beautiful decor statement too.
Tissue Holder

Even simple things like tissue holders look so much better when they are made from hand decorated mason jars. Be creative even in the least expected places.
Mason Jar Pen Holder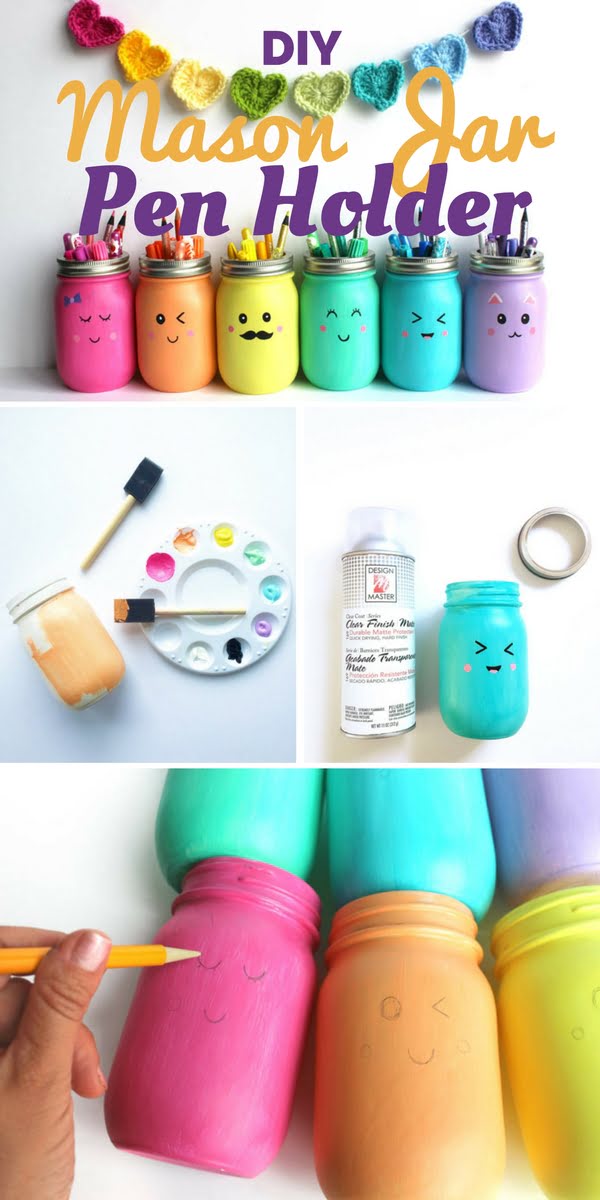 Among other things, mason jars make great holders for pens, pencils, and markers. So here are some you can make for your office desk or your kids.
Mini Aquarium

Create a decorative aquarium for a beach themed vignette or just another colorful item to put on display. It's as easy as putting things in a jar.
Labeled Mason Jars

Even if you use mason jars for their originally intended purpose such as storing spices, making fancy custom labels for them adds decor value as well.
Herb Garden

You can grow fresh herbs in mason jars and bundling them up in a pretty basket makes a beautiful and very useful mini herb garden for your kitchen.
Utensil Organizer

Make this lovely 4 compartment organizer for kitchen utensils. It will add a rustic accent to your decor, not to mention it is really convenient.
Unique Chandelier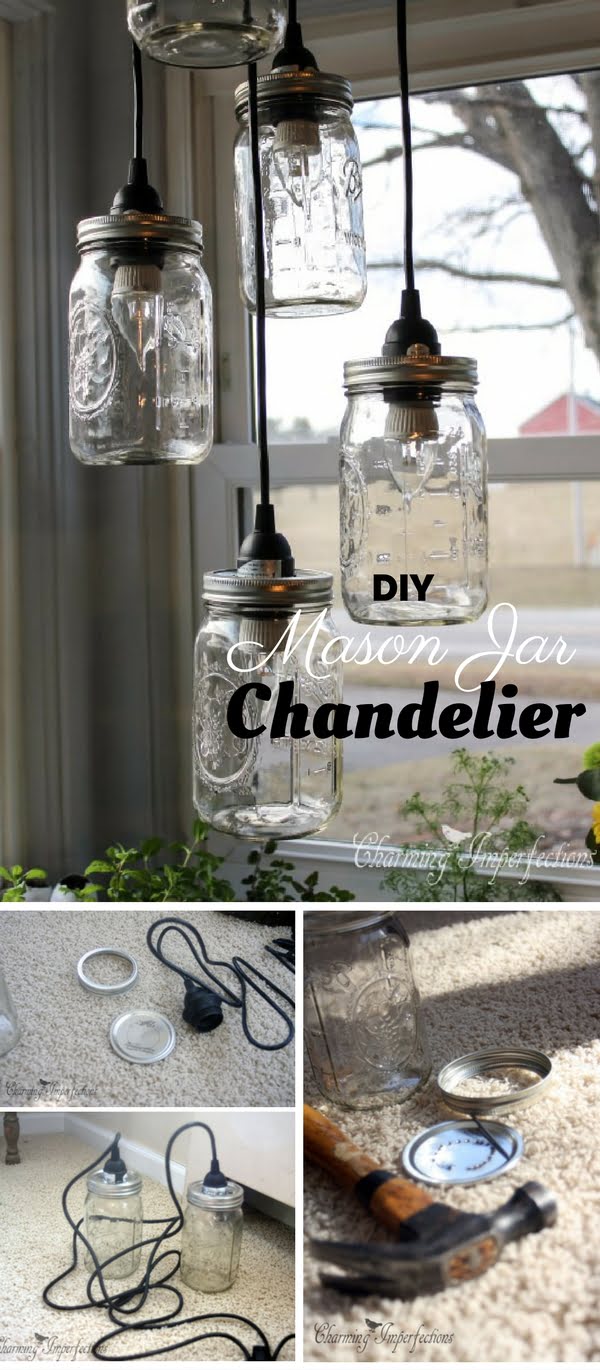 Want a unique accent in your kitchen decor? Build this whimsical DIY mason jar chandelier. The project is a little bit more involved but it's all worth it if you like this style.
Tiki Torches

You may enjoy these easy to make tiki torches in you backyard. It takes no more than 5 minutes to make them, given you have the required supplies.
Nightlights

Make a pretty nightlight from a mini mason jar. It will give you that gentle glow at night and you can choose your own shade of color by painting it.
Condiment Jars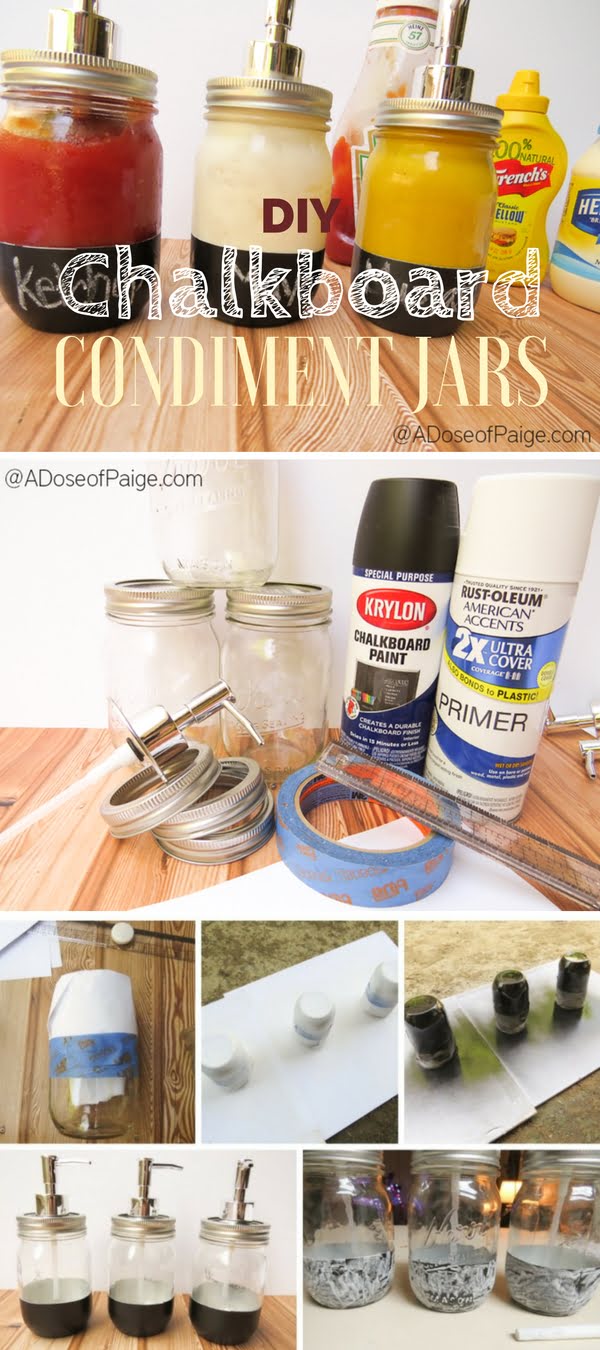 Create these easy to use condiment jars and add chalkboard labels to mark them easily. They make the perfect condiment dispensers.
Vanity Lights

Want a whimsical decor accent that goes with a rustic style very well in your bathroom? Make this mason jar vanity light.
Ombre Decorative Jars

We have a few different ways to paint mason jars on this list, and here's another cool way to do it. An array of mason jars painted in ombre colors will make a stunning centerpiece or a vignette.
Hanging Mason Jar Herb Garden

These hanging herb jars make a brilliant way to have a fresh herb garden in your kitchen while saving space. An empty side of a cabinet or a wall is all it takes.
Related reading: