Last updated on January 5, 2023
Here are practical and cozy ideas to help create the perfect TV wall for your bedroom. Read on!
Among the popular trends are built-in TV mounts that make your bedroom look less cluttered. Larger rooms enjoy big media centers but also with a built-in look.
Other accents like backlit TV and even electric fireplaces also stand out. And of course, we can still see the timeless shelves around the TV for storage and keeping other devices. These are not going anywhere.
Here are all the fresh ideas we have come up with this time with the goal to make the bedroom practical but also cozy.
Media Unit Wall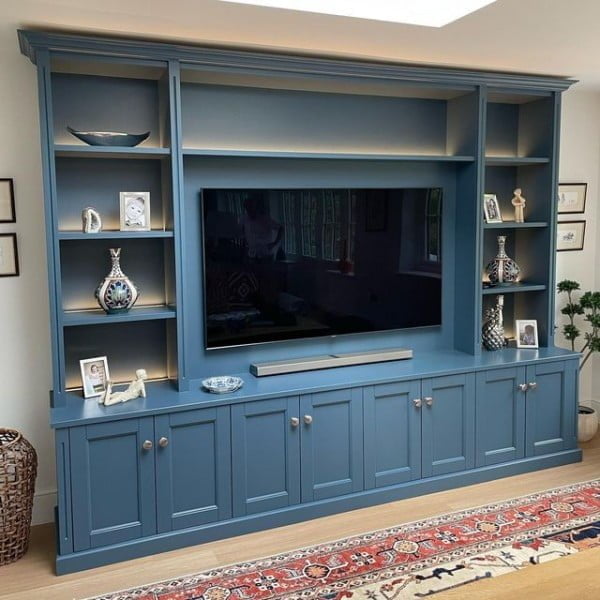 Create a modern yet cozy bedroom design with a stylish TV wall featuring Farrow & Ball's Stiffkey Blue Shaker cabinets and doors, providing plenty of storage. Only a large master bedroom can benefit from this set up anbd it's classic.
Built-in TV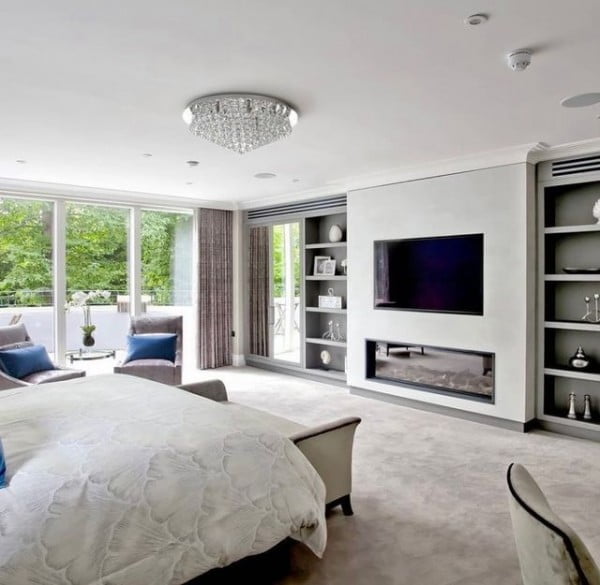 The entire wall in this bedroom is built out to integrate shelving, the TV, and an electric fireplace. Incorporate bright colors and luxurious materials to make the space feel inviting while adding plenty of storage for all your bedroom essentials.
TV Cabinets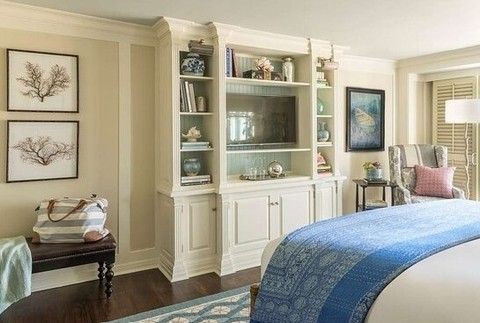 Create a modern and stylish bedroom TV wall decor idea by combining Hampton-style furniture with matching accessories.
Then, add some bright and colorful accents like throw pillows or artwork to make the space inviting and cozy.
Hidden TV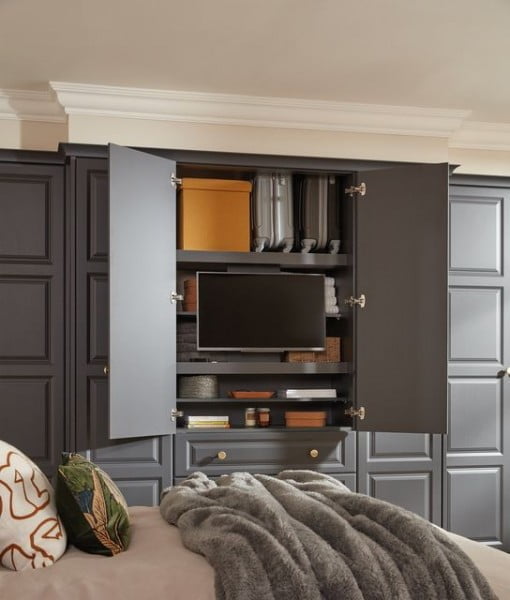 Create a stunning bedroom wall decor idea by combining clever storage solutions with fitted furniture and a hidden TV.
Incorporate storage pieces like shelves and drawers to keep your space organized and clutter-free.
Wall-Mounted TV with Floating Shelves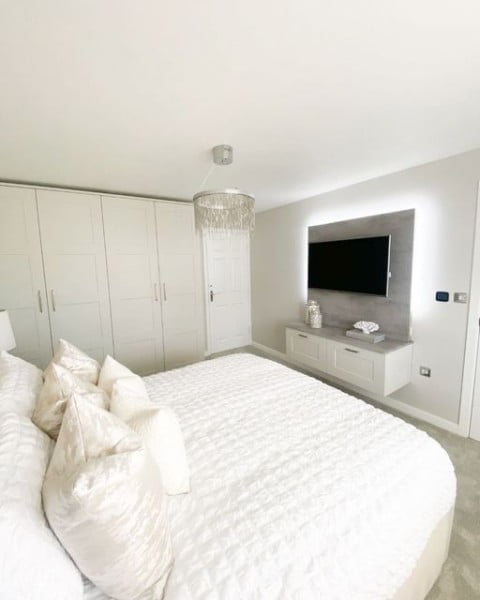 A cozy and inviting bedroom with a modern TV wall design. Start by mounting the TV unit on the wall and adding media wall shelves to store books, movies, and other items.
Then add some subtle lighting around the TV to create a warm atmosphere. Add fitted wardrobes for extra storage space and decorate with shelfies, plants, or other home decorations of your choice.
Grey Theme Bedroom with TV Unit and Study Table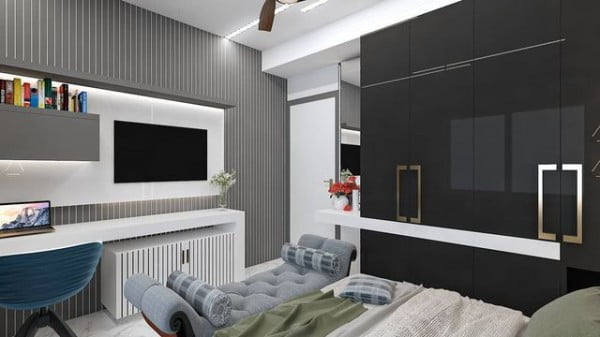 Create a stunning bedroom TV wall decor idea by combining black and white elements with pops of red rose, grey, and color. Start by mounting the TV unit on the wall and then hang a beautiful dress wardrobe design to one side.
Add some cozy bedding in shades of grey or white for contrast against the dark colors. Accessorize with colorful pillows, throws, and artwork to complete the look.
Media Wall with a Fireplace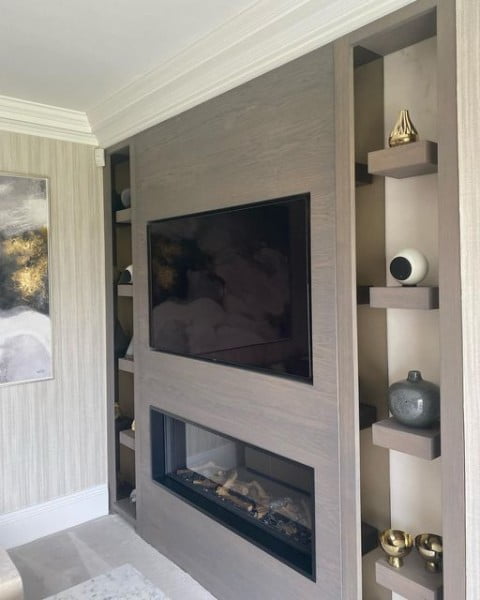 A luxurious bedroom TV wall decor idea with a media wall, an electric fireplace, open cabinets, and hidden mirror panels that reflect backlight.
Gallery Wall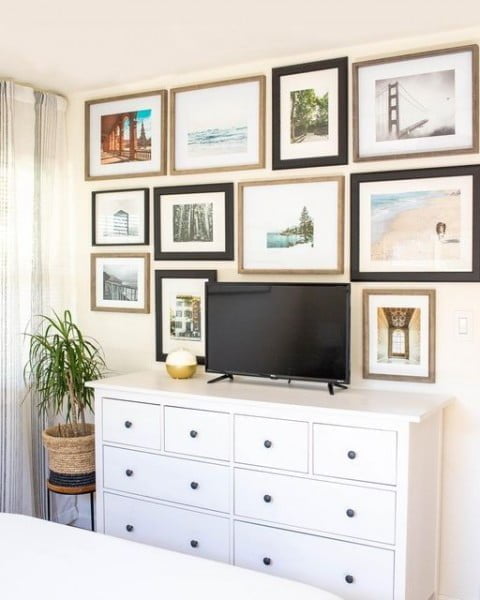 One of the classic and timeless ideas is a focal point in your bedroom with a wall of photos around the TV. Arrange large and small prints from your favorite places to make an eye-catching gallery. This is a great way to make the TV look stylish and part of the decor, while still creating a relaxing atmosphere for you and your partner to enjoy.
Built-in Dresser Frame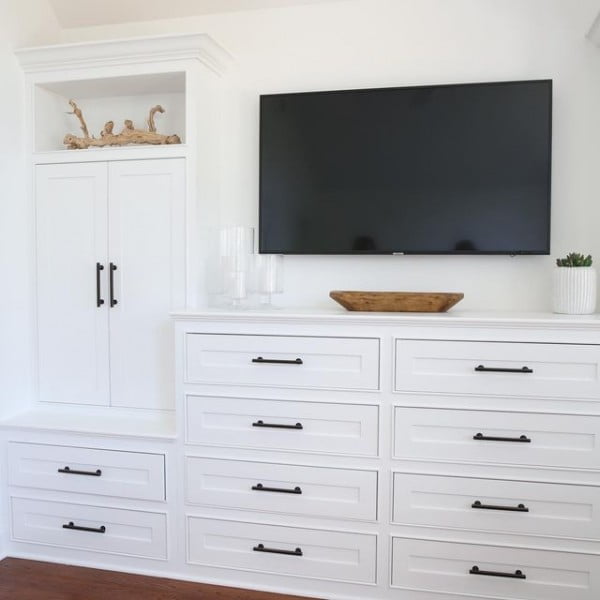 TV is surrounded by built-in dressers, storage space, and clean and simple decor. The Grapewood Dough Bowl adds a touch of texture.
Floating TV Shelf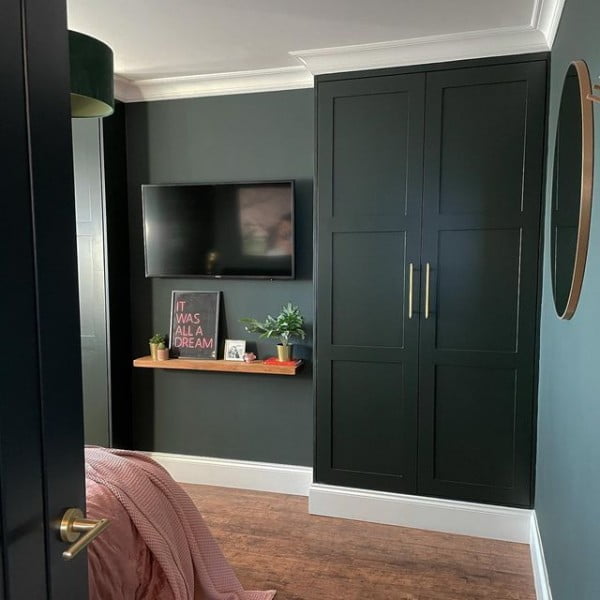 A bold and stylish bedroom TV wall decor idea with gold accents, and shaker-style built-in wardrobes. The dark green walls will be complemented by pops of pink to add a touch of warmth and coziness.
Liked this article? Here's what you can read next: