Last updated on August 15, 2023
Looking for the best corner shelves to make use of that corner space in your home? The best picks of 2022 will help you make the right choice. Read on!
In a hurry? Here's our#1 pick: this corner wall shelf unit.
We all have them in our homes. The empty corners are always there. Four (sometimes more) of them are usually unused. And it's fine. You don't have to put something in every corner because it can make a room look smaller or, worse yet, cluttered. However, using a corner for storage and display can be a good idea.
We've got them covered on more than one occasion when it comes to shelves. And with all the ideas on how to decorate around shelves and bookcases, it's time we make our picks for the best units to do the job. After all, not everyone will make one as a home project.
What do you need to look for in a corner shelf?
Decide:
Is it going to be used for display or storage (or both)?
Does it have to cover the walls?
Is it just an accent?
How will it fit into your decor?
These are essential questions to ask yourself. They will determine the type of your new corner shelf. So all of the best choices are based on these types and your decision.
We can make our picks based on this data because we know what our readers (i.e., you) like about all kinds of shelves through our articles about them. Add extensive research topped with testing, sprinkled with personal experience, and you have a well-rounded top list. Note also that we might get compensated for qualifying purchases by Amazon at no expense to you (these links are marked with #ad). This helps us do a better job.
Introducing the best corner shelves of 2022.
Corner Bookshelf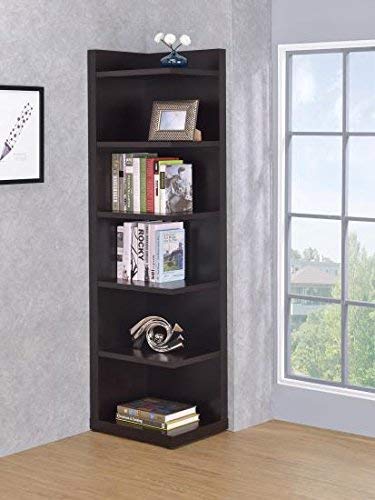 When you need a dark bookshelf that blends beautifully with your furniture, then nothing fits better than the corner bookshelves' open side design. A close peek at the picture makes you think that the shade is cappuccino, but it's dark black in reality. Therefore, you can set this bookshelf only in a room with bright and light wall paint. Both sides are open, so anything you put on the shelf would be accessible.
A Hollow Board and Melamine Paper are used in making this shelf. That's why the rack is lightweight but still sturdy in build. Its multi-shelves structure allows you to keep not only the books but other items, such as decoration pieces, lamps, candles. The unit comes with step-by-step instructions that you need to follow to assemble this bookshelf. It takes 15-20 minutes to put pieces of this product together.
Pros: easy to assemble; lightweight; sturdy.
Cons: made of particle-board.
Corner Shelf Unit

Time to refresh the look of your room corner with Furinno Turn and Tube Espresso that comes with a claim of 5-minute assembly, which is nothing but a fact since it has been tried and tested by its customers multiple times. Its 5-tier design offers excellent storage space in a small room.
The company designed this corner rack to meet the demand of those looking for super-functional and stylish corner shelves at a meager price. Although the product's price is low, its looks are classy. No one can tell that it is made of engineered Particle Board PVC tubes.
One problem with this bookshelf is that it works best only on a flat surface; another shortcoming is that each shelf can hold only 10 pounds. You can get the best value for your money, but you need to carefully select items that you are going to keep inside it.
Pros: quick assembly; stylish Look and appearance; super affordable; offers more than 15 color options.
Cons: it's wobbly, especially when you set it on the carpet; small shelves; the shelf will lean if you overload it.
Corner Wall Shelf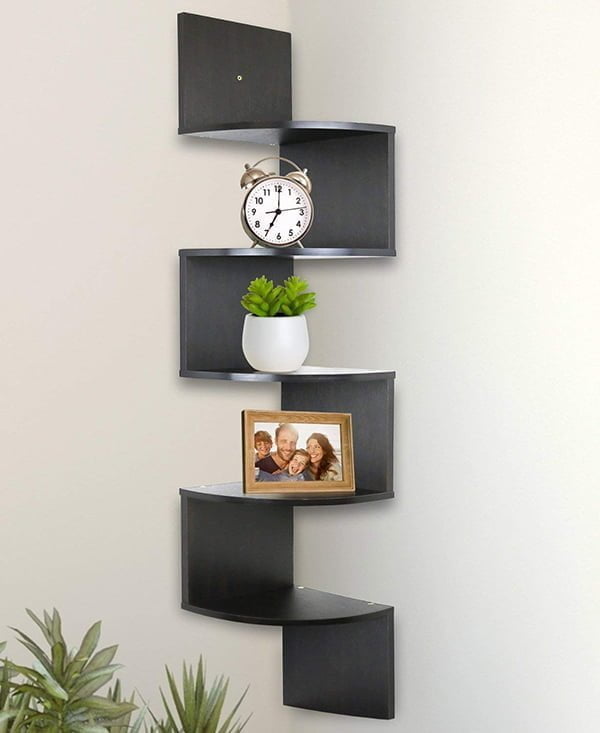 This unit is our editor's pick for ticking the utility and decor value boxes.
These Corner shelves from Greenco are statement pieces for your home. No matter if you mount them into your kitchen, living room, or dining room, their elegant espresso finish offers instant artistic appeal to every space. They are designed to keep your collectibles and decorative pieces, but their sturdy build lets you keep your heirloom in the center of any shelf. It feels good to turn these corner shelves into your tasteful display center to adorn your home decor. You'll find it so easy to mount this shelf as the package unlocks all the necessary mounting hardware along with an easy-to-understand instruction manual.
Pros: inexpensive; stylish art-deco design; easy to put together.
Cons: not designed to keep bulky items.
Small Corner Shelf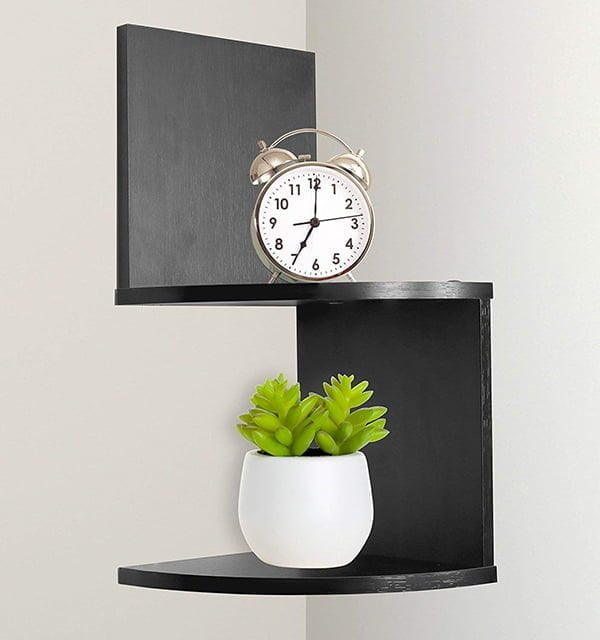 Whenever you are searching for small corner shelves that can easily handle some knick-knacks, in that case, Greeno presents your modern floating shelves. These shelves are suitable to mount on a wall and then put some small art deco pieces or collectibles on them. If you compare its features against price, you realize that you are getting the best value for the money you spent.
Putting together all pieces of this modern two-tier design won't be a hassle for you. To adore your room interior, mount it on a sidewall, and put small plants on it – indeed, the best way to welcome nature and minimalist effects into any room of your home.
Pros: affordable; cute look; easy to install; stylish.
Cons: small size; don't put heavy stuff on it; it doesn't fit perfectly in a corner.
Rustic Corner Shelf
A classy makeover can be given to any room's corner c through this rustic corner shelf crafted with durable MDP material. A feature that makes this cute shelf stands out from the rest is its rustic appearance, where the designer gives an aesthetic finish with neutral hues but keeps the natural texture of wood intact. Quick mounting is possible, as no tool is required to mount it at its place.
A sturdy build allows you to set your massive collectible and decorative items without thinking twice about the slip or fall of your essentials. When you set this sort of corner shelves in your bedroom, make sure you set your family framed photos in the upper rack while keeping an aromatic candle stand on another.
Pros: a rustic statement piece; floating style; durable; fit perfectly to any corner space.
Cons: fitting a screw inside a shelf is challenging; an average-sized shelf is not suitable for living room decor.
Wood Corner Shelf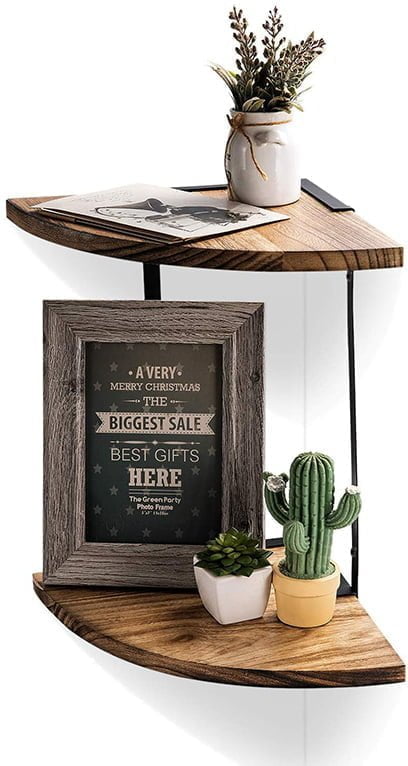 Whether you need a storage upgrade in your bathroom and have a plan to get a perfect corner shelf for your bedroom, this wood floating shelf from NEX seems like the product you are looking for. The manufacturer used premium wood to make this corner shelf, which lets you organize your living space with a tint of style and decor. This real wood shelf is thick and solid, designed to hold heavy stuff.
Pros: beautiful design; sturdy; easy to install.
Cons: sometimes, shelves don't come up pre-drilled; replacement parts and screws are difficult to find.
Hanging Corner Shelf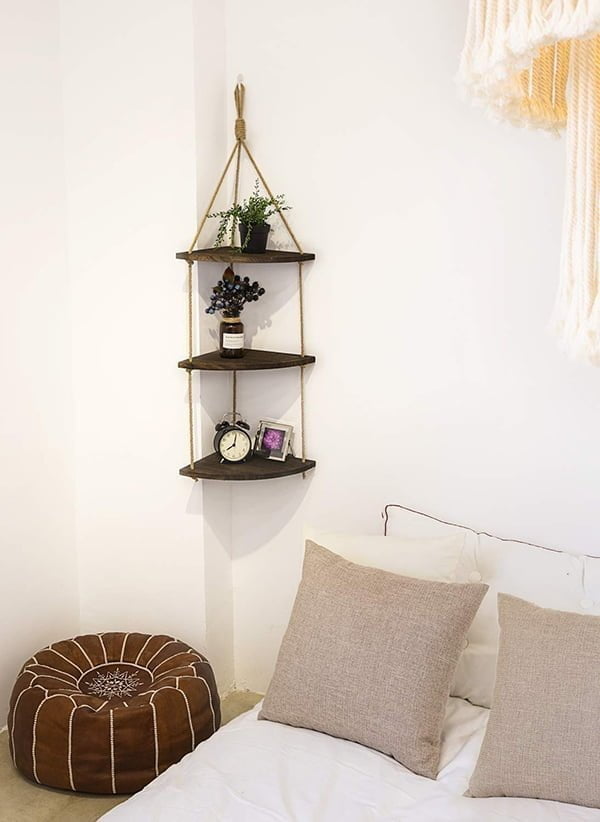 Maximize space in any room of your room with this hanging corner shelf by Mkono. Natural handcrafted wood is used to create enticing corner shelves, while an element of hanging style is made possible through sturdy jute rope. You are free to adjust the distance of wood boards just to fit a decorative piece that you will set on this 3-tier corner shelf. When it comes to setting the display, you can keep anything you want, ranging from collectibles to decorative pieces.
Pros: best corner shelves made of eco-friendly and recycled material; make the most from your corner space; chic hanging style.
Cons: shelves move a lot; less functional design.
Black Corner Shelf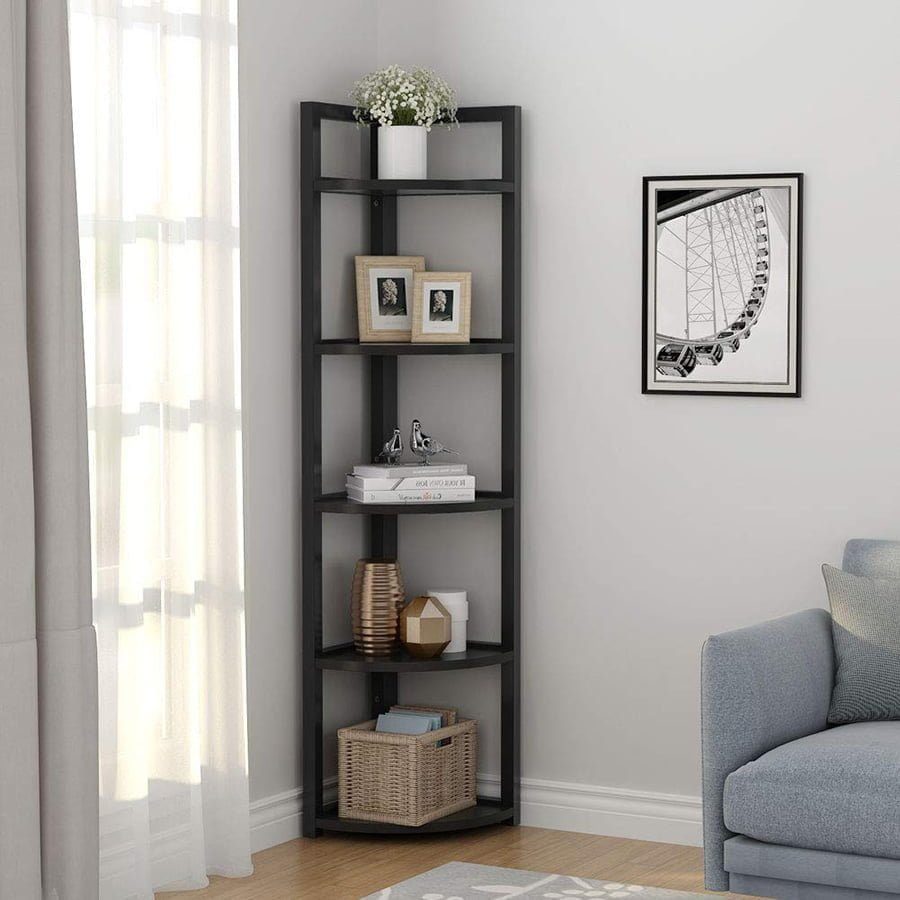 A quick update to your home and office decor is made through this easy to assemble black corner shelf by Tribesigns. It is one of those multi-functional corner shelves that render ample storage space. Since it is crafted with a metal frame with black color and finish, you can rely on its sturdiness and quality. Its metal-build offers a large weight capacity so that you are free to keep any heavy stuff on this free-standing corner shelf.
Pros: functional; durable; free-standing; easy to put together.
Cons: a bit wobbly; customer service is not very helpful.
White Corner Shelves

You can add function and style elements to your living room with these 5-tier white corner shelves. Its bright white classy crossed X design isn't the only eye-catching factor that helps you win compliments from your guests; the large storage capacity it offers to you is another best thing. This multi-functional corner shelf is suitable to keep your books, art items, family photo frames, and similar things.
Pros: nice look; easy to set up; excellent storage capacity.
Cons: can't hold the weight of actual books; careful assembly is required.
Tall Corner Shelf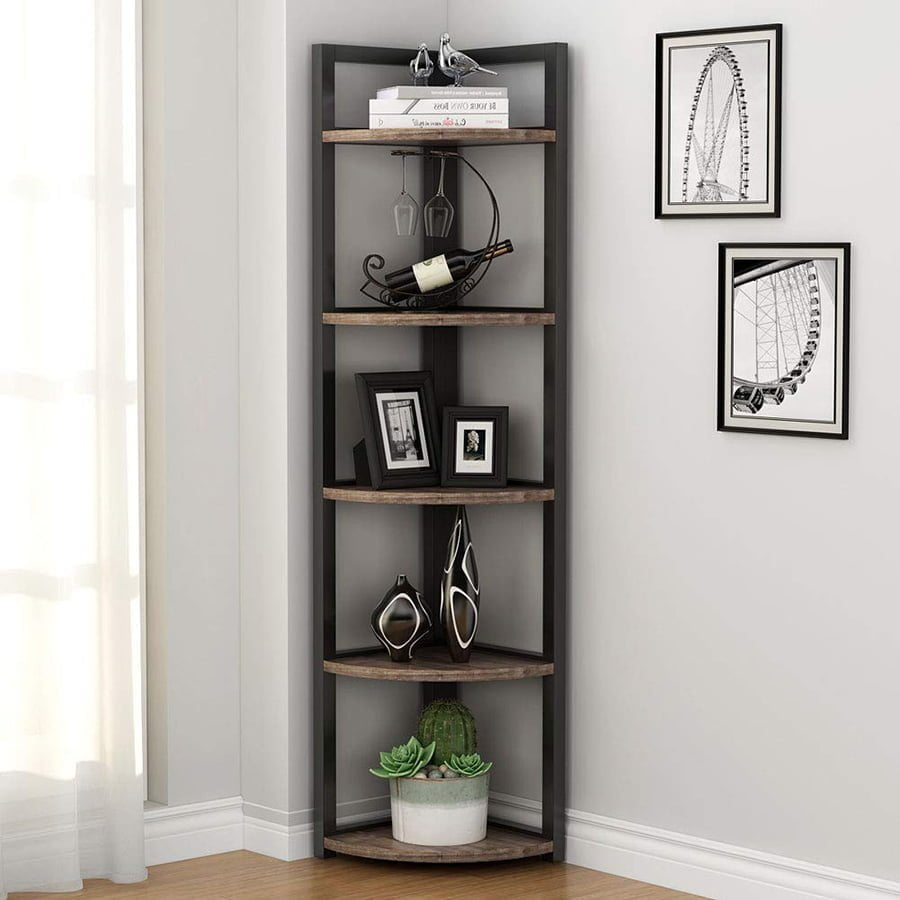 Get additional storage space for small items in your home by getting this tall corner shelf. Its rustic appearance makes your room corner stand out with elegance. Smooth round edges of each shelf, let your family walk around this shelf without getting scratches on your arms. It is among the top-rated free-standing corner shelves that can hold heavy stuff due to its robust construction.
Pros: blends beautifully in any room's corner; space-saver design; large storage capacity; easy to install.
Cons: the leveler's foot is too short for properly leveling the shelving unit; installation instructions are not entirely clear.
Recap
---
Disclosure: As an Amazon Associate we earn from qualifying purchases.
Liked this article? Here's what you can read next: