Last updated on October 5, 2023
These are the 23 types of shelves (yes, there are that many). Knowing them all will help you choose the right shelving solution for your particular needs. Read on!
Who could have thought that there were 23 types of shelves? We haven't until we started making this list. If you consider every style, design, material, purpose, and use case, it makes a big list.
And it gets bigger. Some types of shelves exist today that didn't exist before (such as under the TV shelves).
And as the decorative use of shelves evolves — we now have shelfies (Instagram pictures of well-decorated shelves) — we can count many more types in the future. We never knew something as humble as the shelf could be so exciting!
But it is, and you will find a lot of inspiration in this elaborate article. We can't wait to introduce you to every shelf and make a case for every single one.
Let's get started — it's so exciting!
Floating Shelves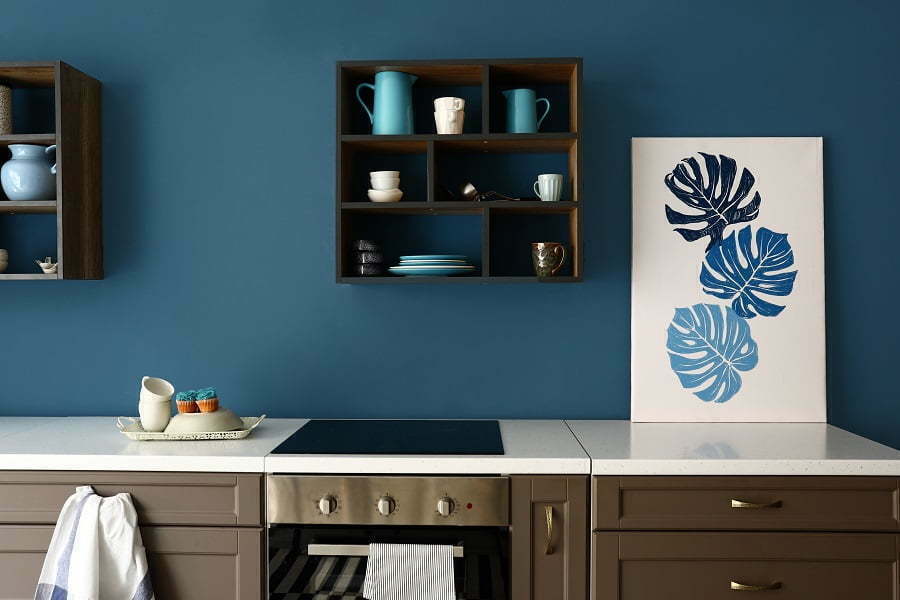 We should all accept that floating shelves are the most trendy and advanced choice for shelving. Torsion-box (the reinforced shelf design) shelves are fascinating and a perfect way to store items efficiently and on display.
A floating shelf is similar to other shelves as they are available in different designs and shapes and can be affixed to a wall or other appropriate surface. The shelves will be useful because it will conceal the mounting equipment from view. This effect produces an almost unreal quality to these shelving units (this the term "floating").
Another useful aspect of floating shelves is that they are mostly crafted from engineered wood, giving them a luxurious finish. The assembly consists of screws, nails, and brackets that stick the rack up on the wall. Floating shelves are available in all sorts of colors, sizes, and types. And while other shelving systems are storage devices only, floating shelves often proves to be a decorative object.
Corner Shelves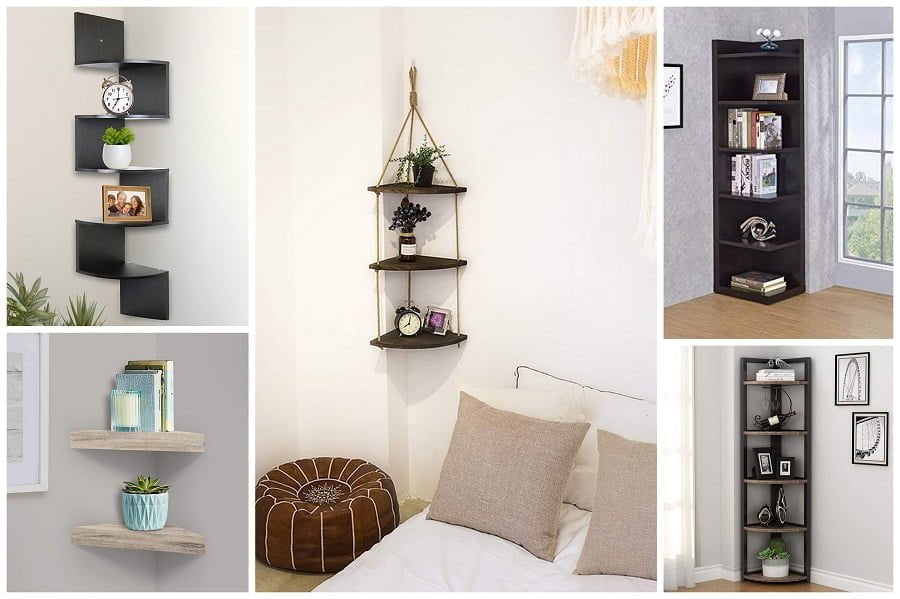 Corner shelves are particularly excellent in homes that need added space. These shelves are available in several ways and can be customized to suit various areas required. You can change them to your liking if you desire to.
Corner shelves may be made from plastic, metal, solid wood, engineered wood, or laminated wood for a longer lifetime and sturdier construction. They can be wall-mount, put in the kitchen, or floor-based to give them more room in your wardrobe or pantry to extend the storage.
Corner shelves are a convenient way to reorganize your things at home. These corner shelves can be further divided into two main classes, fixed corner shelves and adjustable corner shelves. Alternatively, they can be defined according to them how they are built. There is such a range of corner shelves in various shapes and sizes. Here is a basic overview of each of the styles of corner shelves.
Right-Angled Corner Shelf
A 90-degree corner shelf is the most basic type of shelf. You can build the shelves by meeting two shelving units at right angles to each other. This side-by-side assembly is the most economical of all. Building one is straightforward, which means that you can make it quickly and DIY.
Curved Corner Shelf
Curved shelves provide a few inches of extra storage surface and soften the corners visually. This double whammy makes curved corner shelves extremely popular.
Angular Corner Shelf
Corner shelves, as compared to curved racks, present irregular and asymmetrical curvature and style. This geometric style offers a modern look and feels to the storage unit, and it's a welcome alternative to otherwise dated-looking rounded shelves. You may also use the asymmetrically-angled corner racks.
Rotating Corner Shelf
The thought of rotating a corner shelf (Lazy Suzan) certainly merits a high-five. This invention is genuinely groundbreaking because it allows utilization of any inches of any room in a corner. These corner units consist of a turntable or moving board, similar to the Lazy Suzan idea. These units are typically aren't sold by themselves. Instead, they are part of a broader assembly of racks, with a turning frame around the corner. The unit is typically built into four separate sections and can be rotated to face each segment.
Bookshelves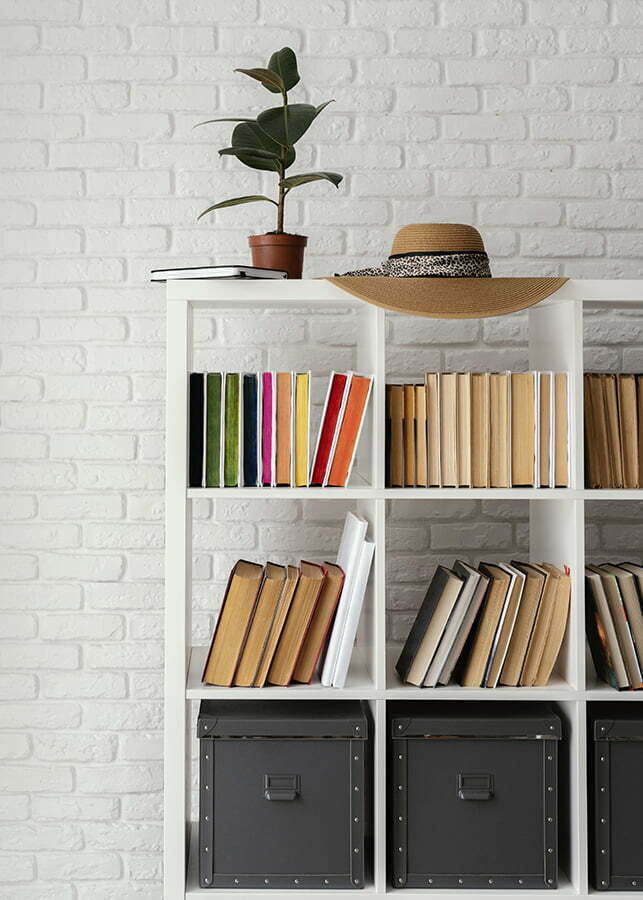 Bookshelves of freestanding shelves are more convenient since they don't need to be placed or attached to a surface in one way or another. Bookshelves are so available they're the most likely object of decor in most interiors.
Just think of the legendary IKEA's Billy bookcases that have been used and re-used as an alternative for virtually any home furniture project.
Bookcases are made of horizontal dividers to contain large objects and vertical cabinets where you can conceal personal items in them. If your pantry is open, you can also get a set of shelves with both open and closed storage compartments.
There is excellent versatility for room use in freestanding storage units because of their capacity to be shifted around quickly. Do you want to purchase a desk outside the size of your home office room? You can carry this shelf without any installation, whether with wheels or not, so it is portable.
Shelves are available in different colors, forms, shapes, sizes, and designs. Some shelves are square-shaped, round-shaped, rectangular, cubical, hexagonal, and so on. Therefore, rest assured that you will find a bookcase that suits your style no matter what you need them to be.
Under TV Shelf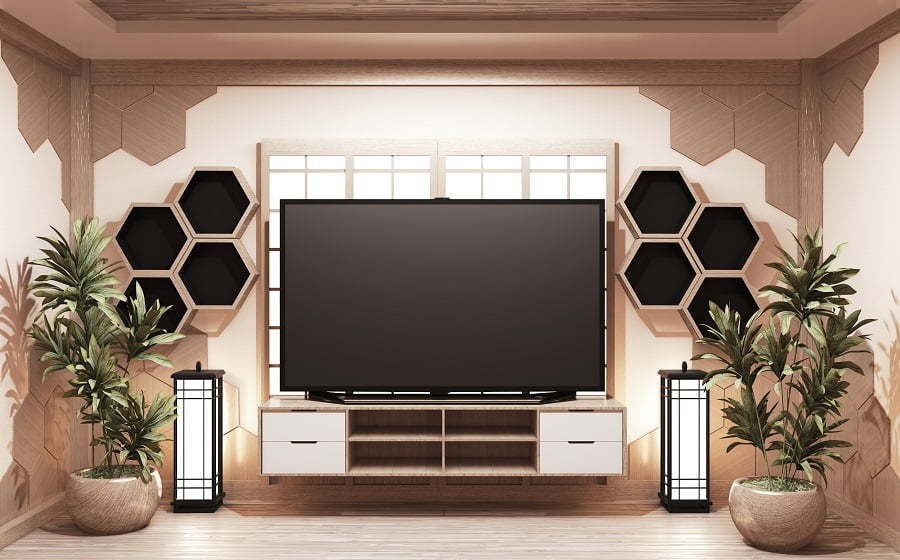 Special attention goes to the under the TV shelf. We think it's deserves to be defined as its own type because of the distinct look and use. Modern TV shelves serve as a storage unit under the wall-mounted TV. It contains your home entertainment devices, hides cables, displays decor items.
It's a very popular type of shelf that you can find in almost any household that has a TV. And as such, it has a myriad of design and style options.
Fixed Bracket Sheves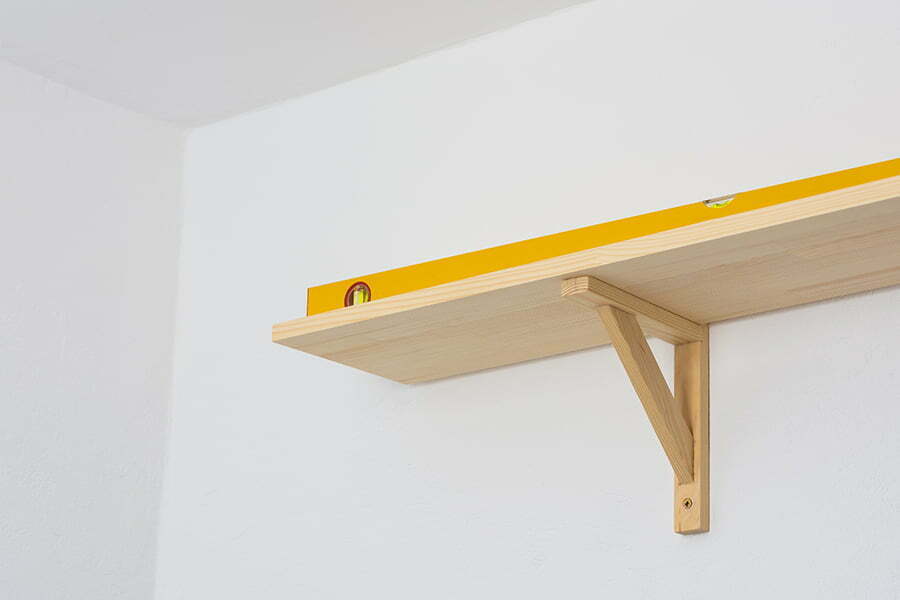 Fixed bracket shelves have been used since forever as the oldest kind of shelves that are as common today. The fixtures can be called brackets, and they are fixed to a wall surface.
This brace is usually made from metal and looks like a backward L with the hinge on one end. Shelving is fixed to a wall or other vertical surface, and then a board is suspended over the supporting brackets.
These shelves can take many forms — the brackets may have alternatives — and are very similar to floating shelves (except that the latter has hardware hidden.)
Built-In Shelves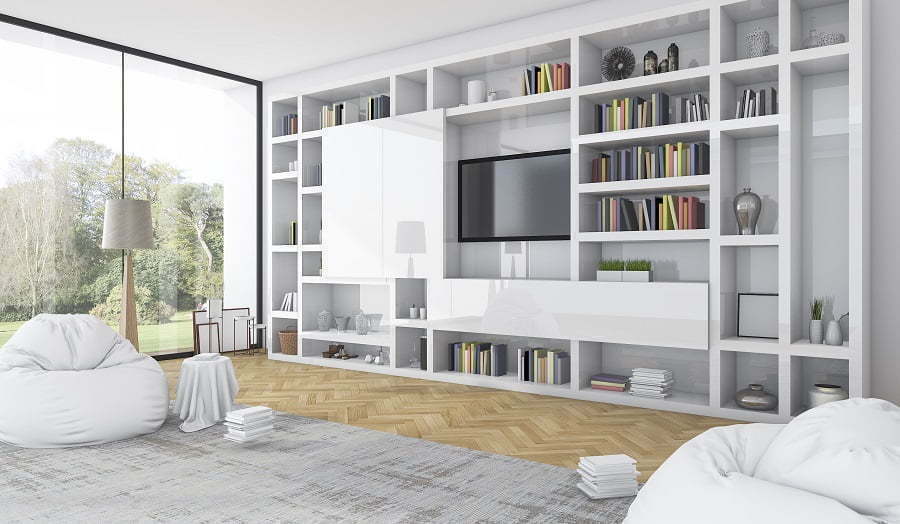 The built-in shelves are incredibly functional as they remove clutter without creating wasted space. Built-in shelves are built within certain corners or empty spaces in your home. This is a successful method by which alcoves can be converted into built-in shelving units.
No tools or skills are required in the construction of these sorts of shelves. You get enough room in such a short period! You can buy shelves specially fit for the purpose, or order customized ones to fit into your desired shape of the interior.
If you need extra storage space in your home, built-in shelves would be the best option for you, especially in small spaces. This shelving solution is limited in length and depth because of the wall's width restrictions. These restrictions will limit the design options of the shelving too.
With the proper combination of the rack of different widths and depths, you can equip your room effectively. You might then leave space at the bottom to accommodate small chairs or benches for an additional seating area.
Hanging Shelves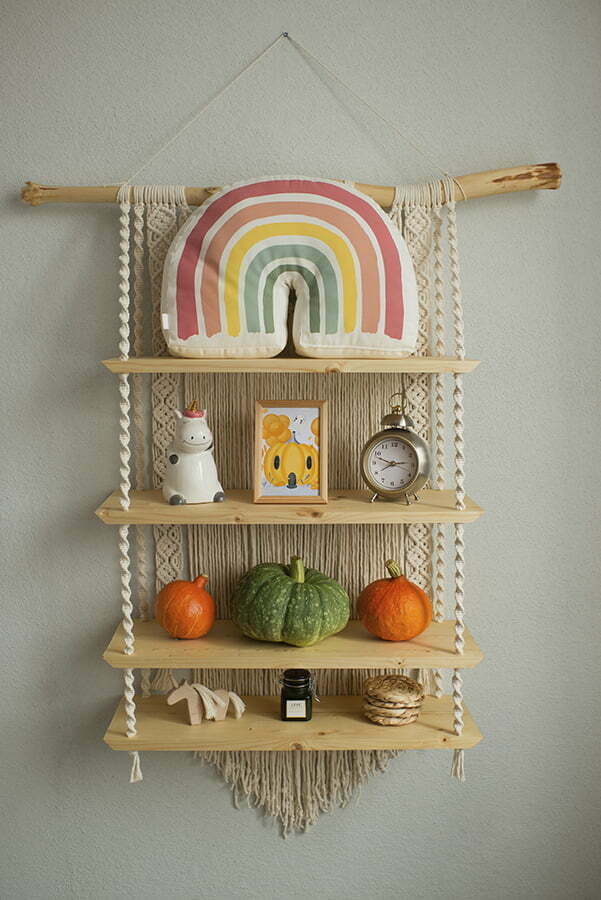 Store your things on hanging shelves. These shelves are suspended from the wall, the ceiling, or a rack positioned lower down. Several individuals have mounted transparent glass shelves on their kitchen cabinets to improve their cookware's versatility and storage.
These shelves are widely used in homes to store small objects that would otherwise be lying around and cluttering the room. However, it is not recommended to install hanging shelves on imperfect walls.
You must pay due consideration to the maximum amount of load that the hanging rack can carry and ensure that the threshold weight-bearing limit is not exceeded while being suspended.
Top-Hung Shelves
Top hung shelves are usually hung from the ceiling, cabinets, or over doors. That makes them rather small and unable to hold heavy items. The main purpose of this type of shelves is to squeeze as much storage space from tiny rooms as possible.
Ladder Shelves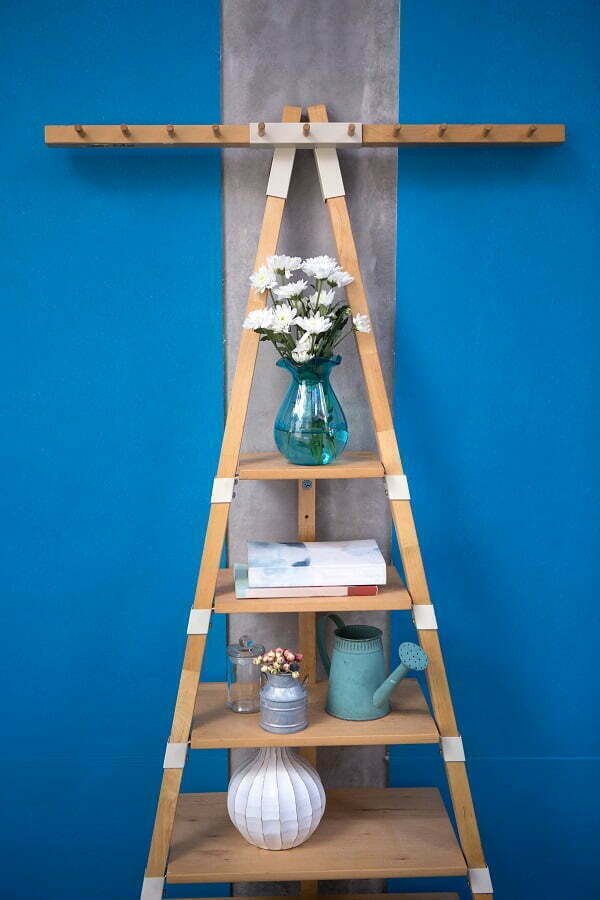 A ladder shelf is a freestanding shelving unit in the form of, you guessed it, a ladder. It is usually formed of incrementally sized boards — the largest at the bottom and the smallest on top. Likewise, you can store bigger and heavier items on bottom shelves, leaving the top shelves for small things and display items.
Adjustable Shelves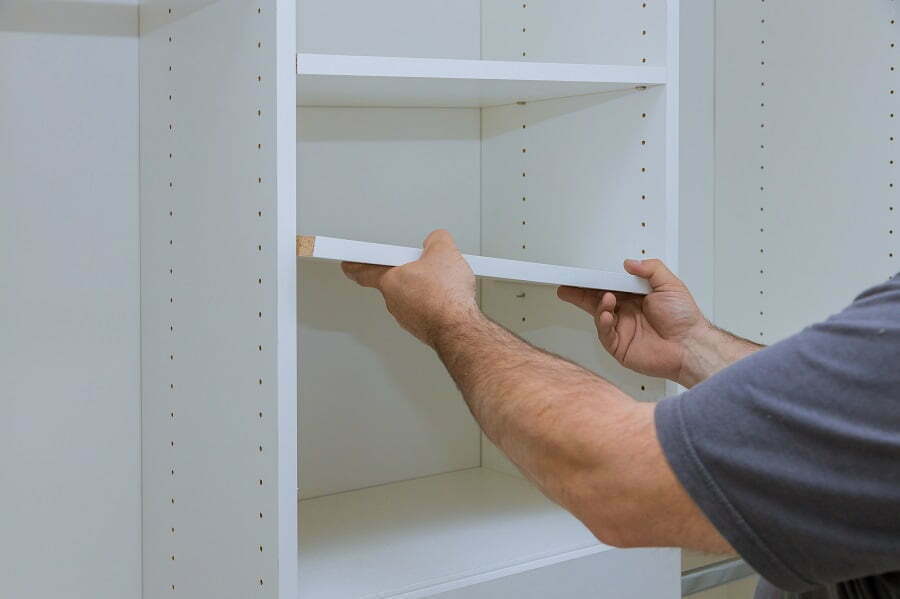 An adjustable shelf is a structure that consists of vertical rails, brackets, and shelves. This form of storage concept seems perfect because it lets us configure it to our liking. You will use this kit to assemble on your own.
The vertical nails should be fixed in the vertical wall at a certain distance so that the shelves will fit in between. When the rails have been bolted to the wall, the brackets are fitted into the wall's predefined slots. The rails have holes or slots to which the structure is attached. These metal brackets are shaped similar to those in fixed shelving. Instead of using separate frames, flexible slotted racks that can be pushed up and down on rails can be provided.
The adjustable shelves are typically constructed from light metal, and you can find wooden slabs as well. The frames are made of steel for their strength and durability. Adjustable shelves are available in several different types and sizes so that you can select one appropriate for your unique needs.
This shelving system is perfect for garages as adding, removing, or transferring individual racks provides versatility for items such as toolboxes, gardening equipment, and similar household items. Adjustable shelves are a simple and functional way to store your products firmly and safely.
Pull-Out Shelves
Pull-out is a comparatively lesser-known storage option. You may use slides to hang boxes from racks. They are usually mounted in closets, a table, or a shelf. You may recognize an ordinary drawer as a form of a pull-out shelf, but without sidewalls. The office desk that can move horizontally and occupy space behind the monitor is also a pull-out shelf.
In this way, you can further separate pull-out shelves into various styles, such as countertop mounted.
Shelf Materials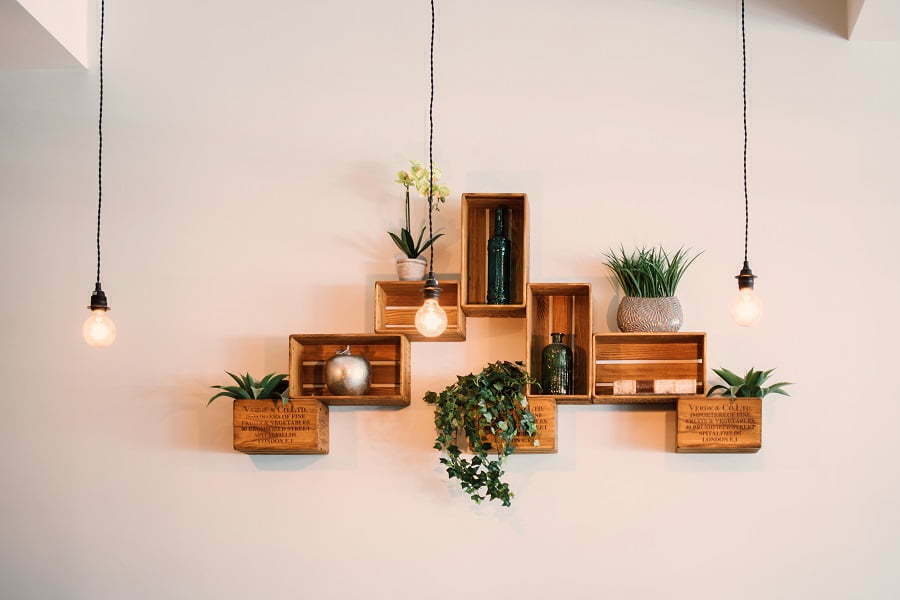 Every single type of shelf that we've covered above can be made of different materials. The following are the most common materials used to build shelving units. They can be mixed and matched to create a unique solution.
Wooden Shelves
Wood is the most common material in shelving systems for homes and offices. It's because wood is a sturdy material, plus it looks attractive because it has a distinguished appearance. Also, wood can be mixed with other materials or processed to accommodate different shelving systems or preferences.
For instance, particleboard has a good, clean, and well-finished surface. Engineered wood products are becoming more desired as they have more excellent durability and a beautiful look.
If you're going to build a shelving unit as a DIY project, it will likely be wooden shelves. You can achieve a cozy rustic style with wood shelves.
Glass Shelves
Glass shelves are not very robust, but they are excellent as decoration and storage systems for the home. Glass shelves are prevalent in contemporary bathrooms because they are perfect for handling lightweight loads and offering a sparkling and elegant look.
You can add glass shelves in living rooms and bedrooms for housing mirrors, decorative items, and small vases.
Steel and Metal Shelves
Steel and metal have a good collection of shelving units, which are substantially more convenient to use and clean than the wooden and glass ones.
The aim is to bring heavy loads, such as computers, displays, and other equipment to and from offices. You can mount steel shelves in the kitchen in a typical pantry style to store pots and pans.
In the living room, adjustable metal shelves offer flexibility and can also decorate the generally not open and accessible areas.
Plastic Shelves
Besides plastic, various types of wood and metal are common to be used for shelving and dividers.
You may use cardboard or plastic shelving in the house for various purposes such as shoe storage, magazine stand, bookshelf, and the likes.
Shelves in Every Room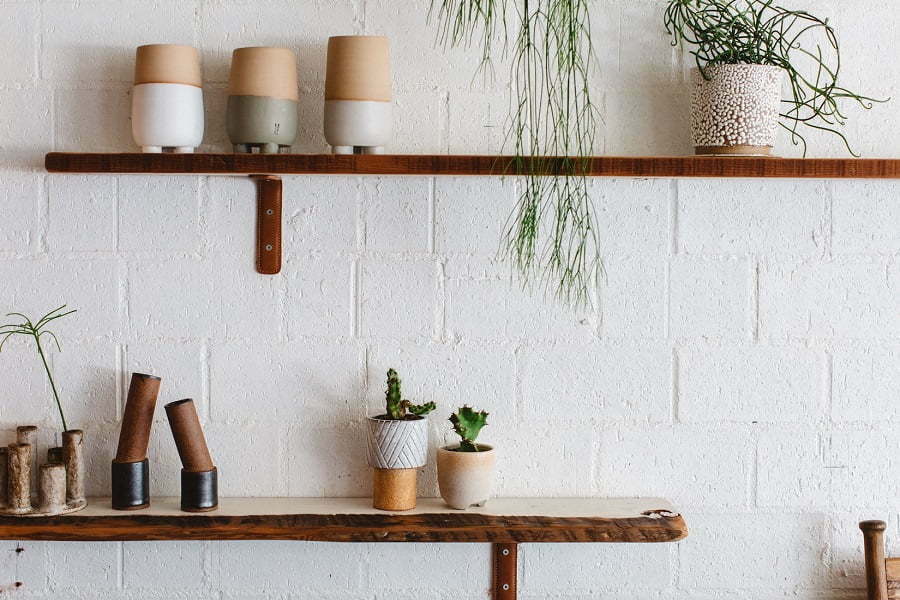 Different types of shelves may be used in every room of your home. Typically, it's a mix of the aforementioned styles and designs. Similarly, you can use most of the same shelving units and solution in different rooms.
Bedroom Shelves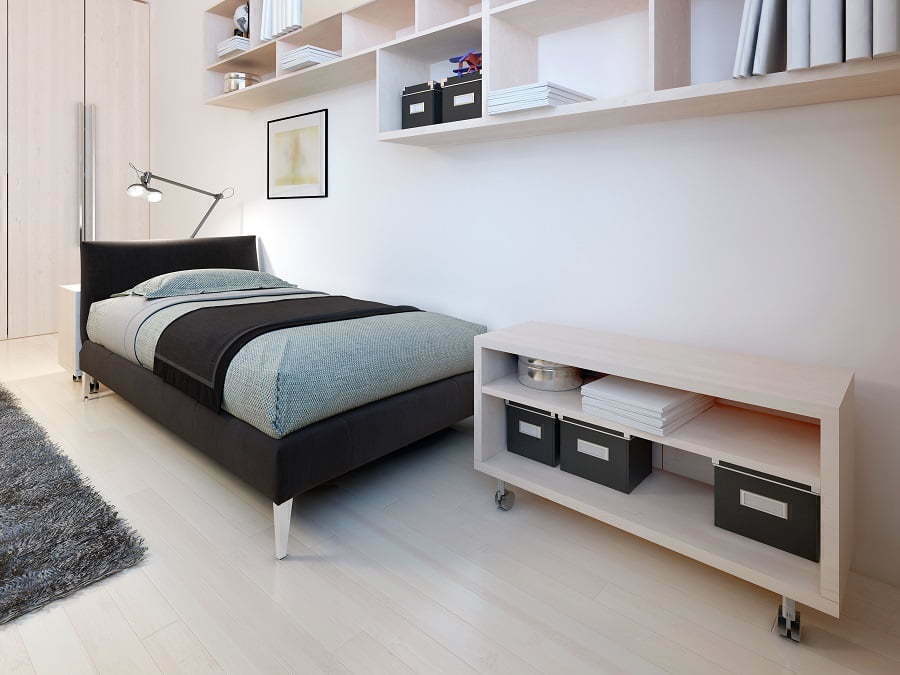 Who said you couldn't have shelves in your bedroom? Shelving systems are needed in bedrooms in various ways. Getting some furniture to put in the room would make the person feel cozy and relaxed. For instance, you can use a shelving unit as a nightstand or a dresser.
There are several different styles of bedroom shelves to choose from. Various types of shelves are typically used in bedrooms. Just as when selecting bedroom design and accessories, it's necessary to consider several factors before choosing shelves as well.
Bathroom Shelves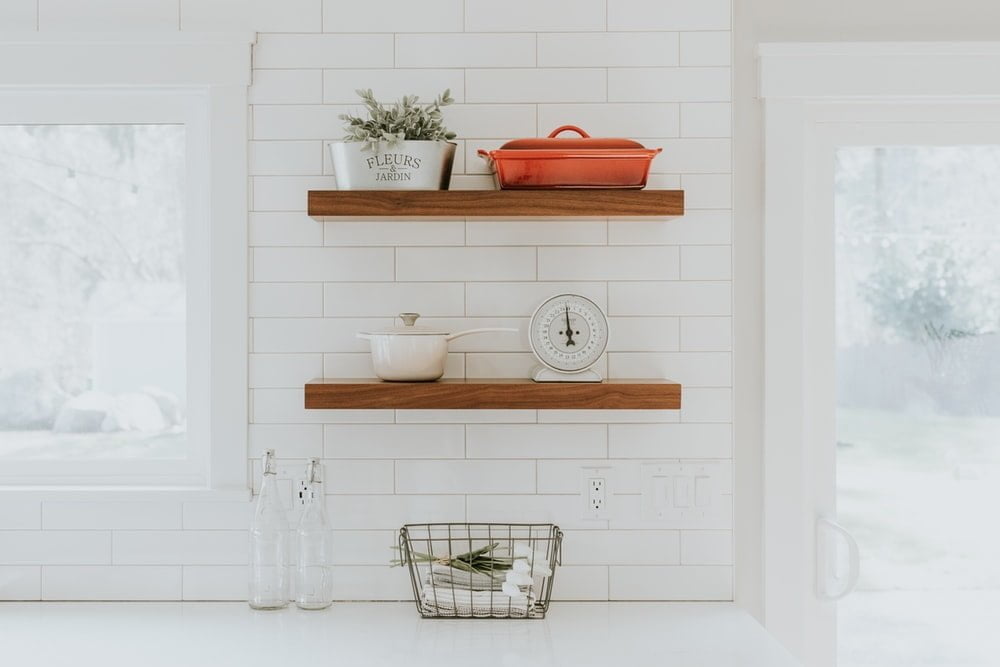 Bathroom shelves are used to store everyday items such as toothbrushes, toothpaste, soap, shampoo, etc. Bathroom shelves come in a range of designs to suit the decor of the bathroom and meet the customer's needs. Open shelves with modern bathrooms go hand in hand together. If you wish to make your bathroom look stunning, do not forget to add a beautiful shelf (or more).
Kitchen Shelves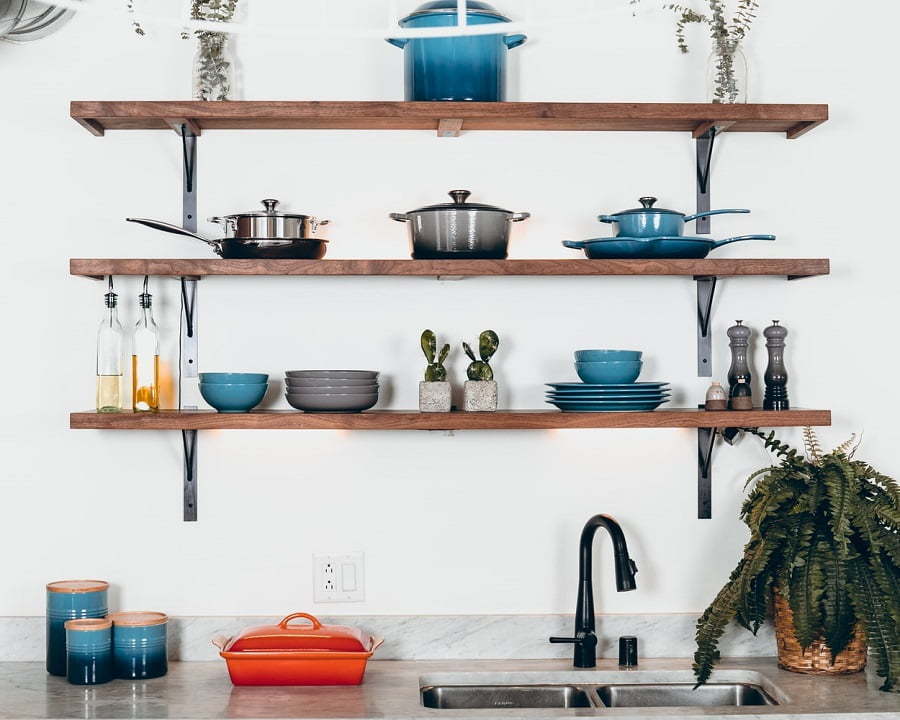 Without proper furnishing and adequate storage space, no kitchen could be full. For cabinets, cupboards, and shelving, the main thing is to look for factors that align with the design statement.
Contemporary kitchens have moved towards the use of open space for storage. Modern and elaborate kitchen design styles have now become standard in kitchens. These kitchen units add their luster and glory as well. You can also display lovely porcelain pieces as interior decorating pieces if you think they look good.
Many open shelves with nail style hooks give another opportunity to add character to the room. Other kitchen cabinet hardware includes corner shelves, hanging racks, and wall-mounted shelves.
Pantry Shelves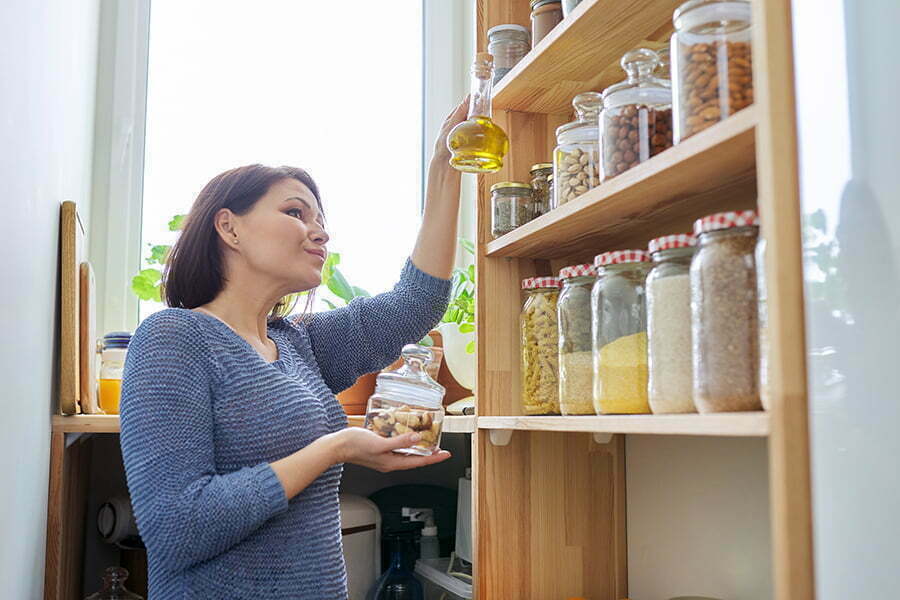 Pantry shelves are usually referred to as pull-out glass shelves. Pull-out shelving is typically less visible and more comfortable to reach objects.
Pantry shelves ensure that there are always food items at eye level and ready to be used. To keep things tidy, a pull-out pantry shelf is vital. These shelves typically have handles or chamfered edges.
Other pantry shelves include rotating chutes and sliding cabinets and under cabinets positioned in narrow, unused spaces such as those between the refrigerator and the kitchen counter.
Recap
Liked this article? Here's what you can read next: