Last updated on September 22, 2023
Here are the best used furniture stores online where you can get cheaper furniture in excellent condition for your home renovation and decor projects.
Second-hand furniture doesn't mean it's a somehow lower grade or that it looks cheap. On the contrary, you can get high-end pieces for a fraction of the cost. Used furniture stores are excellent if you want to find a unique piece too (if you're talking antique furniture, for example.)
Most people look into local second-hand stores and thrift shops, but the choice is limited. You can get a lot more luck with online stores because they ship nationwide, and you have a lot to choose from.
The following is the most up-to-date list of stores where you can get affordable and vintage furniture for your home.
Kaiyo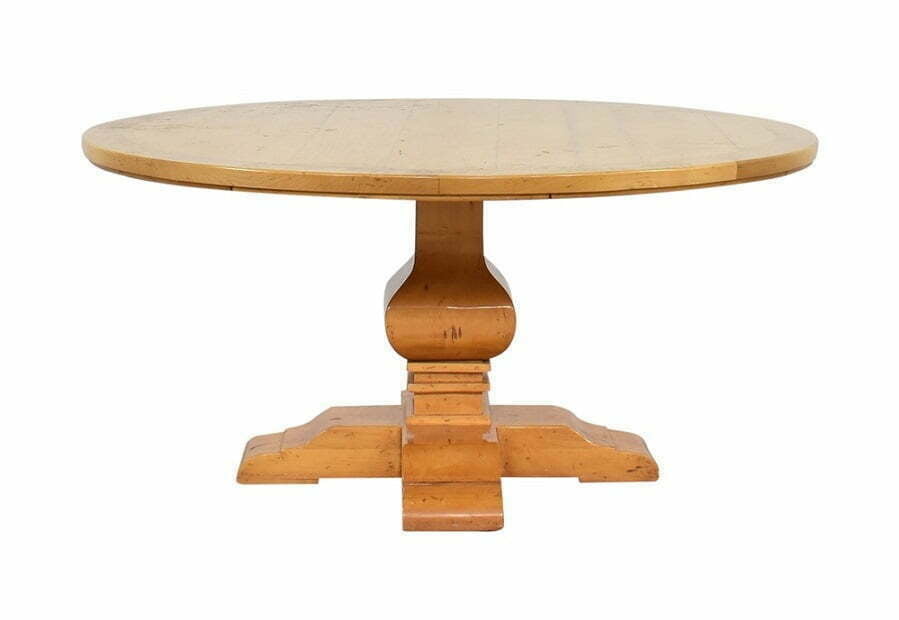 Kaiyo is a website that sells used furniture. As a buyer, you can save as much as ninety percent on leading brands, like Design Within Reach, Restoration Hardware, Room and Board, West Elm, etc. Whenever you place an order, the company plants a tree with the Foundation of National Forests.
For example, at the time of writing this article, you could get this impressive Arhaus pedestal dining table for just over $1,000 (the original price is around $3,000.)
CORT Furniture Outlet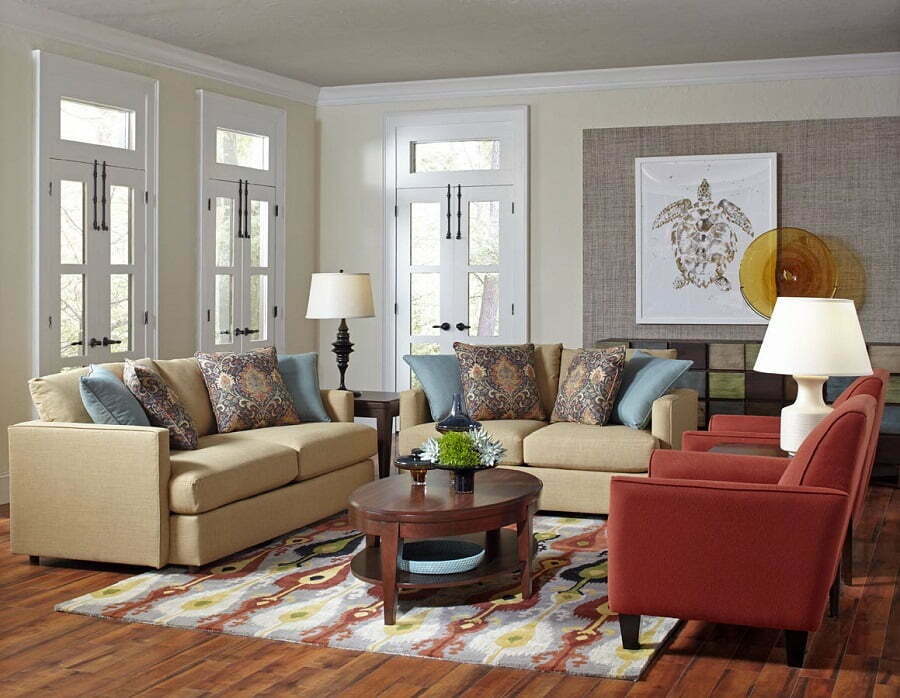 On the CORT website, you can buy used and new furniture for a small percentage of its initial price, typically just thirty percent of the new retail price.
You could get the above sofa for $379 when the cost of the new piece was $1,449.
Most of the furniture was used temporarily on film sets, in model homes, corporate apartments/offices, by home stagers, or by individuals who required furniture on a short-term basis.
All the furniture available is sanitized, cleaned, and checked by industry professionals to ensure its structural soundness.
AptDeco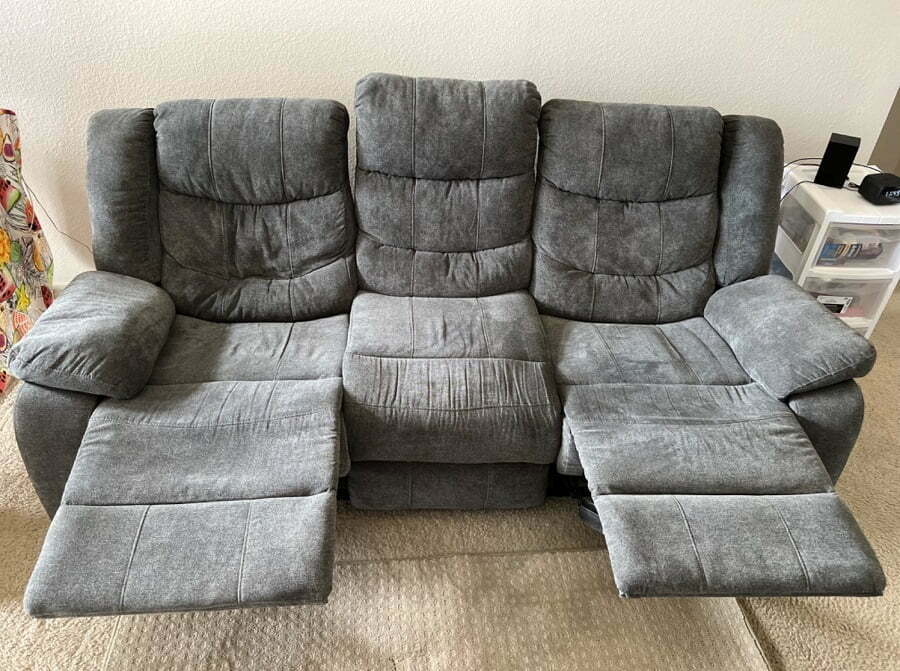 The AptDeco website allows you to buy and sell furniture in the San Francisco Bay and Northeast Area. Both used and new furniture is available, including antique items and display models from leading brands, such as West Elm.
You could get this Wayfair Dalissa reclining sofa for $649 when the full price on Wayfair was $1,277.
Selling your furniture is easy too. It takes a couple of minutes to list it for sale, and AptDeco deals with the logistics/collection. Typically, someone will buy your item(s) within ten days.
High-End Used Furniture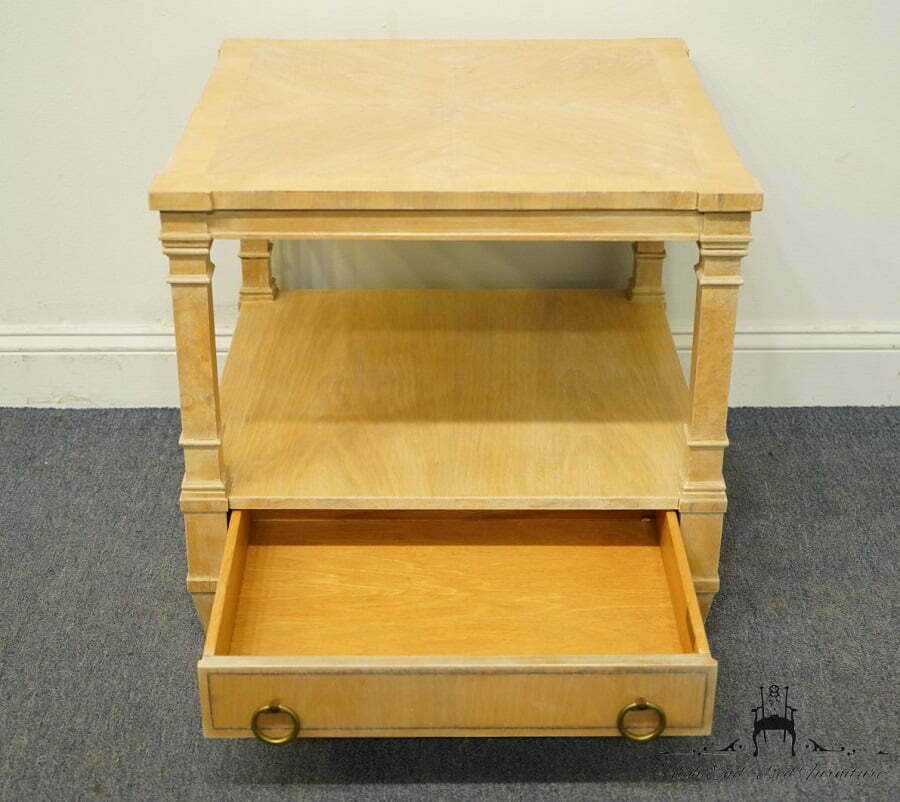 The High End Used Furniture webstore belongs to a family-run business with two decades of experience selling used furniture. It offers top brands of quality furniture in pristine condition. In addition, it provides long-term solutions for your furniture requirements.
For instance, you could get this wonderful Italian pickled wood end table for $890 (including shipping.)
All the heavy lifting is done for you. Once you order from the website, your item(s) will be dispatched by a trusted delivery provider. The furniture of your dreams will arrive at your home address within weeks.
Chairish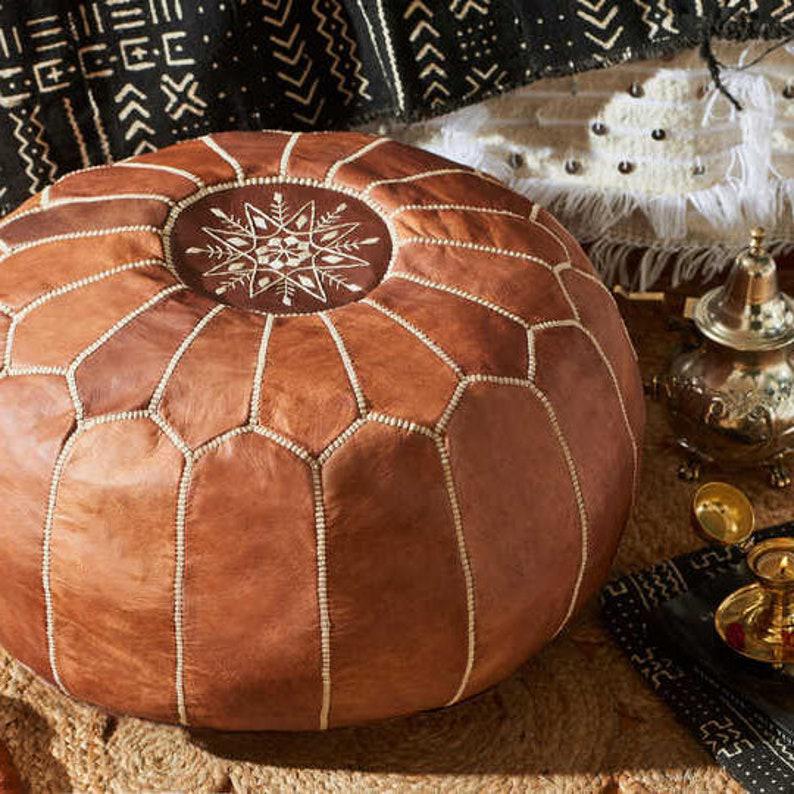 Chairish is the next best thing to an antique store, as it offers some of the most impressive vintage furniture inventories in the world. The company partners with thousands of vintage, modernist and antique dealers throughout Europe and America.
This means that you can find used furniture in Nashville, Aspen, and Savannah from the comfort of your home. Its vintage furniture collection features scintillating designs from top designers, such as Karl Springer, Edward Wormley, Florence Knoll, and Milo Baughman.
You could get the above Moroccan Pouf for $60 (the retail price being $139.)
Marva's Place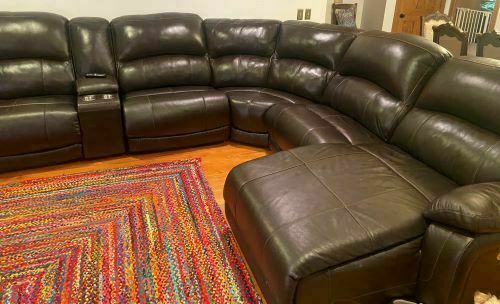 Marva's Place is a Minnesota-based online resale retailer and consignment service. It offers high-quality used and new furniture brands for sale and represents high-end property sales exclusively. The consignment service is offered to promote further valuable pieces that fail to sell immediately in property sales.
At the time of writing this article, we could find the above leather sectional sofa with electric recliners available for $2,760. Such a sectional would cost more than $4,000 in retail stores.
When you shop at Marva's internet marketplace, you can be confident that you are purchasing top-quality items at large discounts compared to purchasing new ones. The company offers US Shipping and local furniture deliveries.
Franckly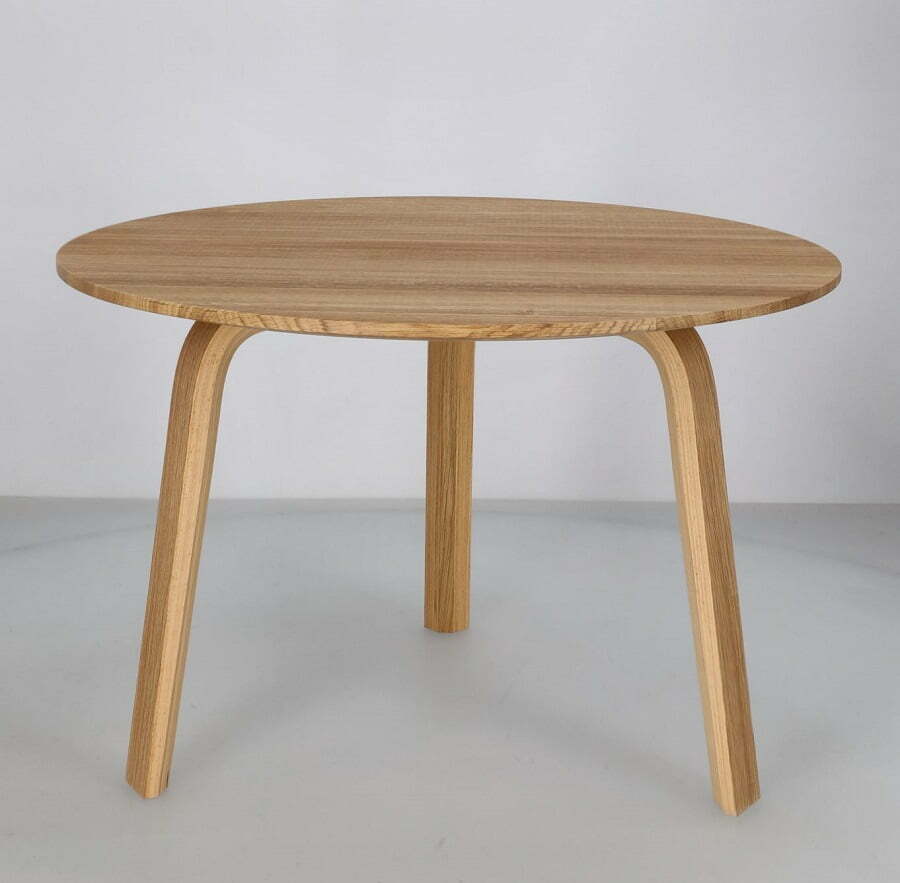 The Franckly store is a marketplace for used furniture designs. You might find the antique chairs you always wanted, the most charming vintage table you have ever seen, a lightly used sofa for sale, or some antique shelves that would look ideal on your wall.
Franckly provides buyers with a selection of over 300 brands that have great modern designs. If you want to sell used furniture, Franckly can offer comprehensive assistance — from listing your items to delivering your orders.
You could get this Danish round coffee table made of solid oak for $189. The retail price would be over $300 for such a piece.
1stDibs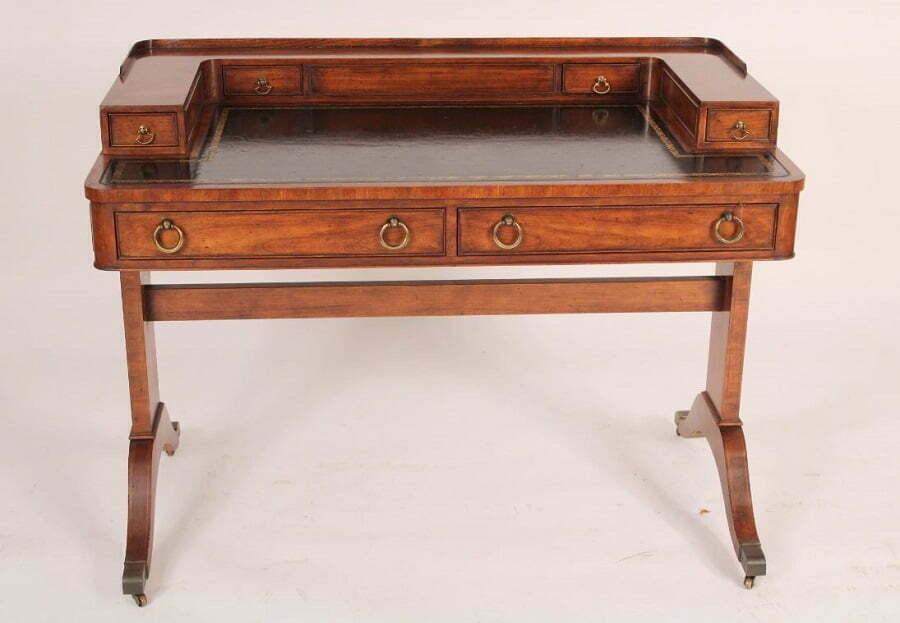 1stDibs is one of the unique used furniture online stores. It allows you to access thousands of new, custom, and vintage furniture pieces from a global network of sellers, which has been vetted thoroughly by industry experts.
You can use the company's groundbreaking platform to negotiate prices, purchase directly, or place auction bids on items while interacting with sellers during each process stage. This includes price negotiations, customization requests, and item inquiries.
The store is better known for unique pieces rather than bargain prices, so you'd go here to find that accent or statement piece you want for your home. For example, this authentic mahogany writing table costs $1,750, and it's full of character.
Etsy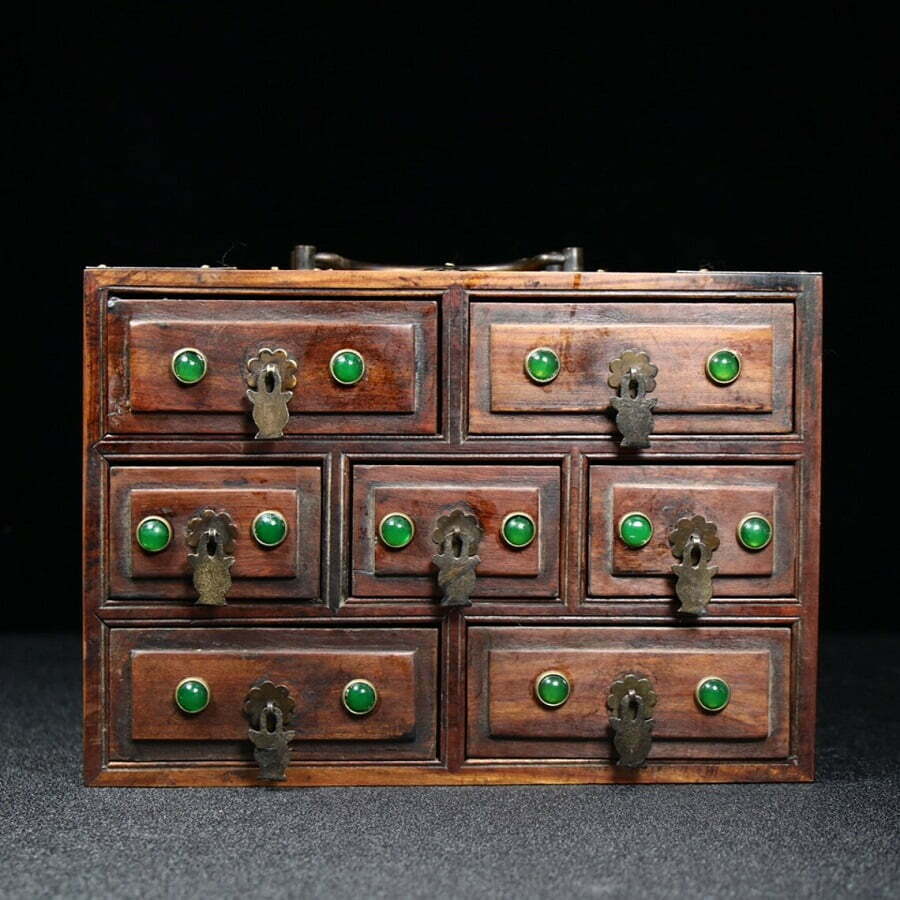 Etsy is an international online marketplace for not only handcrafts but new and used furniture too. You will discover a cavalcade of amazing pieces, from distinctive handmade items to antique gems.
From unexpected items to specific designs, the website search function helps you to find the wonderful, memorable pieces provided by Etsy vendors.
For example, this unique Chinese rosewood accent cabinet was available on Etsy for $148.
Apartment Therapy Bazaar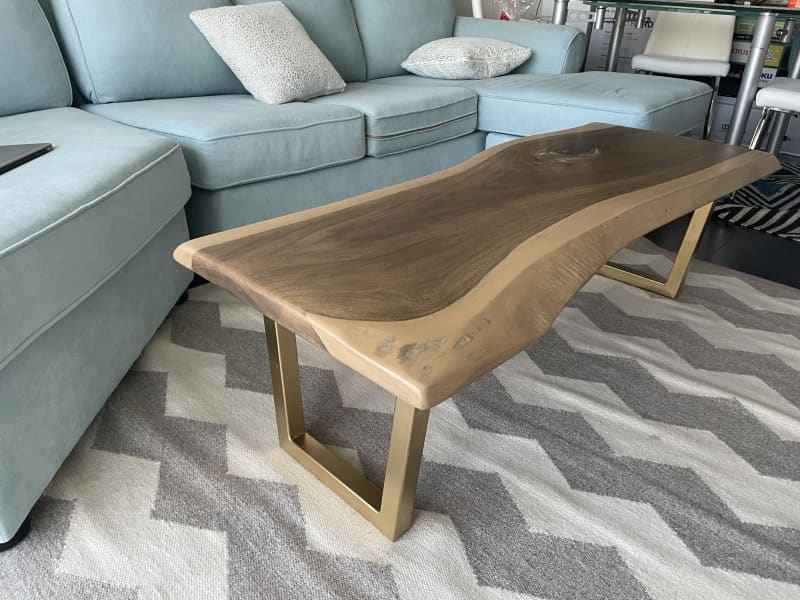 Apartment Therapy Bazaar is an online community of trusted sellers and shoppers, who adore used, antique and vintage designer furniture. Whether expanding or downsizing, this website has something for your home. You can search to find out what is selling and for what price.
Look for comparable products to determine prices for your items, or shop for specific designers. For instance, this gorgeous live edge coffee table was listed for a price tag of $750 or the best offer.
Recycled Modern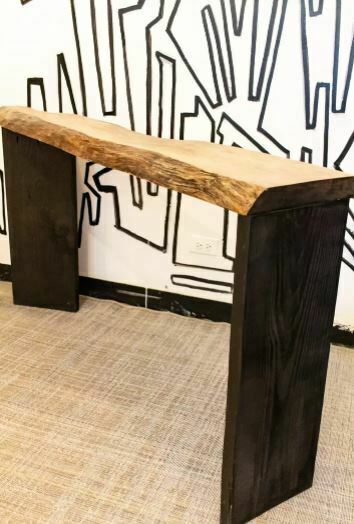 The Recycled Modern offers used furniture, both modern and vintage, which will give your home a distinctive vibe. It aims to give a voice to local craftsmen and women from different backgrounds.
It showcases art, lifestyle goods, and home decor, emphasizing creativity. You will find that this website serves as a gallery, highlighting unique handcrafted homeware, furniture, and a diverse selection of art.
You could get this handcrafted live edge console table for $495.
Sunbeam Vintage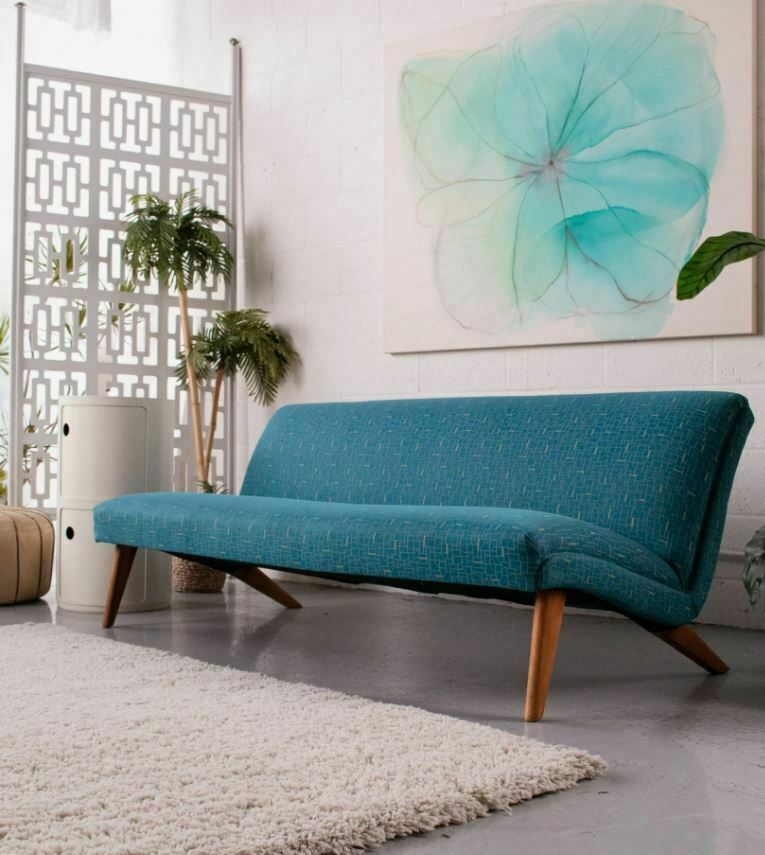 Sunbeam Vintage offers furniture pieces that are used, antique or vintage. Some of the pieces include stories about their designers and might have a little wear and tear. Others are unique, never before seen gems with picturesque antique finishes.
You could get the above unique vintage sofa for $1,200. It's not cheap by any means, but you get an authentic statement piece for your home.
A Modern Collection is offered to feature modern pieces that take their inspiration from classic designs. The Sunbeam Exclusive Collection includes exquisitely made handcrafted items produced in LA. The company works with local artists who can create a custom design for you on an ad hoc basis.
One Kings Lane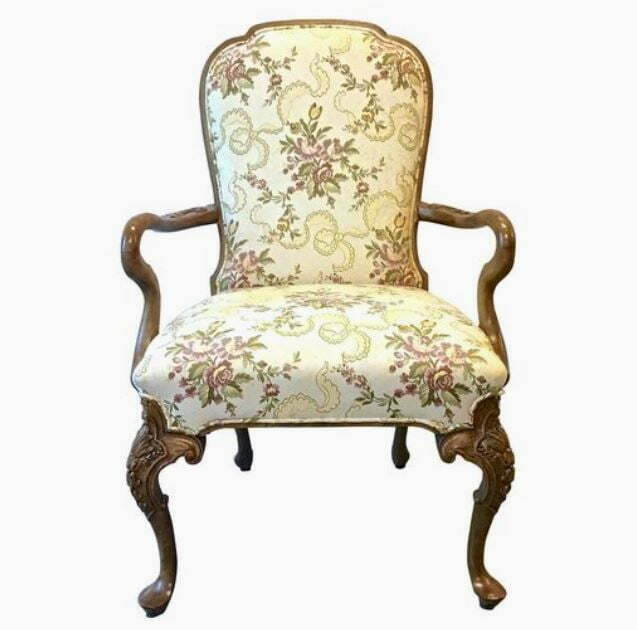 One Kings Lane features vintage, exclusive, and designer home furniture in many styles — which can include your own. The company's masterful designers offer customized assistance with designs, while its social platforms and blog are packed with designer tips and home tours, etc., to inspire you.
One Kings Lane has an entire section for vintage furniture. You could get this antique gooseneck chair for $797 in the store.
Professional designers, who register with the company's To the Trade scheme, receive product discounts and access to a team committed to matching specs, sourcing products, and more.
Rejuvenation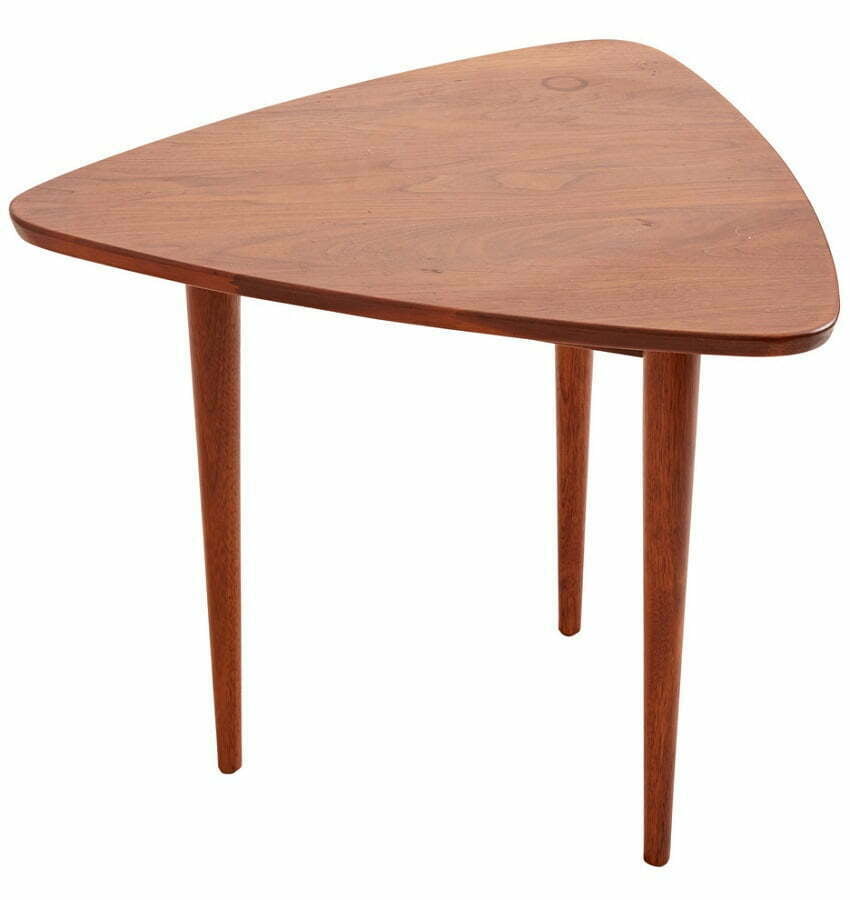 Rejuvenation offers unique vintage lighting, restored antiques, and antique hardware from past eras to adorn your home. You will find vintage shades and restored lighting fixtures, along with hardware from the Industrial, Victorian, Colonial Revival, Mid Century Modern, and Art Deco periods. This one-of-a-kind hardware is expertly restored, protected, and reconditioned.
The company searches nationwide for treasures like vintage door knobs, ephemera, and neon signs. You can combine new and old with Rejuvenation's decorative fixtures, such as rugs, baskets, clocks, mirrors, hook racks, bookcases, and etageres.
For example, the above mid-century side table is a unique piece from the '50s, restored by Rejuvenation, and you could get it for $749.
Amsterdam Modern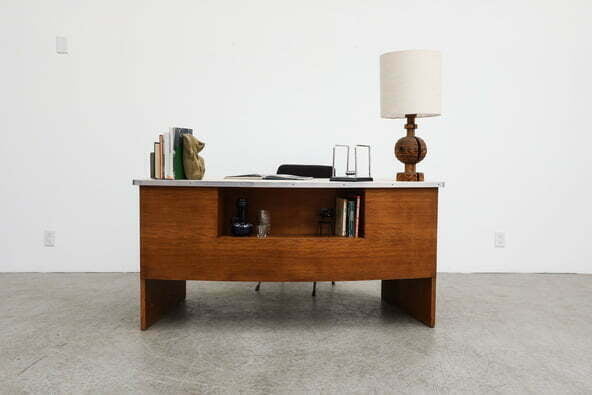 Amsterdam Modern sells household items, like furniture and lighting, in mid-century modern design. The products you order are shipped from Amsterdam directly and sourced from every corner of the Netherlands.
Primarily, the company caters to decorators, traders, and film production studios. However, it sells to the general public and ships to dealers, collectors, and retail outlets worldwide.
All furniture from Amsterdam Modern is vintage, and the company sells most of its pieces in their original condition to preserve their historical character.
For example, the above Deco executive desk was listed on Amsterdam Modern for $2,450.
Pamono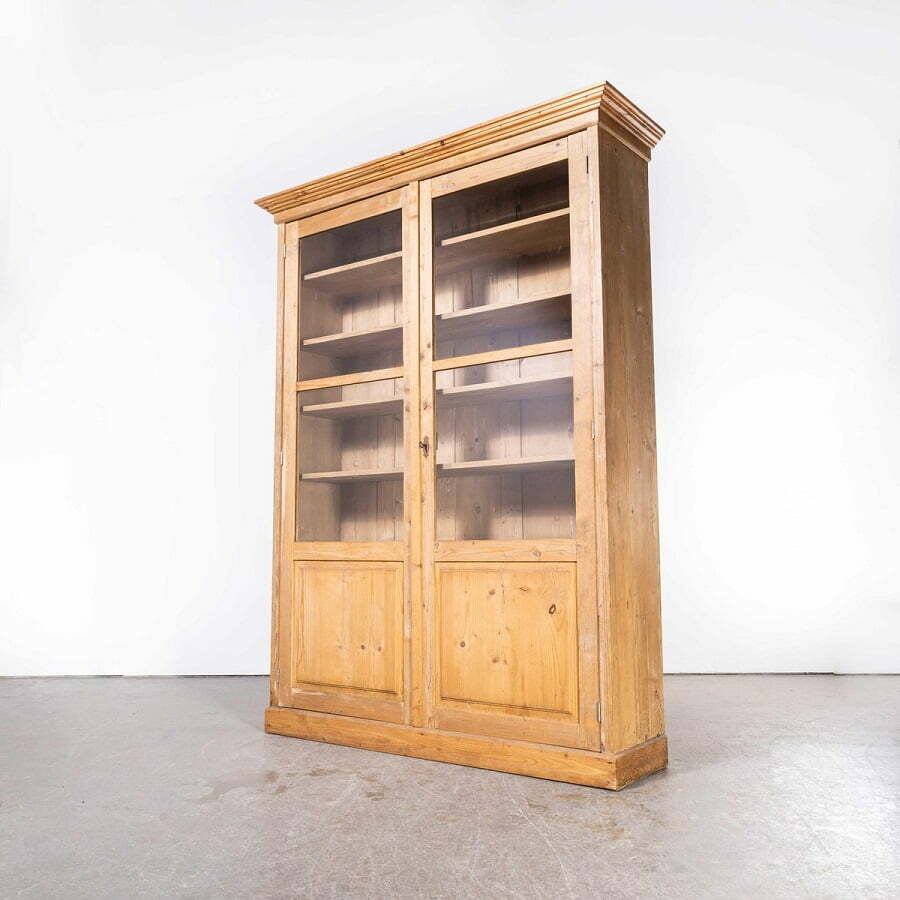 The Pamono online marketplace specializes in unique furniture designs and their background stories. The company prides itself on offering furniture and decorative accessories of the highest quality, which are unavailable elsewhere.
The dedicated staff at Pamono scour the planet to find furniture from emerging and established shops/galleries, as well as designers and makers. Then, they will deliver your orders straight to your home address. New items of furniture are added constantly.
The above Belgian glass-front cabinet from the 1960s is a great example of what you can find on Pamono ($1,624). It shows age, but it's unique and carries the stories. That's what you want from a statement piece of furniture.
Urban Americana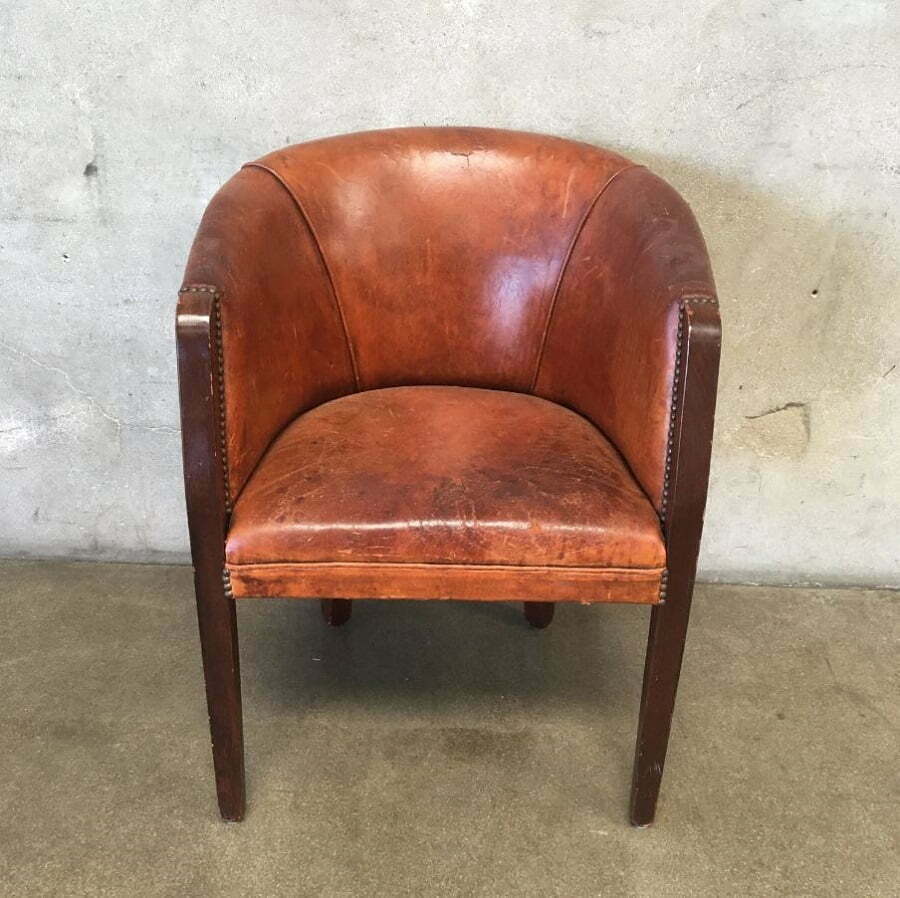 Based in Long Beach, Urban Americana is a leading supplier of vintage home decor and furniture. With a warehouse spanning over 16,000 sq. ft, it offers an amazing range of original home goods. The company has more than forty dealers with individual collections of antiques, decor, and furniture.
Whether you like farmhouse, vintage, mid-century modern, vintage industrial, colorful or quirky styles, Urban Americana can cater to you. The company offers several options for shipping, and its online inventory features lighting, furniture, tables, decor, and storage.
For instance, you could get this authentic vintage leather chair for $650.
Urban Outfitters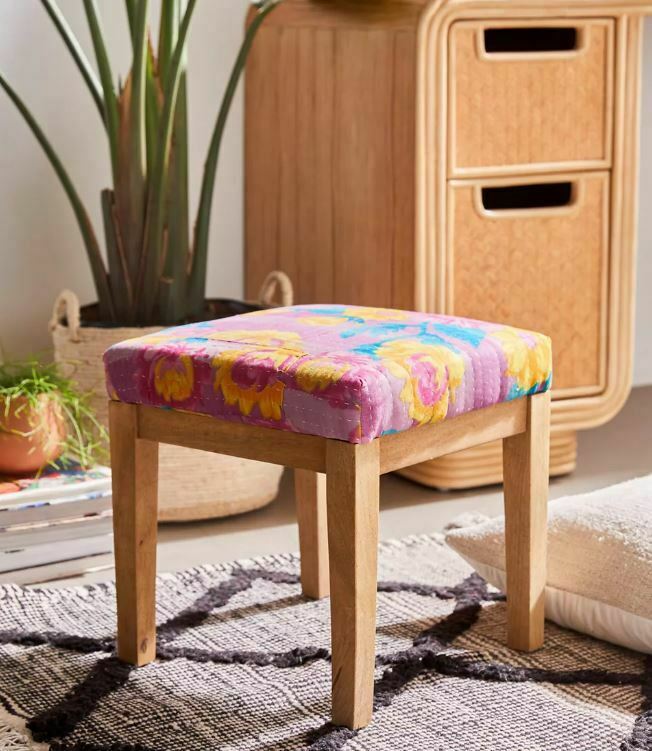 Urban Outfitters is a trusted brand that produces quality vintage home furniture that is durable and beautiful. As well as standard furniture, the company sells bedding, decor, art, lighting, draperies, and rugs. The furniture is made from locally sourced materials found in American forests.
There are many furniture designs available to suit your personality and tastes. In fact, due to the number of designs, some customers struggle to decide which ones they like the most.
For instance, you could get this unique renewal stool for $99.
Everything But The House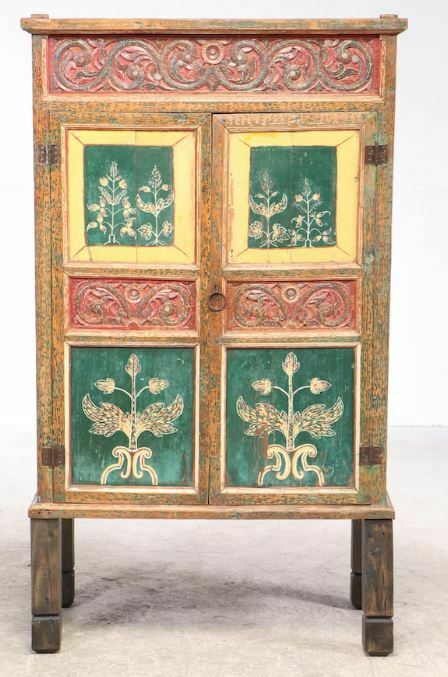 Everything But The House is an online platform where you can bid for used furniture from estate sales. This full-service marketplace allows homeowners to offload their furniture, and it will ship these products to the winning bidders. Often, you will get great deals on unique pieces.
For example, you could bid on this unique East Indian carved cabinet as a remarkable decorative piece.
The company combines a comprehensive, user-friendly technology suite with an outstanding consignment service. This has revolutionized how estate managers, homeowners, collectors, and dealers interact with shoppers looking for wonderful and rare items.
Sotheby's Home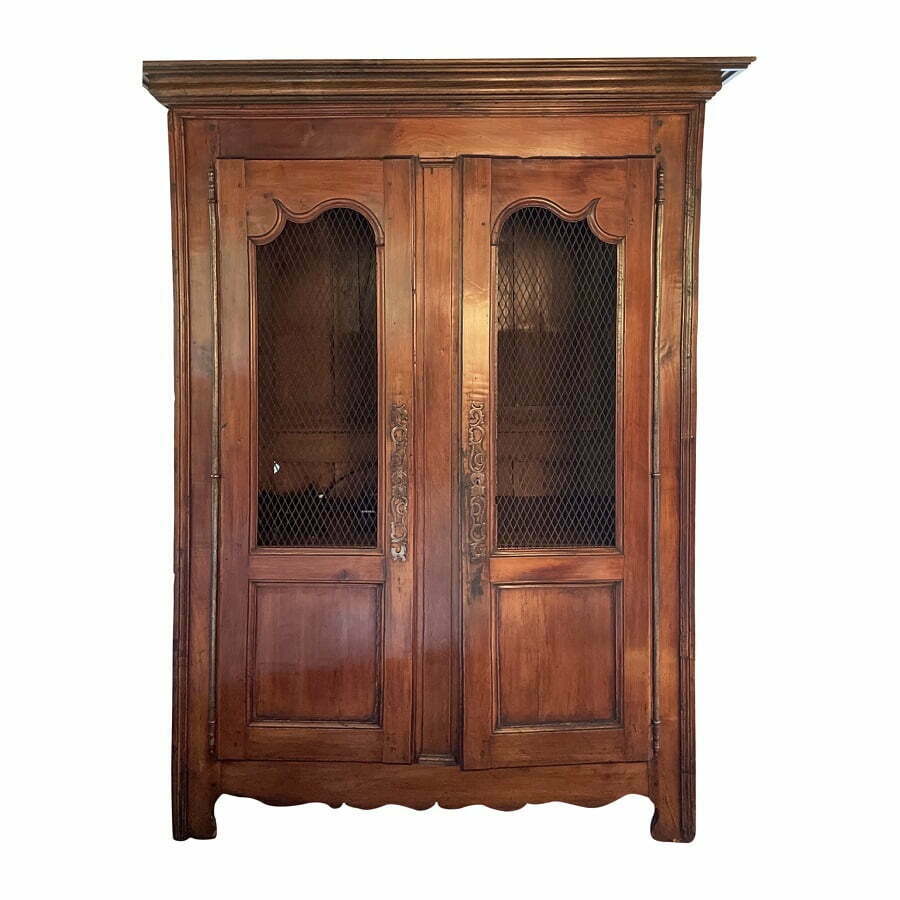 Sotheby's Home is a world-famous online platform for quality used home furniture and decor. You will discover items from various private dealers, showrooms, and collections round the clock, 365 days a year. For instance, this authentic French Provincial armoire was listed for $4,750.
Driven by the company's desire to innovate, there are more than 600 auctions hosted each year. These auctions offer a diverse range of vintage furniture for instant purchase, via physical and digital shopping outlets, along with private sales.
Facebook Marketplace
Facebook Marketplace is a simple way to buy and sell used furniture online. The platform is used by hundreds of millions of people each month. Most people sell big furniture pieces on Facebook Marketplace, like beds, sofas, dressers, and dining sets.
Nonetheless, there is a market for small furniture items, too, such as
chairs, stools, side tables, and bookshelves. Outdoor furniture often sells well on Facebook Marketplace. However, you must ensure that it is in reasonable condition.
Craigslist
Established almost three decades ago, Craigslist is the original website for used furniture, and some great deals can be found there. It takes patience, knowledge, and a bit of luck with availability. However — if you invest the time — you can buy home furnishings for a small percentage of their regular cost.
It is not uncommon to find items like a pristine mid-century sideboard for under $90 or a restored hardware dining table for just a few hundred dollars.
eBay
Whether you require a home office desk, a living room recliner, a horizontal dresser, or a specific item for your personal living space, you will be spoiled for choice on eBay.
You will find Restoration Hardware designs, the latest furniture from IKEA, and Crate and Barrel items. On eBay, you will find pages listing bedroom, kitchen, dining room, office, and living room furniture.
Amazon
Amazon offers a broad selection of affordable, chic furniture for all rooms of your house. Amazon Prime members can make notable savings with the two-day free shipping for large items — like dressers or sofas. It is no understatement to say that this eCommerce giant has something for everyone, most notably a range of high-ticket furniture pieces – like mattresses, beds, accent chairs, and standing desks.
Most importantly, you can find most items on Amazon with an option to buy used at a bargain price.
OfferUp
OfferUp is a free, user-friendly app ideal for buying and selling used furniture. It uses the location of your phone to show what you are selling to buyers. People often buy side tables, dining room sets, and sofas with this app.
If you have some unwanted furniture or are moving house, you can find buyers quickly on OfferUp. These buyers will pay decent prices for your items. Patio furniture is always popular in the summer and spring.
Recap
Liked this article? Here's what you can read next: