Want to try the decor of your dreams in your home without buying things first? Modsy 3D home design editor is an easy and fun way to do that. Here's our Modsy review.
Have you ever played the game called the Sims? It was (and still is) a fun game where you would have an option to lead a character's life by building them a home, getting them a job, starting a family, and so on. But the most fun part for me was the ability to build and decorate a house. You could do anything you want there and even create entire designs. And while it was just a game, you could design a replica of your real home and try to redecorate it.
Modsy has the very same concept. Only it's realistic. You actually get your real home modeled in 3D and decorated to your liking. Then all the fun begins. You can choose any furniture and decor pieces from the catalog and try how they look like in your home just like that. In the end, if you're happy with the result, you can purchase them on the spot.
It's a very streamlined process that's a lot of fun from start to finish. I've had a chance to try Modsy personally, so I'll share the experience here with you.
Using Modsy
Using Modsy is a 5 step process. After you register, you have to go through the steps to get your final newly designed room.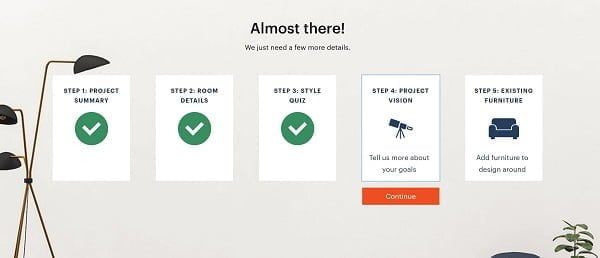 Step 1 – Project Summary
The first step is the initial setup of the project. All you have to do here is set some parameters for your project. For example, you have to choose the type of room you're going to decorate. Mine was my small home office.
Step 2 – Room Details
This is an essential step where your biggest input is required. You have to take 8 pictures of your room and upload them to Modsy. You are guided through taking those pictures – you get the specific points where you should shoot them and what should be visible. The best part about this is that you don't have to prepare the room whatsoever – just shoot it as it is. Unless you have some big objects obstructing the view, you won't have to do anything. It took me just a few minutes to take the pictures on my phone and submit them.
Step 3 – Style Quiz
The next step is a fun one. While your room pictures are important and Modsy will do their magic to create a virtual design of your place from them, it's what you'll do after that matters. The quiz consists of several questions about your likes and dislikes as far as decor goes. And in the end, you get a recommendation for your new room decor style. You can change your options anytime too. Mine was mid-century chic which I'm very much happy about. The quiz is detailed enough to get your favorite style quite right.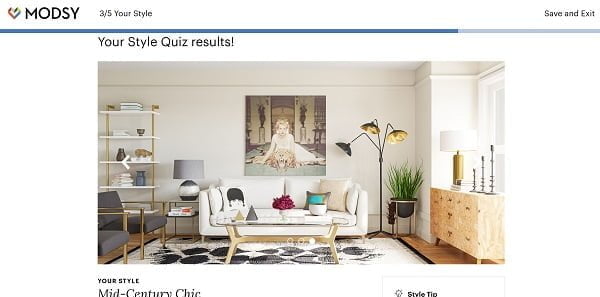 Step 4 – Project Vision
This step is a short and quick step but an important one nonetheless. You have to set your goals, your budget, and tell Modsy what result you want to get from this project.
Step 5 – Existing Furniture
Another great option in Modsy is that you can keep some of your existing furniture in the virtual design of your room. It's great if you want to save some old items in your new decor. You'll have to do some work for this, as you'll need to specify and describe the furniture you want to keep or find similar in the catalog. If you're going for a complete makeover (as did I), you can skip this step.
Modsy Designs
After you get through these 5 steps all you have to do is wait for Modsy designers to do their job. How long you'll have to wait depends on the plan you choose and there are three. The better the plan the more services you get and the faster the results. If you're in no hurry you can, of course, go with the cheapest one. But the difference between the three isn't that big so you're free to choose.
My designs came in a few days later. And let me tell you, I wasn't ready for it. The detail of the designs is so accurate and real. I did not expect to see such a realistic 3D model of my home office. And it's not a standard room either. There are these weird little outlets on the opposite walls that get in the way and the semi-transparent glass tile section on another wall. I was pretty sure these would be left out. But you get a 100% accurate design, indeed!
Here's the before picture of my home office: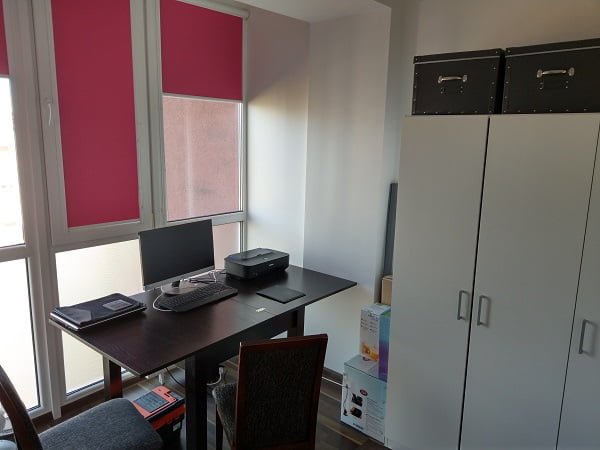 And here are my final mid-century chic home office designs: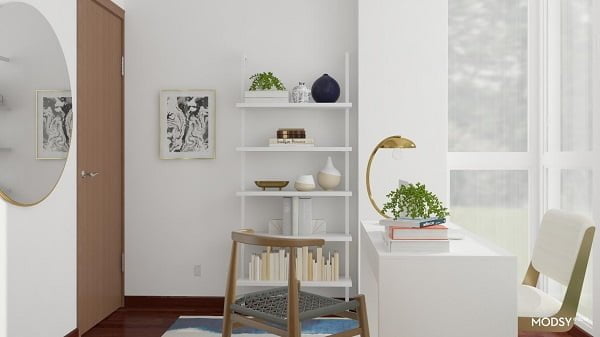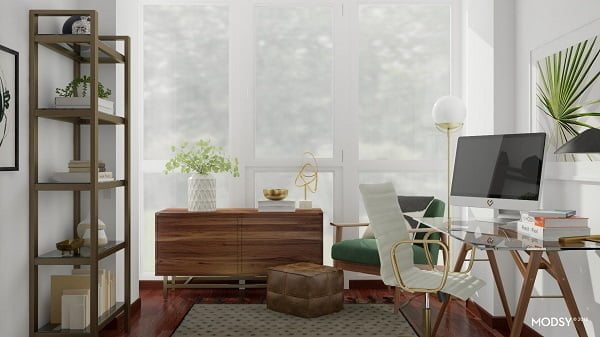 Quite the difference! And yet it's the same room.
So, you get two designs decorated by Modsy's professional designers. You have furniture and accessories picked out for you, and you have them listed for shopping on the spot. And you get the designer's notes left for you so you know there's a real person behind this work.
The designs come in 5 pictures from different angles and a 360-degree interactive view.
3D Editor
From here on, you can either request a design revision, ask them to fix anything or add something. Or – and this is my favorite part – you can edit the design yourself. You can choose any item from the catalog and try it in your very own room virtually.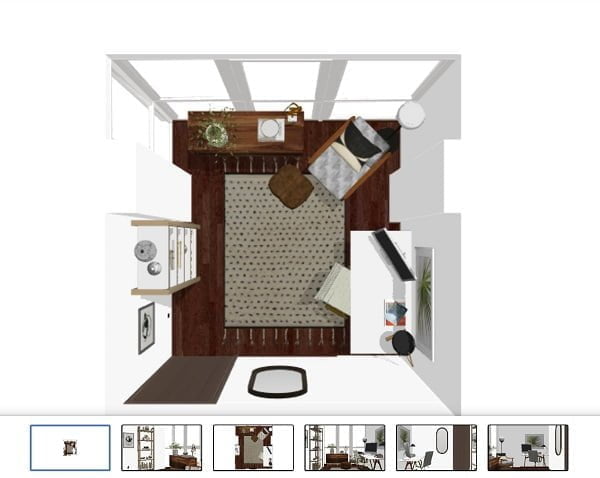 The 3D editor is simple and easy to use. All you have to do is select the items in the room and move them around, or swap them with similar items from the catalog.
Modsy shopping catalog is huge with a huge selection of furniture and accessories in any style. It's easy to navigate and filter through many different parameters, such as the color, material, style, size, and so on. It's a full-fledged shop with products from several popular brands (West Elm, CB2, Crate & Barrel, to name a few).
Final Thoughts
Overall, it's an exciting experience. You'll love to see your room in a virtual 3D design. And you'll have a lot of fun trying different things with it. Definitely worth the money.
Recap
Liked this article? Here's what you can read next: