Last updated on April 6, 2023
Traditional picnic tables are large and heavy. The decor quality is also questionable. Here are some other options for designing your outdoor dining area.
Adding a picnic table to your garden is a low-cost alternative to purchasing an outdoor furniture set. But why would you purchase a picnic table when better options are available?
You'll need a table with enough seating for your family and visitors, so it's better to buy one with more space than you believe you'll need (err on the bigger side.)
Below are the best alternatives to picnic tables.
Outdoor Dining Furniture Set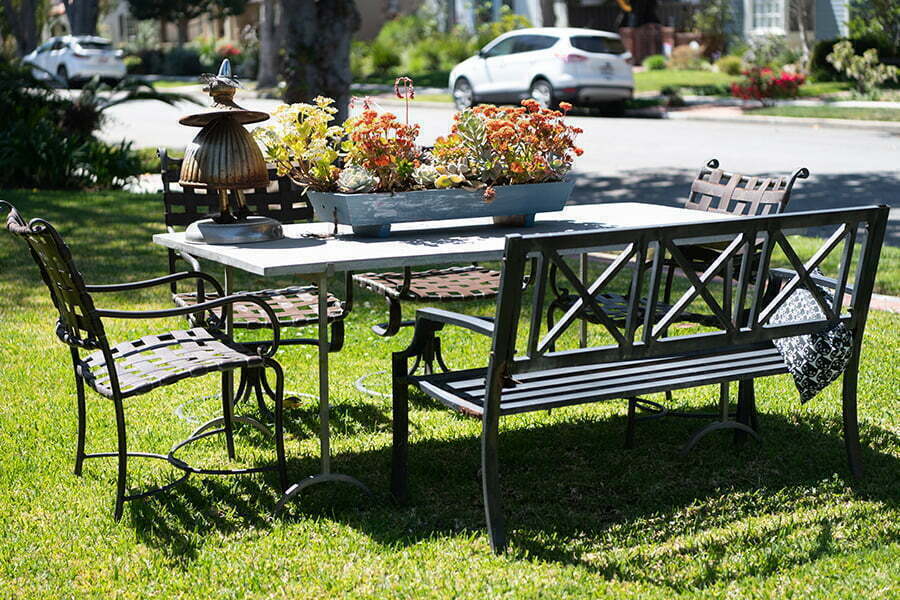 A dining set for your garden, patio, or balcony is a quick and easy way to make everything look like it goes together.
Seating at a patio table is more comfortable and comes in more styles.
It costs about $1,000 to buy an outdoor dining set.
Pieces made of steel or wrought iron are among the longest-lasting options available and long-lasting kinds of outdoor furniture, often lasting for decades. Wrought iron furniture is the most expensive and also has the heaviest frames.
Powder coating makes metal outdoor furniture even more durable and last longer.
Outdoor dining sets are the best way to enjoy a delicious meal outside while enjoying nature's beauty.
Bistro Table and Chairs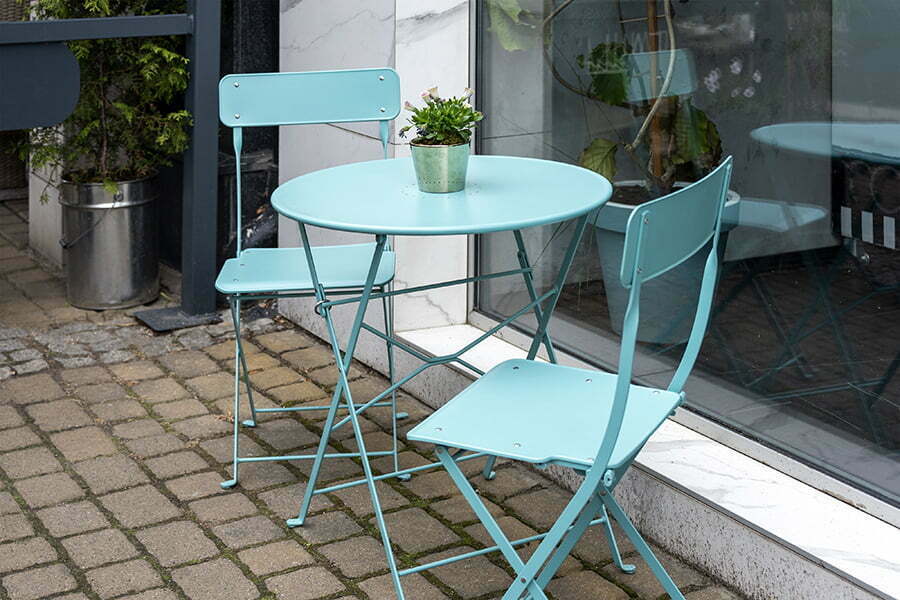 In contrast to big picnic tables, bistro tables are often small round tables intended for service and sitting no more than three people. They work wonderfully as appetizers, side dishes, or even main courses for light meals.
If you want to furnish your porch or back patio but don't have enough place for a complete dining set, a few bistro tables will do the trick. You can get a set of two bistro tables and two chairs for only $139.
You may set up a bistro table wherever in your home, whether it's indoors or outside.
Concrete Table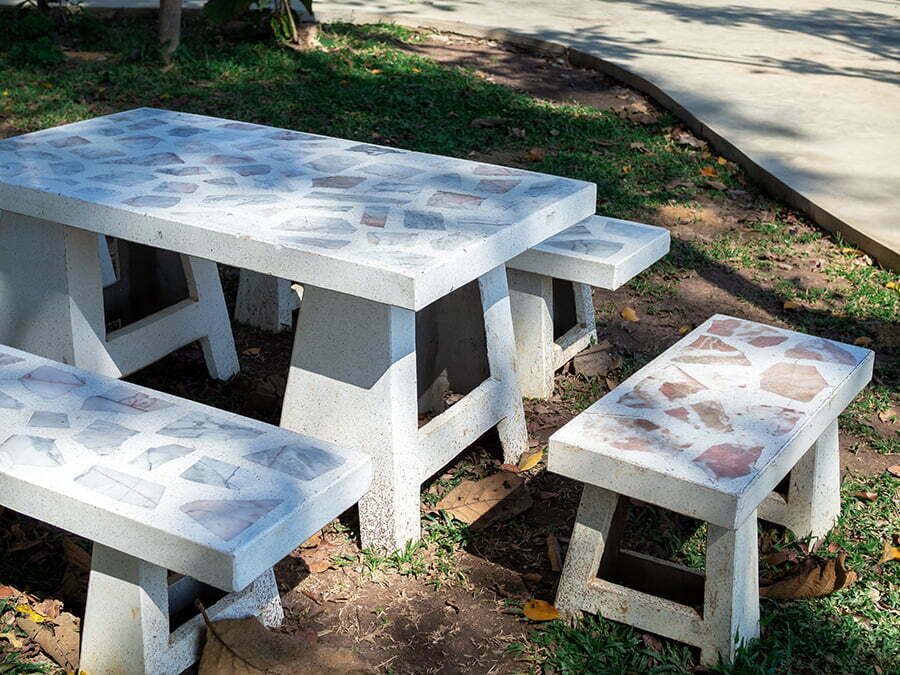 The demand for concrete constructions has been rising for some time now and shows no signs of easing. They are long-lasting and require little maintenance thanks to their high strength and resistance to heat and scratches.
Unlike more conventional materials like wood, which may easily be damaged by water, cement dining room sets can be cleaned with less effort.
The total cost of materials for the concrete dining table is less than $195. These are the costs for the basic materials, including concrete, wood, wood finish, and concrete sealer.
Garden Bench and Table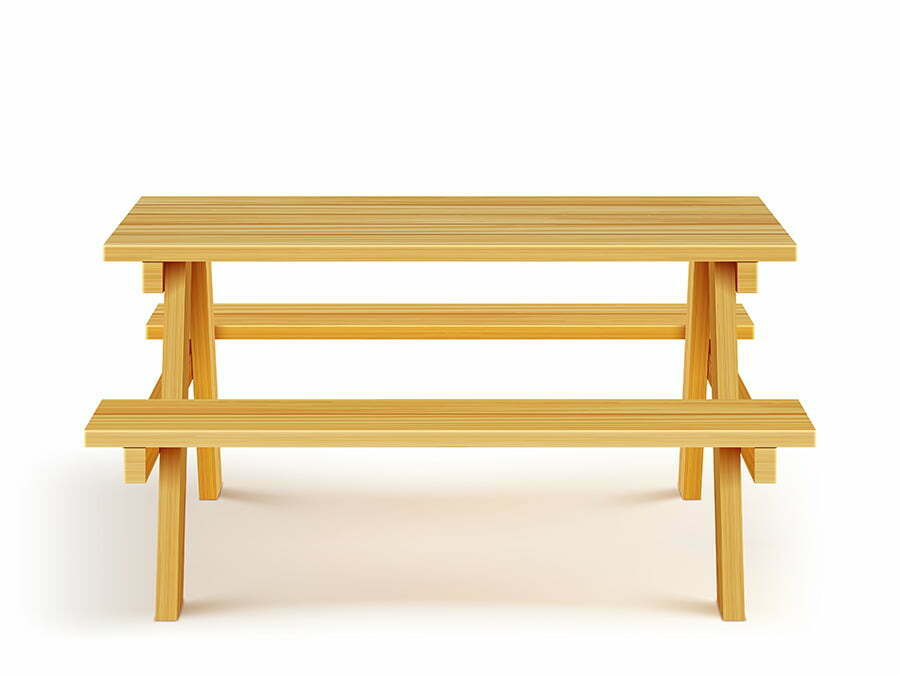 Garden benches seem like regular park benches, but they're longer and can accommodate more people.
Benches are typically used to design picnic tables and cater to buffet tables. For ease of travel and storage, the legs of these tables may be removable.
Budget around $500 if you want to buy garden benches.
Customers and visitors may take a load off and enjoy the outdoors while they wait for the addition of garden benches.
Folding Table and Chairs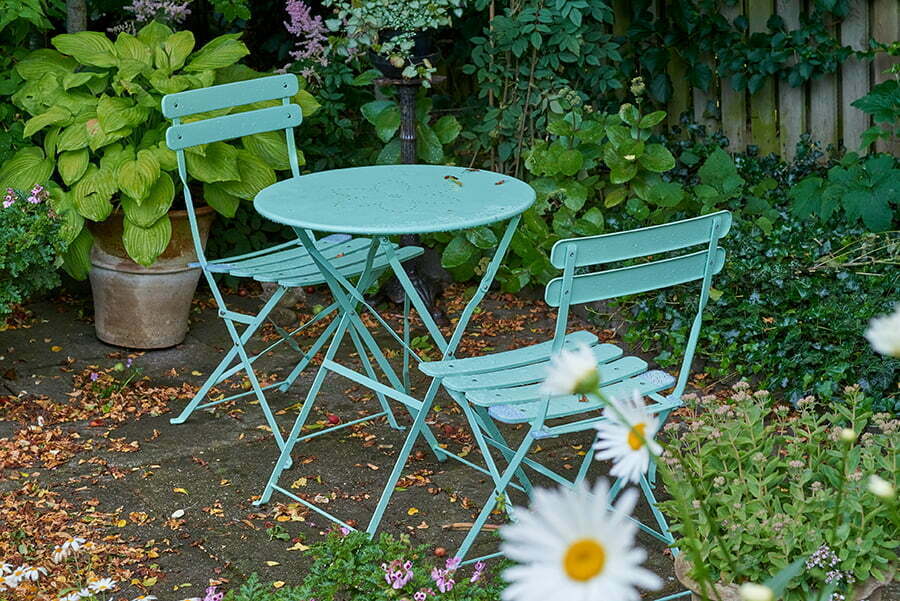 Folding tables and chairs are ideal because they are sturdy, can withstand spills, and don't show dirt quickly.
However, many standard-height folding tables can be awkwardly high for younger children.
It will set you back $100 to get folding tables and chairs.
Typically sturdy, water-resistant, and somewhat stain-proof, folding tables and chairs are a fantastic choice. However, many standard-height folding tables can be awkwardly high for younger children.
If you're doubting that folding tables and chairs might look cheap, try getting them in a popping color that would add decor interest to your outdoor space.
Outdoor Sofa and Table
It's not a terrible idea to leave outdoor furniture cushions out in the rain. You should still keep your cushions out of the rain for maximum durability, even if they are waterproof. This is due to the fact that cushions left outside in the rain might become completely drenched.
It promotes the formation of mold and mildew, which can eventually ruin your cushions. It's perfectly acceptable to bring in patio furniture in the winter. It's a clever move in many respects. Structures designed for outdoor use are often fortified against the elements.
Finally, the variety of colors that you can get on an outdoor sofa adds a lot of decor value.
The price tag on an outdoor sofa typically exceeds $500.
The average lifespan of a quality patio set is 15 years. Naturally, some will last longer than others, but overall, there is no set norm for the duration.
Wicker Table and Chairs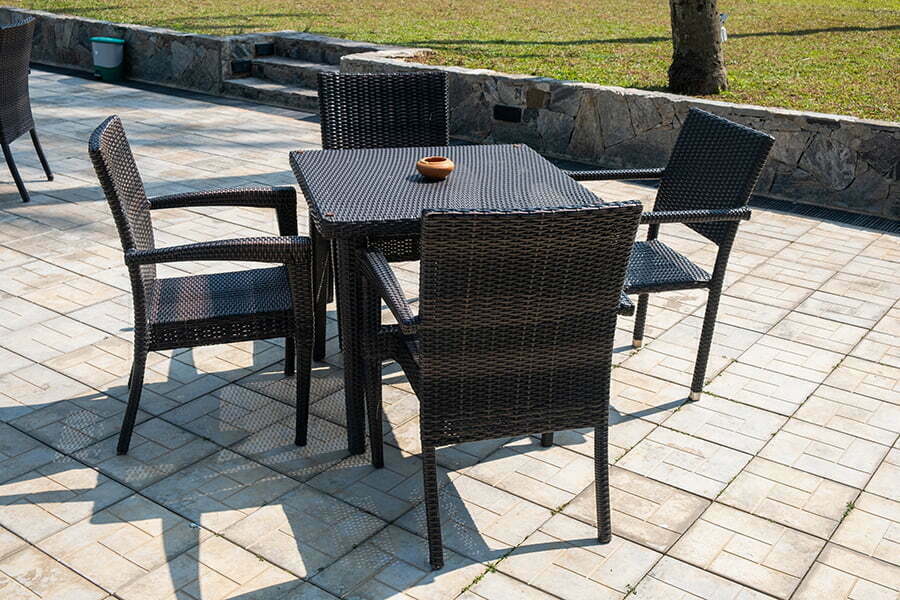 High-quality wicker furniture has a Matte (flat) finish that isn't shiny. You can immediately detect the difference between high- and low-quality vinyl by looking for this.
For its portability and durability, wicker furniture is frequently used in outdoor settings. This synthetic wicker is thick, sturdy and impervious to the elements.
It also doesn't fade easily, so your outdoor furniture will look great for a long time.
Pricing for whole sets of wicker furniture can range from $5,000 to $10,000.
Outdoor Glass Table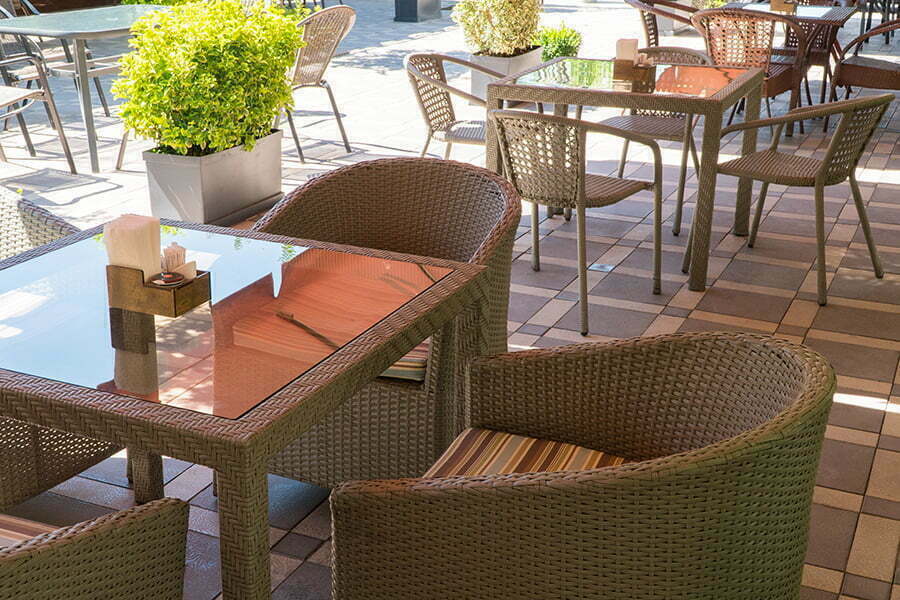 It is well-known that glass is transparent and can evenly diffuse light over a space. An immediate improvement in lighting and mood is achieved.
A glass table is an excellent choice for a narrow dining area that lacks windows since its reflective surface creates the optical illusion of more space.
Glass table sets might easily cost $300 or more.
If you use the right kind of glass and edging, glass tables are fine to use outside. The glass must be sturdy enough to withstand the wind and rain and have rounded corners to avoid injury.
DIY Picnic Table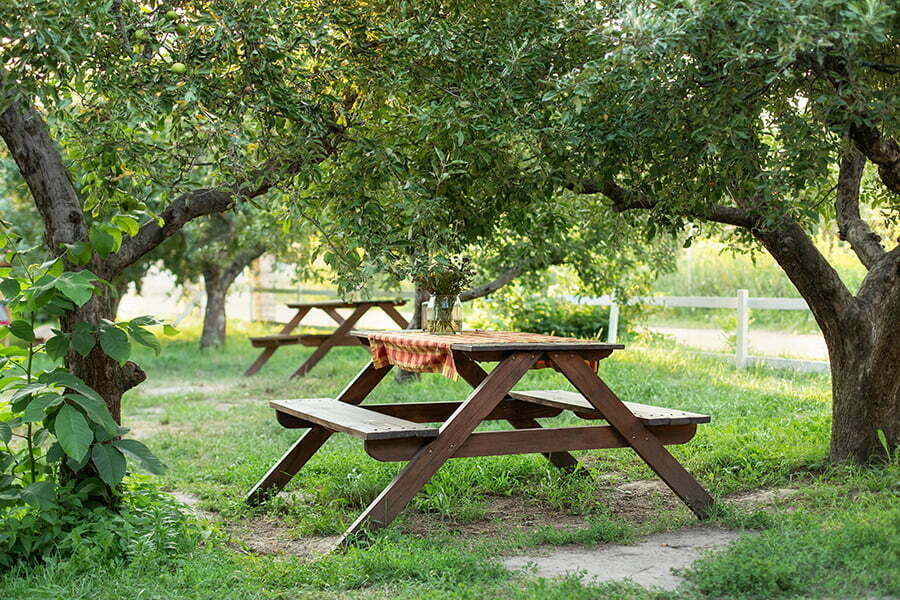 The best option is a traditional picnic table with built-in seating.
You can ditch the deck and set up shop on the grass with this patio classic, which is a common sight in backyards and parks thanks to its convenient features, including proximity to sitting and the ability to climb over other people.
Planners advise allocating 10 square feet per person if you use folding tables and chairs for your barbeque. Wood type, style, and size all play a role in the final price.
The cheapest we could find for a DIY picnic table project was around $100 for a regular table.
FAQ
How long do picnic tables usually last?
Most wooden picnic tables only last about ten years before they need new slats, which may need to be done yearly to get rid of sap. Most recycled plastic picnic tables last at least 15 years and don't need any care other than a light cleaning every so often.
What kind of wood is best for a picnic table?
Cedar, Redwood, and Douglas fir are all excellent choices that can stand up to the weather and can be found at most lumber yards. These woods are the best for picnic tables because they are light and powerful.
Why would you want a picnic table?
People use picnic tables to eat, rest, do crafts, and do other things. Picnic tables can be found outside in many places, including parks, backyards, rest stops, campgrounds, amusement parks, and more. Picnic tables can be used inside when there is a need for built-in seats.
Recap
Liked this article? Here's what you can read next: