Last updated on December 26, 2021
Choosing a desk chair? Your main choices are a mid-back or a high-back desk chair. Which one do you choose? Here's how to decide.
In a nutshell: high-back chairs are more ergonomic and comfortable, they are great desk chairs for long hours. But mid-back chairs are more mobile, take less space, and are more stylish as an alternative desk chair.
To decide which works for you, let's look at the differences and pros of each of these two chairs. Let's see when you should use one over the other.
The Difference Between a Mid Back and High Back Chair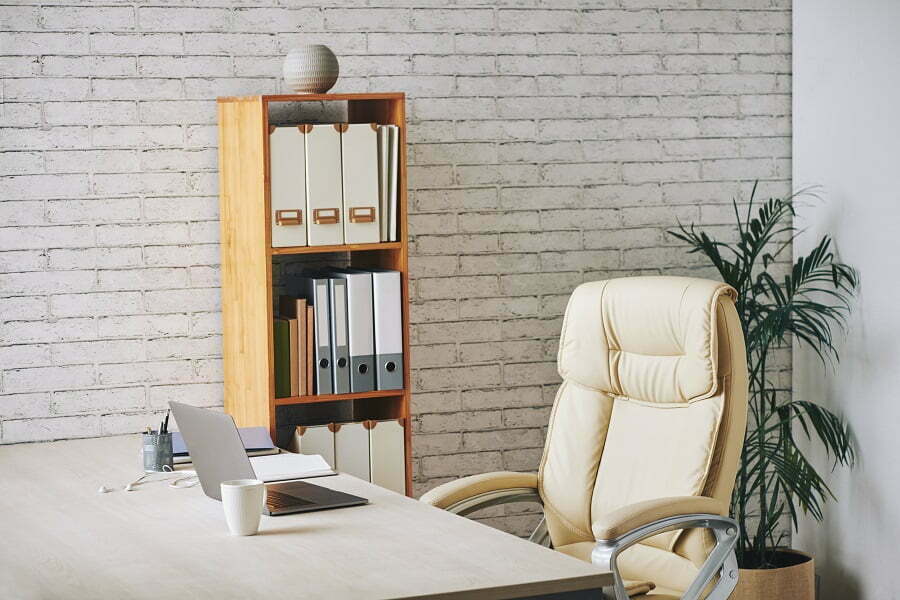 The key difference between the two types of desk chairs is the backrest size. The mid-back chair goes up to the shoulders while the high-back chair has neck and head support.
So, a high-back chair is bigger, heavier, and can block the view at desks. A mid-back amount lighter chairs that are easier on the eyes because they do not obstruct a desk in shared spaces.
The use of a mid-back chair is best when space is tight, such as in a conference room or other confined spaces. it would be best if you used the high back chair for spacious offices and long hours of sitting which have more space in between,
When a person is looking for an office chair, their back size will determine the type of chair that they need. You can determine an individual's back size by measuring the distance from one fingertip to another when at the base of their neck and shoulder blades. If an individual has a smaller vertebrae structure or shorter stature, then they are inclined towards using mid-back chairs which offer scope in terms of arm shares so long as it doesn't exceed one arm span.
The Pros of a High Back Desk Chair
A high back office chair can provide head and upper back support to help you sit up straight, releasing pressure from the lower spine. In addition, if your chair has a headrest, it will likely be more comfortable for you to rest your head in the headrest as opposed to your desk.
High-back chairs provide more support for your upper torso and head with an additional recline. We typically recommend high-back chairs to people who sit in their office around 7 to 9 hours daily. If you're very tall, this is an excellent choice because it will have full back and head support due to its height.
Besides the reason stated above, another often overlooked reason is that the cost is greater for high-back office chairs because it takes longer to make them. To avoid double standards where an excellent product would be made into a cheaper one, manufacturers design the most expensive model as having the best features.
Economically, high-back chairs for office spaces are standard, and they are most effective for prolonged use. Additionally, if you're taller than the average person and plan to spend longer periods of time in the chair, a high-back seat will work better than a mid-back seat because it's more accommodating and lasts longer.
Why Choose a High Back Chair?
Firstly, the main difference between a high back chair and a low back chair is its appearance. Actually, in general terms, a high-backed chair is larger than that of the low-backed one because there is an additional part known as the headrest, which makes it more comfortable.
High-backs offer support to the neck, back, and shoulders and are good for anyone who sit long hours. Especially if you don't move around much while sitting.
A high back chair gives better support when sitting on a mid-back chair because it is elevated. It is also more comfortable than a low-backed chair and provides adequate support for your backbone if you are taller even though your spine does not touch the backrest. A high back chair can benefit those who suffer from backache (pain across the lower area of one's spinal column).
In summary, high backs offer support, which is good for those–especially professionals–who work on a desk doing many consecutive hours of sitting in one place without much movement involved.
The Pros of a Mid Back Desk Chair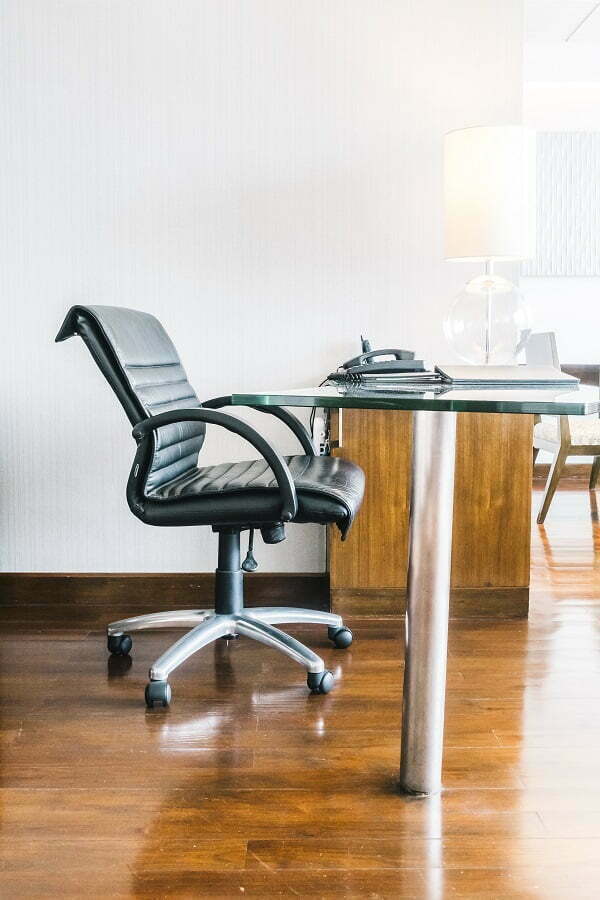 The mid-back office chair tends to have more style, color, and feel than a high-back office chair. They are usually less expensive than the high-back chairs as well. Besides sacrificing some ergonomic features, a mid-back chair may not provide much help with your comfort regarding dimensions of support like calf support or lumbar support.
A mid-back chair is best if you don't sit in the same spot too long. If you use your laptop a lot, this type of chair probably isn't for you since it takes more muscle strain to adjust and move around. A mid-back office chair is best when there are sporadic short periods of time that people stay seated while working at their computer rather than those who do so for long periods of time during more stationary work tasks such as programming.
Be aware of the purpose of the chair and where it is going to be placed. Mid-back office chairs are mostly used to replace a chair that somebody might use in a cubicle or while sitting at an open desk. Mid-back chairs provide enough lower back support for shorter periods when sitting.
Mid-back office chairs tend to be on the more affordable and sometimes much more affordable end of the stick.
Many people think that a high back office chair is best suited for you if you want the most comfort and lumbar support. There are some arguments about this, though, because although high-back office chairs do have great support with their extra cushioning and headrests; mid-back office chairs offer more variety in design, as well as flexibility, better air circulation, a lower price point, and often, come with curve adjustment features for your neck as well.
Why Choose a Mid Back Desk Chair?
Some office chairs on the market are only good for short periods of sitting. Mid-back office chairs are better for people who tend to be sitting at their desks shorter and need to move a lot. This chair is best for small spaces where someone has minimal room to maneuver other furniture around because of its accessibility and lightweight. Conference rooms often have this specific type of chair, which makes it much easier to gather your team in one room with little hassle since they aren't bringing their own desk chairs.
FAQ
Is a high-back chair better?
A high chair is more ergonomic and provides better body support for long hours of sitting.
Are high-back chairs more comfortable?
Yes, high-back chairs are more comfortable because they provide more support for your body.
Recap
Liked this article? Here's what you can read next: