Here's how to make a DIY lamp the easy way. These are easy and creative DIY lamp ideas, and you can make them right now. Read on!
Improving your home lighting is one of the most important things you can do to improve the look, feel, and even price of your home. A well-planned and installed lighting can mean a huge deal to your interior design and decor value.
You have to consider it well before doing it yourself or buying lighting fixtures. If you do decide to go the DIY way, we are here to help.
We start by laying the groundwork for making a lamp. These are the basic rules to follow. Then you can choose any idea from our big list. By mixing and matching them, you can create your own unique light fixtures and many more lamp alternatives. Let's begin!
How to Make a Lamp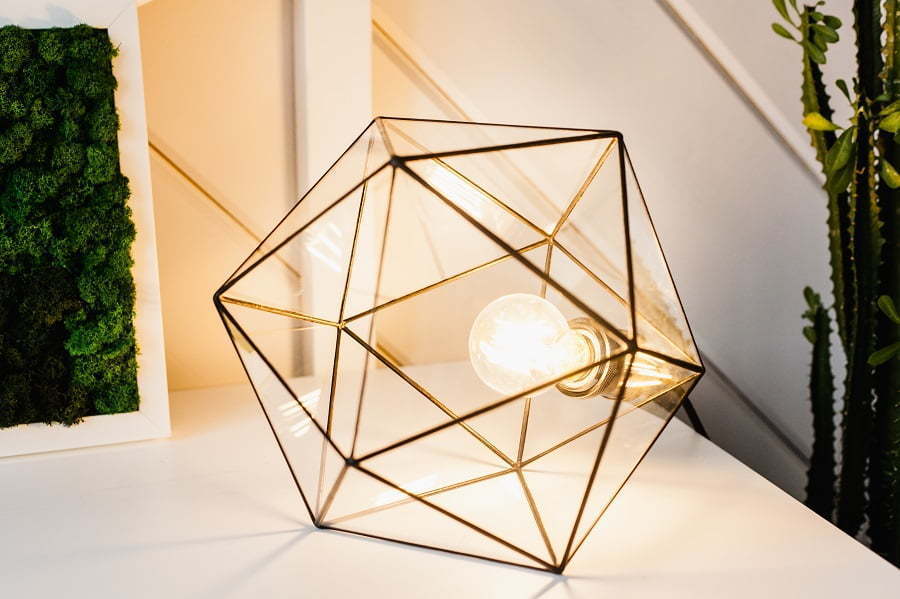 In a nutshell, here are the steps to make a lamp:
Take a DIY light kit, which includes a light bulb socket and a wire;
Make a lighting fixture of your choice (use the tutorials below);
Make a DIY lampshade if you need one.
DIY Pendant Light (Fish Scale)
Here is a fabulous DIY lamp project you can take on with ease! If you like all thing a bit dynamic, this fish scale idea will keep your interest going! Completing this concept will require various elements, such as paper, paraffin wax, mineral oil, crockpot, paper lantern, and a few others. The tutorial itself is simple to follow, while the project will cost you no more than $20. After cutting plenty of circles, you will need to paint them accordingly and let them sit for a while. Then, it is all down to making the pattern work with your plain white lamp! Easy and effective!
Rustic Lamp (Jute Wrapped)
Looking for a change in lighting? Here is a great idea to motivate you. This precious jute-wrapped DIY project is time-friendly, budget-appropriate and cool to have at home! Jute, an old drum light, and some precision are elements needed to carry out the task right.
You will have to keep a stable balance of rope across the lap surface, making sure no cracks or spaces turn up in the end. Although it requires a bit of technique and patience, this DIY lamp doesn't need light to stand out in any room of the house!
DIY Hanging Lamp (Doily)
Doily and adorable DIY projects should never go unnoticed! For those reasons here is how you can make yourselves a large and charming night lamp, shining in multiple doily patterns. For this project, you will need a set of doilies, a balloon to hold your lamp's frame, and some glue to bring it all together.
Of course, the cable and bulb will be incorporated in the lamp later. The central concept here is to glue the entire balloon with doilies, making sure they stick well together. When done, pop the balloon, install the bulb and cable and turn on the light!
Globe Light Fixture
Recreating night lamps is not only fun but creative and practical as well. This tremendous DIY globe pendant lamp project is easy to do and doesn't require plenty of effort. What you'll need for this task are two large plastic bowls, tin snips, a drill, sanding paper, duct tape, and glue.
Create the holes in each bowl. Tape your bowls and drill holes in each. Then, glue the two pots together leave them overnight to dry. Remove the duct tape in the morning. Attention to detail is required, especially while drilling. Ultimately, introduce nocturnal charm to your lamp and paint it in deep navy shades. Brilliant!
Unique Pendant Light Fixture
Geometric shapes have always been popular, so let's give this DIY lamp project a try. This pendant lamp creates a mellow atmosphere and is very simple to do as well. Accomplish this fabulous DIY lamp by using a handful of cocktail straws, a crafting wire, wire cutter, and glue, among others.
Initially, start creating your geometrical shape. Choose a dynamic and vibrant form to give your lamp a kick. Once everything is glued together well, you will need to use felt Tetris-like pieces to secure the lamp even further.
With a resourceful tutorial in mind, you'll have yourself a fancy pendant lamp in no time.
Colorful Rope Lamp
Coastal and playful vibes are correctly translated into this sensational DIY rope lamp. What's better this piece can be created in a few simple steps. For it, you will need a long rope, a balloon, an old vase or other cylindrical objects, glue, and some paint of your choosing.
First, use the balloon to shape your lamp accordingly. Leaving an opening for your light kit, move onto the vase to make sure the rope is firmly glued into place. Next, paint your lamp halfway up and install the lighting details.
All in all, this is a smart and practical DIY idea that works!
Wood Pendant Light Fixture
Creating an affordable, yet impactful DIY lamp is possible, and this great idea is here to prove it. Spherical and geometrical shapes are ideal for any rustic or breezy setting, and this idea requires minimal effort to complete. Some of the bits you'll need to do it include quilt hoops, paint, square dowel, pendant light kit, and a few other elements.
The techniques involve a bit of drilling and technical arranging of the hoops, but nothing too challenging even for beginners.
The result of this DIY project is just dreamy, and the steps needed to do it are relatively easy to follow as well!
Basket Light Fixture
Did you know that metallic garbage bins work amazingly as night lamps? Today, let us teach you how to accomplish a great project with minimal budget included, but a significant effect while at that. For this spectacular lamp, you will only need an empty, metallic garbage bin and a lighting kit.
The primary point is to make a hole at the bottom of your bin, allowing the lamp cable to fit in perfectly. And, that's about it! If you have all the elements ready to go, you won't spend a dime, but will still deliver a beautiful retro effect that makes this DIY project so worthy of your time!
Paper Chandelier
Here is a paper chandelier idea to make you proud of your skills, even as a rookie. This catchy colorful lamp uses papercut and looks dreamy for its budget as well. As for the elements included, you will need paper in many vibrant or neon colors, scissors, and some imagination. And, yes, for this project glue will become your best friend!
Know that you will have also to draw out your pattern, so make sure it's graphical and futuristic. Finally, folding your masterpiece into a cone will give your lamp the shape it needs. Fancy, right?
Bird Cage Lamp
Tweet cage DIY projects are charming, impactful and know how to stand on their own. For that, this precious lampshade project is the perfect weekend project to do. Creating the concept requires a set of supplies, including an old lamp's plastic base, and floral wire. The birds come at the end, so bear with us.
The first thing to do is connect your round, plastic base with your wire. For a more profound impact, you can also paint your cage in copper or gold. Next, placing branches for your birds. Then, assemble the birds across space, and there you go – another incredible DIY project completed!
DIY Table Lamp (Paper Plate)
All whites are always a hit, so here is an excellent lampshade idea that works great in any space. Completing this task is very simple, and will give you an oriental effect in no time. The making of the lamp itself requires a few elements, such as Dollar Store paper plates (cut in half), a glue gun, and a lampshade base.
Cutting your plates in halves will help you create that specific 3-D effect, which makes the lamp so chic.
Make sure you have an eagle eye for details as well. But be sure that once you get the hang of it, you'll come out as a true DIY superstar!
DIY Desk Lamp (Glitter)
Making things look expensive is one of the joys of DIY. Covering a lampshade with glitter can add a touch of luxury at a fraction of cost. Who says you need expensive furniture to add some class to your home?
Dining Room Light (Grater Lamp)
Recycling and upcycling can be a lot of fun. Turning simple graters to lamps is a brilliant way to add a rustic accent to your kitchen decor.
Tree Branch Floor Lamp
Nature-inspired furniture is a great way to add a unique accent to your decor and make it truly stand out. A tree branch lamp brings a warm rustic style and whimsy to minimalist decor. This lamp will make a great addition to your reading nook and serve as an excellent floor lamp for reading.
Corner Light Fixture
While it's a simple lamp design, it's genuinely brilliant. Use the otherwise dead corner space to create additional lighting in a room.
Unique Lamp Design
Making this quirky lamp design is easy from a simple light socket. Perfect for the kid's room or anywhere you want to add a fun and unexpected decor accent.
Concrete Industrial Lamp
For some industrial style, make these DIY concrete pendants. The process is made simple by using plastic bottles. Check out the tutorial.
Recycled Book Lamp Base
Recycling is widespread in all aspects of life, and DIY projects happen to be just one of the many. Get ready to take on this excellent lampshade project that oozes rusticity and warmth at the same time. This lampshade idea needs several supplies to complete. Some of them include a big book, a bulb holder, a drill, and strings, among others.
First, cut your book in the very middle. Attach the bulb holder to it. Next, drill holes in the book, and thread them through each hole of the book, to keep it open. Don't forget to install the bulb just before that! So nice!
Birch Tree Branch Floor Lamp
Here's one more way to create a simple but lovely lamp inspired by nature as an alternative. Dried birch tree branches make perfect lamp posts with lots of rustic warmth.
Recycled Strainer Hanging Lamp
We had lamps made of recycled grates, here's another idea for a lamp made of a strainer pot. Once you find a strainer that begs to be used as a light pendant in its design, it's a matter of simple transformation.
Whiskey Bottle Lamps
Whiskey bottles make awesome light pendants if a bit quirky and whimsical. Here's how to turn them into real lamps.
DIY Sconce Fixture
By using some creativity, you can create light fixtures from the most unexpected things. That makes home decor unique with a lot of character.
Skateboard Lamp
You can make a lamp by transforming and upcycling many things for unexpected decor accents. This skateboard lamp idea is a perfect example of that.
Shelf Bracket Lamp IKEA Hack
IKEA has Ekby Valter brackets for wall mounted shelves that can be used for another purpose. They make brilliant minimalist lamp fixtures with some modification.
Artist's Dummy Lamp
IKEA also has the famous artist's dummy decorative accessory which can be used for many different DIY projects. One of them is turning it into a lamp.
Mason Jar Light Fixture
There are many things you can make from mason jars, and a chandelier is one of them. If you like the rustic style that these jars bring to home decor, you'll love this project.
DIY LED Lamp (Wood Board)
This lamp design is brilliant in its simplicity and minimalist decor quality. All it takes is two boards with LED lights to create a simple but attractive lamp.
Concrete Copper Industrial Lamp
This DIY project may be a little bit more involved, but it's brilliant if you're a fan of the industrial style. Who wouldn't love to have this adorable desk lamp in their home?
Quadripod Wooden Floor Lamp
If you need more rustic accents for your home decor, try building a floor lamp from wood. It gives the room an accent emphasis in a warm texture and another source of lighting.
How to Make a Lamp Out of a Bottle
Let's start a simple DIY project with a lamp made from a bottle. It's a straightforward process to create a lamp that looks quite quirky and adds a lot of character to room decor.
Wood Floor Lamp
The design of this simple floor lamp made of wood is inspired by nature and the basic shape of a tree. It adds some rustic element to your room and brings extra lighting to any corner of the space where it's needed.
Recap
Liked this article? Here's what you can read next: